Language
Ceramic fan heater with humidifier YOER Misto FHH01W
Power: 2000 W, humidifier, ECO function, 2 power modes, electronic thermostat, safety switch, oscillation function, overheat protection

Shipping within

24 hours

Availability

Not available

0

pcs.
| | |
| --- | --- |
| Bar code | |
| EAN | 5900779770904 |
Description

Instruction manuals

Reviews & ratings (2)
2in1 Electric ceramic fan heater with humidifier YOER MISTO FHH01W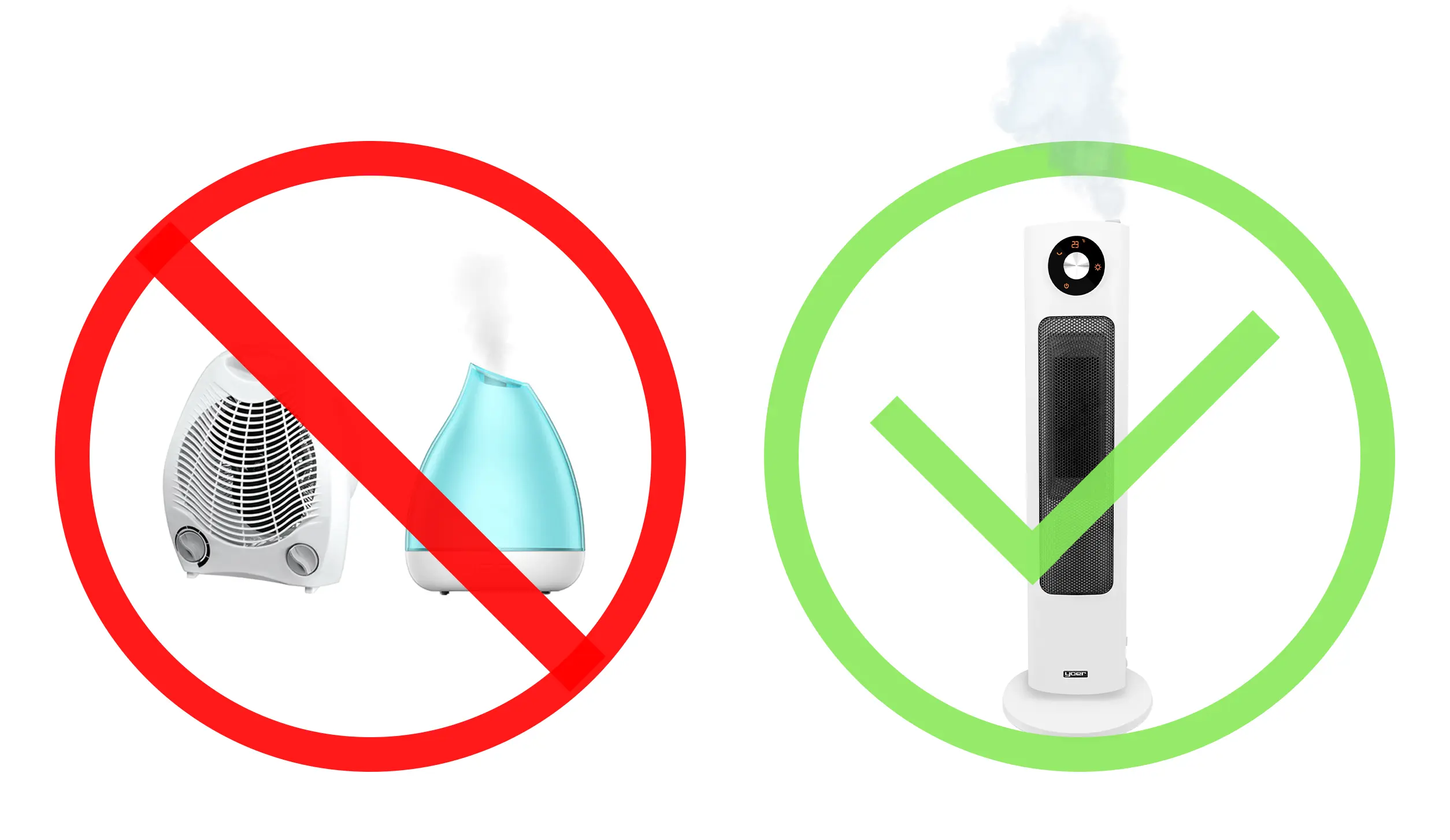 2in1 device
Save your money, space and health - ceramic fan heater with humidifier gives you the chance not to worry about the dry air which is produced due to the heating. All of the functions ensure perfect conditions in your room - warmness and proper hydration. What is more, you will save space in your room thanks to its slim construction. Whereas, thanks to the ECO function you will optimalize maintenance costs.
Use it separately or at the same time - Fan heater and humidifier function can be used at the same time or seprately. Thanks to it, you have the choice whether you want to use heating or humidifier as well.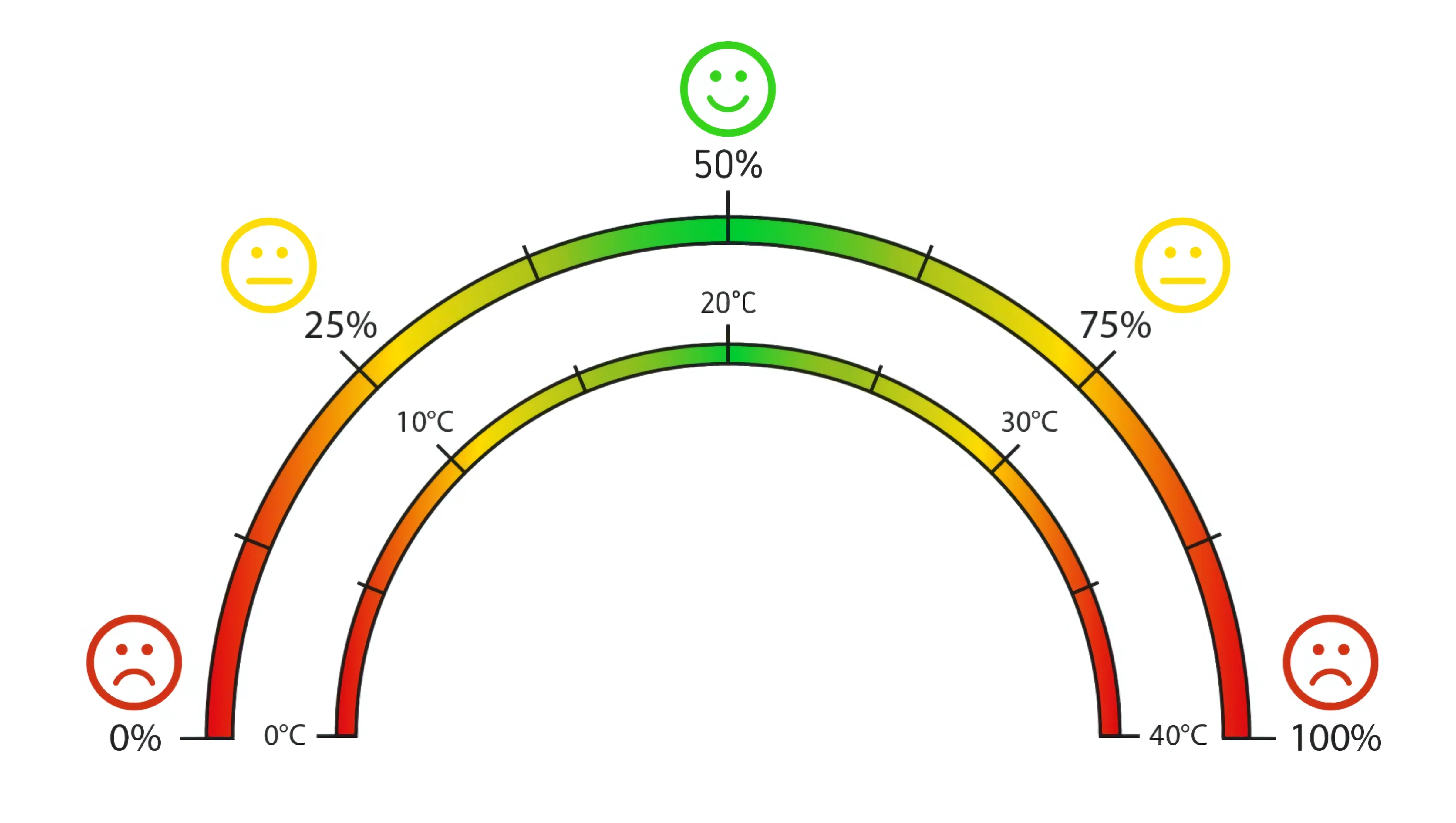 Why is it important to humidfy the air during heating season?
Proper humidity level – this process is especially important during heating season, when the natural air humidity is significantly lowered due to drying caused by central heating systems or by the use of other heating devices such as fan heaters, oil filled heaters or electric heaters. Humidity in houses or offices should be kept in the 40-60% range.
Negative effects of fry air - dry air fosters respiratory system infections such as strep throat or sinusitis. Low humidity also causes skin and hair to become overly dry, the mouth becomes parched, the nose is clogged and the eyes are red. Breathing dry air makes us tired quicker and makes it difficult to focus. Low air humidity has a negative impact on the well-being of allergy sufferers, because dry air carries dust easier, which increases the chance of an allergic reaction.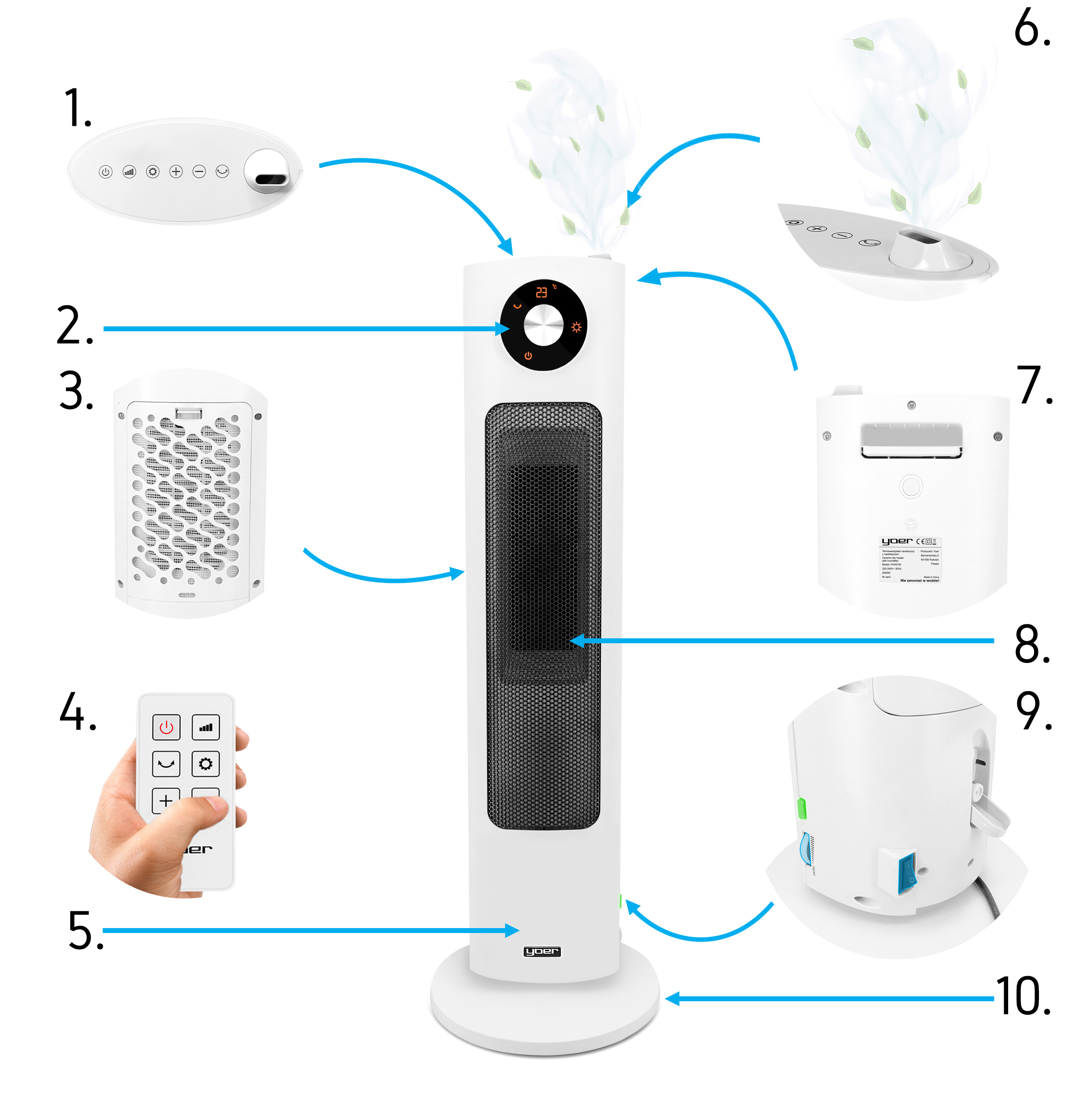 CONSTRUCTION - MAIN COMPONENTS
Touch control panel
Digital LED display
Dust filter
Remote control
Heat-resistant casing
Humidifier nozzle
Ergonomic easy to transport handle with remote storage compartment
Triple ceramic heating element
Humidifier control knob and safety switch
Stable base
PRODUCT DETAILS
Max. power: 2000 W
Color: White with black accents
Output: 300 g/h
Water reservoir capacity: 1,6 L
Humidifier function: Yes
Timer: Yes
Temperature regulation: Yes
Remote control: Yes
Touch control panel: Yes
Oscillation function: Yes
Power regulation: Yes, 2 levels
Others: Dust filter, ECO function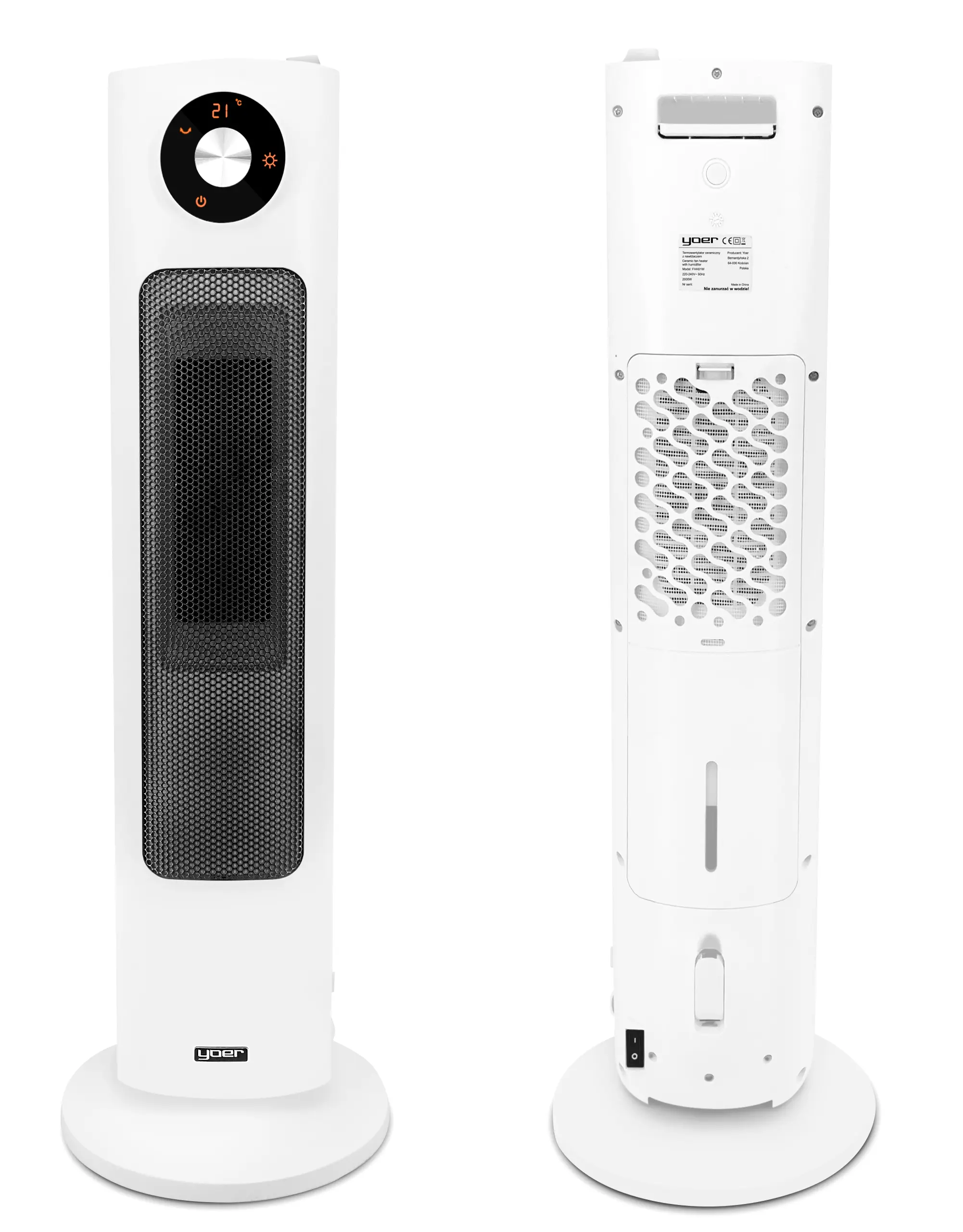 2 POWER MODES
Warm mode - uses 1300 W of power - half of the max power output.
Hot mode - uses 2000 W of power - full power output.
EASY TO CARRY
Easy transport handle - at the top of the device, in the back, an ergonomic handle is located, which makes it easier to lift up and carry the device to a different location. The handle is fitted with a dedicated remote storage compartment.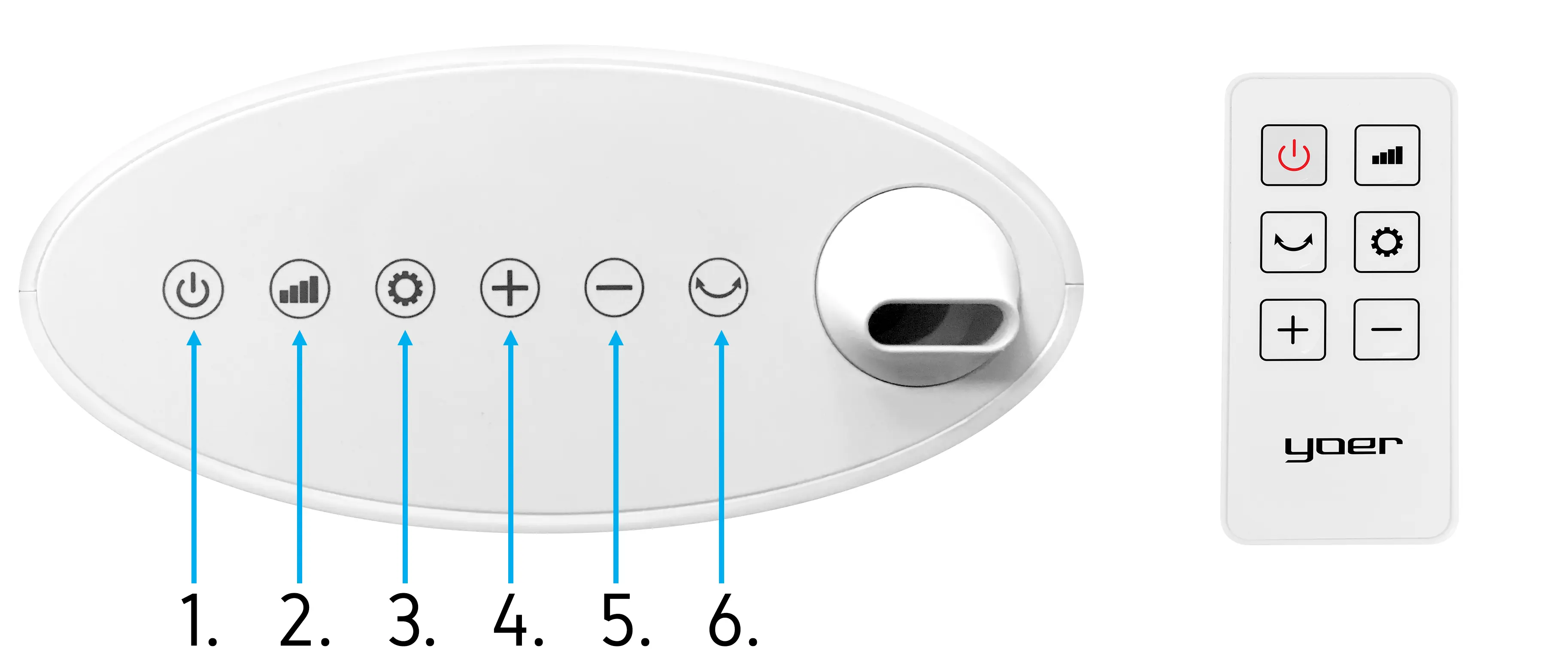 2 WAYS TO CONTROL THE DEVICE
Touch control panel - is located at the top of the device, which enables easy access and comfortable settings adjustment.
6 control buttons:

ON/OFF button
Change mode button
Thermostat and timer button
Increase temperature or time button
Decrease temperature or time button
Oscillation mode button

Remote control - included in the set, allows you to change settings without having to stand up.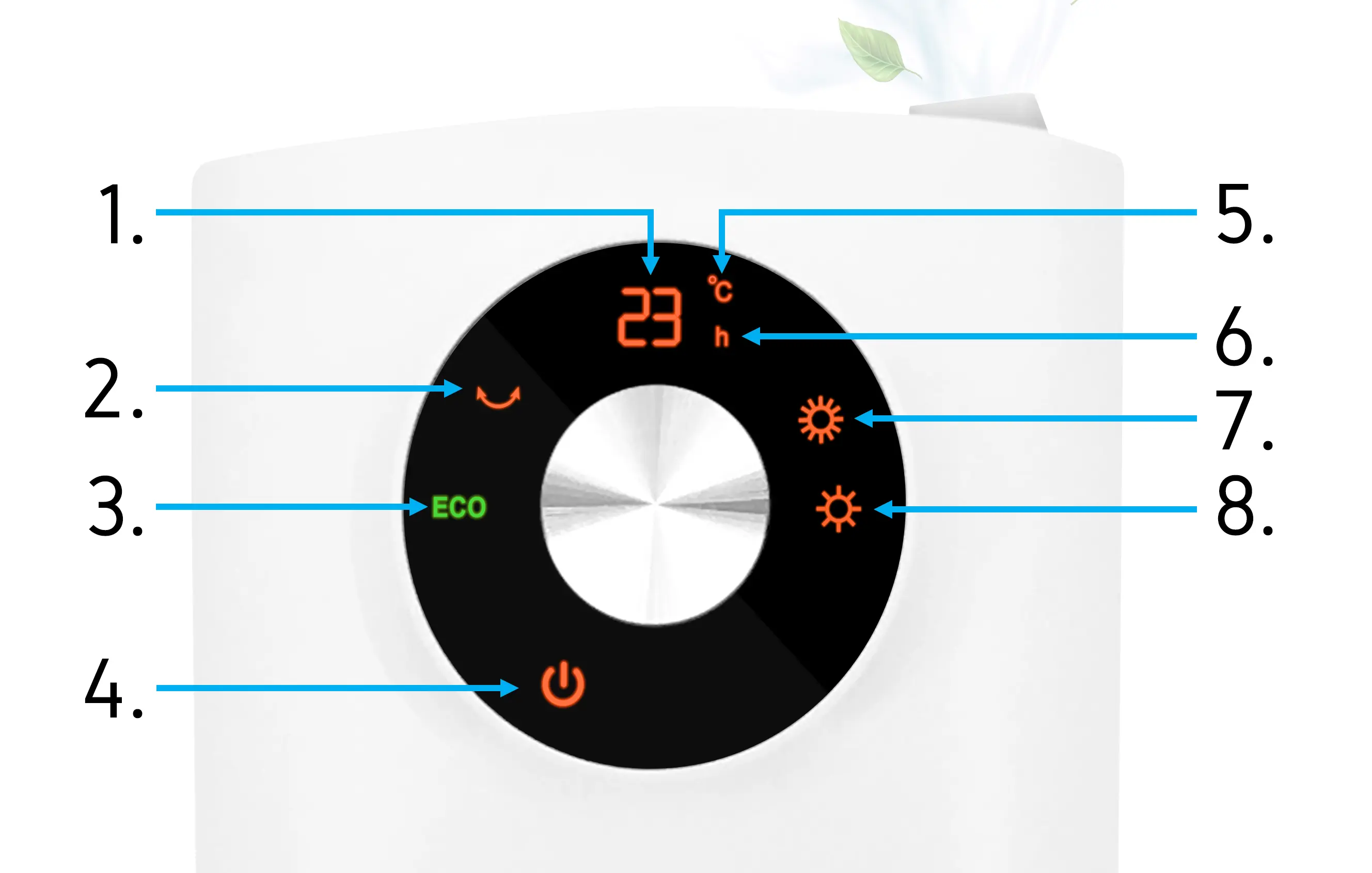 LARGE DIGITAL LED DISPLAY
BACKLIT LED DISPLAY - displays information on active functions of the fan heater.
Display icons:

Temperature / set timer hour indicator
Oscillation function icon
ECO function icon
Power on icon
Celsius sign icon, which informs that the displayed digits are indicating temperature
Hour icon, which informs that the displayed digits are indicating timer hour
High power mode icon
Low power mode icon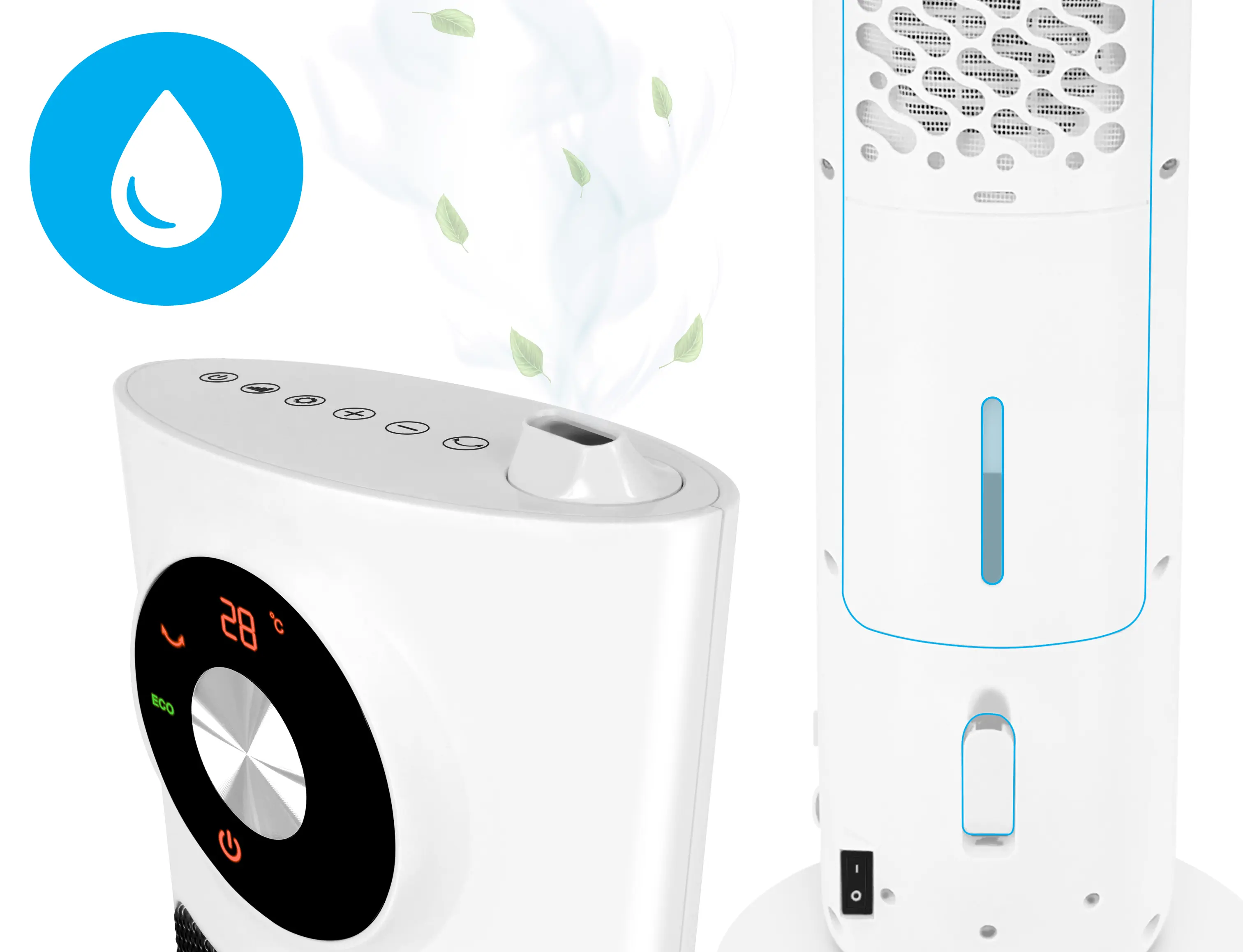 HUMIDIFIER
The cool mist - generated by the device positively influences skin condition, as well as it prevents mucous membranes drying out. Thanks to proper humidity levels you will decrease the risk of infections in fall and winter.
Removable water reservoir - The device is fitted with a removable water reservoir, which makes it easy to fill. The back panel of the body is equipped with a sight window so that water level can be checked. At the bottom of the fan heater you will find a convenient water outlet with a funnel, making it easier to empty the device.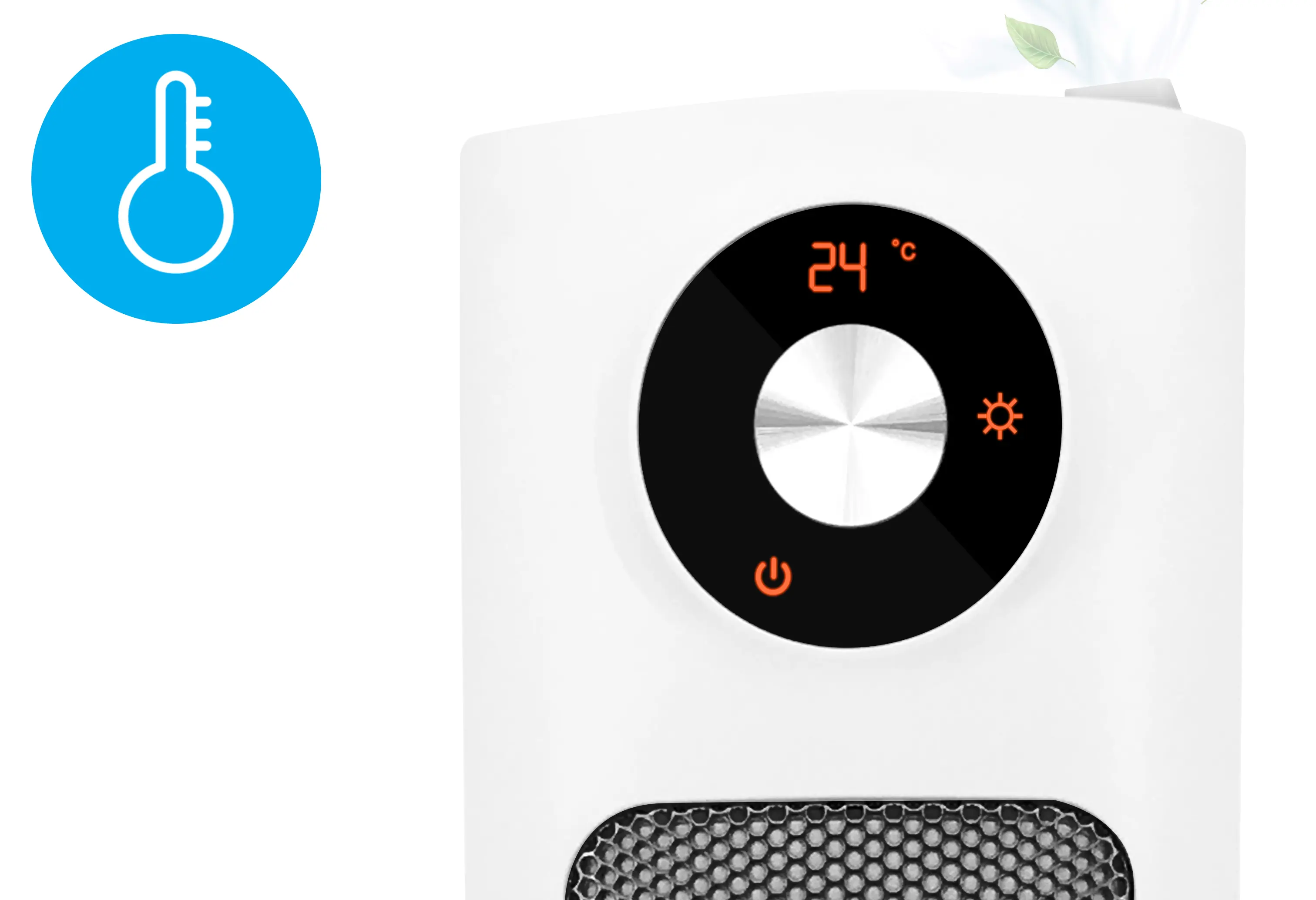 ELECTRONIC THERMOSTAT
Thermostat - Using the built-in thermostat you can set the desired room temperature for the device to keep. Using the "+" and "-" buttons you can adjust temperature in the 5-35°C range. When the temperature in the room exceeds the chosen threshold, the device will go into standby mode. When the temperature falls below it, the device will resume function.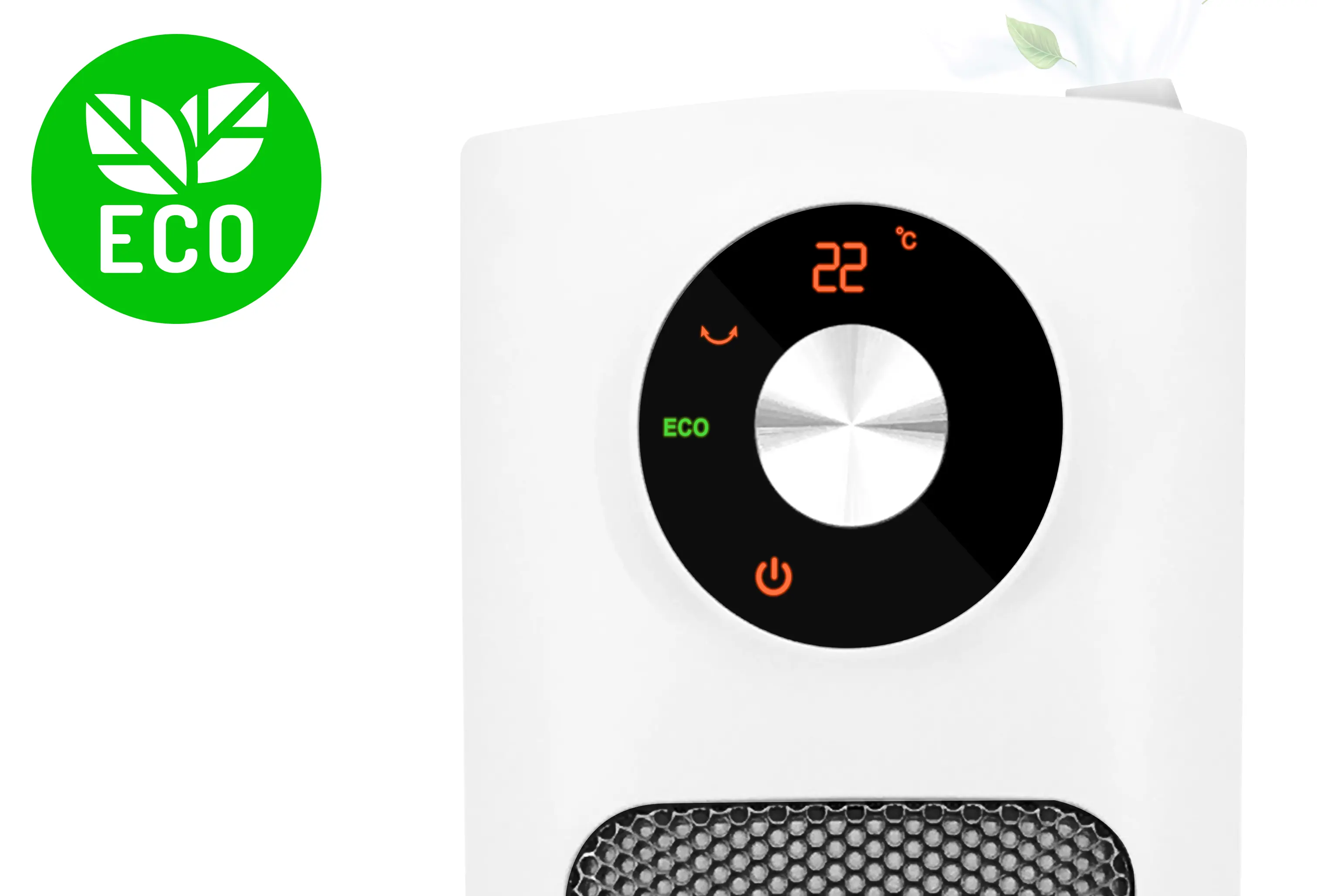 ECO FUNCTION
Optimal power consumption - this mode ensures you do not have to worry about power consumption, the fan heater will automatically adjust the power level to keep optimal conditions in the room.
Intelligent ECO function - the device will keep room temperature in the 18-22°C range. If the temperature is too high, the fan heater will automatically go into standby. Because of this, the appliance is able to use up to 20-40% less energy.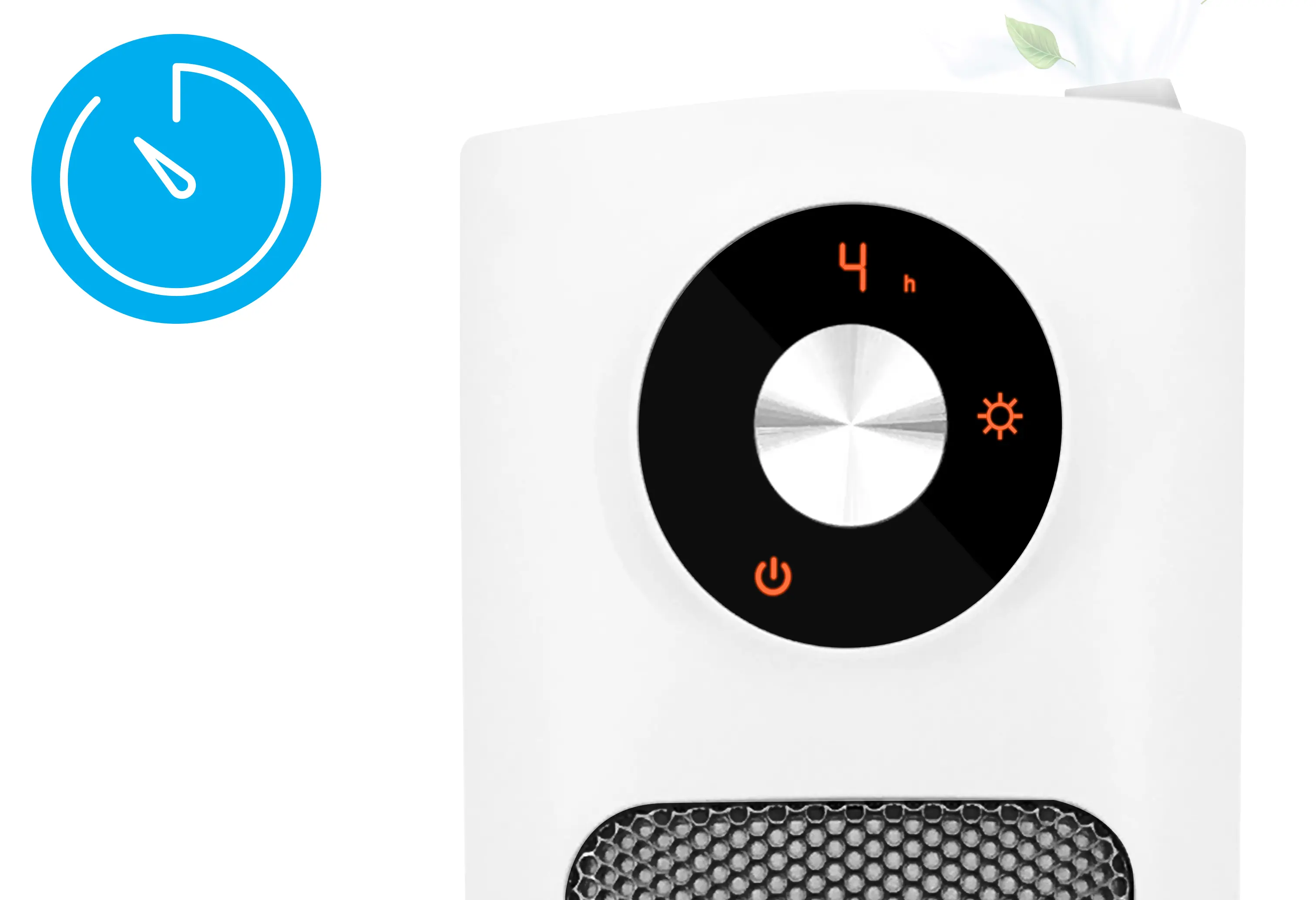 TIMER
12-hour timer - allows for setting the time after which the device is to shut itself off. The display will switch between showing temperature and the remaining time until power off.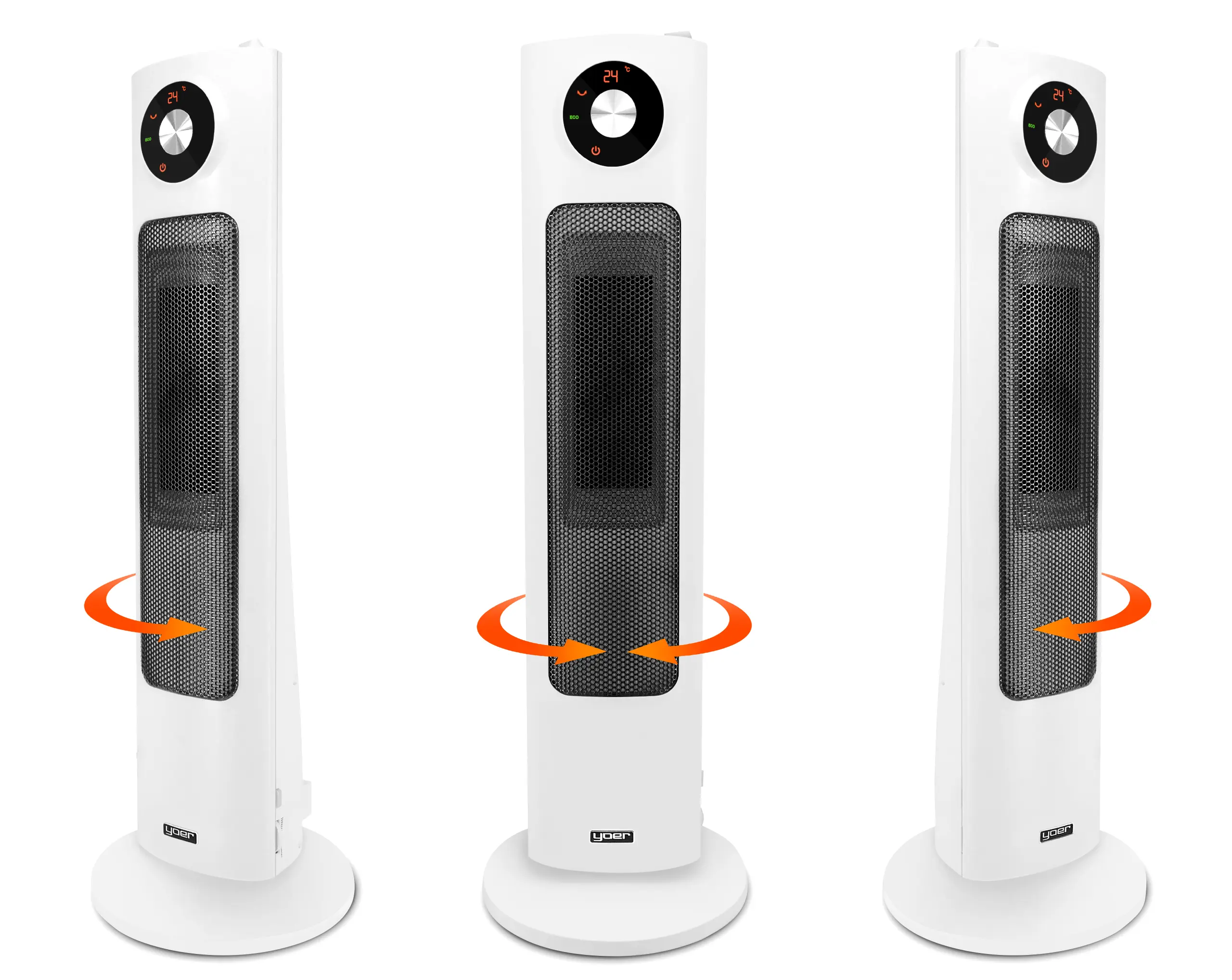 OSCILLATION FUNCTION
Swinging motion - this function will put the device in a swinging motion, which will fill the room with warm air instantaneously. The fan heater will evenly spread the heat to increase the temperature in considerably shorter time.
SAFETY FEATURES AND PROTECTION
Heat-resistant casing - The appliance is built to prevent the body elements heating up during operation.
Safety switch - at the back of the device there is a safety switch, enables quickly shutting off the device in the event of, for example, being splashed with water.
Overheating protection - when the temperature inside the device exceeds the permissible level, the thermal sensor will protect it from damage, automatically turning off the device.
Stable base - the fan heater is equipped with a wide base, which keeps it firmly set on the surface.
Dust filter - stops the impurities from the sucked air, which removes unpleasant smells. It can be easily taken out and cleaned.
PRODUCT PRESENTATION
Watch our video and see all functions of our fan heater Misto!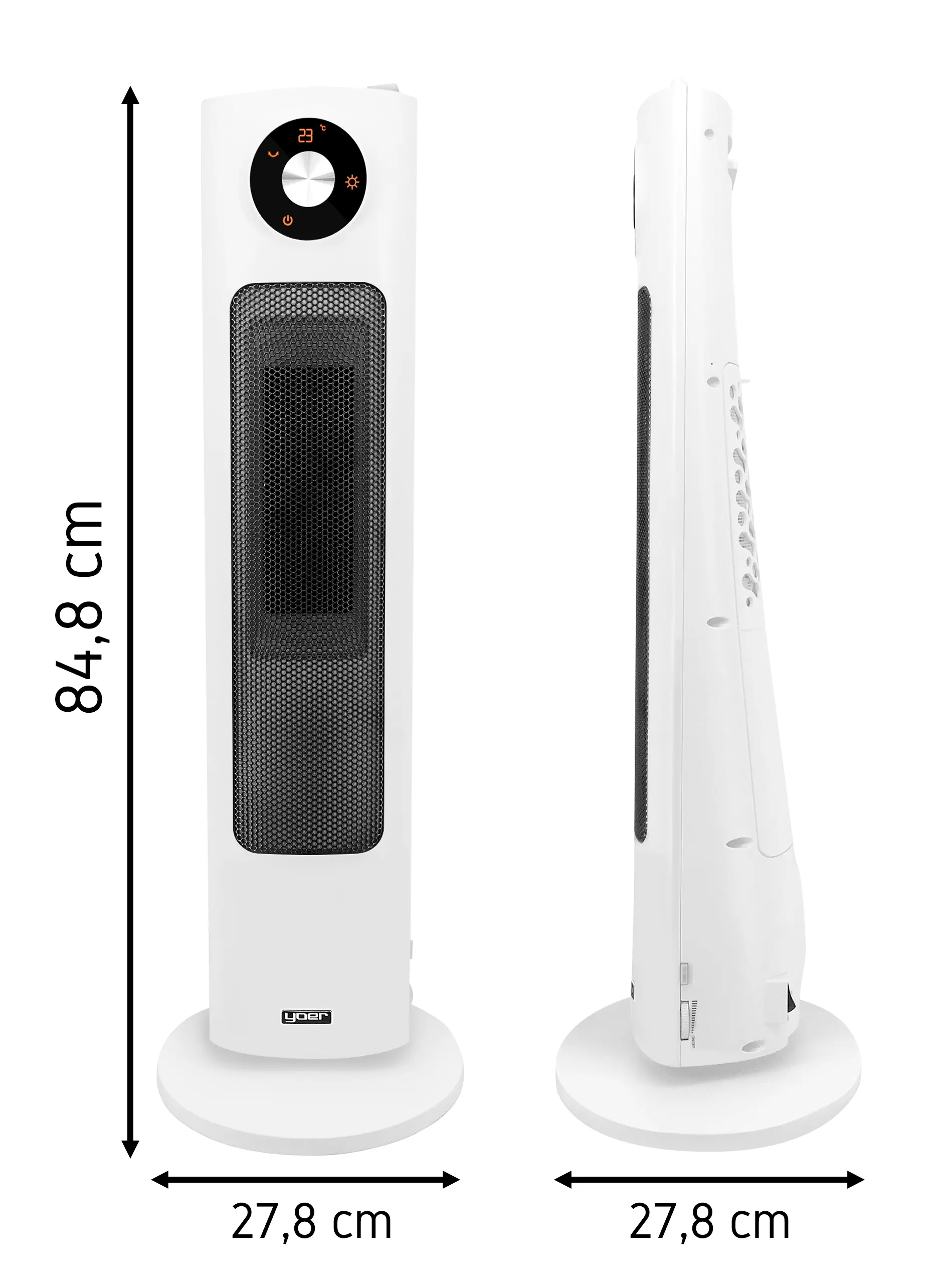 TECHNICAL SPECIFICATION
Power: 2000 W
Humidifier output: 300 g/h (10.6 oz/h)
Water reservoir capacity: 1,6 L
Effectiveness range: up to 20-25 m² (215.3-269 ft²)
Max. noise level: 50 dB
Power cord length: 1,6 m (5.2 ft)
Heating element type: Ceramic
Weight: 4,3 kg (9.5 lbs)
Dimensions: 84,8 cm x 27,8 cm x 27,8 cm (33.4 x 10.9 x 10.9'')
Color: White with black accents
Polish power plug: 220-240V 50/60Hz
This product is only suitable for well insulated spaces or occasional use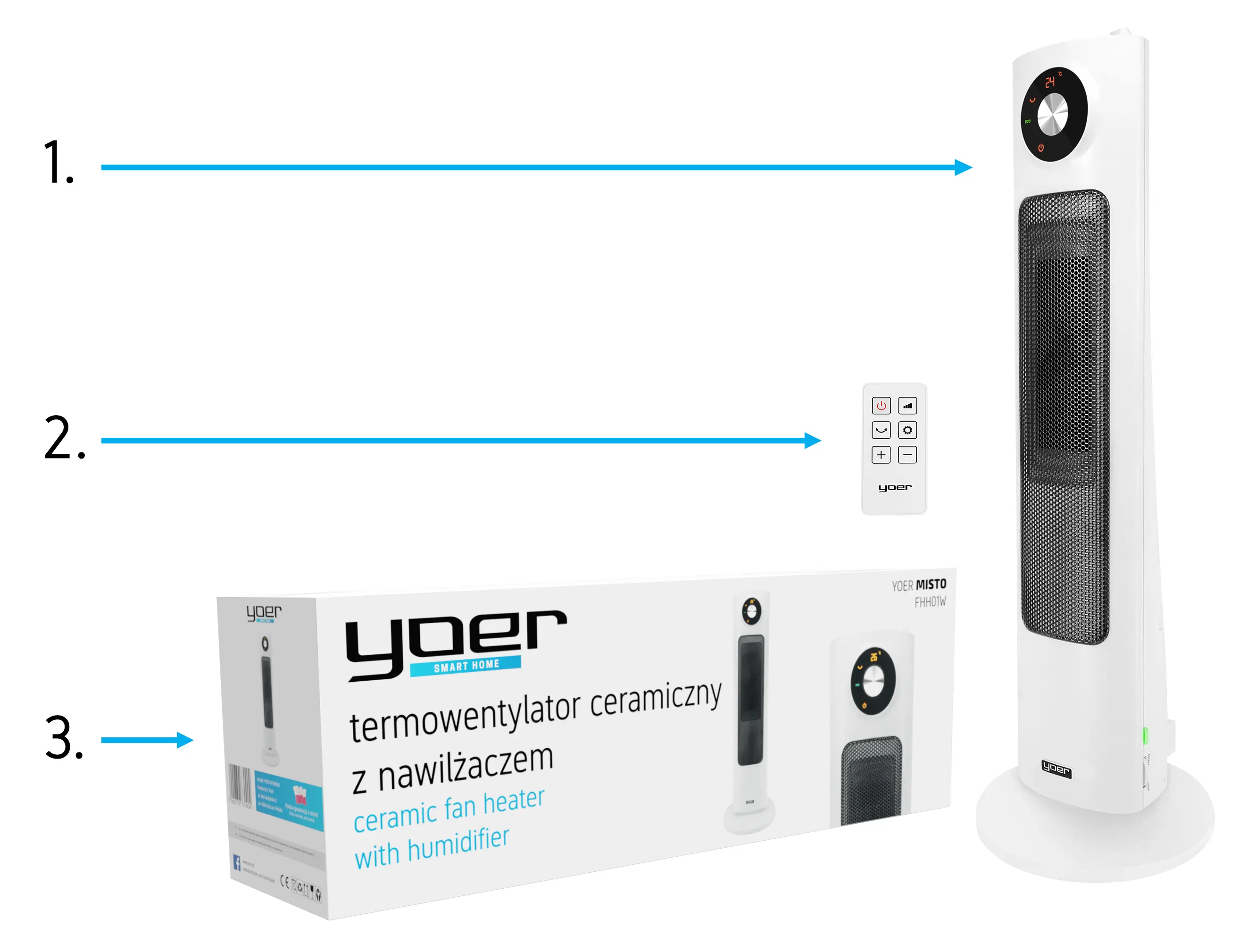 EQUIPMENT
Ceramic fan heater with humidifier
Remote control + 1x CR2025 battery
Original packaging
YOU WILL RECEIVE:
Fan heater - details above,
YOER PLATINUM SECURITY card,
Warranty card,
PL/EN instruction manual.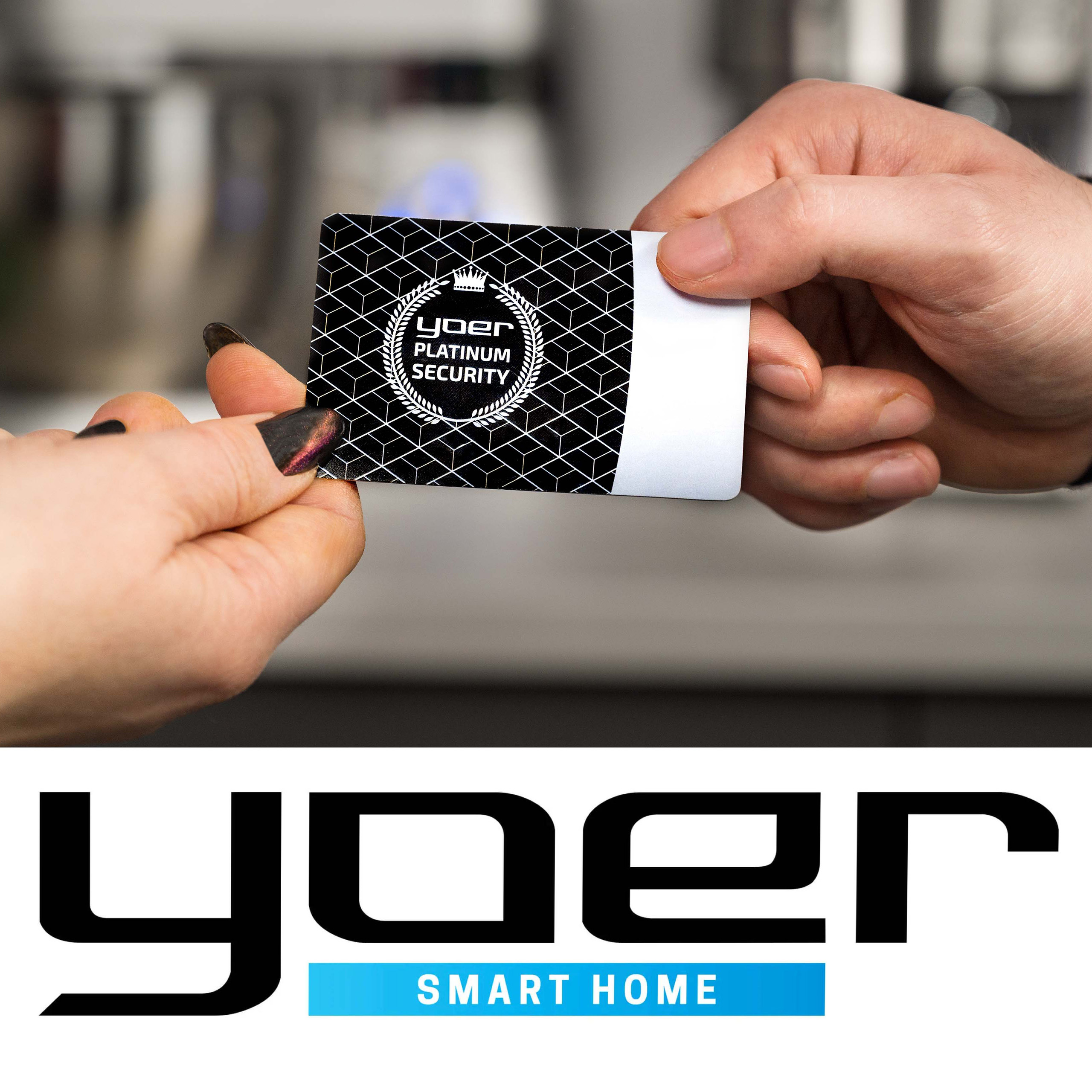 YOER PLATINUM SECURITY
When purchasing products from the official Yoer store you receive the YOER PLATINUM SECURITY package, which is an assurance of additional protection.
YOER - POLISH MANUFACTURER AND BRAND
YOER constitutes an excellent proof that high quality of products does not necesserily go in hand with high prices.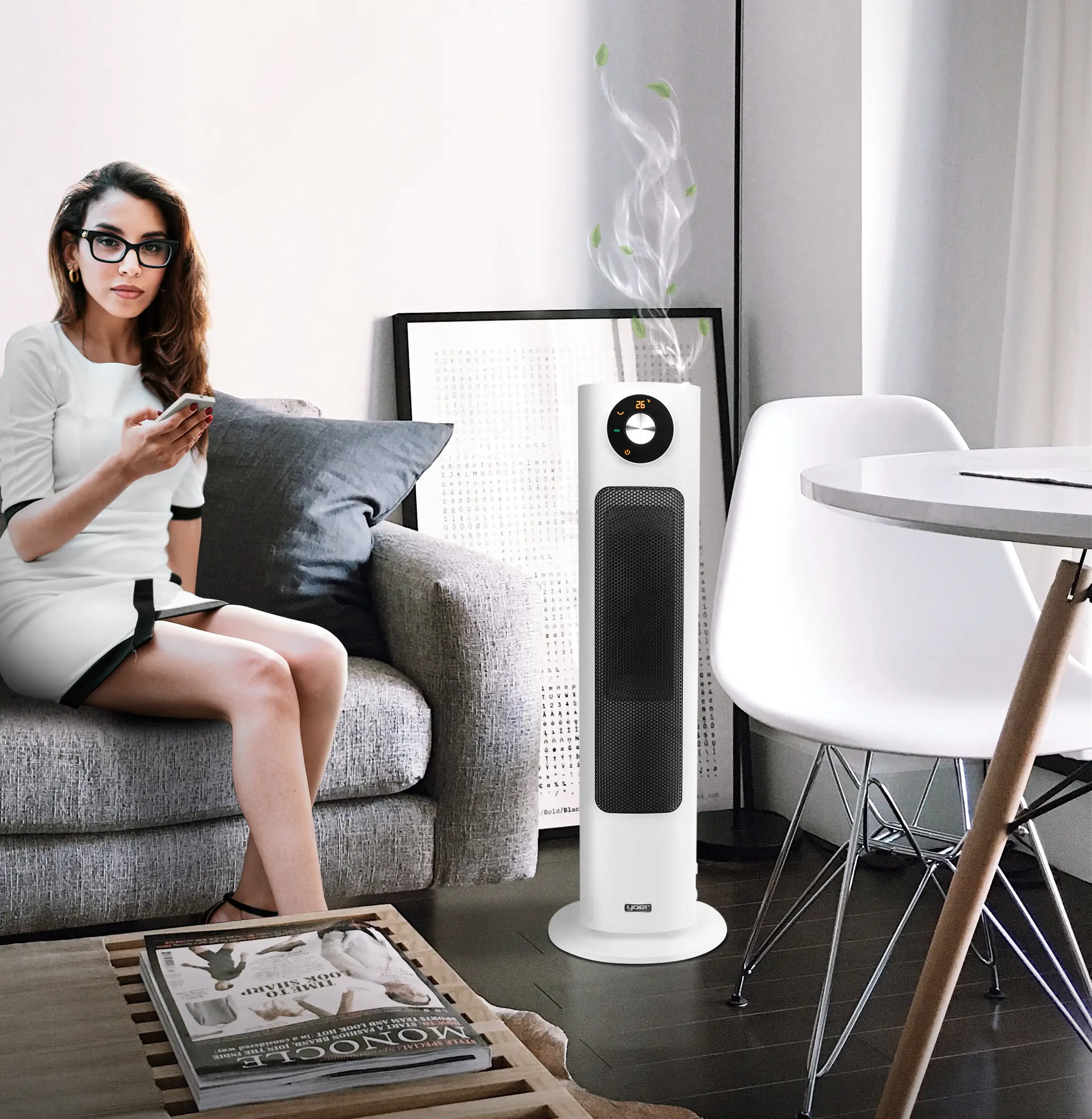 YOER FHH01W Instruction manual - Click here
Kupiłam ten termowentylator, bo jako jedyny miał funkcje nawilżania powietrza. Nie spodziewałam się, że nawilżacz będzie działał aż tak dobrze! Urządzenie wytwarza bardzo dużo mgiełki przez co powietrze w domu nie jest suche, jak w przypadku używania zwykłej farelki. Urządzenie grzeje bardzo dobrze. POLECAM!

Ładnie wygląda , dobra jakość.