Language

Customer zone
Coffee maker YOER Burrio CMG01BK with burr grinder
Steel burr grindeer Adjustable grind level, 24h timer, Up to 12 big or 18 small coffee cups at once, Water reservoir with a capacity of 1,5 L, Glass jug with a capacity of 1,5 L, Coffee machine for both ground and ungrounded coffee,
Shipping within

24h

Availability

High

9752

pcs.
| | |
| --- | --- |
| The bar code | |
| EAN | 5906874237021 |
Description

Instruction manual

Reviews & ratings (12)
Drip coffee maker with burr grinder and 24h timer

YOER Burrio CMG01BK
Modern design - decorative elements are made from high quality INOX stainless steel - will guarantee uncanny aesthetic.
Built in LCD display - not only will it make working with the device easier, but also it will give it an exclusive look.
Intuitive control panel - thanks to it usage of the coffee machine won't be a problem at all, and You will be able to quickly prepare chosen amount of coffee.
24h timer - coffee machine will allow You to program a coffee brewing cycle at chosen hour, so freshly brewed coffee will be the first thing you see in the morning after waking up. This way You will be able to start every day with a cup of coffee that will wake You up and give You some extra energy.

Burr coffee grinder with adjustable grind level

In couple of seconds it will grind Your ungrounded coffee will keep its unique aroma and it wont lose its perfect taste.
Unique coffee grinding system by usage of metal grinding gears. Thanks to the adjustable grind level, strength of the coffee can set up to fit Your needs.
Airtight, hermetically closed coffee container with a capacity of 200 g will guarantee full coffee aroma every day. One filling of the container will allow You to brew multiple coffee cups, that works ideally when You have guests over.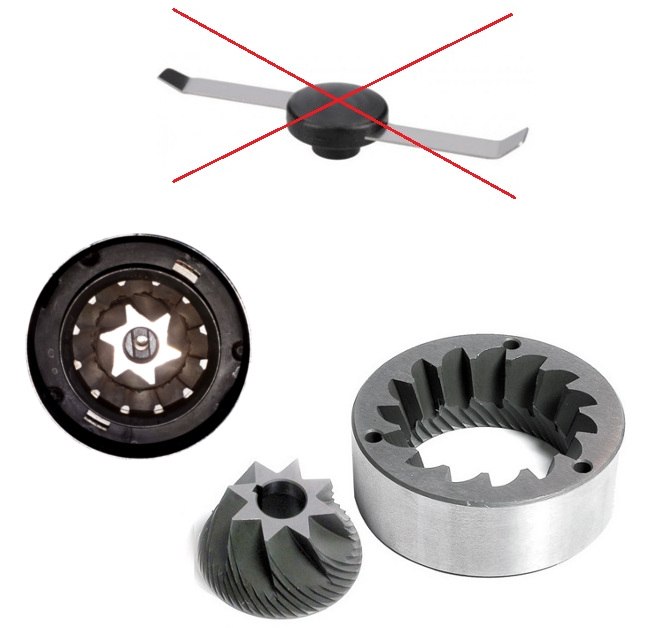 Why should You chose burr grinder? - Grinder is equipped with grinding gears similar to ones used in wheat mills. Grinding gears are rotating and grinding the coffee into a fine grained coffee powder. They are made out of stainless steel, that won't go rusty. Coffee doesn't change its organoleptic characteristics, prolonged grinding won't affect coffee's taste or aroma.
Low speed grinding system will help you to get perfectly grinded coffee. Metal conical grinding gears are resistant to friction, making them last longer than in regular grinders. Grinded coffee isn't heating up as much as it would in blade grinders. It has a regulated grinding level with adjustable grinding gear distance. While grinding coffee dust that's responsible for bitter taste of coffee isn't created. Coffee made with burr grinder will keep it's aroma for a long time. You can adjust the amount of coffee to be grinded. To do so, after filling up the container chose how many cups of coffee You want to make.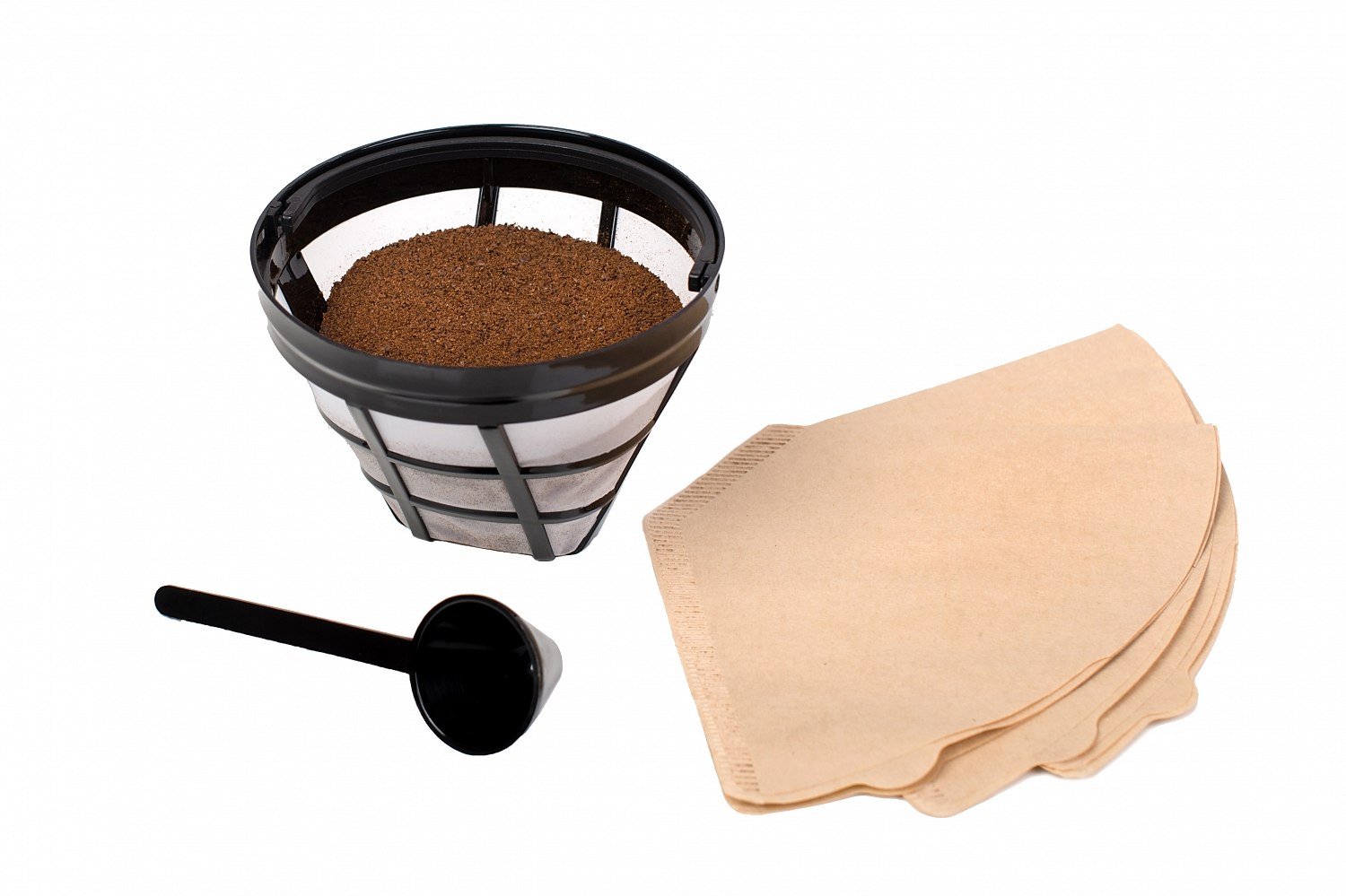 You can use reusable filters or paper filters - we provieded you with a basic reusable filter, that will protect you against exchanging the filters after every brewing process.
Reusable filter only has to be emptied out and cleaned, afterwards You can use it again, so that You dont have to spend Your money on purchasing multiple additional filters. For fans of traditional ways of brewing coffee there is also a possibility of usage of one time use paper filters.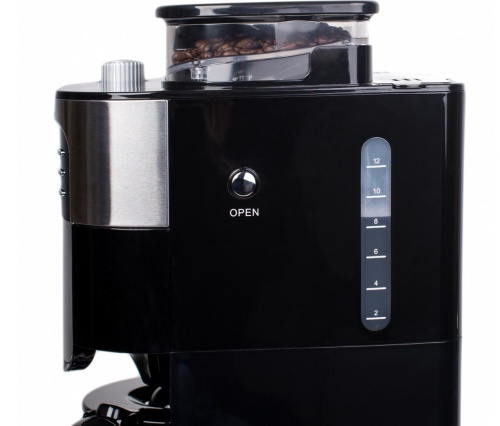 Coffee machine is made for ground and ungrounded coffee - thanks to it You dont have to limit Yourself with only one type of used coffee. Aromatic drink can be made with ungrounded coffee after placing it in the grinder container, or if You want to use ground coffee You can use reusable filter or one time use paper filters.
Water reservoir with a capacity of 1,5 L - will allow You to make even up to 12 large or 18 small coffee cups, that will for sure save You a lot of time.

Readable water level indicator - placed on the reservoir water level indicator will allow you to control the remining water capacity of the coffee machine.
Automatic turn-off function - after finishing the brewing process, device will keep the high temperature of the coffee for 35 minutes, after which it will automatically turn off. This function makes the coffee stay warm for longer, it won't go cold after preparing it anymore and thanks to automatic turn off function Your energy bills will be even lower than before.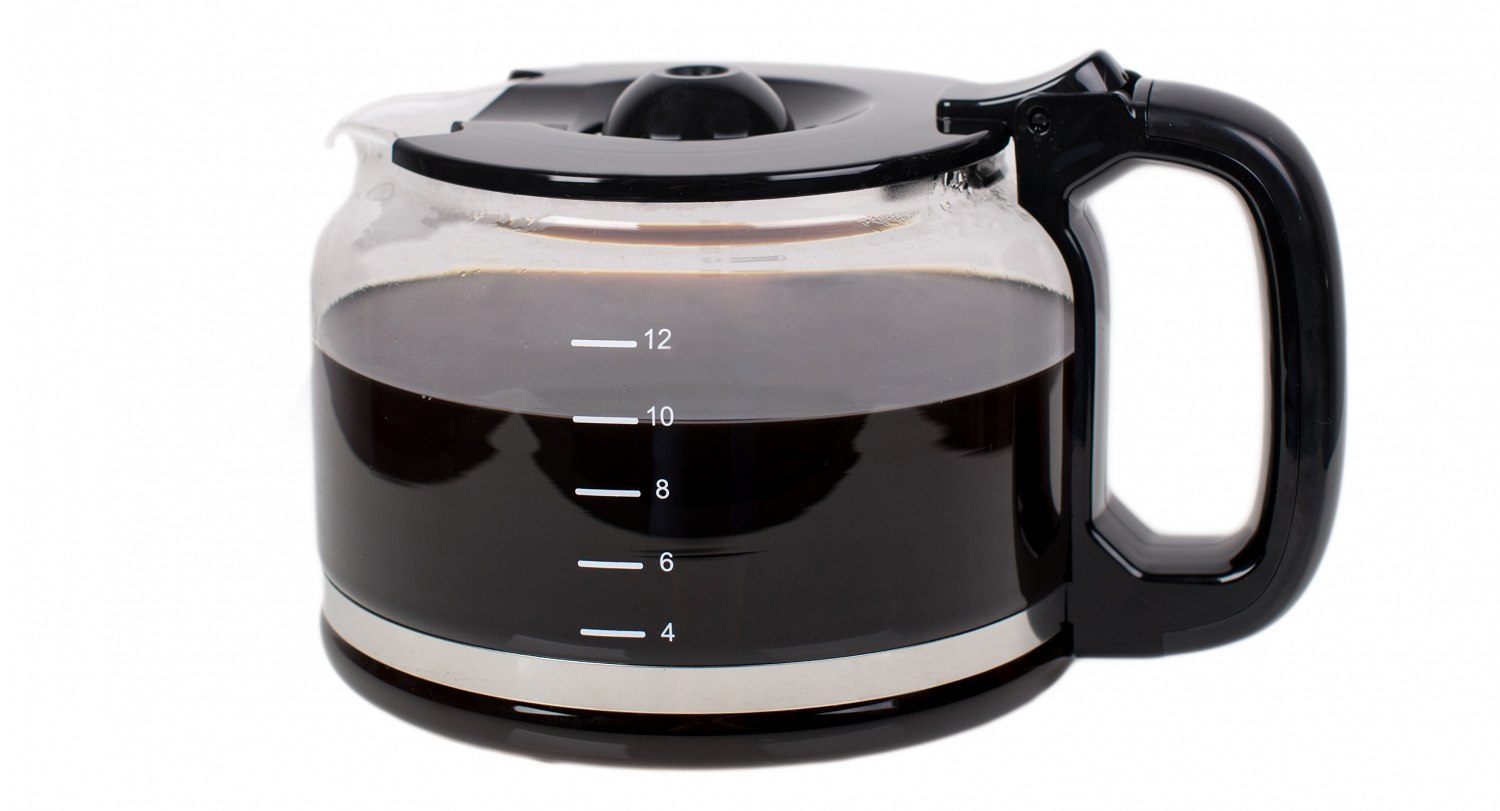 Glass jug with a capacity of 1,5 L - has an ergonomic handle allowing for safe moving of the hot coffee without the risk of burning Yourself, special nozzle makes filling the cups easier.
You can place the jug with brewed coffee on the table for easier refills.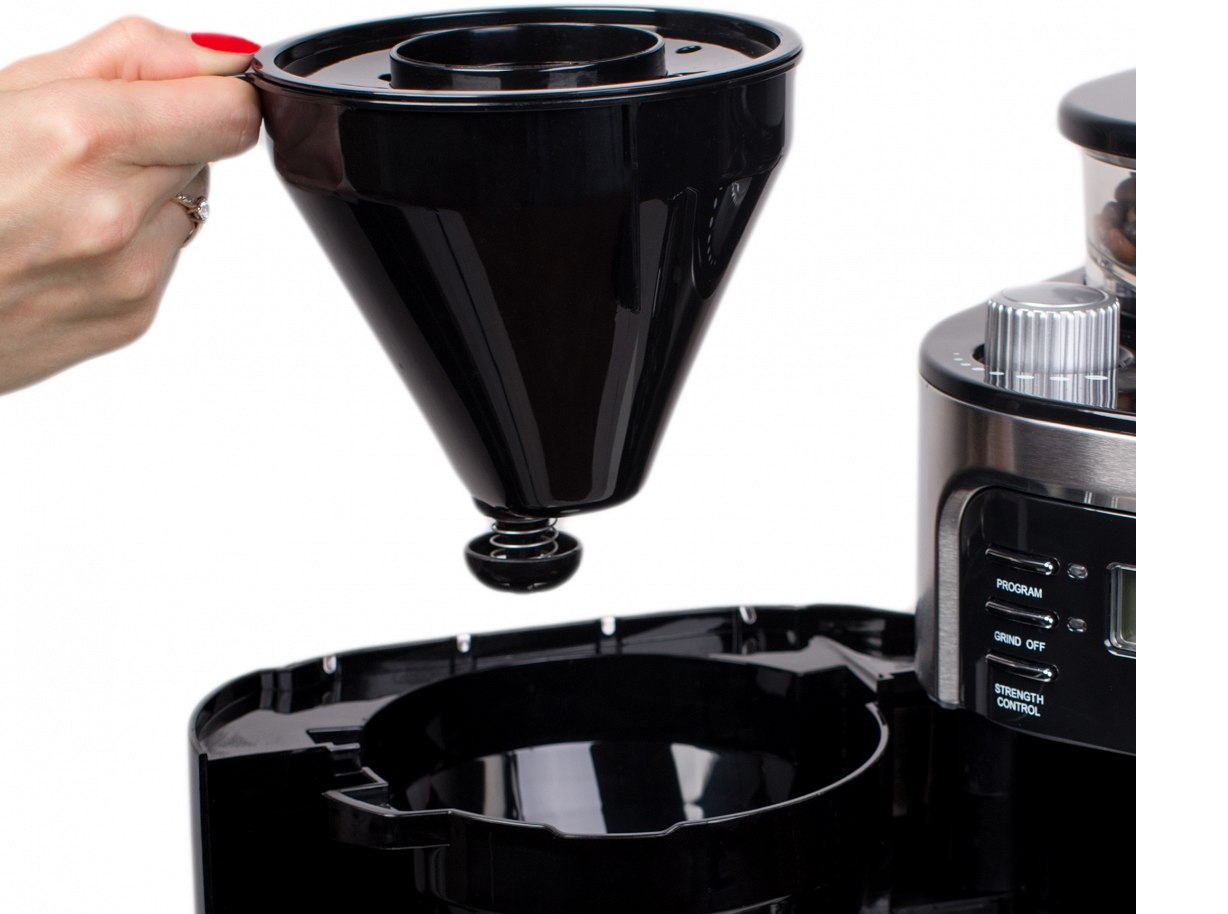 Anti- drip

- device is equipped with an anti drip mechanism that blocks any water from dripping from the coffee machine nozzle. It consists of special spring that blocks the coffee from dripping after engaging it. This design will allow You to pull the jug away without spilling even a droplet of coffee. Besides that this function will make cleaning of the filter unusually easy, after lifting the filter the anti drip will be engaged that will protect the coffee machine from getting dirty and will keep Your coffee machine and Your kitchen clean.

Equipment:
1. Filter lid
2. Reusable filter
3. Filter socket
4. Glass coffee jug
5. Grinder cover
6. Coffee machine
7. Coffee scoop


Original box, Warranty card, Receit/VAT Invoice, PL/EN Instruction Manual








Technical details:
Water reservoir capacity: 1,5 L

Glass jug capacity: 1,5 L

Power: 900W

Power cord length: 98 cm

Weigth: 4,2 kg

Dimensions: 43,1 cm (height) x 21,6 cm (width) x 26 cm (length)

Kolor: Black - Silver (INOX Stainless Steel)

Polish plug 220-240V 50/60Hz

Instruction manual YOER CMG01BK - Click here
Super ekspres! Jestem pod wrażeniem jakości wykonania i użytych materiałów. Kawusia przepyszna, codziennie ekspres budzi nas zapachem świeżo przygotowanej kawy. Polecam wszystkim

polecam w 100%

Doskonałe urządzenie, kawa smaczna, zawsze rano czeka na mnie w kuchni

Za tą cenę super sprzęt

Expres elegacki - robi bardzo dobrze kawusię.
Polecam.
Dobry stosunek ceny do jakości

Po kilku miesiącach używania mogę napisać, ze produkt ma kilka minusów, ale znacznie więcej plusów i w ogólnym rozrachunku jestem bardzo zadowolony.

Co do minusów: wg. miarek ekspresu 1 kawa to ok. 125 ml i nie można zrobić mniej niż 2 (właśnie tak, ekspres nie zmieli kawy na 1 porcję 125 ml). Kolejny: jest 3-stopniowa skala mocy kawy, ale nawet najmocniejsza mieli nieco za mało kawy (na 2 porcje czyli 250 ml powinno być ok. 30g, mieli ok. 25g). Radzę sobie z tym wlewając mniej wody. A no właśnie - to największy minus - nie można zaprogramować ile wody ma pobrać ekspres - zawsze pobiera wszystko, co jest w pojemniku (nawet jeśli w pojemniku jest woda na 6 filiżanek, a wybraliśmy program na 2), więc trzeba uzupełniać przed każdym przygotowaniem kawy. Można to jednak przeżyć, bo młynek żarnowy robi super robotę, ekspres wygląda bardzo dobrze, łatwo go czyścić i po nauczeniu się życia z wymienionymi powyżej minusami - można tak jak ja być bardzo zadowlonym z produktu i wydaje mi się, że w tej półce cenowej nie ma szans na znalezienie niczego lepszego.

Towar wart ceny , bo drozsze nie mają nic inne a nawet robią mniejszą ilość kawy nie 12 tylko 10 ale nie wszystkie modele . Polecam

Ekspres bardzo prosty w obsłudze , ciekawy design, pyszna kawa, po prostu super.

Świetny produkt w przystępnej cenie

Bardzo dobry produkt za rozsądną cenę.

Sprawdza się w 100%

Łatwy w obsłudze,ładnie wykonany,

Recently viewed products

Other Customers also purchased

Similar products