Language
Column fan YOER Verto TF01S
Column fan, air ionizer, oscillation, 4 ventilation modes, LED display, remote control.

Shipping within

24 hours

Availability

Small

6

pcs.
| | |
| --- | --- |
| Bar code | |
| EAN | 5900779771017 |
Description

Instruction manuals

Reviews & ratings (9)
COLUMN FAN YOER Verto TF01S
CONSTRUCTION-MAIN COMPONENTS
Blacklit LED display
Side cover made of INOX stainless steel
Air outlet with guard
Remote control
Touch control panel
Easy transport handle, with compartment for the remote control
Rebust two-piece device base
PRODUCT DETAILS
Power: 45 W
Max air velocity: 2,65 m/s (8.7 ft/s)
Max fan flow rate: 24,45 m3/min (863.4 ft3/min)
Max ventilation range: 10m 24 ft
Fan guard: Yes
Air ionization functionality: Yes
Fan speed steps: 3
Ventilation modes: 4 (normal, natural, sleep, child)
Regulation of airflow direction: Yes
Airflow direction modes (tilt): 2
Oscillation angle: 0-90°
Remote control: Yes, with the range of 15m
Timer: Yes, 12 hous
Stable base: Yes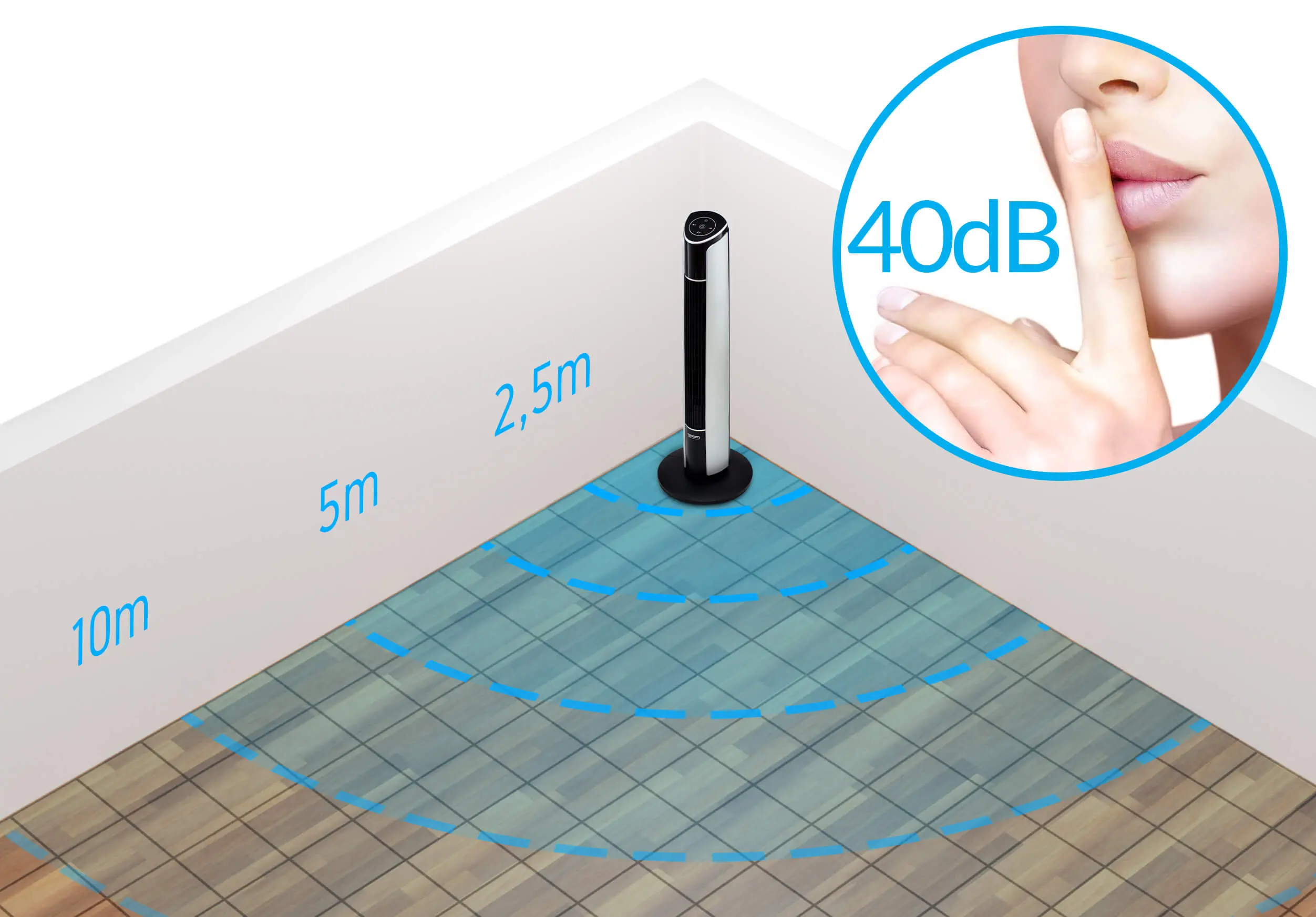 QUIET OPERATION AND PERFORMANCE
Long ventilation range - via the utilization of a vortex bladeless turbine, the fan achieves as much as 7.5 m (24.6 ft) ventilation range along the entire height of the device, which will fill even large rooms with a cool breeze in just a few moments.
Column fan - the bladeless construction of the fan increases its efficiency, the air sucked from the back of the device is put into movement by the modern rotor located on the inside of the device. Because of that, its perceptible temperature lowers and you get to enjoy a cool, pleasant breeze.
Quiet operation - during operation, the fan emits noise of only 40dB, which does not interfere with sleep. Because of that it can also be used in a child's room.
2 WAYS TO CONTROL THE DEVICE
Intuitive control panel:

1. Timer button - allows the user to set the time after which the device is to shut itself down, with a range of 0-12 hours.

2. Mode button - allows switching between the 4 modes of ventilation (normal, natural, sleep, child).

3. Oscillation button - makes the device turn in a swinging motion in a 0-90° range.

4. Power ON/OFF button.

5. Fan speed button - switches between 3 available fan speed steps (low, medium, high).

Remote control - included in the set, allows for control of the device from a distance, as well as enabling the ionization functionality.

6. Ionization button - turns the air ionizer on which filters the air, neutralizing microbes circulating in the air.

7. LED display ON/OFF button - press the button on the remote control and turn the display off to peacefully fall asleep in total darkness.
EASY TO READ DISPLAY WITH THERMOMETER
The blacklit display - shows the currently enabled functions and the room temperature. In addition to that, it creates a slender, elegant look, nicely composed with other decorative pieces of the device.
Display icons:
Displayed information icon (temperature),
Temperature and set timer hour display,
Displayed information type icon (set timer hour),
Natural ventilation mode icon,
Normal ventilation mode icon,
Oscillation mode icon,
Circlular fan speed indicator (low, medium, high),
Units corresponding to the displayed value,
Sleep mode icon,
Child mode icon,
Ionization icon.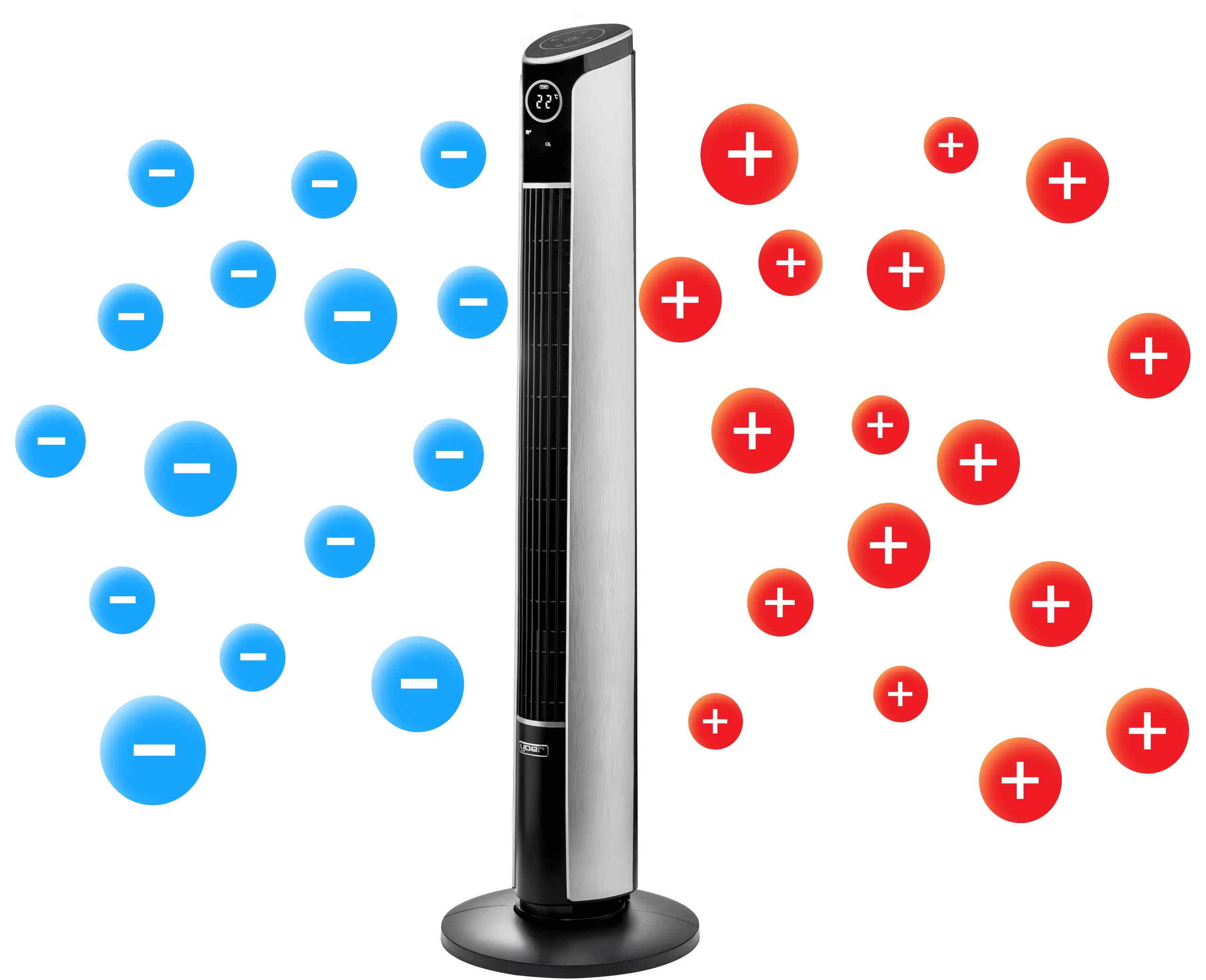 IONIZATION FUNCTIONALITY
The air ionizer - neutralizes positively-charged ions that attract viruses and bacteria into negatively-charged ions, which makes dust and microbes fall to the ground rather than enter the lungs.
Health benefits - the negatively-charged ions generated by the device favorably affect metabolism and the immune system. Negatively ionized air helps those who suffer from asthma or migranes, and improves sleep quality.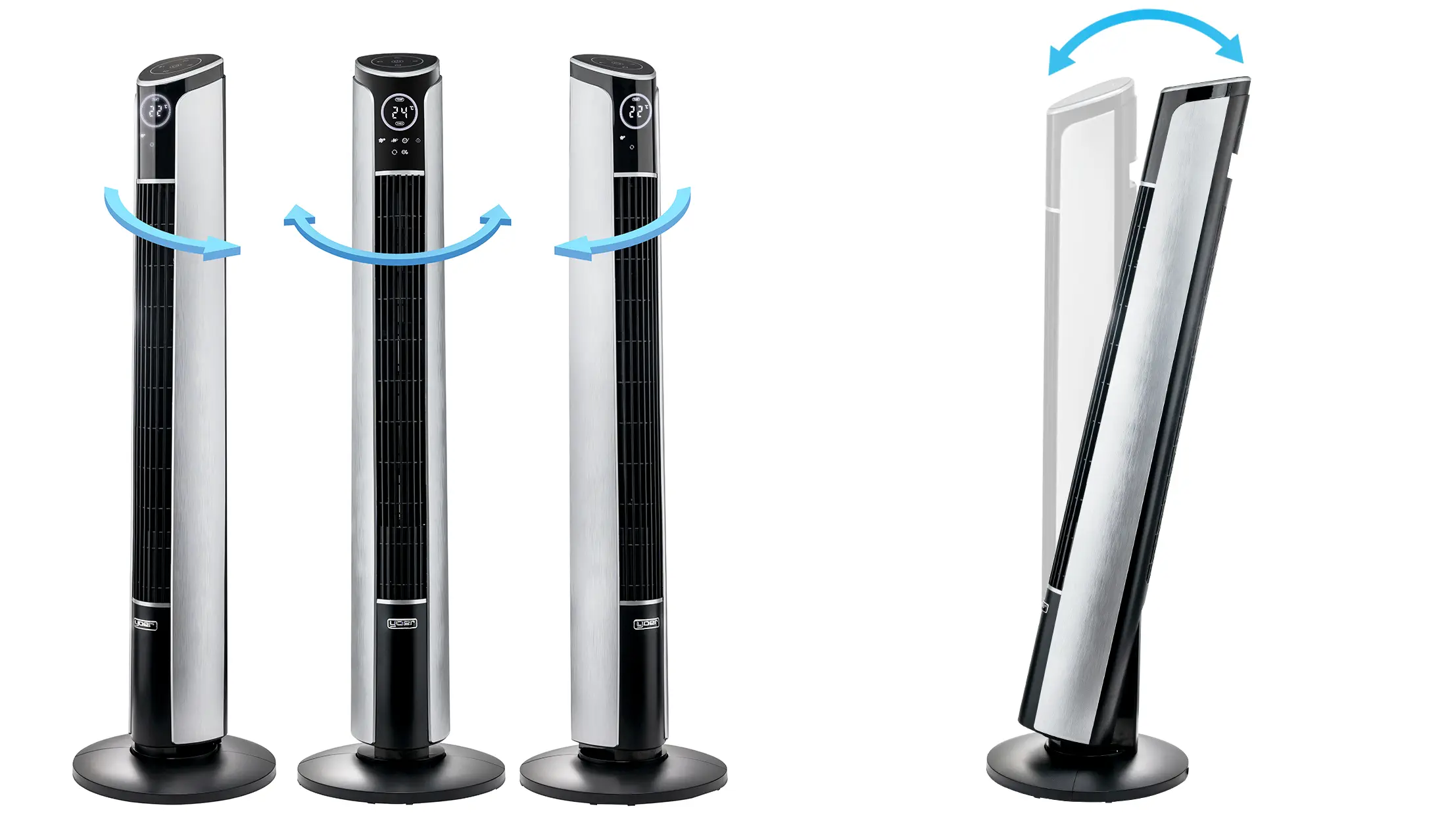 OSCILLATION FUNCTIONALITY AND AIRFLOW DIRECTION REGULATION
Oscillation functionality - makes the fan automatically swing in the 0-90° range, which increases the operational area significantly in comparison to single-directional ventilation.
Airflow direction regulation - the fan has a 2-step tilt regulation, which allows the user to adjust the airflow direction to their needs.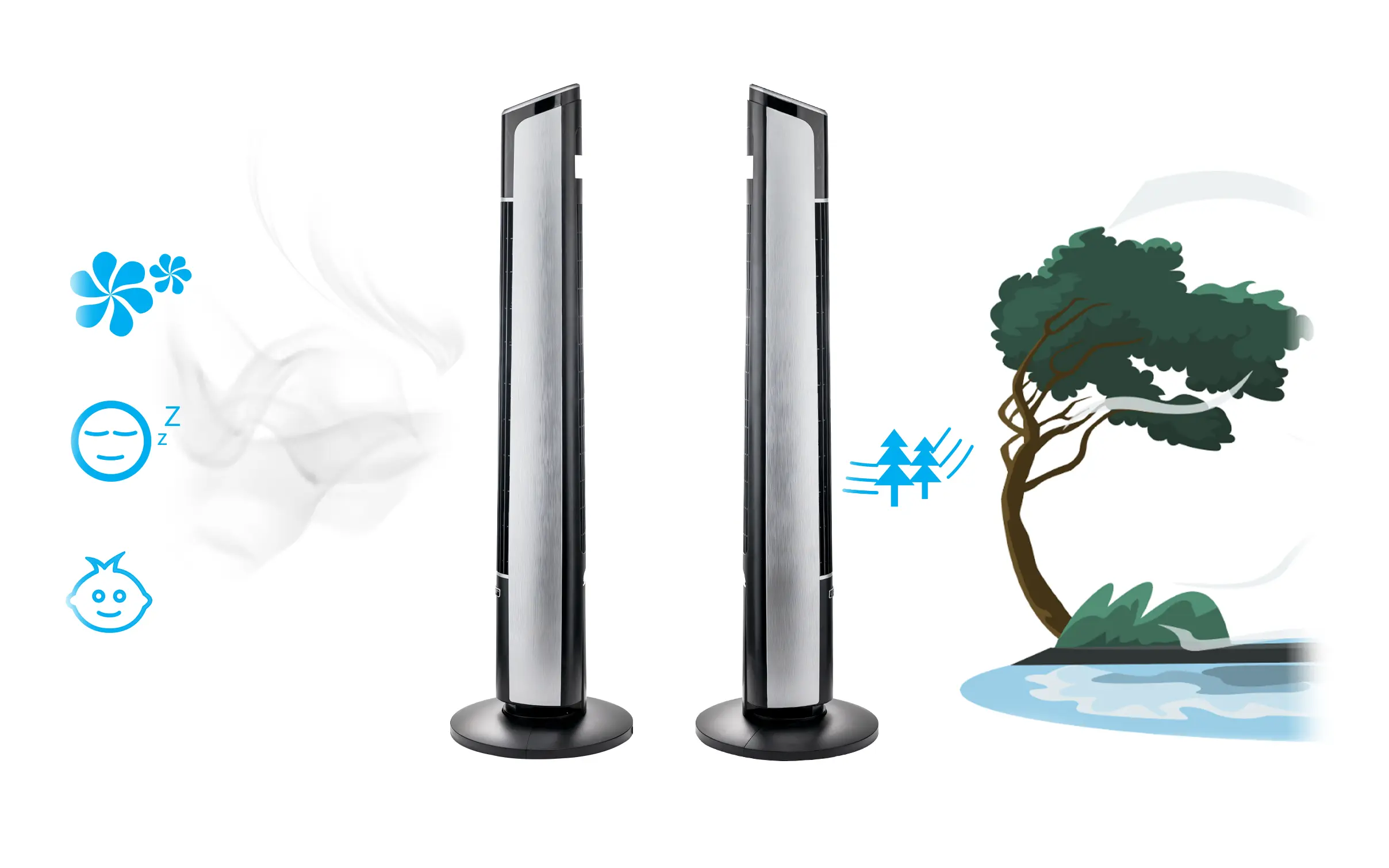 4 VENTILATION MODES - NATURAL WIND FLOW
4 ventilation modes to choose:
Normal - stable airflow, depend on the selected speed.
Natural - imitates natural wind, dependent on the selected speed.
Sleep mode - the fan will begin its operation at the selected speed and will gradually decrease it over time until it reaches the slowest speed. After 30 seconds of operation in this mode, the display will automatically turn off.
Child mode - the fan will automatically set the timer for 3 hours, enable the oscillation functionality and the air ionizer. The device will begin operation at the highest possible speed and will gradually decrease it until it reaches the slowest speed. The display will turn off after 30 seconds of operation. It is possible to disable the oscillation in this mode.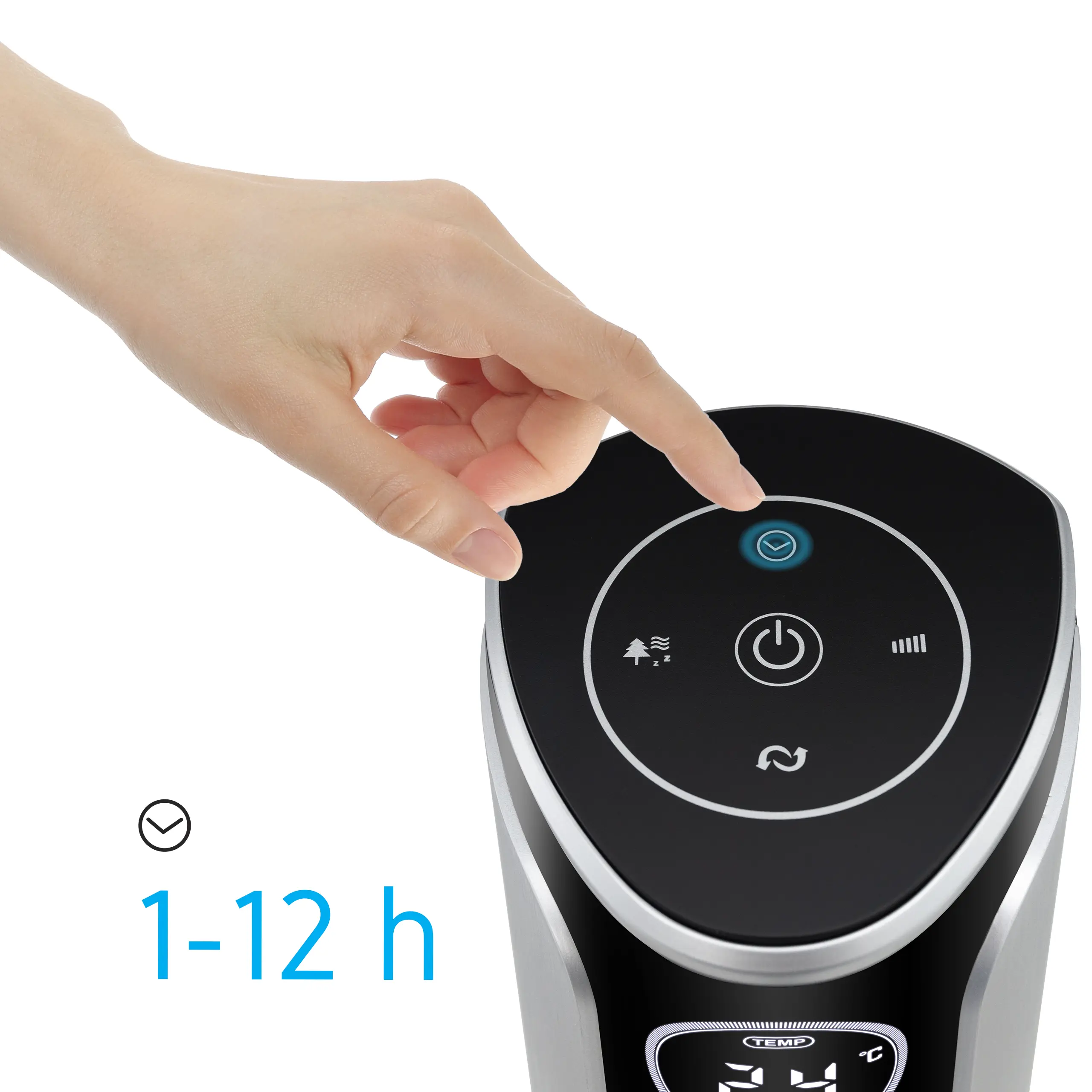 TIMER
12-h timer - this functionality allows the user to set the time after which the device is to shut itself down.
The device can shut itself down within the range of 0-12 hours.
You can peacefully fall asleep nearby the turned on fan because the fan will automatically turn itself off after chosen time.
EXCLUSIVE DESIGN
Polished in every detail - in Yoer we care a lot about the appearance of our products and that is why purchasing our fan, you have the quarantee that its functionality goes together with its modern, elegent appearance.
Universal - the fan will easily suit your bedroom or living room, regardless of the interior design.
Compact - it does not require a lot of space and it is suprisingly light.
SIMPLE AND CONVENIENT
Wide base with non-slip feet - the device is equipped with a wide, round base which assures full stability even during operation in its tilted position as well as during oscillation.
Fan guard - covers the air inlet and outlet, secures the internals of the fan from accidental damage or human contact with the moving parts of the device.
Remote control compartment - store your remote control in specially designed for it place to avoid losing it.
TECHNICAL SPECIFICATION
Max. power: 45 W
Max. air velocity: 2,65 m/s
Max. fan flow rate: 24,45 m3/min
Noise level: 40 dB
Power cord length: 1,4 m (4.6 ft)
Weight: 4,3 kg (9.5 lbs)
Dimensions: 14 x 14 x 110 cm (5.5 x 5.5 x 4.3 ")
Base diameter: 31,5 cm (2")
Color: Black with silver accents
Polish power plug: 230V~ 50Hz
EQUIPMENT
Column fun
Remote control + 1x CR2025 battery
Two-piece base
Original packaging
YOU WILL RECEIVE:
Column fan - details above,
YOER PLATINUM SECURITY card,
PL / EN instruction manual.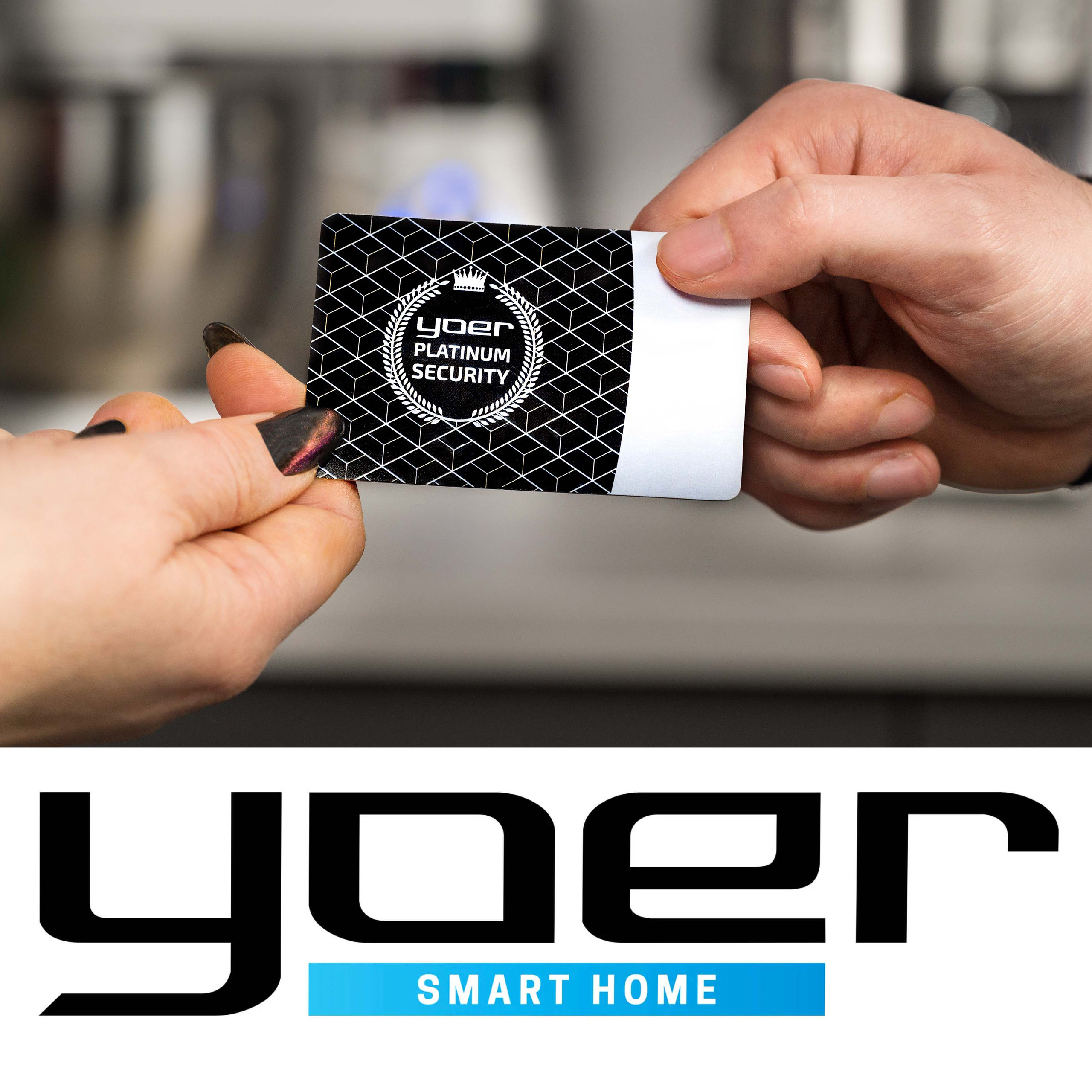 YOER PLATINUM SECURITY
When purchasing products from the official Yoer store you receive the YOER PLATINUM SECURITY package, which is an assurance of additional protection.
YOER - POLISH MANUFACTURER AND BRAND
YOER constitutes an excellent proof that high quality of products does not necesserily go in hand with high prices.

YOER TF01S Instruction manual - Click here
Najlepszy

Bardzo dobrze wykonany, prosta obsługa i cicha praca silnika.

Wygląd MEGA. Polecam w 100%

Super jakość i wygląd

Mocny i fajny wizualnie wentylator, polecam zakup!

Używam już ponad 2 miesiące i bardzo dobrze się sprawuje. Polecam!

Cichy, wydajny, dużo funkcji i wygląd robi robotę.

Duży ale i wydajny.

SUPER

Recently viewed products

Other Customers also purchased

Similar products