Language
Combi coffee maker YOER DUALIO CCM03BK
Pressure: 15 Bar, Power: 850 W, Milk frothing functionality, Designed to work with ground coffee, Cup preheat functionality.

Shipping within

24 hours

Availability

Not available

0

pcs.
| | |
| --- | --- |
| Bar code | |
| EAN | 5900779770522 |
Description

Instruction manuals

Reviews & ratings (10)
2IN1 COMBI COFFEE MAKER YOER Dualio CCM03BK
PRODUCT DETAILS
Power: 850 W
Color: Black ith silver accents
Pressure: 15 bar
Coffe type: Ground
Adjustable: Coffee amount, steam intensity
LED display: Yes
Control panel: Yes
Sound indicator: Yes
Water level indicator: Yes
Removable drip tray: Yes
Body: Brushed INOX steel, polymer
Additional functionalities: Automatic power off, energy safing, cup preheater, milk frother
Supplied accessories: Thermal cup, nozzle, measure
CONSTRUCTION - MAIN COMPONENTS
Cup heating plate
LED display
Control panel
Porta-filter socket and portafilter
Milk frother nozzle
Removable drip tray and drip plate
Steam control knob
Removable water reservoir
Removable reusable filter
Thermal cup
Anti-slip base
Brushed INOX steel body
REBUST CONSTRUCTION
Anti-slip base - the coffee machine's base is equipped with anti-slip feet to prevent accidental sliding of the device.
Brushed INOX steel body - ensures durability, but also gives the appliance its modern feel.
VERSATILITY AND FUNCTIONALITY
1,2 l (10 coffee cups) water reservoir - the large capacity of the reservoir allows for preparing several (up to 10) cups of coffee at once. At the same time, its removability makes it easier to refill and clean.
850 W optimal ECO power - the coffee machine is ready to work within just 95 seconds, while ensuring energy savings.
Dual-nozzle porta-filter - allows for preparing two coffee cups at the same time, or preparing a single cup quicker.
Removable drip tray - makes it easier to keep your device clean.
ECO functionality - the coffee maker automatically shuts off after 25 minutes of inactivity, which has a good influence on your budget.
MULTIFUNCTIONALITY
2in1 combi pressure and drip coffee machine - is a fusion of a high-pressure and drip coffee machine systems. Makes a perfect solution for those who like strong brewed coffee, as well as lovers of smooth coffee with mellow froth.
Milk frothing functionality - owing to the the easy to use milk frother you will get warm, frothed milk, and when applied to your favorite coffee, a perfect Cappuccino or Latte can be enjoyed. The smooth steam intensity adjustment will allow you to additionally set the viscosity of the frothed milk according to your preference.
Steam beverage heating - the frother nozzle may be used to prepare hot beverages such as hot chocolate, water or tea.
Ground coffee maker - the device is designed to work with previously ground coffee.
DIGITAL LED DISPLAY AND CONTROL PANEL
Backlit control panel - makes it easy to work the device and gives it its exclusive look.
FUNCTION BUTTONS:
Steam / Milk frothing
Single coffee cup / Single espresso
Two coffee cups / double espresso
Manual coffee amount adjustment
Enabling the pressure segment
Enabling the drip segment
DISPLAY ICONS:
Power - indicates the device has been turned on.
Heat-up - informs that the coffee maker has reached working temperature.
Single espresso - blinks while preparing a single cup of coffee.
Double espresso - blinks when preparing two cups of coffee.
Steam function - informs of milk frother operation.
Manual mode - informs that the coffee maker is operating in manual mode.
Hot water - informs of water flow through the frother.
Drip segment - indicates that the coffee maker is preparing coffee using the drip segment.
DRIP SEGMENT
Traditional brewed coffee - the specialized design of the coffee machine enables preparing brewed coffee in the drip segment. All you have to do is put ground coffee in the reusable filter and press the appropriate button. The coffee machine will automatically begin pouring coffee directly into the thermal cup supplied with the set, or a cup of your choosing.
THERMAL CUP
Free large cup - a 400 ml cup is supplied with the set, made of steel and high quality polymer. The vacuum-isolated walls of the cup keep the desired temperature of your beverage for longer. The sliding lid opening enables drinking straight from the cup, without the need of unscrewing the top.
PRESSURE SEGMENT
Coffee with thick froth - the 15 bar pressure makes it possible to extract the proper taste and aroma of coffee, and get the thick, mellow froth on top.
REUSABLE FILTER
Reusable filter - the drip segment of the coffee machine is equipped with a slide-out holder, where a nylon ground coffee filter is located. It can be easily removed, washed and reused, without the need of buying disposable paper filters.
2 free coffee filters - meant for preparing a single cup of coffee and for preparing two cofee cups, or a double coffee.
CUP PREHEAT FUNCTIONALITY
The heating element and the steel tray - the top part of the coffee machine doubles as a cup heater, which holds 3 large or 6 small coffee cups. Owing to this functionality, you will preheat your cups before preparing coffee.
Integrated operation - the cup preheat functionality is engaged upon turning on the appliance. Preheated cups have a positive impact on the taste of coffee and ensure retaining the correct temperature of the beverage for longer.
3 SIZES OF GLASSES AND CUPS
Coffee machine design - allows for using glasses and cups of different sizes:
Max. 13,3 cm (5.2'') with drip tray
Max. 15,9 cm (6.3'') without drip tray
Max. 18,2 cm (7.2'') in the drip segment
Removable drip tray - allows for increasing the space from the nozzle to allow for preparing coffee in your favorite large cup.
TECHNICAL SPECIFICATION
Water reservoir capacity: 1,2 L (10 coffee cups)
Thermal cup capacity: 400 ml
Max. cup height in the pressure segment: 15,9 cm (6.3'')
Max. cup height in the drip segment: 18,2 cm (7.2'')
Power: 850 W
Pressure: 15 bar (217.6 PSI)
Heat-up time: 95 seconds
Power cord length: 77 cm (30.3'')
Weight: 4,5 kg (9.9 lbs)
Dimensions: 32,3 cm (height) x 29,7 cm (width) x 28 cm (length) (12.7 x 3.1 x 32.3 ")
Color: Black with INOX steel accents
Polish power plug: 220-240V 50/60Hz
EQUIPMENT
Pressure/drip coffee maker
Dual nozzle porta-filter
Removable, reusable ground coffee filter
Single coffee filter
Double coffee filter
Coffee measure with tamper
Thermal cup
Original packaging
YOU WILL RECEIVE:
Coffee maker - details above,
YOER PLATINUM SECURITY card,
Warranty card,
PL / EN instruction manual.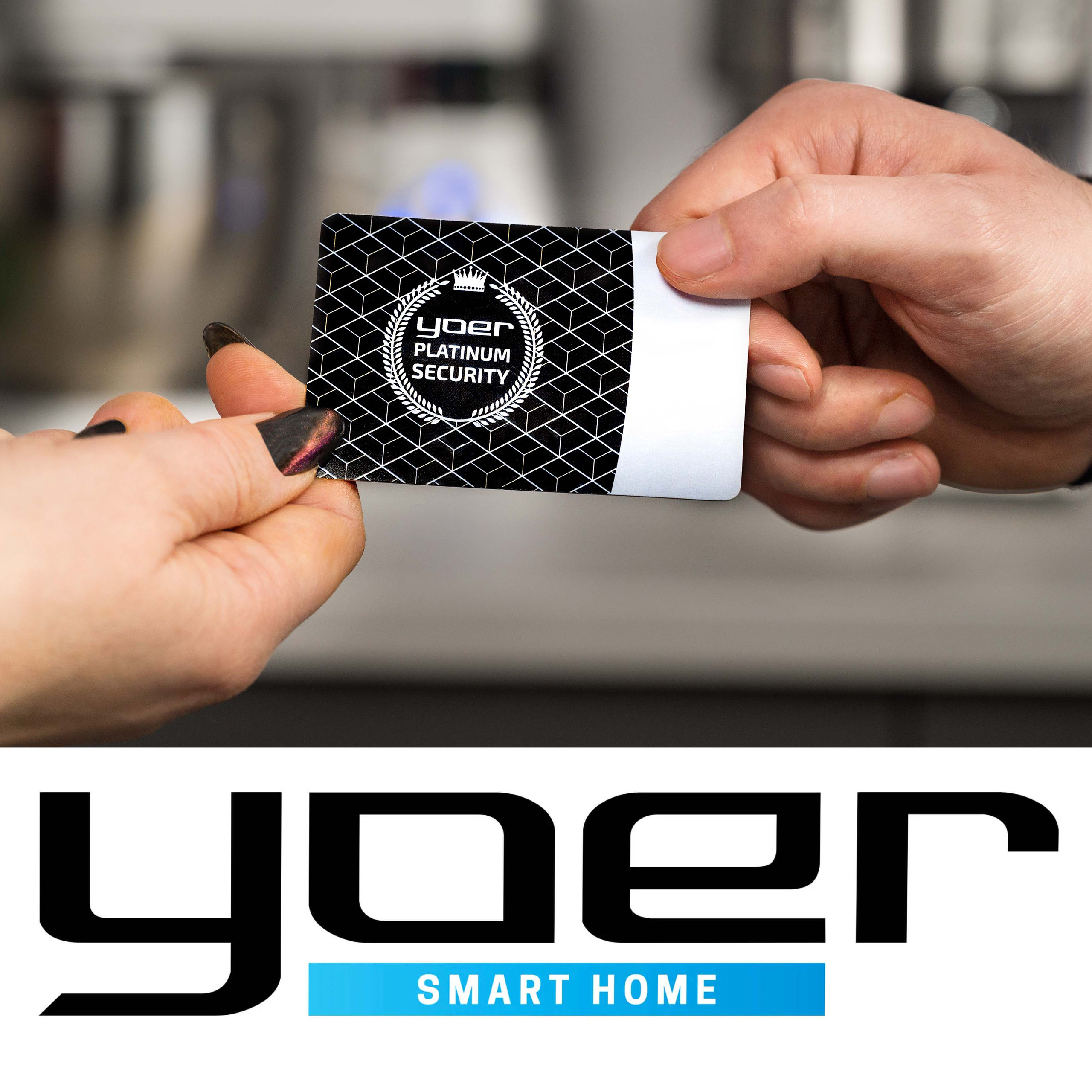 YOER PLATINUM SECURITY
When purchasing products from the official Yoer store you receive the YOER PLATINUM SECURITY package, which is an assurance of additional protection.
YOER - POLISH MANUFACTURER AND BRAND
YOER constitutes an excellent proof that high quality of products does not necesserily go in hand with high prices.

YOER CCM03BK Instruction manual - Click here
Warty swoje ceny kawa bardzo dobra . Polecam. Firma jakoś usługa bez namniejszego problemu. Oby tak dalej

Ekspres godny polecenia, ślicznie wykonany pasuje do każdej kuchni nie za duży. Bardzo funkcjonalny dzięki możliwości zrobienia kawy w ekspresie przelewowym do kubka termicznego jak i również pysznej kawy w ekspresie ciśnieniowym.
Spieniacz robi idealna piankę. Cena super

REWELACJA WYKONANIE NA WYSOKIM POZIOMIE JAK ZA DWA RAZY WYzSZa CENE O SMAKU KAWY NIE WSPOMNE JAK Z WŁOSKIEJ KAWIARNI PREZENTUJE SIE SUPER NIC TYLKO KUPOWAC

Świetna jakość wykonania. Kawka z ekspresu bardzo pyszna. Polecam zakup w 100 %.

estetyczny, dobra cena w stosunku do jakości.

wszystko ok

prosty ale spoko - łatwy czyszczeniu

Extra

Super Ekspres do kawy CIŚNIENIOWY PRZELEWOWY Yoer +Kubek

jakość wykonania bardzo dobra kawa smakuje świetnie ogólnie express pracuje bez zarzutu