Language
Electric clothes dryer YOER Quick Dryer CD01B
Multifunctional appliance 3in1 Quick drying in an isolated chamber, Timer, Maximal load: 30kg

Shipping within

24 hours

Availability

Not available

0

pcs.
| | |
| --- | --- |
| Bar code | |
| EAN | 5900779770409 |
Description

Instruction manuals

Reviews & ratings (10)
YOER CD01B Quick Dryer 3in1 Electric Clothes Dryer
+ Portable Clothes Cabinet + Fan Heater
+ 8 FREE Hangers
PRODUCT CHARACTERISTICS:

• Works with any hangers,
• Max. load: 30 kg (66.1 lbs),
• Quick drying in isolated chamber,
• Static drying method,
• 0-180 minute timer,
• Continuous work,
• High efficiency - regular drying time 60-180 minutes,
• Perfect for all kinds of fabrics, even the delicate ones,
• No risk of wrinkly clothes,
• High quality cover with 3 zippers,
• Electricity saving in comparison to traditional electric dryers,
• PTC heating element,
• Wheels for easy movement,
• Wheel lock to keep the dryer in one spot,
• Possibility of folding the dryer without taking the cover, off,
• Easy assembly and disassembly without any tools needed,

Innovative drying method - dryer works based on a fan heater and a closed chamber, in which you hang the laundry. This method of drying using a warm air blowing from below the clothes will protect clothes from abrasion, wrinkles and other damage.

This method is perfect choice for thick and thin, delicate fabrics. Moreover, drying clothes in this way won't require most clothes to get ironed afterwards, you will only have to hang them in your wardrobe.

Quick drying - high efficiency is the main asset of this device, standard time of drying in this dryer is 60-180 minutes, depending on the amount of clothes, type of the fabric and how centrifudged the laundry is.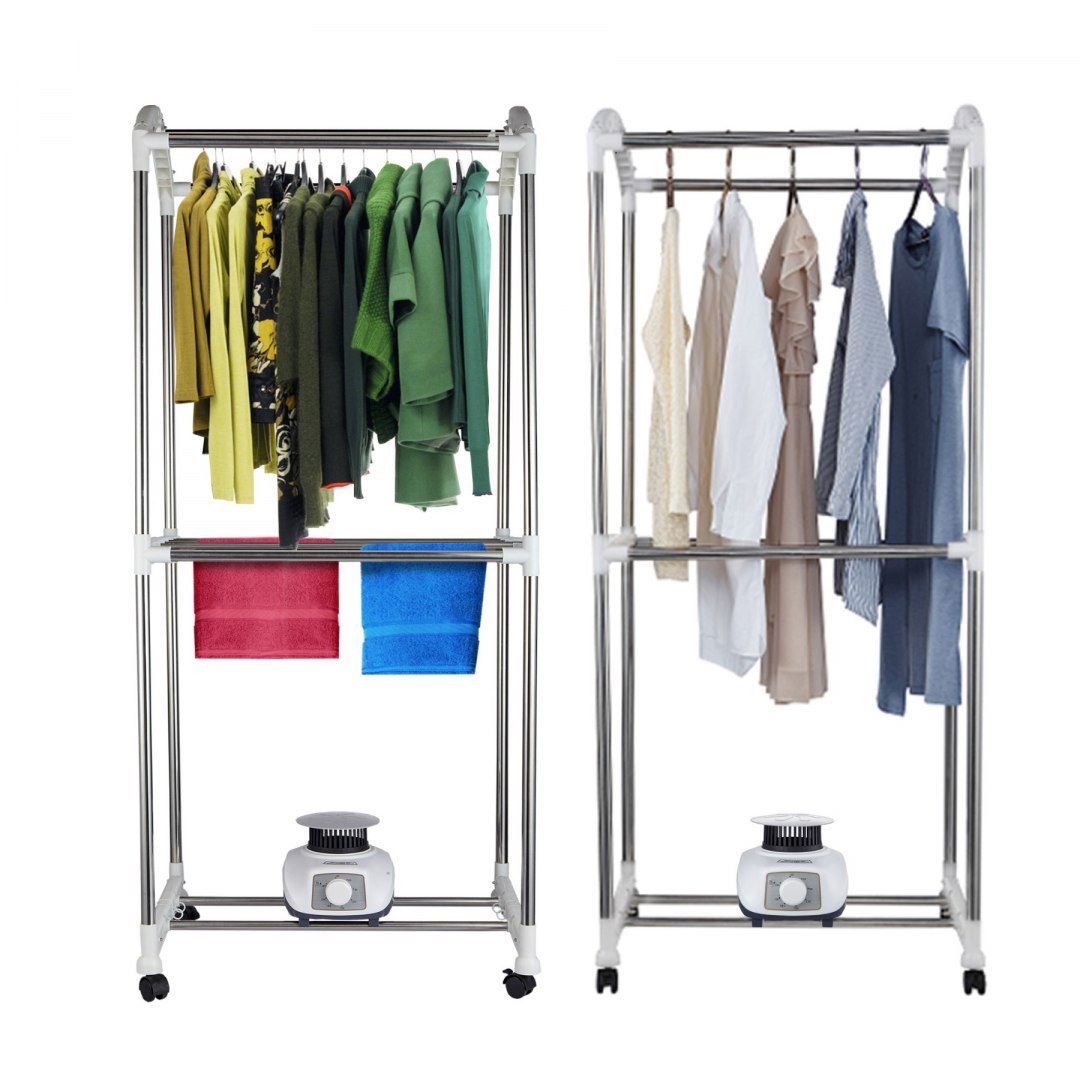 High functionality - dryer allows to hang the clothes on different hangers in it's top part and on 8 bars in the middle part, thanks to it you will be able to dry every type of clothes: from socks through pants all the way up to long puffy jackets.
Removable bars - six bars located in the middle part of the dryer are easily removable, what will allow for drying not only t-shirts, sweaters or shirts but also dresses and long coats.


MULITFUNCTIONAL 3in1 DEVICE
Electric clothes dryer - simple and quick drying of clothes in a closed chamber with warm blowing air. While being affected by high temperature all of the bacteria get eliminated, that's why dryer will be perfect for allergy sufferers.
Portable wardrobe - isolated chamber will guarantee, that the clothes won't get dirty again, theu will be free of dust, cigarette smoke, smells from the kitchen or contact with insects. Thanks to the practical cover with 3 zippers, you don't have to hang the clothes away right after you finished drying them.
Fan heater - with help of this device you will not only dry your laundry, but also warm up your room in cold days.
Air humidifier - while drying clothes, device will also double as air humidifier. While your laundry is being dried, the removed humidity will be blown out of the chamber through the holes in the top part of the cover, as an effect air humidity in the room will noticeably improve, which is really important in the winter season, when the air in our houses is much more dry.

2 WAYS TO FOLD THE DRYER
1a. Folding with a cover on
1b. Folding without cover
Folding function - thanks to the folding function, you dont have to completely disassemble it if you want to store it. Just fold it and slide it behind a cabinet or under a bed up until it's needed again.
2. 0-180 minutetime and continuous work function - will allow you to choose the time needed for drying depending on the amount of clothes, type of the fabric and how centrifudged your laundry is. PTC heating element used in this dryer is a measure of double protection protecting the device from overheating and ensures it longevity.

3. Wheels with a brake - two wheels are fitted with a special brake thanks to which you can stop the dryer from moving while it's drying your clothes, releasing that brake will allow you to freely move the dryer around.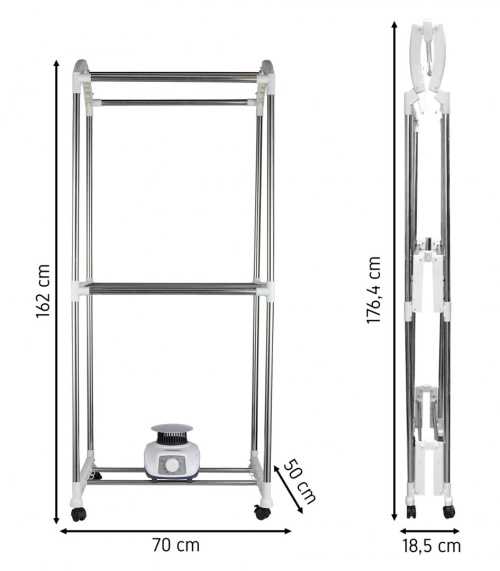 TECHNICAL DETAILS:

• Power: 1000 W
• Timer: 0-180 minutes
• Waterproof class: IPX1
• Power cord length: 1.43 m (4.7 ft)
• Weight: 5.5 kg (12.1 lbs)
• Dimensions after extending it: 162 cm (height) x 70 cm (width) x 50 cm (length) (63.8 x 27.6 x 19.7'')
• Dimensions after folding: 176.5 cm (height) x 70 cm (width) x 18.5 cm (length) (69.5 x 27.6 x 7.3'')
• Max. load: 30 kg (66.1 lbs)
• Color: Blue
• Polish plug 220-240V 50/60Hz
EQUIPMENT
1. Cover
2. Heating part
3. Bar 12 mm x 670 mm - 6 pcs. (0.47 x 26.4'')
Bar 19 mm x 680 mm - 2 pcs. (0.75 x 26.8'')
Bar 25 mm x 630 mm - 4 pcs. (0.98 x 24.8'')
Bar 25 mm x 690 mm - 9 pcs. (0.98 x 27.2'')
4. Bottom handle - 2 pcs.
Middle handle - 2 pcs.
Top handle - 2 pcs.
5. Wheels - 4 pcs. (in which 2 are with brakes)
6. Handle lock - 8 pcs.
7. Original box
8. FREE hangers - 8 pcs.

You will receive:
• Clothes dryer - details above
• Warranty card
• PL / EN Instruction manual

YOER CD01B instruction manual - Click here
Robi robotę i to szybko. Wieszak dość pojemny,mieści jakieś 1,5 wsadu pralki. Polecam

Szafa super zarówno do suszenia jak i ogrzania pokoju! Polecam wszystkim!!!

Bardzo dobra, jakość wykonania. Polecam.

Używam od roku. Suszy wszystko od skarpet po grube zimowe kurtki. Najgrubsze ubrania potrzebują co najmniej 2 cyklów 3 godzinnych. Należy po każdym cyklu przemacać odzież. Wstawiam urządzenie do łazienki i otwieram okno aby lepiej odprowadzała się ulatująca para. Para lubi skraplać się po ścianach więc musi być odprowadzana poprzez kratkę i okno. Polecam

Dla rodzin z małym dzieckiem świetna sprawa:
- suszy,
- nawilża pokój,
- ogrzewa
- szum dmuchawy usypia dziecko

Ekspresowa wysyłka- na drugi dzień otrzymałam paczkę. Jako pierwsze suszenie odpaliłam ręczniki kąpielowe. Potrzebowały niecałe 4h do wyschnięcia- rewelacja!

Rewelacja i więcej nic nie powiem.

Świetny produkt !

spełnia moje oczekiwania,po otrzymaniu przesyłki natychmiast przystąpiłem do składania (bardzo łatwe) Suszenie rewelacja.

polecam produkt , dobrze suszy