Language

Customer zone
Electric Dryer YOER Quick Dryer CD01B
Multifunctional appliance 3in1 Quick drying in an isolated chamber, Timer, Maximal load: 30kg
| | |
| --- | --- |
| Shipping within | 24h |
| Availability | High |
| Weight | 5.5 kg |
Description

Instruction manual

Reviews & ratings (3)
3in1 Electric clothes dryer Yoer CD01B Quick Dryer
+ Movable closet + Heater

+ 8 hangers FREE


Device characteristics:

• Maximal load: 30 kg
• Quick drying in an isolated closet
• Static drying method
• Timer 0-180 minutes
• Continuous work mode
• high performance - standard drying time: 60-180 minutes
• Ideal for all fabrics for delicate ones too.
• No risk of creased clothes
• High quality cover with 3 zips
• Economic work in comparision to regular electric dryers.
• PTC heater
• Wheels allowing You to move it around freely
• Wheel lock allows stable work
• Dryer is foldable without need to disassemble it
• Easy assemble without the need for tools.

Innovative drying method - Dryer uses a fan and a closed space created by the cover to dry clothes hanging in it. Method of static drying using hot air blown from the bottom allows clothes to avoid wearing down, creasing or other damage.
This method is an ideal choice for drying both thick and delicate fabrics. Further drying clothes with this method won't even have to be ironed. You will only have to put them back into the closet.

Quick drying - high efficency is the main trait of this appliance, average drying time is about 60-180 minutes, depending on fabric type and how centrifugated Your laundry is.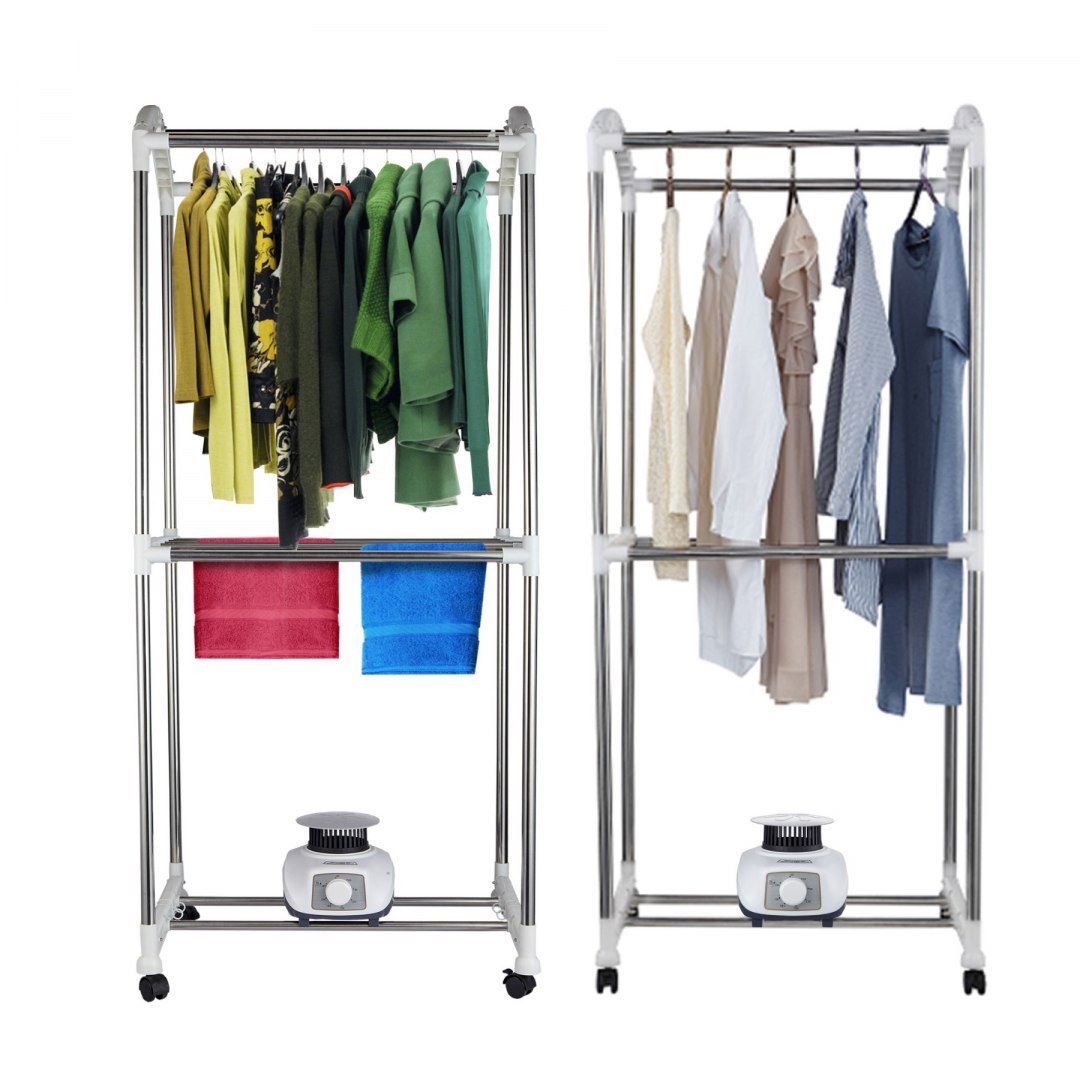 High efficency - dryer allows You to hang Your laundry in the top part of it and on eight bars in the middle part, so that You can dry every type of clothes from socks through pants to long winter coats.
Removable bars - six bars located in the middle part are removable that will allow You to dry not only t-shirts, sweaters or shirts, but also longer dresses and coats.





Mulifunctionality of 3in1 Appliance:
1) Electric clothes dryer - easy and quick drying with heating fan in closed chamber. High temperatures eliminates all bacteria and that makes this appliance perfect for anyone suffering with allergies.
2) Portable closet - ,isolated chamber will guarantee that clothes won't get dirty again from dust, cigarette smoke, any smells from the kichen or contact with bugs. Thanks to practical cover with 3 zips, You dont have to hang Your clothes in the closed instantly after they dry.
3) Heating fan - with this part You can not only dry Your clothes but also heat the room on cold days.



Humidifying - while drying clothes, appliance will serve as a humidifier. While drying moisture will get blown out by the fan from the holes up top of the cover. Because of that air quality will get better, and it's really important especially in winter when air gets dry.




1. Foldable function - thanks to a possibility of folding the dryer, it doesn't require You to disassemble it completely. Only thing You need to do is to fold it and put it under Your bed or behind a closet until next time.

2. 0-180 minutes timer and continuous work function will allow You to chose the drying time depending on amount of clothes, type of fabric and how centrufudged is Your laundry. PTC Heater used in this device is a system of double heat protection, disallowing heating over the limit and allows for quick heating up and long lifespan of the device.

3. Wheels with a lock - two wheels are equiped with a special brake, that locks the dryer in place if You disengage the brake You will be able to move the dryer wherever You like.

Technical details:

• Power: 1000 W
• Timer: 0-180 minutes
• Waterproof quality: IPX1
• Power cord length: 1,43 m
• Weight: 5,5 kg
• Dimensions (full size) : 162 cm (height) x 70 cm (width) x 50 cm (length)
• Dimensions (folded): 176,5 cm (height) x 70 cm (width) x 18,5 cm (length)
• Max/ load: 30 kg
• Color: Blue
• Polish plug 220-240V 50/60Hz






Equipment:
1. Cover
2. Base device
3. Bar 12 mm x 670 mm - 6 pcs.
Bar 19 mm x 680 mm - 2 pcs.
Bar 25 mm x 630 mm - 4 pcs.
Bar 25 mm x 690 mm - 9 pcs.
4. Bottom handle - 2 pcs.
Middle handle - 2 pcs.
Top handle - 2 pcs.
5. wheels - 4 pcs. (2 pcs. with lock)
6. handle lock - 8 pcs.
7. Original box
8. FREE HANGERS - 8 pcs.
You will recieve:
• Clothes dryer - details above
• Warranty card
• Receit / VAT invoice
• PL/EN instruction manual

Instruction manual YOER CD01B - Click here
Świetny produkt !

spełnia moje oczekiwania,po otrzymaniu przesyłki natychmiast przystąpiłem do składania (bardzo łatwe) Suszenie rewelacja.

polecam produkt , dobrze suszy

Recently viewed products

Other Customers also purchased

Similar products