YOER Baker BM01S breadmaker ice cream attachment
Attachment compatible with Yoer BAKER BM01S Bowl capacity: 1L, Product filled with special coolant
Shipping within

24h

Availability

High

191

pcs.
Description

Reviews & ratings (0)
YOER BM01S Bread Maker-Compatible Ice Cream Attachment
PRODUCT DETAILS
Compatible with bread maker Yoer BM01S

Bowl capacity: 1 L

Product filled with special coolant

Transparent cover

Hole in the cover allows you to add ingredients comfortably

Automatic mixer makes the texture of ice cream perfect
TECHNICAL SPECIFICATION
Weight: 1.5 kg

Dimensions: 21.1 cm x 17.5 cm x 17.5 cm

Color: pale pink, yellow

Compatible devices: Yoer BM01S

Device should not be washed in a dishwasher
EQUIPMENT
Coolant bowl

Bowl cover

Fitted mixer

Coolant bowl case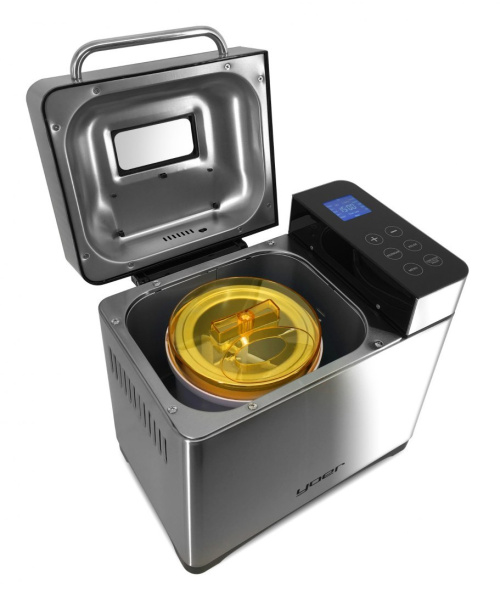 Ice cream attachment - will allow you to prepare delicious, natural ice cream made from your favourite ingredients in no time.
Special mixer - thanks to it all of your ingredients will be automatically mixed together while ice cream are made, making the texture uniform and smooth and makes the taste perfect.
Coolant bowl - special coolant placed in the bowl makes the ice cream ready in short time. Before preparing ice cream bowl needs to be cooled down, it should be placed in a freezer for around 16 h.
Bowl cover fitted with special hole allowing for comfortable addition of ingredients without need of taking it out of the insides of the breadmaker.
Easy in use - to make flavorful ice cream, previously cooled down bowl needs to be placed in the bread maker and filled with ingredients in correct proportions. Next you will have to choose the "LODY" program on the bread maker and press START afterwards so the device will start working. After 15 minutes you will be able to enjoy your ready delicious ice cream dessert.
There is currently no comments or ratings for this product.

Recently viewed products

Other Customers also purchased

Similar products