Language
YOER Grindo MG01S Meat grinder, juicer, shredding grinder
6 in 1: meat grinding, shaping pasta, impaling sausages, cookies and kebbe meatballs, slicing, shredding and grating vegetables and fruit, squeezing juice, 2 power levels, reverse, 3 cutting plates (3, 5, 8 mm), 3 tumble attachments, 4-level control knob, effectiveness 3,5 kg/min.

Shipping within

24 hours

Availability

Not available

0

pcs.
| | |
| --- | --- |
| Bar code | |
| EAN | 5900779771307 |
Description

Instruction manuals

Reviews & ratings (0)
YOER Grindo MG01S Meat grinder, juicer, shredding grinder
CONSTRUCTION - MAIN ELEMENTS
Juicer plastic cover
Juicer metal attachment
Juicer auger
Cone of juicer with adjustable cap
Drainage tray
Grinding chamber auger
Cutting knife
Fine cutting plate
Coarse cutting plate
Medium cutting plate
Locking nut
Slicing grater
Shredding into thick shavings grater
Potatoe creaming grater/shredding into tiny shavings grater
Cutter food chamber
Cutter food pusher
Cookie attachment
Lid
Main pusher
Accessory storage
Hopper tray
Grinding chamber
Metal body with non-slip feet
Kebbe/kibbeh attachment
Kebbe/kibbeh attachment lid
Sausage attachment
PRODUCT DETAILS
3,5 kg/min (7.7 lbs/min): high effectiveness of grinding - during a minute you will grind even 3,5 kg (7.7 lbs) of meat on the highest settings
Prongers made of stainless steel - durability for ages
2 power levels of work - depending on the type of preparing food you can choose slower or faster work
1900W - 1900 W - maximum power (blocking the engine) - you will easily and simply grind and shred almost every type of food
Reverse - allows you to unblock stuffed grinder
3 attachments made of stainless steel - with pips diameters of: 3 mm, 5mm and 8mm
3 tumble attachments - for slicing, shredding, and potatoe creaming
Mudle construction 6in1 - there is a grinding and shaping pasta mudle, sausage, kebbe and cookies attachment, shreding and grating mudle, juicer in the package
Metal body, casted completely into one shape - high quality of workmanship and durability for ages
4-control switch - fast and intuitive controling the device
Non-slip feet as suckers - effective protection from moving the device during its work
Roller for a cabel - makes storage easier
EXCLUSIVE DESIGN AND REBUST WORKMANSHIP
Exclusive design and workmanship of metal - makes the grinder suits every kitchen.
Electric grinder, easy to use - easy, effortless control as opposed to all hand-machines.
Maximum power (blocking the engine) 1900 W - will allow you to grind every type of food you want, even stringy , harder meat without the risk of overheating the engine.
Mudle construction 6in1 - allows you to within a couple of minutes change the function and attach your chosen mudle.
REBUST CONSTRUCTION -DURABILITY AND RELIABILITY FOR AGES
WEIGHT SPEAKS FOR ITSELF - HEAVY AND REBUST GRINDER: 5 KG (11 lbs)
Body: cast made completely of one type of metal
Prongers: stainless steel
Elements to assembly, screws, knifes and attachments: made of metal
Non-slip - rubber
High quality of fabrics - has an impact on the device weight and ensures sustainability of the construction and stability during work. The device body is completely made of metal, not a plastic, as in standard cheaper devices
Huge grinding chamber - chamber size #10.
INTUITIVE AND EASY CONTROL
4 - level control switch - will let you easily turn the the device on or off. You can choose speed level and reverse.
Indications on the knob:

,,REV'' position - reverse - to get rid of the block which arised in the grinder
OFF position - the device is turned off
,,1'' position - low speed (1st speed level)- to lower grinding, for example stringy meat, squeezing juice, shaping kebbe, pasta and cookies, for impaling sausages, shredding vegetable or fruit
,,2'' position - high speed of work (2nd speed level) - to fast grinding soft meat and cottage cheese, shredding vegetables and fruit
MULTI-FUNCTIONAL 6in1 - ALL-PURPOSE USE
Multi-functional device - will allow you to not only grind meat, but also grate and shred vegetables and fruit, grate cheese, grind cottage cheese, prepare traditional sausages or arabic kebbe meatballs, shape cookies and pasta. What is more, it will allow you to squeeze fruit and vegetables juice.
Mudle construction 6in1 - allows within a couple of minutes to change the function by pluging out of the main grinder chamber and attach chosen mudle.
Thanks to Grindo grinder you will easily prepare:

grinded meat, for example meatballs or burgers
sausages
pasta
cookies
juice
vegetable purée (for example potatoe purée)
potatoe pulp for dough or dumplings
fruit or vegetable muss
cut vegetables and fruit for salads
slices of cucumbers for cucumbers salad
kebbe meatballs
grated cheese
stuffing for russian dumplings
soy pate
vegan cheese cake
MEAT GRINDING INTO HOME -MADE MEATBALLS AND BURGERS
3 attachments made of stainless steel with pops diameter of 3mm, 5mm and 8mm will allow you to easily grind raw meat into one of 3 types of thickness to choose.
Effectiveness 3,5 kg/min (7.7 lbs/min) - within a minute you will grind even 3,5 kg (7.7 lbs) of meat or other ingredients.
Grinding cottage cheese, tofu and soya - thanks to rotary attachments with tiny pops you will grind cottage cheese, tofu and soya or cooked soya beans as well. It will allow you to prepare soya paté, chickpea paste, stuffing for russian dumplings and vegan cheese cake.
VEGETABLE AND FRUIT SHREDDING AND CREAMING - 3 STEEL GRATERS
3 tumble grinders made of stainless steel - will allow you to slice vegetables and fruit or shred them into pulp.
Types of grinders:

Potatoe creaming grater and shredding into tiny shavings - you will prepare fruit or vegetable purée, grate apples for a muss or raw potatoes for dumplings, potatoe pancakes and stuffing for russian dumplings, you will shred for example celery or carrot, and make chocolate shavings.
Shredding into thick shavings grater - you will shred, for example carrot for salads, you will grate cheese.
Slicing grater - you will slice cucumbers for cucumber salad or slices of onion.
IMPALING SAUSAGES FUNCTIONALITY
Butcher attachment - allows you to prepare home-made sausages from grinded and seasoned meat.
KEBBE ATTACHMENT
Kebbe/kibbeh attachment - is a special arabic dish, made of grinded meat and bulgur groats. Firstly, you have to grind meat with groats and then put it inside the grinding chamber. Special attachment will shape a tube, which has to be just cut. These pieces have to be impaled with stuffing and fried.
JUICER
Squeezing juice mudle - allows you to prepare juice from tomatoes or soft fruit. You just have to put your vegetables or fruit inside the grinding chamber and push it with a pusher. Special attachment adjusts the amount of pulp. You can also adjust the angle of the leaking juice from the tray.
Metal construction made of high quality plastic - makes the device easy to clean and protected from stains.
You will prepare fresh juice from soft vegetables and fruit, for example:

tomatoes
blueberries
strawberries
kiwi
blackberries
PASTA SHAPING
Attachments with pops of 3mm diameter - you can use it to asian Udon pasta preparation. You just have to put your dough into the grinding chamber and the grinder will do its work.
COOKIE ATTACHMENT
4 different shapes of cookies - you wll make them thanks to a special attachment. You just have to put prepared dough into the grinding chamber opening and the grinder will make your chosen mini cookie shape.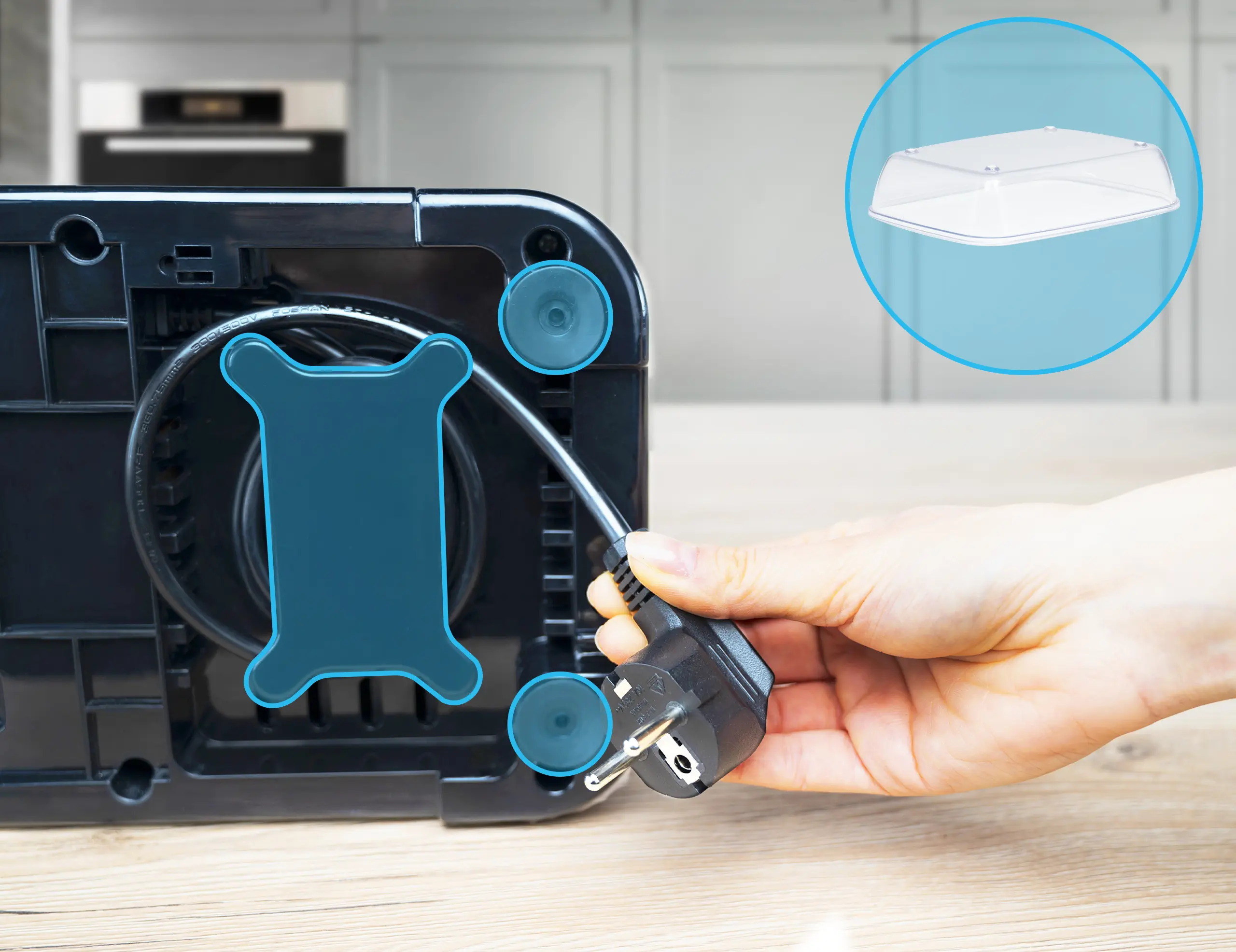 CONVENIENT USE AND STORAGE
Anti-slip feet as suckers - prevent from moving the device during its work.
Roller for a cabel - is under the device body. It will allow you to easy store it without getting it tungled.
Transparent tray lid - you can use it as a bowl for preparing products, for example during meat grinding. The lid with aluminium tray is a handy accessory storage.
PRODUCT PRESENTATION
Watch our video and see the functions of our meat grinder Grindo!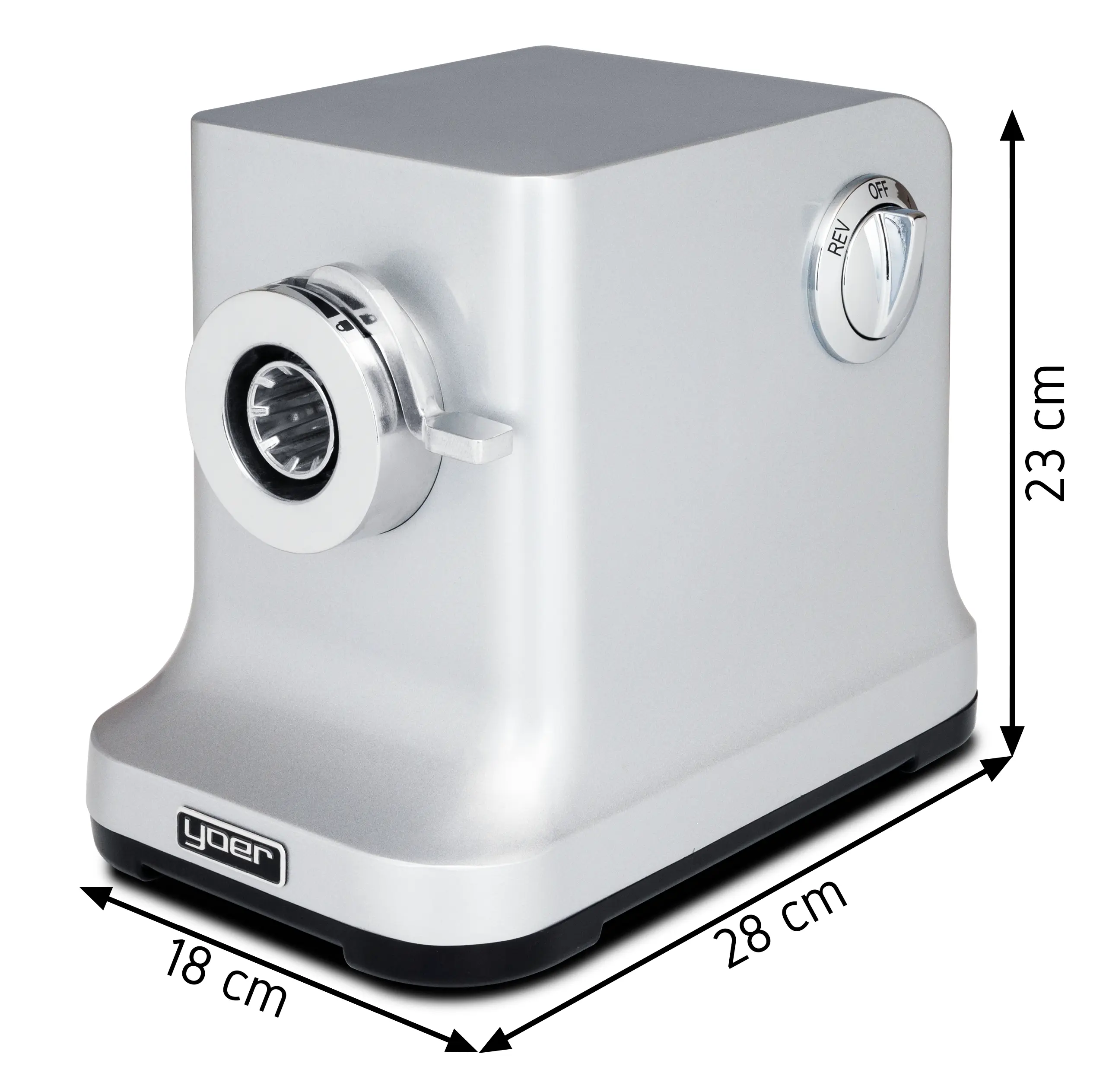 TECHNICAL SPECIFICATION
Max power (blocking the engine): 1900 W
Nominal power: 800 W
Effectiveness: 3,5 kg/min ( 7.7 lbs/min)
Color: Silver
Power cord length: 95 cm (3.1 ft)
Weight: 5 kg (11 lbs)
Dimensions: 18 x 28 x 23 cm (7.1 x 11 x 12.6 ")
Polish power plug: 220-240V, 50/60 Hz
EQUIPMENT
Meat grinder
Lid
Accessory storage
Main pusher
Tray
Grinding mudle

fine cutting plate
coarse cutting plate
medium cutting plate

Shredding mudle

slicing grater
shredding into thick shavings grater
potatoe creaming/ shreddding into tiny shavings grater

Locking nut
Juicer
Kebbe/kibbeh attachment
Sausage attachment
Cookies attachment
Original packaging
YOU WILL RECEIVE
Meat grinder - details above,
YOER PLATINUM SECURITY card,
Warranty card,
Receipt/VAT invoice,
PL instruction manual.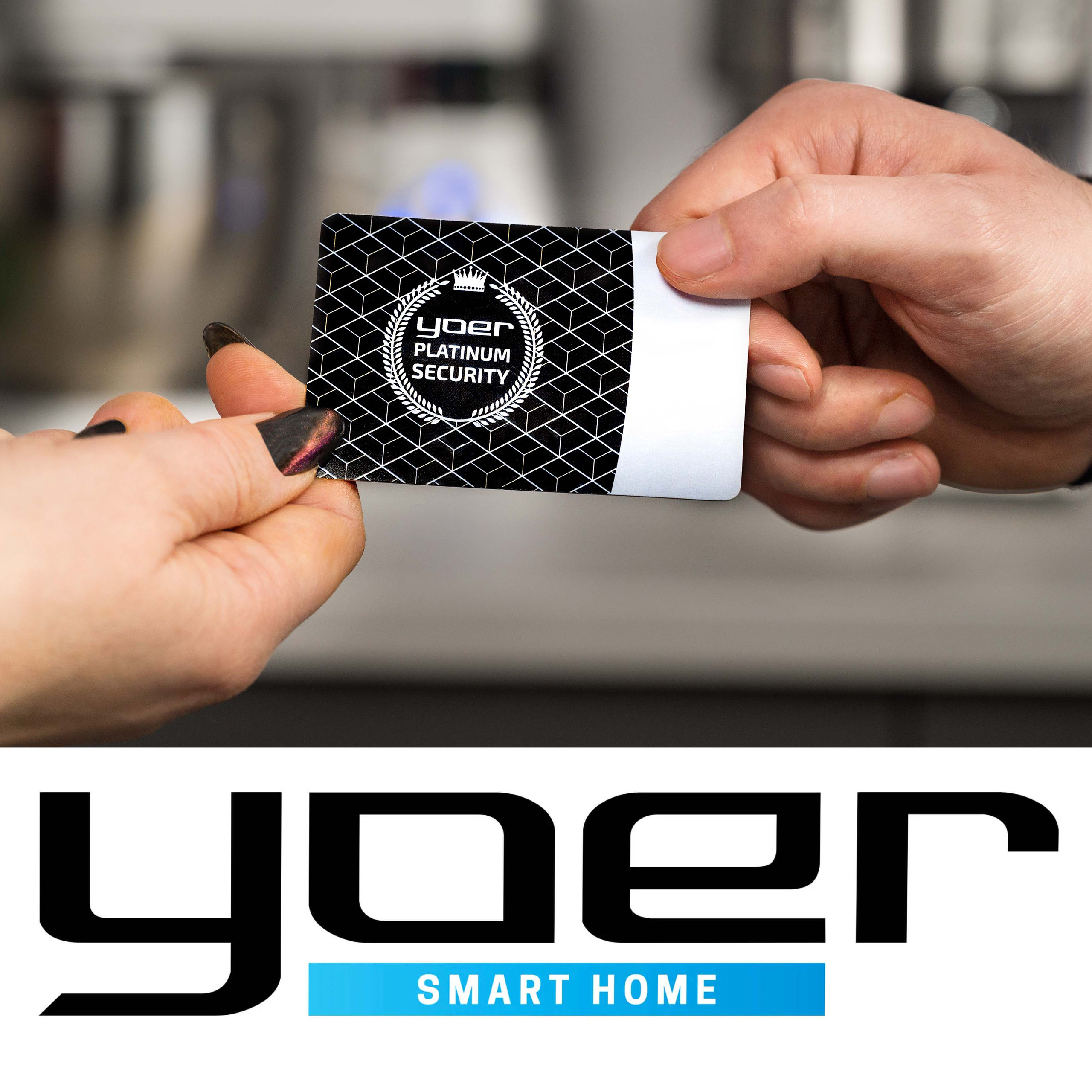 YOER PLATINUM SECURITY
When purchasing products from the official Yoer store you receive the YOER PLATINUM SECURITY package, which is an assurance of additional protection.
YOER - POLISH MANUFACTURER AND BRAND
YOER constitutes an excellent proof that high quality of products does not necesserily go in hand with high prices.

YOER MG01S Instruction manual - Click here
There is currently no comments or ratings for this product.

Recently viewed products

Other Customers also purchased

Similar products