Language

Customer zone
Vacuum sealer YOER FRESH FOOD VSS01BK with scale
Really strong vacuum seam, Vacuum sealing, Regular sealing, Vacuum marinating, Built in scale, LCD display, Bottle vacuum cork FREE, Power: 120 W
| | |
| --- | --- |
| Shipping within | 24h |
| Availability | High |
| Weight | 2.35 kg |
Description

Reviews & ratings (0)
Multifunctional vacuum sealer YOER Fresh Food VSS01BK + FREE Vacuum bootle cork + set of foil
Stainless steel scale

Port for accessories

LCD display

Removable foil cutting knife

Automatic opening One Touch system

Strong seal

Touch control panel
• Three packing modes:
1. Vacuum pickling mode - for wet foods - there are additional containers available
2. Dry food packing mode,
3. Wet food packing mode,
• Vacuum sealing mode 18-31 seconds
• Regular sealing mode 8-11 seconds
• Touch control panel
• LCD Display - will display the sealing progress and data from the scale.
• Weighing mode - built in removable accurate kitchen scale.
• One Touch System - automatically opens and closes top cover with one touch of your finger.
• 2 speed settings - regular and delicate
• Automatic sealing mode - device choses the power automatically
• Manual sealing - allows for changes in pressure
• Bottle vacuum sealing - we provide the device with a cork for bottle vacuum sealing (for example wine and juices)
• Built in small knife - there is a small knife built in into the case for foil cutting



Multifunctional vacuum sealer YOER Fresh Food, thanks to it fruits, vegetables meat, cured meats, fish or dairy products will stay fresh even 4 times longer than if you would use regular means of storage.

No oxygen access and air tight seal will make will the smells of stored products will not mix together, thanks to it you will be able to keep the right taste aroma and nutritional values.

Vacuum packaged food is protected agains bacteria and mould and isn't vurnable to getting dry.










"One Touch" automatic open and close system will allow for automatic opening and closing of the top lid with one touch on the metallic bar.
Furthermore device was designed in a way, that it will open it's top lid after finishing the sealing process.







Vacuum sealing mode allows for complete removal of all air from the vacuum bag. After finishing the process of draining the air device will automatically start the foil sealing process. Products packed this was can be placed in a freezer, that will help you to plan and organize your winter reserves.
Sealing without draining the air useful when you want ot make sure that your packaged ingredients are not going to fall off from the foil bag and that anything will not fall in into your sandwitch or your other snacks.






Vacuum marinating - mode ideal for preparation of pickled vegetables and meat. Will allow you to get the effects of many hours of traditional pickling in much shorter time.
If You are marinating meat, while air is being sucked away from the container, spices added to the meat will get absorbed by it. Aroma is not dissolving making marinade much more tastier. Vacuum marinated meat will stay edible for longer periods of time.


Built in removable kitchen scale with maximal weight limit of 2kg will allow for precise weighing up to 0,1g. Furthermore tare mode used in this device will allow you to weigh products without their container that they are in. Scale has 4 different weighing units: g, kg, oz, lb. Detailed information are displayed on a readable LCD screen.

LCD display is also showing current status of the device, vacuum sealing process bar, regular sealing process bar and it also informs us if the lid is being open or closed.







1. Small built in foil cutting knife located in the base of the vacuum sealer. Thanks to this solution You will always have it next to You when it will be required to crop the foil or bag.

2. Condensation tray with a capacity of 35ml it will store the excess liquids created while vacuum sealing wet products. Tray is easily removable, so you can empty and clean it without any issues and keep Your device clean.

3. Lid lock - built in plugs will lock the lid in place protecting it against accidental opening.

4. Port for accessories - placed in the back part of the vacuum sealer, will allow you to connect a special tube used for vacuum sealing containers and bottles by using special accessories.










FREE Vacuum sealing bottle cork, will allow you to air-tightly seal a previously opened bottle. This mode is really important for wine, that oxidizes very fast and loses it's taste. Sealing it will allow you to keep it's taste and special aroma from 2-3 days up to 20-25 days.

Vacuum sealed bottle will also fit perfectly for fresh juices, non-carbonated beverages and also for oil, balsamic vinegar and other liquid products, that were already opened and are used ocassionally.










We also offer a set of vacuum containers. They are a perfect choice for storage of delicate products, liquids and dry food as well as for marinating food.

With use of a special tube and a vacuum sealer You will be able to air-tightly seal ready dishes, vegetables, fruits, cookies, nuts, sweets, coffee and also spices and dried mushrooms in them.

Containers are fitted with a seal that is protecting them from any air that would get in as well as in a pressure release button. Containers are made from BPA free materials.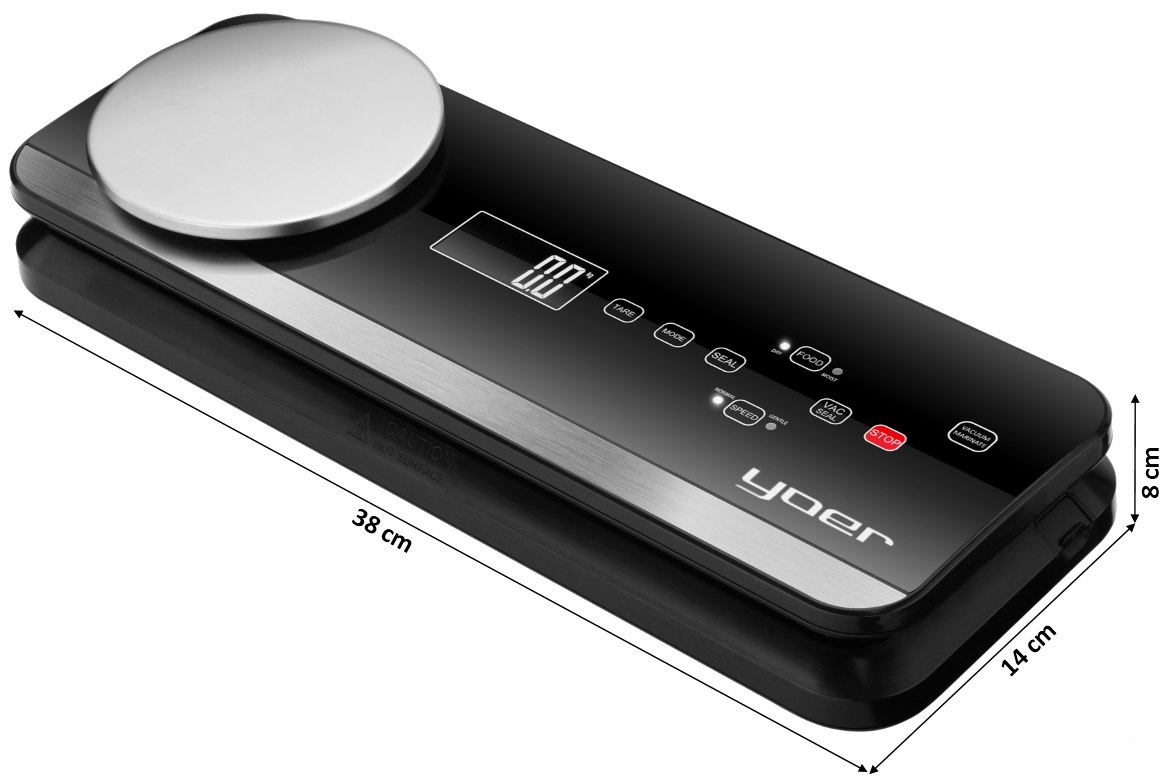 Technical details:
• Max. seal width: 30 cm
• Sealing time: 8-11 seconds
• Air intake time: 10-20 seconds
• Vacuum: -0,7 bar
• Power: 120 W
• Cord length: 1,2 m
• Max. weight of the scale: 2kg
• Scale accuracy: 0,1g
• Weighing units: g, kg, oz, lb
• Weight: 1,75 kg
• Dimentsions: 38 cm (width) x 8 cm (height) x 14 cm (length)
• Color: Black-silver
• Polish plug 220-240V 50/60Hz






Equipment:
1. Vacuum sealer
2. Small knife
3. Vacuum tube
4. AC power cord
5. Vaccum bottle cork
6. Roll of foil 20x200 cm
7. Bags 5 pcs
8. Original box

You will recieve:
• Vacuum sealer - details above
• Warranty card
• Receit/VAT Invoice
• PL/EN Instruction manual

There is currently no comments or ratings for this product.

Recently viewed products

Other Customers also purchased

Similar products