Language
Jug blender YOER Cocktailo JB01S
Jug blender, 6 steel blades, coffee grinding functionality, 1250 W power, 10 speed steps, 2.3 L max capacity

Shipping within

24h

Availability

Medium

50

pcs.
| | |
| --- | --- |
| Bar code | |
| EAN | 5900779770805 |
Description

Instruction manuals

Reviews & ratings (4)

CONSTRUCTION - MAIN COMPONENTS
Robust glass jug

6 stainless steel blades

Safety lock

Digital LCD display

Stable base

Jug lid with removable measure

Ergonomic jug handle

9 convenient function buttons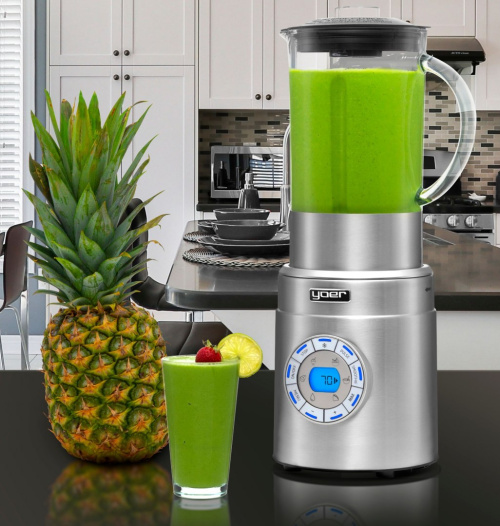 PRODUCT DETAILS
Power: 1250 W
Speed:

20000 revs/min

Blade material: Stainless steel
Blade count: 6
Automatic program count: 9
Speed step count: 10
Max jug capacity: 2.3 L
Jug functional capacity: 2 L
Jug material: Glass
Main body material: Brushed INOX steel
Display: Yes, backlit, LCD
Pulsating mode: Yes
Ice crushing functionality:

Yes

Other programs: Coffee grinding, ice cream sundaes, chopping, creme soups, pancake batter, cleaning, smoothie, MAX
Additional functionalities: anti-slip feet, jug lid orifice, jug lid measure, backlit function keys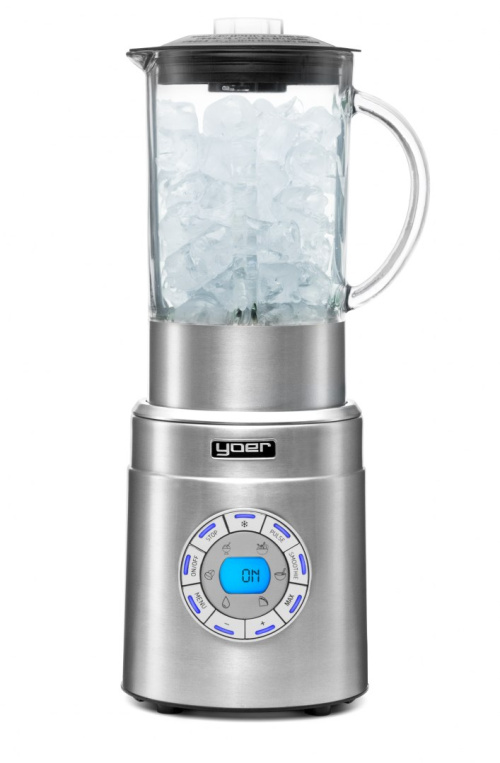 STRONG AND ROBUST
Formidable 1250 W power - ensures first-rate results every time. Thanks to the 20000 RPM speed, it only takes a moment to prepare your beverage.
Robust body - the construction of the blender assures excellent stability and safety. Due to its mass and the 4 anti-slip feet, the blender is not going to slide around the counter, even during operation at the highest speed. Moreover, the body was made of high quality brushed INOX steel, which gives the appliance a unique look.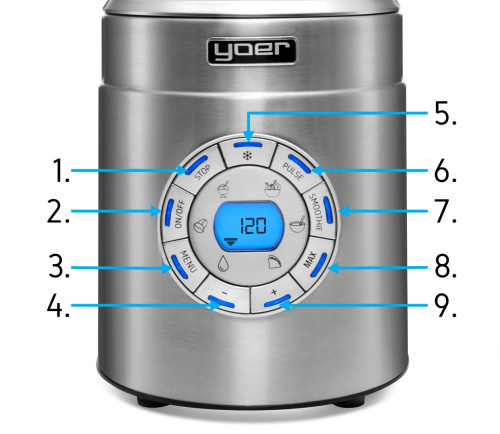 CONVENIENT CONTROL PANEL WITH BACKLIT LCD DISPLAY
The blender was equipped with a 9-button control panel, which, paired with the LCD display allows for quick and easy program selection.
STOP button - halts all function, can be used at any time

ON/OFF switch

MENU button - allows the user to select one of 6 automatic programs

Speed decrease button

Ice crushing functionality - automatic ice cube crushing functionality
PULSE functionality - this button enables the blender's pulsating mode, utilizing the highest possible speed. This functionality is engaged for as long as the button is pressed
SMOOTHIE functionality - automatic program that prepares mellow smoothies
MAX button - engages the blender's full power for a constant 45 seconds

Speed increase button
ROBUST GLASS JUG
The glass jug was made of high quality 0.8 cm thick glass (0.31''), which ensures durability and resilience to scratches or cracks in contrast to other, more fragile widely available jugs. An additional advantage of the jug is that it does not absorb the smells or colors of the blended products, which is a common issue with plastic jugs.
Large capacity - the max capacity of the jug is as much as 2.3 L, which also results in a large functional capacity of 2 L, so it is possible to prepare a smoothie for 6-8 people at once.
Convenient spout - located in the upper part of the jug, it enables easy and mess-free pouring of beverages.
Ergonomic handle - its shape was designed to increase the comfort of using the jug, while reducing the risk of it accidentally slipping out of your hand.
Measure - located on the side of the jug, it allows for checking the amount of products put in the blender. The measure displays 4 different units (ml, glasses, pints and oz).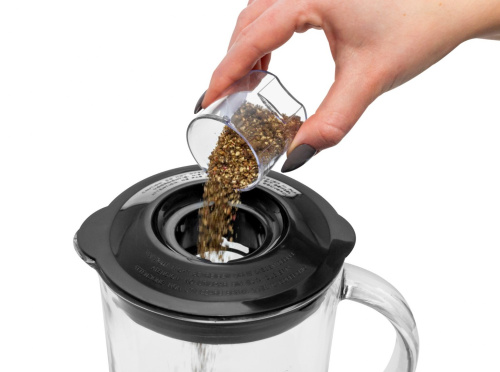 JUG LID
Equipped with a dedicated 4.5 cm (1.8'') orifice, allows for adding sliced vegetables, fruits, spices, milk or water without needing to take it off. The orifice plug also doubles as another convenient measure, useful while preparing a beverage.
9 AUTOMATIC PROGRAMS

1. Coffee grinding - the automatic coffee bean grinding program fills the whole kitchen with the wonderful aroma of freshly ground coffee. This functionality is ideal for the enthusiasts of this hot beverage.
2. Ice cream sundaes - a functionality that enables preparing frozen fruit-based ice cream.
3. Chopping - this program minces vegetables, fruits, herbs and nuts, which speeds up the process of making salads, soups or other dishes that require minced ingredients.

4. Creme soups - a functionality meant to mix cooked, cooled vegetables into a uniform mass. Perfect for preparing smooth and mellow soups. After the program has ended, all you need to do is add seasoning and heat it up to desired temperature.
5. Pancake batter - the automatic program mixes the ingredients in the jug in order to achieve uniform pancake batter. This concoction can easily be poured right onto the frying pan, without making any other utensils dirty.
6. Cleaning - pour water, close the lid, and enable the cleaning functionality and the blender will automatically rinse the blades and the jug throughly. Even the most difficult to reach spots will be cleaned of blending residue.

7. Ice crushing - pressing this button will cause the blender to begin the ice crushing program and will turn itself off after it has done the job. This functionality comes in handy during heat waves or when throwing a party.
8. Smoothie - this program makes a mellow smoothie. All you need to do is put the ingredients in the jug and engage the functionality. The blender will automatically prepare your favorite beverage.
9. Max - this button puts the device in the TURBO power mode for 45 seconds. It is appropriate in special situations when more power is required, due to the constant use of maximum motor RPM.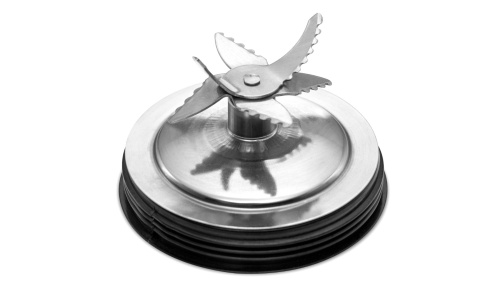 6 STEEL BLADES
The blender is equipped with 6 stainless steel blades, which will easily mince fruits, vegetables and crush ice.
When the 1250 W power is applied, the blades allow for quickly achieving mellow smoothie texture.

SAFE OPERATION
Safety lock - prevents the blender turning on in the event of improper assembly. If the jug, cup or grinder are incorrectly mounted to the base, operation will not commence. A characteristic "click" assures the appliance has been properly put together and is ready to begin work.

TECHNICAL SPECIFICATION
Max power: 1250 W

Max jug capacity: 2.3 L

Functional jug capacity: 2 L

Speed step count: 10

Jug material: Glass

Main body materialy: Brushed INOX steel

Dimensions: 17.5 x 17.5 x 47 cm (6.9 x 6.9 x 18.5'')

Jug dimensions: 14.5 x 21.5 x 26.5 cm (5.7 x 8.5 x 10.4'')

Weight: 4.2 kg (9.3 lbs)

Power cord length: 1.2 m (47.2'')

Color: Silver

Polish power plug 230V~ 50Hz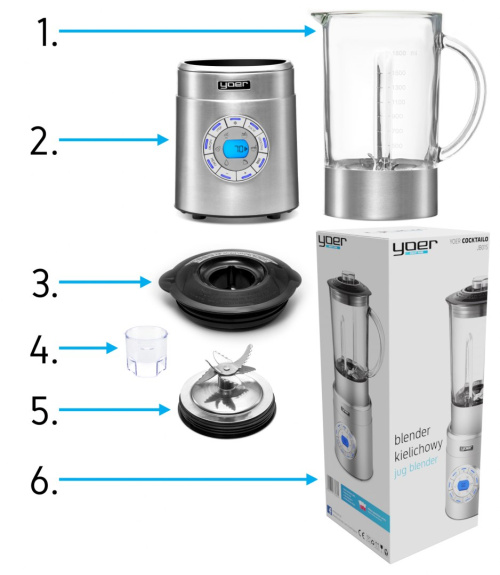 EQUIPMENT
Glass jug

Main blender body

jug lid

Measure

6 steel blade set

Original packaging

Warranty card

YOER PLATINUM SECURITY card
You will receive:
Jug blender - details above

Receipt / VAT Invoice

PL / EN Instruction manual

YOER JB01S instruction manual - Click here
Super urządzenie. Polecam.

Bardzo fajne i profesjonalne urządzenie.

Przydatna rzecz w kuchni. Bardzo dobrze działa. Polecam.

Super blender polecam

Recently viewed products

Other Customers also purchased

Similar products