Language
Air purifier with humidifier YOER Pure Home APH01W
Remotely contolled with your phone or with the remote, Purifing, humidifing, ionization, ozone and UV lamp, 8 levels of filtration, 12h timer, Silent operation

Shipping within

24h

Availability

Medium

45

pcs.
| | |
| --- | --- |
| Bar code | |
| EAN | 5900779770003 |
Description

Instruction manuals

Reviews & ratings (9)
YOER Pure Home APH01W SMART Air purifier

★
Humidifier
★
Ionizer
★
Ozonizer
★
UV Lamp
1. Large, easy to read digital display
2. 12 h timer
3. "Empty reservoir" and "change filter" indicators
4. Particle and smell sensors
5. 3 speed steps
6. Remote control
7. Anti-slip feet
8. Durable, modern case
9. Automatic air quality control
10. Controllable with a smartphone app over Wi-Fi
11. SMART mode
12. Air humidifier
13. Touch control panel
14. Easy transport handles
15. HEPA filter, carbon filter, photocatalytic filter
16. Silent and ecological
17. 8 levels of filtration
PRODUCT CHARACTERISTICS
Multifunctional device - combines multiple functionalities in one device to look after your well-being

Can be controlled with a smartphone app or the supplied remote control

SMART mode - measures and automatically controls air quality

Night mode - ensures that the device works quietly

12 h timer

Specialized air filters guarantee effective removal of smoke, formaldehyde, 2.5 PM particles, as well as stopping viral activity in the air

App is available for Android and iOS

8 Air filtration levels

The humidifying functionality improves air quality and ensures that your mucus membranes and skin won't be overly dry.

Ionizer - creates negatively-charged ions, that positively affect metabolism and the immune system.

Ozonizer- generates active oxygen (O₃) to get rid of unpleasant smells, mold, fungi, bacteria and viruses.

Built-in UV lamp successfully kills more than 96% of bacteria and viruses.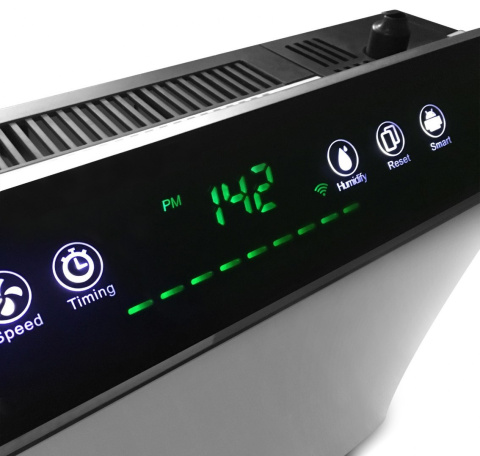 Change filter indicator

Empty reservoir indicator

Room temperature sensor

Humidity sensor

Air quality sensor

2.5 PM particle sensor

Unpleasant smell sensor

Photoelectric sensor that indicates UV lamp wear

IMD touch control panel and digital display

Large 2.7 L water reservoir

HEPA filter

Carbon filter

Photocatalitic filter

ERP Construction

2 ergonomic handles that allow for easier transportation

ON/OFF Switch

Modern, durable case made of high quality polymer
Breathe fresh, clean air
Inside the YOER air purifier you can find filters and mechanisms of highest quality that will help you tailor the air at home to your needs. Get rid of negative factors that follow you throughout the day.
8 Filtration levels
Perfectly pure air
1. The case serves also as an initial, washable filter - replacing the initial filter, it cleans the drawn air from dust, animal hair and other, larger contaminants.
2. HEPA Filter - thanks to its special construction it is able to stop bacteria, fungi, viruses and protozoa. It is also perfect for allergy sufferers, due to its dust and germ stopping ability.
3. Carbon filter - its construction allows it to absorb harmful organic compounds like formaldehyde, fumes or other unwanted smells.
4. Photocatalytic filter - uses titanium dioxide (TiO₂) that damages bacteria by oxidizing.
5. UV Lamp - has germicidal characteristics, thanks to its radiation, the spread of germs and allergens is halted.
6. Ionizer - neutralizes positive ions that draw in viruses and bacteria by using negative ions. Ionized air makes dust and germs fall to the ground instead of floating around and getting into the lungs.
7. Ozonizer - a fantastic method of disinfection. Using the ozonizer will keep your house free of germs and allergens.
8. Humidifier - keeps an optimal level of humidity in your house. 40-60% is the optimal health-bolstering level of humidity, due to the positive influence your skin and mucous membranes, which are prone to getting infected if the humidity is not ideal.
SMART mode
After enabling this mode the appliance will measure the pollution in the air and automatically adjust its settings to control air quality. This ensures clean air and low power consumption.
Remote control
The air purifier comes with a remote control. You can use it to turn the device on or off and to adjust the settings without having to get up.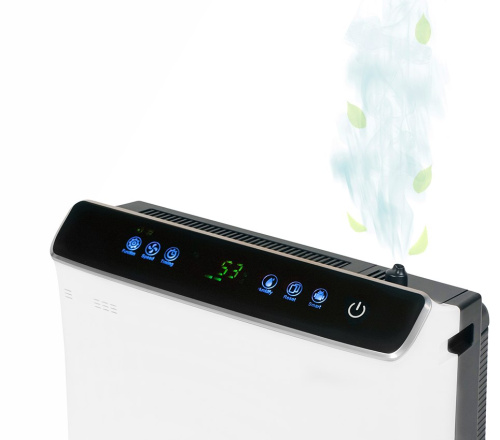 Humidifier
Cold dew created by the device positively affects humidity levels, helps with the condition of the skin and keeps mucous membranes from getting dry. With proper humidity, you can decrease the risk of infection in autumn and winter.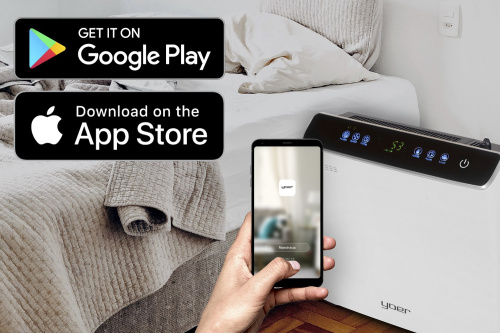 Free smartphone app

The free, Intuitive, bloat-free smartphone app available for Android and iOS enables convenient control of the appliance.

All measured values are transferred over Wi-Fi to your phone. With its help You can adjust or switch between different modes on the device.

The app is available in Polish.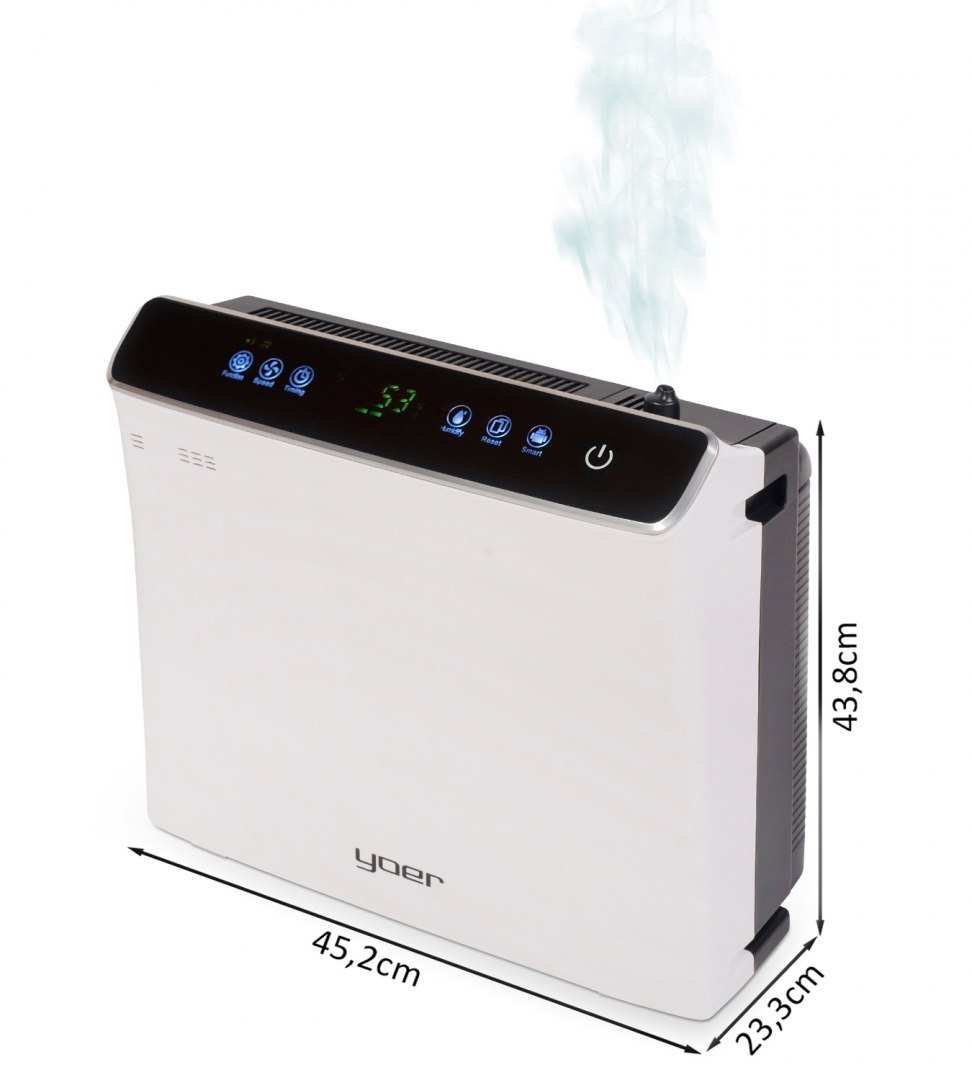 TECHNICAL SPECIFICATION

Power: 75 W

Connection type: Wi-Fi

Humidifier output: 235 g/h

Airflow: ≥ 300 m³/h (10594.4 ft

³

/h)

Effectiveness range: up to 40 m² (430.6 ft²)

Negatively-charged ions: ≥ 8 milion

Ozonizer output: 50 mg/h

Min. noise level: 22 dB

Max. noise level: 40 dB

Power cord length: 1.4 m (4

.6 ft)

Weight: 8.2 kg (18 lbs)

Dimensions: 45.2 cm x 43.8 cm x 23.3 cm (17.8 x 17.2 x 9.2'')

Color: White with black accents

Polish power plug 220-240V 50/60 Hz


Filter durability:

HEPA filter: around 12 months

Carbon filter + photocatalitic: around 6 months

UV Lamp: 8000 h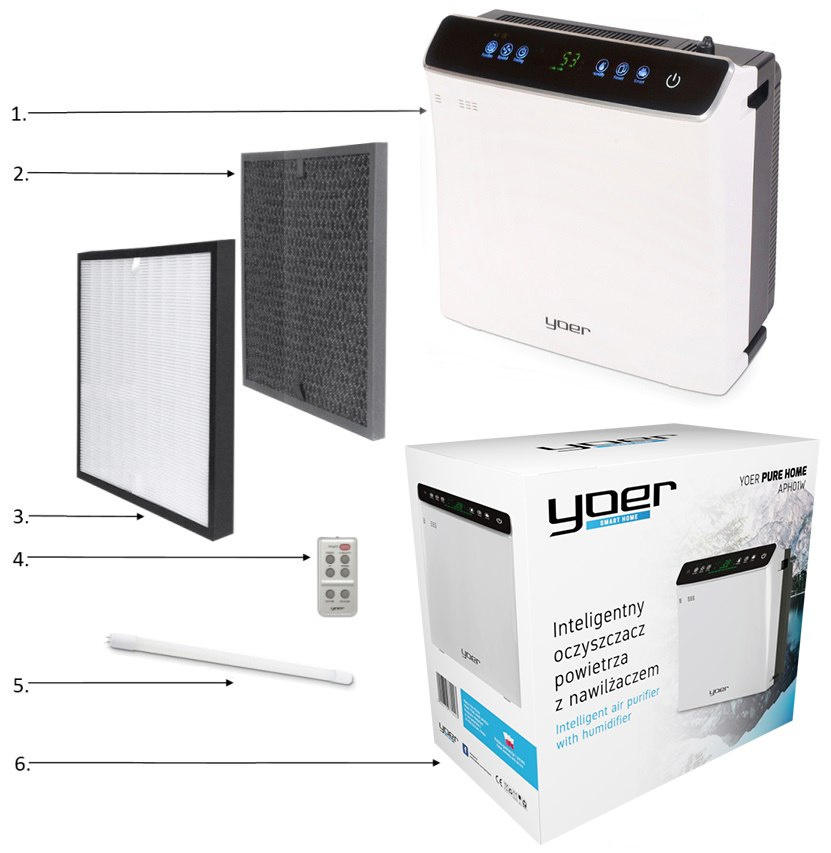 EQUIPMENT:
1. Air purifier
2. Carbon filter + photocatalitic filter
3. HEPA filter
4. Remote control
5. UV Lamp
6. Original packaging


You will receive:

Air purifier - details above

Warranty card

Receipt / VAT Invoice

PL / EN instruction manual

APP instruction manual in Polish

YOER APH01W instruction manual - Click here

Mobile app instruction manual - Click here
Bardzo dobry sprzęt, nowoczesna obudowa, wyświetlacz cyfrowy duży posiadający wszystkie niezbędne funkcje. Polecam

Oczyszczacz działa jak każdy inny. Ale na minus i to wielki zasługuje nawilżacz, który nie radzi sobie z nawilżaniem nawet małego pomieszczenia (20m2) przy temp. 20 - 22 stopni. Jak dojdzie do 40% to jest cud.

błyskawicznie oczyszcza, dobrze nawilża, dużo filtrów, ozonowanie

Bardzo dobry stosunek jakości do ceny. Posiada wszystkie niezbędne funkcje. Polecam.

Bardzo dobry oczyszczacz ku mojemu zdziwieniu O3 bardzo wydajny, a i cala reszta tez ok. Polecam

Bardzo wydajny choć większy niż sobie to wyobrażałam. Głośność działania ok, jakość wykonania bardzo dobra. Główny panel się trochę przycina ale to nie przeszkadza, ponieważ można sterować telefonem lub pilotem. Jestem bardzo zadowolona

Sprzęt bardzo dobry i funkcjonalny. Duża ilość funkcji w bardzo dobrej cenie. Tylko jak przyszedł to się okazało, że filtry wewnątrz są w opakowaniu z folii, a ja już używałem przez tydzień, ale na szczęście nic się nie stało. Powietrze w sypialni się bardzo polepszyło i lepiej się śpi.polecam

Sprzęt kilkukrotnie użyłem dla sprawdzenia. Chodzi cicho, w nocy nie słychać, poszczególne funkcje działają. Ogólnie łatwo dostać się do filtrów. Przystosowany do przenoszenia, duży zbiornik na wodę. Łatwość w obsłudze, choć w instrukcji powinno bardziej zwrócić się uwagę na przyciskanie panelu (cały palec ale od znaku w dół). pilot działa, telefon- bardzo dobra aplikacja do sterowania. Praktycznie można włączac i wyłączać z każdego miejsca, gdzie jest internet.
Sprzęt zgodny z opisem, warty polecenia, zwłaszcza w sytuacji 3 letniej gwarancji.

Oczyszczać powietrza jest naprawdę solidnie wykonany, czujnik zanieczyszczenia i wilgotności działa dobrze.
Nie jest zbyt głośny więc spokojnie można przy nim spać.
Apka Smart działa jak

Recently viewed products

Other Customers also purchased

Similar products