Language
Cooling fan with humidifier YOER BREEZE BFH01S
4in1 quiet fan, humidifier, air ionizer, electrical insect repellent fumigator

Shipping within

24 h

Availability

High

156

pcs.
| | |
| --- | --- |
| Bar code | |
| EAN | 5900779771000 |
Description

Instruction manuals

Reviews & ratings (5)
YOER Breeze BFH01S Fan with Humidifier
CONSTRUCTION - MAIN COMPONENTS
Air humidifier

Fan guard latch

Display

Removable water tank

Convenient coaster wheels

3 bladed propeller

Plastic tube

Control panel

Remote

Insect repellent insertion slot
PRODUCT DETAILS
Power: 120 W
Max air velocity: 3.94 m/s (12.9 ft/s)
Max fan flow rate: 60.93 m3/min (2151.7 ft3/min)
Max ventilation range: 11 m (36 ft)
Propeller blade count: 3
Propeller diameter: 40 cm (16'')
Propeller guard diameter: 45 cm (18'')
Propeller guard: Yes
Air humidifier: Yes
Humidifier output: 200 ml/h
Air ionizer: Yes
Fan speed steps: 3
Ventilation modes: 3 (normal, natural, sleep)
Tilt regulation: Yes
Tilt regulation steps: 5
Oscillation angle: 0-90°
Water reservoir capacity: 1.5 L
Remote: Yes
Work time mode (timer): Yes
Convenient coaster wheels: Yes
Other: Insect repellent functionality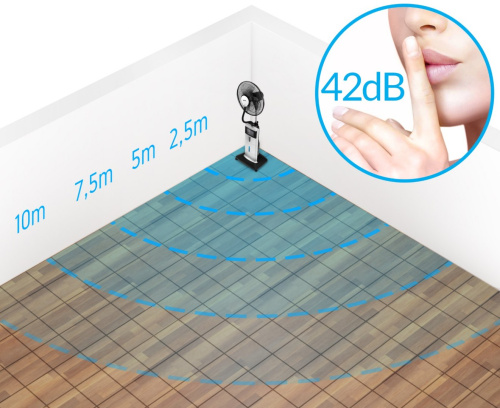 PERFECT CHOICE FOR A HOT SUMMER
Long ventilation range - the powerful motor propels the breeze as far as 11 m that fills the room with a cool, pleasant waft of air.
3 bladed propeller fan, 40 cm in diameter - made of high-quality see-through polymer ensures optimal airflow as well as minimal power usage.
Quiet operation - During operation, the fan emits noise of only 42 dB, which does not interfere with sleep. Because of that it can also be used in a child's room.
2 WAYS TO CONTROL THE DEVICE
Easy to use control panel
OFF - device shutdown button,
ON/SPEED - power on / fan speed selection button,
MODE - normal, natural and sleep ventilation mode selection button,
OSCILLATION - swinging motion activation button,
HUMIDIFY - air humidifier activation button,
TIMER - work time mode activation button
Remote control - Included in the set, allows for control of the device from a distance, as well as enabling the ionization and the insect repellent functionalities.
LARGE, EASY TO READ DISPLAY

Device work modes and functionalities:
Selected ventilation mode indicator (normal, natural, sleep)

Selected fan speed indicator (low, medium, high)

Insect repellent function indicator

Fan speed indicator

Ventilation mode indicator

Device work indicator

Selected work time indicator (0,5h-7,5h)

Ionization function indicator

Humidifier function indicator

Timer function indicator

Oscillation function indicator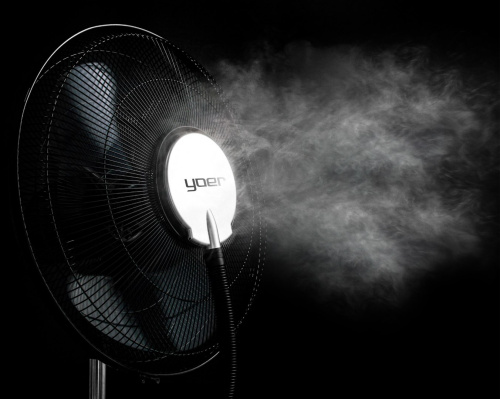 COOLING MIST - SEA BREEZE EFFECT
Air humidifier -

the

ultrasonic humidifier used in the device can be used in unison with the fan, or individually. The mist creates a cool, pleasant breeze effect, which also positively influences air humidity in the room and helps improve skin condition as well as prevent mucous membranes drying out.
Air humidifier output - as much as 200 ml/h of water, which makes it possible to achieve a cooling effect instantly. In addition, appropriate fan speed choice affects the even spread of the mist.
The 1.5 L backlit water reservoir -

1.5 of capacity, it

enables mist generation for about 4.5 h without the need to refill it. The sight hole is lit up blue when there is enough water and lit up red when it has run out. Moreover, a critically low water level trips a safety switch, automatically turning off the mist functionality.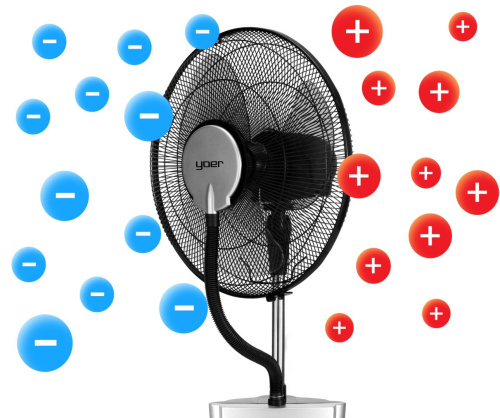 IONIZATION FUNCTIONALITY
Air ionizer - neutralizes positively-charged ions that attract viruses and bacteria into negatively-charged ions, which makes dust and microbes fall to the ground rather than enter the lungs.
Health-bolstering - negatively-charged ions generated by the device will favorably affect the lives of asthma and migraine sufferers and improve sleep quality.
INSECT REPELLENT FUNCTIONALITY
The integrated electrical fumigator - located inside the device, it does away with the annoying problem of mosquitoes on summer evenings. Place the mosquito killer tablets in the dedicated slot and engage the MOSQUITO functionality with the remote to stop them spoiling your, and your family's good time.
Standard tablets - the insect repellent slot has been designed in such a fashion as to enable the use of commonly available standard tablets sized at about 2.2 x 3.6 cm. The electrical fumigator works by gently heating up the repellent tablets, which makes it neither discernible nor harmful to humans, but quite effective in getting rid of mosquitoes and other annoying insects.
PRACTICAL AND FUNCTIONAL
1. OSCILLATION FUNCTIONALITY - makes the fan automatically swing in the 0-90° range, which increases the operational area significantly in comparison to single-directional ventilation.
2. AIRFLOW DIRECTION REGULATION - The fan's 5-step tilt regulation allows the user to adjust the airflow direction to their needs.
3. THREE VENTILATION MODES:
normal - stable airflow, dependent on the selected speed
natural - imitates natural wind, dependent on the selected speed
sleep - the fan will begin operation in natural mode at the selected speed and will gradually decrease it over time until it reaches the slowest speed.
4. TIMER - allows the user to set the time after which the device is to shut itself down, within the range of 0.5 - 7.5 hours. This solution allows you to, for example, set the timer for 3 hours, and the fan will turn itself off after you have fallen asleep.
EASY AND SAFE OPERATION
Mobility-oriented base - owing to its width, the base enables stable operation of the device without the risk of tipping over. Additionally, it is equipped with 4 coaster wheels, thus enabling moving the fan between rooms without the need for lifting it up.
Metal propeller guard - specially constructed guard of 45 cm in diameter was designed to ensure maximum safety during the operation of the device. The fan blades are secured inside a metal cage, which prevents accidental touch and harm. A specialized latch on the guard was designed to preclude inadvertent opening or disassembly by the additional security of a metal screw.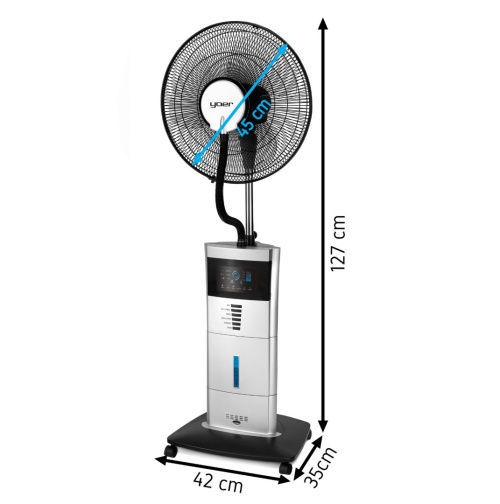 TECHNICAL SPECIFICATION
Max power: 120 W

Propeller diameter: 40 cm (16'')

Guard diameter: 45 cm (18'')

Water reservoir capacity: 1.5 L

Humidifier output: 200 ml/h

Max air velocity: 3.94 m/s

(12.9 ft/s)

Max fan flow rate: 60.93 m3/min

(2151.7 ft3/min)

Noise level: 42 dB

Power cord length: 1.75 m (68.9'')

Weight: 8.5 kg (18.7 lbs)

Dimensions: 45 x 35 x 127 cm (17.7 x 13.8 x 50'')

Color: Black with silver accents

Polish power plug 230V~ 50Hz
FAN EQUIPMENT
Fan

Remote + 1x CR2025 battery

Original packaging

Warranty card

YOER PLATINUM SECURITY card
You will receive:
Fan - technical specification as above

Receipt / VAT Invoice

PL / EN Instruction manual

YOER BFH01S instruction manual - Click here
Znakomity Wentylator z chłodną mgiełką,Jonizacją powietrza,oraz wbudowanym wejściem na odstraszanie komarów!!!Płytki na komary w zestawie!To najmocniejszy wentylator podłogowy na allegro!!!Moc wentylatora86,9wata moc nawilżacza 33,1 wata!Razem 120wat!Podświetlany zbiornik z wodą na niebiesko gdy braknie wody podświetla się na czerwono.Można używać samego wiatraka jak i samego nawilżacza-pary wodnej!Wydajność nawilżacza to 200ml na godzine bardzo dużo!Dmucha daleko wiatr czuć na odległości 9-10 metra!Dmucha szeroko nie w jedno miejsce!Polecam wszystkim w te upały!!!Obsługa sklepu Yoer na najwyższym poziomie!:) Ja miałem przypadek nie równo tarcza nawilżacza rozprowadzała mgiełke,jeden telefon i sklep natychmiast dosłał nowy element!Plus kawe gratis :)Wiatrak bardzo dobrze wykonany,bardzo cichy,dziecinnie prosty montaż 5 minut!!! Polecam Wszystkim!Obsługa sklepu na 6+😀Jak dlamnie to najlepszy zakup w te gorące lato!

r0bertj@interia.pl

(2021-06-29)

Wentylator bardzo dobrze chłodzi pomieszczenie.

Super. Jako wentylator na upalne dni idealny. Bardzo cichutki

Świetny

Wszystko Super - nawilżacz powietrza, cena, jakość, pilot

Recently viewed products

Other Customers also purchased

Similar products