Language
Dehumidifer YOER Secco DE01W
Power: 800 W, Efficiency: 60L/24h, Airflow: 270m³/h , 24h timer, Pump function, 3 speed levels, 4 automatic modes, Wi-Fi function, Remote control compartment, Dimming front display, Memorizing function, Full water tank indicator, Child lock
2398.00
-29%
1698.00
Lowest price in the last 30 days:
Order within
and we will send the package today

Shipping within

Shipment within 24 hours

Availability

Medium

97

pcs.
| | |
| --- | --- |
| Bar code | |
| EAN | 5900779772403 |
Description

Instruction manuals
PORTABLE DEHUMIDIFIER YOER SECCO DE01W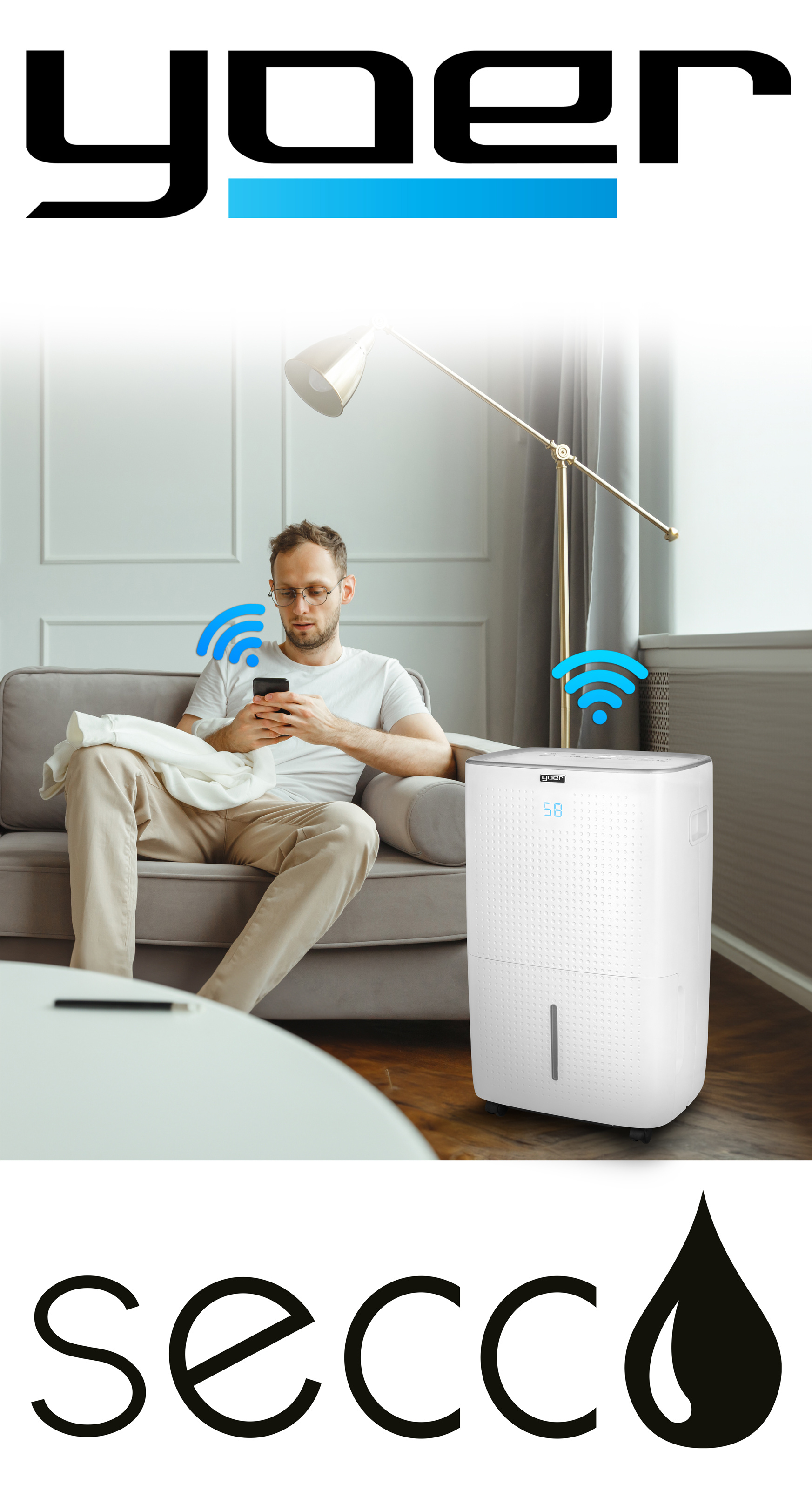 PRODUCT DETAILS
60l/24h (30° i 80%RH) - industrial dehumidifying efficiency
Powerful airflow - 270 m³/h
24h/7d schedule - set the device to operate for the entire week using the mobile app
Pump - built-in - automatic water drainage from the tank even up to 5 meters of level difference
24h/7d schedule - uset the device to operate for the entire week using the mobile app
Huge power - 800W
3in1 - aromatherapy, dehumidifying and air cleansing
Capacious water tank - 8l
Quiet operation - 45 dB
4 working modes - sleep, day, laundry drying and continuous
3 speed levels - high, medium, low
Wide range of humidity levels - form 35% to 80%
Ecological refrigerant - R290
Front display sleep mode - turn the display off to enjoy comfort at night
2 LED displays - you will read current humidity level in the air without any problem
Filter cleaning indicator - you do not have to remember to clean the filters because Secco will infocrm you about it
Child lock - protect the control panel from unintended setting changes by children
Full water tank alarm - you will receive alarm informing that the water tank is full and the device will turn off automatically
Memorizing functions - Secco remembers settings even in case of a power outage
24h - timer - will enable you to set the start or end time of the device's operation.
Wi-Fi - control Secco remotelly via device with Android or iOS operating system, when using a common 2,4 GHz frequency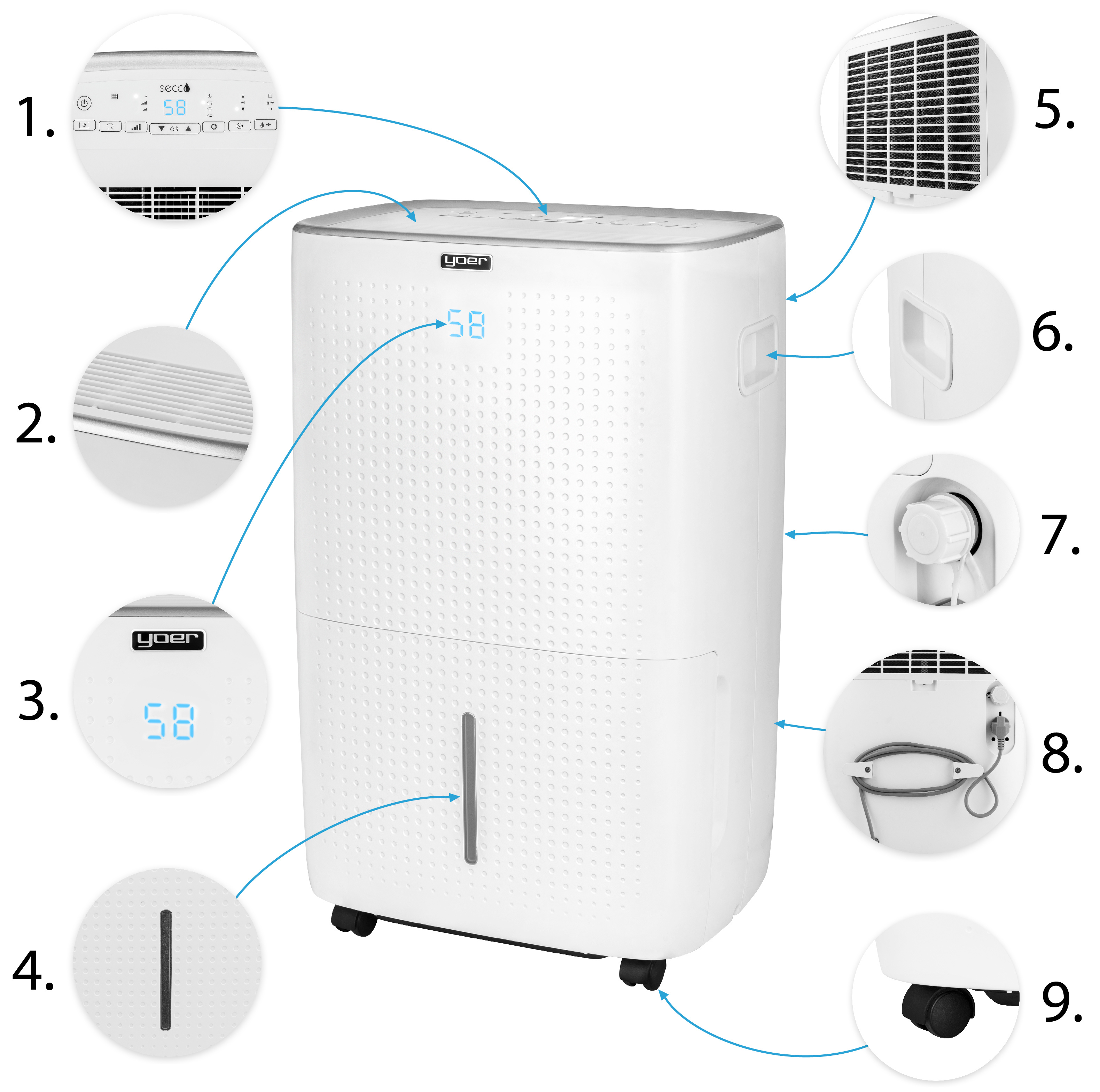 CONSTRUCTION - MAIN COMPONENTS
Touch control panel with humidity level indicator
Air outlet
Front display
Water tank with measurement
Air inlet + filters
Handles making carrying easier
Drainage outlet
Cable winder with plug-protecting socket
Wheels made of soft polymer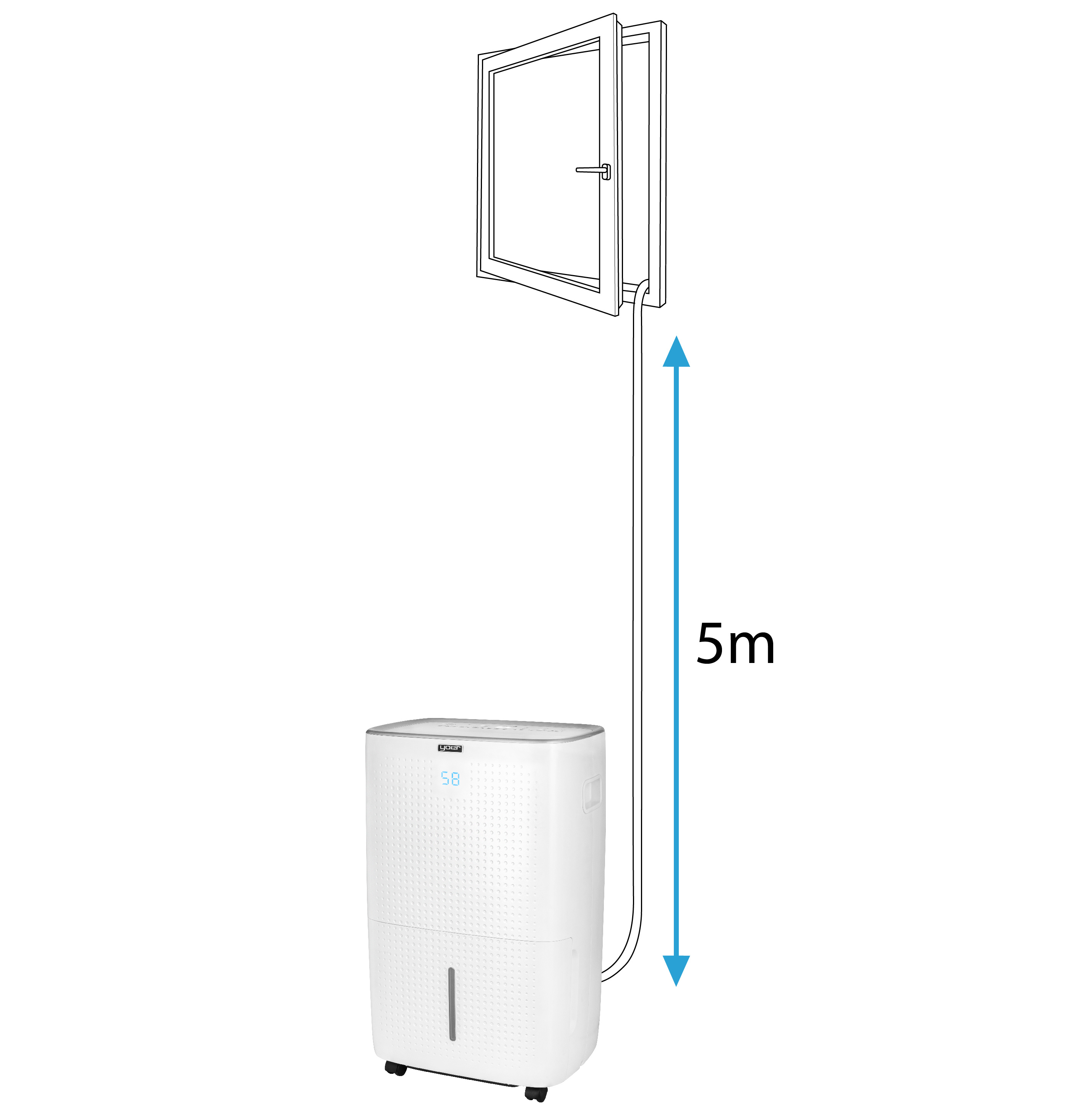 CONTINUOUS WATER DRAINAGE
Pump - continuous drainage - the advanced pump system will allow you to continuously drain condensate without your supervision:
up to 5 meters of level difference
huge efficiency of the pump - 316l/24h
power 18W - low energy use
easily direct condensate to any drain or container
An ideal solution for basements where water can be discharged through a window or other convenient source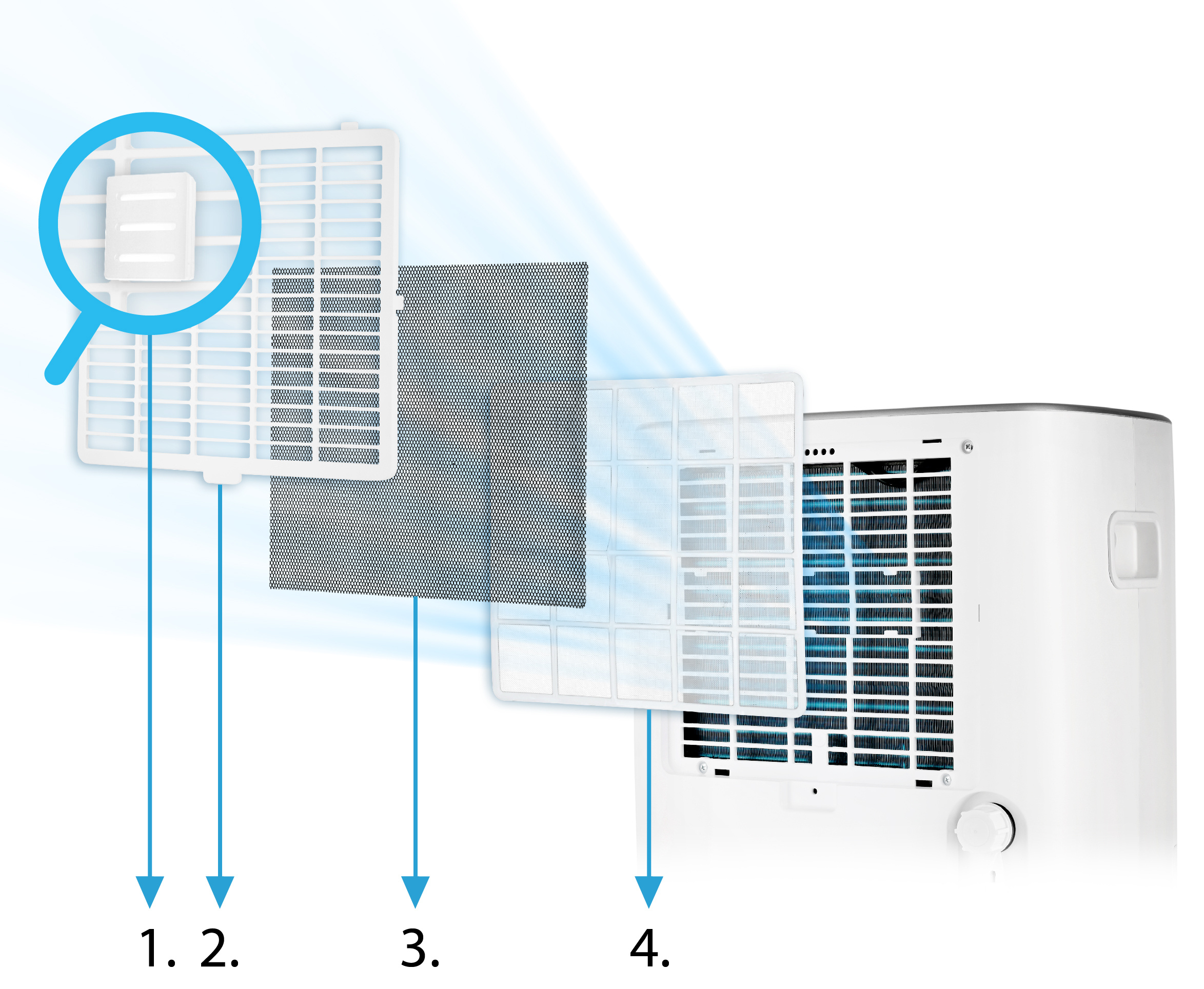 3in1 - AROMATHERAPY, AIR CLEANSING AND DEHUMIDIFYING
Enjoy not only dry but also fresh and clean air with a pleasant smell thanks to special air filters and aromatherapy.
Aromatherapy:

soak the fabric with your favorite essential oil to release a pleasant scent and neutralize unwanted odors
It has a relaxing effect and improves well-being

Preliminary filter:

it protects the dehumidifier from accidental touch and prevents hands or objects from being inserted
it extends the lifespan of the remaining filters by capturing mechanical contaminants

Carbon filter:

it absorbs and traps unpleasant odors and volatile chemical pollutants that may be present in the air
it reduces volatile organic compounds that may emanate from various building materials, furniture, or equipment

Nylon filter:

it captures pollen, dust, hair, as well as other visible pollutants that may be present in the air
it protects more delicate or advanced components of the dehumidifier from damage or contamination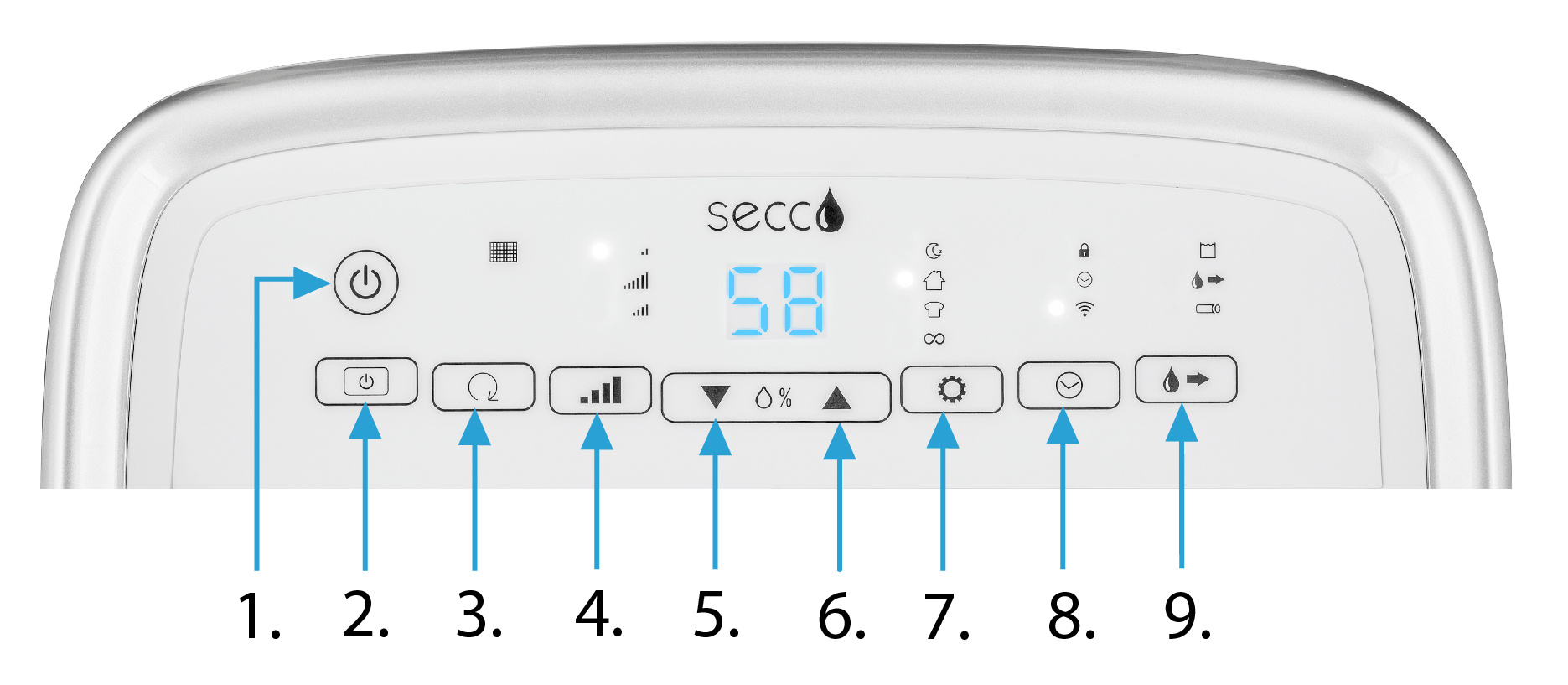 TOUCH CONTROL PANEL
1. ON/OFF button - turn the device on or off
2. The front display switch - turn the fron display on or off
3. The filter cleaning indicator reset button - reset the filter usage timer
4. Speed level selecion button- choose proper speed level
5. Humidity/time decrement button - set preferable humidity level from 35% or time from 0,5 h
6. Humidity/time increment button - set preferable humidity level up tp 80% or time up to 24 h
7. Automatic modes button - adjust the working mode to your preferences
8. Timer button/Child lock/ Wi-Fi - turn on the timer, child lock or Wi-Fi
8. Pump button - initiate automatic water drainage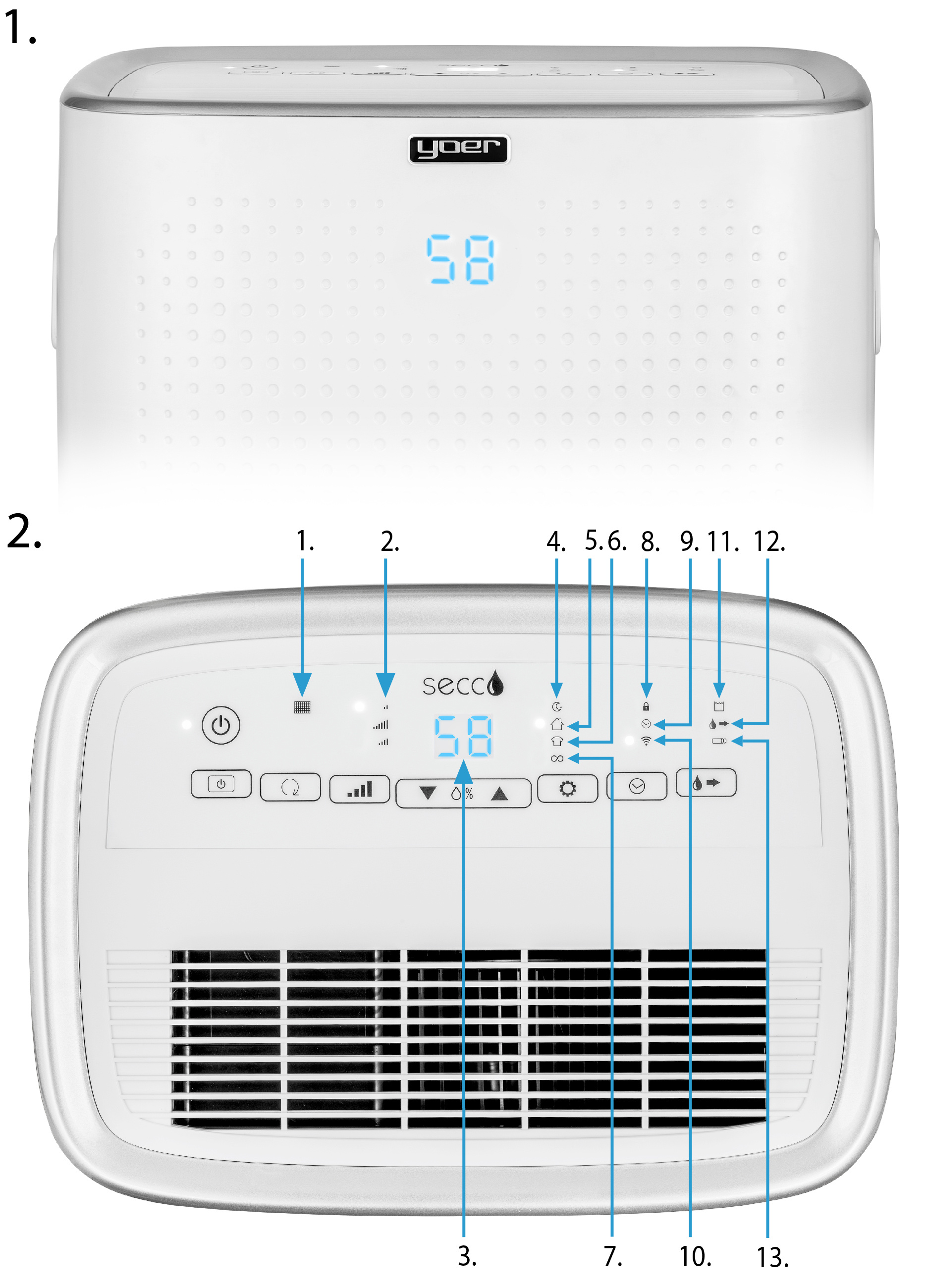 2 DISPLAYS FOR BETTER COMFORT
▶ FRONT DISPLAY - shows current humidity level in a room.
You can turn off the front display to ensure the best comfort at night
▶ UPPER DISPLAY - informs about active functions:
1. The filter cleaning indicator - informs about the need to clean the filters
2. Icon of the speed of operation - informs about the selected speed level
3. Humidity level indicator - shows current humidity level in a room
4. Sleep mode icon - informs about active sleep mode
5. Day mode icon - informs about active day mode
6. Drying laundry mode icon - informs about active drying laundry mode
7. Continuous mode icon - informs about active continuous mode
8. Child lock icon - shows active child lock
9. Timer icon - informs about active timer
10. Wi-Fi icon - informs about active Wi-Fi
11. Full water tank indicator - informs about full water tank
12. Pump icon - informs about active automatic water discharge
13. Connected drainage hose indicator - informs about the connected drainage hose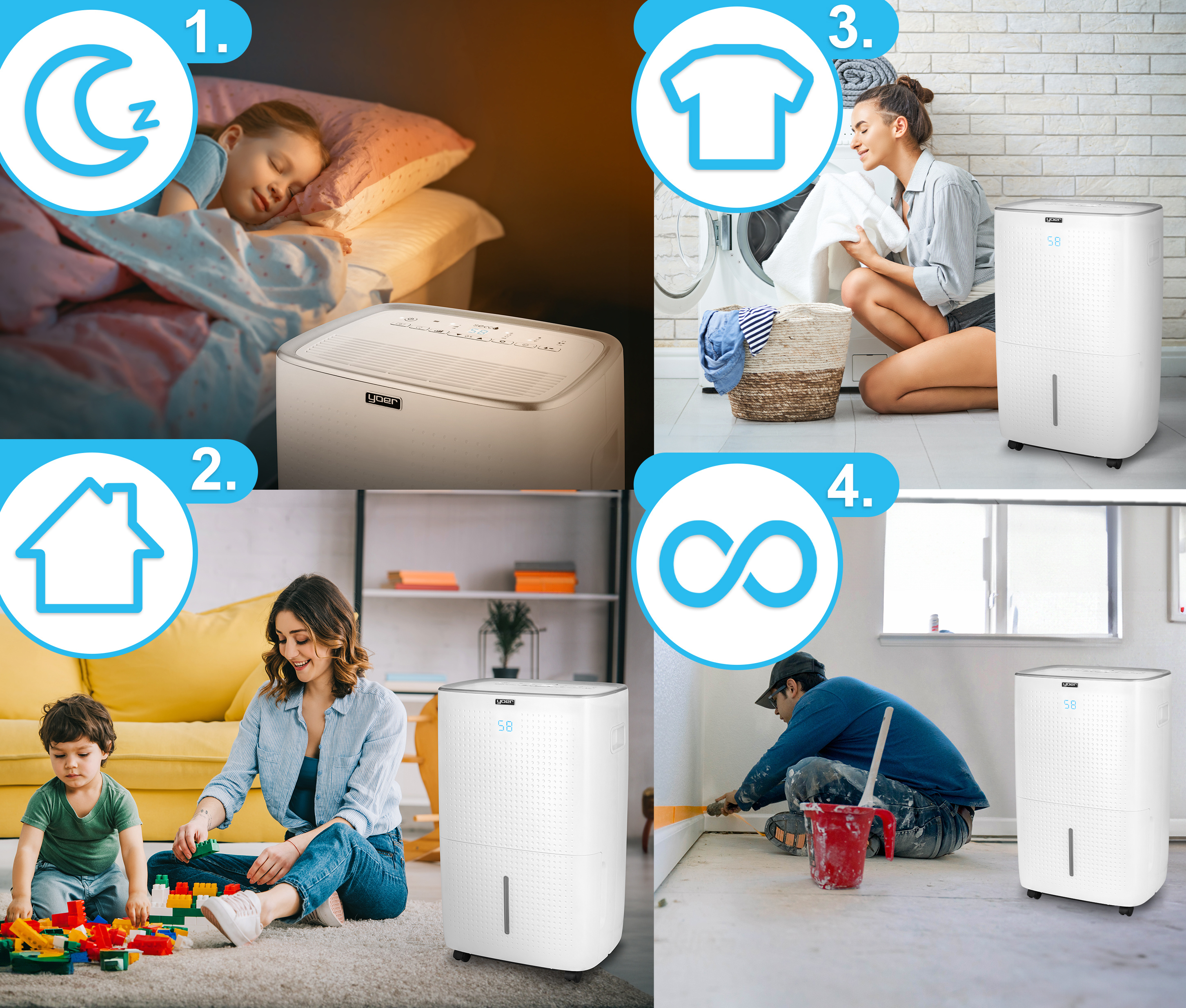 4 MODES OF OPERATION
Sleep, day, laundry drying, continuous
1. SLEEP:
will keep the humidity level of 55%
quiet operation of the device will enable you to have a comfortable sleep in a bedroom with a pleasant climate.
2. DAY:
will keep the humidity level of 50%
keep optimal humidity level during a day and create comfortable atmosphere for wroking and learning
3. LAUNDRY DRYING:
will keep the humidity level of 45%
speed up the laundry drying process and enjoy dry and fresh-smelling clothes in less time
4. CONTINUOUS:
will keep the same humidity level all the time
especially useful in the case of renovations or water damage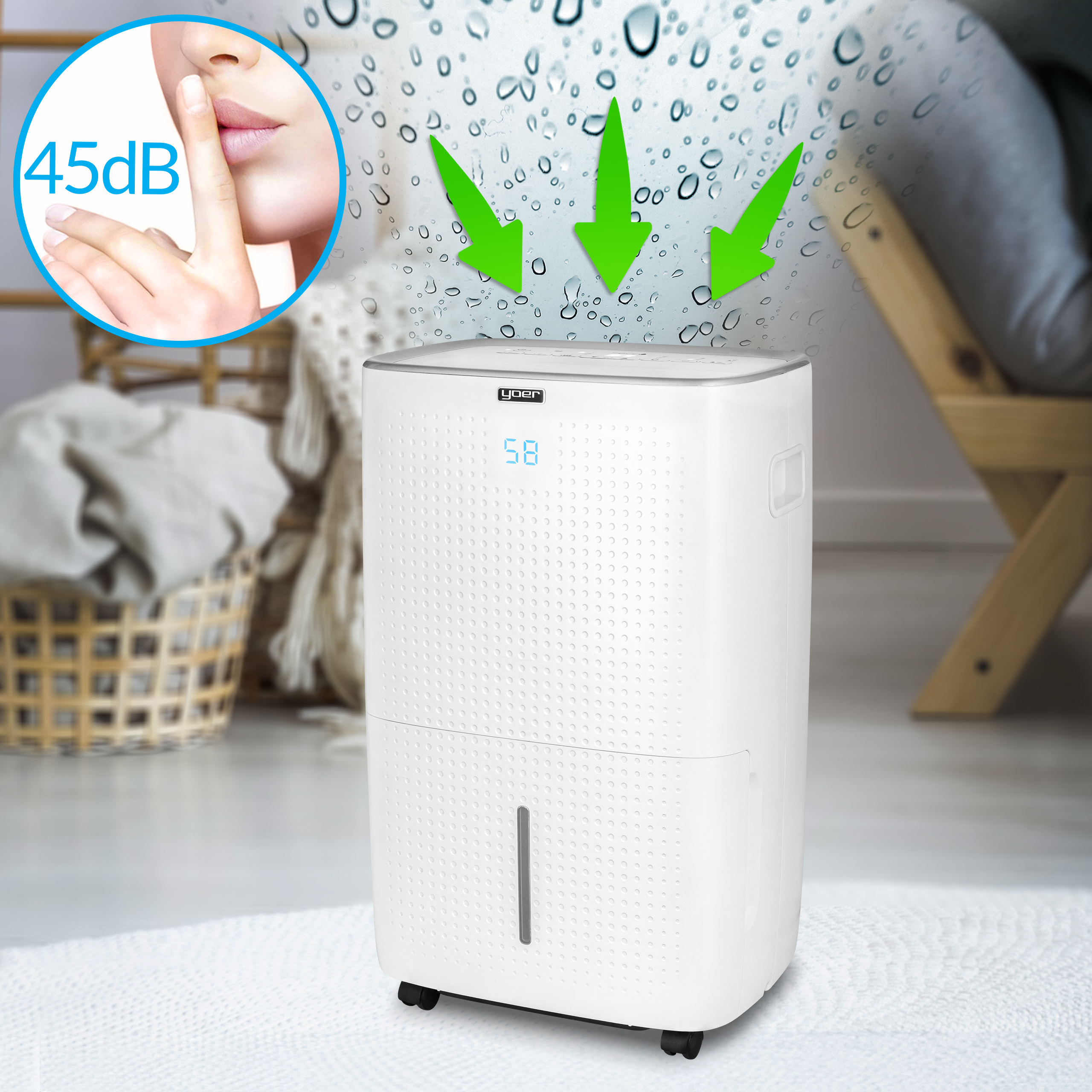 EFFICIENT AND QUIET OPERATION OF SECCO
60l/24h (30° and 80%RH) - industrial drying efficiency will allow you to quickly dry the rooms:
▪ 25 m² ➡ 30 minutes
▪ 35 m² ➡ 60 minutes
▪ 45 m² ➡ 90 minutes
▪ 55 m² ➡ 120 minutes
▪ 70 m² ➡ 150 minutes
45 dB - on the lowest speed
quieter than the sound of raindrops on leaves during rainfall
50 dB - on the highest speed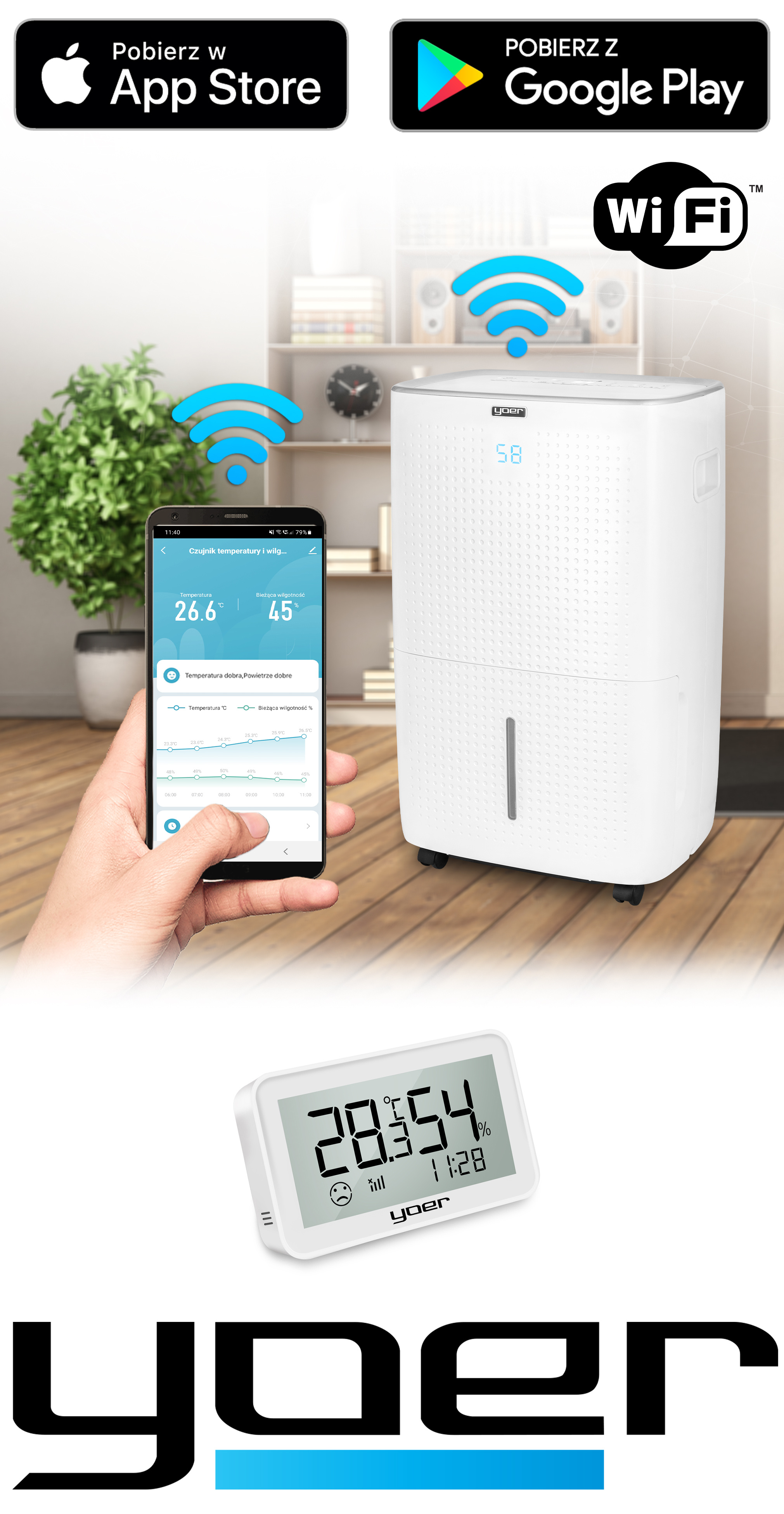 Wi-Fi + AUTOMATIC AIR DRYING
Control your Secco via app from any mobile device, thanks to the built-in wireless connectivity module.
The app is available on Google Play and AppStore.
The app works on Android and iOS operating system.
Programming and controlling the device from any place with access to the Internet.
The app enables setting the operation of Secco in the range of:
Turning the device on and off.
Changing the humidity in a room.
Reading the humidity in a room.
Choosing the mode of operation.
Choosing the speed of operation.
Turning the front display on and off.
You can additionally set:
▶ 24h/7d schedule:
plan the device operation for a whole week,
you can choose more than one function at the same time, to make them be active simultaneously.
▶ 24h - timer:
will enable you to set the time of operation without having to control it,
you can set the time after which the device will turn on or off automatically (you can choose one function at time).
◾◾◾
HUMIDITY SENSOR AND DEHUMIDIFIER - INTELLIGENT DUO FOR YOUR HOME
Create scenes, which will automatically turn your Secco on or off according to the humidity level to your room.
you can set the sensor to make your Secco turn on when the humidity level is above 75%, and turn off when it drops below 40%
you will have proper humidity in a room without continuous humidity level monitoring or manual device control
Control your sensor and Secco by a mobile app:
change the settings,
check the measurement history,
receive a notification about any changes of the humidity level.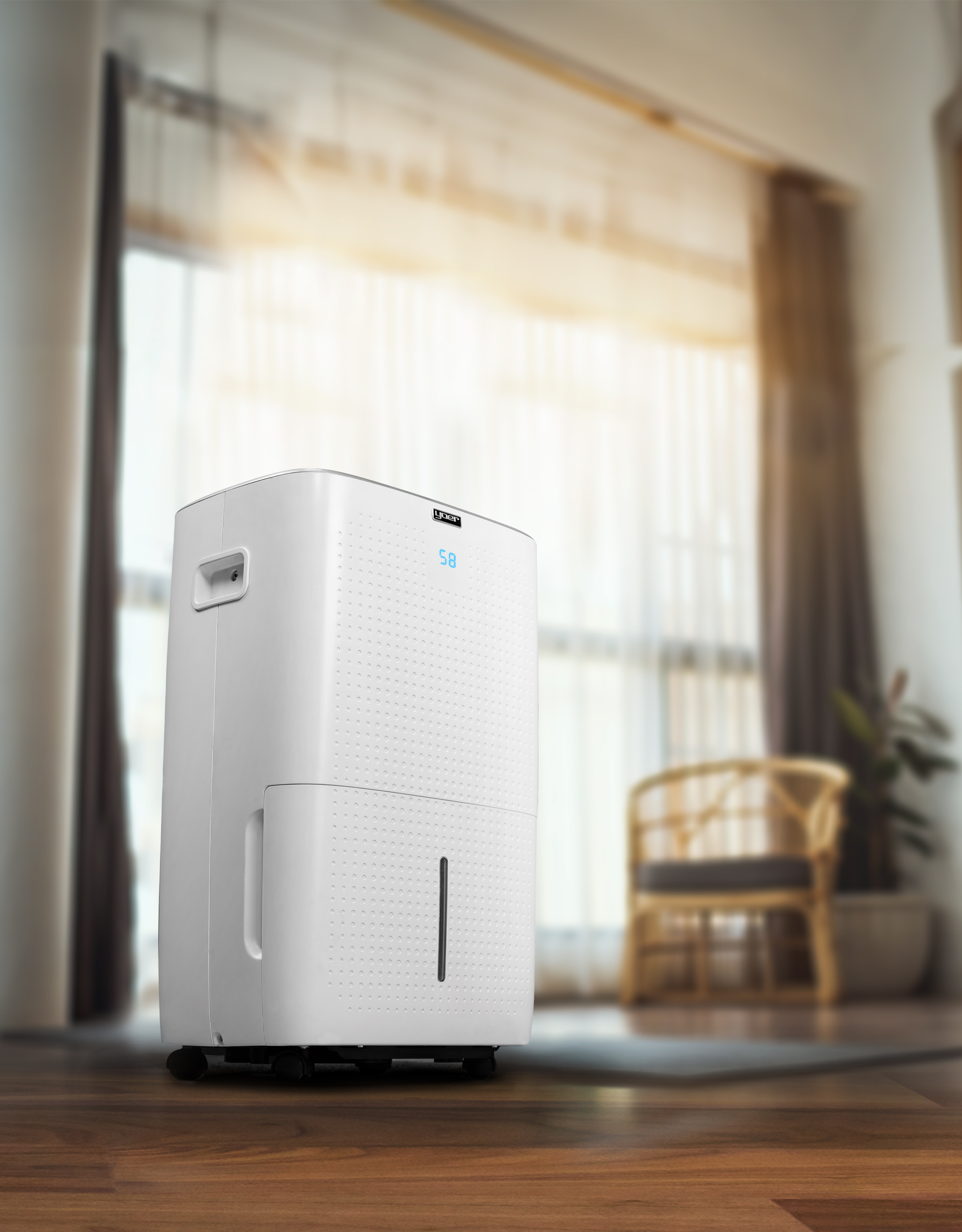 EXCLUSIVE DESIGN
Secco presents itself exceptionally thanks to high-quality craftsmanship and a unique, elegant design - certainly suitable as a striking accent in any modern interior.
Modern look - a fashionable pattern adorning the front of the device
Casing made of high quality polymer - timeless elegance and years of use
Digital LED display - easy reading and quick access to settings
Body decorated with YOER producer logotype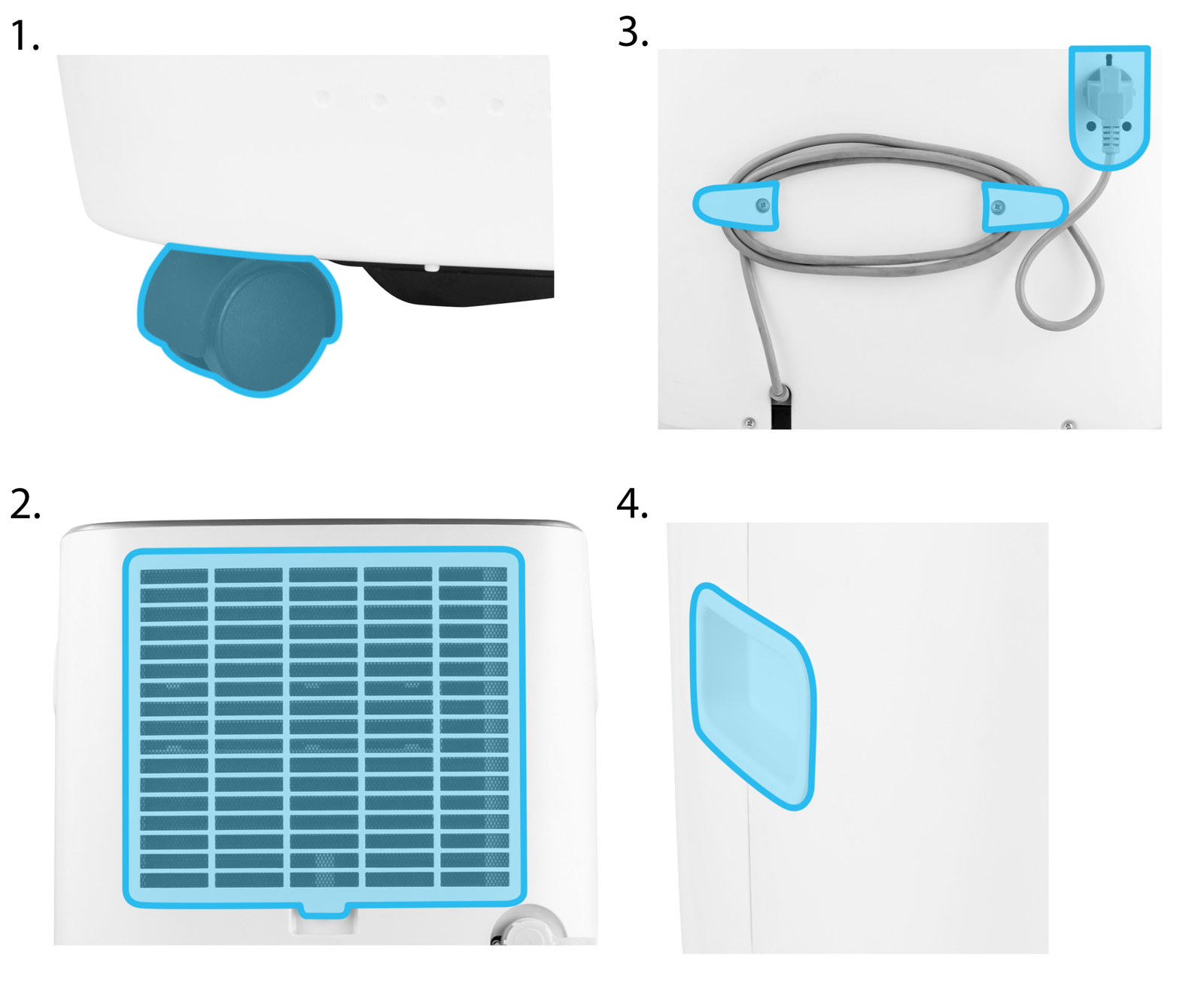 SAFETY AND CONVENIENCE
Wheels made of soft polymer - ensure mobility and comfort while moving the device without the need to lift the device.
Safety grille - protects the interior of the device, covering the air inlet, which effectively prevents direct access to moving components of the device.
Cable winder with plug protection - enables convenient winding of the cable, while the dedicated socket for the plug effectively protects the elements from potential damage during storage or transport of Secco.
Convenient handles - make carrying the device fast and safe.
3 safety systems:

Overflow protection - the device will make a sound and turn off when the water tank needs emptying,
Anti-fort protection - will turn on automatically when the temperature of the compressor will be too law,
Child lock - makes changing the settings or turing the device off impossible.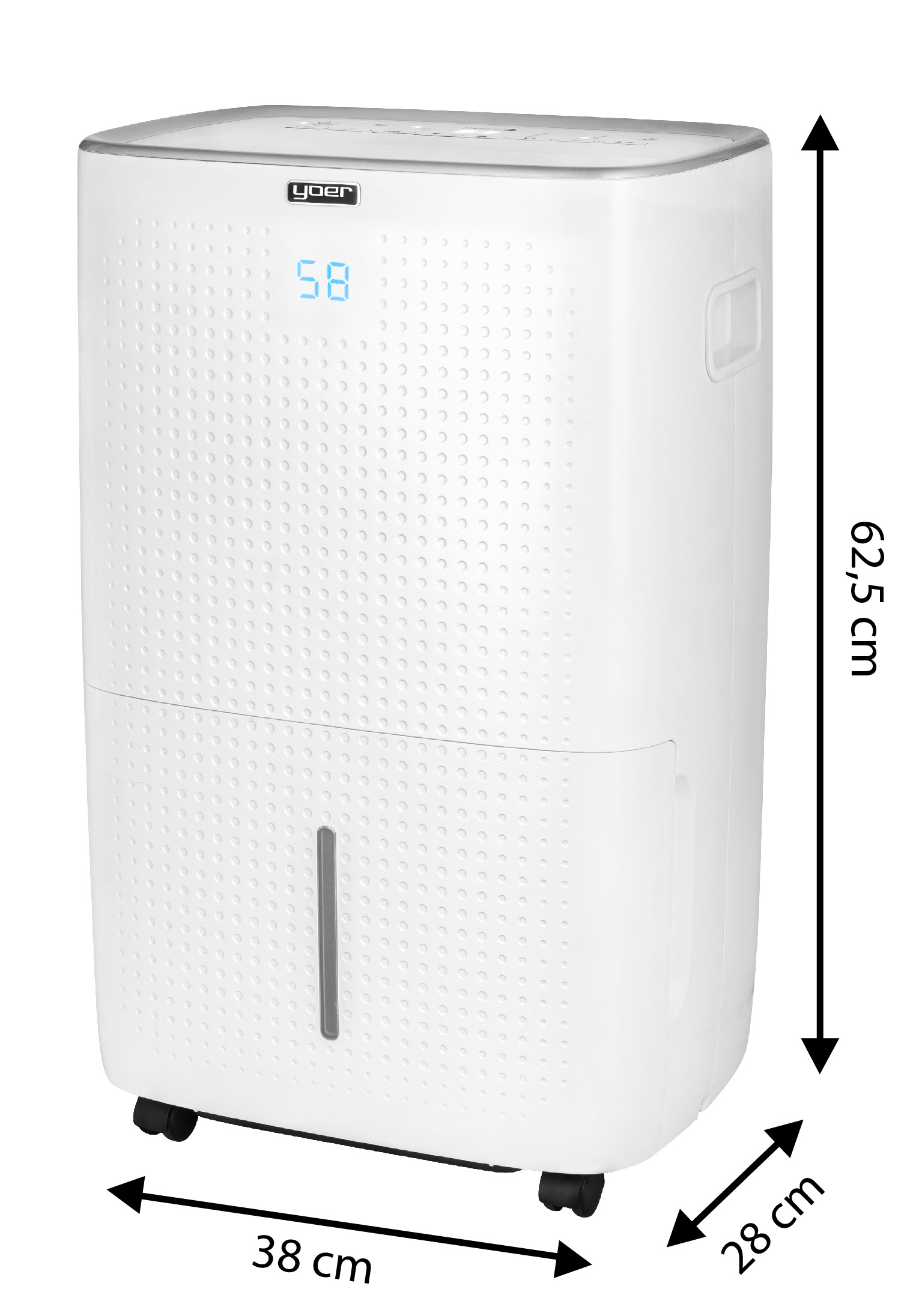 TECHNICAL SPECIFICATIONS
Power - 800 W
Efficiency - 60l/24h
Airflow - 270 m³/min
Min. noise level - 45 dB
Nom. noise level - 50 dB
Water tank capacity - 8l
Humidity range - 35 - 80%
Min. room size - 8m²
Max. room size - 70m²
Weight - 21 kg
Dimensions - 38 x 28 x 62,5 cm
Longer drainage hose length - 515 cm
Shorter drainage hose length - 70 cm
Casing - High quality polymer
Color - White
Display type - LED
Control - Touch control panel, remote control via Wi-Fi
Filter type - preliminary, carbon, nylon
Power cord length - 156 cm
Polish power plug - 220-240V~50Hz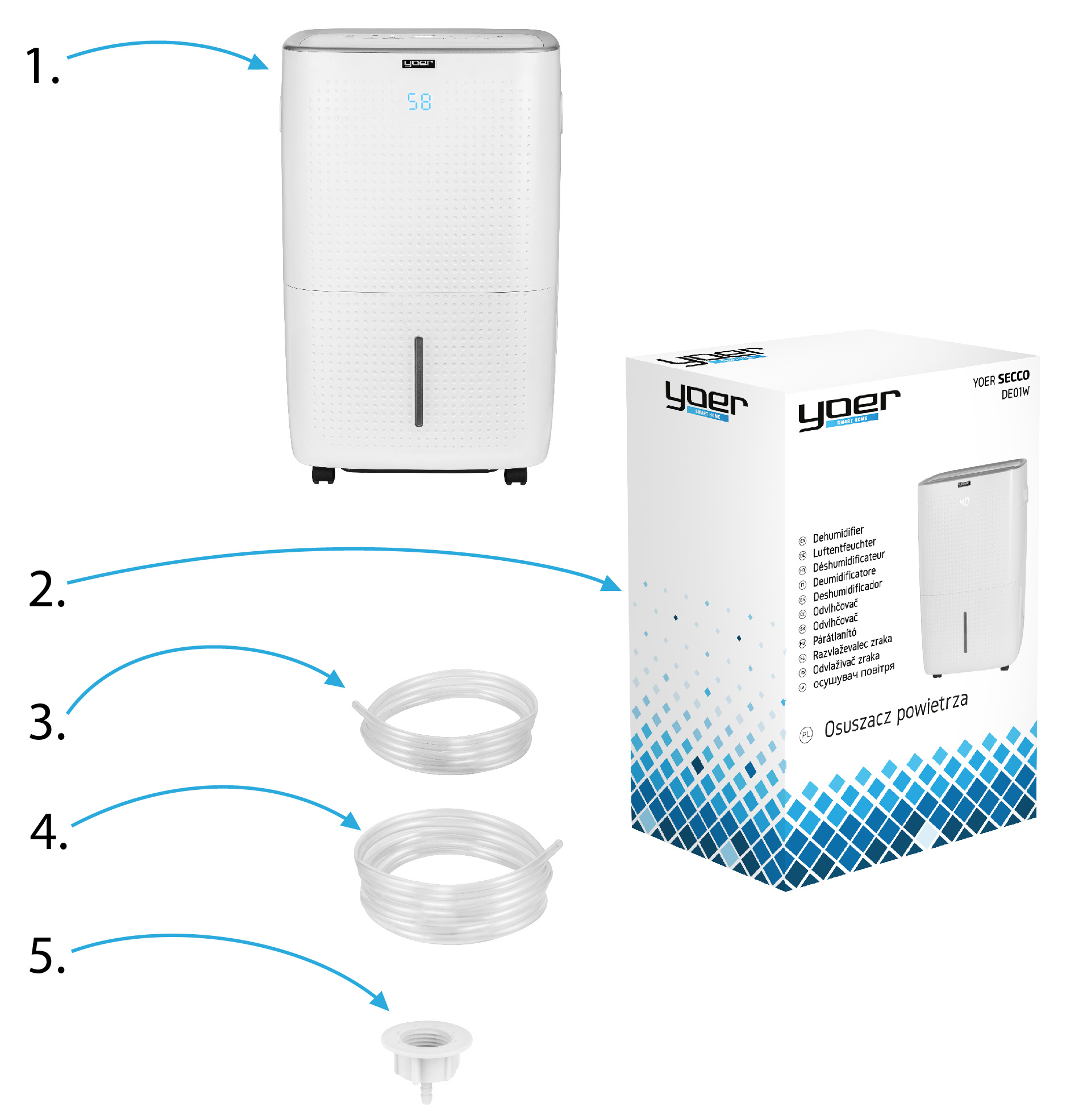 EQUIPMENT:
Dehumidifier
Original packaging
Shorter drainage hose
Longer drainage hose
Drainage cap
Essential oil container
Essential oils (pine and lavender scents)
YOU WILL RECEIVE:
Dehumidifier - details above,
YOER PLATINUM SECURITY card
PL/EN instruction manual.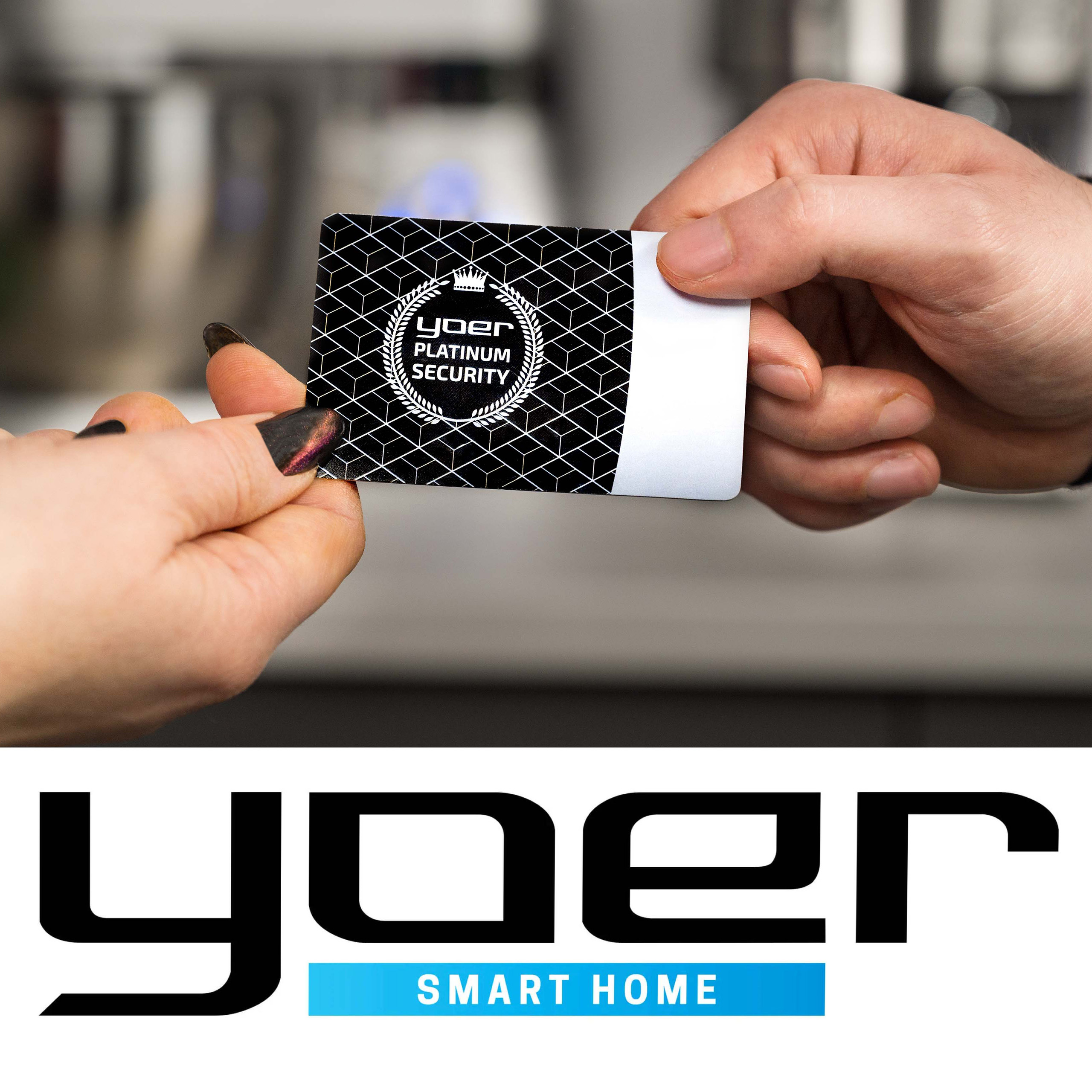 YOER PLATINUM SECURITY
When purchasing products from the official Yoer store you receive the YOER PLATINUM SECURITY package, which is an assurance of additional protection.
YOER - POLISH MANUFACTURER AND BRAND
YOER constitutes an excellent proof that high quality of products does not necesserily go in hand with high prices.

YOER DE01W Instruction manual - Click here