Language
Vacuum sealer with scale YOER Fresh Food VSS01BK
Really strong vacuum seam, Vacuum sealing, Regular sealing, Vacuum marinating, Built-in scale, LCD display, FREE bottle vacuum cork, Power: 120 W

Shipping within

24 hours

Availability

Not available

0

pcs.
| | |
| --- | --- |
| Bar code | |
| EAN | 5900779770102 |
Description

Instruction manuals

Reviews & ratings (11)
MULTIFUNCTIONAL VACUUM SEALER YOER Fresh Food VSS01BK + FREE BOTTLE VACUUM CORK + PACKAGE OF FOILS
CONSTRUCTION-MAIN COMPONENTS
Stainless steel scale
Accessory port
LED display
Detachable foil cutting knife
Automatic opening and closing "One touch" system
Strong weld
Removable condensation tray
Anti-slip base
Touch control panel
PRODUCT DETAILS
4 food packing modes

sealing without suction functionality
vacuum sealing function
bottle sealing function
vacuum marination function

2 vacuum packing modes

Automatic vacuum sealing mode - the device automatically selects appropriate power and time needed for the process
Semi-automatic sealing mode - allows for user-controlled suction pressure

2 suction modes

normal - for vacuum sealing hard food that does not require control while being sealed
gentle - for vacuum sealing food requiring more attention while being sealed

Touch control panel with LED display
Scale functionality

built-in detachable kitchen scale
precisely weight food with accuracy up to 0,1 g
the scale has 4 programmed units - g, kg, oz, lb

"One touch" opening and closing system - automatically opens and closes the lid with one touch on the metallic bar along the entire width of the sealer
Built-in foil cutting knife compartment - the foil cutting knife is concealed in a special storage compartment
Anti-slip base - sealer is fitted with anti-slip feet, which keeps it in a stable position
Condensation tray with capacity of 35 ml - collects the humidity from the vacuum sealing process
Maximum vacuum sealer width - 30 cm (11.8 ")
LED DIGITAL DISPLAY
LED digital display – shows current status of the device.
On the display:
Weighing - the number indicates current measurement from the scale
OPEN indicator - information about opening the lid
CLOSE indicator - information about closing the lid
Sealing progress indicator - informs about the sealing without air suction progress
Vacuum air suction and vacuum marination progress - informs about vacuum air suction and vacuum marination progress
TOUCH CONTROL PANEL
Touch control panel – is an easy access to all of the modes.
9 touch buttons:
Metallic "One Touch" bar - allows for easy and automatic closing and opening of the lid with just one touch of the finger.
Tare button - scale tare functionality
Scale mode switch button - allows to change the units used by the scale (g, kg, oz, lb),
Sealing mode - after pressing this button the sealer will tightly seal the bag without sucking out the air,
Air suction speed setting - normal and gentle, when product that is being sealed is more delicate.
Vacuum sealing - sealer will suck out the air remaining in the bag and will tightly seal it,
Stop button - gives the option to stop the currently active process,
Vacuum marination - using the attached tube or vacuum sealing cork allows for tightly sealing vacuum containers and previously opened bottles,
Food type selection button - allows the user to choose the way in which sealer vacuum seals, DRY mode is for dry food and MOIST is for moist food.
⚖KITCHEN SCALE
Detachable stainless steel scale
max load of 2 kg (4.4 lbs)
will allow you to precisely weigh food with accuracy up to 0,1 g.
tare functionality will allow you to check the weight of products themselves, without the weight of the container in which they are placed.
The scale has 4 programmed units: g, kg, oz, lb, which can be changed with a pressing of 1 button
✅LED digital screen will indicate the weight of the product which is put on the scale, precisely weighting food and indicating the unit (pic. 1).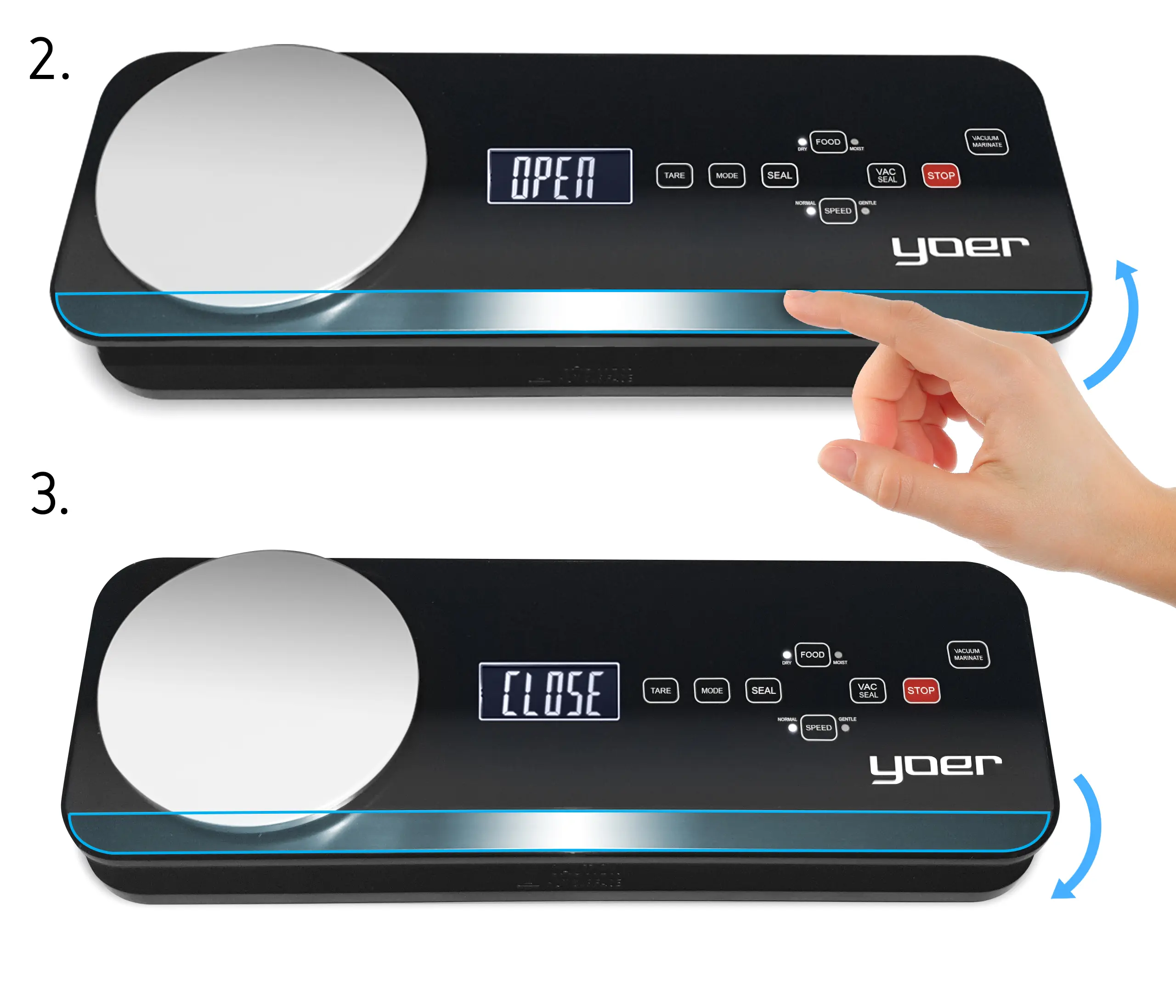 OPENING AND CLOCING "ONE TOUCH" SYSTEM
Opening and closing with "One touch" - of the metallic bar located along the entire length of the sealer.
You can open and close the lid with ,,one touch"
✅The screen will display information about opening "OPEN" and closing "CLOSE" (pic. 2 and 3):
"OPEN" - the lid is being opened
"CLOSE" - the lid is being closed
SEALING WITHOUT SUCTION
Sealing without suction
is used when the type of packed food is not appropriate for vacuum packing
is also used when you want to make sure that the products are tightly packed, and will not fall out of the bag and anything from outside will get to them, for instance lunch for work or school.
✅ In this case the display will show the process of sealing without air suction (pic. 4).
VACUUM SEALING
- DRY and MOIST food
Dry and moist sealing functionality
will allow you to completely suck out the air from the vacuum bag
after the process is over, the sealer will automatically start sealing the foil
at the same time, excess humidity will condensate into the dedicated tray
Up to 5 times longer shelf life
products sealed in this way will have their shelf life increased by up to 5 times.
you can place them in the freezer, which will allow you to plan and manage your winter supplies even better.
✅ In this case the display will show you the process of vacuum sealing (pic. 5).
⏩ Vacuum sealing within 18-31 seconds ❗
⏩ Vacuum sealing without suction within 8-11 seconds ❗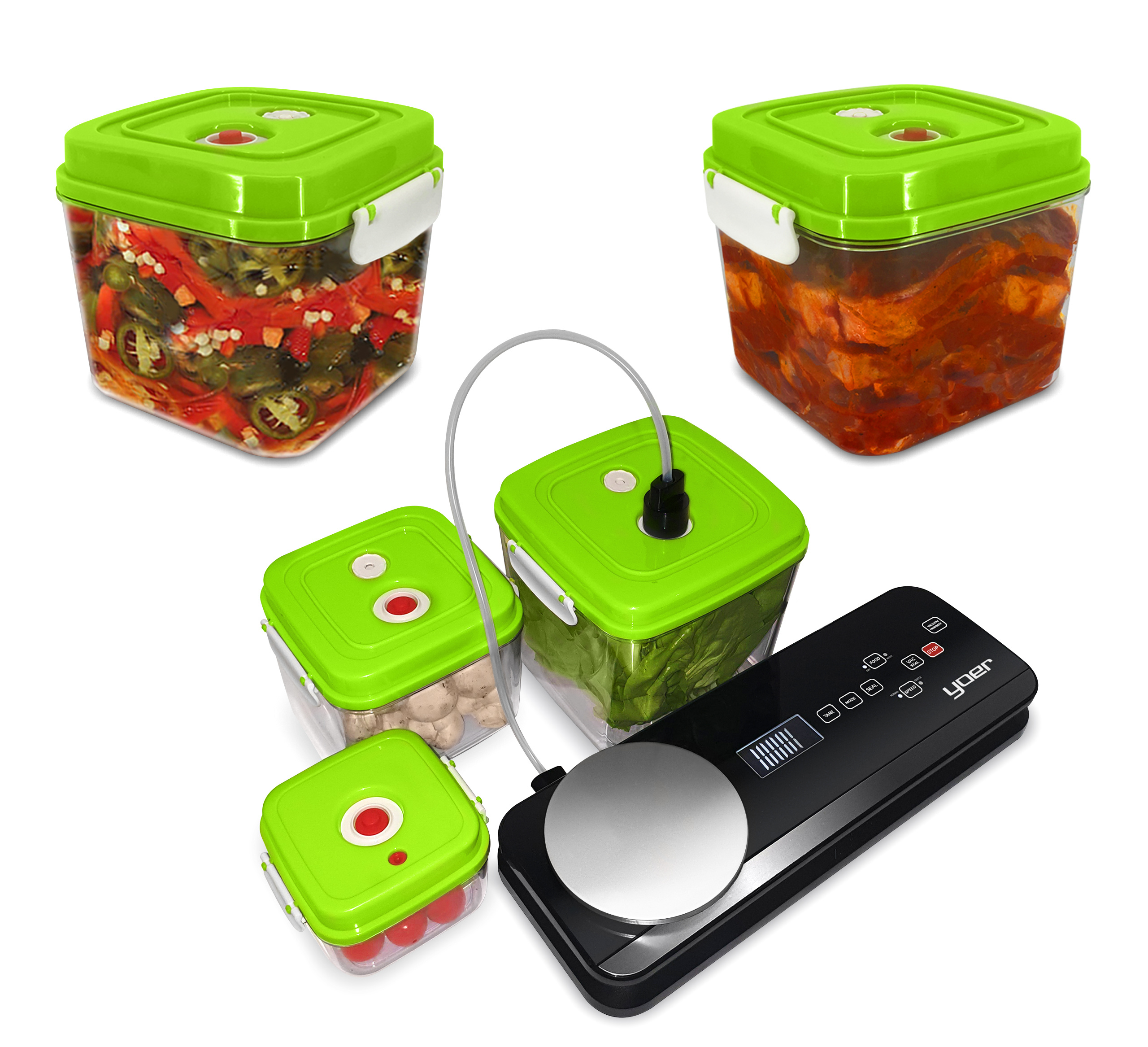 VACUUM MARINATION
Vacuum marination
this mode is perfect for preparation of marinated vegetables and meat
allows you to quickly achieve the effect of long-term traditional marination
in case of marinating meat, while the air is being sucked out from the container, the spices are being absorbed into the meat's structure, and the non-oxidized aroma makes the taste of the marinade even richer.
vacuum sealed meat will also have a longer shelf life
THE LENGTH OF FOOD STORAGE - TRADITIONAL vs VACUUM PACKED
IN THE PANTRY
🍪Cookies
Traditional packed: 1-2 weeks ➡ Vacuum packed: 3-6 weeks

🍝Pasta, rise
Traditional packed: 6 months ➡ Vacuum packed: 1-2 years.

🍞Bread, rolls
Traditional packed: 2-3 days ➡ Vacuum packed: 7-10 days


IN THE FRIDGE
🍎Fresh fruit
Traditional packed: 3-7 days ➡ Vacuum packed: 8-20 days

🥕Fresh vegetables
Traditional packed: 3-7 days ➡ Vacuum packed: 8-20 days

🍖Meat
Traditional packed: 3-5 days ➡ Vacuum packed: 8-10 days

🍒Blue berries, raspberries, cherries
Traditional packed: 1-6 days ➡ Vacuum packed: 1-2 weeks

🥬Lettuce, cabbage
Traditional packed: 3-6 days ➡ Vacuum packed: 2 weeks

🧀Cheese
Traditional packed: 1-2 weeks ➡ Vacuum packed: 4-6 months


IN THE FREEZER
🥓Raw meat
Traditional packed: 4-6 months ➡ Vacuum packed: 15-20 months

🐟Fresh fish
Traditional packed: 3-4 months ➡ Vacuum packed: 10-12 months.

🧂Spices
Traditional packed: 6-10 months ➡ Vacuum packed: 18-30 months

🥕Fresh vegetables
Traditional packed: 8 months ➡Vacuum packed: 18-24 months

🍎Fresh fruit
Traditional packed: 8 months ➡ Vacuum packed: 18-24 months

🥖Bread and pastries
Traditional packed: 6-8 months ➡ Vacuum packed: 12-36 months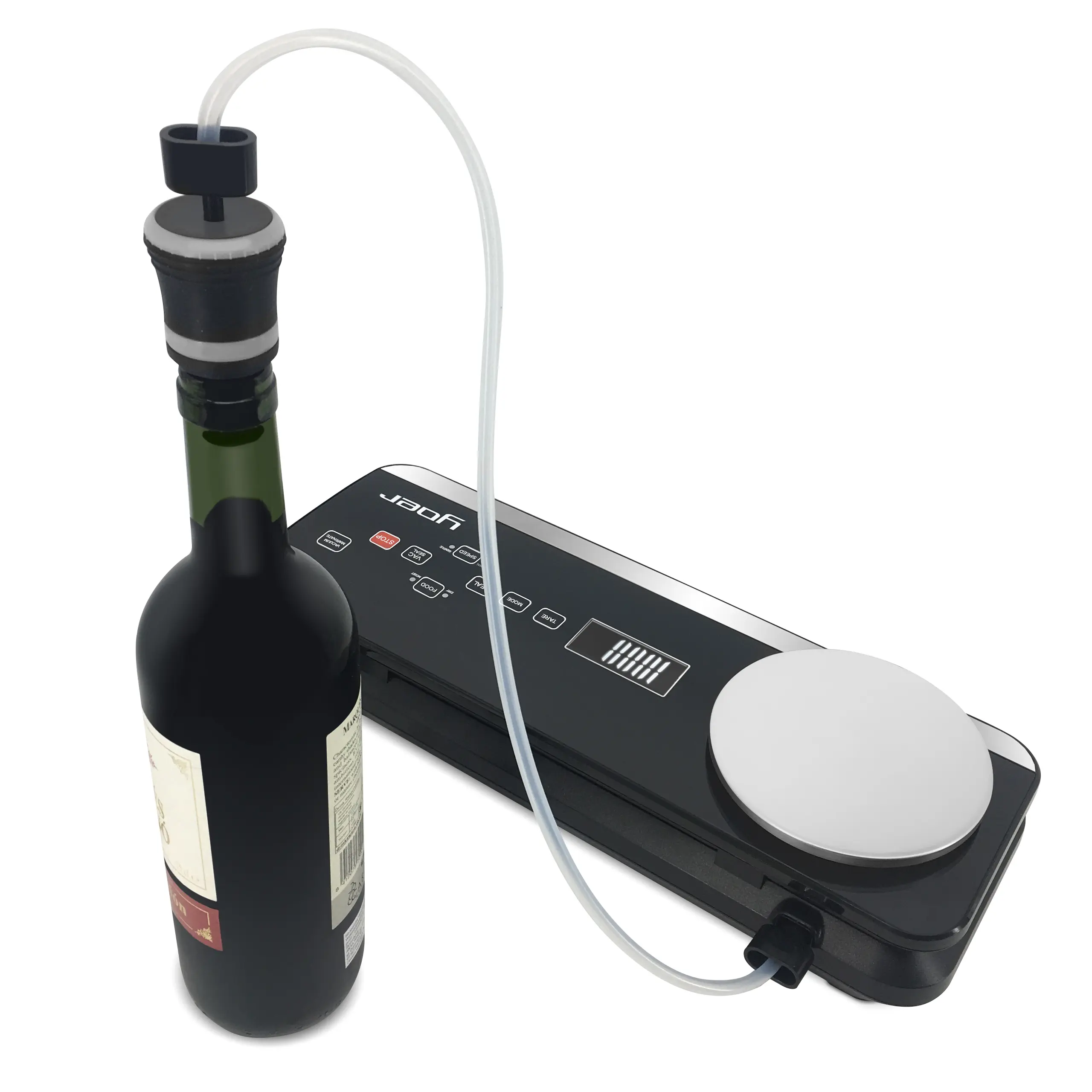 BOTTLE VACUUM SEALING
➕ FREE Vacuum sealing cork for bottles
allows you to hermetically close previously opened bottles
this functionality excels at re-sealing opened wine bottles, which quickly oxidizes and loses its taste (extenses the aroma and tastes from 2-3 days to even 20-25 days❗)
vacuum sealing bottles will also have a great effect on fresh juice and other non-carbonated drinks, as well as oil, balsamic vinegar and other liquid products that have been previously opened and are used sparsely.
✅ In this case the display will show you the process of vacuum sealing (pic. 5). While the process is in progress, the LED display will show a changing symbol informing you about this process. After the process is over, the sealer will show you the appropriate message.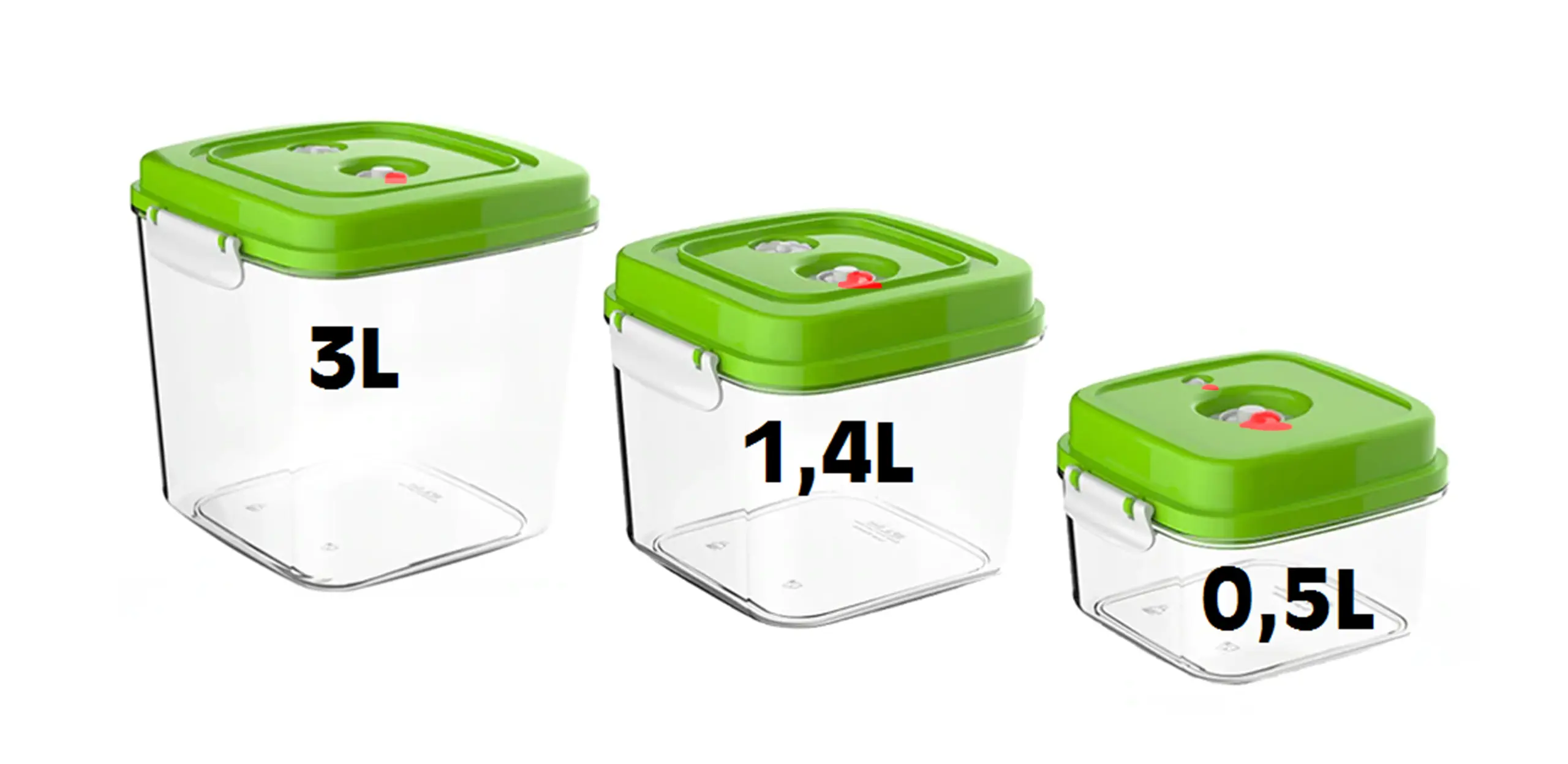 VACUUM MARINATION - CONTAINERS (you can purchase it separately)
A perfect choice for: delicate products, liquids, dry food and vacuum marination.
Utilizing the sealer and vacuum tube you will be able to hermetically seal ready meals, vegetables, fruit, cookies, walnuts, sweets, coffee, spices and dried mushrooms in containers.
The containers are equipped with:
a tight seal which does not let any outside air
a pressure valve which allows for easy balancing of the pressure
pressure indicators on the lids informing you whether the containers are properly sealed
they are made out of special BPA-free materials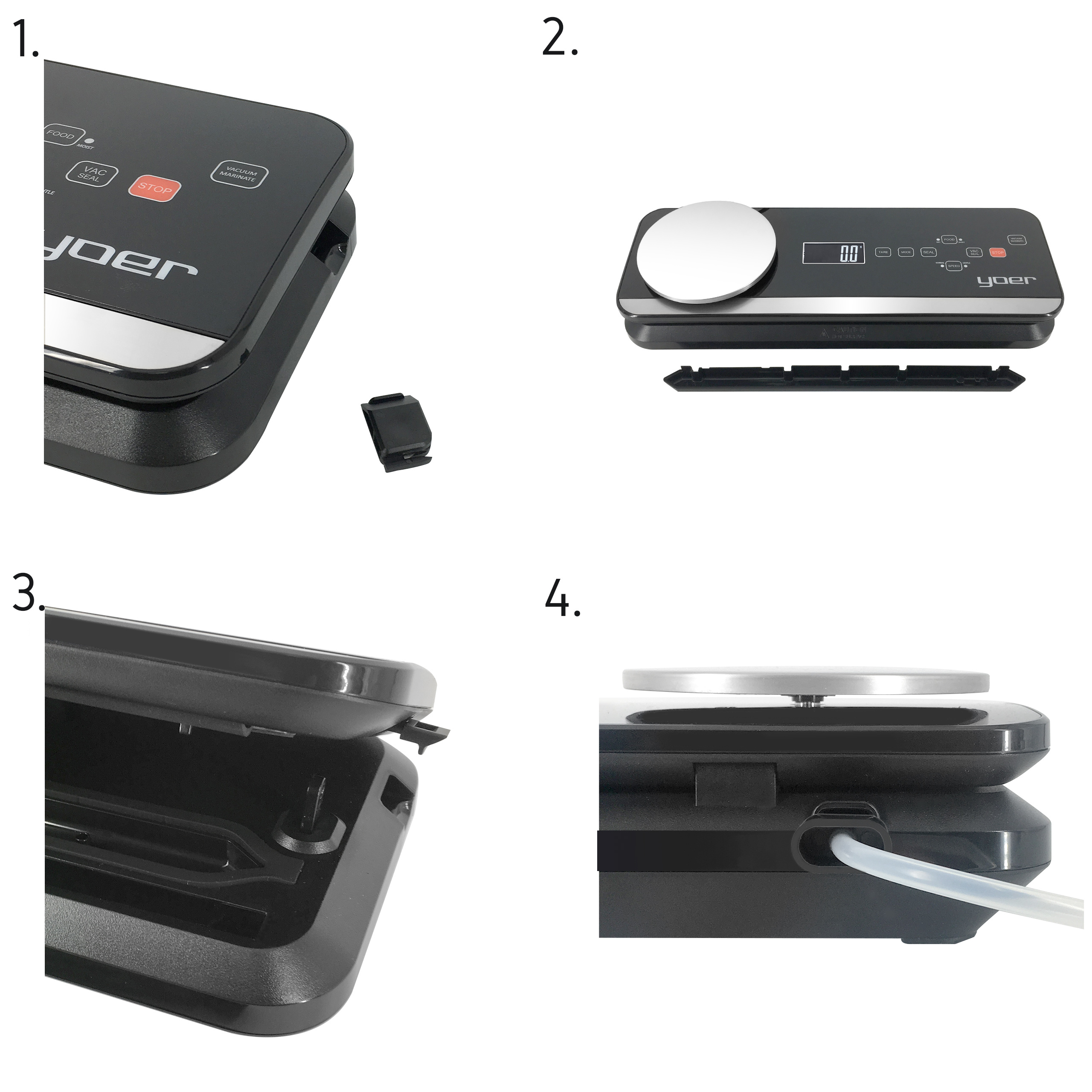 ACCESSORIES AND ACCESSORY PORT
Built-in foil knife compartment located in the base of the sealer. Thanks to it, you will always have the knife on hand when needed for cutting the bag or foil
Condensation tray:

with capacity of 35ml
stores the excess liquid created when the surplus of the humidity condenses during vacuum sealing moist products
removable for emptying and cleaning

Lid lock - built-in plugs lock the lid in place securing it against accidental opening.
Accessory port - for marinating and excess air suction

placed at the back part of the sealer
allows for connection of the tube used with the vacuum cork and vacuum containers.
Non-slip base - our vacuum sealer is equipped with non-slip feet, which keep it in a stabile position
📝TECHNICAL SPECIFICATION
Power: 120 W
Max. seal width: 30 cm (11.8'')
Sealing time: 8-11 seconds
Air suction speed: 10-20 seconds
Vacuum: 0,7 Bar (-10.15 PSI)
Power cord length: 1,2 m (3.9 ft)
Scale maximal load: 2 kg (4.4 lbs)
Scale accuracy: 0,1 g
Scale units: g, kg, oz, lbs
Weight: 1,75 kg (3.9 lbs)
Dimensions: 38 cm (width.) x 8 cm ( height.) x 14 cm (length.) (15 x 3.1 x 5.5 ")
Color: Black with silver accents
Polish power plug: 220-240V 50/60Hz
EQUIPMENT
Sealer with scale
Knife
Vacuum tube
AC power cord
Bottle vacuum cork
Bags x 5 (20 x 200 cm) (7.9 x 78.7 ")
Tip for the vacuum containers
Original packaging.
Foil rolls 6 x (20 x 300 cm) (or 3 foil rolls 20 x 600 cm) + 1 x 20 x 200 cm
Original packaging of vacuum containers
YOU WILL RECEIVE:
✅Vacuum sealer - details above,
✅YOER PLATINUM SECURITY card,
✅Warranty card,
✅Receipt / VAT invoice,
✅PL/EN instruction manual.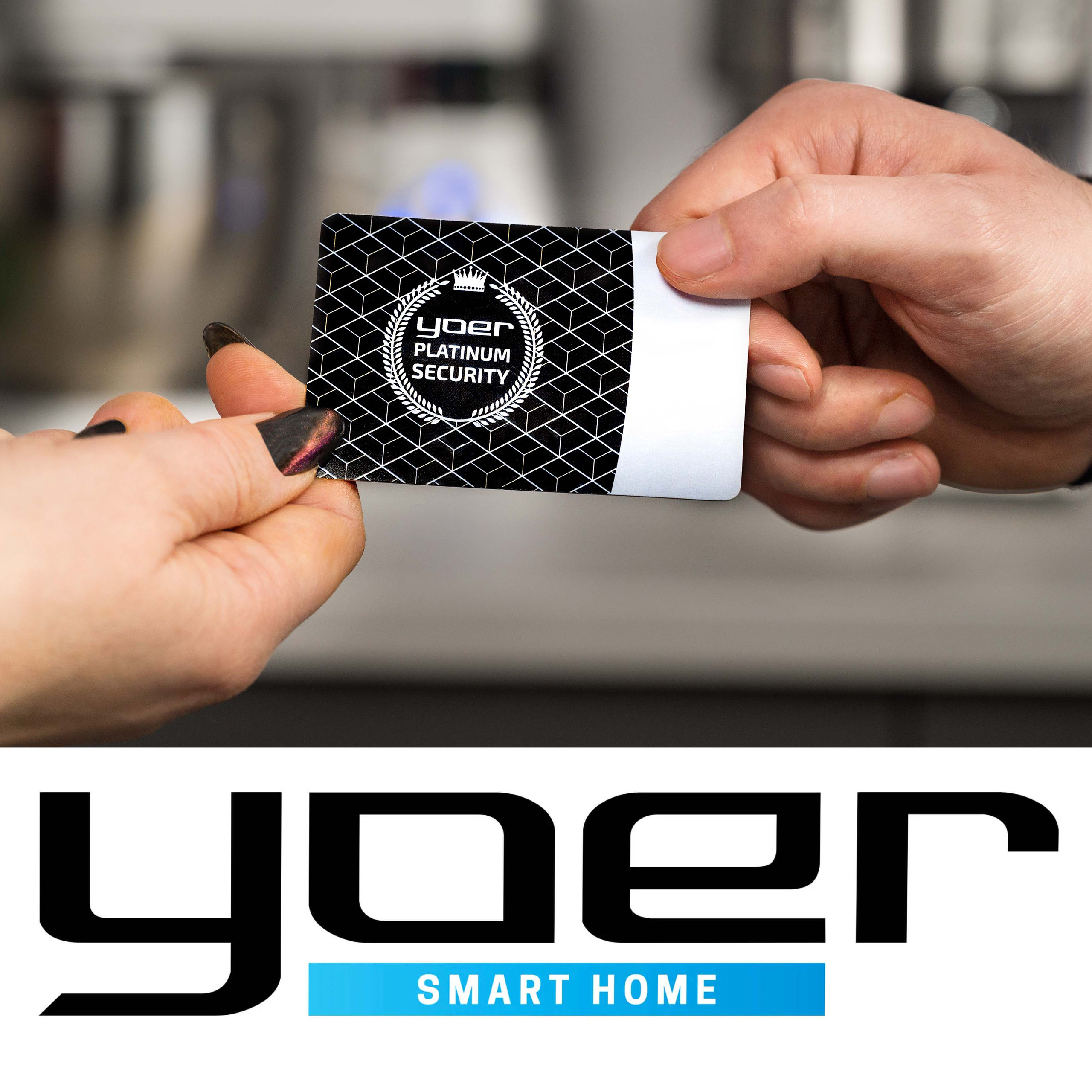 YOER PLATINUM SECURITY
When purchasing products from the official Yoer store you receive the YOER PLATINUM SECURITY package, which is an assurance of additional protection.
YOER - POLISH MANUFACTURER AND BRAND
YOER constitutes an excellent proof that high quality of products does not necesserily go in hand with high prices.

YOER VSS01BK Instruction manual - Click here
Mam to cudo już blisko rok i i nadal działa jak nowa. Doskonale się sprawdza podczas pakowania w folię jak i pojemniki. Naprawdę produkt godny polecenia.

SYLWESTER �.

(2021-09-24)

Zgrzewarka elegancka, z dobrych materiałów . Działa bardzo dobrze . Nie jest głośna. zgrzewa i wysysa powietrze szybko i dokładnie. Jestem zadowolona. Nie próbowałam jeszcze wysysania powietrza z butelek i pojemników. Wężyk i korek jest w komplecie. Polecam.

BARDZO DOBRZE WYCIĄGA POWIETRZE Z FOLI GENERALNIE BOMBA MASZYNA !!!!!!!!!!

Zakupiłem Yoer Fresh Food Zgrzewarka próżniowa z wagą VSS01BK, z której jestem bardzo zadowolony. Jak na razie działa bez zarzutu, mam nadzieję, że tak będzie zawsze. Polecam i zakup.

Zgrzewarka o bardzo małych gabarytach do ustawienia w kuchni. Spełnia swoją funkcję. Jesteśmy zadowoleni z tego sprzętu.

Mała, zgrabna, elegancka maszynka do zamykania wszelkiego rodzaju produktów. Zapewniam, wiem co piszę przydaje się w domu bardzo. Pozdrawiam.

Bardzo wygodna w obsłudze, szczególnie otwieranie i zamykanie dotykowe no i możliwość odsysania powietrza z pojemników próżniowych. Polecam.

Wysoka jakość. Działa bezbłędnie.

Zgrzewarka próżniowa jest bardzo dobrze wykonana, ma elegancki wygląd i prosta w obsłudze, jest wielofunkcyjna, po prostu idealna, takiej szukałam. Polecam

Zgrzewarka bardzo dobra, wiele dodatkowych funkcji w porównaniu z innymi zgrzewarkami.

Zgrzewarkę mam od kilkunastu dni, jak na razie wszystko wygląda dobrze, nie wypróbowałam jeszcze wszystkich funkcji, ale zamykanie próżniowe i zgrzewanie działa bez zarzutu. Polecam

Recently viewed products

Other Customers also purchased

Similar products