Language
Air purifier with humidifier YOER Pure Home APH01W
Remotely contolled with your phone or with the remote, Purifing, humidifing, ionization, ozone and UV lamp, 10 filtration levels 12h timer, Silent operation
Out of stock
2190.00
-32%
1489.00
Lowest price in the last 30 days:

Shipping within

24 hours

Availability

Not available

0

pcs.
| | |
| --- | --- |
| Bar code | |
| EAN | 5900779770003 |
Description

Instruction manuals
SMART AIR PURIFIER WITH HUMIDIFIER YOER Pure Home APH01W + IONIZER + OzonE + UV LAMP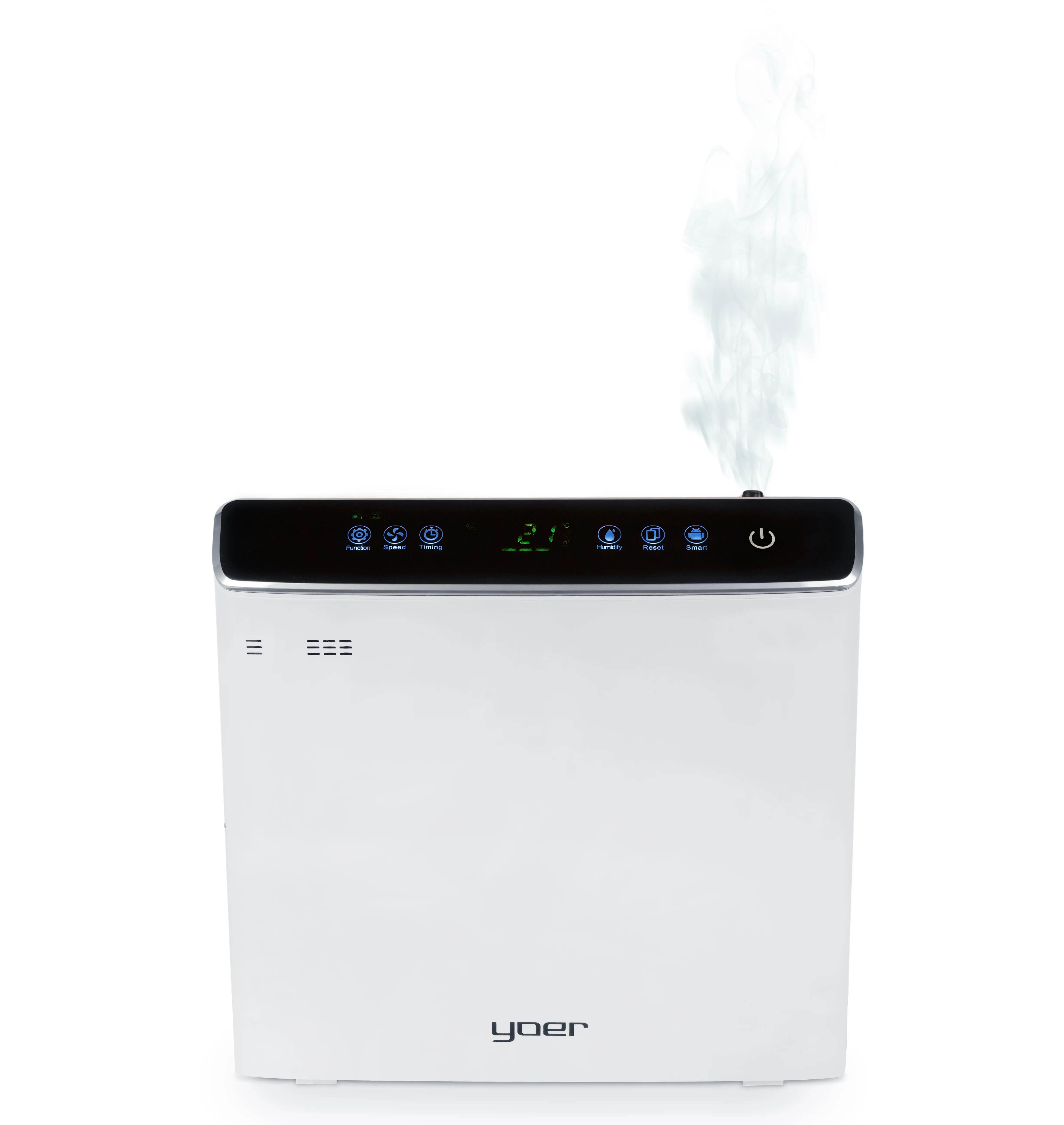 PRODUCT DETAILS
10in1 - air filtration levels
SMART mode - measures and automatically controls air quality
Free App - is available for Android and iOS
Remote control - remote control without the need for getting up
Touch control panel – with readable LED display
Sleep mode - ensures that the device works quietly on the lowest speed
Quiet work - just 22 dB
12 hour timer - you can program device operation time
3 speed steps - will optimalize the energy consumption
8 air filtration levels - HEPA, carbon, photocatalytic filter, UV lamp, ionizer, ozone, air purifier
High quality filters and mechanism - help to get rid of unpleasant smells, mold, fungi, bacteria, viruses and smoke
Humidifying functionality - improves air quality and ensures that your mucus membranes and skin won't be overly dry
Ionizer - creates negatively-charged ions, that positively affect metabolism and the immune system
Ozonizer - generates active oxygen (O₃) to get rid of unpleasant smells, mold, fungi, bacteria and viruses
Built-in UV lamp - successfully kills more than 96% of bacteria and viruses.
"change filter" indicators - inform about the need for changing filters
Airflow: ≥ 300 m³/h
Working surface 40 m² - supposing that the ceiling is 2,6 m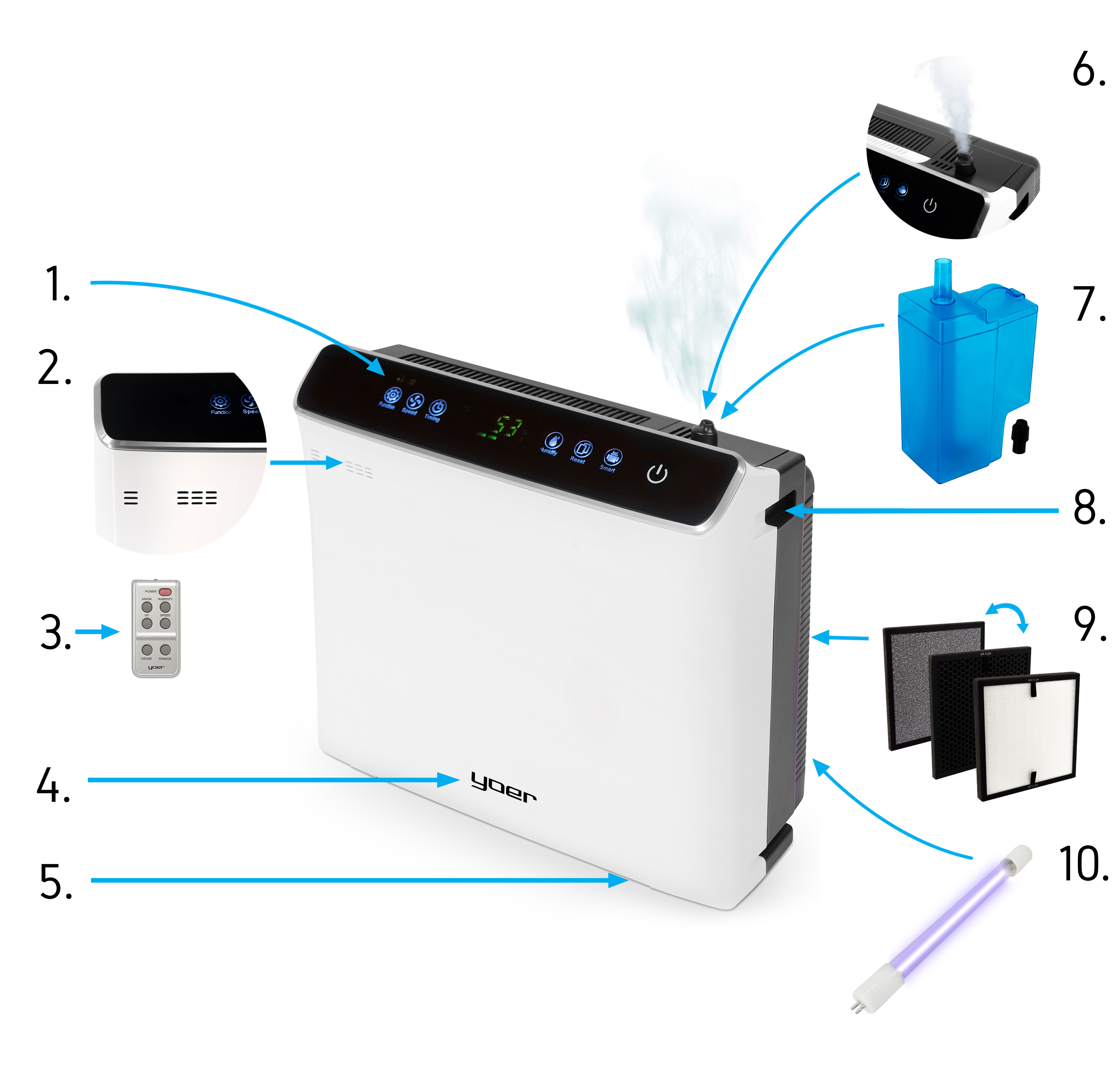 CONSTRUCTION - MAIN COMPONENTS
Large, easy to read digital display
Particle sensors
Remote control
Durable, modern case
Anti-slip feet
Air humidifier
Large, removable water reservoir 2,7 L
Easy transport handles
HEPA filter, carbon filter, photocatalytic filter
UV Lamp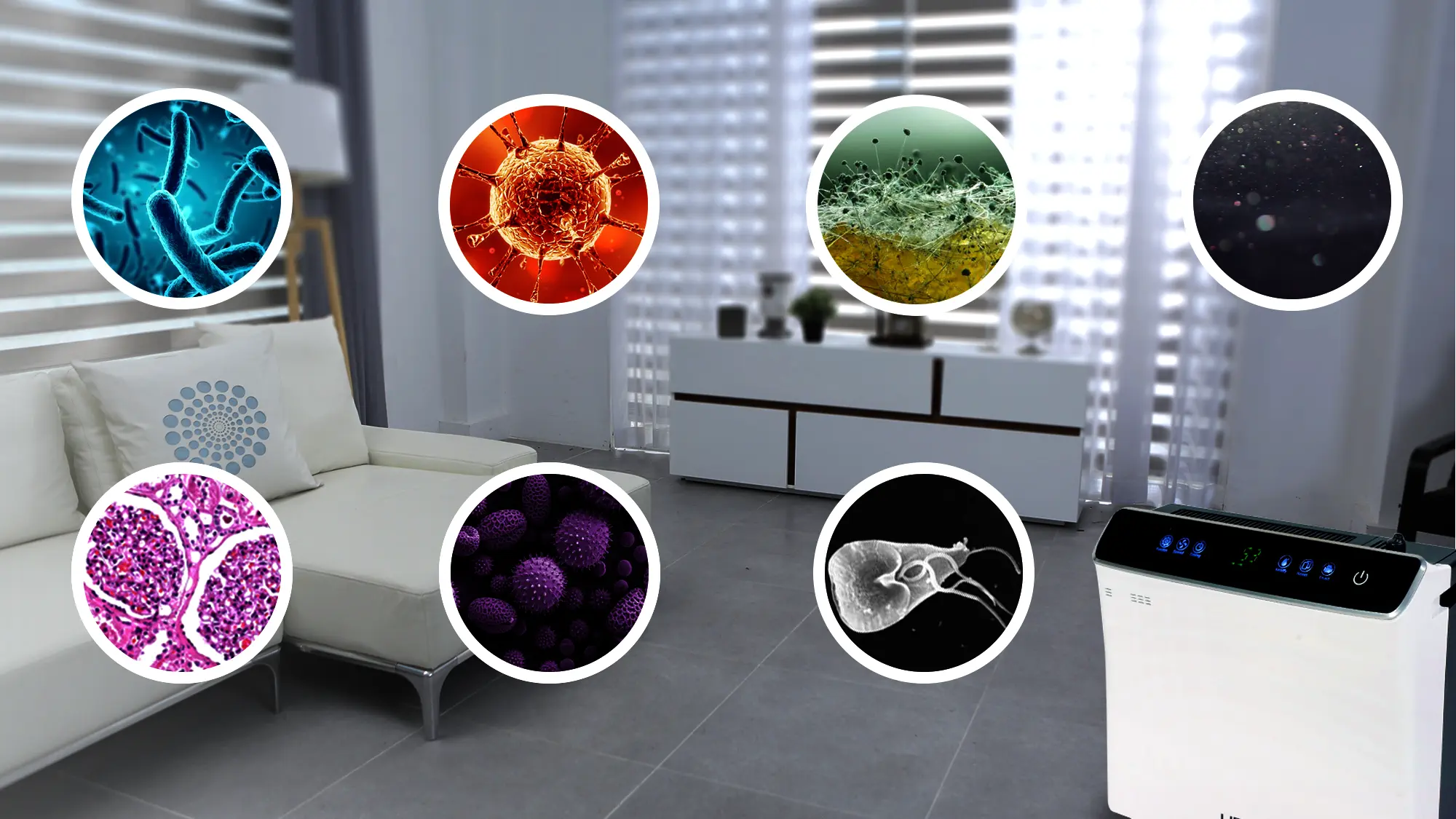 BREATHE FRESH, CLEAN AIR
PM 2,5 particles are dangerous to human health - they go directly to the lungs and from there into the bloodstream, increasing the risk of asthma and heart attacks. They appear in smog as the so-called particulate matter.
Inside the YOER air purifier you can find filters and mechanisms of highest quality that - will help you tailor the air at home to your needs. Get rid of negative factors that follow you throughout the day. .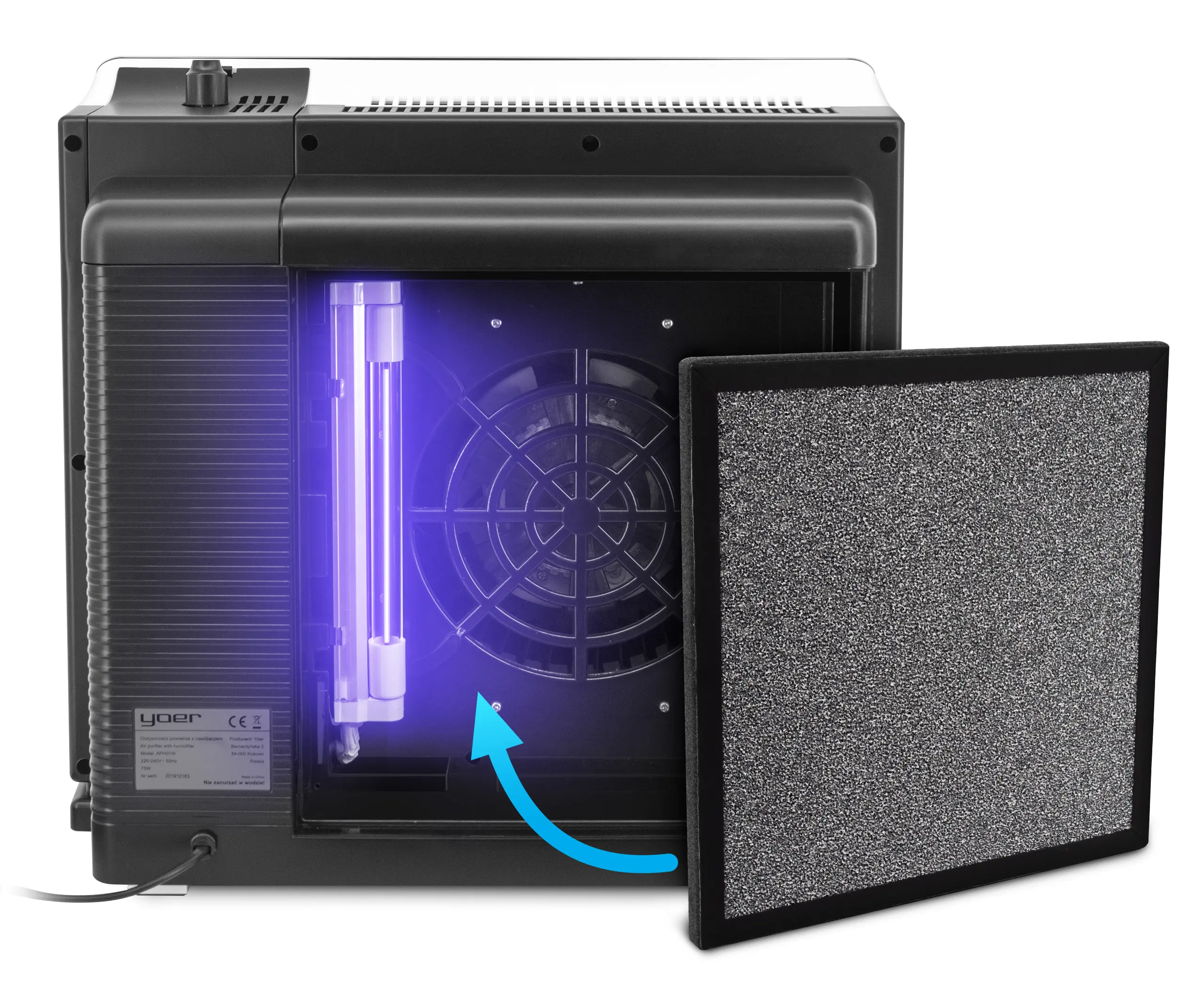 EFFECTIVE PROTECTION FROM VIRUSES AND BACTERIA
UV-C lamp - it acts as a catalyst in the oxidation of pollutants and is essential for the proper operation of the photocatalytic filter. It also helps to get rid of microorganisms from the air.
Photocatalytic filter- thanks to the surface saturated with titanium dioxide (TiO₂) and in combination with a UV lamp, it decomposes volatile organic compounds, formaldehyde, ammonia, benzene, hydrogen sulphide and microorganisms into harmless substances: water and carbon dioxide.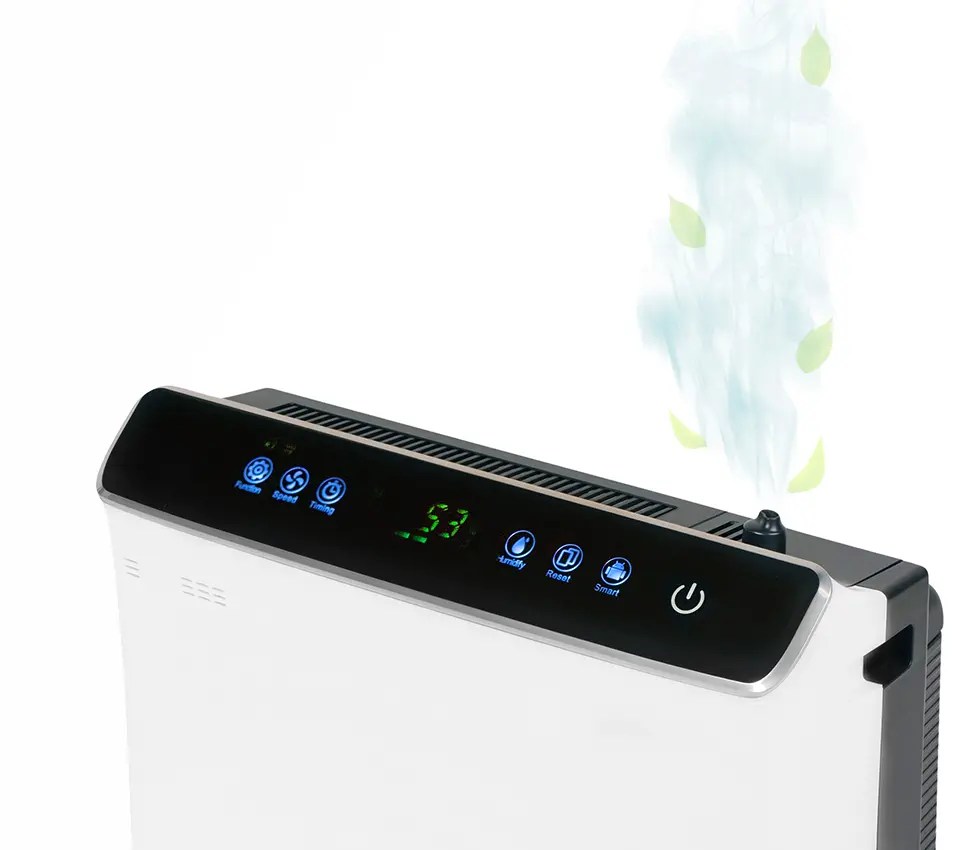 HUMIDIFIER
Cold dew - created by the device positively affects humidity levels, helps with the condition of the skin and keeps mucous membranes from getting dry. With proper humidity, you can decrease the risk of infection in autumn and winter.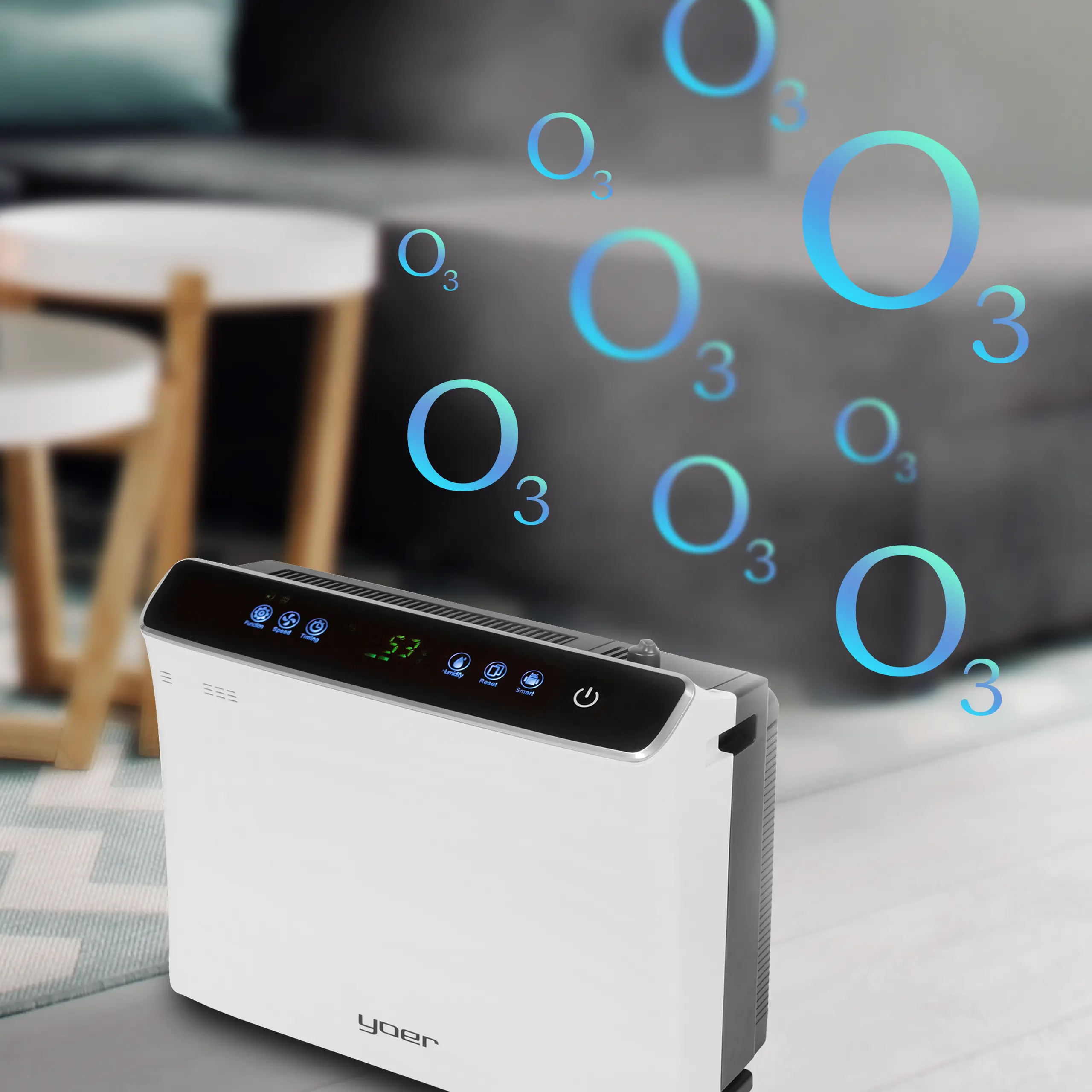 OZONATION FUNCTION
Ozonizer produces active oxygen (O₃) - a fantastic method of disinfection. Using the ozonizer will keep your house free of germs and allergens.
The continuous operation time of the ozonizer is a maximum of 45 minutes. - During its operation all people and animals have to leave the room. This function will switch off automatically after approx. 45 min. After waiting another 30 min. ventilate the room.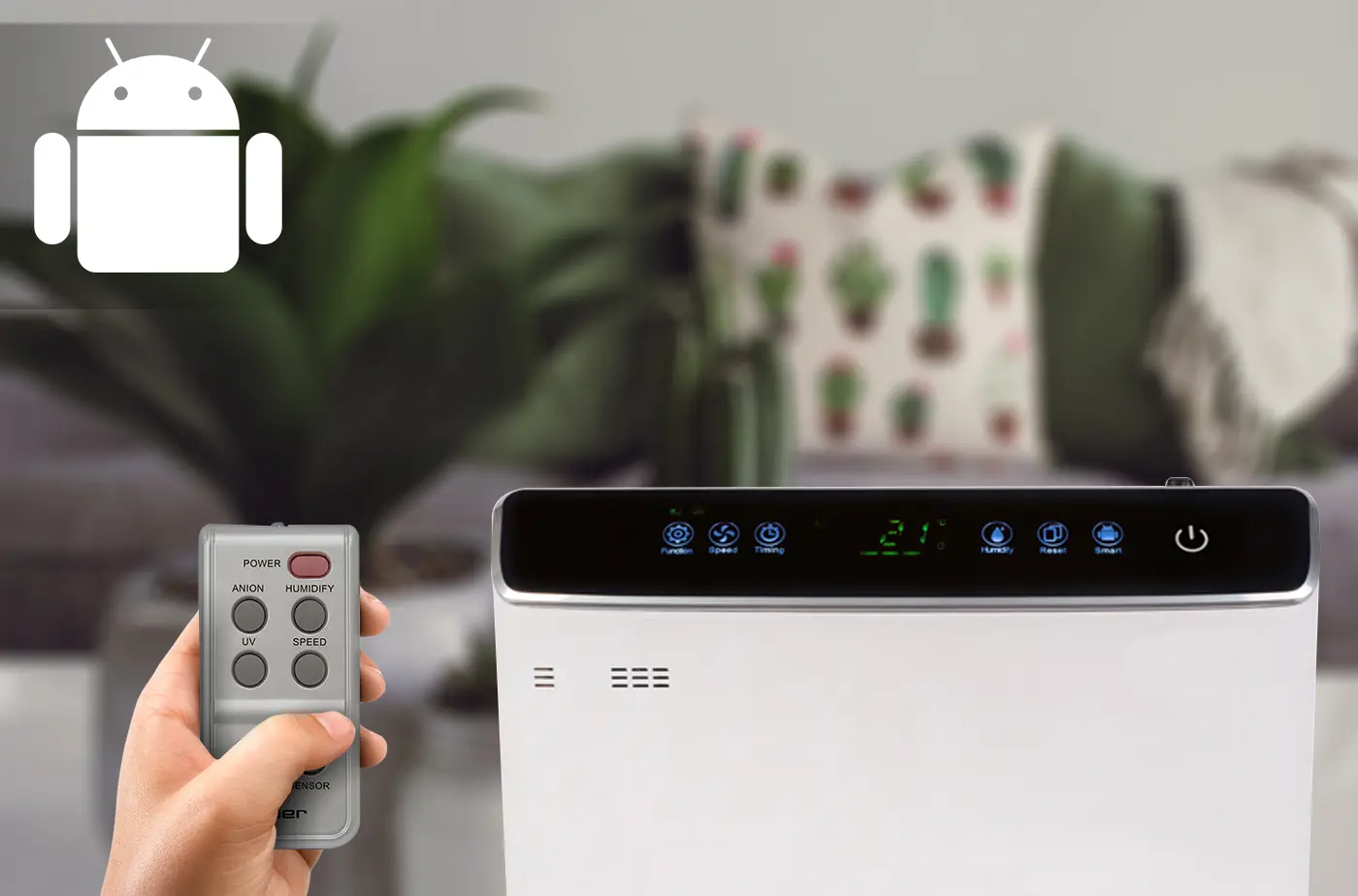 SMART MODE
After enabling this mode the appliance will measure the pollution in the air and automatically adjust its settings to control air quality. - This ensures clean air and low power consumption.
REMOTE CONTROL
The air purifier comes with a remote control. You can use it to turn the device on or off and to adjust the settings without having to get up.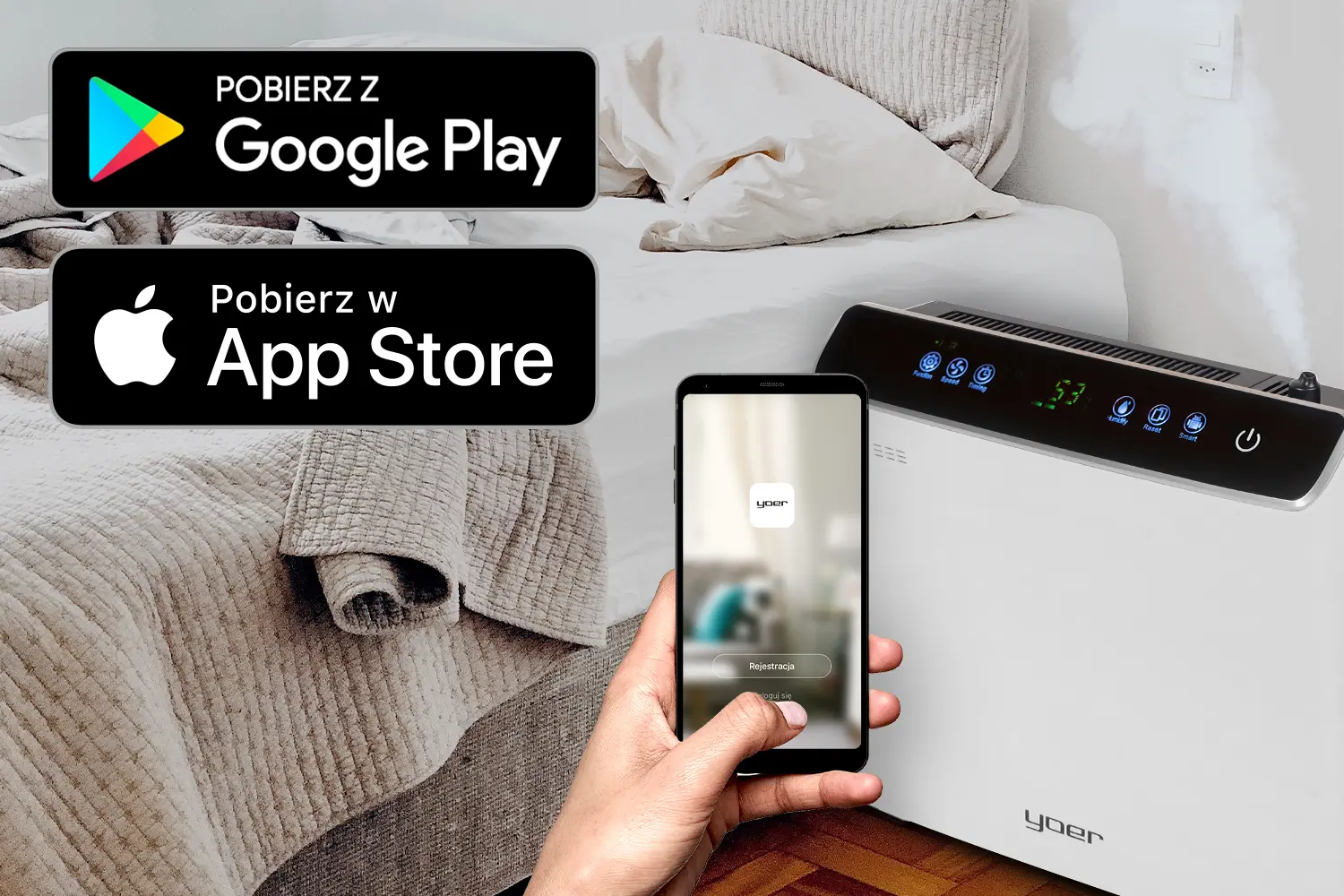 FREE SMARTPHONE APP
The free, Intuitive, bloat-free smartphone app available for Android and iOS enables convenient control of the appliance
All measured values are transferred over Wi-Fi to your phone.With its help You can adjust or switch between different modes on the device. The app is available in Polish and English.
Air is free of smoke and pollution for you and your family.

10 Filtration levels

10in1 - PERFECTLY PURE AIR
The case serves also as an initial, washable filter - replacing the initial filter, it cleans the drawn air from dust, animal hair and other, larger contaminants.
Antimicrobial filter - special mesh on the HEPA filter surface effectively traps microorganisms.
HEPA Filter - thanks to its special construction it is able to stop bacteria, fungi, viruses and protozoa. It is also perfect for allergy sufferers, due to its dust and germ stopping ability.
Carbon filter - its construction allows it to absorb harmful organic compounds like formaldehyde, fumes or other unwanted smells.
Photocatalytic filter - uses titanium dioxide (TiO₂) that damages bacteria by oxidizing.
UV Lamp - has germicidal characteristics, thanks to its radiation, the spread of germs and allergens is halted.
Ionizer - produces negative ions, neutralizing pollutants and microbes. Eliminates the so-called electrosmog produced by electronic devices and restores the cation-anionic balance in the room.
Ozonizer - neutralizes positive ions that draw in viruses and bacteria by using negative ions. Ionized air makes dust and germs fall to the ground instead of floating around and getting into the lungs.
Humidifier - keeps an optimal level of humidity in your house. 40-60% is the optimal health-bolstering level of humidity, due to the positive influence your skin and mucous membranes, which are prone to getting infected if the humidity is not ideal.
Air purifier - purifier mechanism filtrates, cleans the room of microorganisms and pollutants: viruses, bacteria, mites, allergens, mold, dust and formaldehyde.
HUGE DIGITAL LED DISPLAY AND TOUCH CONTROL PANEL
On display:
Change filter indicators - blinking icons inform about the need for clean or change the filters.
Empty reservoir indicator - indicates that the humidifier reservoir is empty.
Ionization icon - informs about active ionization function.
PM icon - informs that the displayed value refers to PM2.5 particles.
Numeric display - indicates: PM2.5 values, air humidity value, timer settings or room temperature.
Temperature and air humidity icons - symbol °C informs that the value is temperature, when % icon indicated air humidity.
Ozone icon - this symbol informs about active ozone function.
UV lamp icon - this symbol informs about active UV lamp function.
Air pollution indicators - 3, 6 or 9 horizontal lines, according to the about of pollution.
3 speed steps.
Humidification indicator - informs about turned on humidifier.
Wi-Fi icon - informs that the device is ready to be connected via wireless network.
Function buttons:
Function button - enables you to choose addictional functions: anion, ozone and UV lamp.
Speed button.
Timer button - enables you to activate and configurate timer.
Humidification button - turns on and off humidifier.
Reset buttons - enables refresh the information visible on display and reset information about changing filters.
Button which activates SMART function.
Power icon.
PRODUCT PRESENTATION
Watch our video and see all functions of our Air Purifier Pure Home!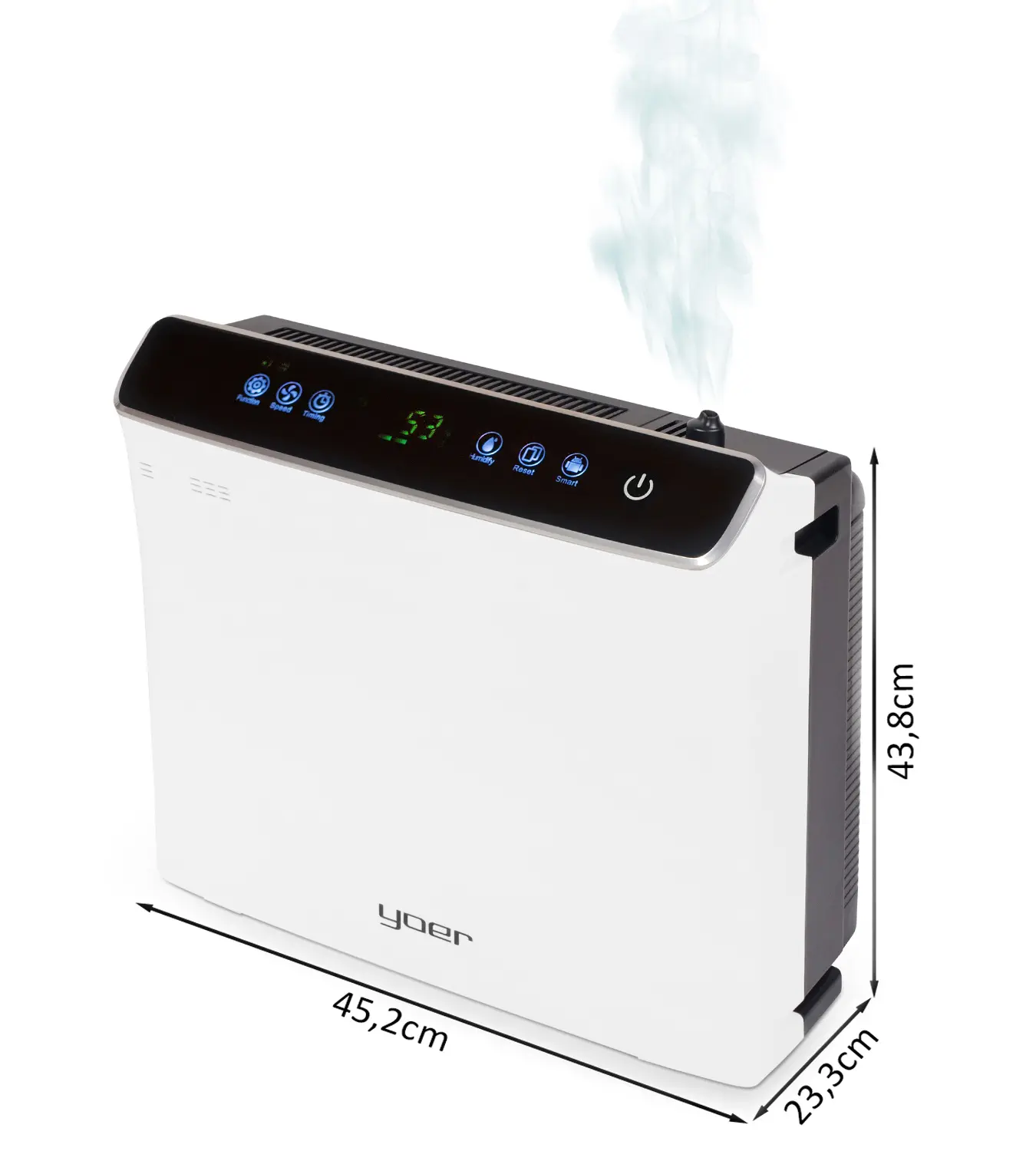 TECHNICAL SPECIFICATION
Power: 75 W
Connection type: Wi-Fi
Humidifier output: 235g/h
Airflow: ≥ 300 m³/h (10594.4 ft³/h)
Effectiveness range: up to 40 m² (430.6 ft²)
Negatively-charged ions ≥ 8 millions
Ozonizer output: 50 mg/h
Continuous operation time of the ozonator: about 45 min
UV Lamp wave length: 254 nm
UV lamp power: 6W
Min. noise level: 22 dB
Max. noise level: 40 dB
Power cord length: 1,4 m (4.6 ft)
Humidifier reservoir capacity: 2,7 L
Weight: 8,2 kg (18 lbs)
Dimensions: 45,2 cm x 43,8 cm x 23,3 cm (17.8 x 17.2 x 9.2'')
Color: White with black accents
Polish power plug: 220-240V 50Hz
FILTERS DURABILITY:
HEPA filter: about 12 months
Carbon filter + photocatalitic: around 6 months
UV Lamp: 8000 h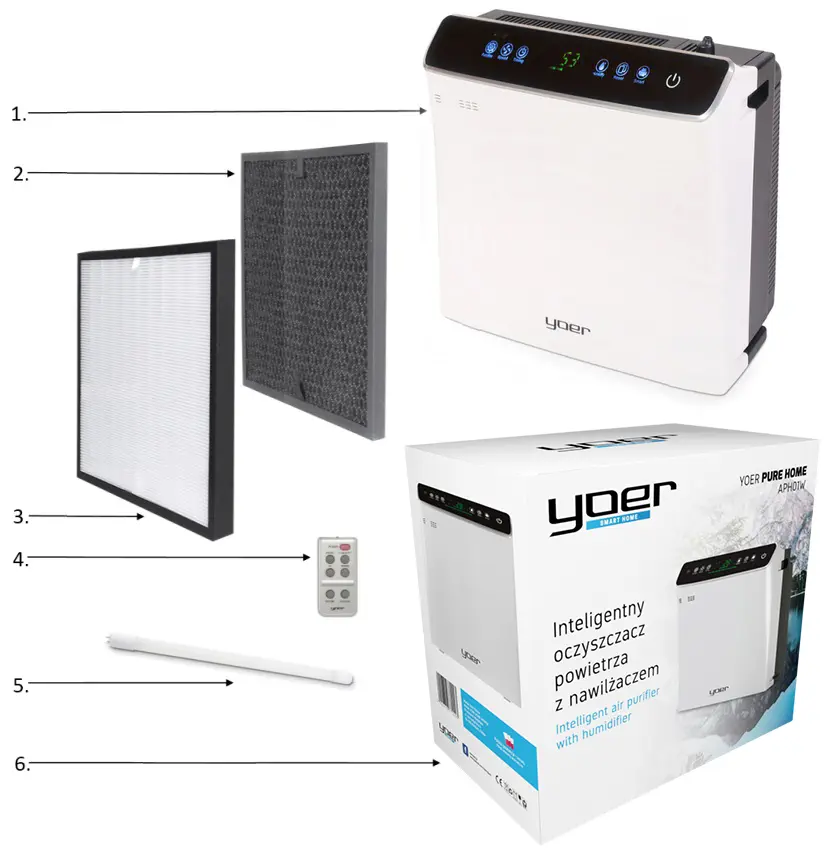 EQUIPMENT
Air purifier
Carbon filter + photocatalitic filter
HEPA H12 filter
Remote control
UV Lamp
Original packaging
YOU WILL RECEIVE:
Air purifier - details above,
YOER PLATINUM SECURITY card,
Warranty card,
PL/EN instruction manual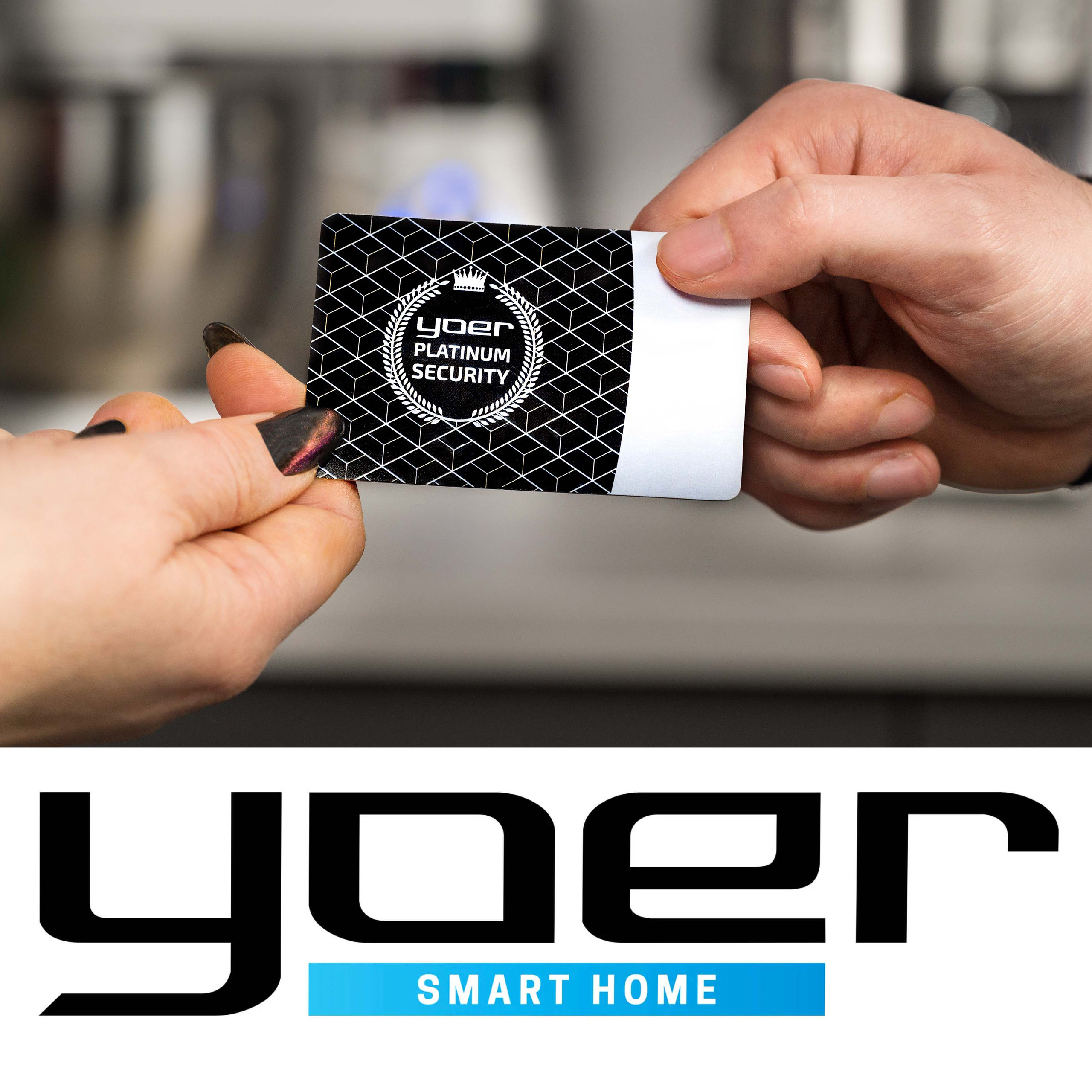 YOER PLATINUM SECURITY
When purchasing products from the official Yoer store you receive the YOER PLATINUM SECURITY package, which is an assurance of additional protection.
YOER - POLISH MANUFACTURER AND BRAND
YOER constitutes an excellent proof that high quality of products does not necesserily go in hand with high prices.

YOER APH01W Instruction manual - Click here

Mobile app instruction manual - Click here