Language
Food dehydrator YOER VitaSave FD01W
Power: 450 W, 5 transparent, double-sided racks, LED display, 24 h timer, adjustable temperature: 35-70°C, anti-slip base, INOX steel
558.00
-41%
328.00
Lowest price in the last 30 days:

Shipping within

Shipment within 24 hours

Availability

High

159

pcs.
| | |
| --- | --- |
| Bar code | |
| EAN | 5900779770713 |
Description

Instruction manuals
FOOD DEHYDRATOR Yoer VitaSave FD01W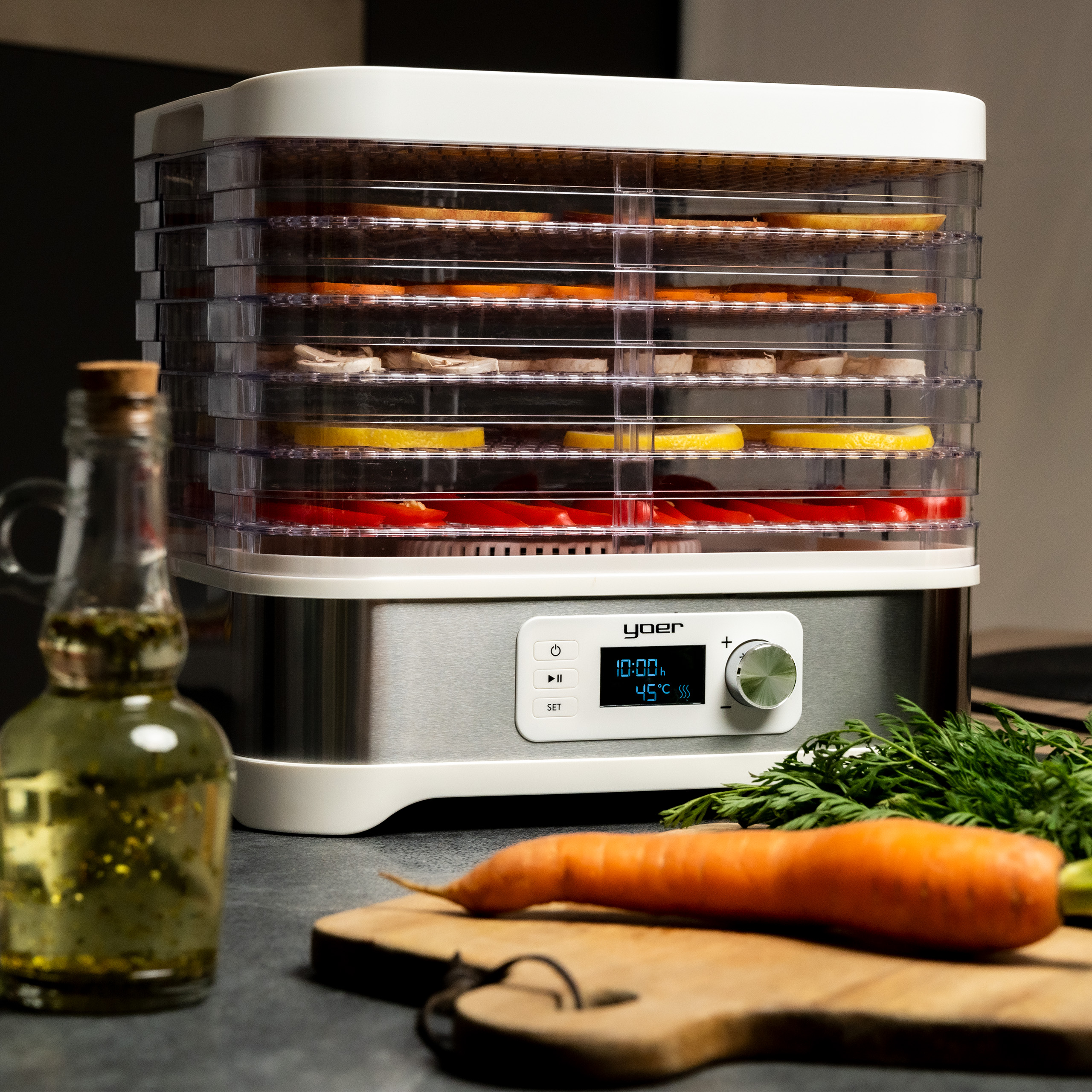 PRODUCT DETAILS
Power - 450 W
Color - silver, white - modern design
Capacity - 12 L
Drying surface - 4000 cm²
Control panel - change the device settings easily
Rack count - 5 - possibility of dehydrating lots of ingredients at once
Temperature adjustment - 8-step - adjust the temperature to your needs
LED display - control work parameters
Dishwasher-safe racks - keep them clean in an easy way
Brushed INOX stainless steel - durable body
Timer - you do not have to remember to turn the food dehydrator off
Overheating protection - safety of the product
Height adjustment of the racks - adjust the conditions of dehydration to your preferences
Racks packing - the possibility to use any amount of racks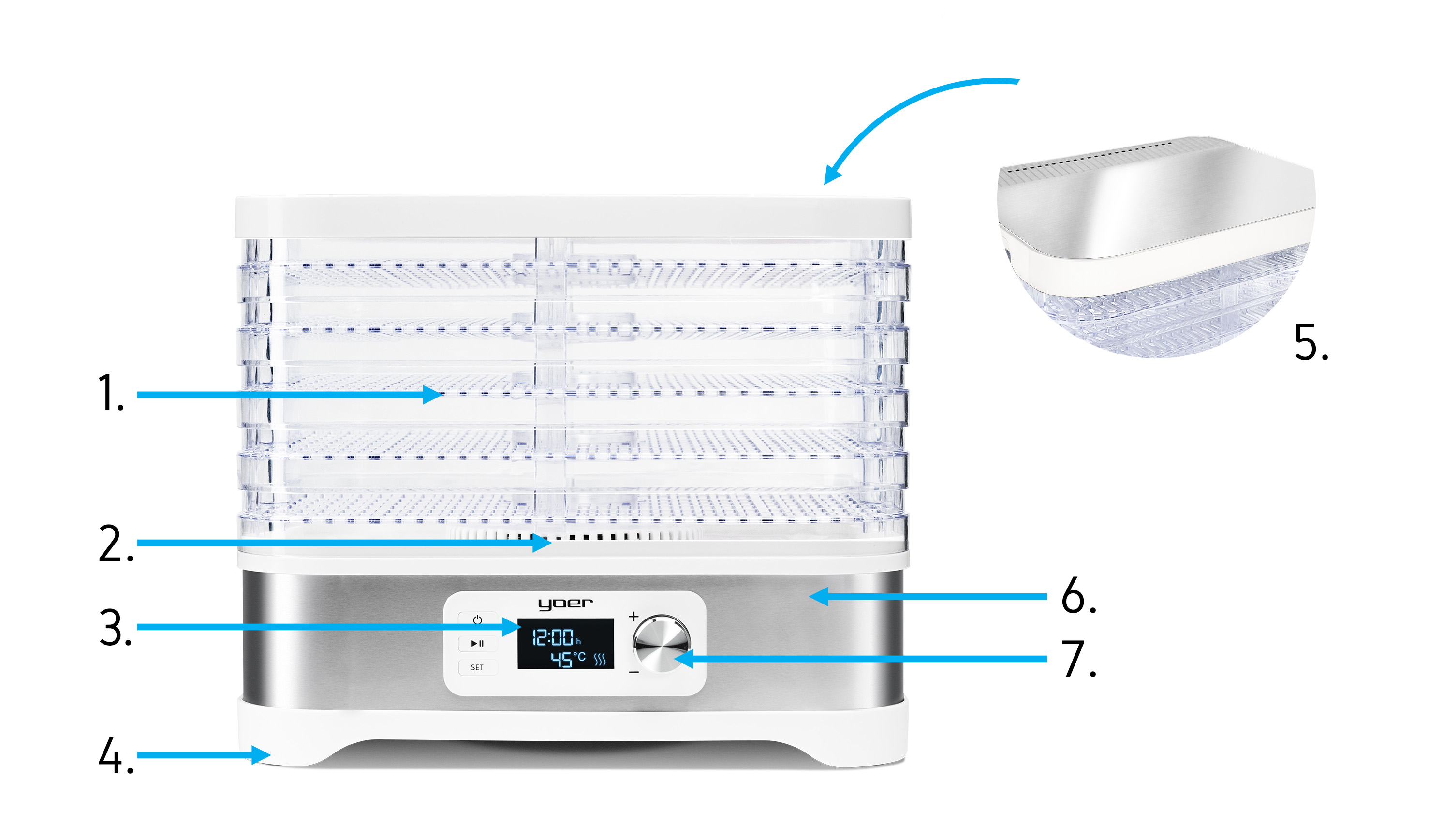 ⚙CONSTRUCTION - MAIN COMPONENTS
Transparent, double-sided racks
Heating element
Electronic control panel with LED display
Anti-slip base
INOX stainless steel top lid
INOX stainless steel housing
Electric control panel control knob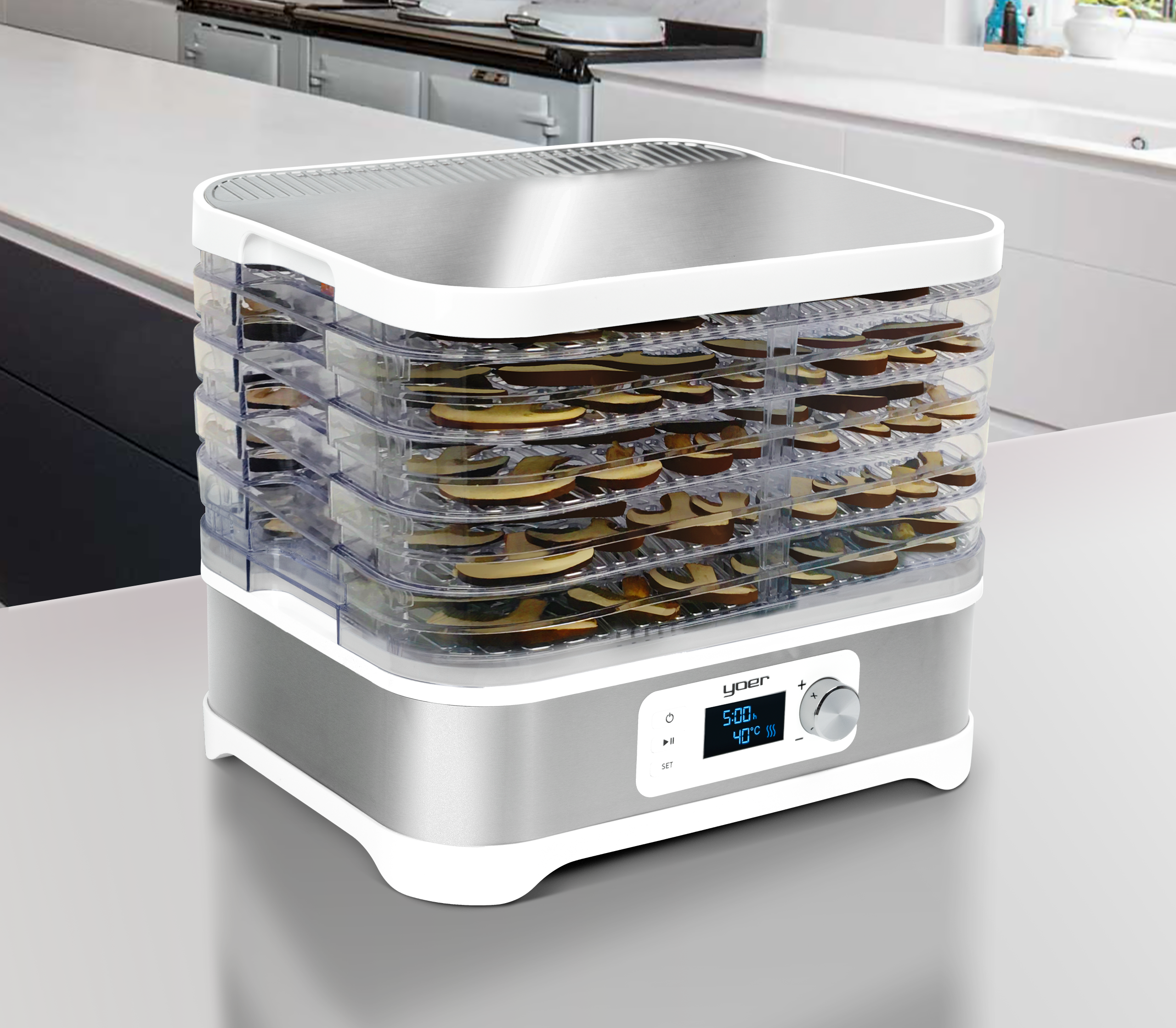 STURDAY AND DURABLE
5 large, adjustable racks with a combined area of 4000 cm² - allows you to dehydrate large amount of mushrooms at once.
The possibility of buying additional racks - it is you who decide how many of them you will use!
Nominal 450 W power confirmed by the rating label - it is the true power of the device, not peak/max power often shown off by vendors, which is actually the power at which the device burns out (if you want to find out a device's true power, ask the vendor for a photo of its rating label).
The nominal power of the Yoer food dehydrator produces optimal results - while retaining up to 97% of vitamins and minerals in dried food.
Fast dehydration process and quiet operation - of the VitaSave food dehydrator are the advantages most often praised by our customers.
Warm air, produced by the heating element, will fill up a whole device thanks to the fan - thanks to it the warmth will fill up all the levels of the dehydrator, evenly drying you food.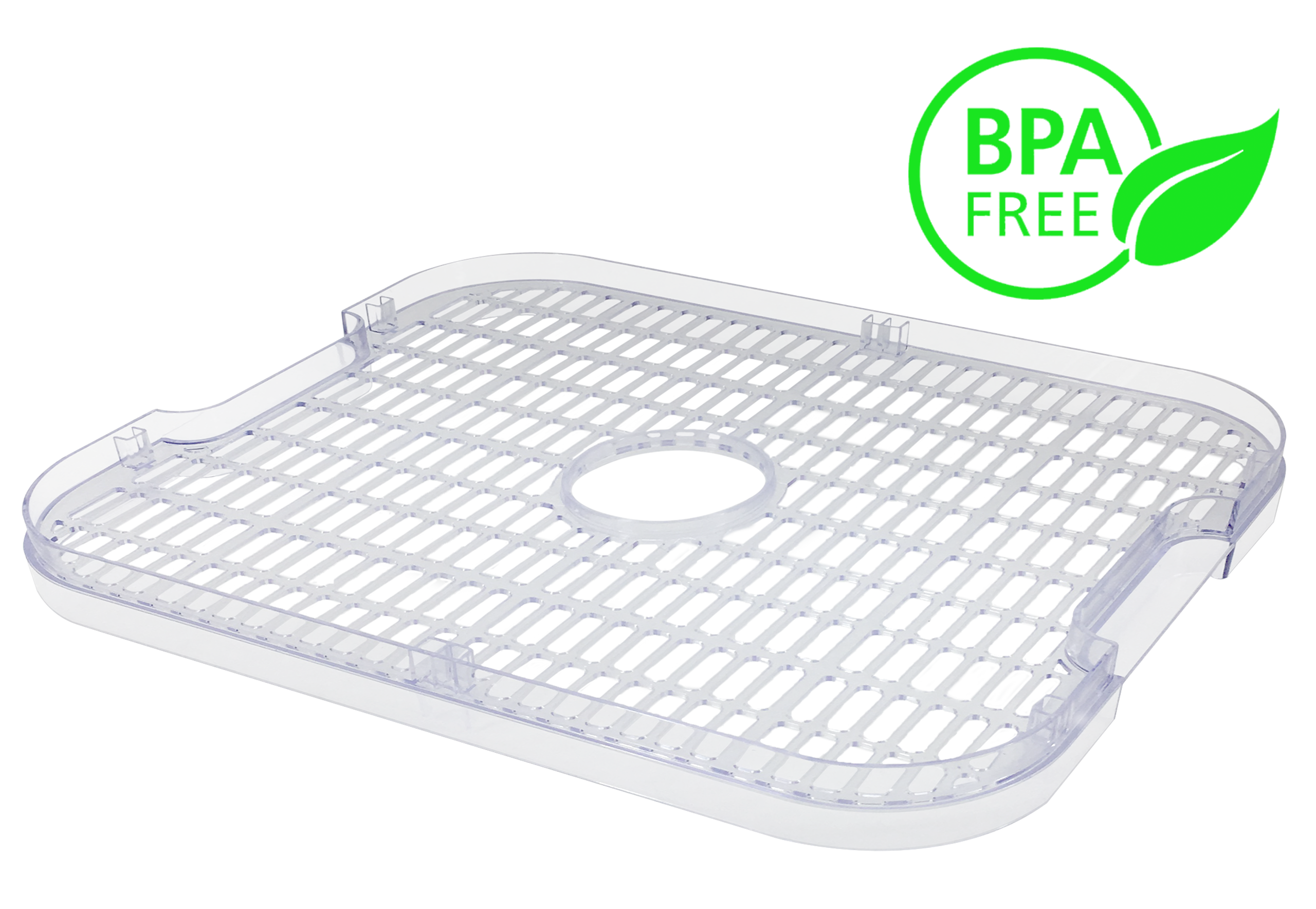 HEALTH AND SAFETY
BPA-free racks
made of Bishphenol A (BPA)-free polymer
dried food is safe for adults, as well as children.
Dishwasher-safe racks
made of corrosion-resistant, transparent material
they do not get discolored or rusty during washing in a dishwasher
there are frequent problems with steel elements, and low quality polymers.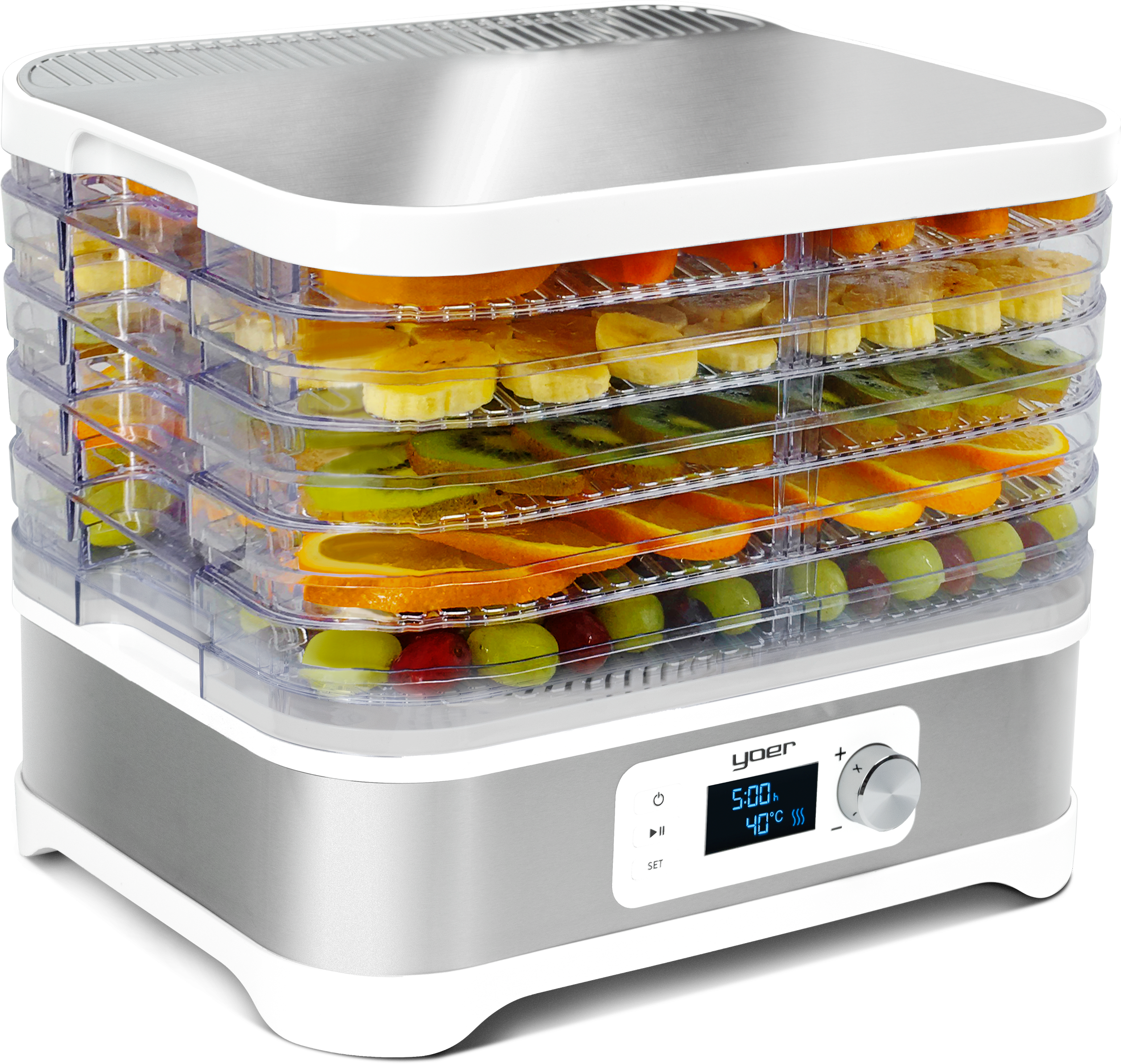 🍎NATURAL AND HEALTHY SNACKS
Preservative-free snacks - retain the nutritional values of your favorite natural snacks for longer, without using preservatives. It is easier than you think.
Delicious dish complements - dried mushrooms will excel as an addition to many dishes of the Polish cuisine.
Healthy and full of nutritional values - dried fruit and vegetables contain a lot of vitamins K and B, as well as minerals and fibre, which makes them a snack that's not only tasty, but also healthy. Owing to the dehydrating process you can enjoy the taste of your favorite fruits and vegetables all year round.
Long shelf life - dehydrated food has a longer shelf life, which makes it useful for every cuisine. As a result of drying, even 70-80% of water is removed from food.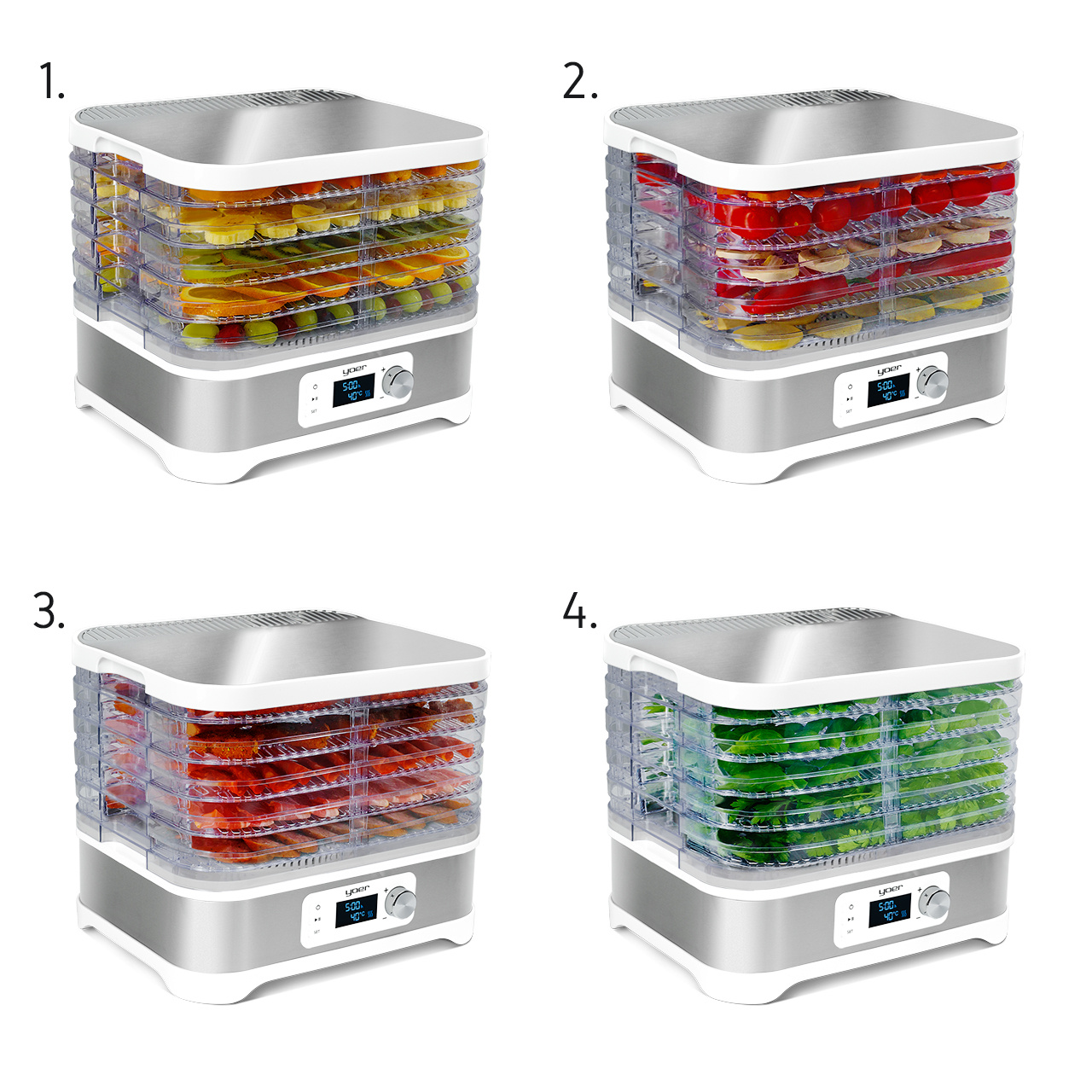 ALL-PURPOSE USE
Highly practical - the device will dehydrate all kinds of food, not just mushrooms. Thanks to that, it will satisfy the needs of any user. Aside from mushrooms, the appliance will also dry:
Fruit - perfect for muesli or as a snack, or addition to a cake.
Vegetables - perfect for stocks, soups, groats, rice or meat-based dishess.
Meat - meat-based snacks e.g. beef jerky, or healthy snacks for your pet.
Herbs - perfect as seasoning or tea.
SAFE OPERATION
Overheating protection - automatically turns off the dehydrator if there is a risk of overheating and damage. Owing to that, you get the absolute certainty you will be safe when using the device.
Anti-slip base - protects from accidental moving around the surface.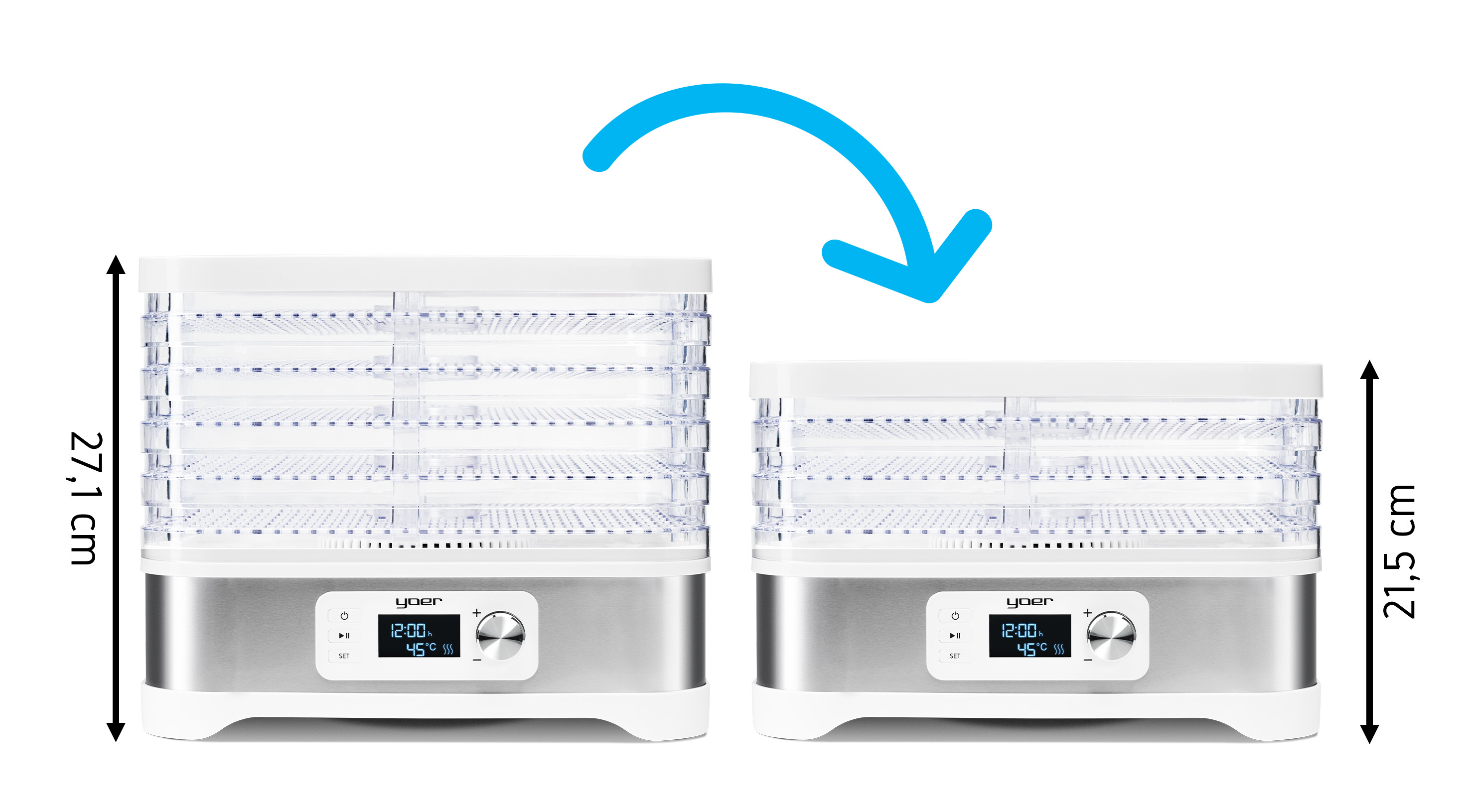 COMPACT STORAGE
Segmental, double-sided racks - allows you to control the distance between racks. Thanks to the bundled rack arrangement, storing the device after finishing work will not be a problem:
Extended position: the device height is 27,1 cm (10.7 ") (the distance of 2,7 cm - 1.06 ") - use while dehydrating.
Folded position: the device height is 21,5 cm (8.5 ") (the distance of 1,5 cm - 0.6 ") - use for storage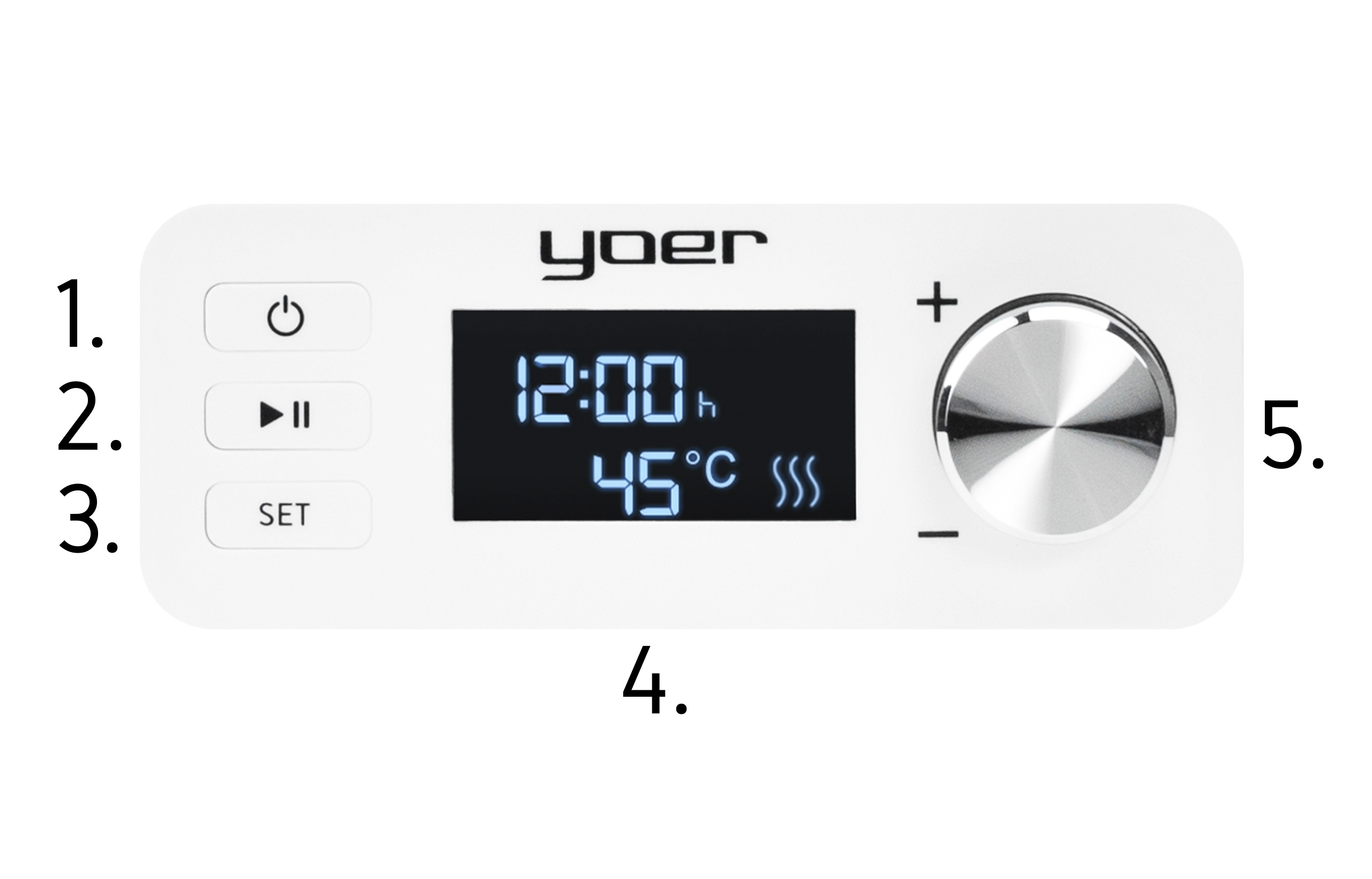 FUNCTIONAL AND EASY TO USE
Intuitive control panel - the appliance is very easy and comfortable to use thanks to the easy-to-read display showing currenlty selected settings.
LED display - ensure ease of use and gives the device its modern look:
ON/OFF button - turn the device on or off
Start/Stop button - start or finish the device operation
Time/temperature adjustment button - choose the parameter to regulate
LED display - informs about the time and temperature of dehydration
Time/temperature adjustment knob - set the time and temperature of dehydration
TIME AND TEMPERATURE ADJUSTMENT
⌚ 24-hour timer - you can set the time after which the device is to turn off, so you do not have to monitor its operation.
🌡 8-step temperature regulation within the 35-70°C range - allows for accommodating each type of dried food.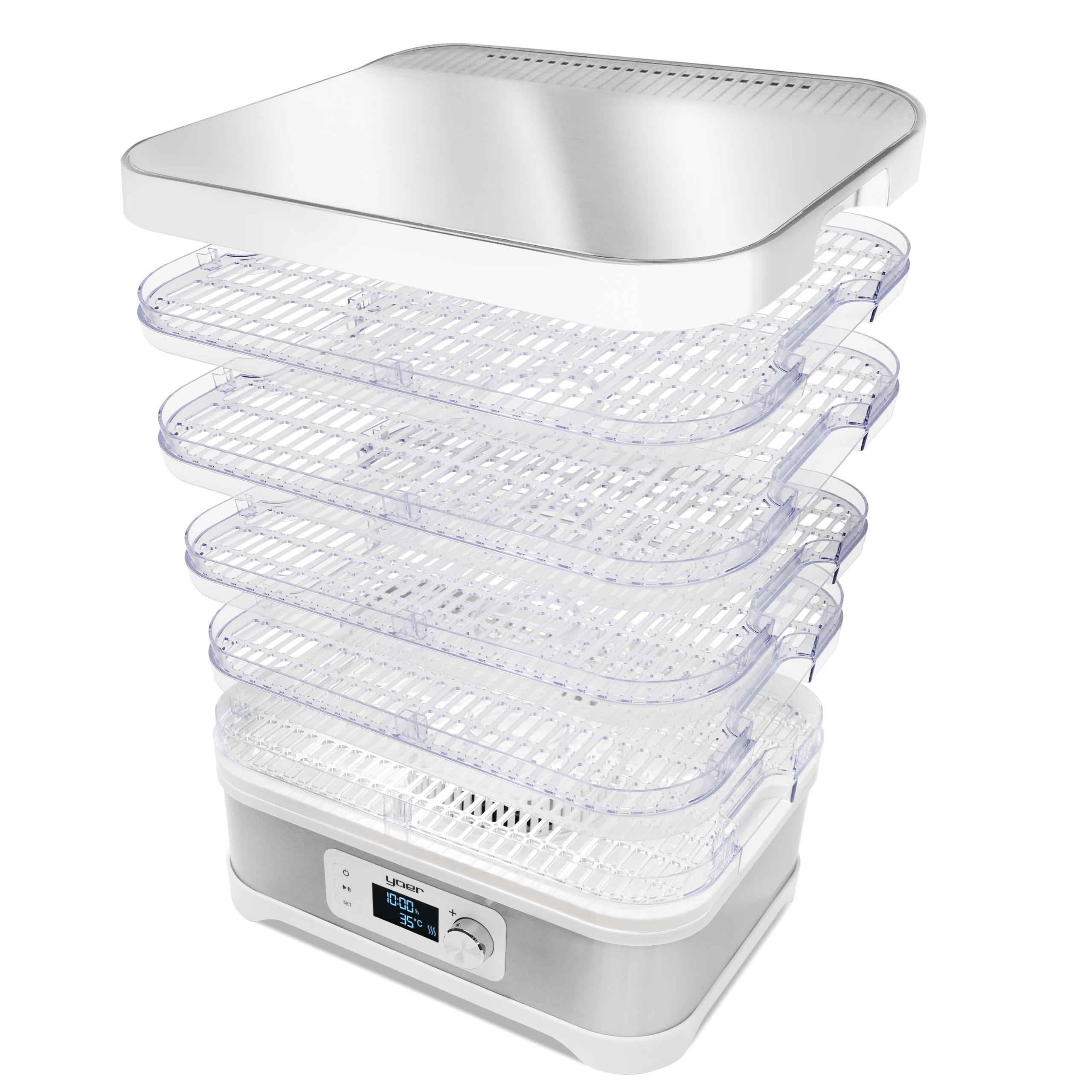 MODULAR CONSTRUCTION
5 transparent, double-sided racks
dehydrating huge amount of food during one try
transparent racks allow you to watch the device operation without opening the lid and losing heat.
Multi-layered rack settings
it is you who decides about the amount of racks which are used during dehydrating process
you can buy additional racks which will allow you to increase the amount of food dehydrator.
Vents
smooth air circulation between all of the floors
ore effective device operation
evenly dehydrated meals.

INCREASE THE CAPACITY - THE REVS WILL BE AT YOUR FINGERTIPS
Unlimited range - the modular construction of the food dehydrator allows for increasing its capacity and accommodating your needs. You can dry even more food at once. One additional rack increases the capacity by 2.4 L.
+ We are continuousely selling additional racks. You can find them in "Accessories".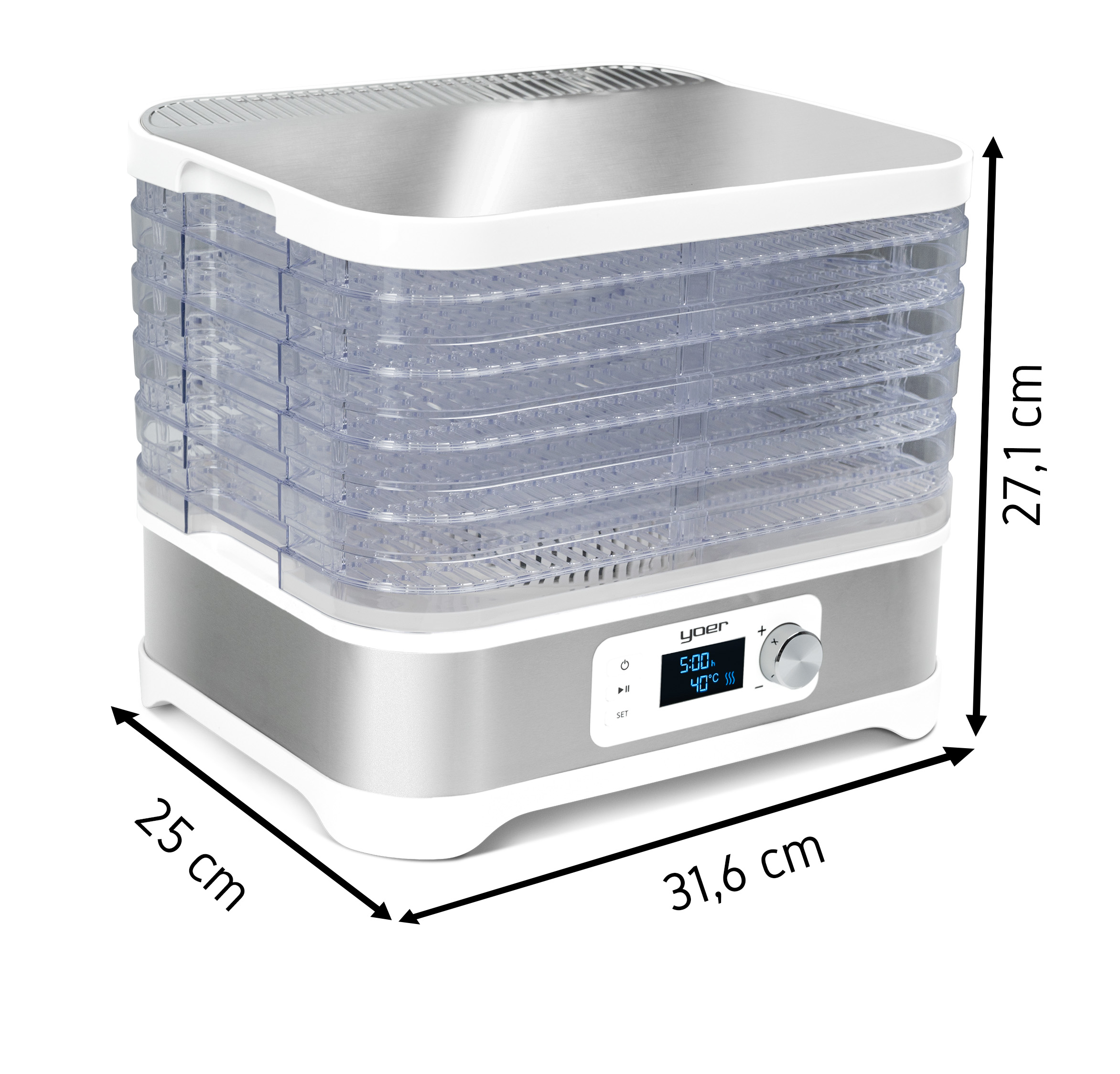 TECHNICAL SPECIFICATION
Power: 450 W
Capacity: 12 L
Power cord length: 93,5 cm (37 ")
Weight: 2,6 kg (5.7 lbs)
Max. dimensions: 27,1 x 31,6 x 25 cm (10.7 x 12.4 x 9.9 ")
Min. dimensions: 21,5 x 31,6 x 25 cm (8.5 x 12.4 x 9.9 ")
Base height: 10,6 cm (4.2 ")
Color: Silver with black accents (INOX stainless steel)
Polish power plug: 220-240V 50/60Hz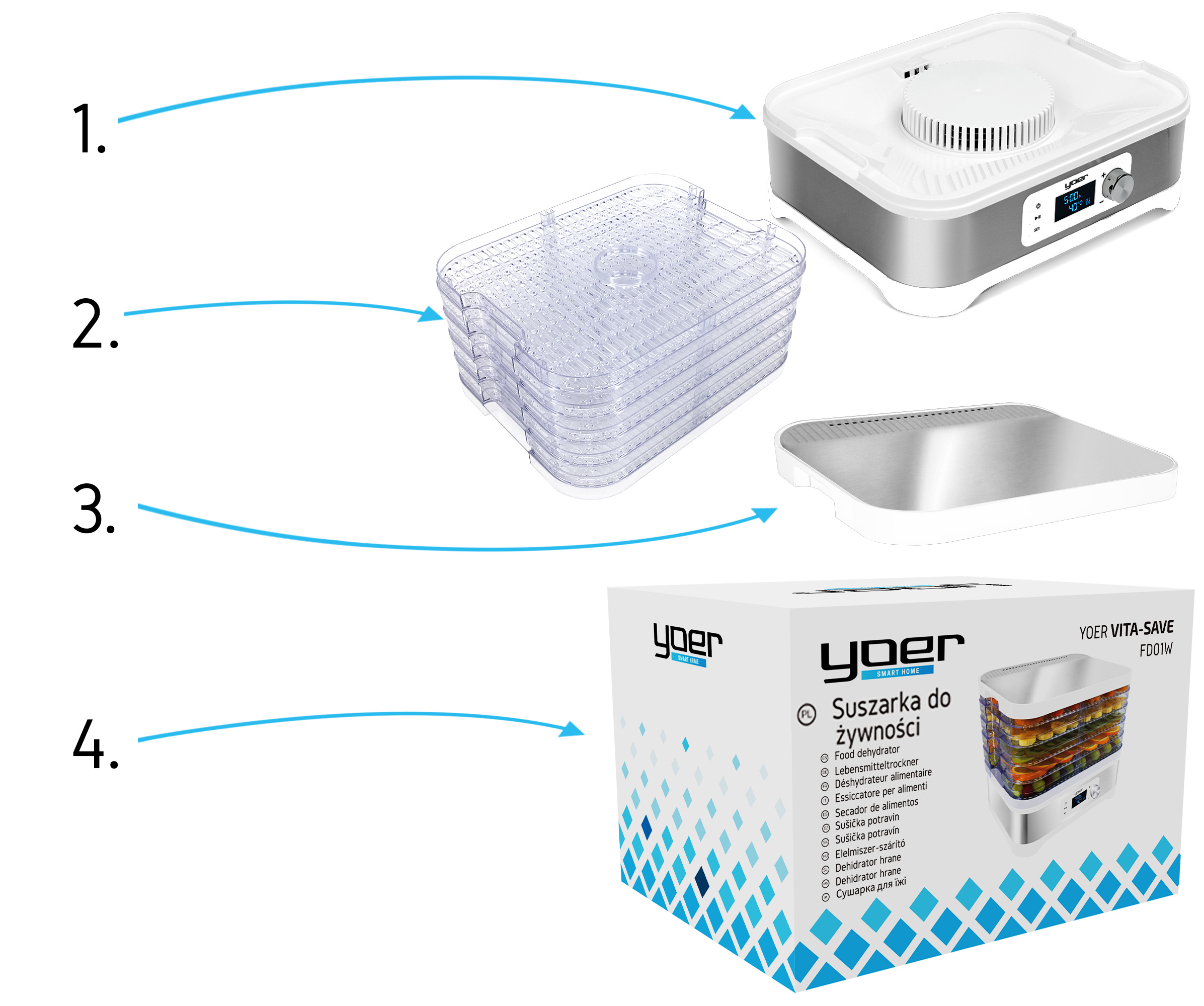 EQUIPMENT
Food dehydrator
5 transparent, double-sided racks
Lid
Original packaging
YOU WILL RECEIVE:
✅ Food dehydrator - details above,
✅ YOER PLATINUM SECURITY card,
✅ Warranty card,
✅ PL/EN instruction manual.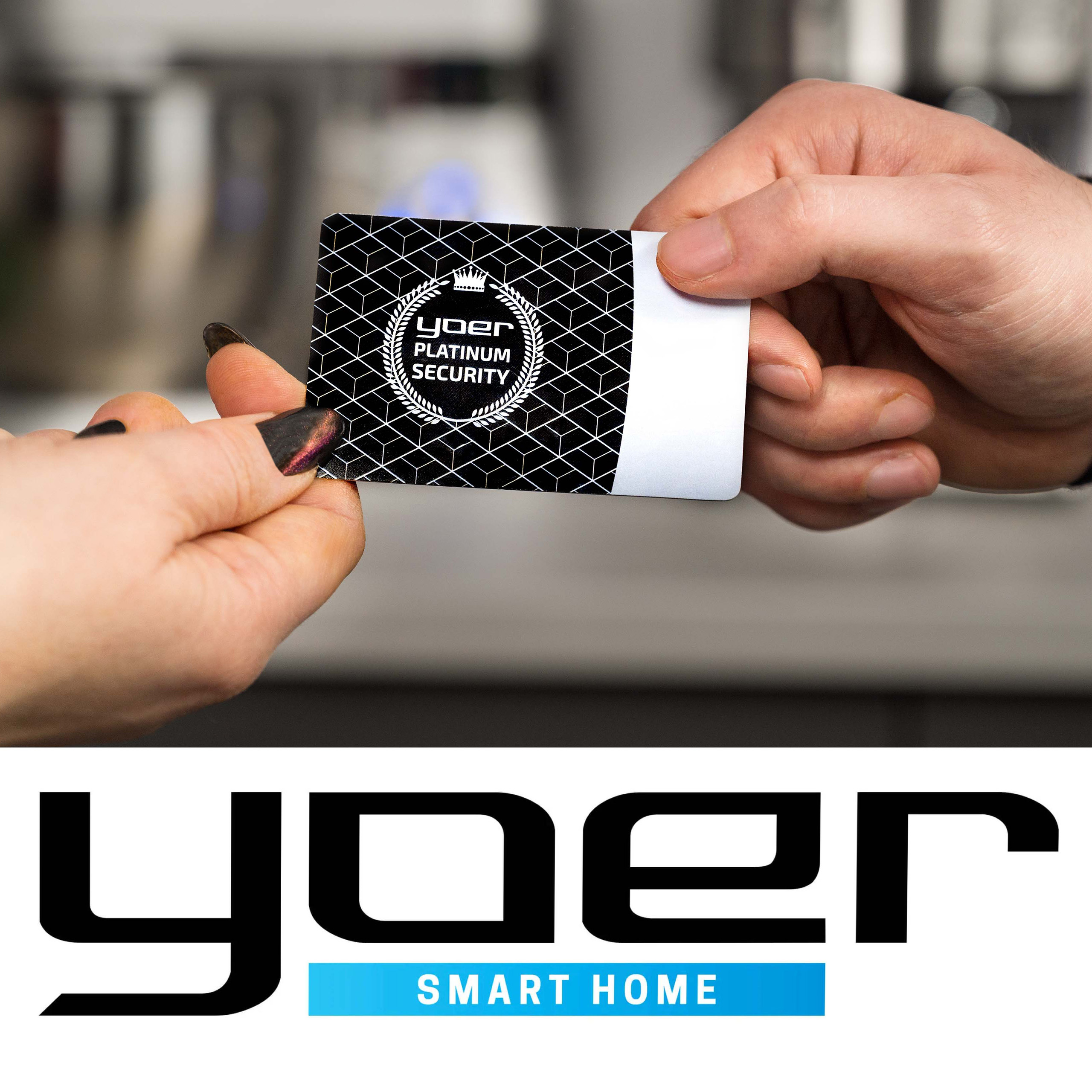 YOER PLATINUM SECURITY
When purchasing products from the official Yoer store you receive the YOER PLATINUM SECURITY package, which is an assurance of additional protection.
YOER - POLISH MANUFACTURER AND BRAND
YOER constitutes an excellent proof that high quality of products does not necesserily go in hand with high prices.

YOER FD01 Instruction manual - Click here