Language
Oil filled radiator YOER Inferno OFR1025W
10 ribs, Power: 2500 W, 3 power levels, ECO functionality, Chimney effect, Effectiveness range: 35 m², Touch control panel, LED Display, Timer

Shipping within

24 hours

Availability

Not available

0

pcs.
| | |
| --- | --- |
| Bar code | |
| EAN | 5906874237502 |
Description

Instruction manuals

Reviews & ratings (11)
OIL FILLED RADIATOR YOER INFERNO OFR1025W
CONTRUCTION - MAIN COMPNENTS
Front handle
LED display
Touch control panel
ON/OFF switch
Power cord winder
Back handle
Remote control storage
10 covered ribs - large heating area
Device body covered with protective enamel
Thermal safety switch, overheating protection
Retractable rubber wheels
PEODUCT DETAILS
Max. power: 2500 W
Color: White with black accents
Radiator type: Oil-filled
Timer: Yes, 24-hours
Temperature adjustment: Yes
Touch control panel: Yes
Power adjustment: Yes, 3-step
Remote control: Yes
Other: ECO functionality, overheating functionality
IMPORTANT FUNCTIONALITIES AND CHARACTERISTICS OF THE RADIATOR
Chimney effect - a natural draft is created within the radiator, which speeds up the room heating process
Diathermic oil ensures a quiet heat distribution and retains temperature for a long time
Adjustable electronic thermostat with 10°C - 30°C regulation range (the achieved temperature oscillates in the +/-2°C range)
Keeps heat for a very long time
3 power levels (1000W, 1500W, 2500W) - to optimize power usage
Remote control - allows for controlling the device without getting up
Exceptionally large effectiveness range of 35m2
10 tastefully built ribs
Touch control panel - allows for easy operation of the device with just a few touches of a finger.
Large and easy to read LED display - will allow you to see the currently selected temperature and work mode.
Current room temperature indicator
24-hour timer - automatically turns the appliance on or off at the time of your choosing
ECO mode - automatically picks the power level according to set temperature
Sound indicator - informs of work mode or temperature setting changes
Thermal safety switch - overheating protection
Solid body, covered in protective enamel
Retractable rubber wheels cprotect your floors from scratching
2 ergonomic handles for easy moving
Indicator LED
Convenient power switch located at the side of the device
Dedicated remote control storage slot
Power cord winder
NATURAL "CHIMNEY EFFECT"
The specialized construction of the device creates a natural draft inside the radiator - a movement of the air from the bottom to the top of the appliance - The design of the unit, its specialized body and the way the outside walls cover the insides are the reason for the natural draft.
The natural draft causes rapid air circulation - the air is sucked out from the bottom, heated up by the warm ribs and is then thrust into the room with increased force. That ensures much quicker room heating than when using standard oil filled radiators.
COMFORT AND SAFETY OF OPERATION
Large effectiveness range (35 m2) – owing to the 10 covered ribs you will quickly achieve a comfortable temperature in the room. The diathermic oil accumulates heat, and then distributes it long after the device has been turned off.
Does not fry out air and does not scuff up dust – thanks to that it is perfect for allergy-sufferers.
Quiet operation - allows you to put the radiator in your child's room or sleeping room.
2 WAYS OF CONTROL THE DEVICE
Touch control panel – ensures comfortable operation of the radiator and easy access to all functionalities.
6 control buttons:

Temperature and time increment button
Thermostat button
Timer button
Work mode selection button (ECO functionality, heating power adjustment)
ON/OFF button
Temperature and time decrement button

Remote control - allows for controlling the device without the need for getting up. A storage slot for the remote is located at the back of the device.
EASY-TO-READ LED DISPLAYL
Backlit LED display - shows information about the acive work wodes of the radiator.
Display symbols:

ECO functionality symbol
Temperature and time selected with the timer
Power supply icon
Celsius sign, informing that the currently displayed value is temperature
Hour sign, indicating that the currently displayed value is time
Power mode symbol (low, medium and high)
ELECTRONIC THERMOSTAT AND POWER REGULATION
10 to 30°C (50 - 86 °F) thermostat - allows for setting the desired temperature and maintaining it.
3 power levels (low, medium, high) – allow for adjusting power to your current needs. The high power setting will heat up your room in the blink of an eye. The lowest setting maintains the temperature, without drawing too much electricity.
Room temperature indicator – you can monitor the current room temperature.
INTELLIGENT ECO FUNCTIONALITY
ECO mode - saves energy during heating. The radiator automatically selects the power level, while keeping room temperature in a comfortable range.
Optimal power consumption – at the point of reaching the set temperature in the room, the heater will automatically shut off. When room temperature drops below the set values, the heater will start operation in the ECO mode.
AUTOMATIC POWER ON AND POWER OFF
24-hour timer – enables setting the time after which the device is to turn itself on or off. You can set the timer and enjoy a warm flat when you get back from work.
REBUST AND FUNCTIONAL CONSTRUCTION
Power cord winder – located at the front of the device. The dedicated handle enables comfortable cord winding, while also protecting it from damage caused by storing or moving the radiator.
4 retractble rubber wheels – ensure mobility and allow for easy carrying of the appliance without worrying about scratching the floor.
Carrying handles – make it possible to safety hold the device, even when it's heated up.
Solid body – covered in protective enamel.
This product is designed for occasional use or in well isolated rooms.
SAFE OPERATION
Thermal safety switch - protects the device from overheating and automatically shuts it off in case there's a risk of damage.
PRODUCT PRESENTATION
Watch our video and see all functions of our oil filled radiator Inferno!
TECHNICAL SPECIFICATION:
Effectiveness range: 35 m² = 88 m³
Power: 2500 W
Effectiveness: 2,5 kW
Power cord length: 1,44 m (4.7 ft)
Weight: 15 kg (33.1 lbs)
Dimensions with the wheels extendedi: 27,5 cm x 66,5 cm x 52 cm (10.8 x 26.2 x 20.5'')
Dimensions with the wheels retracted: 17,5 cm x 66,5 cm x 52 cm (6.9 x 26.2 x 20.5'')
Color: White with black accents
Polish power plug -220-240V~50Hz
EQUIPMENT
Oil heater
Remote control
Original packaging
You will receive:
Heater - details above,
YOER PLATINUM SECURITY card,
Warranty card,
Receipt/VAT invoice,
PL/EN instruction manual.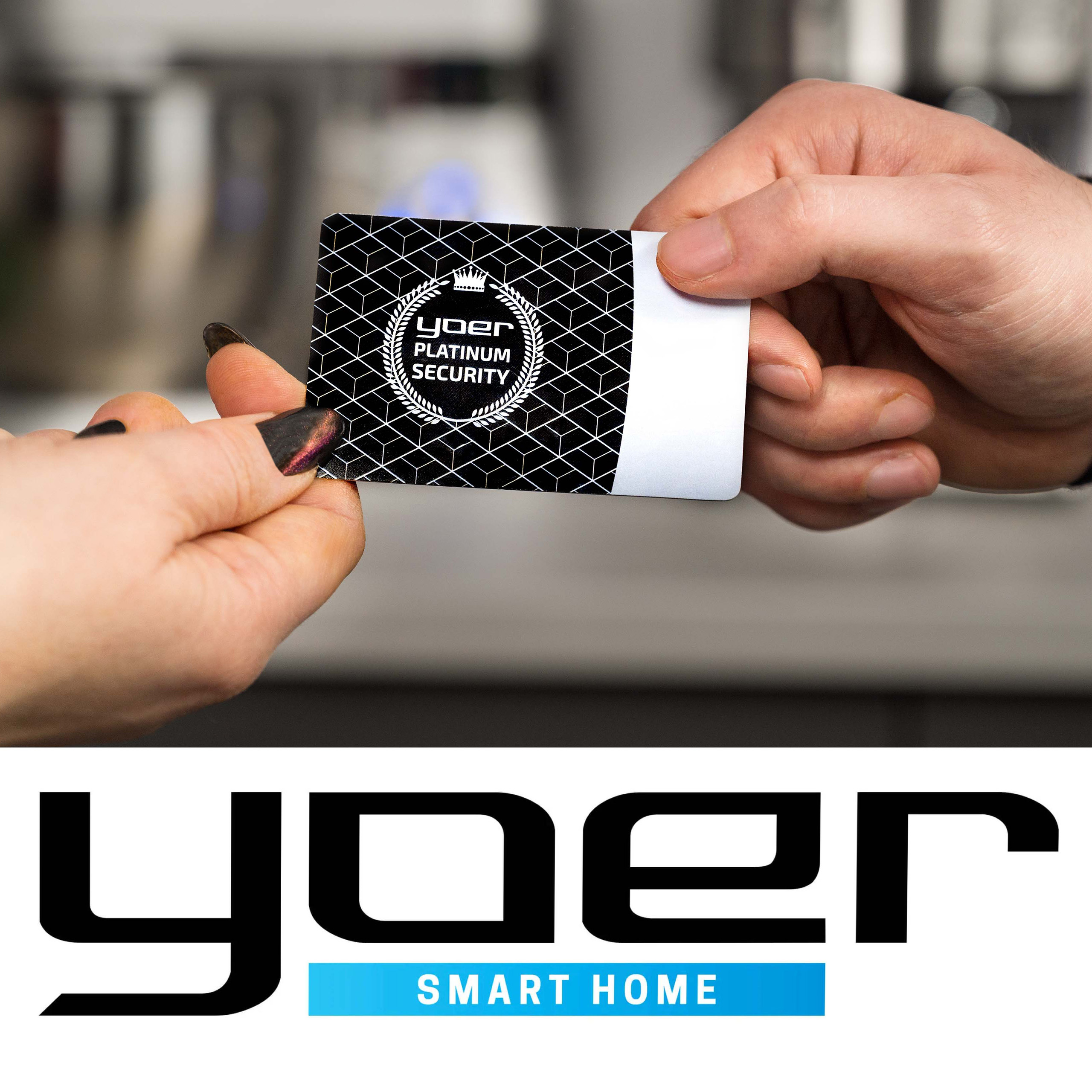 YOER PLATINUM SECURITY
When purchasing products from the official Yoer store you receive the YOER PLATINUM SECURITY package, which is an assurance of additional protection.
YOER - POLISH PRODUCER AND MANUFACTURER
YOER constitutes an excellent proof that high quality of products does not necesserily go in hand with high prices.

YOER OFR1025W Instruction manual -Download
Użytkuję grzejnik już jakiś czas i muszę przyznać, że bardzo szybko nagrzewa się, a po wyłączeniu utrzymuje długo ciepło. Bardzo fajnie dopasowane są poziomy grzania od 1 do 3. Z funkcji ECO nie mam okazji korzystać, gdyż użytkuje grzejnik bardzo manualnie. Fajną i zadowalającą funkcją jest automatyczne włączanie i wyłączanie - programator czasowy. Dla przykładu kończę pracę o 15:00, a grzejnik sam włączy się o 13:00 i ciepełko czeka za mną w salonie :). Jak na grzejnik olejowy z żeberkami design bardzo współczesny i przyjemny. Efekt grzewczy "komina" jest niesamowity :).

Wszystko w jak najlepszym porządku. Grzejnik bardzo dobry, szybko nagrzewa pomieszczenie. Ładnie wygląda. Polecam.

Bardzo dobry i przy tym ładny, spełnia wymagania.

Bardzo dobry produkt. Spełnienia moje oczekiwania. Solidny.

Prosty w obsłudze, estetyczny tak sobie go wyobrażałem.

Jestem bardzo zadowolona. Bardzo szybko ogrzewa pomieszczenie i utrzymuje ciepło. Cichy i wygodny w obsłudze. Wstajesz i jest ciepło. POLECAM. Może kupię jeszcze jeden.

Jakość wykonania bardzo dobra. Polecam.

Towar fajnej jakości, ekran regulacyjny działa bardzo dobrze, szybko się nagrzewa i ten efekt komina robi super robotę, niczym wentylator. Polecam.

Jestem bardzo zadowolona. Szybko ogrzewa pomieszczenie, jest estetyczny, cichy i funkcjonalny. Polecam

Bardzo dobry i funkcjonalny grzejnik olejowy. Polecam.

Grzeje bardzo dobrze, bez porównania z marketowymi. Do tego wygląd i funkcjonalność - polecam !!!

Recently viewed products

Other Customers also purchased

Similar products