Language
Temperature and humidity sensor YOER THS01W
Temperature measurement, Humidity measurement, Alarm, Creating scenes, remote control via Wi-Fi, LED display, Current time display, Battery level indicator, Easy assembly, Power supply: 2 x 1,5V AAA battery
108.00
-28%
78.00
Lowest price in the last 30 days:
Order within
and we will send the package today

Shipping within

Shipment within 24 hours

Availability

Small

18

pcs.
| | |
| --- | --- |
| Bar code | |
| EAN | 5900779772205 |
Description

Instruction manuals
TEMPERATURE AND HUMIDITY SENSOR YOER THS01W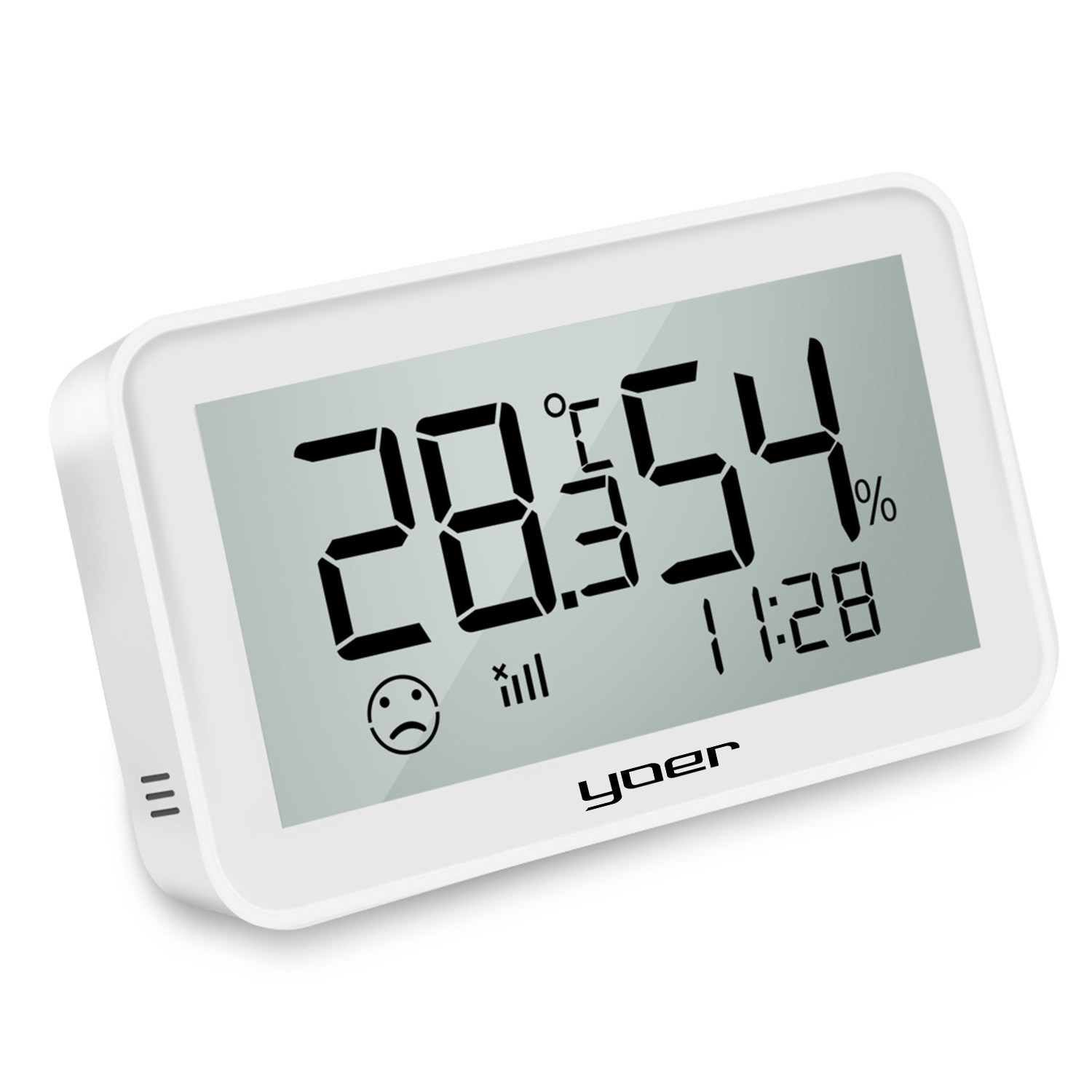 PRODUCT DETAILS
LED display: easy-to-read display showing current room temperature, humidity level and time
Alarm: you will be informed when the humidity level or current temperature are different than the max. and min. levels set in the app
Creating scenes: you can set automatic start of the device operation the moment when the preferable temperature has been reached in the app
Battery level indicator in the app: you can check the current state of battery in the app and you will receive an alarm when the battery level is too low
Easy to assembly: set it on your desk or mount it to your fridge
Elegant and simple design: will suit every interior
2 types of temperature unit: select the unit of temperature/the possibility of choosing preferable unit
Remote control via App: control your sensor remotely via smartphone or tablet with Android or iOS operating system, using frequency of 2,4 GHz
Power supply: 2 x 1,5V AAA battery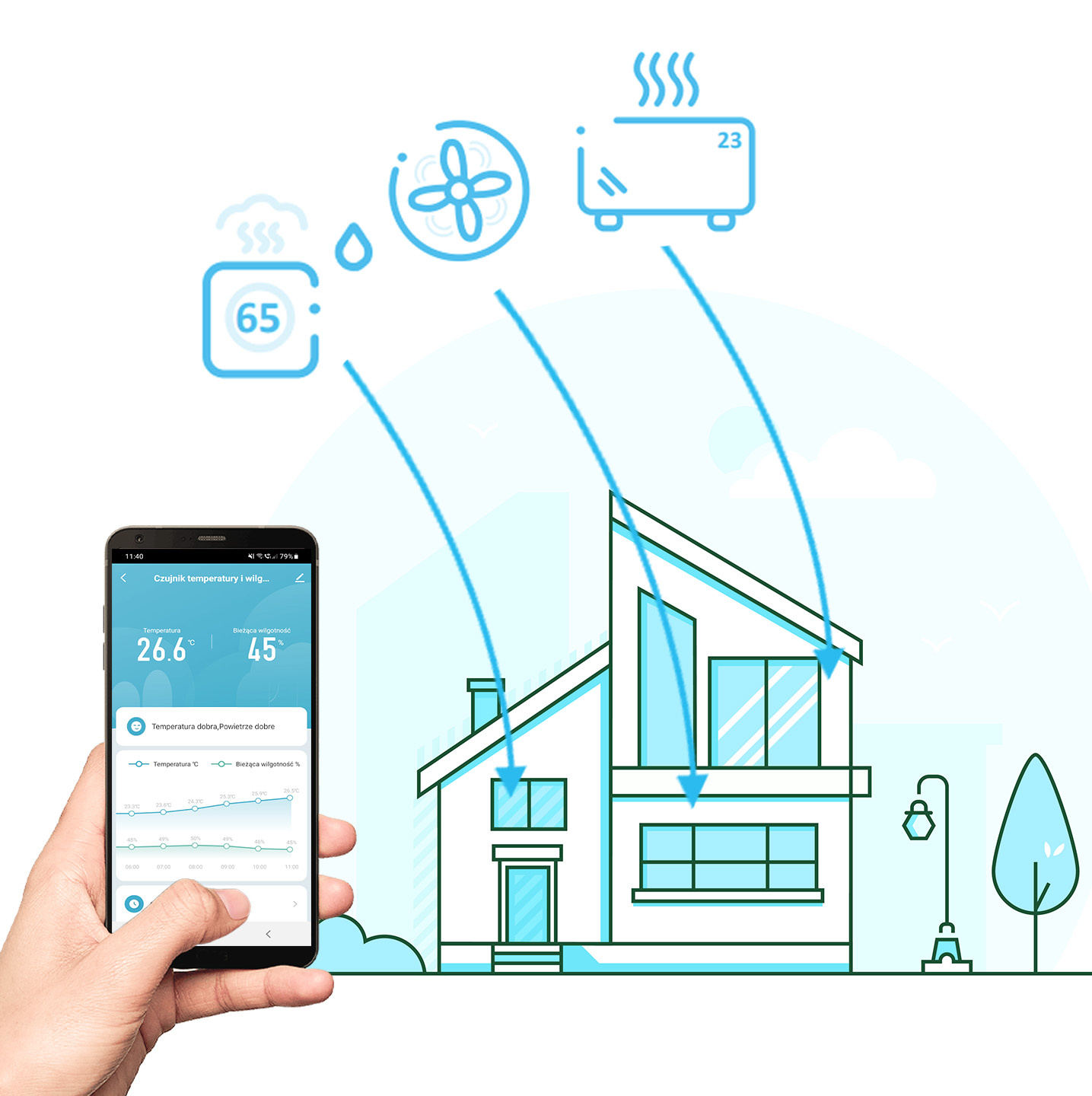 CONTROL YOUR ENVIRONMENT
Temperature and humidity sensor is a small device which will enable you to
control room temperature and humidity
by sending crucial information about temperature and humidity to the app in your smartphone. You can check
current measurements, history of changes and set alarms.
It will be useful when it comes to:
Controlling and chaning the indoor environmental conditions, such as houses, offices, schools, hospitals, warehouses etc.
Ensuring thermal comfort and the health protection of humans and animals by warning against excessively high or low temperatures or humidity
Optimizing energy consumption and heating or cooling costs by adjusting the operation of heating or air conditioning devices to current needs
Quality and safety control of products and processes by preventing food spoilage, metal corrosion, etc.
Implementation of smart agriculture through precise management of irrigation, plant protection against diseases and pests, etc.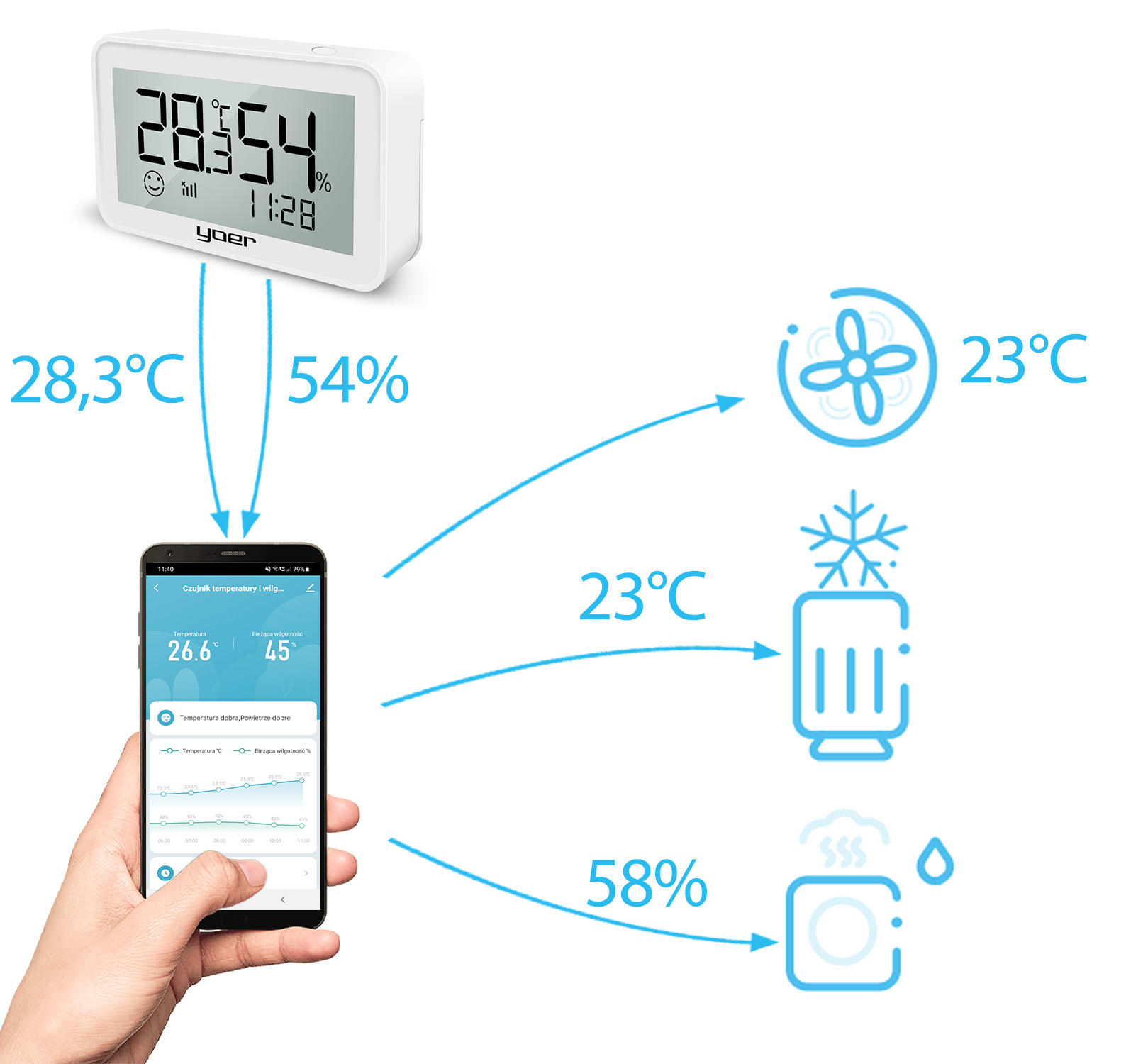 INTELLIGENT HOME WITH A SIMPLE DEVICE Connect your sensor with other SMART devicesYOER brand, such as air conditioner, fan, heater or humidifier and enjoy comfort at home.
Create scenes which turn the devices on or off automatically depending on the temperature and humidity level in a room. For example, you can set the scene which turn the air conditioner on, when your sensor indicates that the temperature is above 25°C. Or you can set the scene which turn the humidifier on, when your sensor indicates that the humidity level drops below 20%.
Thanks to this you can ahve a full control over your home and you can ensure optimal environmental conditions for yourself.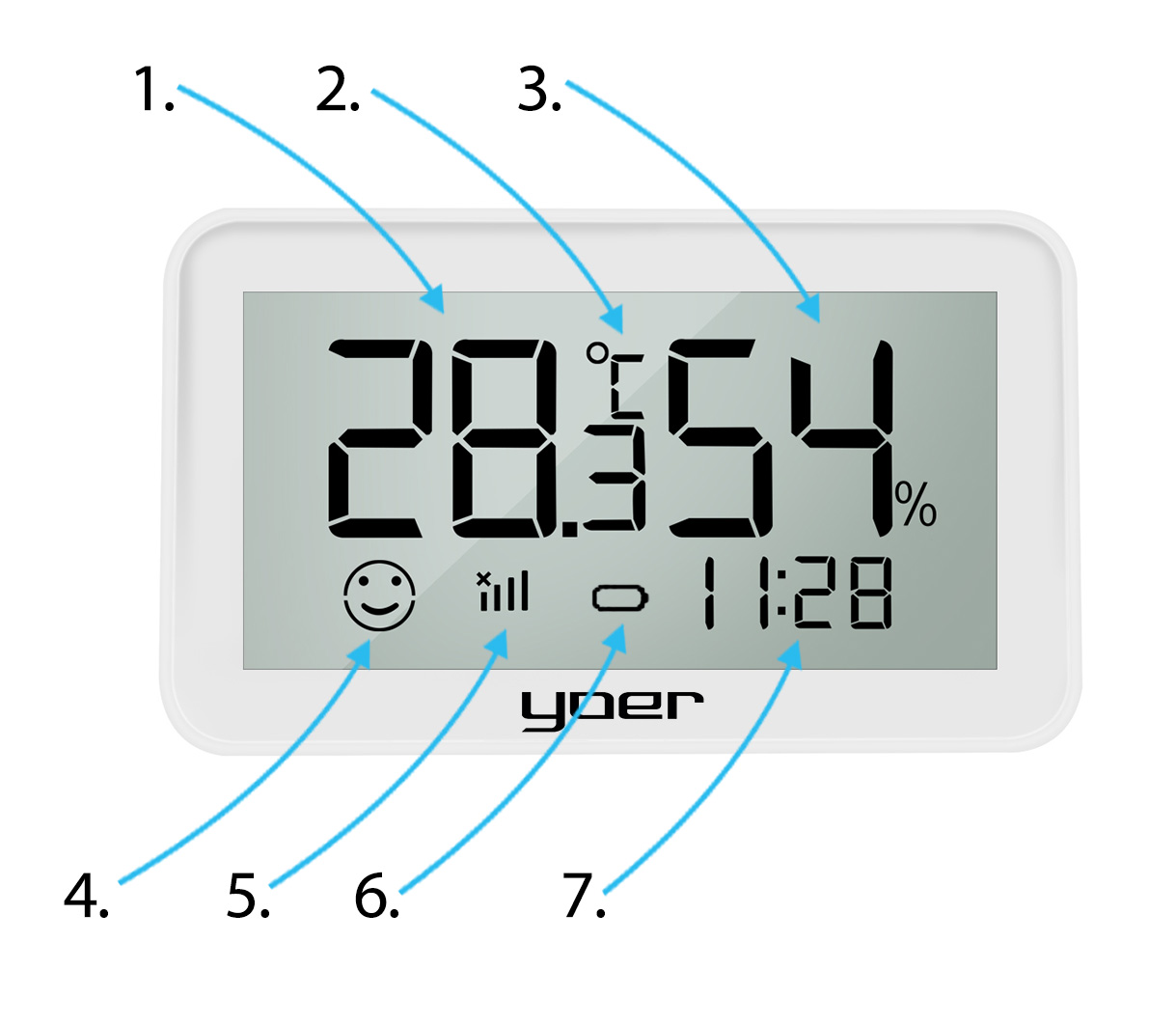 LED DISPLAY
Temperature indicator - shows current temperature in a room
Unit of temperature - shows selected unit of temperature
Humidity level - informs about current humidity level in a room
Icon of happy or sad face - happy face indicates that the temperature is above 18°C and equal or lower than 28°C. In other cases, sad face will appear on the screen
Wi-Fi icon- indicates Wi-Fi signale
Battery icon - informs about low battery level
Time indicator - shows current time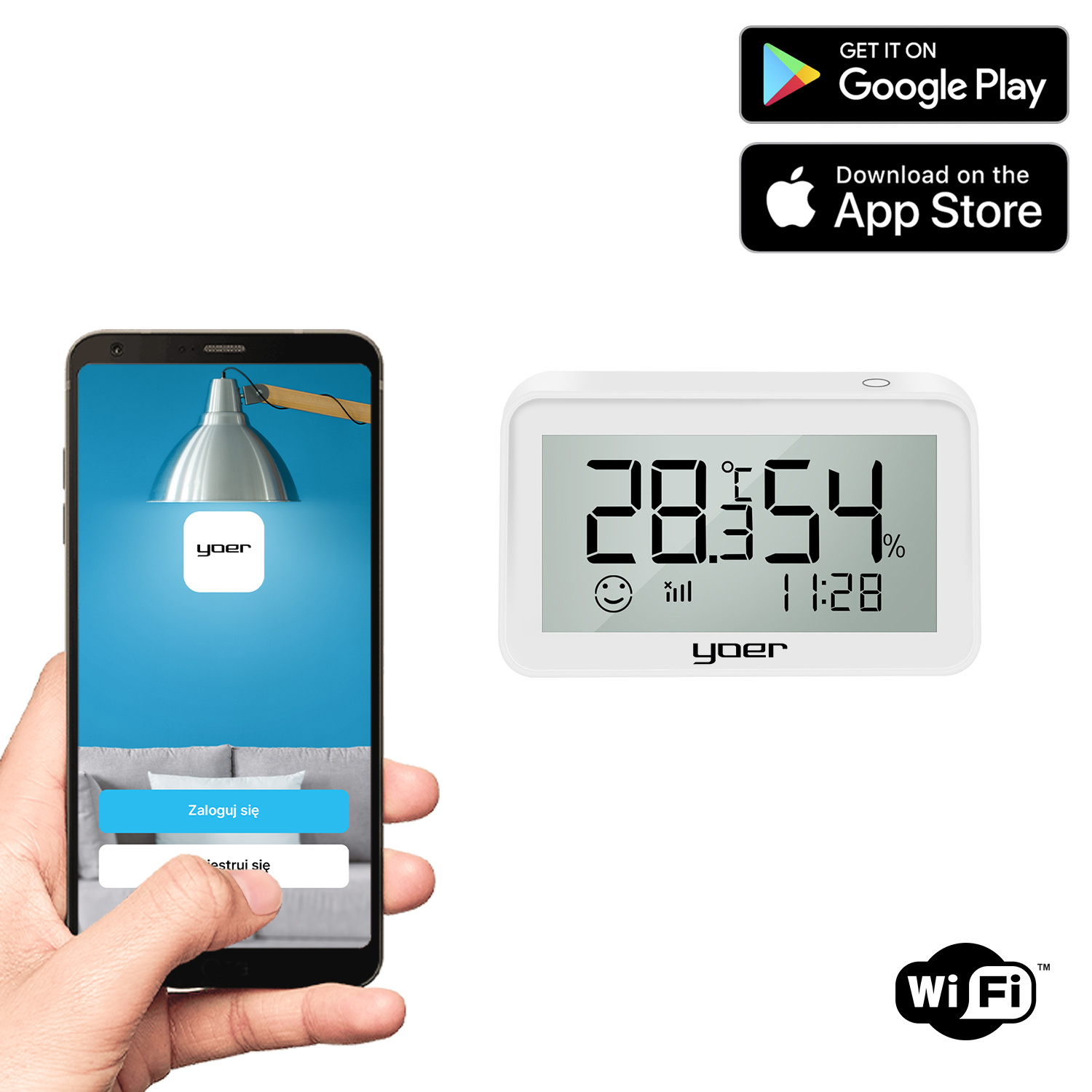 Easy to use app available in Google Play Store and AppStore.
The app works in Android and iOS operating system.
Programming and controlling the device from anywhere z dostępem do Internetu.
The app enables you to set the device operation in the range of:
Reading the room temperature and humidity.
Setting min. and max. measuremenets after which the alarm will go off
Creating scenes.
Reading the information about current state of battery and alarm, when its level is too low.
Reading a report from a selected day, month, or year.
Setting temperature measurement sensitivity.
Device mute.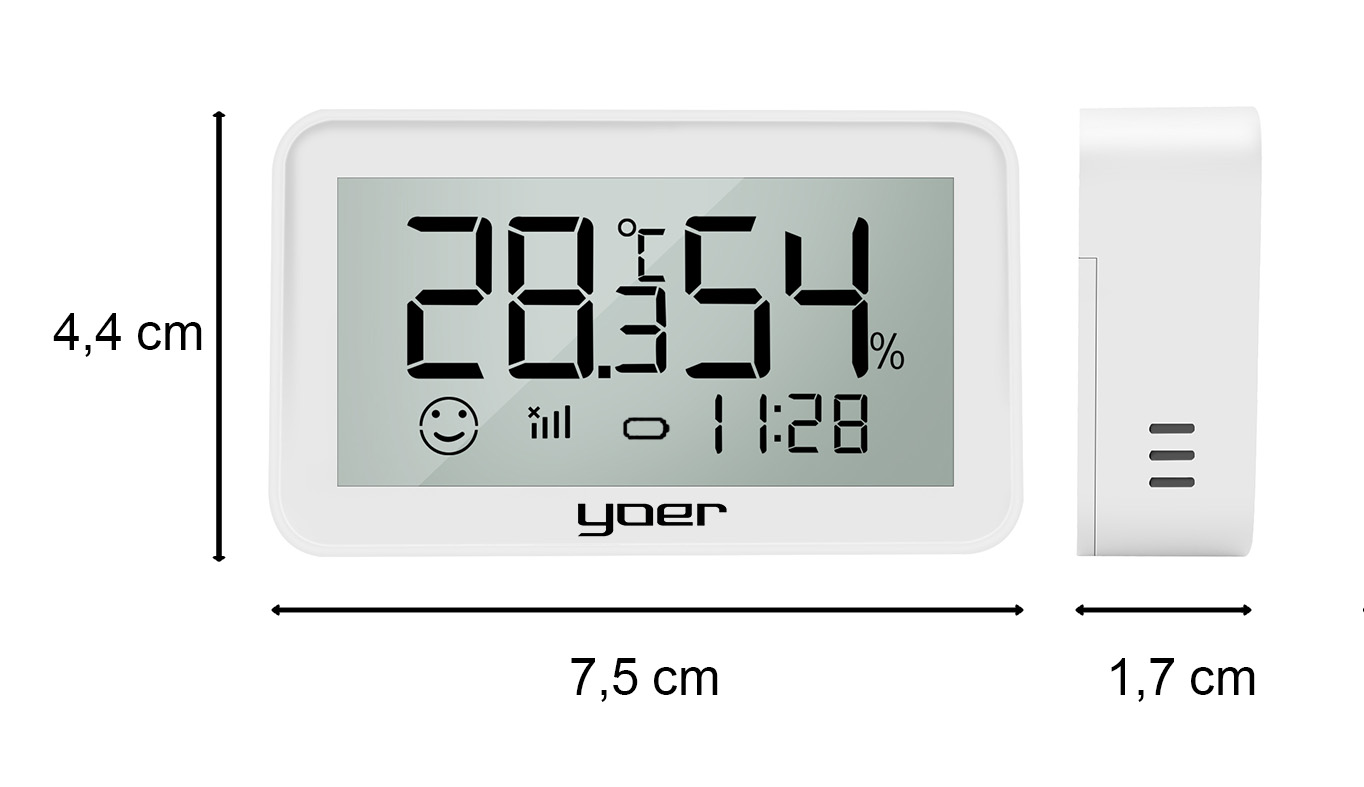 TECHNICAL SPECIFICATION
Temperature range: -20°C ~ 60°C
Humidity range: 0 ~ 100%
Dimensions: 75x17x44 mm
Weight: 75 g
Temperature unit: °C or °F
Control: remote control via Wi-Fi
Color: white
Power supply: 2 x 1,5V AAA battery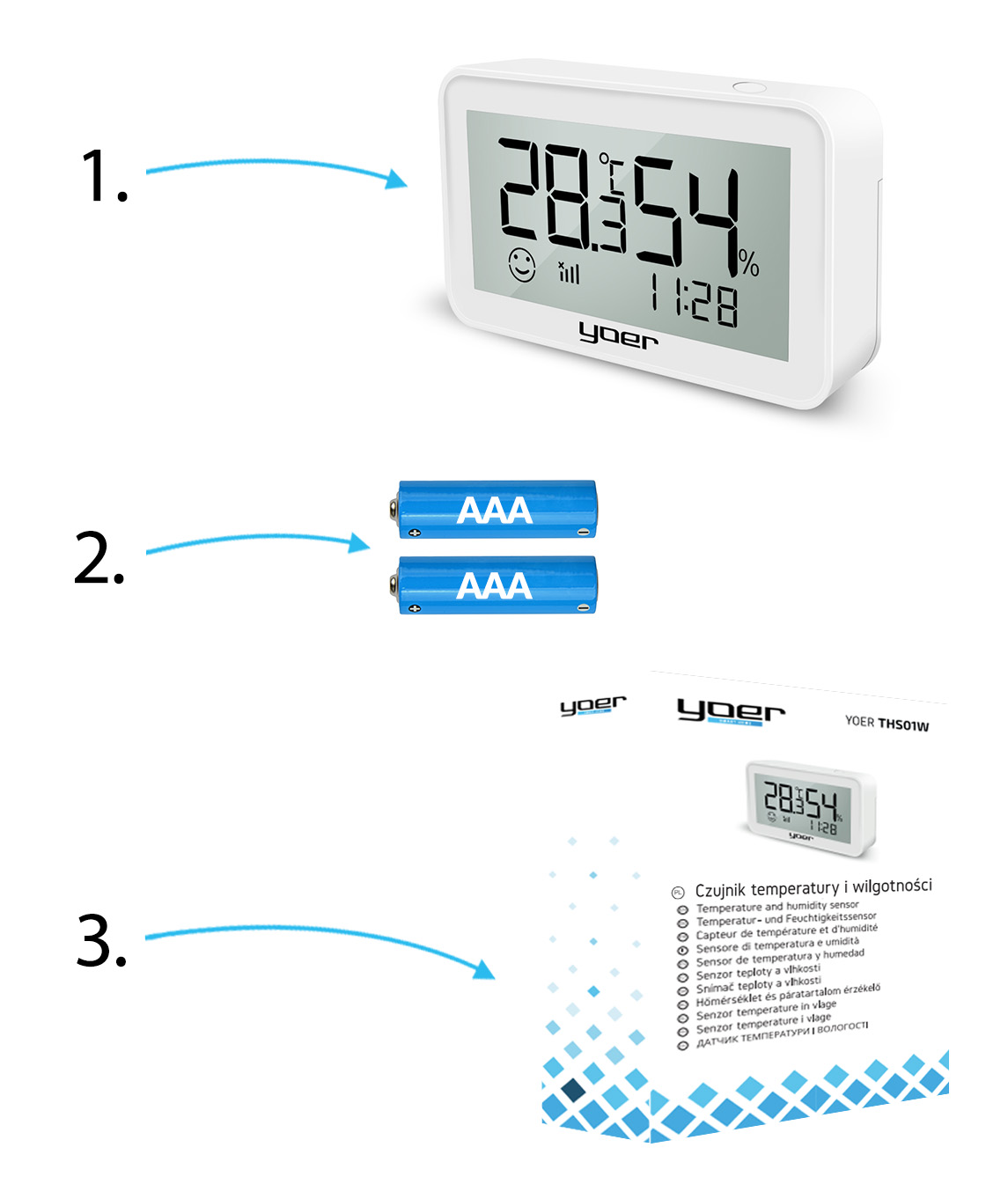 EQUIPMENT
Sensor
2 x 1,5V AAA battery
Original packaging
YOU WILL RECEIVE
Sensor - details above,
YOER PLATINUM SECURITY card,
PL and EN instruction manual.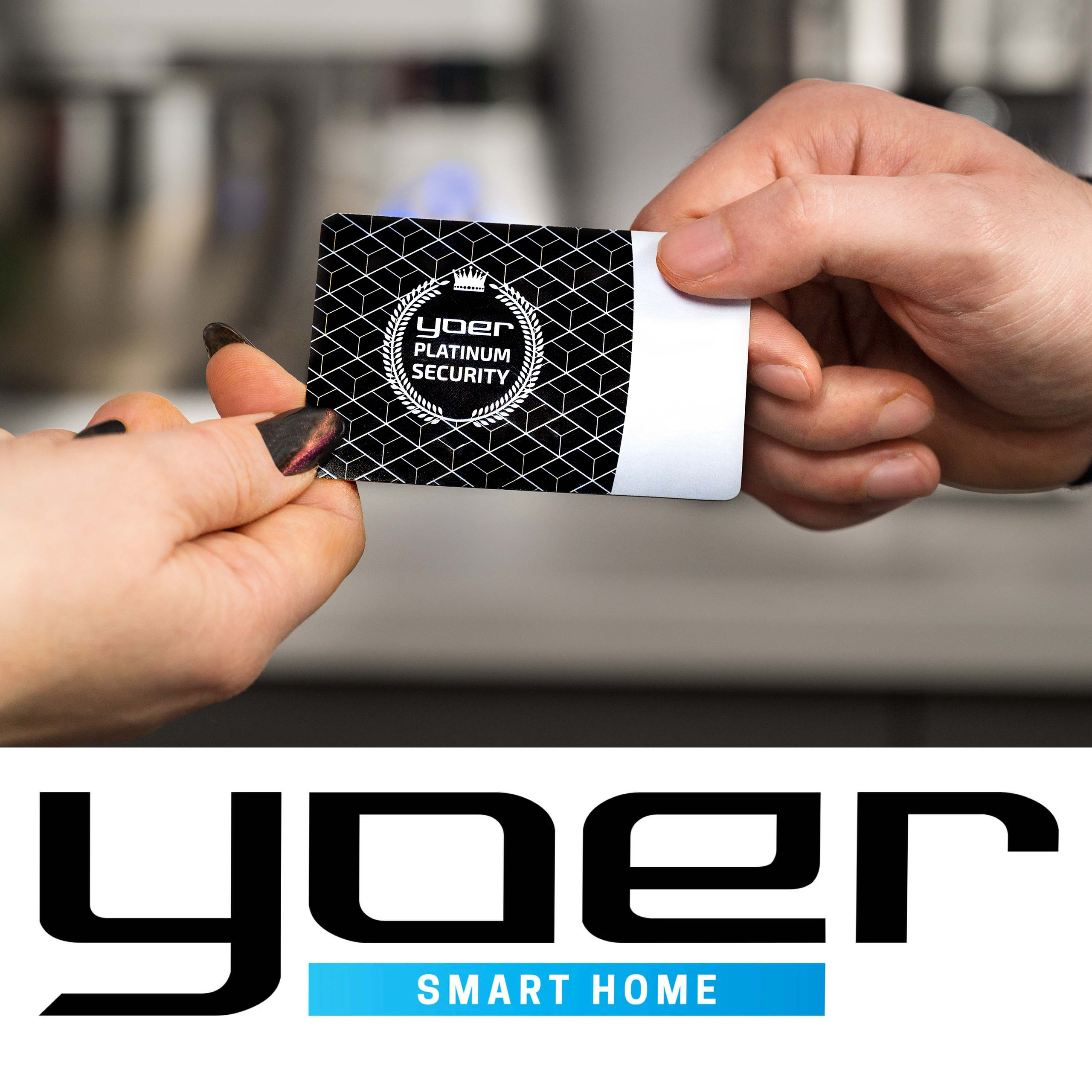 YOER PLATINUM SECURITY
When purchasing products from the official Yoer store you receive the YOER PLATINUM SECURITY package, which is an assurance of additional protection.
YOER - POLISH MANUFACTURER AND BRAND
YOER constitutes an excellent proof that high quality of products does not necesserily go in hand with high prices.

YOER THS01W Instruction manual - Click here