Language
Wireless electric kettle Yoer CRYSTAL EK02W
Concealed 3000W heater, High capacity: 1.7 L, Calc filter, Metal body, 360° rotary base, Water level indicator
398.00
-25%
298.00
Lowest price in the last 30 days:

Shipping within

PRE - ORDER - shipping starts on 30.11., within 5 weekdays

Availability

Medium

99

pcs.
| | |
| --- | --- |
| Bar code | |
| EAN | 5906874237243 |
Description

Instruction manuals
WIRELESS ELECTRIC KETTLE YOER Crystal EK02W WITH THERMOMETER
PRODUCT DETAILS
Capacity: 1,7 L
Power: 3000W
Heater: Concealed, plate
Body: Metal, INOX stainless steel, high-gloss enamel
Color: White
Base: Rotary, 360°
Temperature indicator: Yes
Filter: Yes, metal, reusable
Water level indicator: Yes
Illuminated ON/OFF switch: Yes
Employed technology: Strix controller
Anti-slip feet: Yes
Power cord storage compartment: Yes
Decorative elements: Chromed finish pieces, lid with Swarovski-style crystal, base with decorative ring
Other: Cambered spout, removable lid, large kettle filler, compact dimensions
CONSTRUCTION - MAIN COMPONENTS
Lid with Swarovski-style crystal
Cambered spout
Removable metal calc filter
High-gloss enamel body
Temperature indicator
Strix controller
Power cord storage compartment
Anti-slip feet
Heat resistant chromed ergonomic handle
Large kettle filler
Clear water level indicator
Stainless steel body
Illuminated switch
Decorative ring
360° rotary base
Original YOER Crystal-series kettle
The stylish line of kitchen appliances is sure to be suited to your taste, owing to the crystal finish.
The unique construction and chromed pieces will grab the attention of all residents and guests. Crystal series products are a fusion of modern design, great build quality and functionality
Metal kettle with concealed 3000 W heater - The kettle's robust construction guarantees longevity, and the formidable power ensures lighting fast water boiling, which will save you plenty of precious time.
STRIX CONTROLLER TECHNOLOGY
High-quality, British-branded Strix ON/OFF switch ensures safety during operation of the kettle, when you need to boil water several times in a short time span.
The mechanism connects both the heating coil and automatic OFF switch, which prevents water boiling out or the kettle overheating. Because of that, you can safely use the appliance even during parties with lots of guests.
360° ROTARY BASE
The kettle is equipped with an exceptionally practical 360° rotary base, which is comfortable to use by both right and left-handed people. This enables the user to place the kettle in their preferred position.
The base serves also as a power cord compartment to give the option to discretely hide away the unnecessary length of the power cord, so that it does not get in the way when using the kettle or other devices.
ILLUMINATED SWITCH
Indicates that the kettle is boiling water, as well as the current state of the device (ON/OFF).
This piece ensures safety by automatically turning the device off after water has been boiled, so there is no need for frequent checking whether the water is boiling or turning off the kettle manually.
BUILT-IN THERMOMETER WITH INDICATOR
The kettle is equipped with a specialized thermometer to indicate the current temperature of the water. This allows for easy checking and adjusting of water temperature to individual needs without the necessity of using third-party thermometers.
This functionality is especially useful when preparing beverages or cakes that require a specific temperature for best results.
Temperatures appropriate for making different tea and coffee:
1. Tea
Black tea: 96°C
Green tea: 60-85°C
White tea: 70-85°C
Red tea: 96°C
Oolong tea: 90-96°C
Darjeeling tea: 96°C
Rooibos tea: 95°C
2. Coffee
Ground coffee: 88-95°C
Instant coffee: 84-95°C
"Drip" coffee: 90-96°C
LID WITH SWAROVSKI-STYLE CRYSTAL
The device's unique design due the Swarovski-style crystal finish will add character to its surroundings. The kettle is sure to catch your guests' attention and will be the pride of your kitchen.
We value luxury and beauty merged with life improvements and functionality. Become an exclusive YOER device owner today.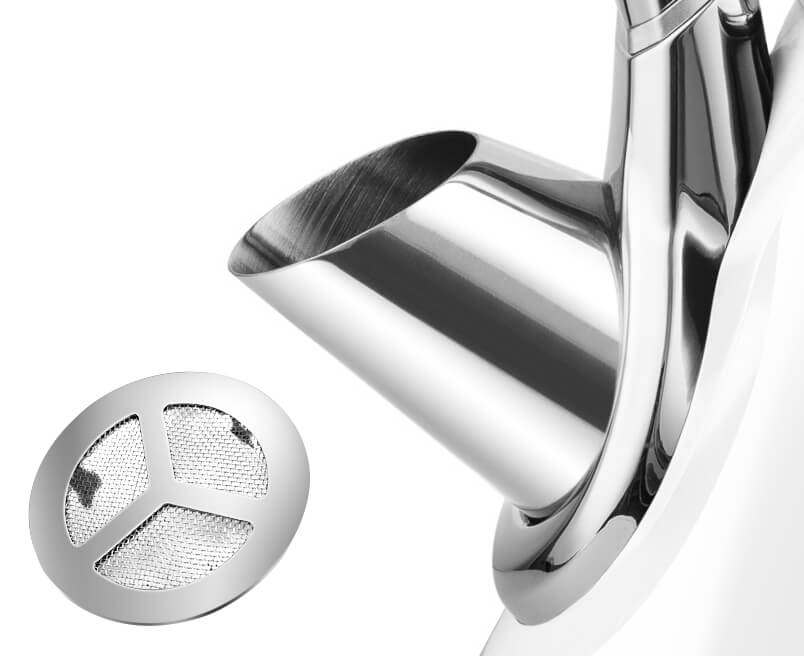 CAMBERED SPOUT
Makes pouring water easy and protects you and your family from accidental spills or burns.
The ergonomic handle also allows for hassle-free carrying the kettle around the kitchen. You will find using the YOER kettle to be exceptionally safe.
REMOVABLE CALC FILTER
Prevents calcium residue getting into the cup, so the water boiled in the kettle will remain pure after pouring and will not negatively affect the taste or aroma of your beverage. With a YOER kettle you can enjoy high quality drinks.
TECHNICAL SPECIFICATION
Stainless steel internals
Capacity: 1,7 L
Power: 3000W
Power cord length: 70 cm (27.6'')
Weight: 1,3 kg (2.9 lbs)
Dimensions: 29 cm (height) x 20,4 cm (width) x 22 cm (length) (11.4 x 8 x 8.7'')
Color: White
Polish power plug 220-240V 50/60Hz
EQUIPMENT
Electric kettle
Lid
Calc filter
Power supply base
Original packaging
YOU WILL RECEIVE:
Kettle - details above,
YOER PLATINUM SECURITY card,
Warranty card,
PL / EN Instruction manual.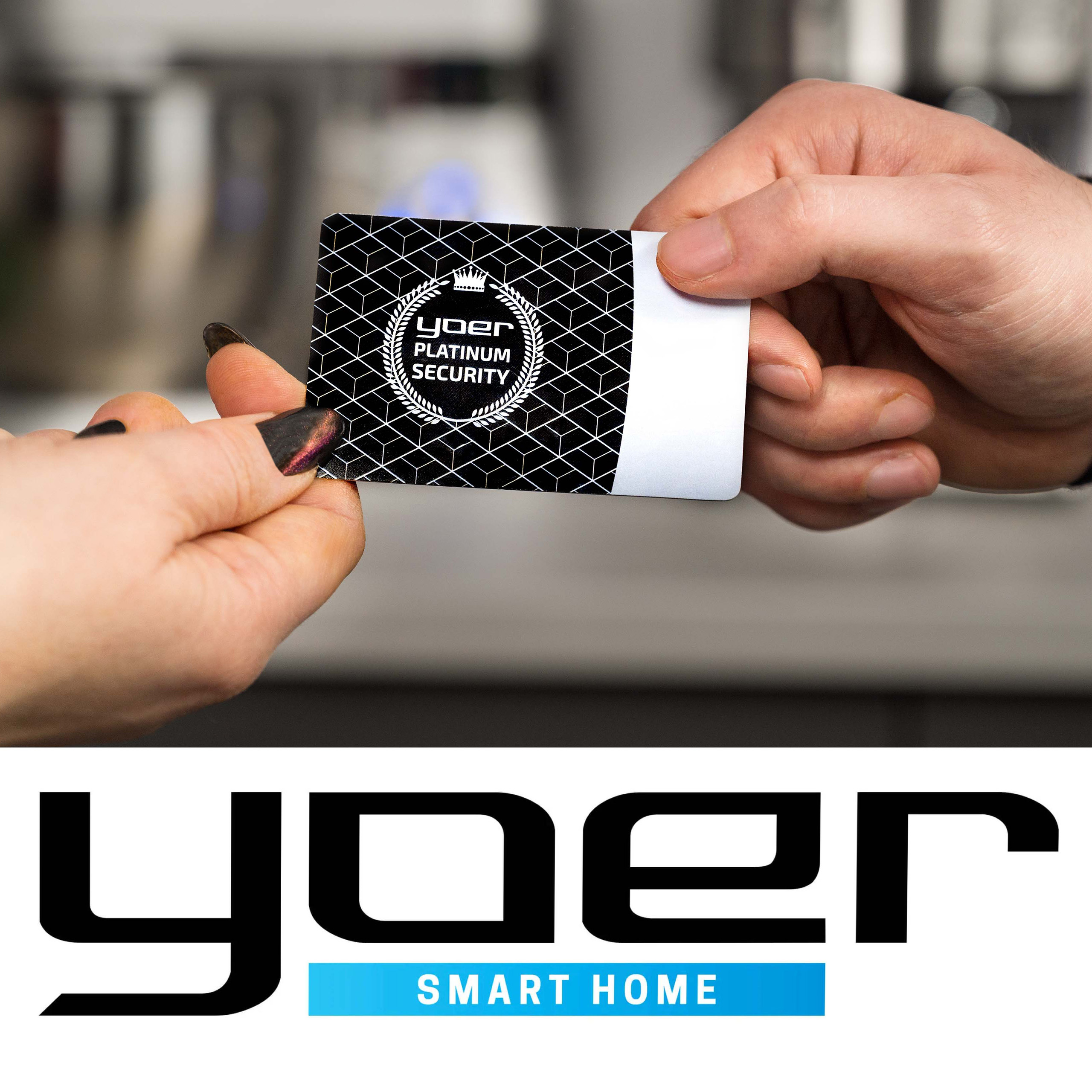 YOER PLATINUM SECURITY
When purchasing products from the official Yoer store you receive the YOER PLATINUM SECURITY package, which is an assurance of additional protection.
YOER - POLISH MANUFACTURER AND BRAND
YOER constitutes an excellent proof that high quality of products does not necesserily go in hand with high prices.

YOER EK02W Instruction manual - Click here