Language
YOER CLEVER-COOK SC6502S Slow Cooker - Electric Ceramic Pot with Timer
6.5L ceramic pot, Digital display, Stainless INOX steel body, Prepares up 10 servings of a dish at once, 16 h timer, Delayed start functionality

Shipping within

PRE - ORDER - shipping starts on 21.06., within 7 weekdays

Availability

Medium

27

pcs.
| | |
| --- | --- |
| Bar code | |
| EAN | 5906874237038 |
Description

Instruction manuals

Reviews & ratings (19)
Slow Cooker - Electric ceramic pot with timer YOER CLEVER-COOK SC6502S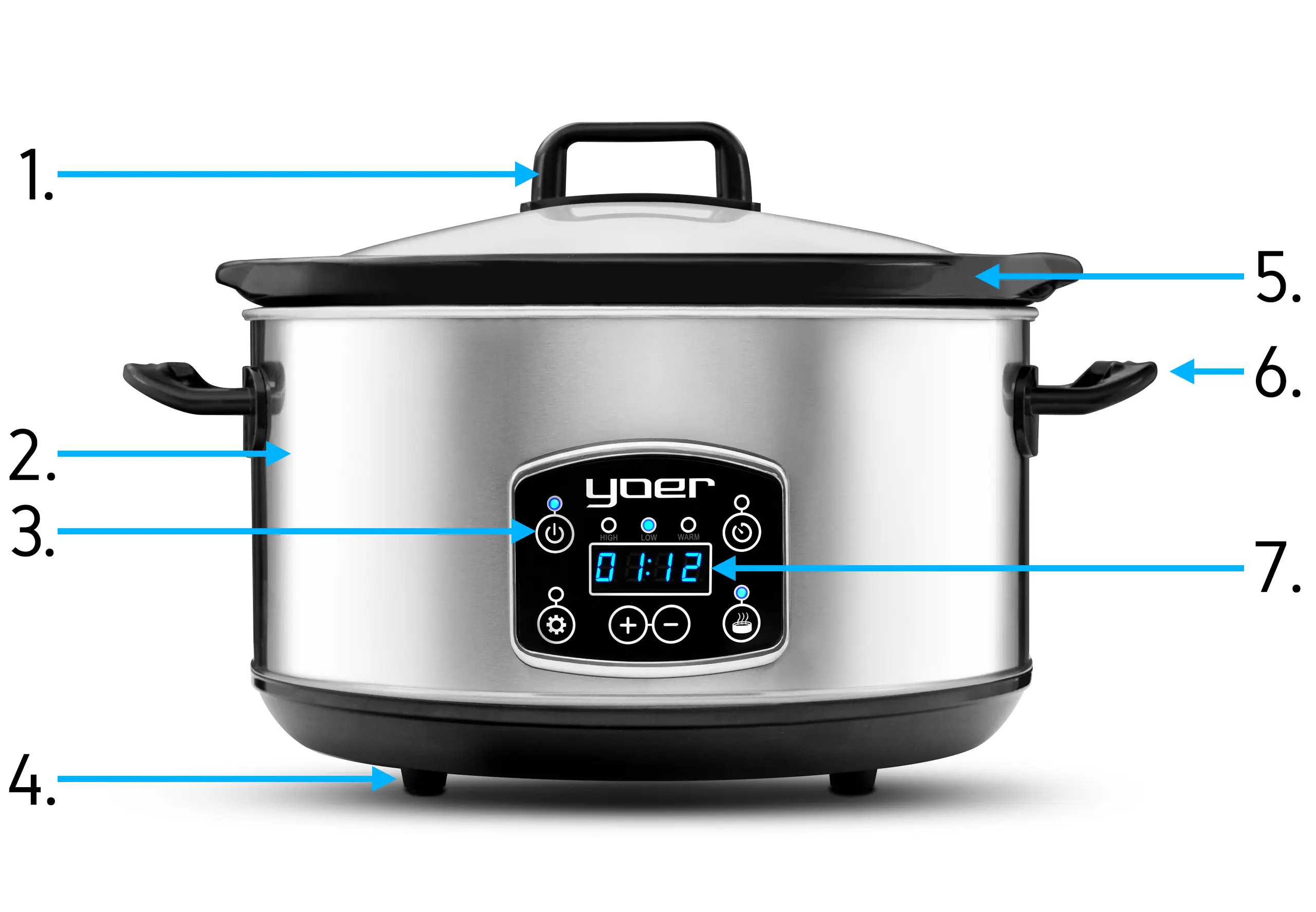 CONSTRUCTION-MAIN COMPONENTS
Tempered glass lid with handle
Brushed INOX stainless steel
Touch control panel
Anti-slip base
Removable ceramic pot
Heat-resistant grips
LCD display
PRODUCT DETAILS
Power: 320 W
Color: Silver with black accents
Capacity: 6,5 L
Power adjustment: Yes,, 3 steps
Touch control panel: Yes
LCD display: Yes
Dishwasher-safe: Yes
Body: Brushed INOX stainless steel, polymer
Additional functionalities: Delayed start, temperature sustain, 16-hour timer
Supplied accessories: Ceramic pot, glass lid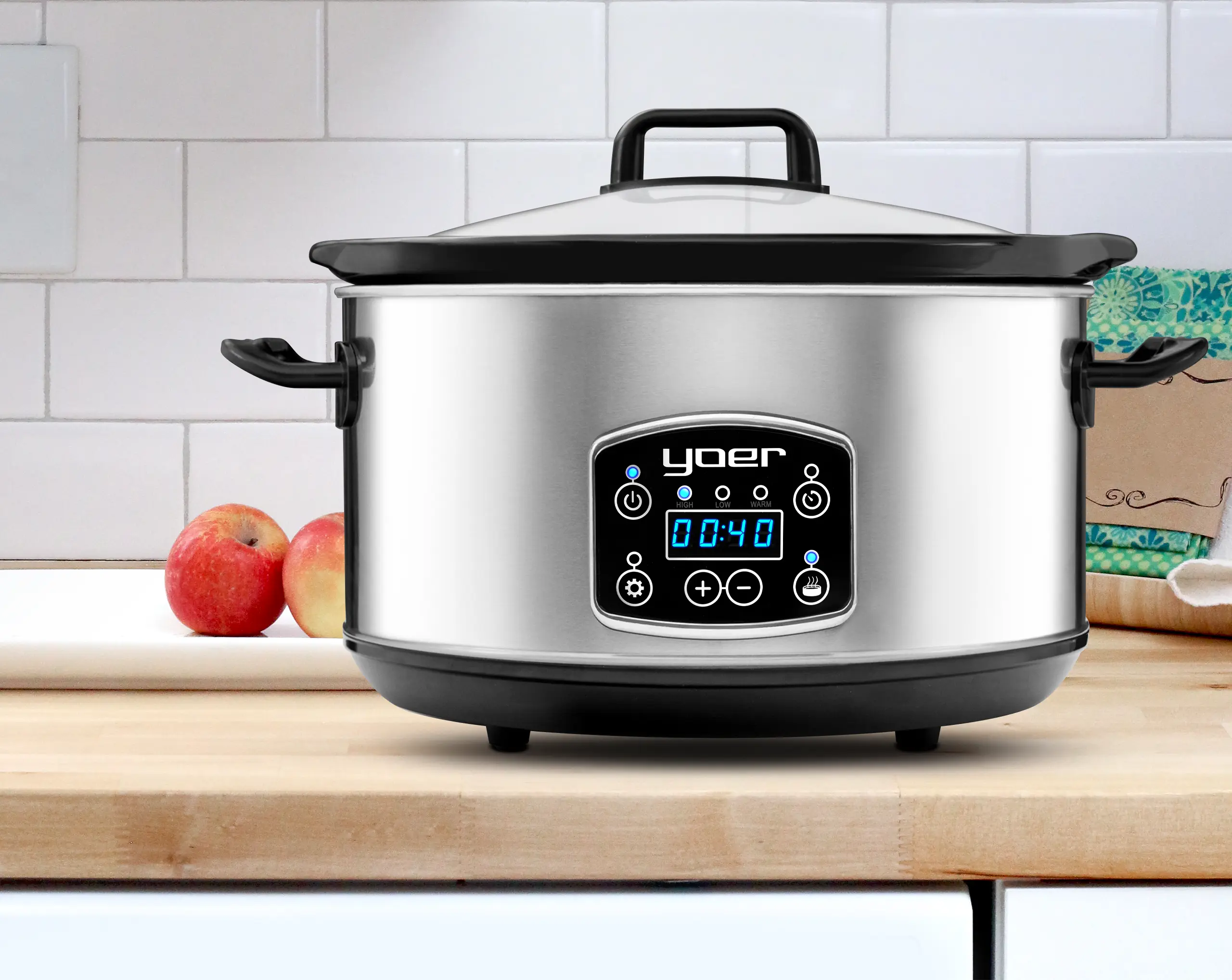 CAPACIOUS AND FUNCTIONAL
6.5 L capacity - allows for preparing up 10 servings of a delicious dish at once
DIGITAL LCD DISPLAY AND CONTROL PANEL
Touch control panel with built-in display - makes it easy to adjust settings of your device to your needs. Currently selected settings are indicated with LEDs over the buttons on the control panel. The active cooking mode is indicated above the digital display.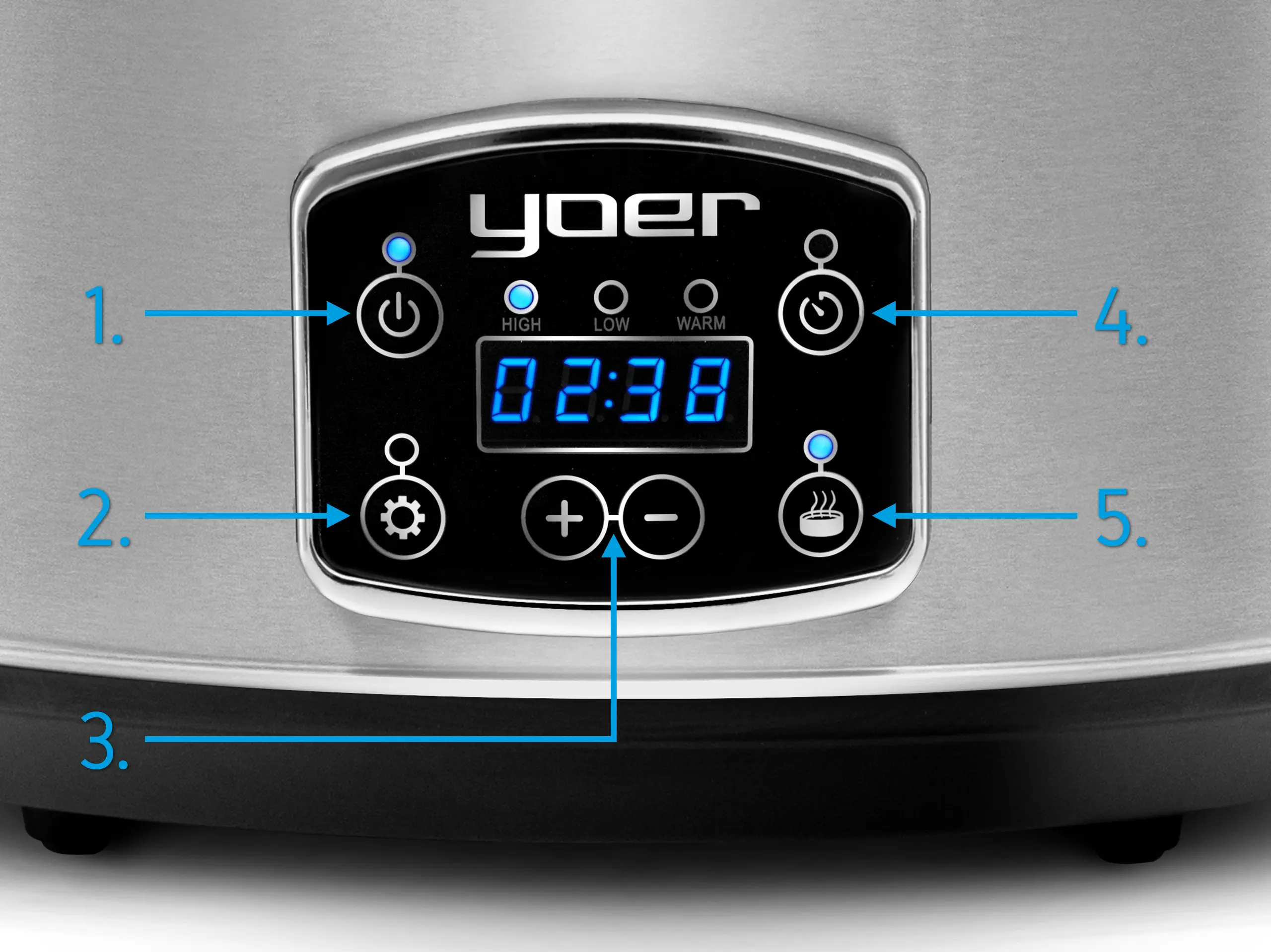 FUNCTION BUTTONS
Start/stop - turns the appliance on or off.
Three-step power adjustment - allows for switching cooking modes:

2 cooking programs: plow and high - make it easier to perfectly match the slow cooker's power with a given dish.
Temperature sustain program (WARM): engages automatically after cooking has finished. It is exceptionally useful especially when you do not want to serve the dish immediately after cooking

Timer adjustment - these buttons allow the user to pick the exact delay or timer values.
Delayed start functionality - will begin the cooking process at the time of your choosing. Owing to this functionality you can plan your cooking according to your schedule. Even if you get back home late, a hot meal will be waiting for you.
Timer - allows for setting the time (16 h max) after which the appliance is to turn itself off.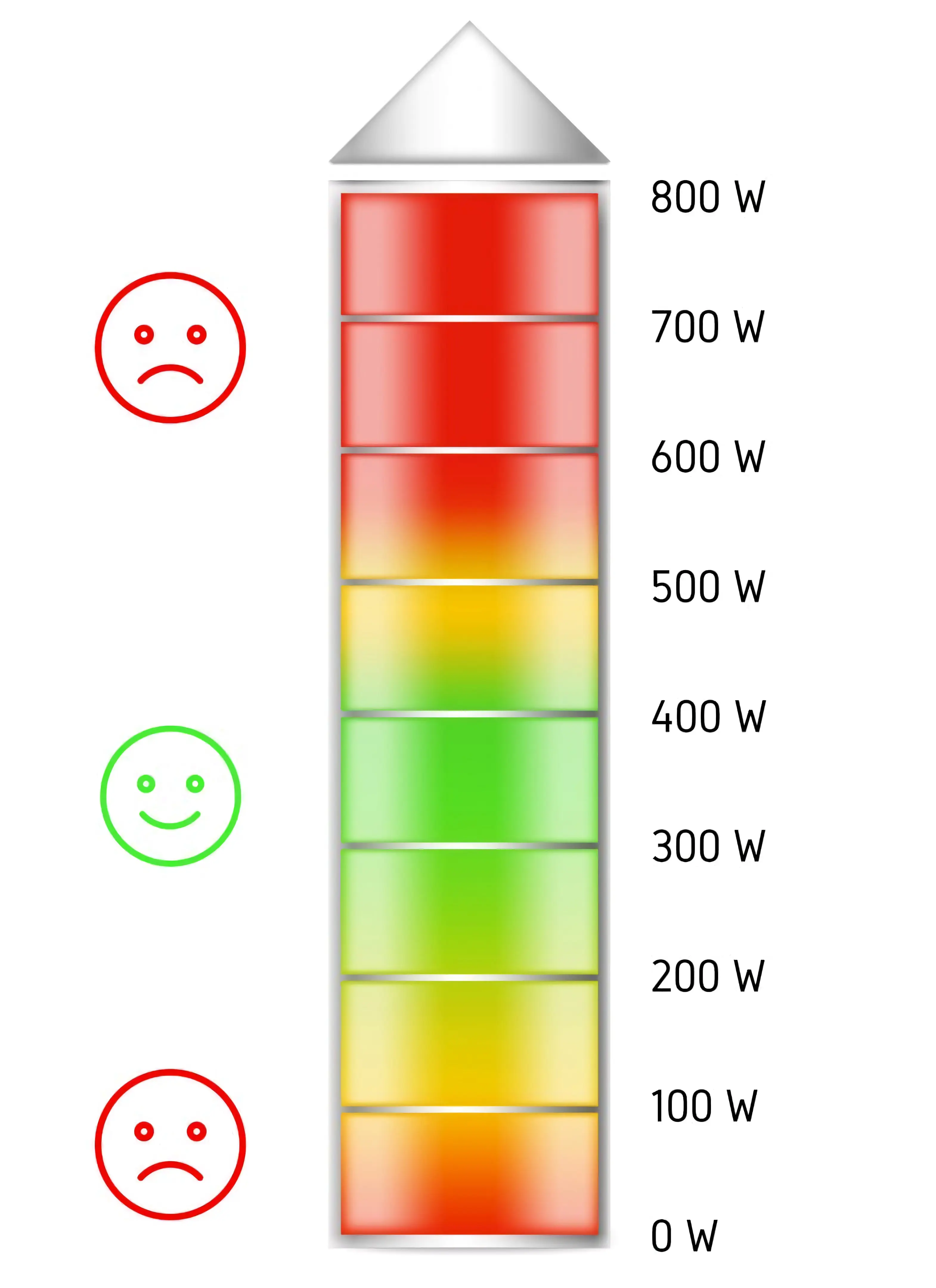 ENERGY-EFFICIENT AND HEALTHY COOKING
Optimal 320 W power - the best chefs in the world make the choice to buy slow cookers. The long and slow cooking process gives the best results, while saving energy.
Economical cooking - the slow cooker is exceptionally efficient. You will only pay 1.15 PLN (0.23236 EUR) for 6 hours of cooking at the highest setting (prices may vary depending on country and power supplier).
Lower power bills - the slow cooker belongs to some of the most energy efficient devices. Despite the long operation, it uses up less energy than a gas or electric cooker, which results in lower power bills than when using traditional household appliances.
Why is optimal power so important?

Insufficient power - may result in undercooked dishes, which formidably influences their taste,
Too much power - may cause high energy consumption, which makes your wallet thinner. If power is too high, prepared dishes might turn out to be dry, burnt or devoid of taste and nutritional values.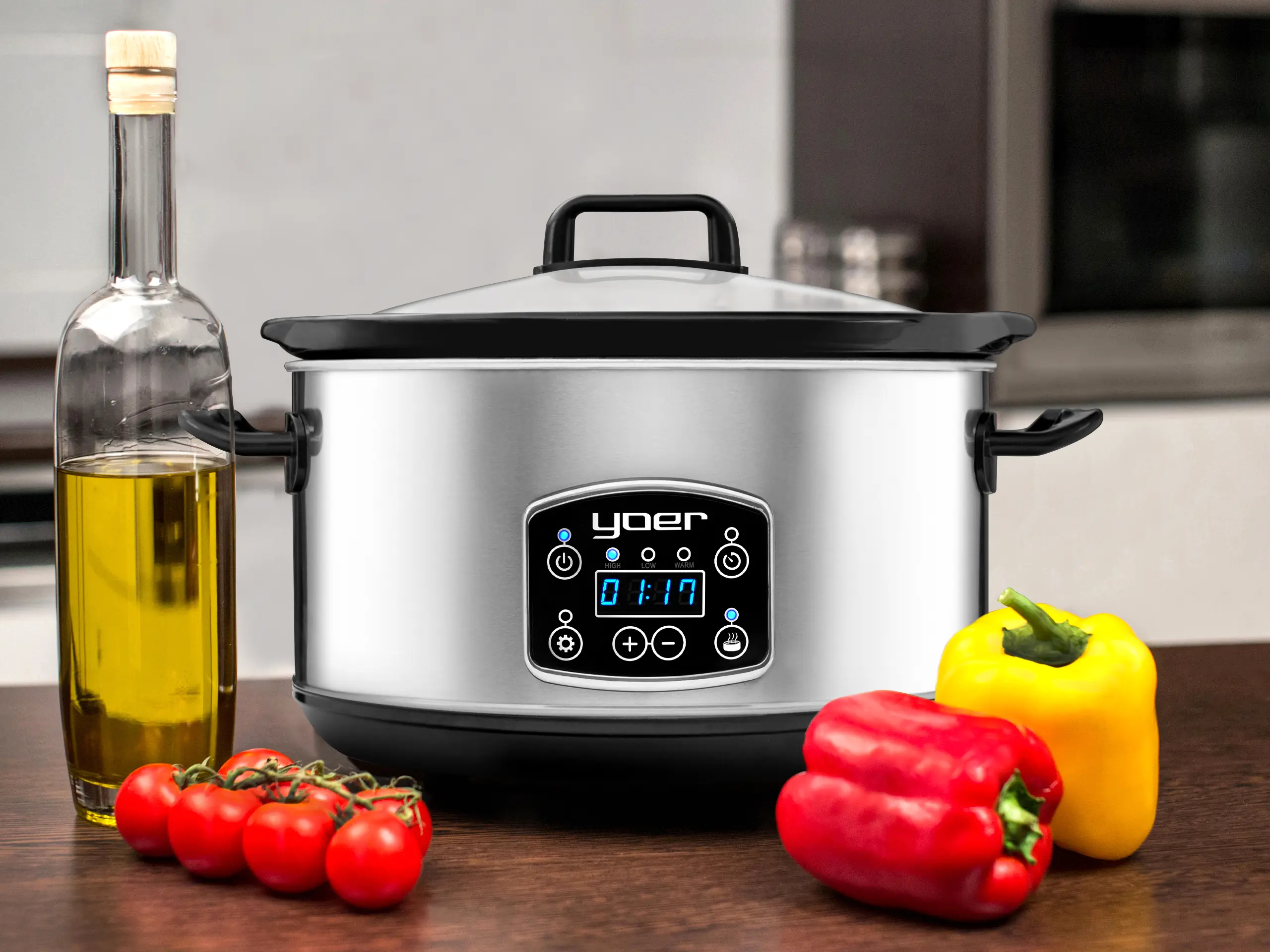 HEALTHY COOKING WITHOUT FAT
Limit fat consumption - you do not have to use large amounts of fat in the slow cooker, you can even completely forgo it. The slow cooker, while cooking at a finely tuned temperature ensures that the nutritional values of food remain intact. Most of your recipes can be easily adapted to work with a slow cooker, and all dishes will gain a deeper and more pronounced taste.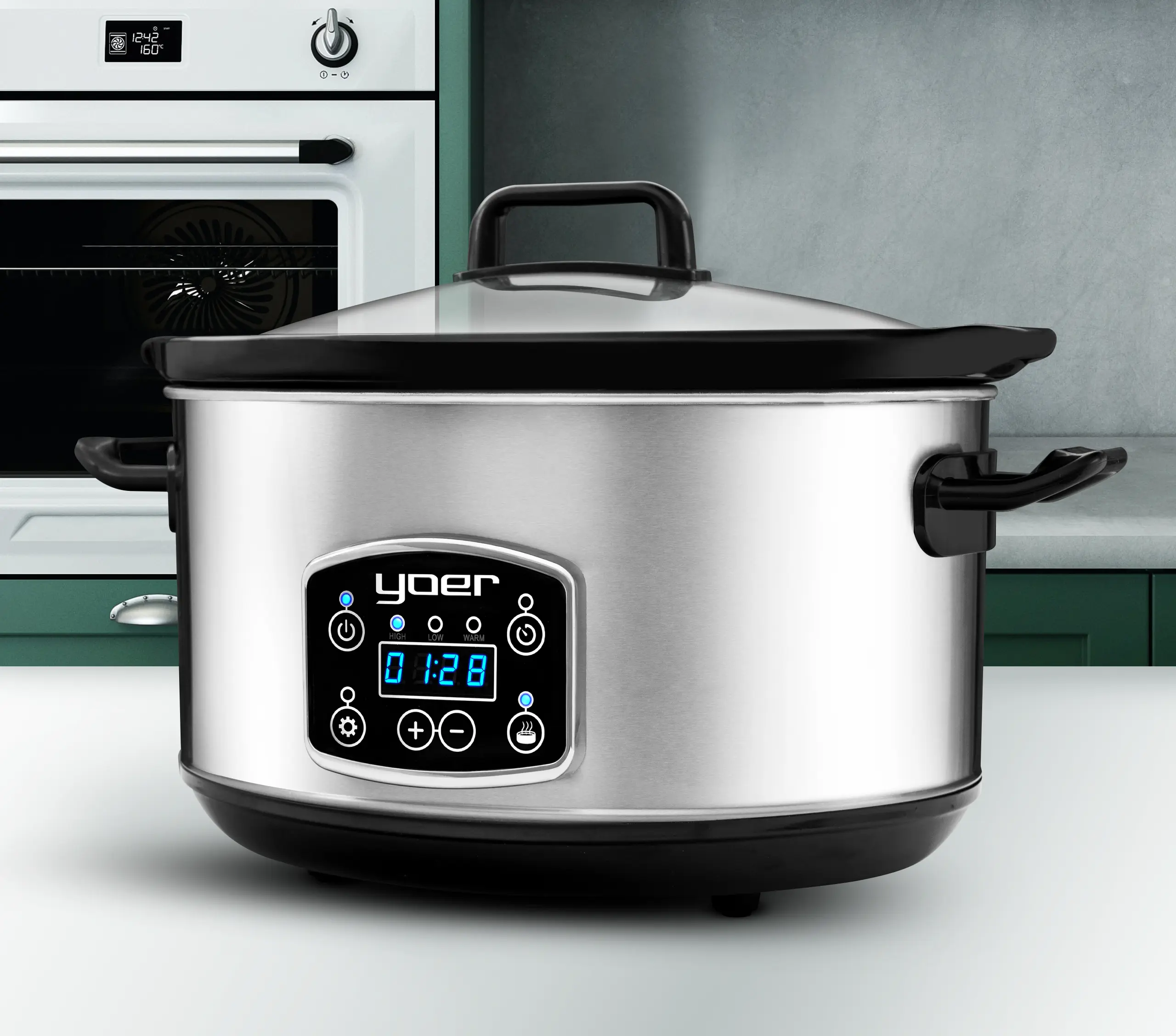 MODERN DESIGN AND STURDY CONSTRUCTION
INOX stainless steel body - the body of the slow cooker is made of high quality INOX stainless steel. Notable is also the LCD display, which not only makes it easier to operate the appliance, but also gives it the exclusive look.
Heat-resistant handgrips - provide the ease of carrying, without the need for oven mitts. They make using the device highly convenient, and take away the worry of accidental burns.
Profiled handgrips - provide a comfortable and trustworthy grip when you need to carry the slow cooker.
Glass lid with handle - allows for monitoring of the dish preparation process, without the need for constantly lifting up the lid. As a result, the ingredients in the pot do not lose heat.
Anti-slip feet - the base of the slow cooker is equipped with anti-slip feet to ensure the device remains stable.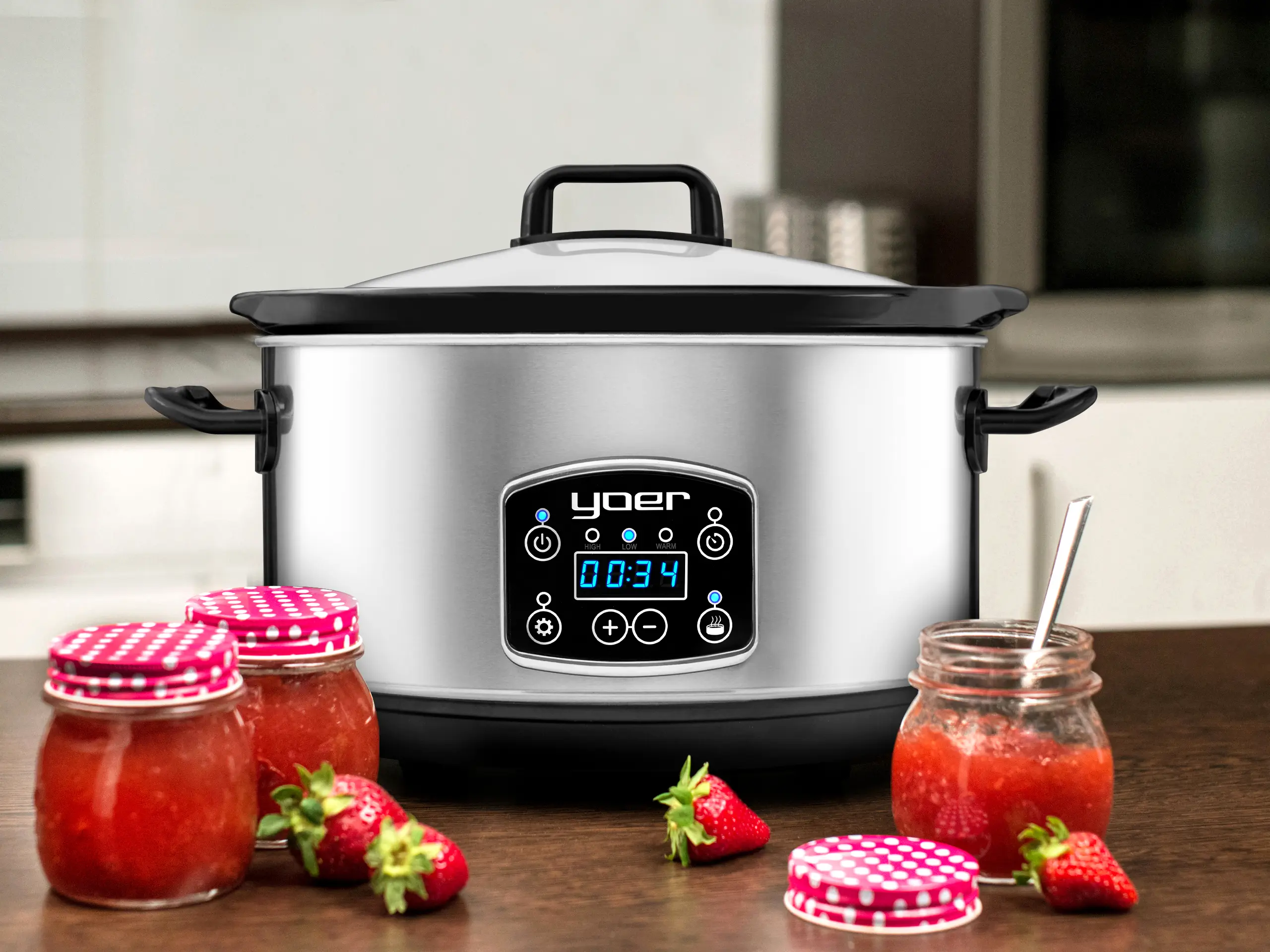 VERSATILE
A varietyof dishes - the device is great for preparing a myriad of different dishes, such as:
Soups and broths,
Tender meat,
Pasta and rice dishes,
Single-pot dishes,
Goulashes,
Meatballs,
Stews,
Stuffed cabbage rolls,
Curries,
Chili con carne,
Stewed cabbage,
Cakes,
Jams, marmalades and plum stews.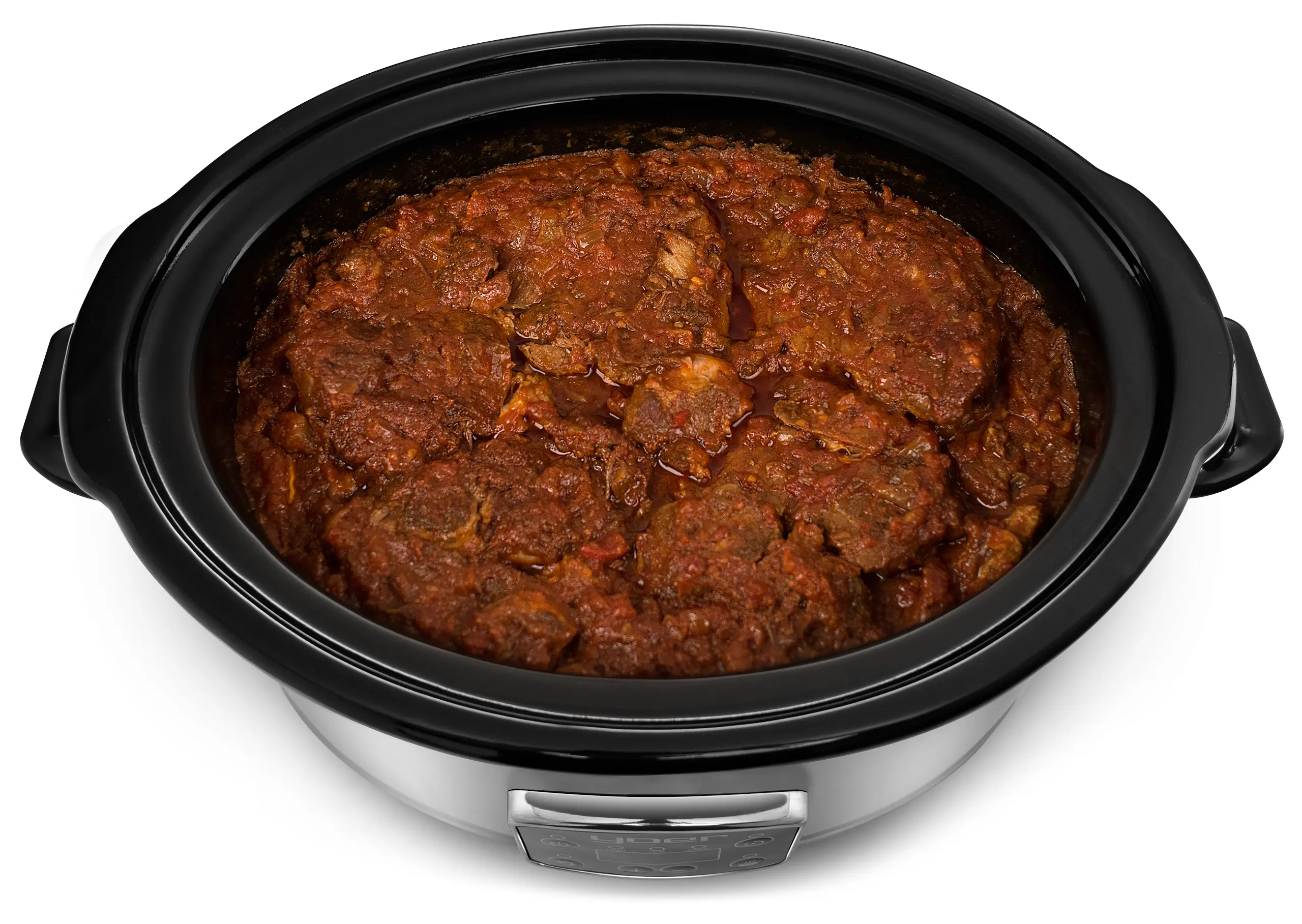 EXAMPLE SLOW COOKER DISHES:
Meatballs, goulashes and other meat-based dishes - the device enables preparing a variety of meat-based dishes. Owing to the low stewing temperature, pork, as well as beef will become incredibly tender.
Pulled pork:
Cookin time: 8 h
Program: LOW
Power usage cost: around 0,72 PLN (0.14548 EUR)
Power consumption: 1,2 kWh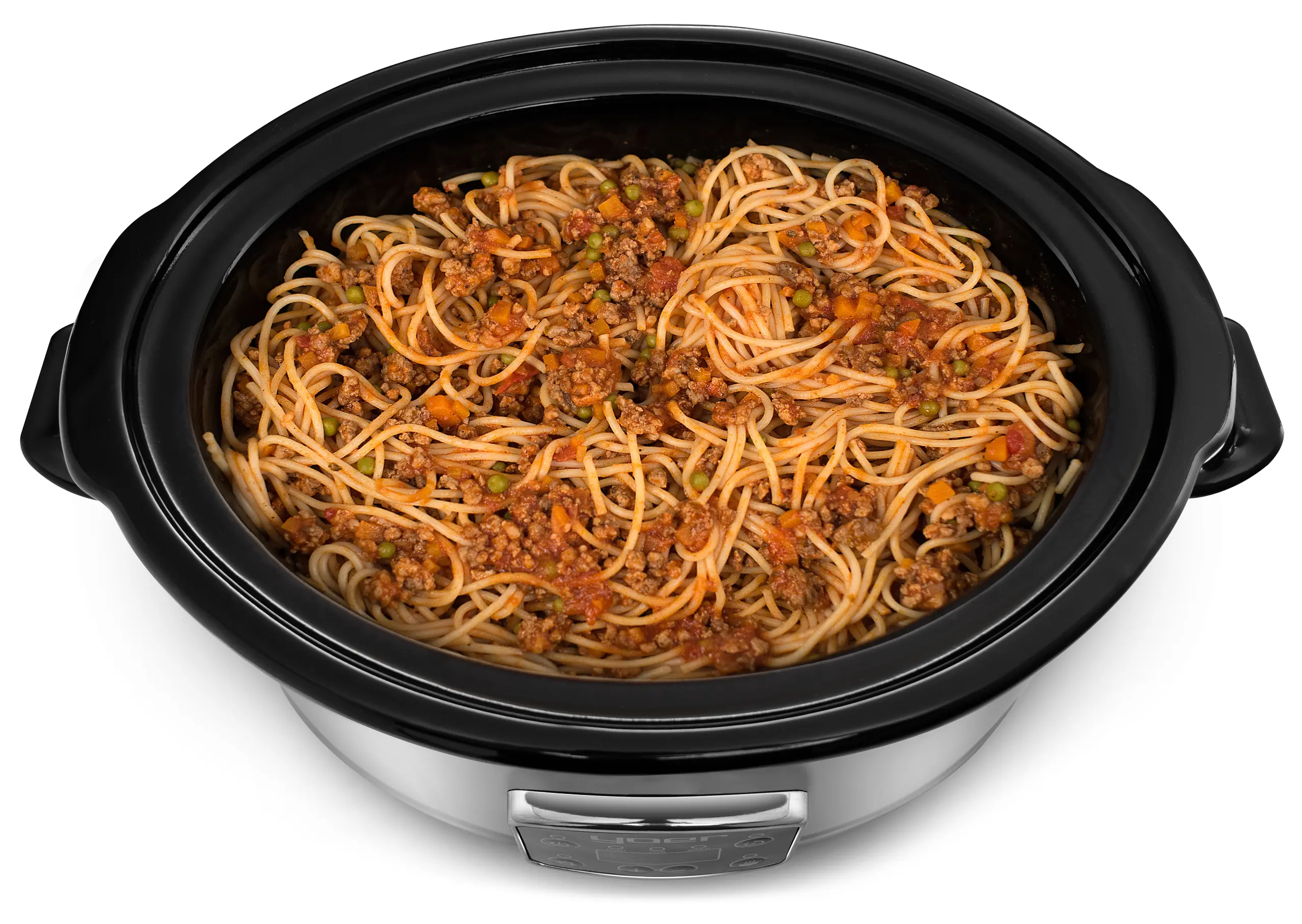 Pasta-based dishes - the slow cooker will excel in preparing delicious pasta-based dishes, including spaghetti bolognese, carbonara and lasagne.
Spaghetti bolognese:
Cooking time: 4 h
Program: HIGH
Power usage cost: around 0,77 PLN (0.15555 EUR)
Power consumption: 1,28 kWh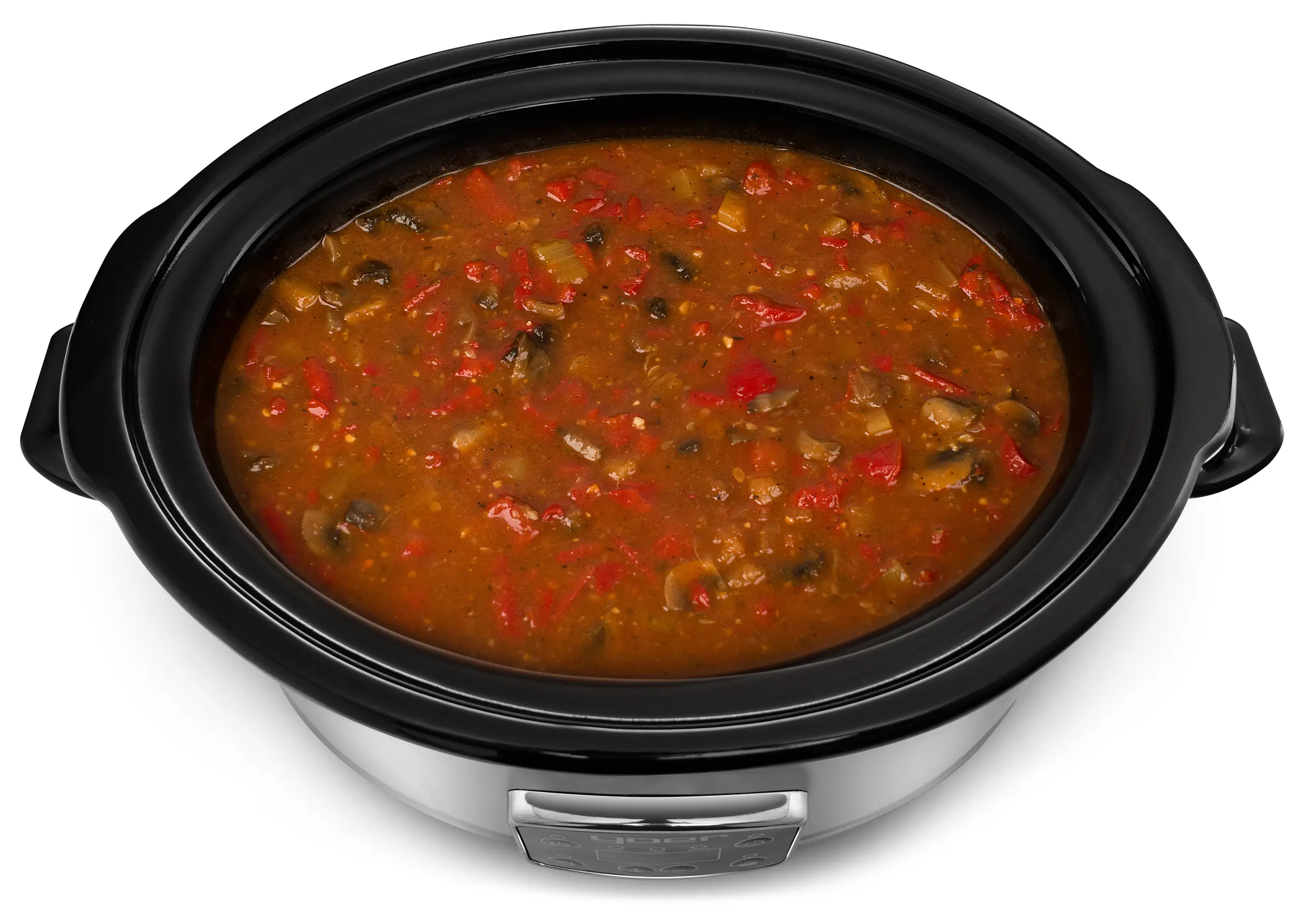 Leczo, soups and broths - the device is a perfect solution for preparing a wide variety of soups, especially brees and vegetable lecho, as well as other single-pot dishes.
Leczo:
Cooking time: 6 h
Program: HIGH
Power usage cost: around 1,15 PLN (0.23231 EUR)
Power consumption: 1,92 kWh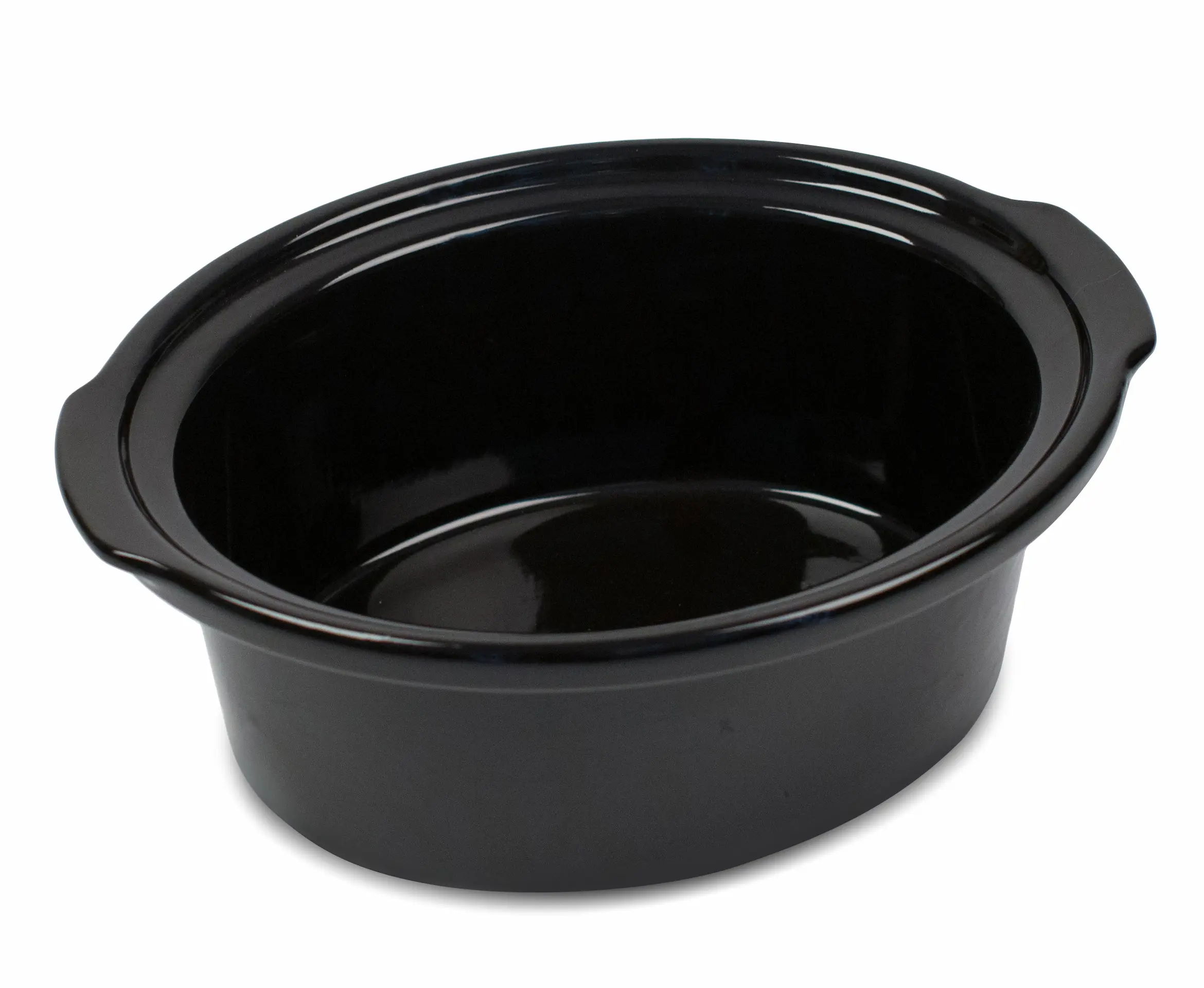 REMOVABLE CERAMIC POT
Huge bowl capacity - will let you make 10 portions of meal at once. Capacity of 6,5 L will help you prepare a dinner for a few days or a meal for bigger amount of people.
Perfectly conducts and spreads heat - your dishes will keep their temperature for a long time.
High quality ceramic coating - ensures easy and quick cleaning without the need for scrubbing. The coating is also resilient to scratching. The food doesn't stick to the pot, which minimizes the risk of burning.
Doesn't contain PFTE polymer - the composition of the coating does not include teflon. This makes it a safe for humans, eco-friendly solution.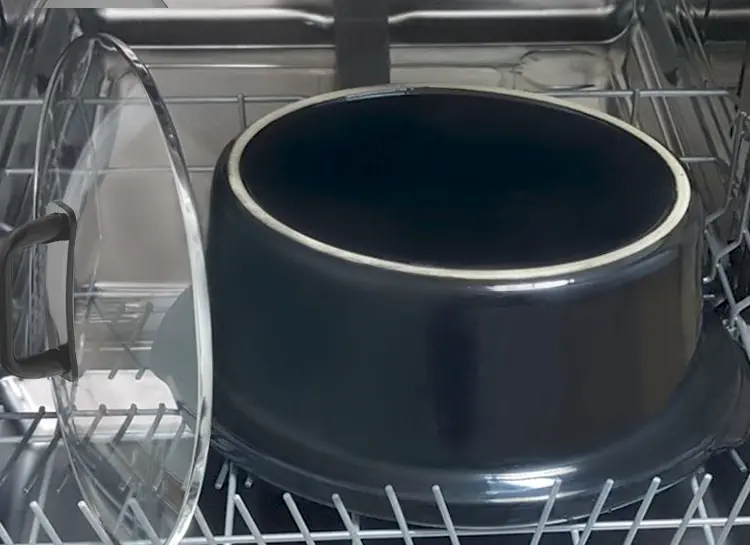 EASY CLEAN
Dishwasher-safe - the pot and the lid can be cleaned with running water, additionally, non-electrical parts can be washed in a dishwasher to save time for you and your family.
PRODUCT PRESENTATION
Watch our video and see all functions of our slow cooker Clever-Cook!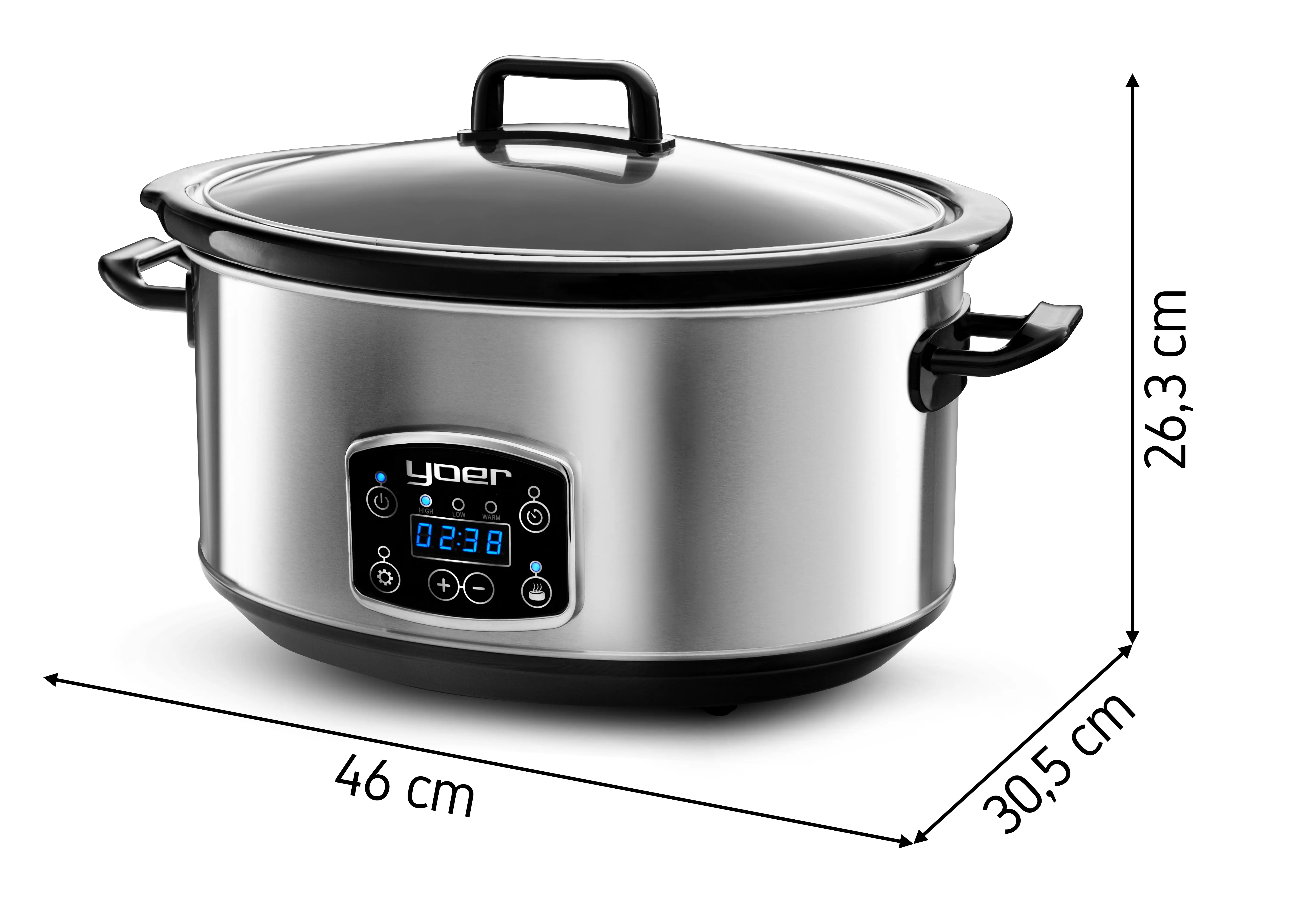 TECHNICAL SPECIFICATION
Capacity: 6,5 L
Max. power: 320 W
Power cord length: 100 cm (39.4'')
Weight: 4,5 kg (9.9 '')
Dimensions: 26,3 cm (height) x 46 cm (width) x 30,5 cm (length) (10.3 x 18.1 x 12'')
Color: Silver INOX with black accents
Polish power plug 220-240V 50/60Hz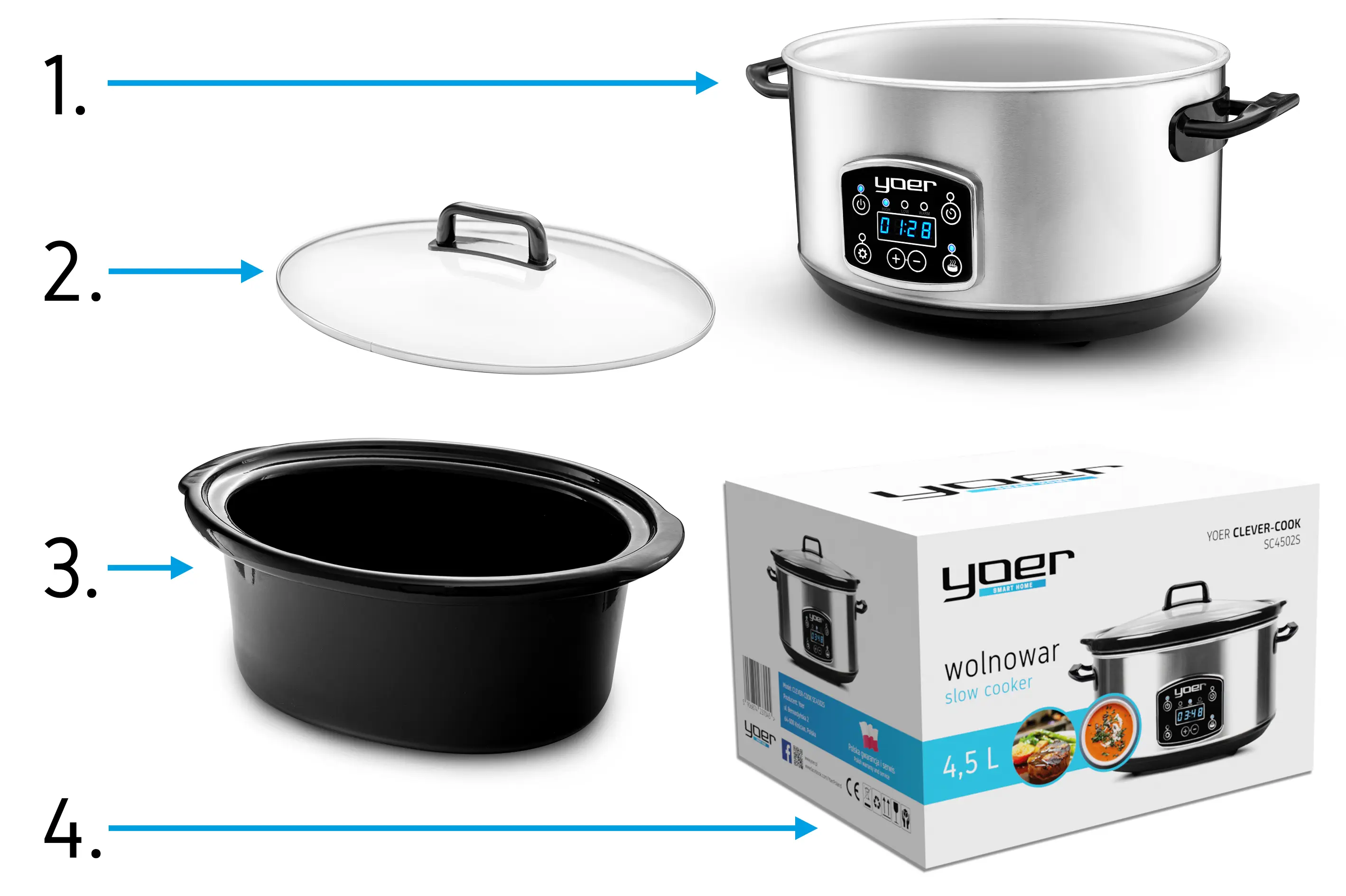 EQUIPMENT
Slow cooker
Lid
Ceramic pot
Original packaging
YOU WILL RECEIVE:
Slow cooker - details above,
A set of recipes,
YOER PLATINUM SECURITY card,
Warranty card,
Paragon/fa VAT,
PL/EN instruction manual.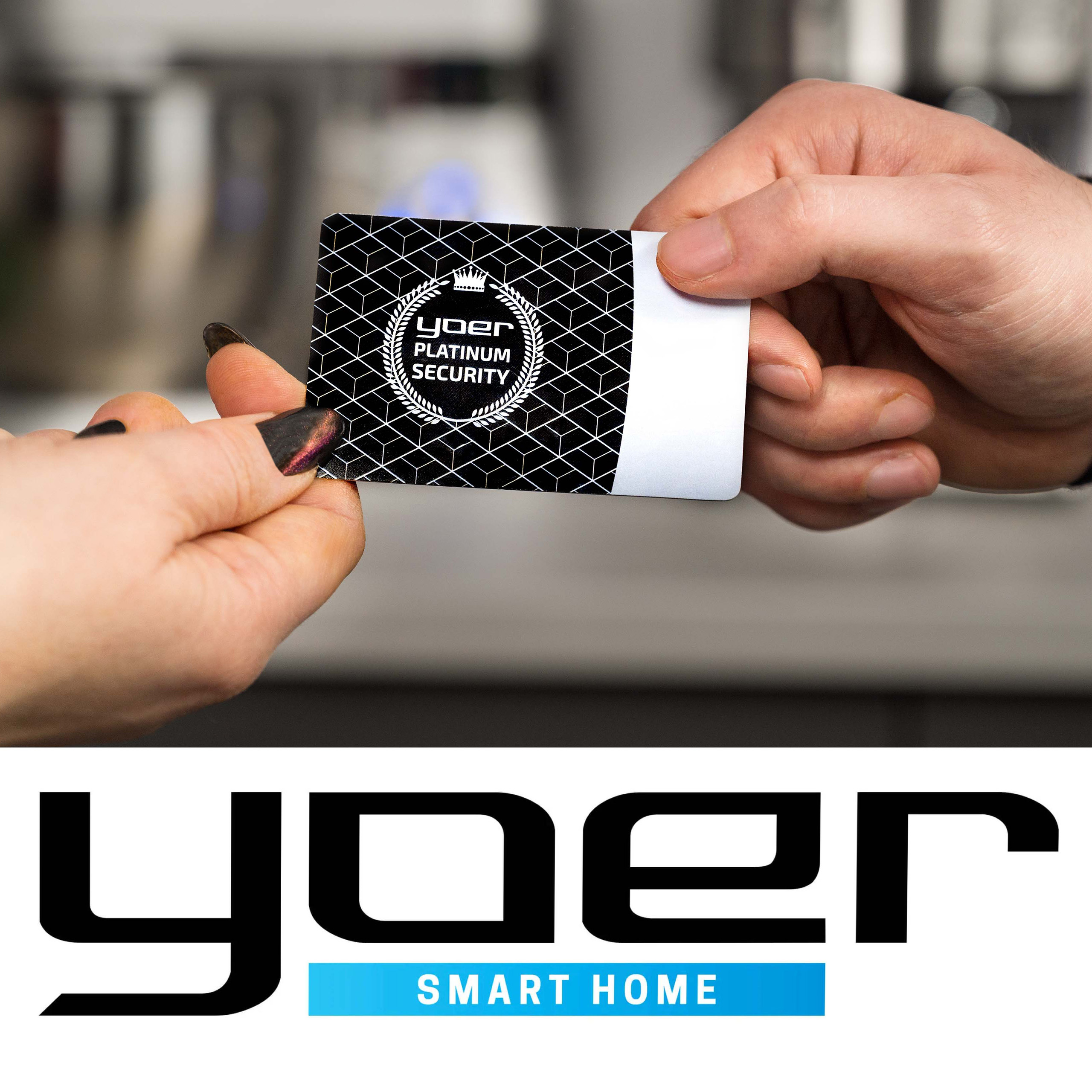 YOER PLATINUM SECURITY
When purchasing products from the official Yoer store you receive the YOER PLATINUM SECURITY package, which is an assurance of additional protection.
YOER - POLISH MANUFACTURER AND BRAND
YOER constitutes an excellent proof that high quality of products does not necesserily go in hand with high prices.

YOER SC6501S Instruction manual - Click here
Super urzadzenie polecam

ok

Wolnowar posiadam już parę lat i jestem bardzo zadowolona, wręcz nie wyobrażam sobie gotowania bez niego. Czy to zrazy, czy karkówka pod serem, czy bitki wołowe rozpływają się w ustach. Nie wspomnę o rosole i innych zupach, które nastawiam wieczorem z opóźnieniem czasowym (bardzo przydatna funkcja) a rano mam gotową, bez mieszania i stania przy kuchni :-) Dania są naprawdę smaczne, a warzywa nie są rozgotowane. POLECAM !

Garnek rewelacyjny. Działa znakomicie. Zdecydowanie polecam.

Jako facet z qchni mogę tylko powiedzieć: kto nie ma ten trąbą.
Od ponad dwóch lat 90% ciepłych posiłków powstaje w wolnowarze YOER. Mam też drugi, z górnej półki (3x droższy). Głównie służy za podstawkę na drobiazgi... Chyba, że sytuacja wymaga pracy na dwa.

Super garnek.
Zastanawiam się jak mogłam żyć bez niego.
Ułatwia życie w 200%.
Polecam wszystkim zapracowanym.
Gotować można wszystko, śliweczki same się smażą bez miesznia :)

Przyzwoity wolnowar w tej cenie, duża misa to dla mnie plus.

Genialne urządzenie! Gotowanie stało się przyjemnością!

Oceniam pozytywnie.

Zakochałem się robieniu dań z wolnowaru. Przepisy staram się tak wybierać aby było wymagane minimum pracy tj przygotój wszystko - wsyp - nastaw-zapomnij na kilka godzin. DO tej pory zrobiłem już żurek, żeberka BBQ, pieczeń, bigos, pomidorową, zapiekankę, szarpaną wieprzowinę i naprawdę wszystko było super. Moim synkom bardzo smakowały. Polecam

Wolnowaru użyłam dopiero raz, ale już widać, że to dobry zakup. Wygląda swietnie, wykonany precyzyjnie. Posiada intuicyjne sterowanie. Robiłam w nim leczo- mięso mieciutkie, a warzywa ugotowane na chrupko po 4 godzinach. Polecam. Jedyną niedogodnością jest jego rozmiar, lecz trzeba się z tym liczyć, bo misa jest bardzo pojemna

Towar nowy, wolnowar spełnił moje oczekiwania,gotowanie w nim to przyjemność. Prosty w obsłudze. Potrawy w nim gotowane są bardzo smaczne. Przy włączonym urządzeniu w nocy, można spać spokojnie. Polecam, zwłaszcza, że cena jest niewysoka. Minusem jest jedynie to,że naczynia ceramicznego nie można używać w piekarniku, ale wtedy byłby dużo droższy.

Garnek spoko. Działa jak powinien. Jedyny minus to nagrzewająca się obudowa, ale to obudowa metalowa więc nie ma co się dziwić. Poprostu trzeba trzymać go zdala od dzieci gdy pracuje.Natomiast parametry i obsługa bez zastrzeżeń.

Jestem bardzo zadowolona z zakupionego wolnowaru, spełnia moje oczekiwania i potrzeby w kuchni. Jestem bardzo zadowolona z poziomu obsługi sprzedawcy firmy

Polecam ten sprzęt. Za tak niską cenę można mieć naprawdę fajny sprzęt. Spełnia moje oczekiwania. Łatwy w obsłudze i czyszczeniu.

Recently viewed products

Other Customers also purchased

Similar products