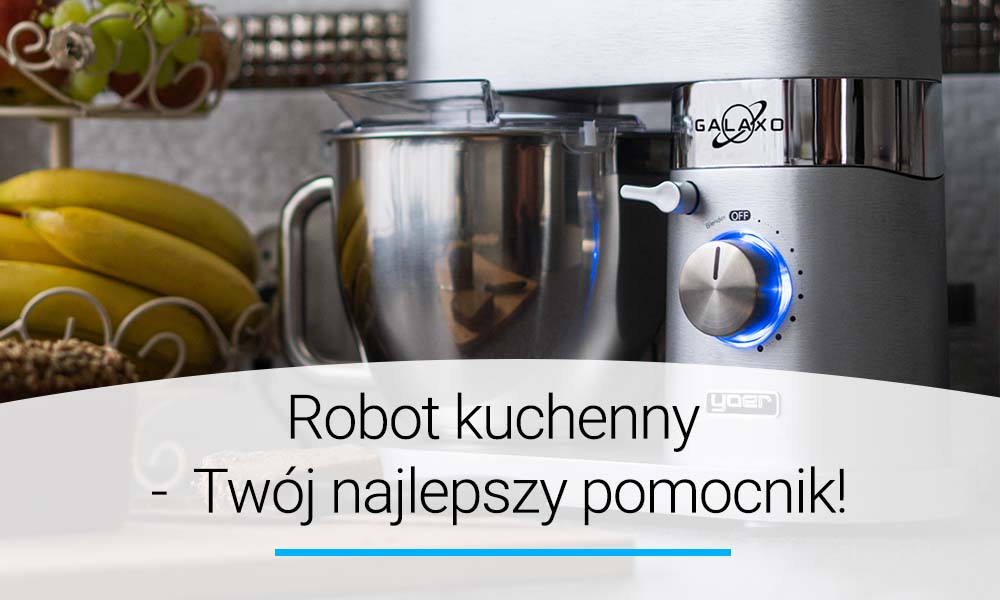 Jaki robot kuchenny wybrać?
Roboty kuchenne zaskarbiają sobie coraz większą sympatię wśród użytkowników. Nowoczesna kuchnia nieodzownie łączy się z tymi urządzeniami. Roboty potrafią naprawdę wiele. Możemy śmiało powiedzieć, że są mini komputerami. To właśnie dzięki ich funkcjonalności i stosunkowo niewielkim gabarytom, ich liczba zwolenników rośnie z dnia na dzień.
W tym artykule poznasz bliżej historię robota kuchennego - jego budowę i główne elementy. Dowiesz się o najważniejszych cechach oraz funkcjach. Jeśli jesteś domowym kucharzem, to ten wpis jest właśnie dla Ciebie.
Historia robota kuchennego
Historia robota kuchennego splata się z drogą miksera.
Pierwszy wielofunkcyjny robot kuchenny opatentował Brytyjczyk Kenneth Wood w 1950 roku.
Jego wynalazek wyposażony był w nowoczesne silniki elektryczne. Jak na tamte czasy posiadał wiele funkcji: miksował, ubijał, siekał, mielił, a nawet robił drinki.
Kolejna innowacja przyszła 10 lat później.
Francuska firma zaprojektowała urządzenie Robot-Coupe, które potrafiło także kroić i szatkować żywność.
Głównym pomysłodawcą był Pierre Verdon.
Innowator prowadził firmę cateringową. Podczas swojej pracy zauważył, ile czasu marnuje się na proste czynności jak mielenie przypraw czy mieszanie sosów.
W latach 70. XX wieku amerykański inżynier Carl Sontheimer udoskonalił pomysł Francuzów.
Dodał mechanizmy bezpieczeństwa, a także ulepszył tarcze i ostrza tnące. Choć początkowo nie szło mu najlepiej, to wiedział, że jego pomysł sprawdzi się za Oceanem.
I się nie pomylił. Chwilę później nastąpił prawdziwy boom na wielofunkcyjne roboty kuchenne, a jego urządzenie pod nazwą Cuisinart stało się hitem w amerykańskich domach.
W 1969 roku za Oceanem swój roboto-blender wydał Bill Barnard.
Urządzenie potrafiło wiele: robić gorącą zupę, miksować lody, mielić ziarno i wyrabiać ciasto na chleb.
Właśnie dzięki szerokiej funkcjonalności firma podbiła rynek amerykański.
Do dzisiaj działa z powodzeniem na całym świecie.