Breadmaker YOER Baker BM01S
19 automatic programs, 15 h timer, Automatic seed and fruit dispenser, 3 bread weight settings, 3 crust settings
Shipping within

24h

Availability

High

4923

pcs.
| | |
| --- | --- |
| The bar code | |
| EAN | 5900779770201 |
Description

Instruction manual

Reviews & ratings (9)
YOER Baker BM01S



★
Bread Maker
★
Yoghurt and Jam Maker


CONSTRUCTION - MAIN COMPONENTS
19 automatic programs

Transparent preview window

Top of the body made of tempered glass

Always-cool ergonomic handle

Anti-slip feet

Automatic seed and fruit dispenser

LCD display

Touch control panel

INOX stainless steel body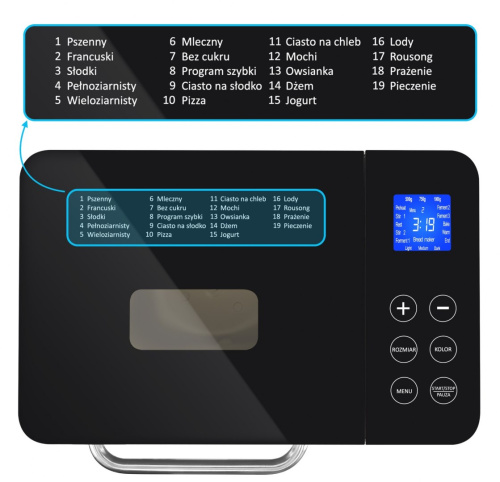 19 automatic programs:

Pszenny

- traditional wheat bread
Francuski

- french bread
Słodki

- bread with high sugar content or fruit
Pełnoziarnisty

- wholegrain bread
Wieloziarnisty

- multigrain bread
Mleczny

- milk-based bread
Bez cukru

- sugar-free bread
Program szybki

- bread baked in 98 minutes
Ciasto na słodko

- sweet dough
Pizza

- pizza dough
Ciasto na chleb

- bread dough without baking
Mochi

- traditional japanese mochi
Owsianka

- for preparing oatmeals
Dżem

- for preparing jams and marmalades
Jogurt

- homemade yoghurt
Lody

- ice cream (special attachment required)
Rousong

- traditional chinese rousong
Prażenie

- roasting of nuts, soy nuts, almonds etc.
Pieczenie

- baking without the process of making the dough.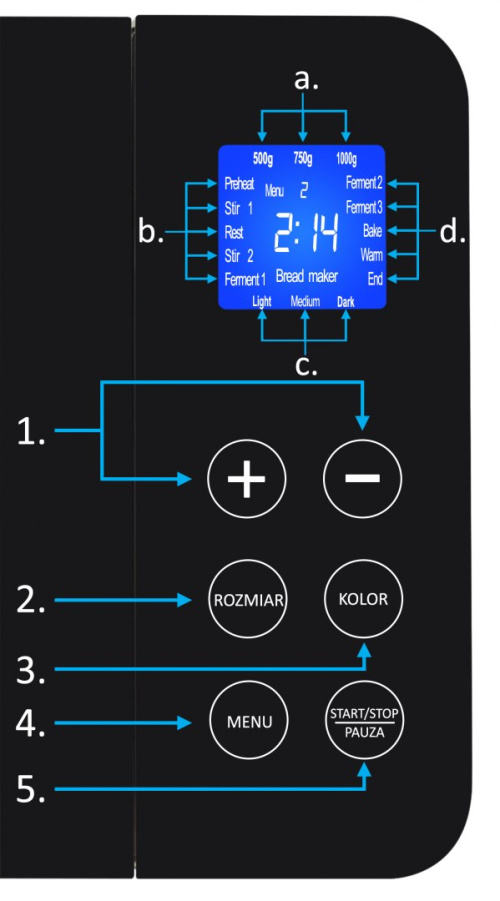 TOUCH CONTROL PANEL WITH LCD DISPLAY
The device is equipped with a backlit LED display. It shows information about the currently active program, set time delay and chosen settings. Additionally, operational status of the appliance can be checked, such as mixing, fermenting or baking.
a. - Selected bread size (500 g, 750 g lub 1000 g)
b. - Device operational status (part 1)
c. - Selected crust browning setting
d.

- Device operational status (part 2)
"+" i "-" buttons - allow for setting time delay between 10 minutes and 15 hours
"Rozmiar" button - allows for selecting bread size for programs 1-8
"Kolor" button - Allows for the adjustment of crust browning (light, medium, dark)
"Menu" button - Allows for choosing one of 19 automatic programs
"START/STOP" and "Pauza" button - Starts or stops the operation of the device. Long-pressing it halts and cancels currently active program.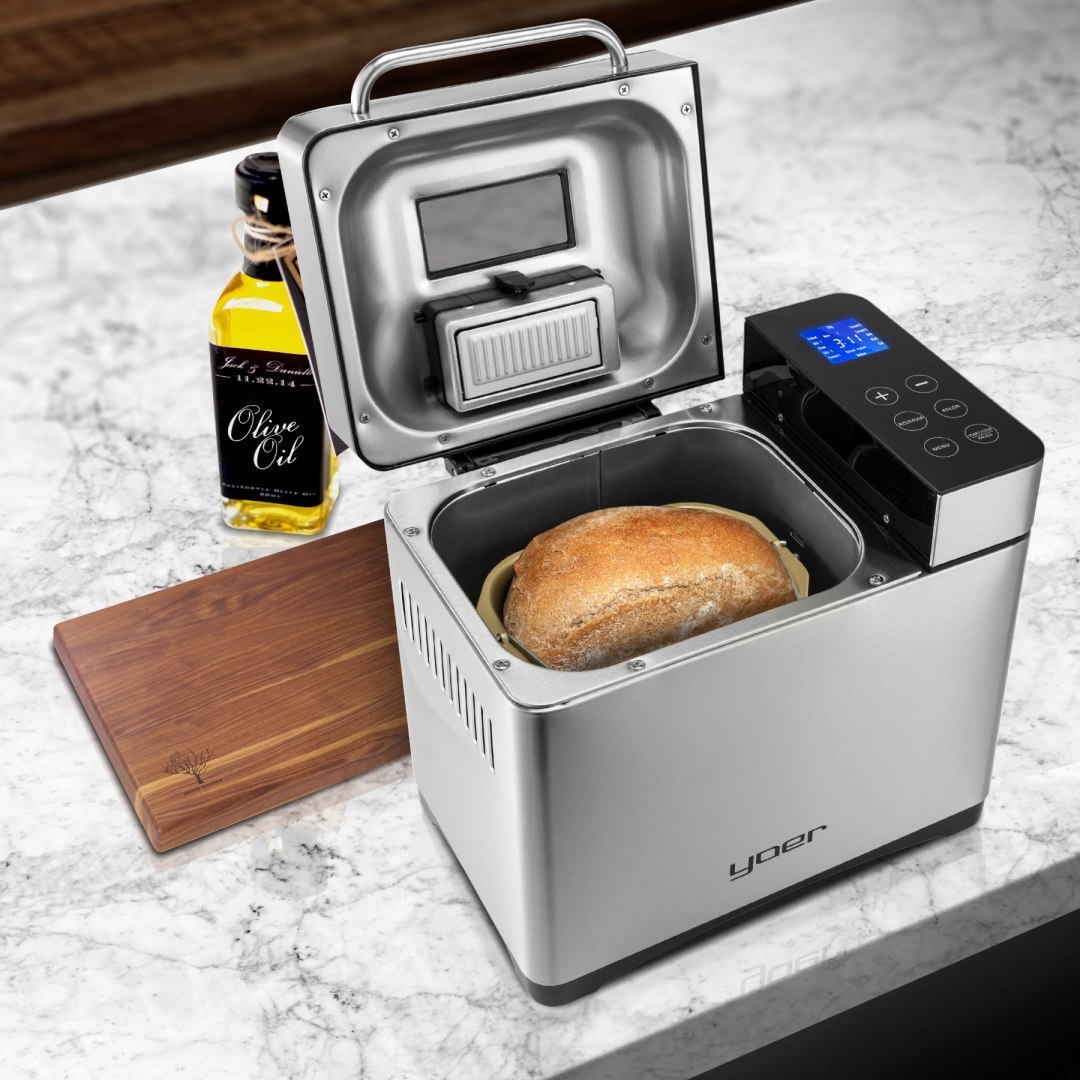 Touch control panel with LCD display - the unit is exceptionally easy to use. The easy to read panel and display allow for selecting an appropriate program, crust browning level and bread size.


Ease of use -

the device is very easy to use - All you need to do to bake wheat bread, for instance, is to add flour, yeast, water, butter, salt and sugar to the mould and select the appropriate program.


Clever operation

- The baker will automatically mix the ingredients, make the dough and bake the bread.


Automatic seed, herb and fruit dispenser
allows you to diversify the taste of your bread. The programs automatically set the time of adding seeds, fruit or spices to the mix.
Recipes

- We included a couple of sample recipes that will help you with not only baking delicious bread, but also with preparation of original dishes and snacks.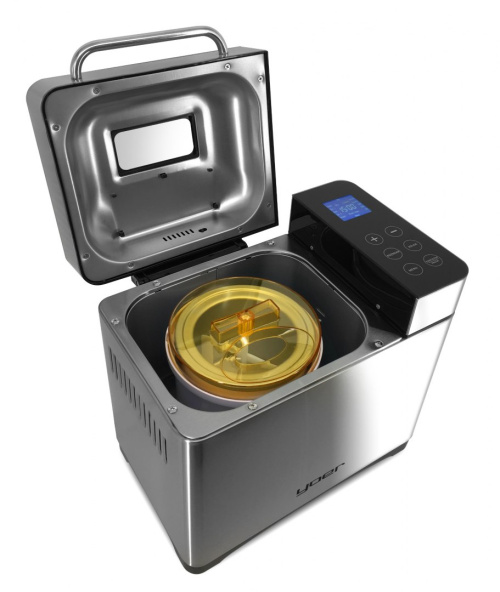 BM01A1 ICE CREAM ATTACHMENT - AVAILABLE IN THE "ACCESSORY" TAB
Was specially designed for the YOER BM01S bread maker. It allows for preparing delicious homemade ice cream. All you need to do is to put the mould in the freezer, prepare the mix and then put it in the mould. All that is left then is to press the button on the appliance and wait a few moments to enjoy the tasty, cold treat.
Cooling bowl - made of metal, with dual walls and a specialized temperature keeping fluid applied between them to allow the bowl to retain low temperature for longer, which enables the preparation of a delicious ice cream sundae.
Mixing paddle - specially profiled, keeps the ice cream moving to achieve uniform and mellow texture.
Automatic dough mixing, kneading, proving and baking process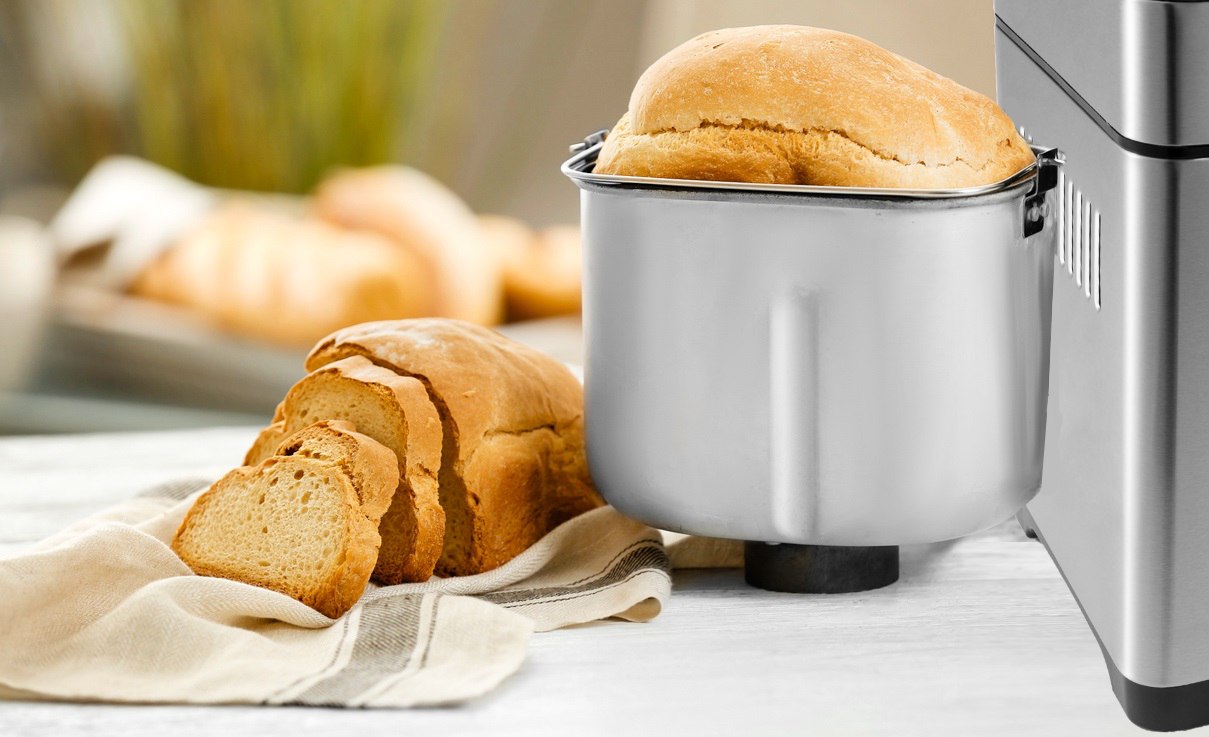 3 weight settings: 500 g, 750 g, 1000 g - allow you to bake the bread of desired size. You can make a large, medium or small loaf of bread to accommodate your guests.

3 levels of crust browning: light, medium, dark - enable baking the exact kind of bread you love. While eating, we do not only employ our mouths, but also our eyes. Owing to this functionality, the bread maker will indulge your taste as well as visual preferences.
Heat keeping functionality - the appliance will retain the temperature of the bread for an hour after it has been done, which assures your loaf will be warm when you are ready to take it out.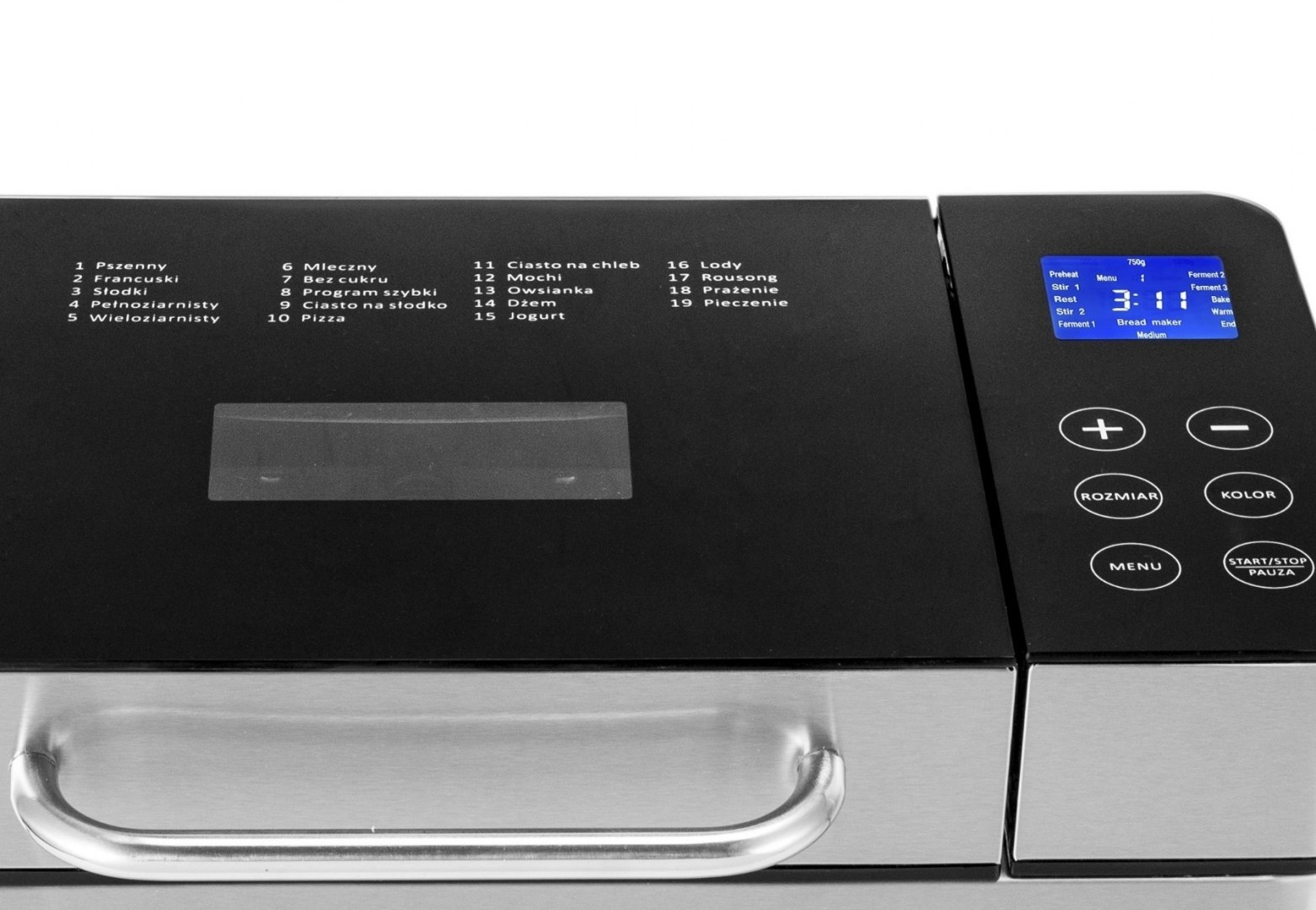 Up to 15 hours timer delay - allows the user to set the time after which it will finish operation. Owing to that you can always enjoy freshly baked bread in the morning or after getting home from work.

Transparent preview window - Enables monitoring of the baking process, so that you can keep an eye on the meal being prepared.

Settings memory - If a short blackout happens during operation, the device will retain the settings and will resume work after power has been restored.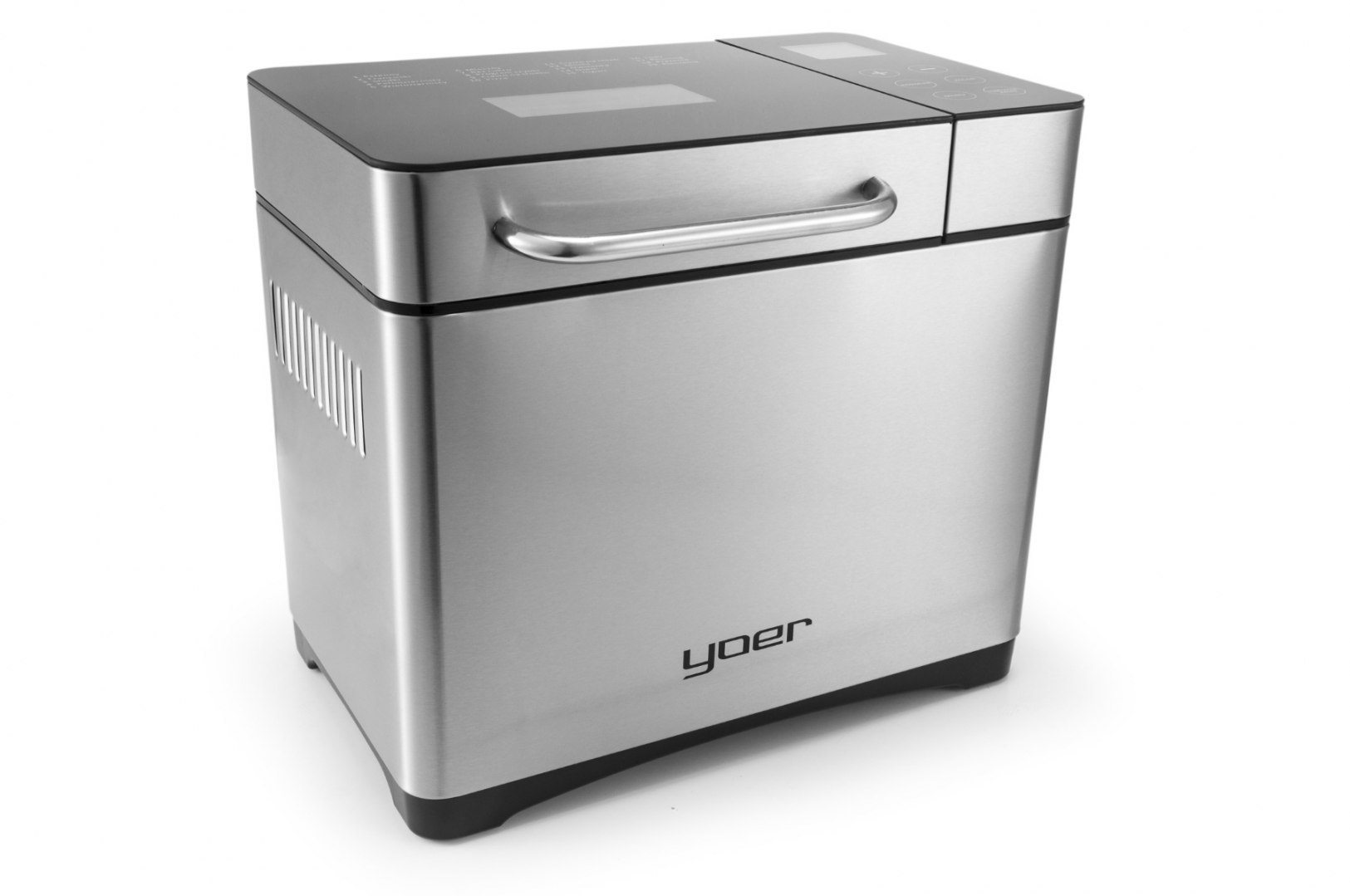 Body made of high quality stainless steel and tempered heat-resistant glass
will allow you to enjoy the appliance for years to come, while getting the same excellent results every time. Find out how easy it is to bake bread in the comfort of home.
Compact size - small, yet big, due to its practically. The bread maker does not take up much space, and the small dimensions enable hassle-free storage of the device.



TECHNICAL SPECIFICATION
Power: 710 W

Automatic program count: 19

Timer: 15 h

Power cord length: 1.2 m

Weight: 5.7 kg

Dimensions: 31 cm (height) x 34.5 cm (width) x 26.3 cm (length)

Internal dimensions of the mould: around 13 cm (height) x 17 cm (width) x 13cm (length)

Color: Silver with black accents (Stainless steel and tempered glass)

Polish power plug 220-240V ~ 50/60 Hz
EQUIPMENT
Bread maker

Mixer

Mould

Container with measure

Scoop with measure

Hook

Original packaging

Warranty card

You will receive:


Bread maker - details above

Receipt / VAT invoice

PL / EN instruction manual

YOER BM01S instruction manual - Click here
Kupiłem automat z przystawką.Jakość materiałów i wykonanie na najwyższym poziomie. Miałem już wcześniej dwa opiekacze więc wiedziałem czego szukać. Jedynym minusem są umiarkowanie opisane przepisy. Dużym plusem jest dużo programów i przystawka do lodów.Najlepszy automat do chleba jaki miałem i polecam.Przepisów każdy wie gdzie szukać

sortownia50@interia.pl

(2020-04-17)

Wypiekacz wykonany starannie, użyte materiały wyglądają na porządne. Pierwszych sześć prób wypieku chleba to porażka. Ale to nie wina opiekacza. Załączone w instrukcji przepisy, szczególnie przy mąkach cięższych, nie zawsze muszą się udać. Trochę informacji z netu, trochę intuicji i poszło w dobrą stronę. Aktualnie dopieszczam przepisy skrzętnie notując proporcje składników, a wypiekacz zamienia je w smaczny, świeży domowy chlebek. Ciekawy design i umiarkowane jak na wypiekacz rozmiary powodują, że świetnie komponuje się w nowoczesnej kuchni. Trzyletnia gwarancja door-to-door swoje znaczy.

Bardzo dobry produkt jestem W trakcie testowania ale już mogę powiedzieć że się sprawdza muszę dokupić jeszcze przystawkę do Lodów. Polecam

Jestem w trakcie testów ale spoko produktu polski czytelny wyświetlacz i prostota obsługi

Duńczyk 1972

(2019-09-16)

Dobry produkt spełnia moje oczekiwania , czekam jeszcze z niecierpliwością na przystawkę do lodów , polecam

SUPER POLECAM.

Najważniejszy jest kompaktowy rozmiar, automat zmieści się naprawdę w każdej kuchni. Banalnie prosta obsługa, wszystko opisane krok po kroku. Urządzenie bez problemu obsługuje 11-latka, która nie może się doczekać obiecanej przez firmę przystawki do lodów. Zdecydowanie polecam.

Bardzo dobra jakość za przystępną cenę. 3-letnia gwarancja świadczy dobrze i o producencie jak i o towarze.

Towar zgodny z oczekiwaniami

Recently viewed products

Other Customers also purchased

Similar products