Language
Breadmaker YOER Baker BM01S
19 automatic programs, 15 h timer, Automatic seed and fruit dispenser, 3 bread weight settings, 3 crust settings
899.00
-45%
498.00
Lowest price in the last 30 days:

Shipping within

Shipment within 24 hours

Availability

Small

69

pcs.
| | |
| --- | --- |
| Bar code | |
| EAN | 5900779770201 |
Description

Instruction manuals
BREADMAKER, DOUGH, JOGHURT, JAM, ICE CREAM MAKER YOER Baker BM01S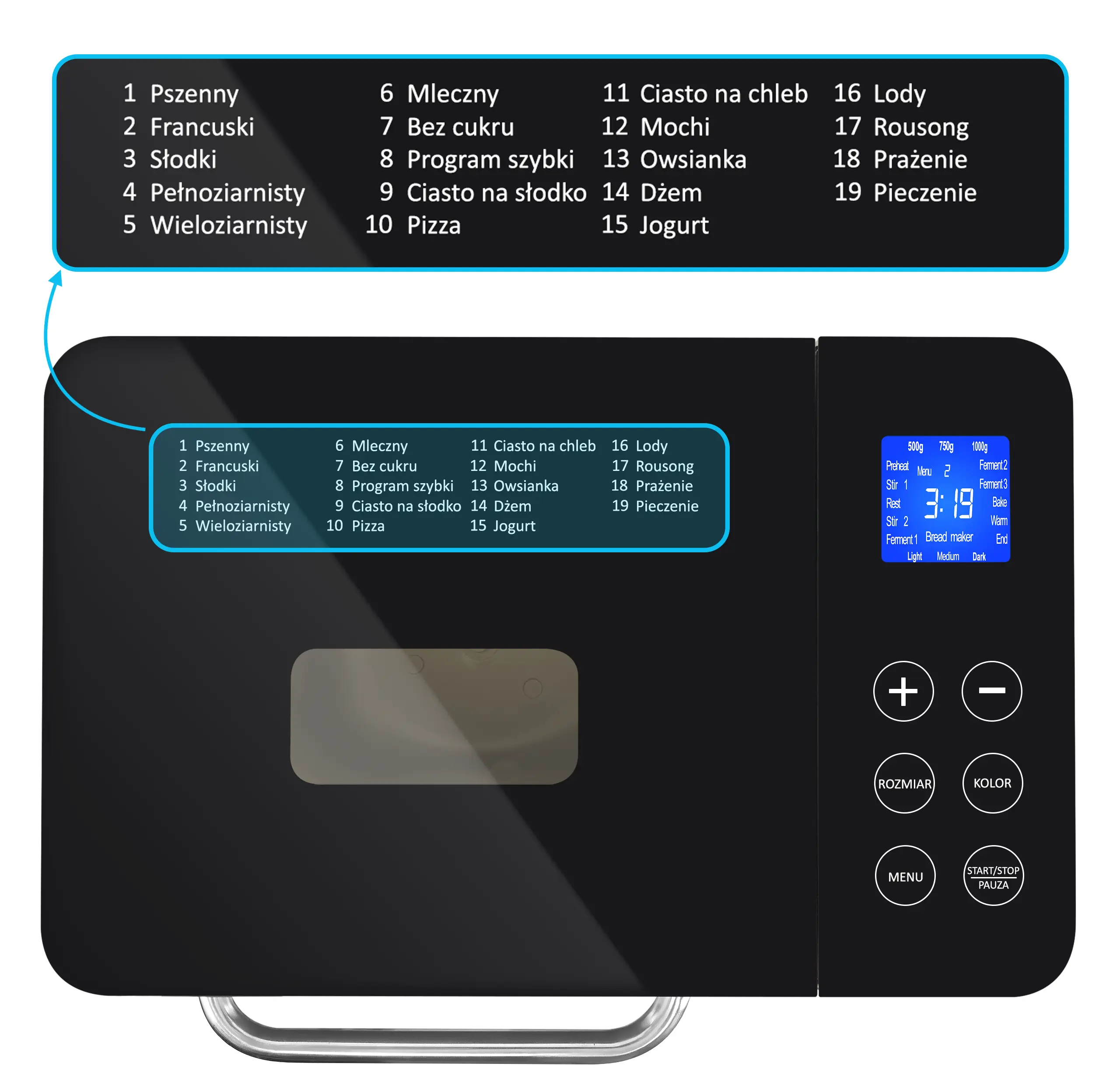 19 AUTOMATIC PROGRAMS
PSZENNY / BEZGLUTENOWY - traditional wheat bread
FRANCUSKI - french bread
SŁODKI - bread with high sugar content or fruit
PEŁNOZIARNISTY - wholegrain bread
WIELOZIARNISTY - multigrain bread
MLECZNY - milk-based bread
BEZ CUKRU - sugar-free bread
PROGRAM SZYBKI - bread baked in 98 minutes
CIASTO NA SŁODKO - sweet dough
PIZZA - pizza dough
CIASTO NA CHLEB - bread dough without baking
MOCHI - traditional japanese mochi
OWSIANKA - for preparing oatmeals
DŻEM - for preparing jams and marmalades
JOGURT- homemade yoghurt
LODY - ice cream (special attachment required)
ROUSONG - traditional chinese rousong
PRAŻENIE - roasting of nuts, soy nuts, almonds etc.
PIECZENIE - baking without the process of making the dough.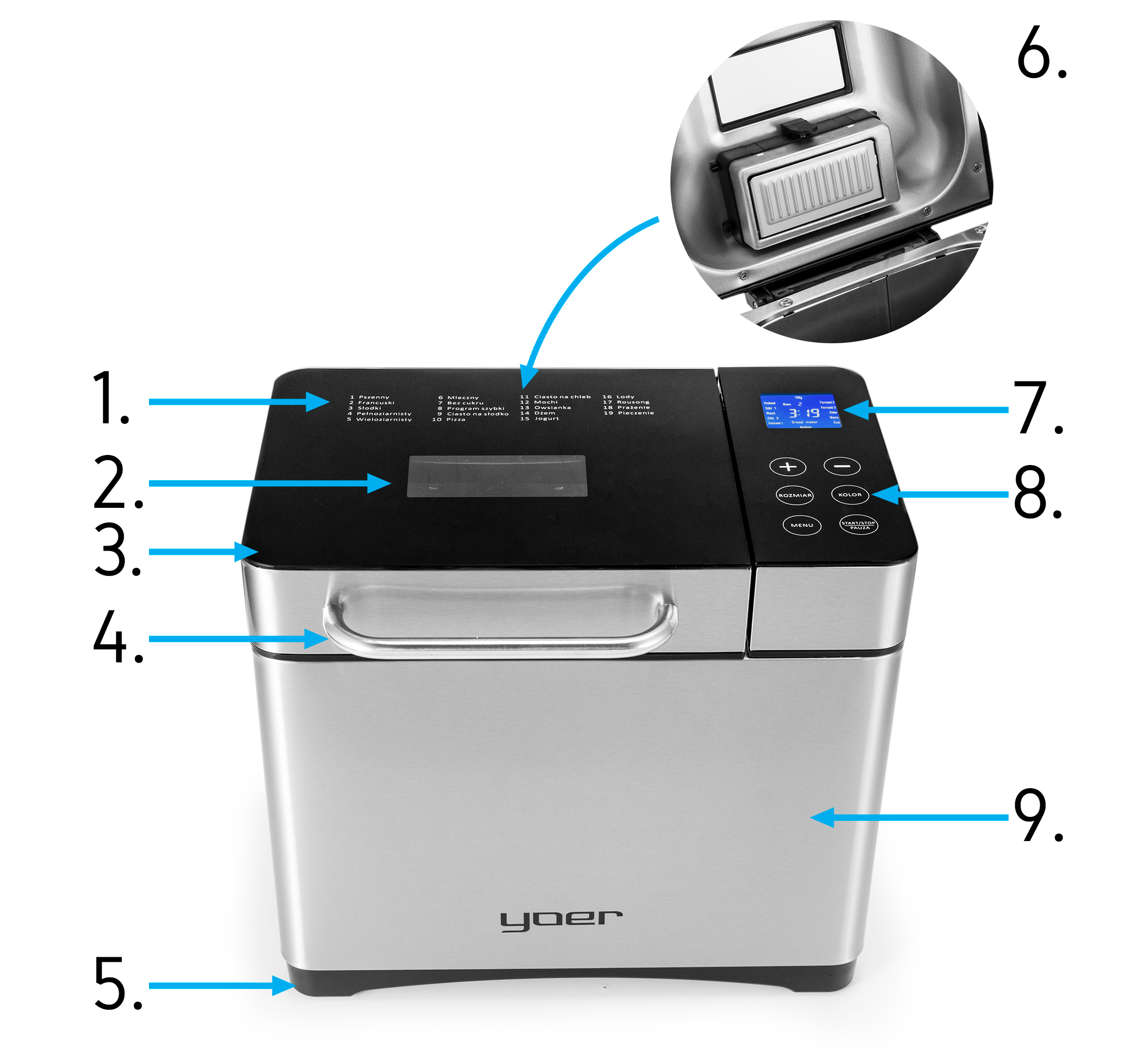 CONSTRUCTION - MAIN COMPONENTS
19 automatic programs
Transparent viewing window
Top of the body made of tempered glass
Non-heating up, ergonomic handle
Anti-slip feet
Automatic fruit and seed dispenser
LCD display
Touch control panel
INOX stainless steel body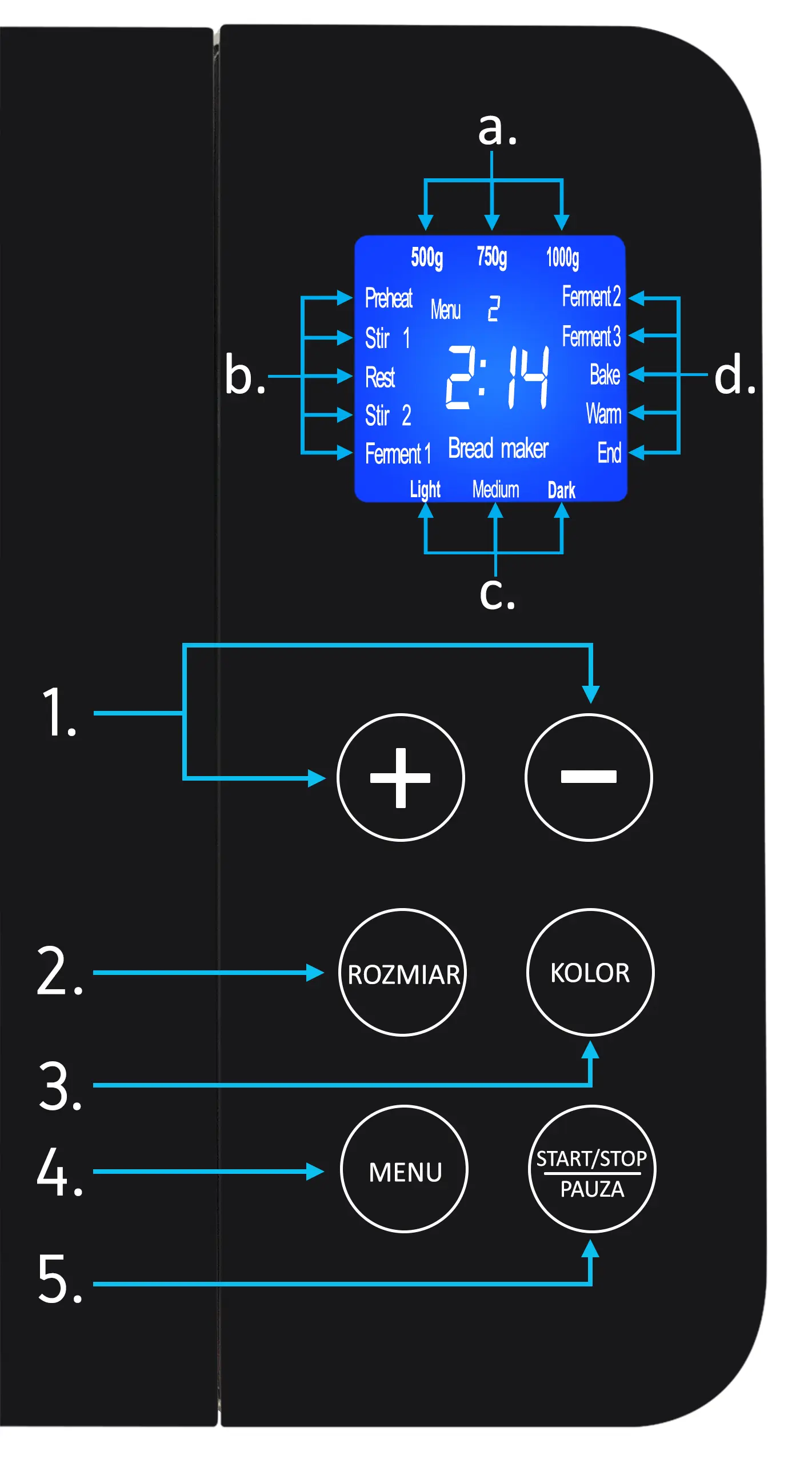 TOUCH CONTROL PANEL WITH LED DISPLAY
Backlit LED display - shows information about the currently active program, set time delay and chosen settings. You can also check the appliance's operational status.
DISPLAY SYMBOLS
Selected bread size (500 g, 750 g lub 1000 g)
Device operational status:

Heating-up,
Mixing ingredients and preliminary dough preparation,
Dough resting,
Bread forming,
1st fermentation level (level count depends on the selected program).

Selected crust browning setting (light, medium, dark)
Device operational status:

2nd fermentation level,
3rd fermentation level,
Baking,
Maintaining temperature,
Work finished.
ADDITIONAL BUTTONS
"+" and "-" buttons - allow for setting time delay between 10 minutes and 15 hours.
"Rozmiar" button - allows for selecting bread size for programs 1-8.
"Kolor" button - allows for the adjustment of crust browning (light, medium, dark).
"Menu" button - allows for choosing one of 19 automatic programs.
"START/STOP" and "Pauza" button - starts or stops the operation of the device. Long-pressing it halts and cancels currently active program.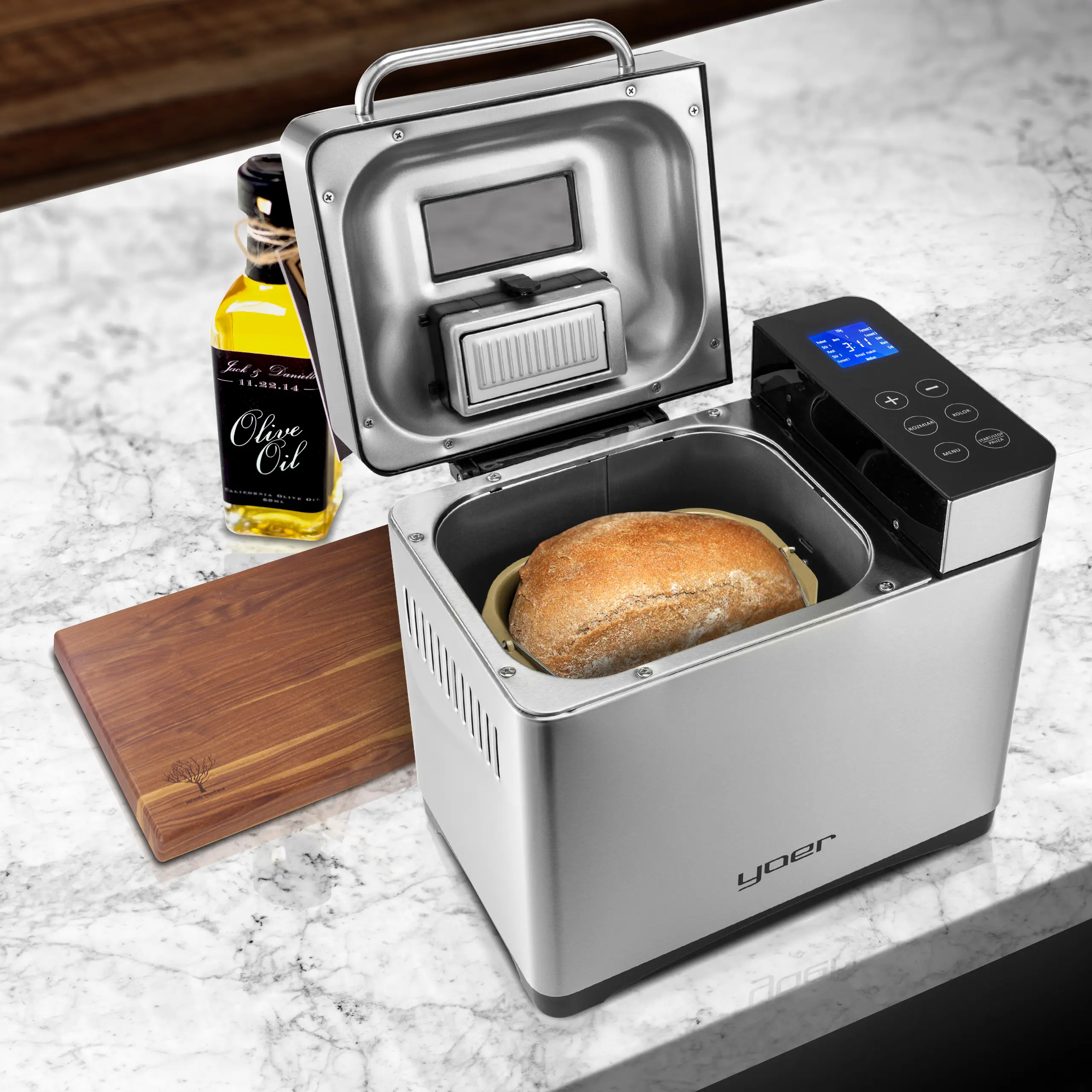 EASE OF USE
Easy to use - the unit is exceptionally easy to use. All you need to do is add the right ingredients to the mould and select an appropriate program. You do not have knead dough or decide on its consistency yourself.
Intelligent operation - the baker will automatically mix the ingredients, knead the dough, wait for it to grown, and bake the bread.
Automatic seed, herb and fruit dispenser - allows you to diversify the taste of your bread. The programs automatically set the time of adding seeds, fruit or spices to the mix.
Recipes - we included a couple of sample recipes that will help you with not only baking delicious bread, but also with preparation of original dishes and snacks. Find out how easy it is to bake bread in the comfort of your home!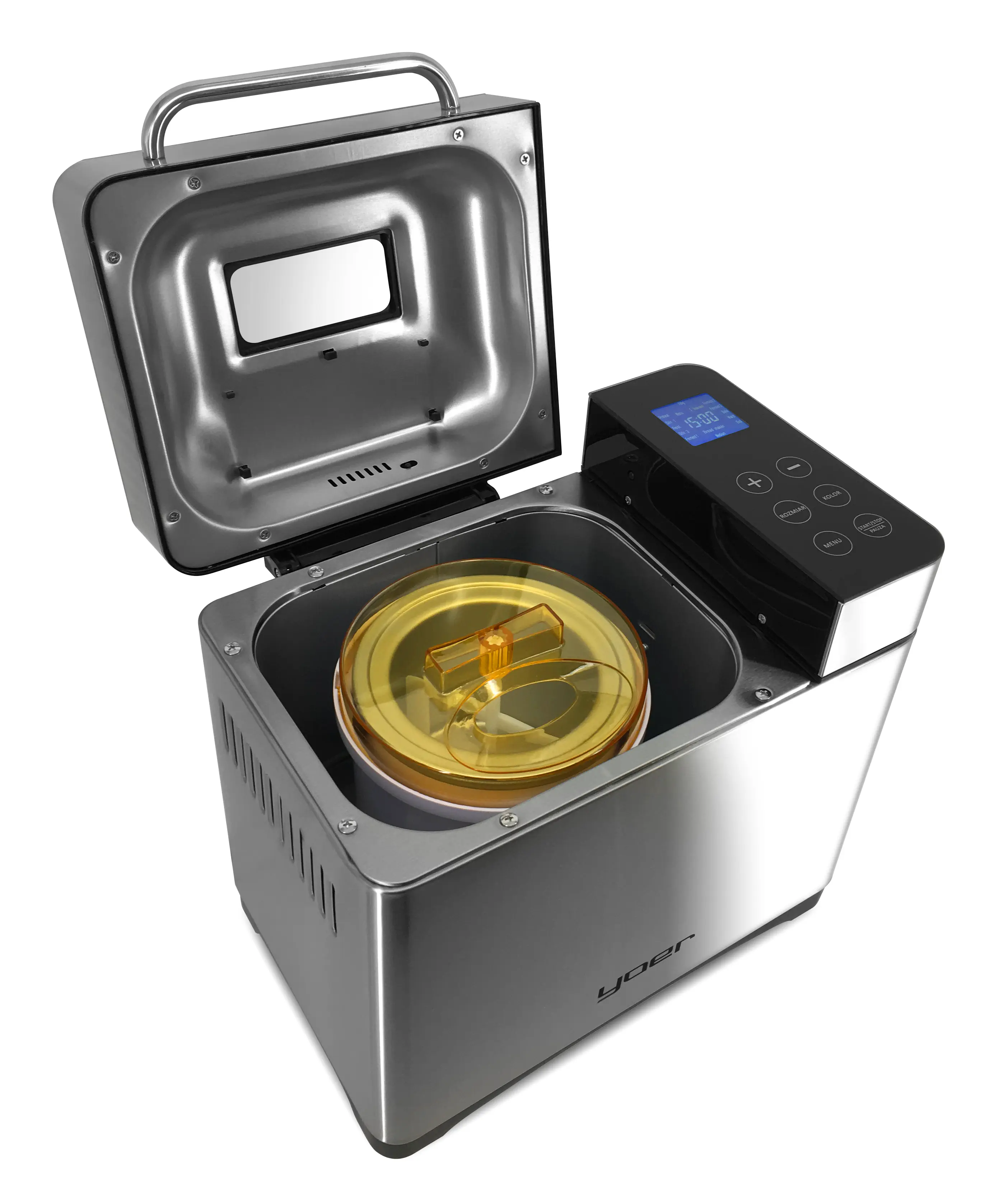 BM01A1 ICE CREAM ATTACHMENT - AVAILABLE IN THE ''ACCESSORY'' TAB
Ice cream attachment - specially designed for the YOER BM01S bread maker. Allows for preparing delicious homemade ice cream in just 15 minutes. All you need to do is to put the mould in the freezer, prepare the mix and then put it in the mould. Upon selecting the "Lody" program, the appliance will begin preparing ice cream.
Cooling bowl - made of metal, with dual walls filled with a specialized temperature-maintaining fluid. It allows the bowl to retain low temperature for longer.
Mixing paddle - specially profiled, keeps the ice cream moving to achieve uniform and mellow texture, without frozen lumps.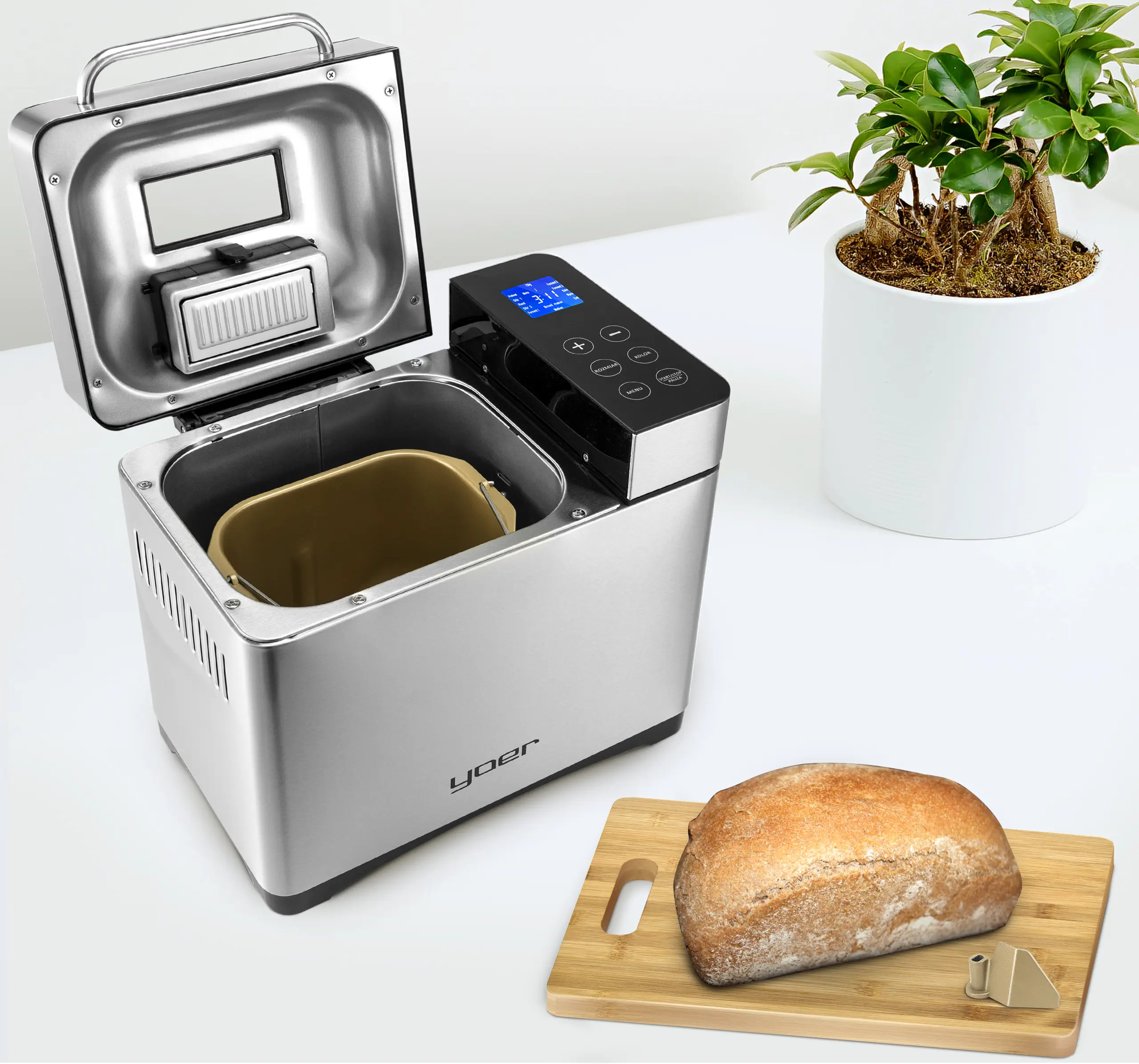 CONVENIENCE AND SAVINGS
The bread maker's mount is equipped with a single kneading blade - which is sufficient to properly mix and form as much as 1 kg of bread dough at once. After baking bread, you can easily take the mixing paddle out of it, without leaving big holes in the loaf, which isn't that easy with dual-paddle bread makers.
The bread maker - will allow you to bake a loaf of bread even 1 kg in weight - one will be enough for a whole family of several members, giving you the joy of a fresh pastry every day.
AUTOMATIC DOUGH MIXING, KNEADING, PROVING AND BAKING PROCESS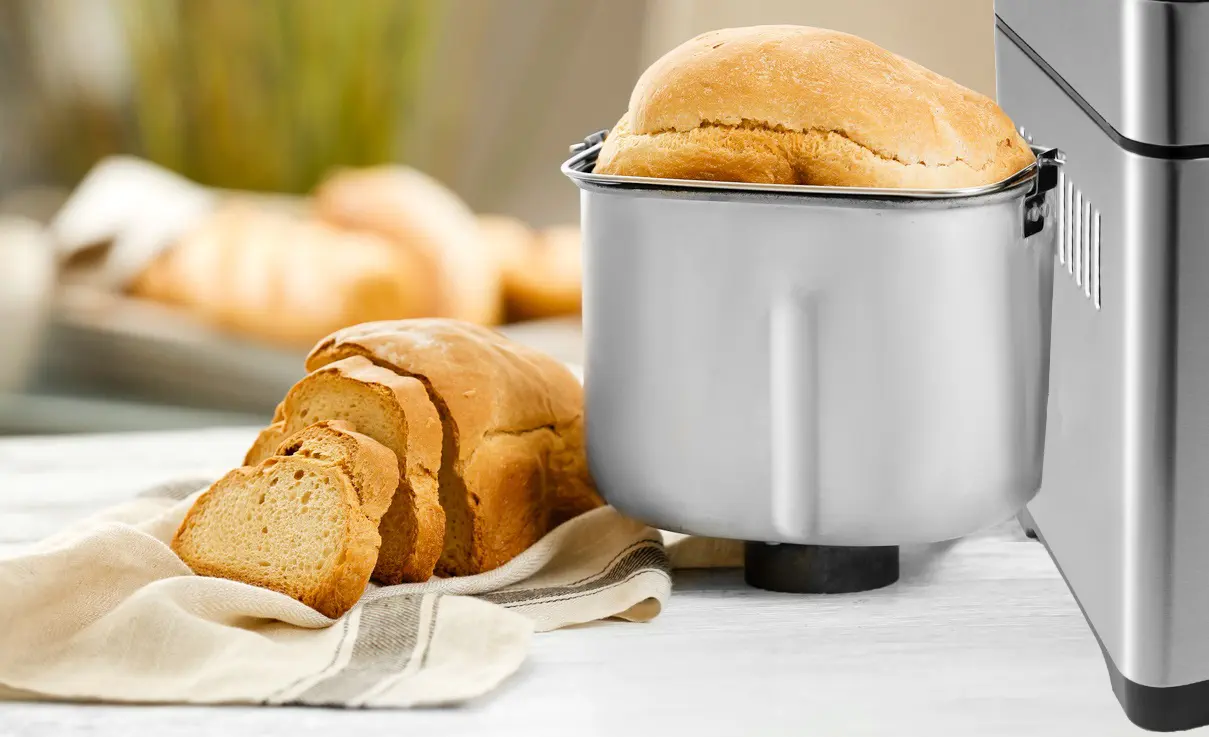 USEFUL FUNCTIONALITIES
Loaf size selection - 500 g, 750 g, or even 1000 g can be chosen, which will allow you to bake bread of desired size.
Crust browning level selection - depending on your preferences, you can choose one of three levels of crust broning: light, medium, dark.
Heat keeping functionality - the appliance will retain the temperature of the bread, or a different prepared snack, for an hour after it has been done. You get to enjoy a fresh pastry every time.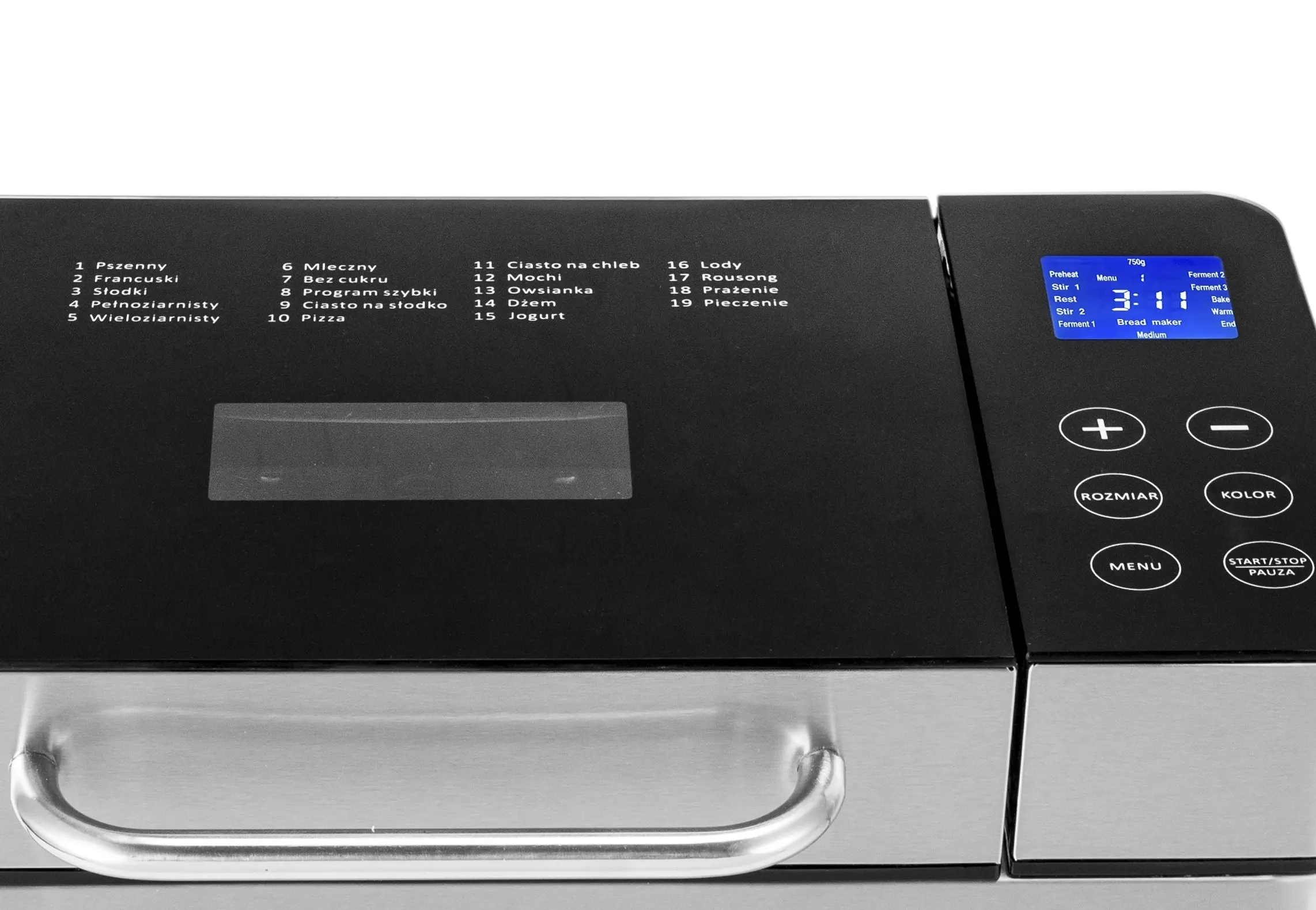 Up to 15-hour start delay functionality - will turn on the device at selected time, without the need for supervision. Owing to that you can always enjoy freshly baked bread in the morning or after getting home from work.
Sight window - enables monitoring of the baking process, so that you can keep an eye on the meal being prepared.
Settings memory functionality - if a short blackout happens during operation, the device will retain the settings and will resume work after power has been restored.
Extra dishes - using the appliance you can prepare not only bread, but also pizza dough, dumplings, porridge, or meat floss. There's more - jams and yogurts can be prepared without trouble.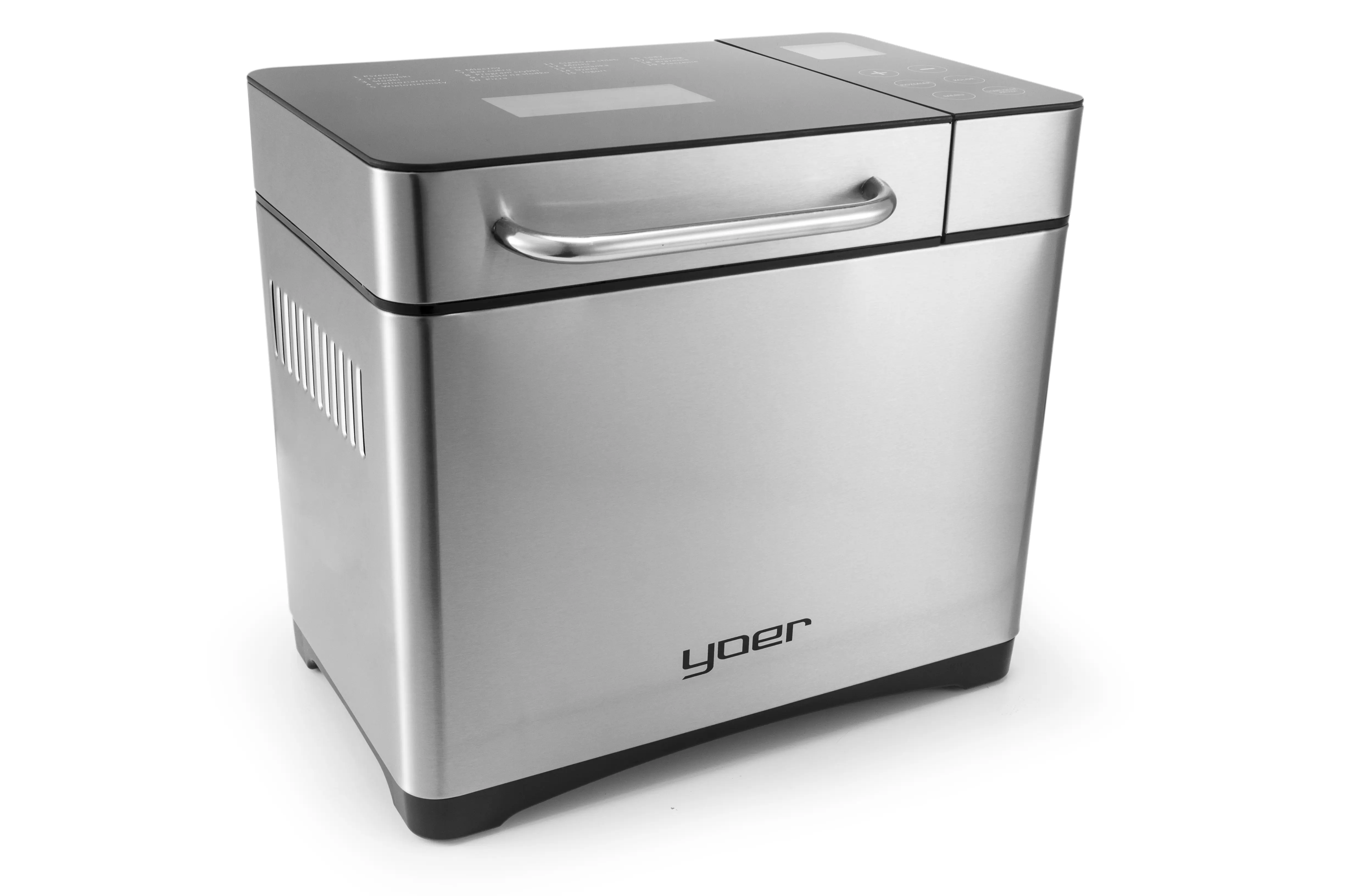 REBUST AND COMPACT CONSTRUCTION
Device housing - made of high quality stainless steel and tempered heat-resistant glass.
Compact dimensions - small, yet big, due to its practically. The bread maker does not take up much space, and the small dimensions enable hassle-free storage of the device.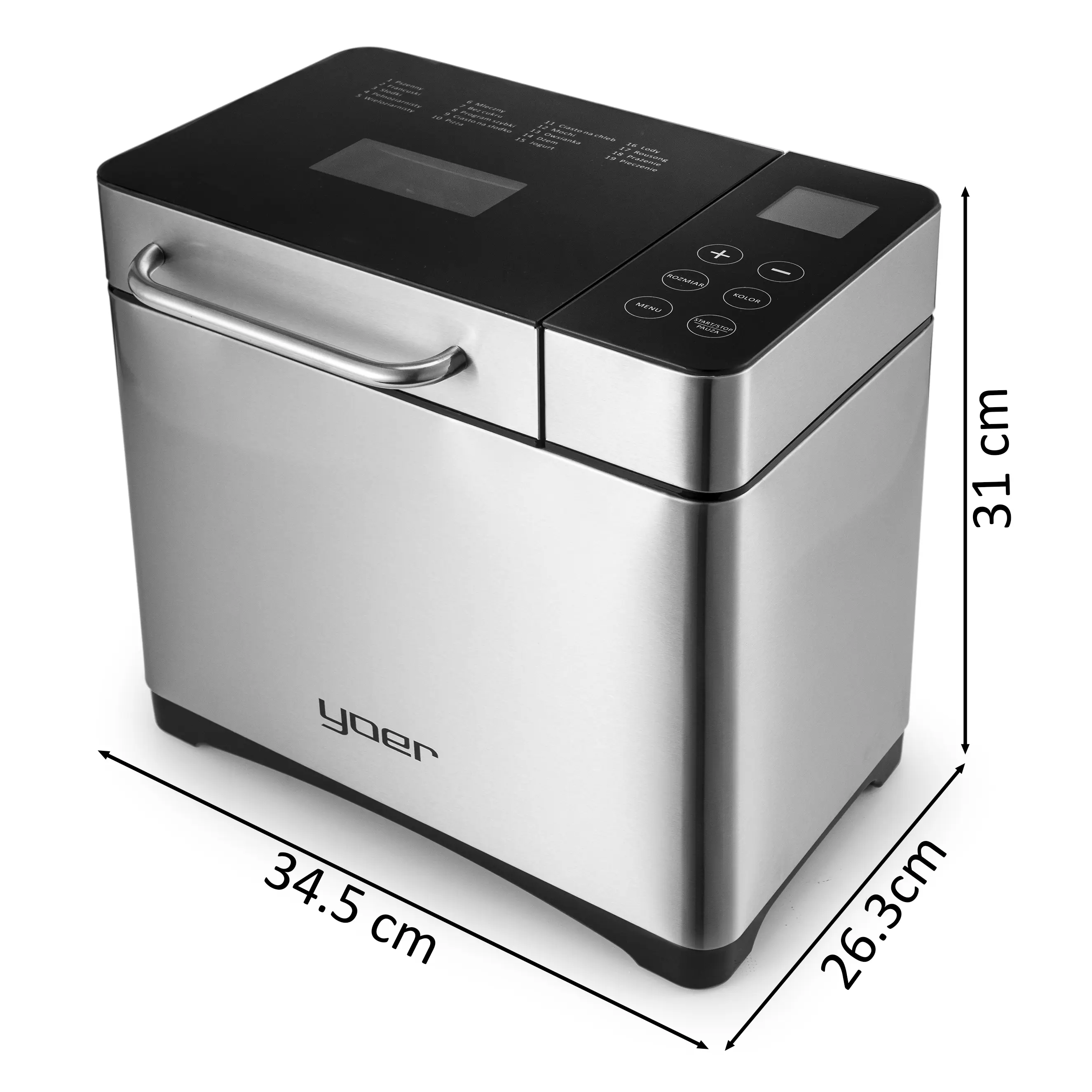 TECHNICAL SPECIFICATION
Power: 710 W
Automatic program count: 19
Timer: 15 h
Power cord length: 1,2 m (3.9 ft)
Weight: 5,7 kg (12.6 lbs)
Dimensions: 31 cm (height) x 34,5 cm (width) x 26,3 cm (length) (12.2 x 13.6 x 10.3 ")
Internal dimensions of the bread pan: about 13 cm (height.) x 17 cm (width) x 13cm (length) (5.1 x 6.7 x 5.1 ")
Color: Silver with black accents (INOX stainless steel and tempered glass)
Polish power plug 220-240V ~ 50/60 Hz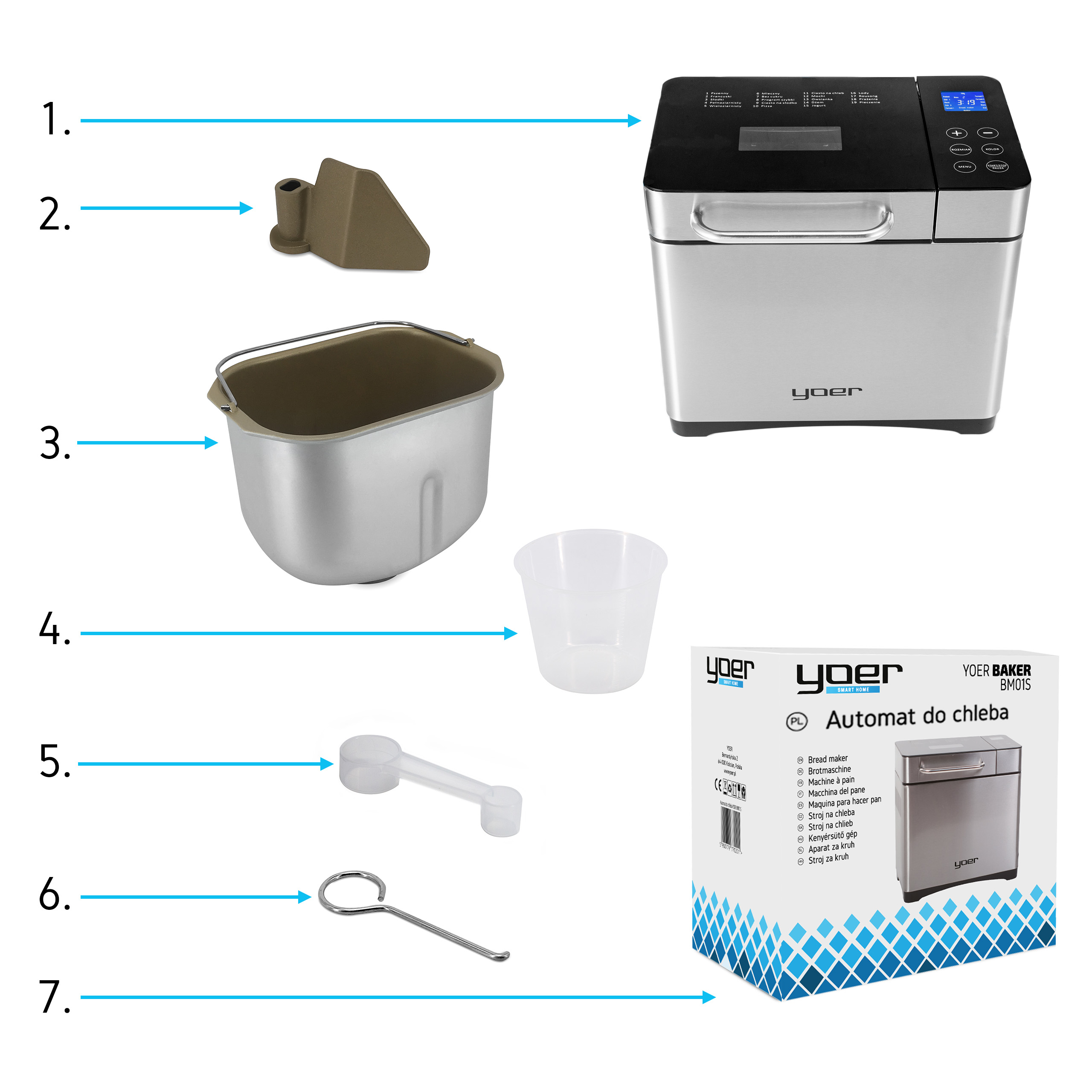 EQUIPMENT
Bread maker
Kneading blade
Bread pan
Measuring cup
Measuring spoon
Hook
Original packaging
YOU WILL RECEIVE:
Bread maker - details above,
YOER PLATINUM SECURITY card,
Warranty card,
PL / EN Instruction manual.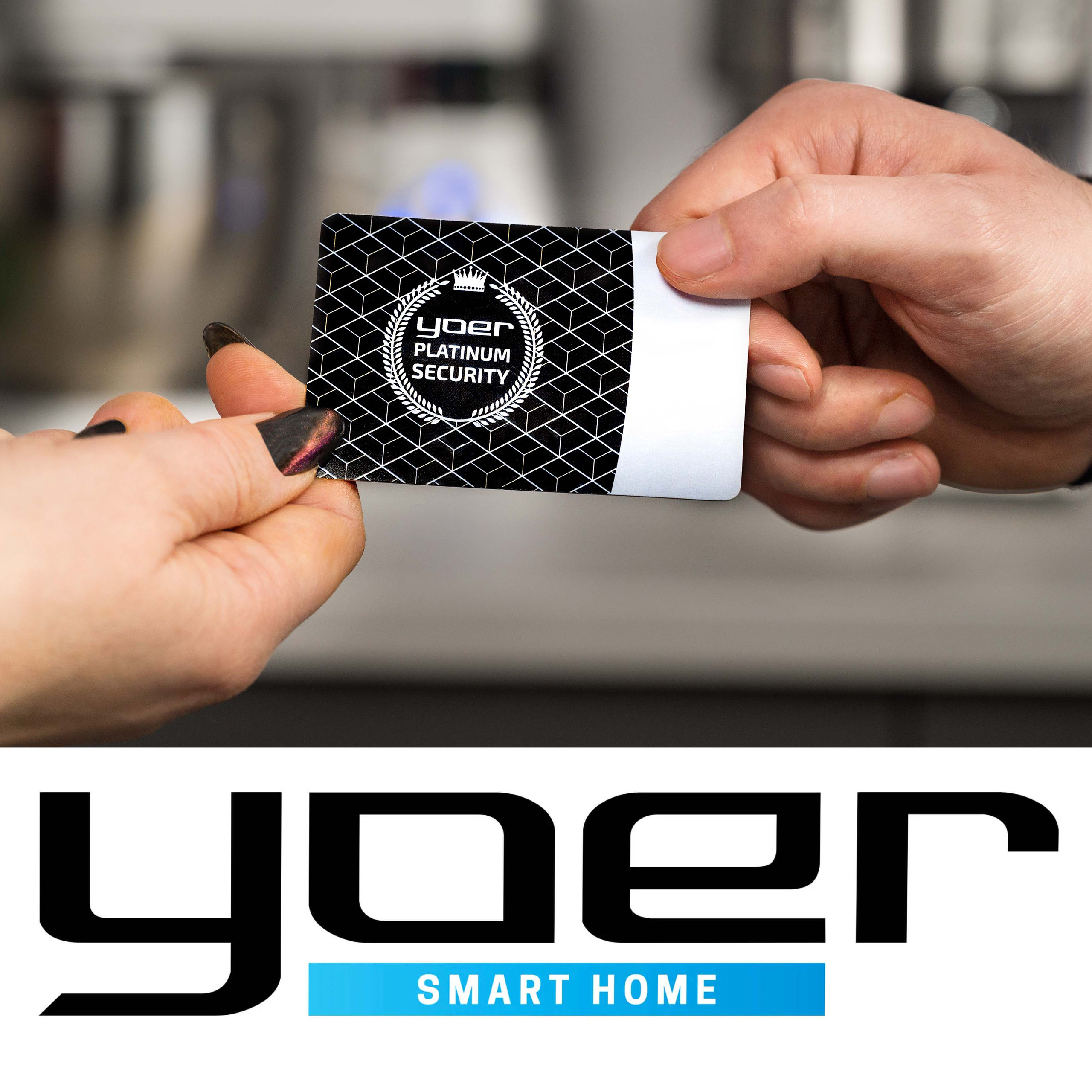 YOER PLATINUM SECURITY
When purchasing products from the official Yoer store you receive the YOER PLATINUM SECURITY package, which is an assurance of additional protection.
YOER - POLISH MANUFACTURER AND BRAND
YOER constitutes an excellent proof that high quality of products does not necesserily go in hand with high prices.

YOER BM01S Instruction manual - Click here