Language
Ceramic fan heater YOER Feno FH04BK
Power: 2000W, Wi-Fi function, ECO function, 24-h timer, Oscillation function, Remote control, Touch control panel, Easy-to-read LED display, Dust filter, Turning the display off
698.00
-43%
398.00
Lowest price in the last 30 days:
Order within
and we will send the package today

Shipping within

Shipment within 24 hours

Availability

Medium

123

pcs.
| | |
| --- | --- |
| Bar code | |
| EAN | 5900779770935 |
Description

Instruction manuals
PORTABLE CERAMIC FAN HEATER YOER FENO FH04BK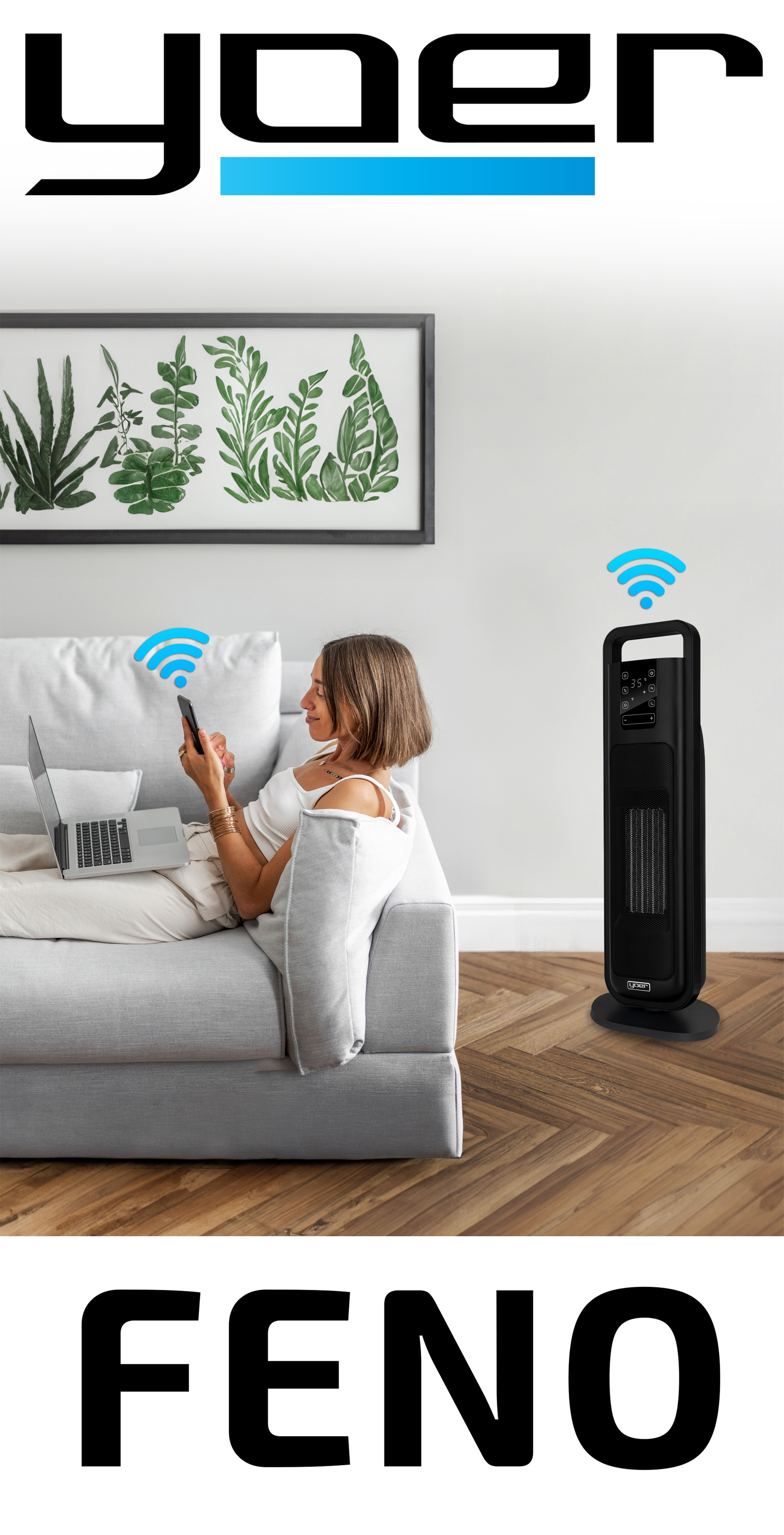 PRODUCT DETAILS
Intelligent ECO function - use automatic power selection and enjoy lower energy consumption, saving energy by 20-40%
Wi-Fi - control your Feno via the device with Android or iOS operating system, using a common frequency 2,4 GHz
24h/7d schedule - set the operation of the device for a whole week thanks to the mobile app
Ceramic PTC heating element - high quality of heating
4 modes of operation - ECO, manual 1300W, manual MAX 2000W, Anti-Frost
2 power levels - 2000W or 1300W
2 fan modes - warm and hot
24h - timer - will enable you to set the time of start or stop device operation
Oscillation - 80°
Touch control panel with LED display - will make using the device easier and controlling it more convenient
Sleep mode of display - turn the display off to enjoy comfort at night
Overheating protection - do not worry about damaging the device due to too high temperature
Exclusive design - will fit perfectly every interior and accentuate your style
Device safety feature in case of tipping over - if the device is tipped over, it will be automatically disconnected from the power supply.
Cooling the ceramic heating panel for 30 seconds after turning off - you do not have to worry about burning yourself or the panel overheating
Anti-frost protection - the device will turn off automatically when the temperature in a room drops below 7°C
IP20 protection level - a protective mesh will prevent contact with heated components.
Aromatherapy - release a pleasant and relaxing fragrance
Electronic thermostat - from 15° to 35°C
Quiet operationa - 38 dB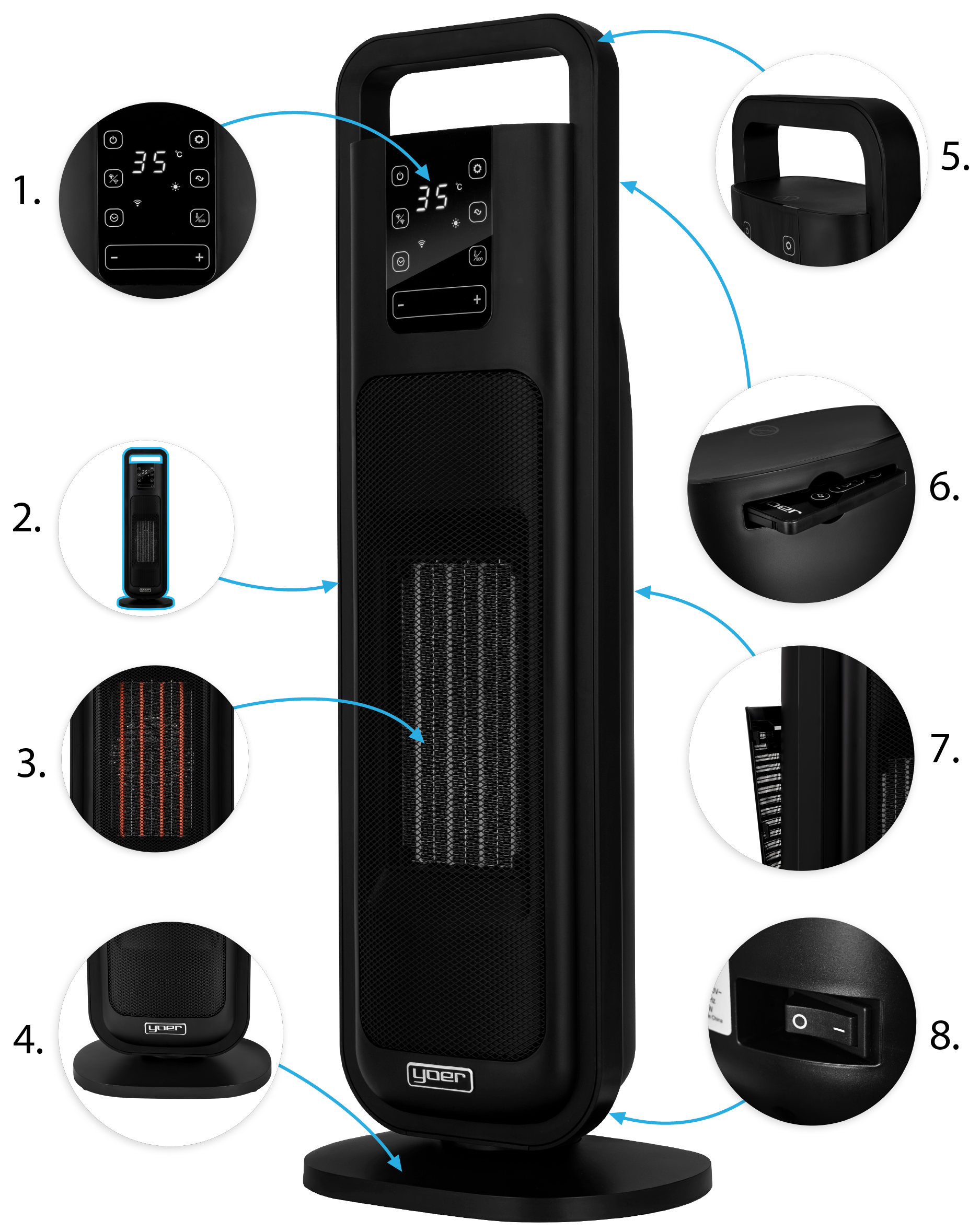 CONSTRUCTION - MAIN COMPONENTS
Touch control panel with LED display
Non-heating up casing
4-heating element, ceramic
Wide, stable base
Handle making carrying easier
Remote control compartment
Dust filter
Safety switch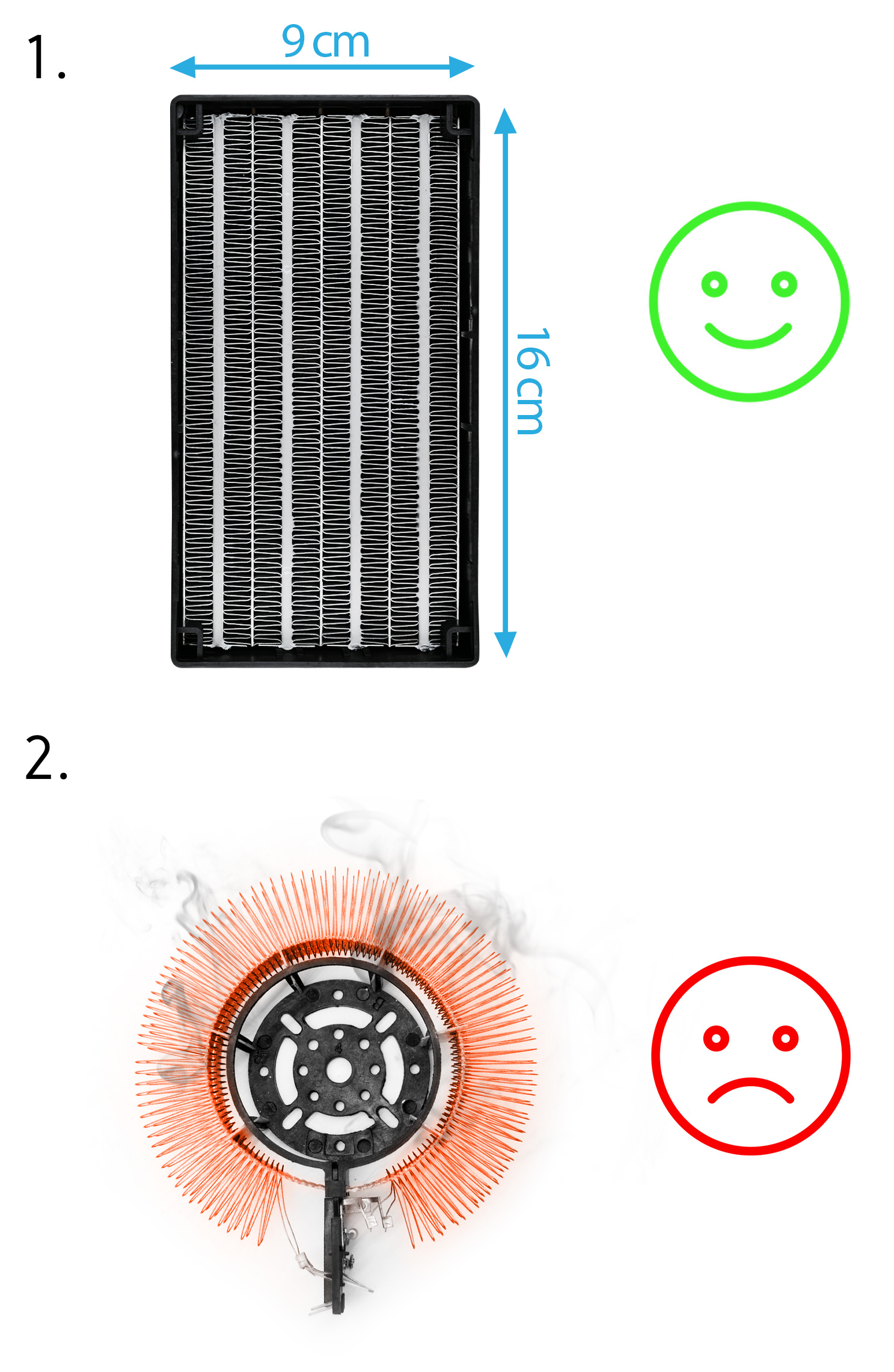 CERAMIC PTC HEATING ELEMENT - HIGH QUALITY
4 huge PTC heating elemenets in your Feno:
they are bigger than the heating elements in other fan heaters on market
do not burn pollutants, so they do not produce an unpleasant or suffocating odor
do not dry air
heat up air in your room very quickly
they are more durable compared to a spiral heater./li>
Spiral heater in standard and cheap fan heaters:
burn dust and pollution
dry air
heat up your room slowly
have a shorter lifespan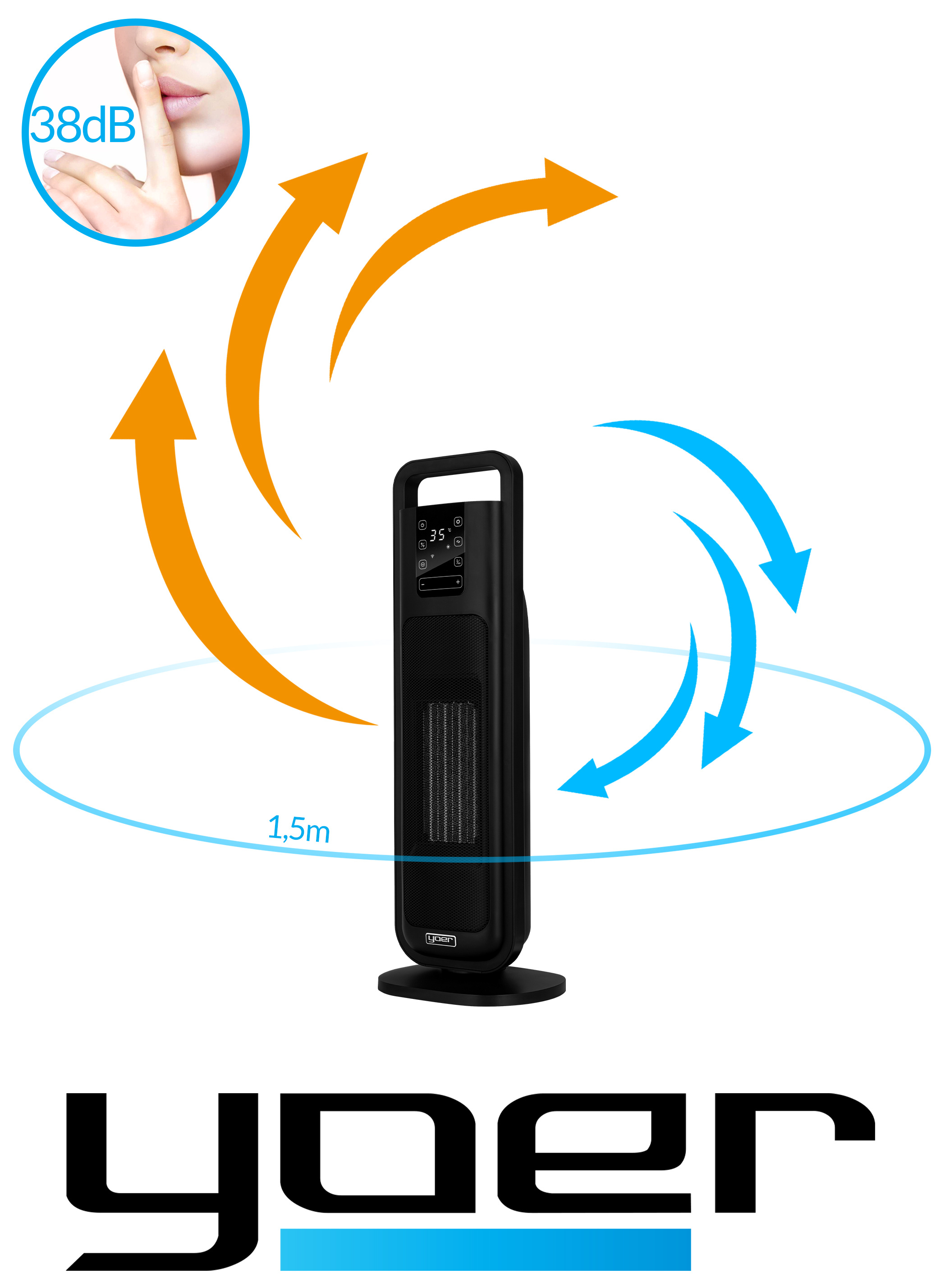 38 dB - QUIET OPERATION OF FENO
38 dB - on the lowest power level
quieter than the rustle of leaves and trees on a calm day
39 dB - on the highest speed level
Verified by tests conducted in specialized conditions and at a standard distance of 1.5 meters from the sound measuring device.
◾◾◾
AIR CIRCULATION
Cold air is drawn into the thermal fan through air inlets, and then the heated air is distributed outside.
Faster distribution of heat in the room
Higher heating efficiency of the device.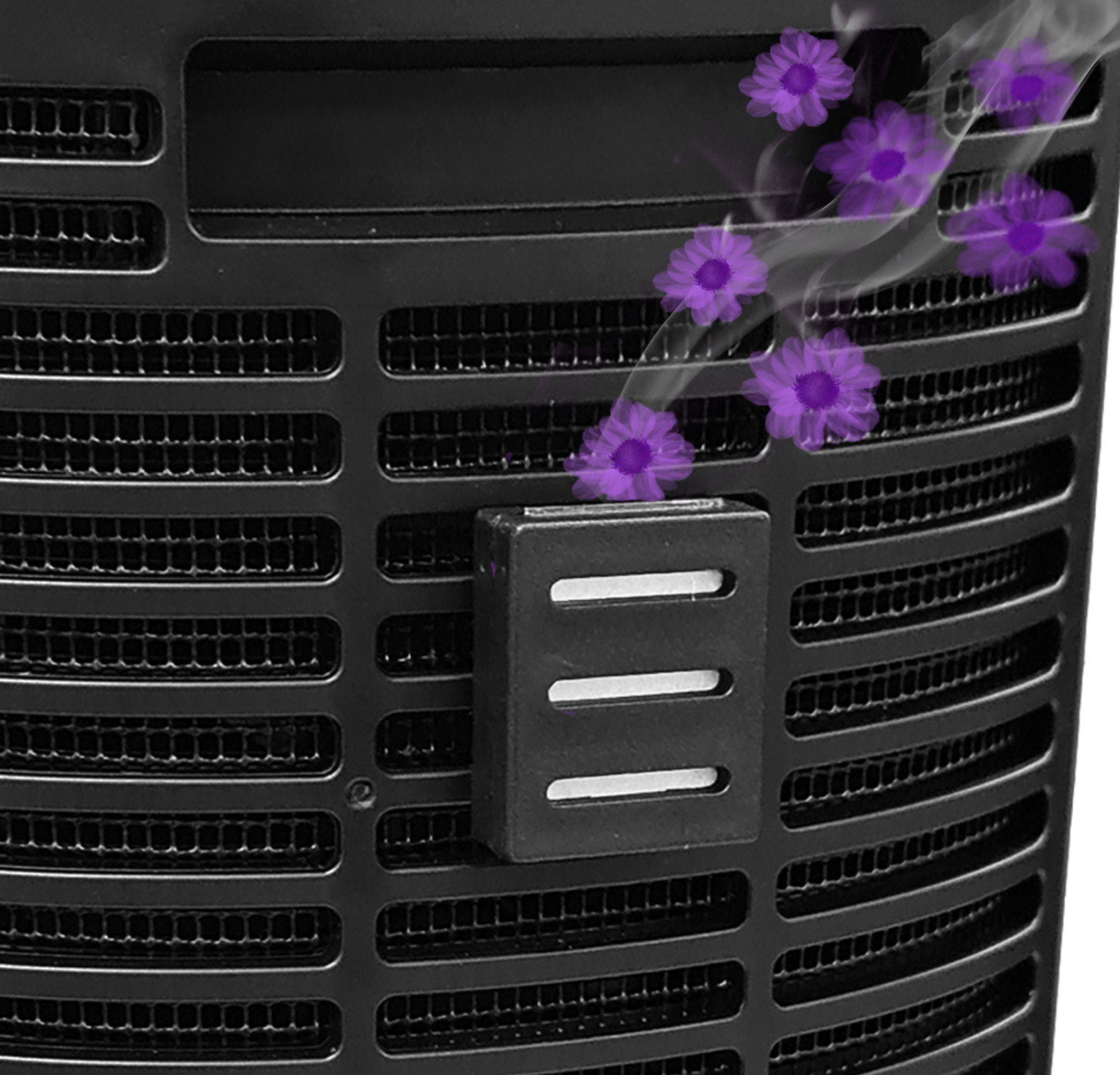 FOR FREE - AROMABOX + 2 ESSENTIAL OILS
There is a specially designed AromaBox in a set:
▪ place your favorite essential oil in it
▪ mount it on the rear air intake grille
▪ enjoy the aromatherapy effect in the heated room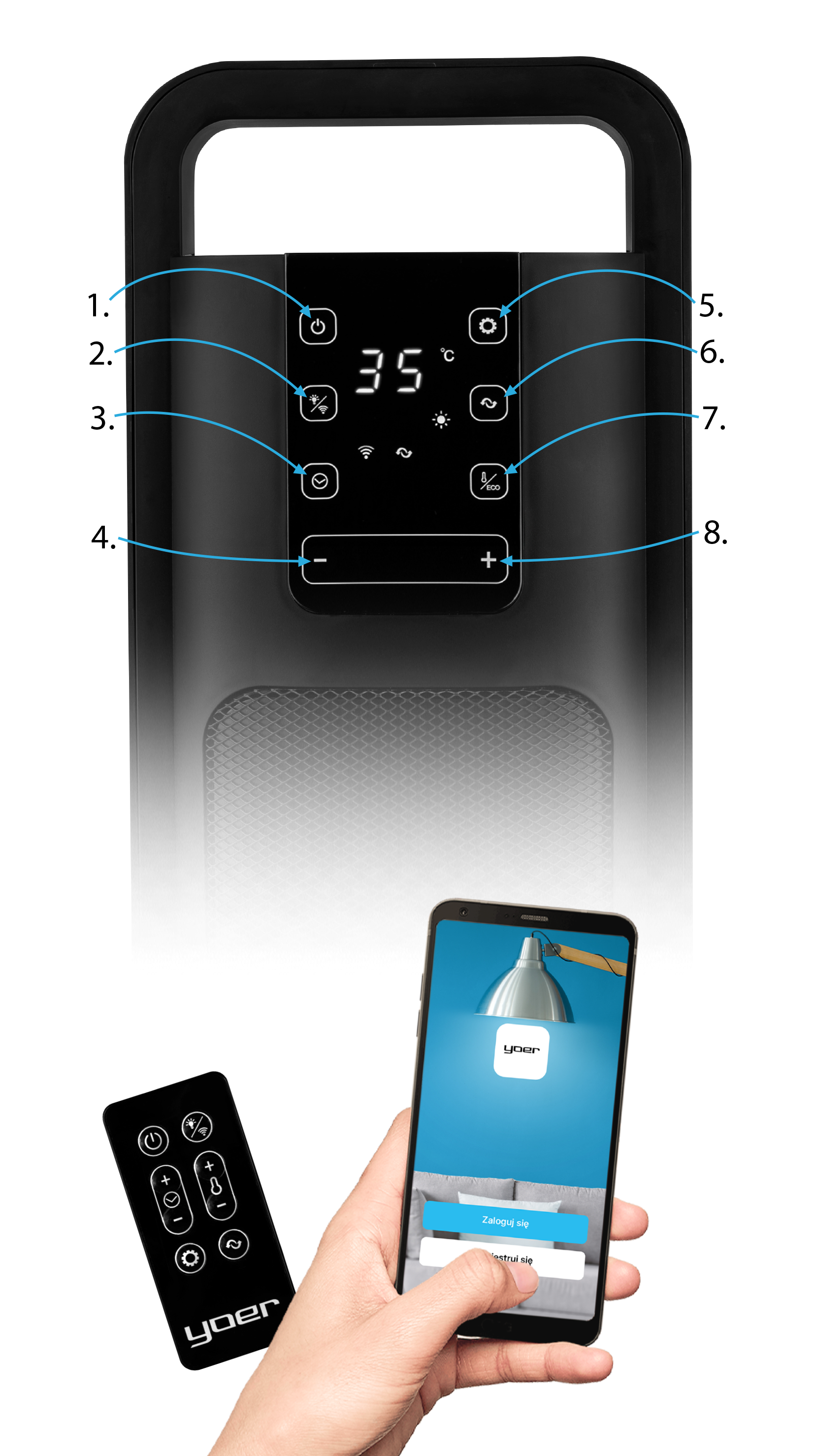 3 WAYS TO CONTROL THE DEVICE
I. TOUCH CONTROL PANEL - easy and intuitive operation:
1. ON / OFF button - turn the device on or off
2. Sleep mode of display and Wi-Fi button - press it to turn the display on or off, press and hold it to connect with Wi-Fi
3. Timer - set the automatic start or stop of the device operation
4. "-" button - decrease temperature or time
5. Heating power adjustment button - set the preferable heating power
6. Oscillation button - turn the oscillation on or off
7. Temperature adjustment and ECO function button- set preferable temperature ot turn the ECO function on
8. "+" button - increase temperature and time
II. REMOTE CONTROL - control the device without having to get up!
III. MOBILE APP - control the device via phone or tablet thanks to the connection with Wi-Fi.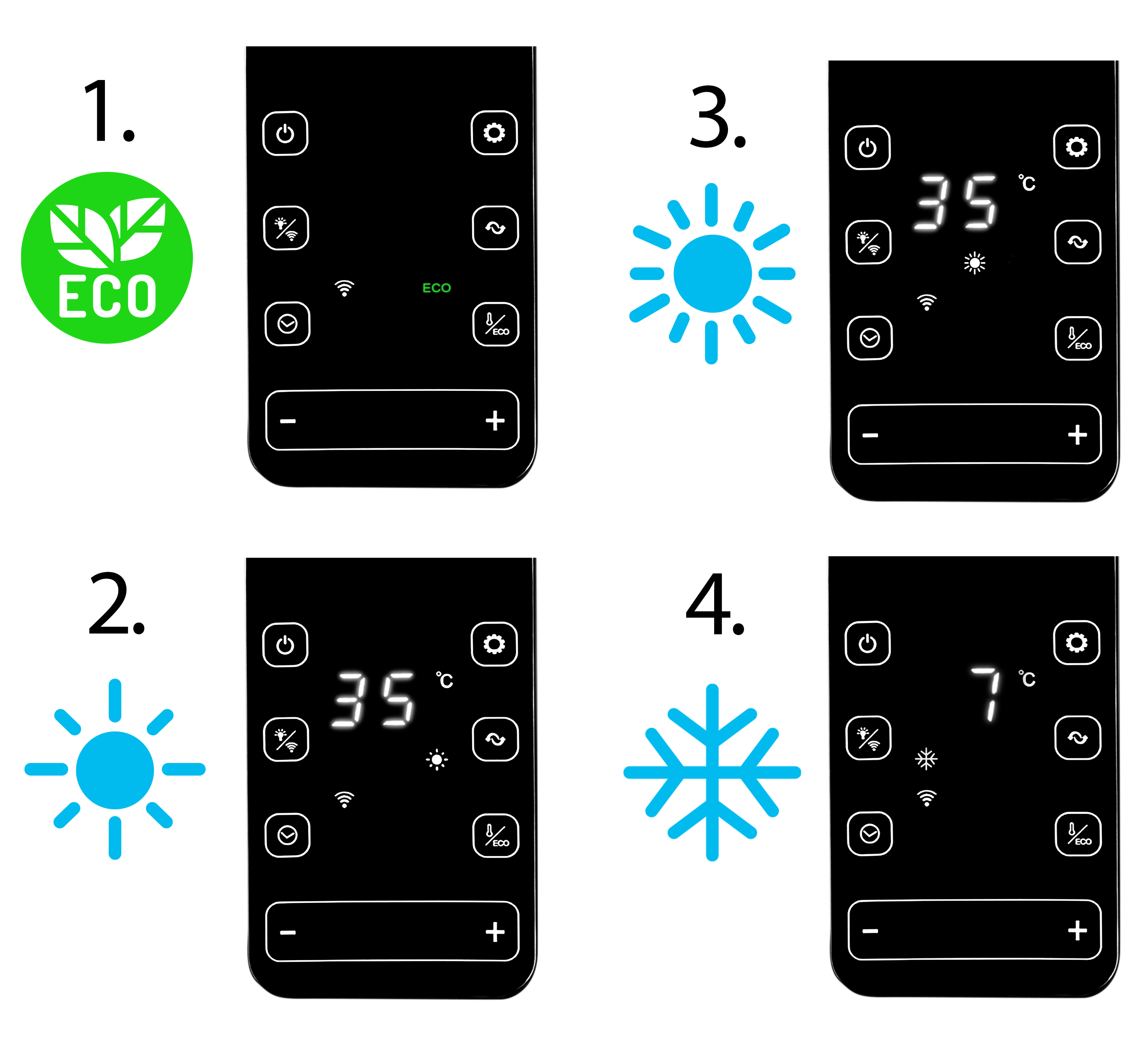 4 MODES OF OPERATION
ECO, manual 1300W, manual MAX 2000W, Anti-Frost
1. ECO mode:
the device will automatically choose the proper heating power and will ensure the most comfortable conditions of use
minimalizes energy consumption
the device will switch between power modes in such a way that the selected temperature is maintained in the room
2. Manual mode - 1300W:
will help you heat up small rooms and keep the same temperature
you can change the temperature of heating and the device will react immediately
3. Manual mode MAX - 2000W:
uses full mode of the device thanks to which you will heat up bigger rooms in quick way
you can change the heating temperature of the device at any time, and the device will respond immediately
4. Anti-Frost mode:
you will prevent the room from getting too cold
the device will automatically turn on when the temperature drops below 7°C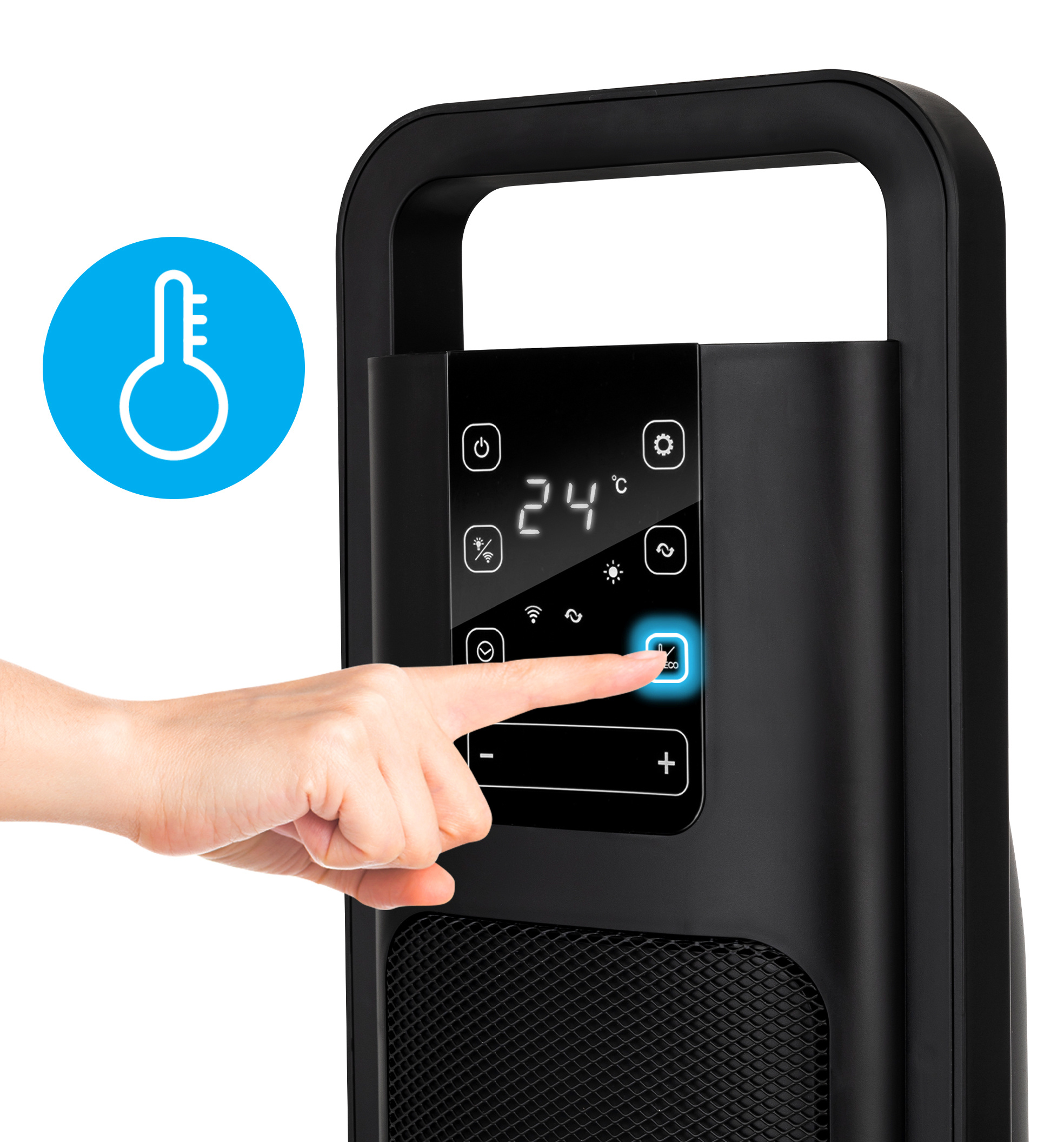 ELECTRONIC THERMOSTAT
Electronic thermostat - easily set the temperature you want to maintain in the room.
▶ Touch "+" and "-" - make setting preferable temperature easier.
▶ 15°C do 35°C buttons - the range of temperatures from which you can choose the most convenient threshold based on your preferences.
▶ Standby mode:
when the ambient temperature exceeds the threshold you have chosen, the device will enter standby mode,
In case the temperature drops below the set threshold, Feno will resume its operation.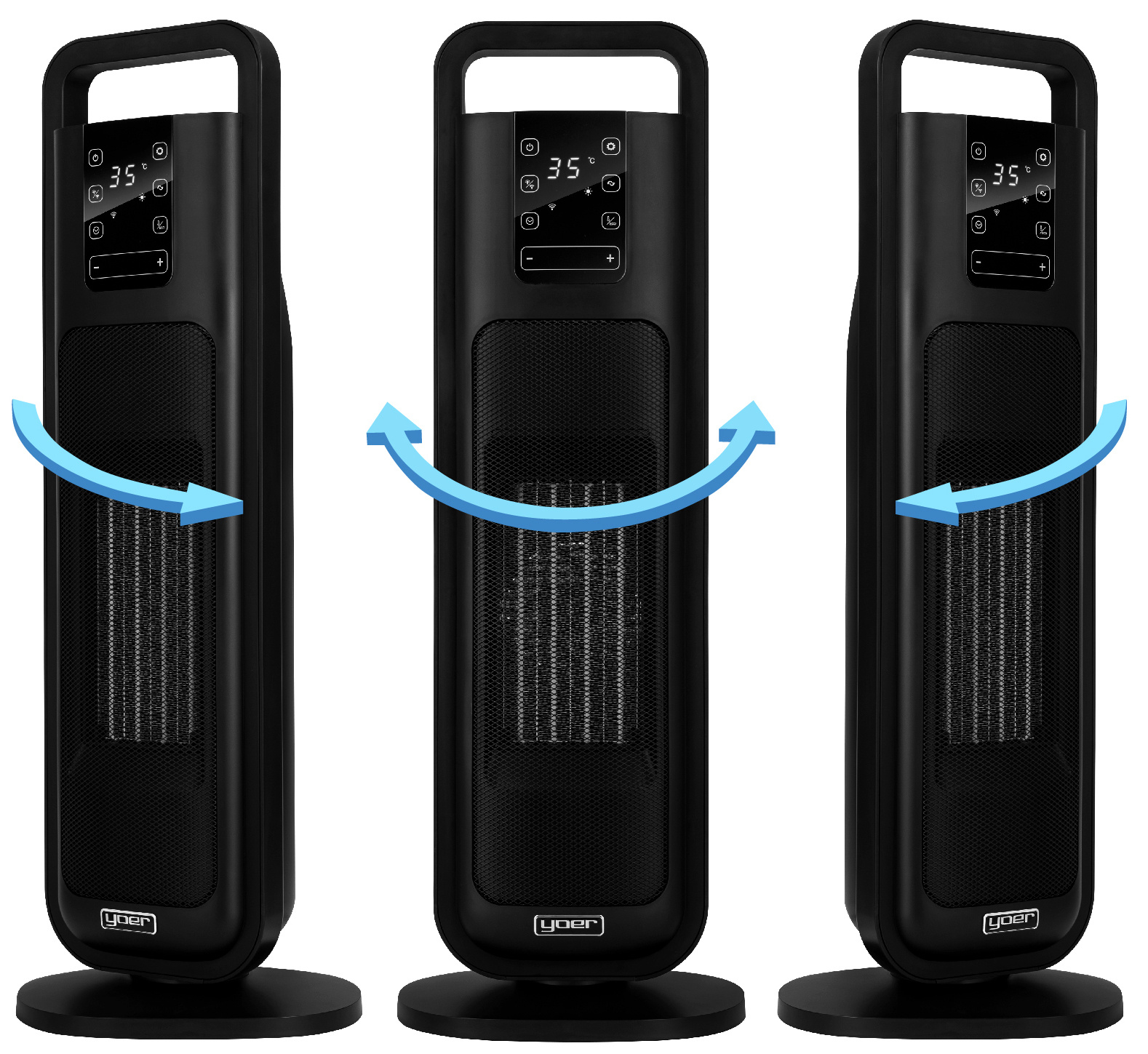 OSCILLATION UP TO 80°
Even heat distribution:
oscillation in the range of 0-80° - will allow for faster heat distribution over a larger area,
quick heat-up - the room temperature will rise in a much shorter time compared to devices without oscillation,
easier heating-up of rooms - it will be much easier to heat rooms with several people inside.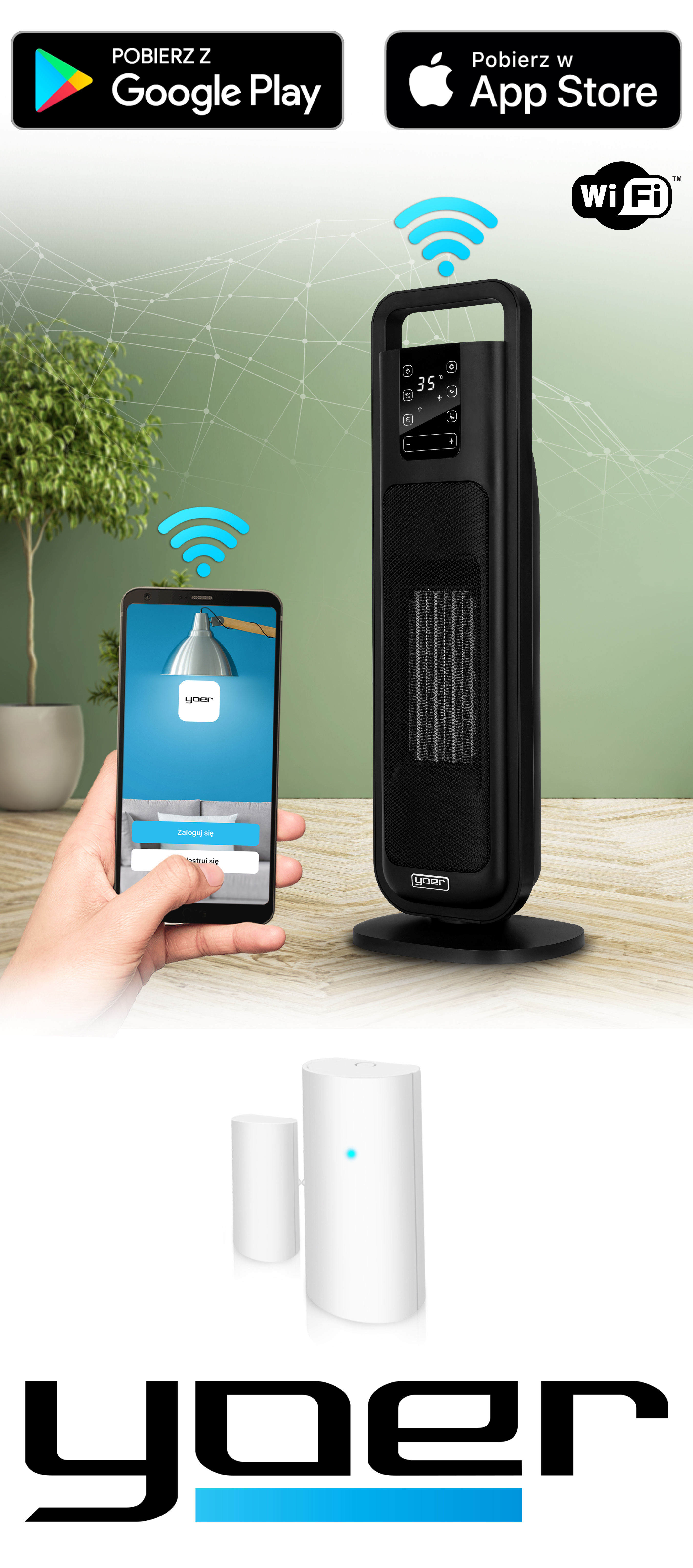 Wi-Fi + AUTOMATIC HEATING UP
Control Feno via app from any mobile device, thanks to the built-in wireless connectivity module.
The app is available in Google Play Store and AppStore.
The app works on Android and iOS operating system.
Programming and controlling the device from any place with the access to the Internetu.
◾◾◾
Thanks to this app you will be able to:
turn the device on and off,
change the temperature of heating,
increase or decrease the device power,
turn the oscillation on or off,
turn the display on or off.
You will also set:
▶ 24h/7d timer:
organize the device operation for a whole week,
you can choose more than one functions to make them turn on simultaneulsy.
▶ 24h - timer:
will enable you to set the duration of the device operation and you will not have to control it,
you can change the time after which the device will turn on or off (you can choose 1 function at time).
◾◾◾
TEMPERATURE SENSOR AND FAN HEATER - INTELLIGENT DUO FOR YOUR HOME
Create scenes, which will enable you to turn your Feno on or off depending on whether the doors and windows are closed or open:
you can set the sensor to make your Feno turn off when doors are open and turn it on when doors and windows are closed
you will prevent energy consumption and heat loss when ventilating the room or leaving the house
Control your sensor and Feno via app:
change the settings,
control the history of measurements,
receive a notification about any changes or the condition of your doors and windows.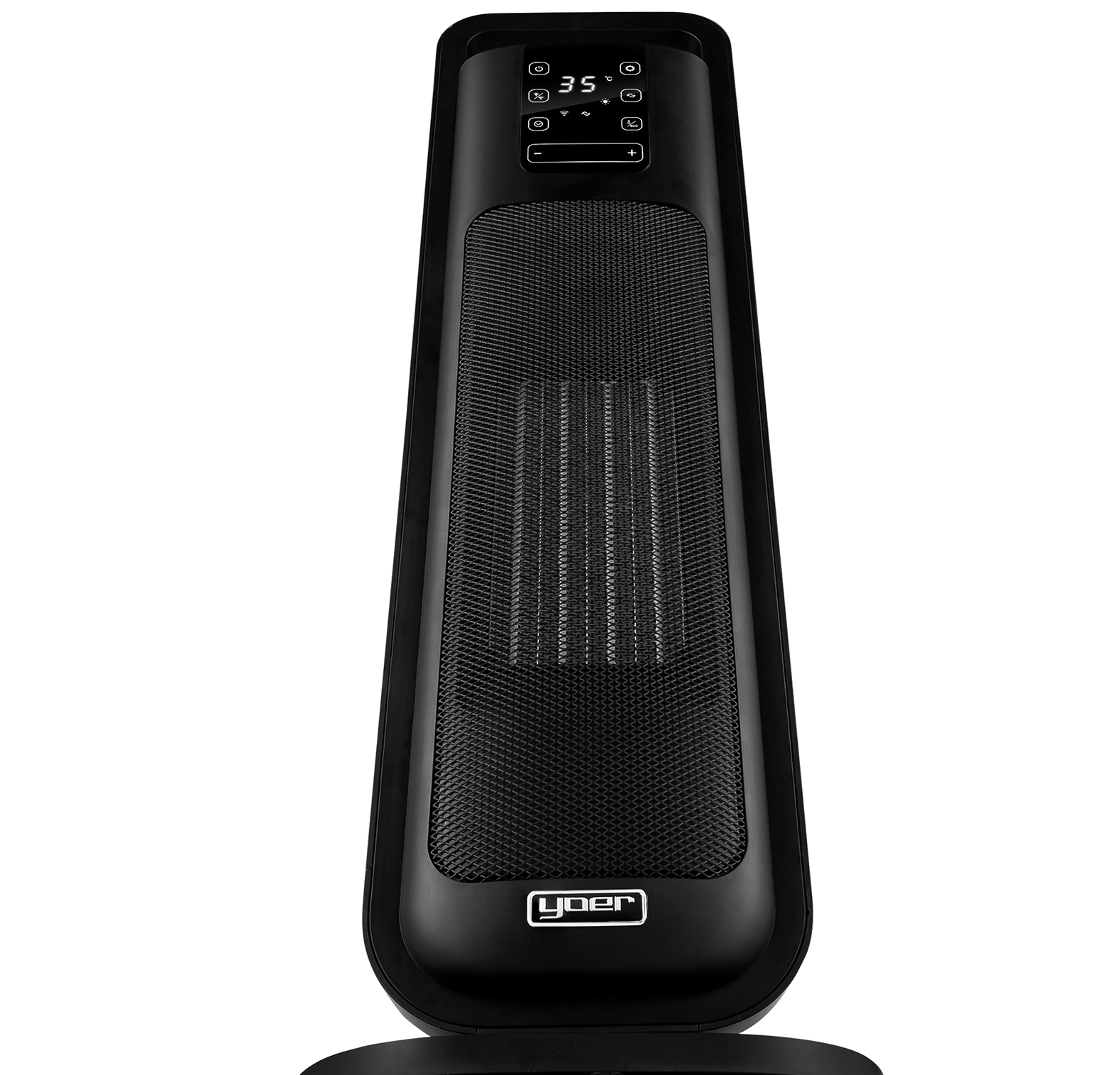 EXCLUSIVE DESIGN
Feno is the ideal solution for people who value both comfort and aesthetics.
Casing made of hight quality polymer - timeless elegance and years of use
Slim Tower Design - serves as an attractive decorative element in the room
Timeless, modern design - it will seamlessly fit into any interior and accentuate your style
Ultra-thin design - takes up very little space
Easy-to-read LED display - easy operation and pleasing to the eye
Touch control panel - class and convenience of control
Body decorated with YOER manufacturer logotype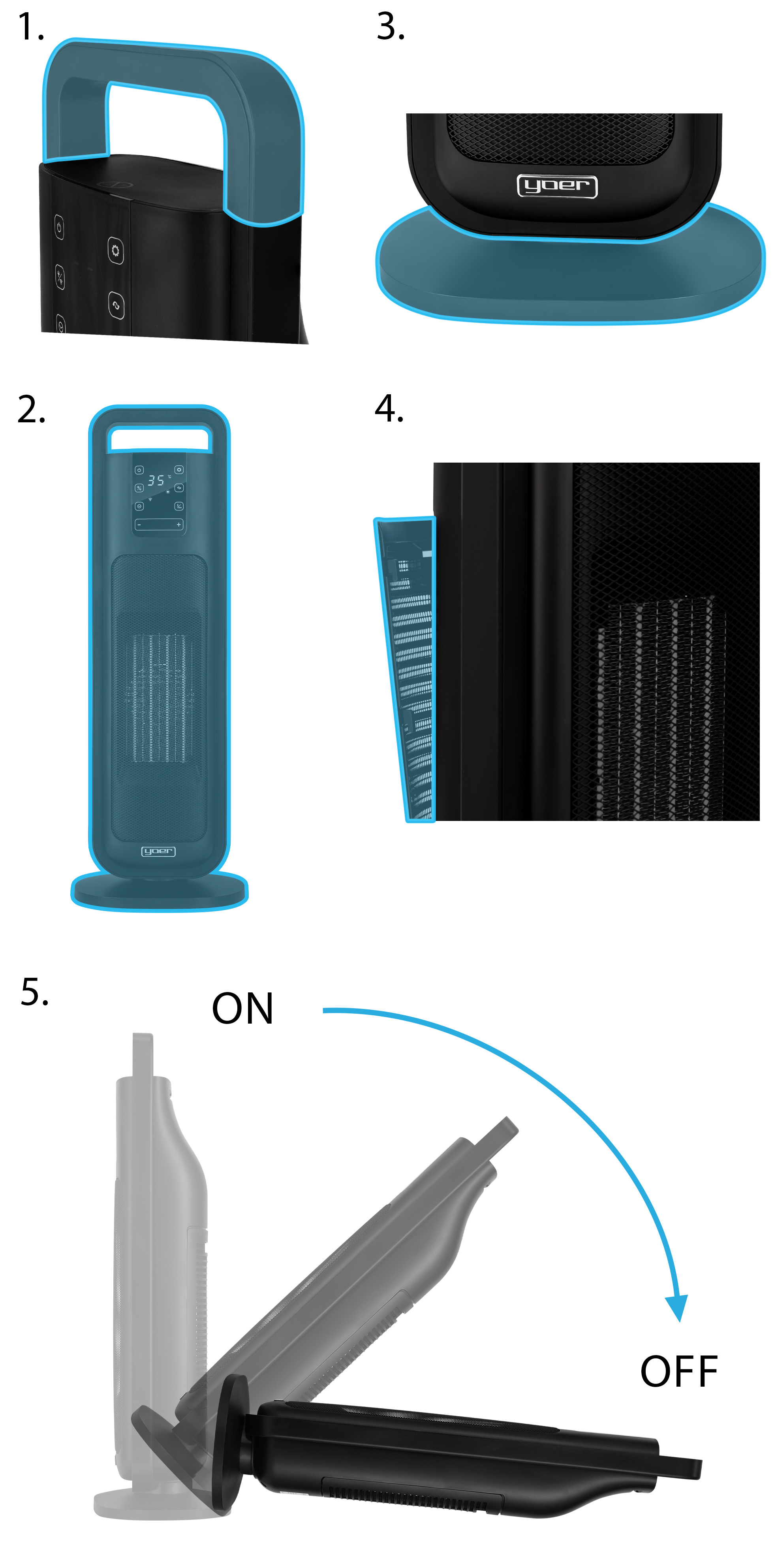 SAFETY AND CONVENIENCE
Convenient handle:

makes carrying the device easier,
in a few moments, you can change the location of the device and enjoy it in any room in your home!

Non-heat up casing - the device has been designed in such a way that the casing components do not heat up during the operation of the fan heater.
Wide base:

the fan heater is equipped with a wide base,
its purpose is to keep it in a stable position.

Dust filter:

captures impurities from the sucked-in air,
reduces unpleasant smells,
it is additionally washable and easy to install.

Mechanism preventing the device from operating after it has been overturned:

in the event the device is overturned, the safety feature will automatically disconnect the power supply from the device,
the mechanism protect from damaging the device.

Overheating protection - after achieving too high temperature, the device will turn off automatically.
Sleep mode of display - turn the display off and enjoy comfort at night.
Cooling the ceramic heating panel for 30 seconds after turning it off - you do not have to worry about burning yourself or overheating the panel.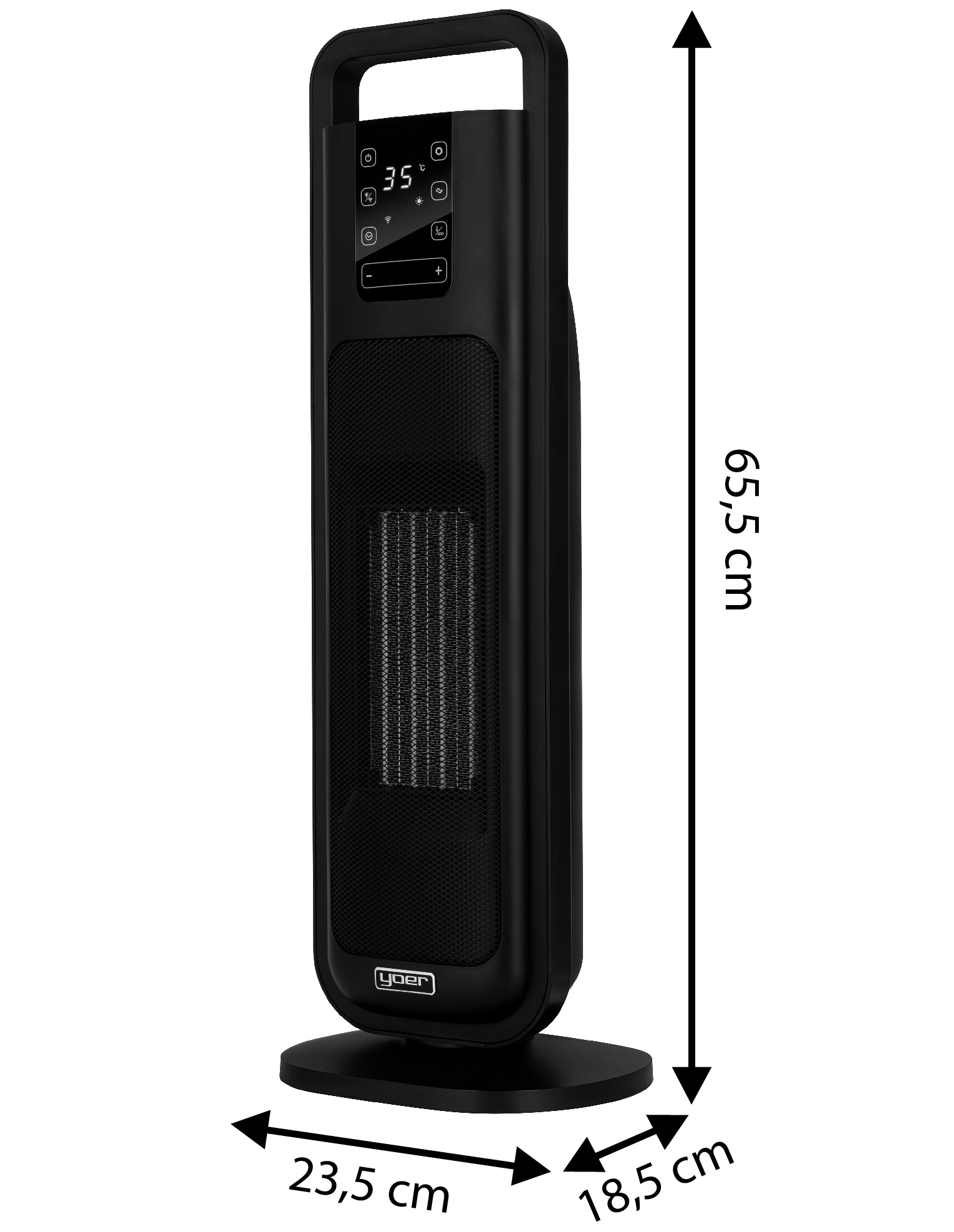 TECHNICAL SPECIFICATION
Max. power - 2000 W
Nom. power - 1300 W
Type of heating element - Ceramic
Min. noise level - 38 dB
Max. noise level - 39 dB
Power cord length - 1,7 m
This product is suitable for occasional use or for use in well-insulated rooms.
Weigth - 2,9 kg
Dimensions - 65,5 cm x 23,5 cm x 18,5 cm
Color - Black
Polish power plug - 220-240V 50/60Hz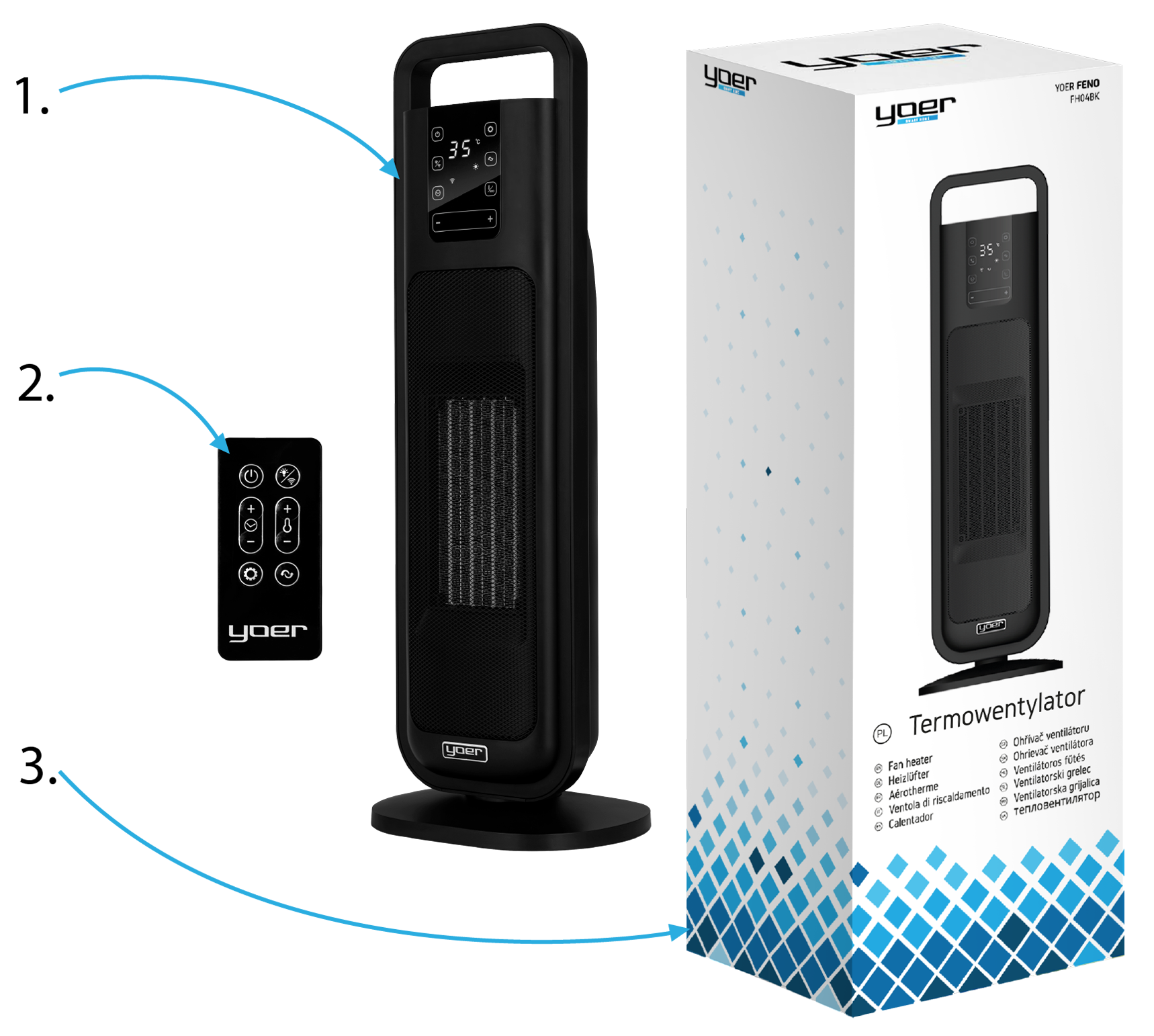 EQUIPMENT:
Fan heater
Remote control
Original packaging
Essential Oil Container
2 essential oils (pine and lavender scents)
YOU WILL RECEIVE:
Fan heater - details above,
YOER PLATINUM SECURITY card
PL and EN instruction manual.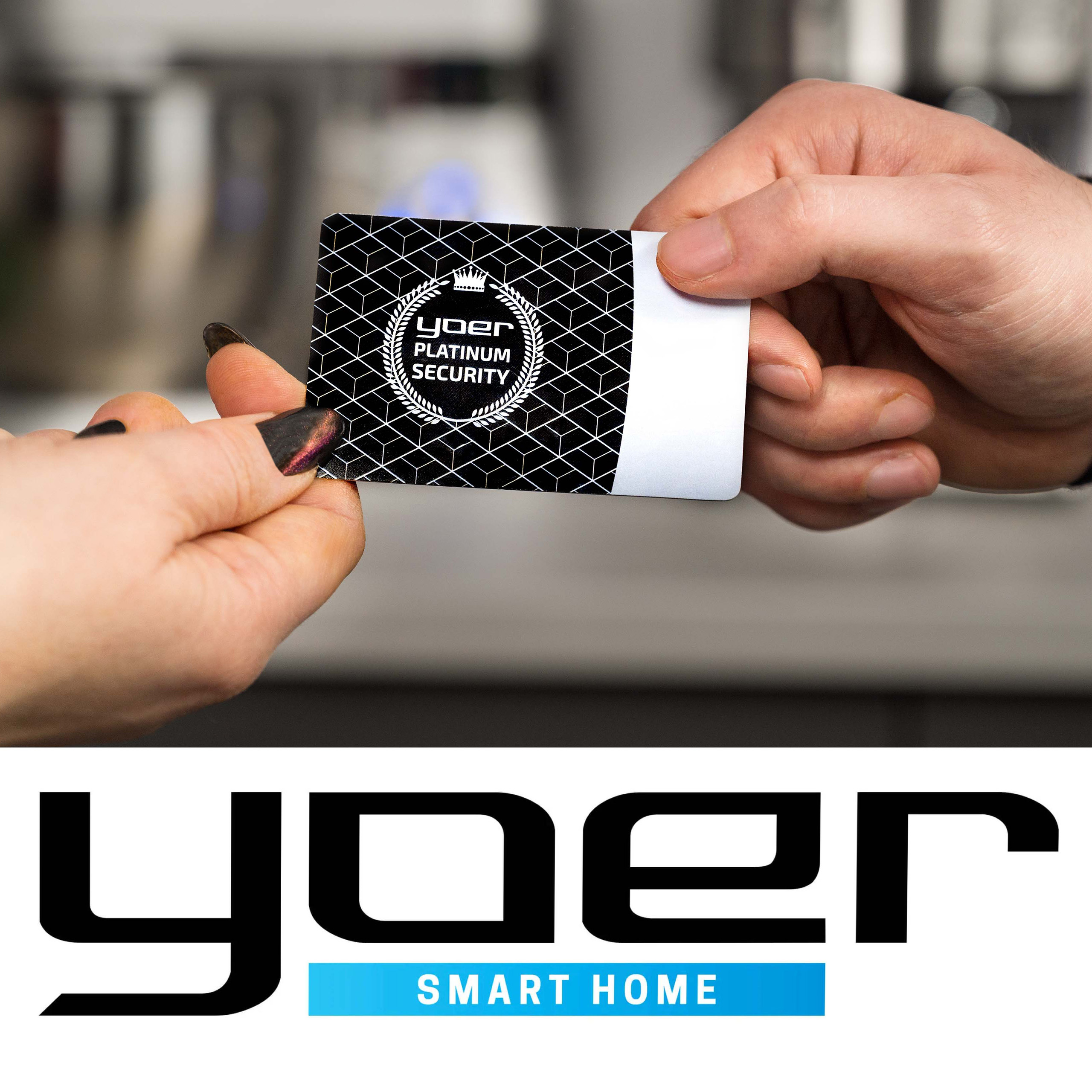 YOER PLATINUM SECURITY
When purchasing products from the official Yoer store you receive the YOER PLATINUM SECURITY package, which is an assurance of additional protection.
YOER - POLISH MANUFACTURER AND BRAND
YOER constitutes an excellent proof that high quality of products does not necesserily go in hand with high prices.

YOER FH04BK Instruction manual - Click here