Language
Convector heater YOER Silento CH01W
Power: 2000 W, convector heater, copper low-temperature heating element, 24-hour timer, 3-step power adjustment, electronic thermostat, ECO functionality, remote control, tilt detection, LED display.

Shipping within

24 hours

Availability

High

9886

pcs.
| | |
| --- | --- |
| Bar code | |
| EAN | 5906874237526 |
Description

Instruction manuals

Reviews & ratings (2)
Convector heater YOER Silento CH01W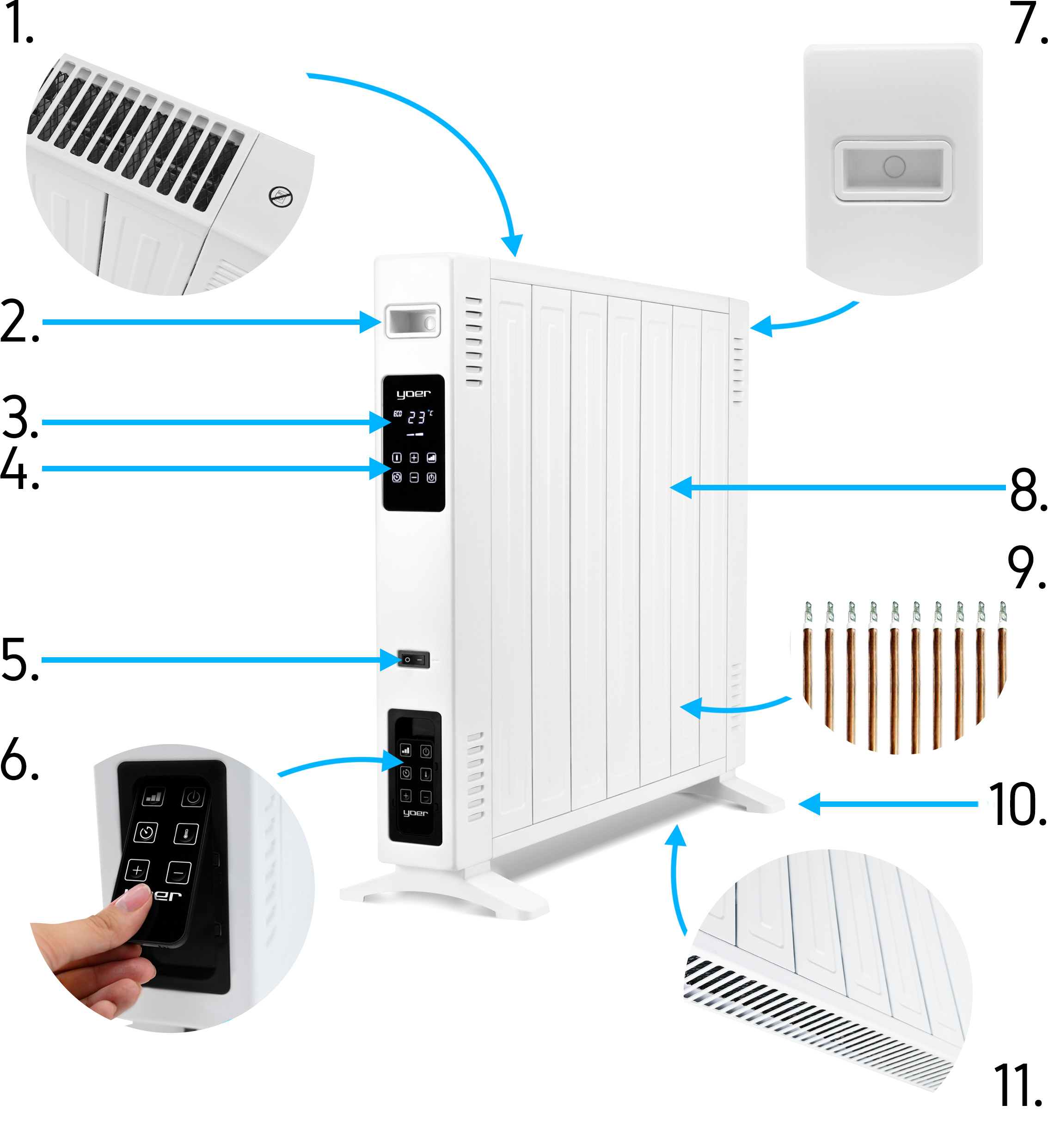 CONSTRUCTION - MAIN COMPONENTS
Air outlet
Front handle
LED display
Touch control panel
ON / OFF button
Remote control storage slot
Back handle
Device body
14 copper heating elements
Non-slip feet
Air inlet
PRODUCT DETAILS
Max power: 2000 W
Color: White
Heating element: Copper, low-temperature
Heater type: Convector
Output: 2 kW
Weight: 8 kg (17.6 lbs)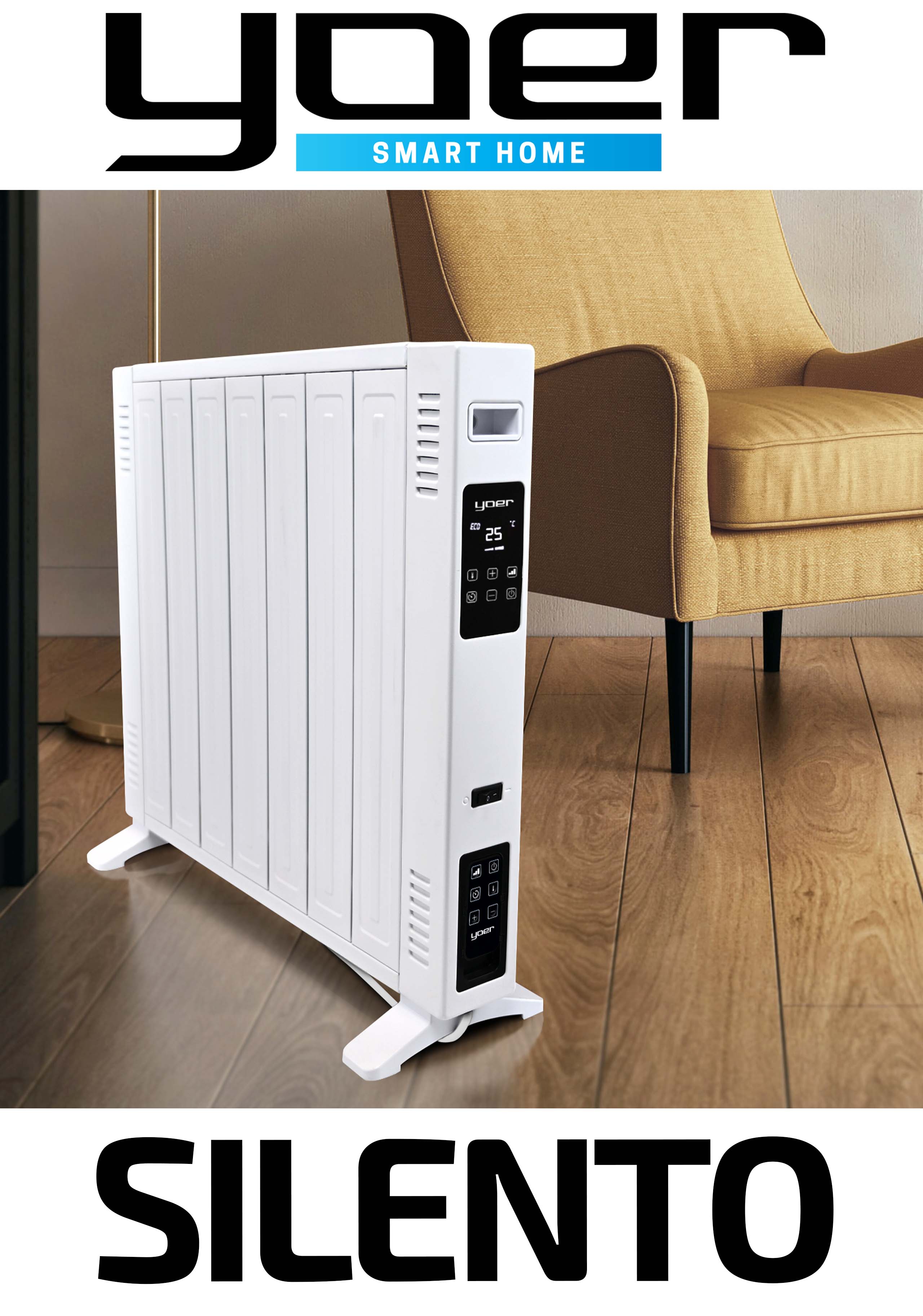 FUNCTIONS AND FACILITIES
Chimney effect - inside the heater there is a natural draft which causes rapid air circulation
Adjustable, electronic thermostat - you can set the temperature within the 10-30°C range (achieved temperature oscillates in the range of +/-2°C)
3 heating levels - will optimalise electric energy consumption
Remote control - will allow remote control without the need to get up
Touch control panel - will allow easy device use with the help of just a few clicks
Huge and easy-to-read LED display - thanks to that you can monitor current temperature and device work mode with no poblem
24-hour timer - you can program time of device operation
ECO mode - the device automatically adjusts the work mode to the set temperature
Sound signal - informs about changing the work mode or temperature setting
Overheating protection - prevents from overheating the device
Rebust construction and non-slip feet
2 ergonomic handles - make transport easier
Remote control storage slot
Tilt sensor - automatically shuts off the device in case of toppling over
INNOVATIVE HEATING ELEMENTS
Standard convector heaters are equipped with high-temperature heating eements which:
cause burning of oxygen, water vapor and dust,
emitate unpleasant smells while heating up,
dry the air in the room,
also cause excessive warming of the walls of the heater, thus increasing the risk of burns.
Our convector heater is equipped with
14 low-temperature heating elements
which reach optimal temperature without burning air and dust.
Fast heating up - our heater immediately reaches optimal temperature after turning it on.
Innovative construction - heating elements are underneath specially covered construction.
Low-temperature heating elements - during heating up they do not burn air nor dust.
Low-temperature heating element construction:
a - Coil
b - Copper tube
c - Metal body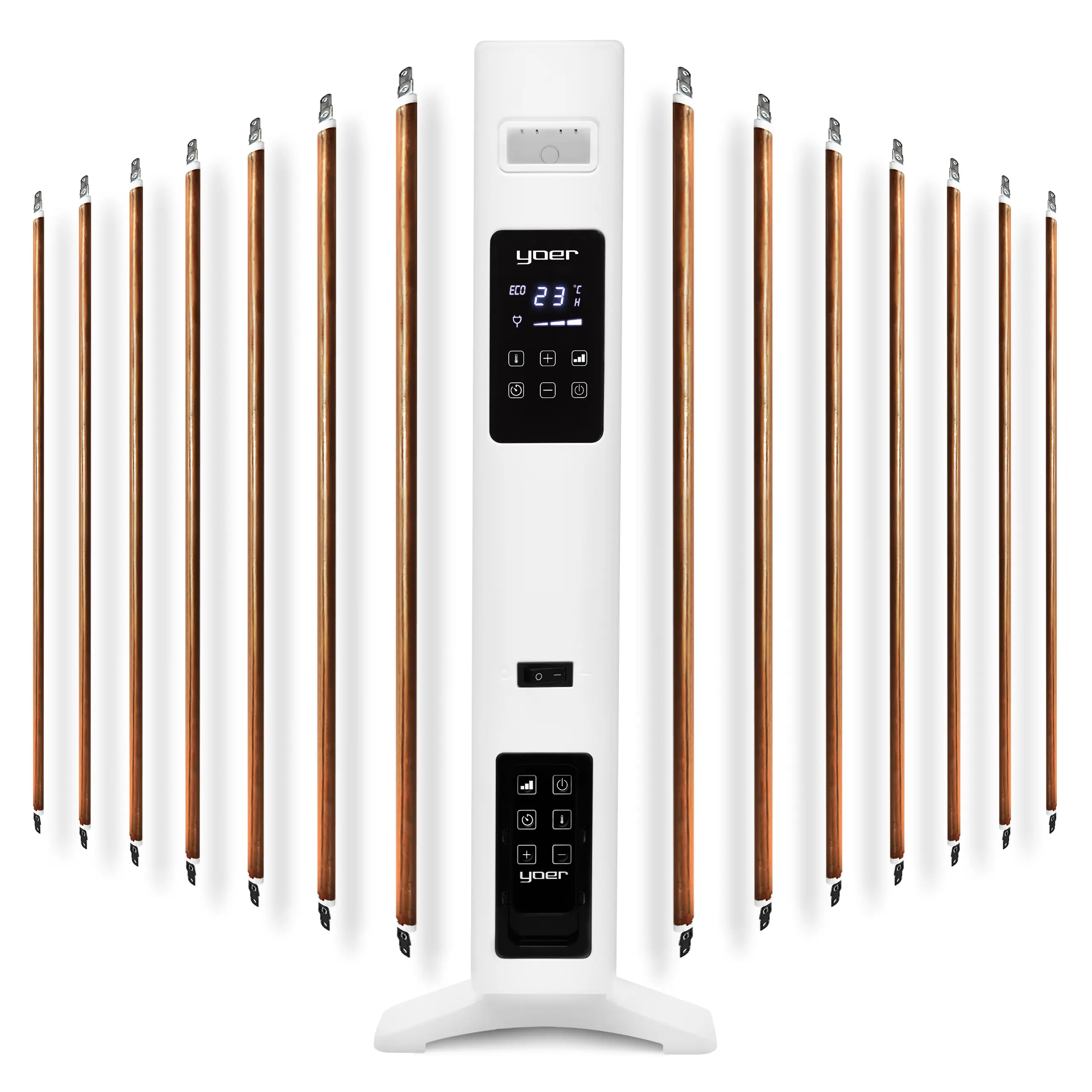 14 COPPER HEATING ELEMENTS AT THE HEART OF THE HEATER
Copper heating system - composed of a copper tube, inside of which a heating coil is located. Not unlike water heating up a copper radiator, the coil heats up the tube without getting it red hot.
The copper heating elements in the form of tubes - are additionally installed in a metal body of the radiator, thus becoming a low-temperature space heater.
Covered heating elements - do not transfer too much heat to the walls of the radiator, which means there's no risk of getting burned.
14 copper heating elements equipped with heating coils - ensure high heating efficiency and quick warming of the room.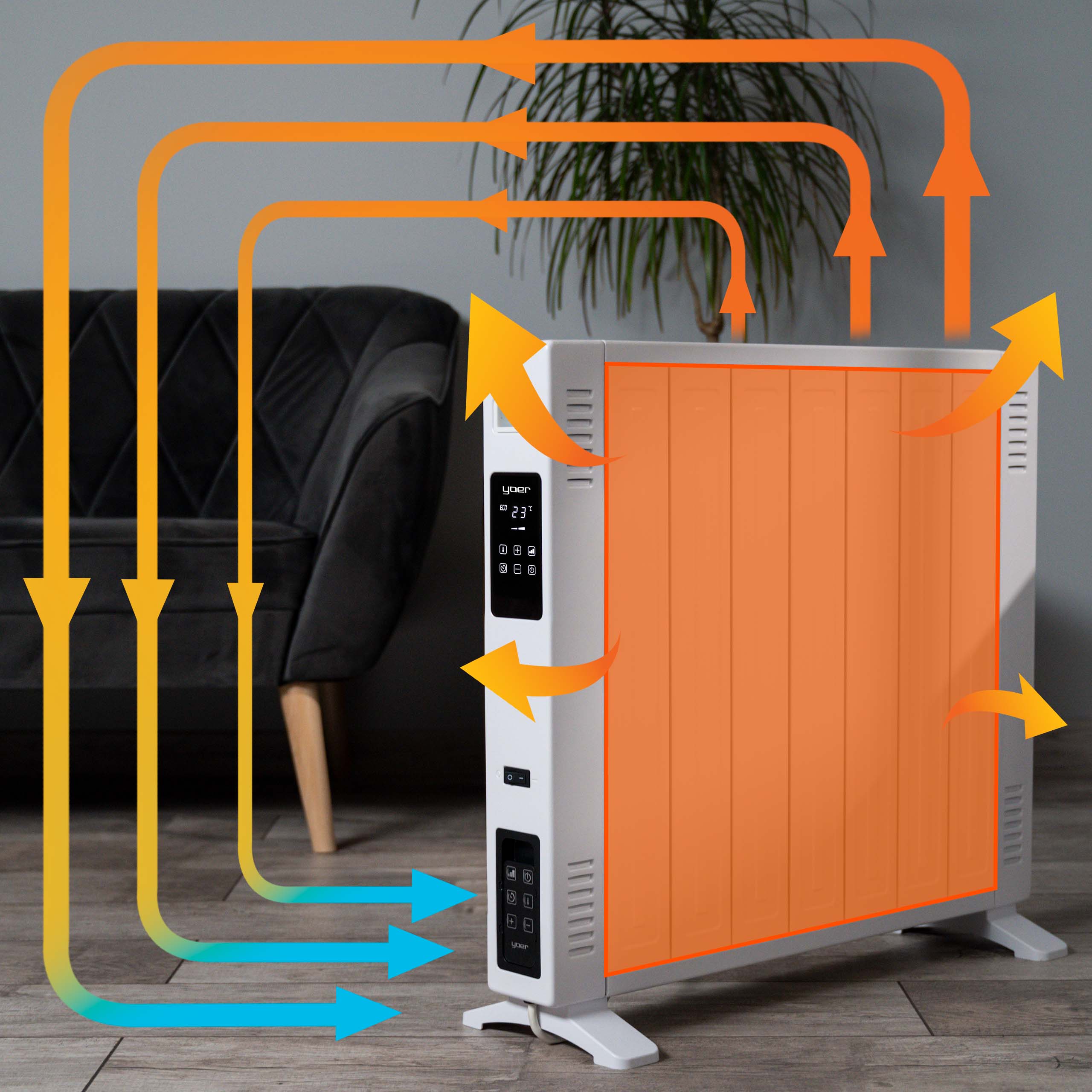 THE LOW-TEMPERATURE HEATER BETTER THAN HIGH-TEMPERATURE ONE?
Low-temperature heaters heat the air, thanks to low temperature of the heating element and large heat dissipation area. Owing to that, you will get the same or better thermal comfort in your room then when it comes to high-temperature heaters which heat the air by using high temperature of the heating element.
In
low-temperature heaters air heating
in rooms
is carried out in two ways
:
thermal radiation - giving hot air through the sides of the heater
thermal convection - raising hot air, thanks to natural "chimney effect".
Low-temperature heaters are characterized by
THE EFFECTIVE HEAT RELEASE SURFFACE
and
ENERGY-EFFICIENT OPERATION.
Quick heating - they respond quickly to changing temperature or heat demand.
The get better thermal effects while using low temperature in comparison to high-temperature heaters which use high temperature of heating medium -LOW COSTS
Even heat distribution
Compact construction of the heater.
Mode of action - even and effective.
50% bigger contact area
with heated air than hgh-temperature heaters!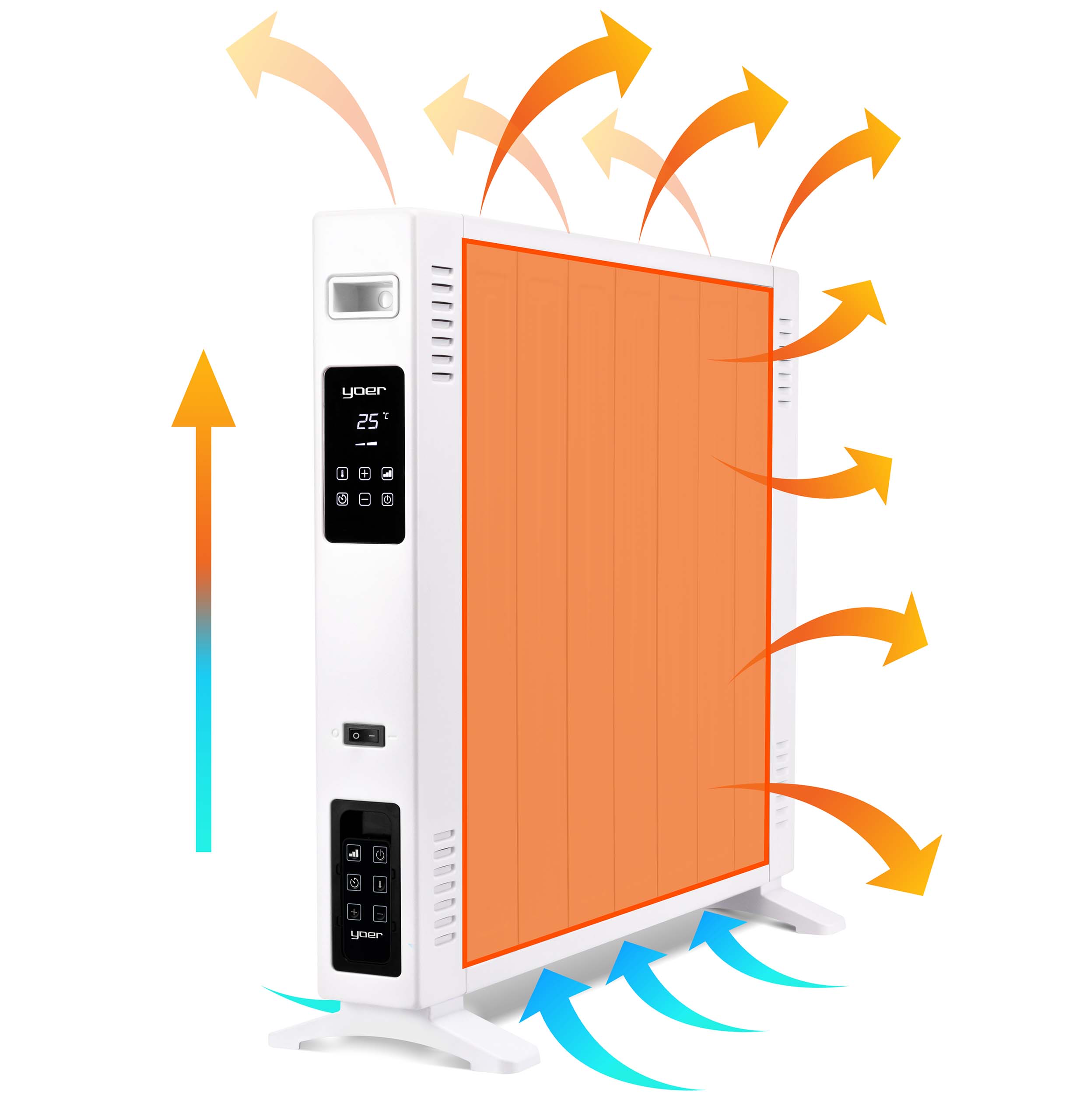 2in1 HEATER: PANEL- CONVECTOR
NATURAL "CHIMNEY EFFECT"
The specialized construction of the device creates a natural draft inside the radiator - a movement of the air from the bottom to the top of the appliance -
The design of the unit, its specialized body and the way the outside walls cover the insides are the reason for the natural draft.
The natural draft causes rapid air circulation -
the air is sucked out from the bottom, heated up by the copper tubes inside the body, and is then thrust into the room with increased force. That ensures much quicker room heating than when using standard convector heaters.
RADIANT AND CONVECTION HEAT
There are 14 copper heating elements between the two steel plates in the heater which heat the air thanks to convection phenomenon.
Circulating heated by the heating elements air affects heating the sides of the heater thanks to which they are able to
give off heat evenly through radiation - INCREASED EFFECTIVITY.
The combination of the advantages of a convector and panel heater!
Flat, slim construction - arrangement even in a small room.
Fast heating up and effective heat emission - high effectivity.
Special construction - the device quickly responds to changes of heat demand in a room.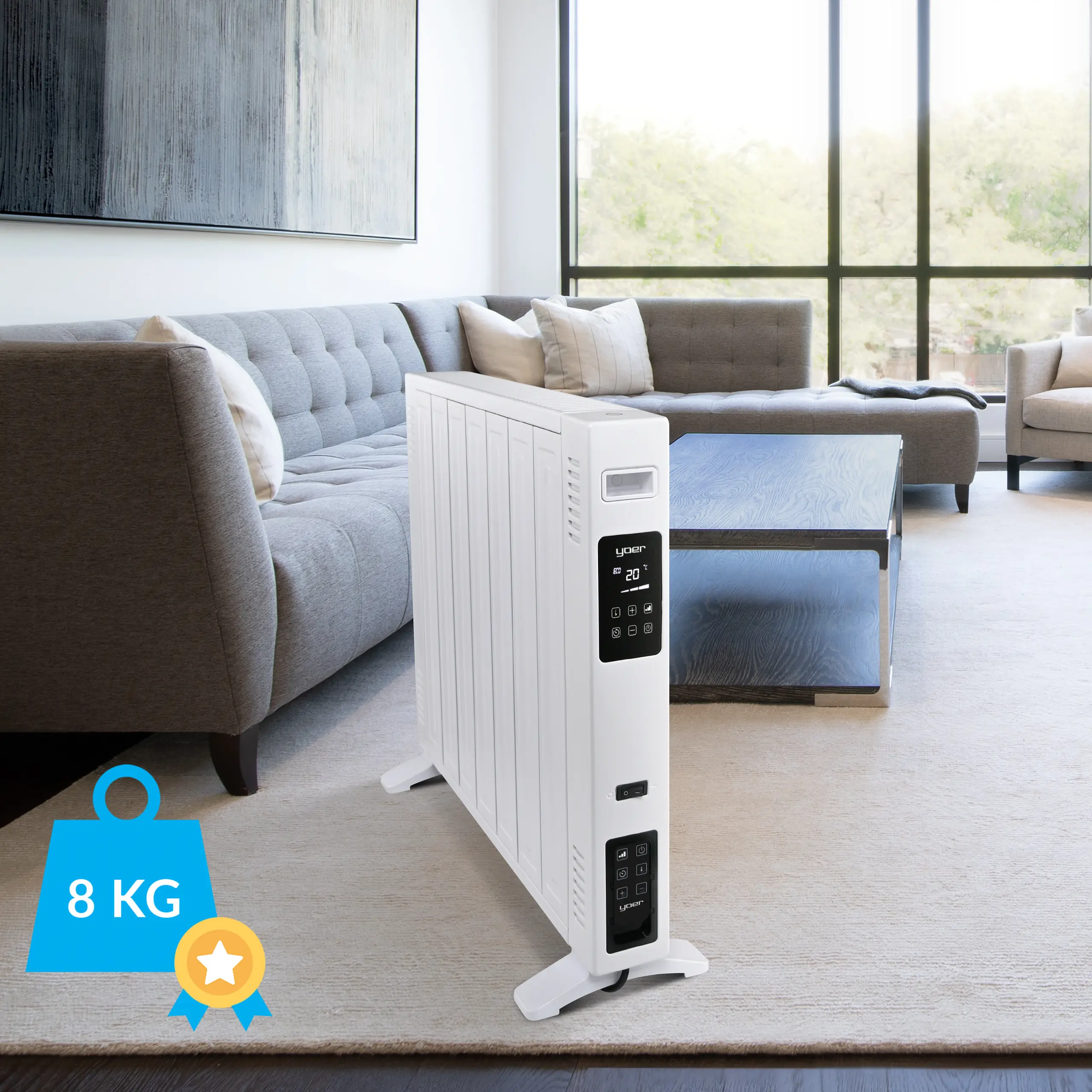 WEIGHT SPEAKS FOR ITSELF - HEAVY AND REBUST: 8 KG (17.6 lbs)
High quality of fabrics - is the reason why the heater is heavy and its construction is durabe.
Huge stability - thanks to its bigger weight than other standard convert heaters on the market, the device is extremaly rebust and hard to overturn, which will increase your comfort and safety while using it.
HIGH QUALITY OF CONSTRUCTION
Body: stainless steel
Heating system: copper heaters
Non-slip feet: high quality polymer
QUICK AND EFFECTIVE HEATING
This product is designed for occasional use or in well-isolated rooms.
Quick heating of the air immediately upon turning on the device - owing to that you will easily heat your attic, your flat (outside the heating season), or a vacation house in the fall/winter season.
Quiet operation of the device - allows you to put the heater in your child's room or bedroom.
2 WAYS TO CONTROL THE DEVICE
Touch control panel – ensures comfortable operation of the heater and easy access to all functionalities.
6 control buttons:

Temperature and time increment button
Thermostat button
Timer button
Work mode selection button (ECO functionality, heating power adjustment)
ON / OFF button
Temperature and time decrement button

Remote control - allows for controlling the device without the need for getting up.
EASY-TO-READ LED DISPLAY
Backlit LED - shows information about the active work modes of the heater.
Display symbols:

ECO functionality symbol
Temperature and time selected with the timer
Power supply icon
Celsius sign, informing that the currently displayed value is temperature
Hour sign, indicating that the currently displayed value is time
Power mode symbol (low, medium, high)
ELECTRIC THERMOSTAT AND POWER REGULATION
10 - 30°C thermostat - allows for setting the desired temperature and maintaining it.
3 power levels (low, medium, high) - allow for adjusting power to your current needs. The high power setting will heat up your room in the blink of an eye. The lowest setting maintains the temperature, without drawing too much electricity.
INTELLIGENT ECO FUNCTIONALITY
ECO MODE - saves energy during heating. The heater automatically selects the power level, while keeping room temperature in a comfortable range.
Optimal power consumption - at the point of reaching the set temperature in the room, the heater will automatically shut off. When room temperature drops below the set values, the heater will start operation in the ECO mode.
AUTOMATIC POWER ON AND POWER OFF
24 - hour timer - enables setting the time after which the device is to turn itself on or off. You can set the hour at which the heater is to begin or finish operation without hassle.
SAFE OPERATION
Tilt sensor - automatically shuts off the device in case of toppling over or when it is set at a wrong angle.
Temperature sensor - protects the device from overheating and automatically shuts it off in case there is a risk of damage.
Stable base - feet are located on each side of the heater, keeping it in a stable position.
EASY TO CARRY
Two carrying handles - make moving the heater easy. Taking it to your vacation house or moving between rooms won't be an issue.
PRODUCT PRESENTATION
Watch our video and see all the functions of our convector heater Silento!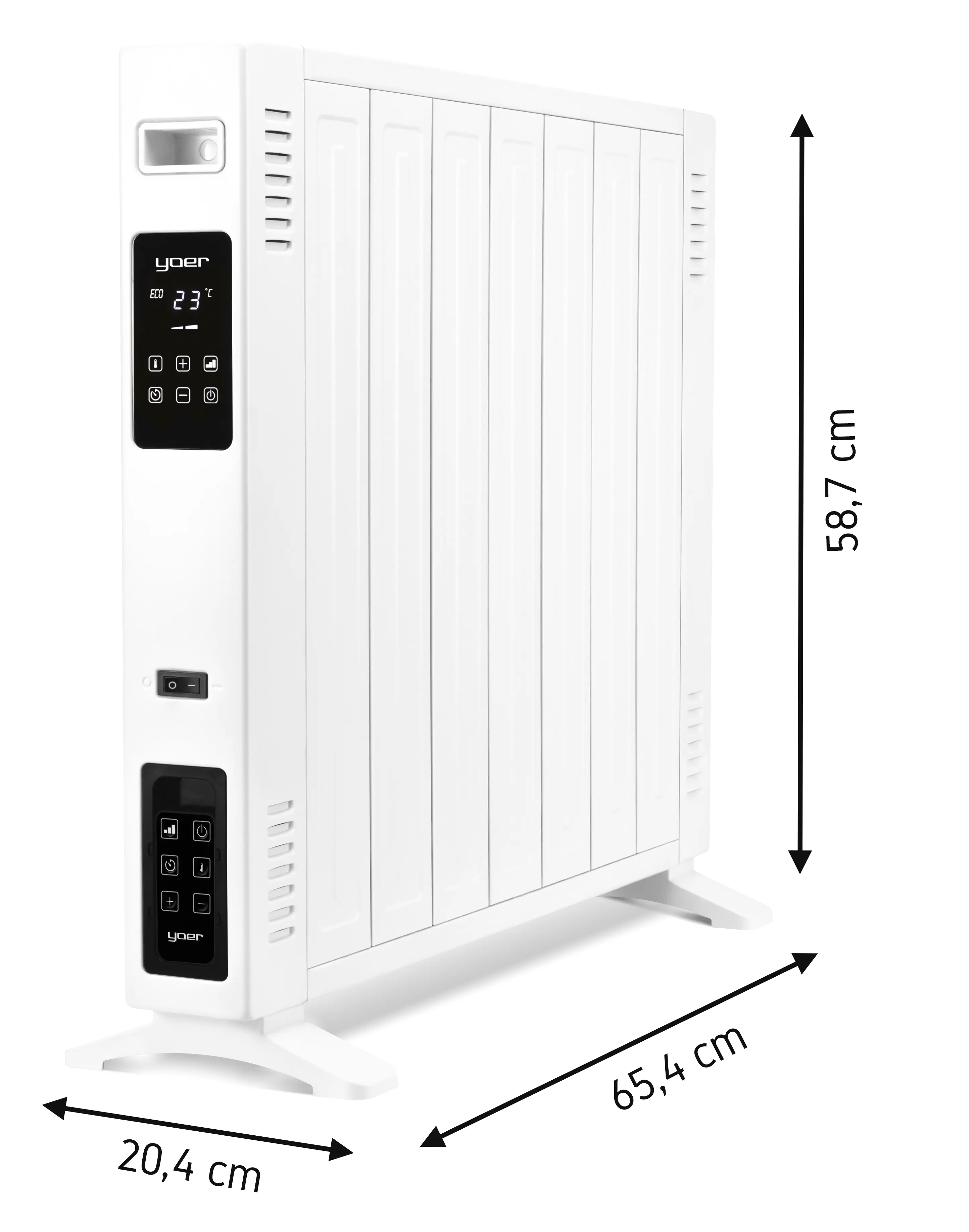 TECHNICAL SPECIFICATION
Max power: 2000 W
Output: 2 kW
Power cord length: 1,55 m (5 ft)
Weight: 8 kg (17.6 lbs)
Dimensions without feet: 8,4 cm x 54,7 cm x 65,4 cm (3.3 x 21.5 x 25.7'')
Dimensions with feet: 20,4 cm x 58,7 cm x 65,4 cm (8 x 23.1 x 25.7'')
Color: White
Polish power plug: 220-240V ~50Hz
EQUIPMENT
Convector heater
Remote control
Original packaging
YOU WILL RECEIVE:
Convector heater - details above,
YOER PLATINUM SECURITY card,
Warranty card,
Receipt / VAT invoice,
PL / EN instruction manual.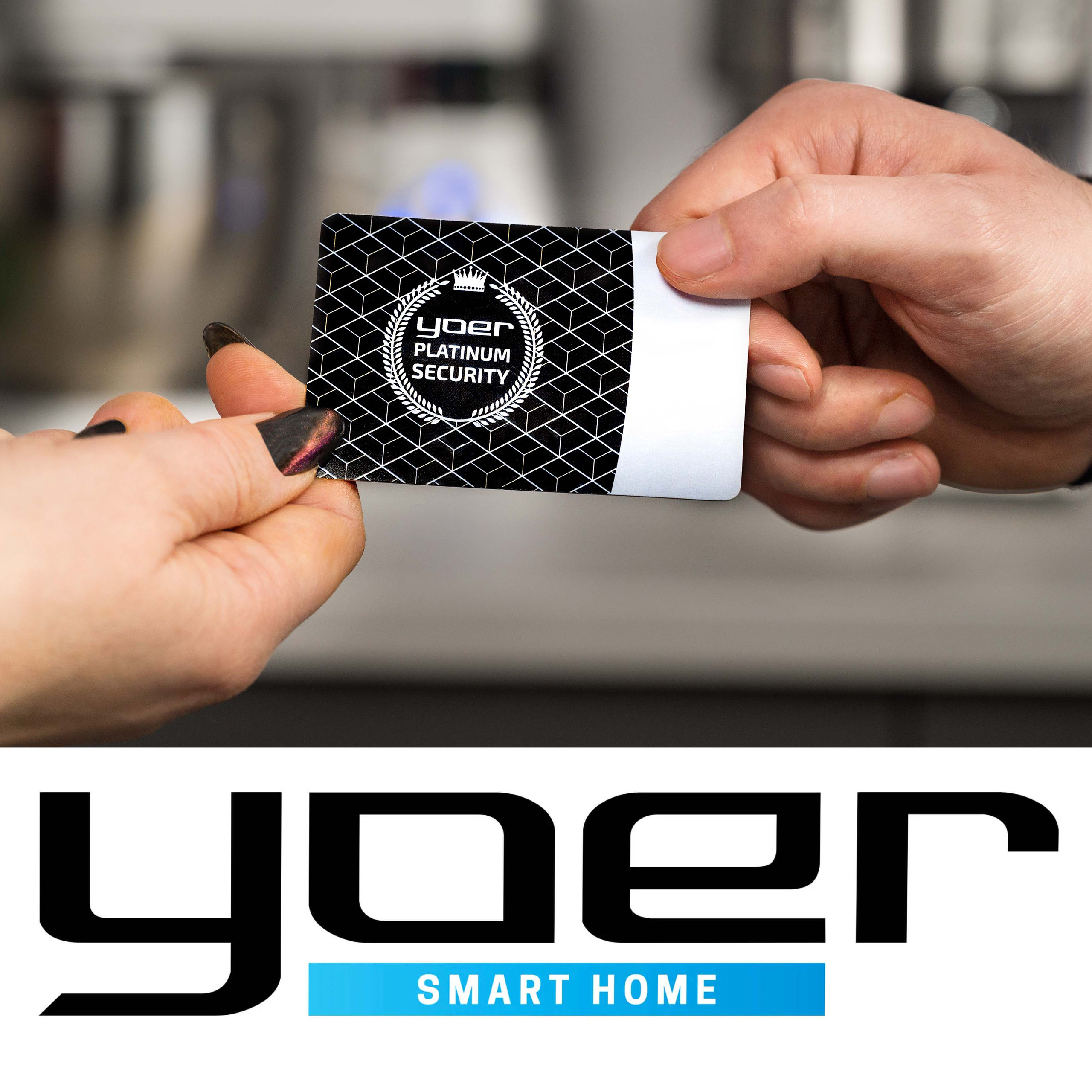 YOER PLATINUM SECURITY
When purchasing products from the official Yoer store you receive the YOER PLATINUM SECURITY package, which is an assurance of additional protection.
YOER - POLISH MANUFACTURER AND BRAND
YOER constitutes an excellent proof that high quality of products does not necesserily go in hand with high prices.

YOER CH01W Instruction manual - Click here
Potrafi dogrzać. Działa bardzo dobrze, szybko się rozgrzewa i nagrzewa pokój. Ekstra sprawa z funkcją nastawienia na kiedy ma się włączyć lub wyłączyć.
Różnice w temperaturze, jak wspomniał Janusz wynikają z kompensacji. To naturalne zjawisko. Warto zapoznać się z tym terminem.
Polecam bardzo. Ewentualnie nóżki mogłyby być troszkę szersze, subiektywnie patrząc. Oczywiście bardzo stabilnie stoi.

Niestety niska ocena ze względu na termostat, który działa wg mnie niepoprawnie. Przykład: temparatura w pomieszczeniu (ok 20m2) była 17 stopni , grzejnik ustawiony na 15 stopni na najniższym zasilaniu pracował non-stop przez sześć godzin i podniósł temperature do 19. Mimo tego dalej się nie wyłaczał. Dopiero zjechanie termostatem na 11 stopni spowodowało jego wyłaczenie. Czyli w termostacie trzeba mocno "wyczuć" jego tolerancję. Ale chyba nie o to chodzi. Poza tym, grzejnik bardzo dobrze wykonany, nózki spasowane, stabilny. Generalnie jest ładny. Grzeje dwoma płaszczyznami i grawitacyjnym nawiewem (efekt komina). Przydałby się lepszy programator czasowy. Jest tylko timer. Ale w dobie drogiego prądu brak prawidłowego odczytania temperatury pomieszczenia i nie wyłączania grzejnika poprzez termostat dyskredytuje go. Grzejnik będzie oddany. I tu kolejny minus. Trzeba z nim jechać na pocztę. Nie ma odbioru kurierskiego.

Recently viewed products

Other Customers also purchased

Similar products