Language
Electric burr coffee grinder YOER Mulino BCG01BK
Power: 150W, High quality steel burrs, Control panel with backlit display, Coffee bean container: 240g, Ground coffee container: 150g, Coffee grinding straight into the portafilter
449.00
-14%
388.00
Lowest price in the last 30 days:

Shipping within

Shipment within 24 hours

Availability

Small

68

pcs.
| | |
| --- | --- |
| Bar code | |
| EAN | 5900779770607 |
Description

Instruction manuals
ELECTRIC BURR COFFEE GRINDER YOER Mulino BCG01BK
PRODUCT DETAILS
Burr grinder with 43 grinding settings exceptionally durable grinder made of industrial hardened stainless steel, 58-62 on the Rockwell scale.
150 W Power allows for reaching the optimal thickness while preserving coffee taste.
Automatic outlet makes the grinder easy and comfortable to use.
Sleep functionality the device will automatically go into standby after 90 seconds of inactivity, which ensures lower power consumption.
Anti-slip base the grinder is equipped with anti-slip feet to keep it stable.
Compact dimensions the device is appropriately sized to be a good match even in a very small kitchen.
Modern design the grinder was created with modern and exclusive decor in mind.
Easy operation the grinder is very easy and comfortable to use.
High effectiveness the device grinds up to 105 g of coffee per minute.
Improper assembly safeguard in the event of improper assembly of the grinding element, the device will not begin operation.
CONSTRUCTION - MAIN COMPONENTS
Coffee bean container tight lid
Tightly closed removable coffee bean container
Control panel
Coffee grinding thickness regulation knob
Tightly closed ground coffee container
Anti-slip base
Accessory compartment in the container lid
Portafilter bracket holder
Grinding element with steel burrs
Steel grinder base
Portafilter bracket
Portafilter bracket with "ON" button grinds coffee directly into the portafilter to get exactly as much as you need by pushing it in.
The portafilter bracket is equipped with a button that automatically engages the grinder as the portafilter is pushed into the bracket. The portafilter icon will be lit on the display. When the portafilter is taken out, the device will automatically halt operation.
Grinding thickness regulation knob coffee grinds thickness affects its intensity. Owing to the ability to regulate the grinding thickness, you can fine-tune the coffee to individual tastes.
Fully automatic grinder - there is no need to supervise the grinding process. After selecting the desired settings, the freshly ground coffee will be placed in its container and the grinder will stop the operation on its own.
6 grinding modes allows the user to choose the amount of ground coffee, to assure it is always fresh and full of aroma.
| | |
| --- | --- |
| 1. One coffee cup | 10 seconds |
| 2. Two coffee cups | 20 seconds |
| 3. Three coffee cups | 30 seconds |
| 4. Four coffee cups | 40 seconds |
| 5. Five coffee cups | 50 seconds |
| 6. Portafilter grinding | Constant mode |
Control panel with backlit display - displays information about current grinding mode and the amount. The backlit display gives the device a modern look.
150g tightly closed removable ground coffee container - preserves the aroma of freshly ground coffee. It is euquipped with a polymer lid with a rubber latch that prevents air access to the coffee.
240g removable coffee bean container - the removable container simplifies emptying and refilling, and the automatic lock ensures that no coffee beans are spilled. You can fill the container and store it in a dim place, due to the fact that it was designed to prevent the beans from drying out and losing their aroma.
Portafilter bracket holder - locked at the back of the device, the holder enables storage of the bracket in a convenient spot so it is always within reach.
Container lid accessory compartment - the accessories supplied with the set can be stored within the device itself. You can be sure to never lose them and always keep them close.
Why steel cone burr grinders are the best choice?
Steel burs are impervious to wear and more durable than ceramic burrs. They offer formidably better sharpness than their ceramic counterparts, which means the coffee will contain less dust, and the ready beverage taste will be more mellow.
The high quality also means that operation will not be any louder than that of a ceramic burr grinder.
Impact grinder blades - coffee beans are severely heated, which dissipates some of its nutritional values. A lot of dust is created, which sours the beverage.
Flat burrs - chunks - of coffee may get stuck in the grinder due to its flat construction. This will have an impact on the taste, because the burrs do not crush the beans througly.
Cone burrs - because of the conic shape of the burrs, no chunks get stuck, which makes it easier to clean. The burrs generate much less heat than their flat counterparts, which results in unaltered coffee taste and its nutritional values remain unchanged. Cone burrs have to make less revolutions per minute to grind coffee effectively.
A steel cone burr grinder will help you get the best taste.
TECHNICAL SPECIFICATION
Power: 150W,
Grinding output: 105 g/min,
Coffee bean container with tight lid: 240g,
Ground coffee container with tight lid: 150g,
Power cord length: 77 cm (30.3 ")
Weight: 3 kg (6.6 lbs),
Dimensions: 34,3 cm (height) x 12 cm (width) x 23 cm (length) (13.5 x 8.3 x 9.1 "),
Color: Black with silver steel elements,
Polish power plug: 220-240V 50/60Hz
EQUIPMENT:
Electric burr coffee grinder
Ground coffee container with tight lid
Coffee measure
Grinder cleaning brush
Portafilter bracket holder
Original packaging
YOU WILL RECEIVE:
Electric burr coffee grinder - details above,
YOER PLATINUM SECURITY card,
Warranty card,
PL/EN instruction manual.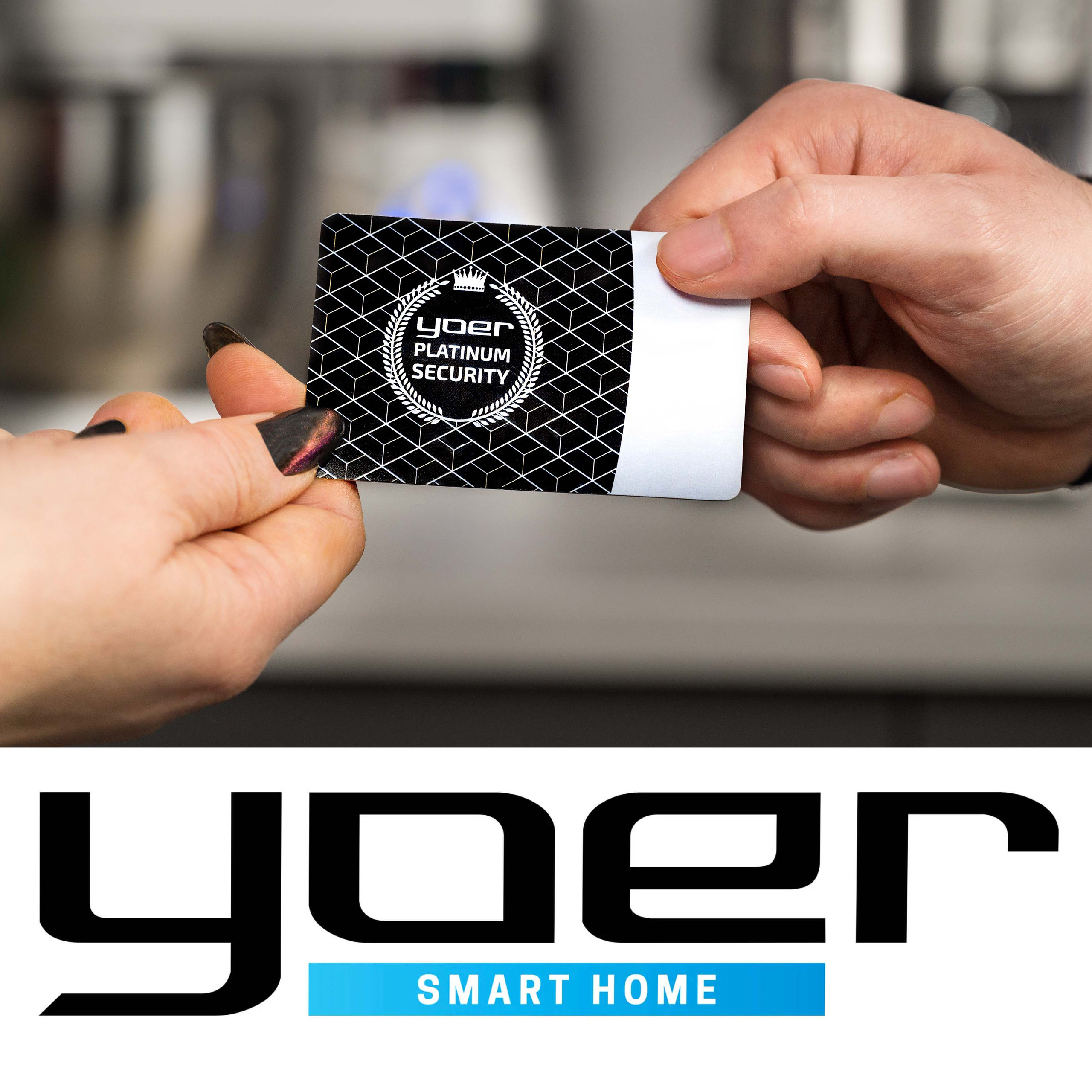 YOER PLATINUM SECURITY
When purchasing products from the official Yoer store you receive the YOER PLATINUM SECURITY package, which is an assurance of additional protection.
YOER - POLISH MANUFACTURER AND BRAND
YOER constitutes an excellent proof that high quality of products does not necesserily go in hand with high prices.

YOER BCG01BK Instruction manual - Click here