Language
Electric contact grill YOER Panino EG02S
Electric grill and panini maker; 2000 W power; 1334 cm² grilling surface; dual-zone thermostat: 160–230°C; top lid height adjustment; timer; 4 grilling positions; fat tray; removable heating plates
688.00
-42%
398.00
Lowest price in the last 30 days:
Order within
and we will send the package today

Shipping within

Shipment within 24 hours

Availability

Medium

96

pcs.
| | |
| --- | --- |
| Bar code | |
| EAN | 5900779771123 |
Description

Instruction manuals
Electric contact grill, panini maker YOER Panino EG02S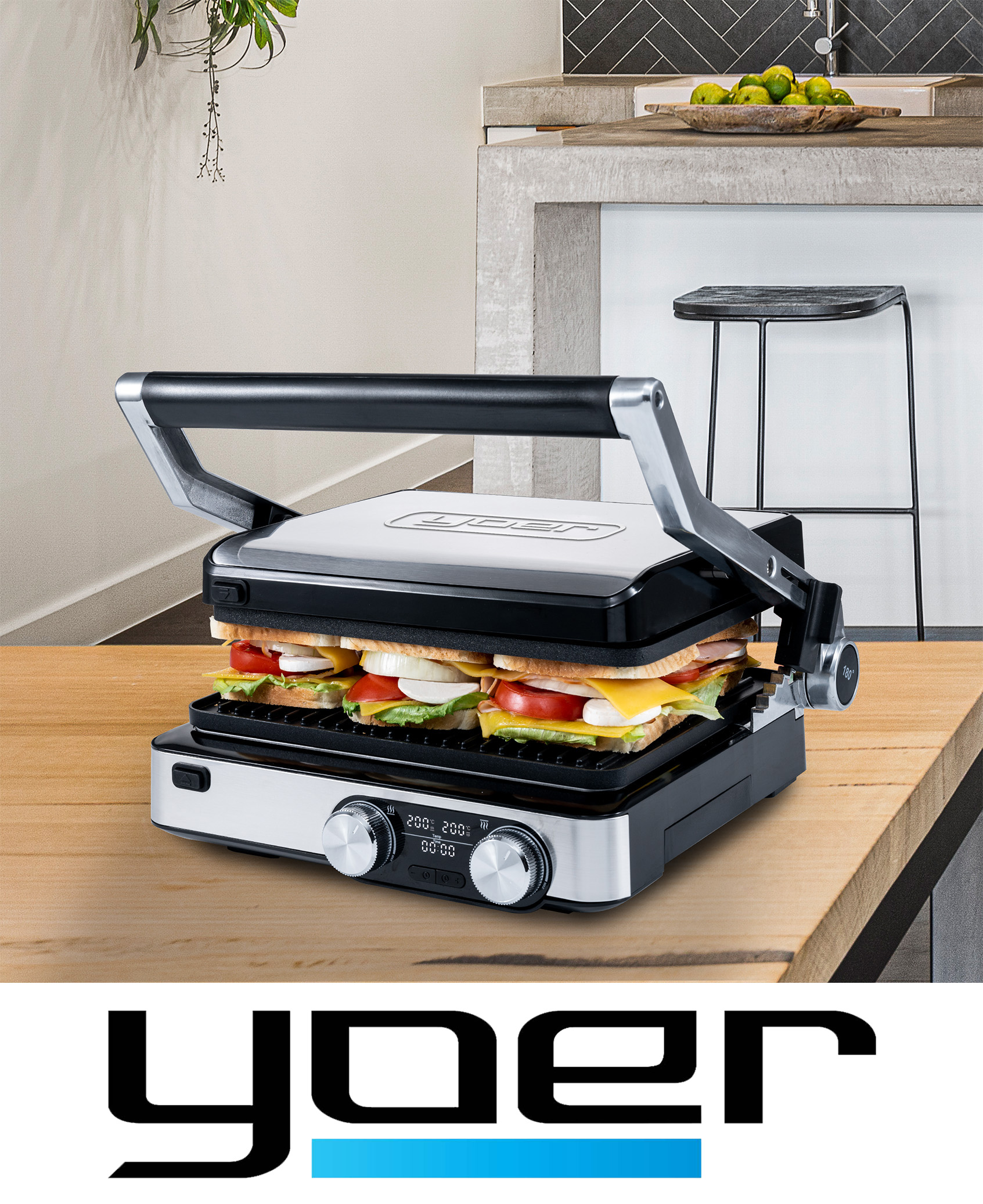 PRODUCT DETAILS
2in1 appliance: electric grill and panini maker
Huge power 2000 W: extremely huge output of the device
1334 cm² heating area: huge grilling space after unfolding
Dual-zone, precise thermostat: independent temperature adjustment for each heating plate
Precise temperature setting and timer, automatic grilling: program 90-minutes operation of the device
4 grilling positions: adjust the way of grilling to your personal needs
5 toasting positions: you can prepare different types of meal
Control panel with LED display: you will be able to control the heating plates temperature and working time of the device
Sound indicator: will inform you when the grilling has finished
Non-stick Teflon coating: grill without worrying about sticking your meal to the heating plates
Removable fat tray: get rid of fat in such an easy way
Removable dishwasher-safe heating plates: you can wash the heating plates in a dishwasher
Heat-resistant handle and control knobs: operate the appliance without worrying about burns
Thermo-isolated body: do not worry about destroying your table top
Closed lid position lock: your meal will be properly grilled
Heating plate cleaning spatula: keep clean in an easy way
CONSTRUCTION - MAIN COMPONENTS
Top heating plate removal button
Heating plate cleaning spatula
Top heating plate
Bottom heating plate
Bottom heating plate removal button
Control panel with LED display
Lid position lock and lid height regulation slider
Handle
Top and bottom heating plate fat runoff
Lid release button (barbecue position)
Fat tray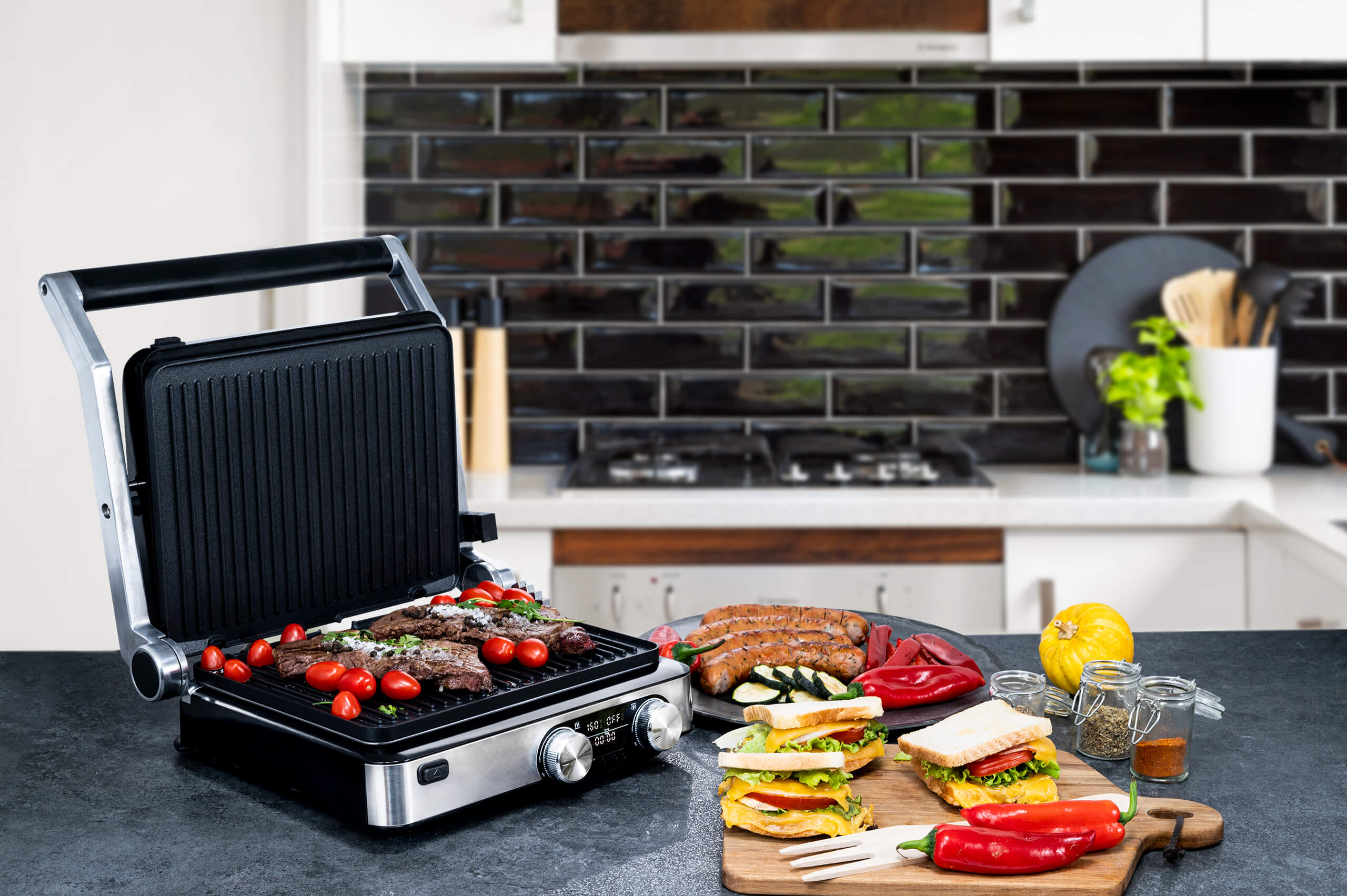 HEALTHIER, FASTER, MORE CONVENIENTLY
Full operational readiness – grill wherever and whenever you want. You're not constricted by season or bad weather.
Fat-free preparation of diet-friendly dishes – meals are grilled directly on heating plates with non-stick coating, without the addition of fat.
lightning-fast heat-up – Don't have time to cook? The electric grill is perfect for quick preparation and heating of dishes.
Compact size + formidable power – the grill is a great solution for even the smallest of flats. It is lightweight and completely portable. At the same time, the 2000 W power allows the appliance to stand among standalone garden grills.
Exceptional versatility - Not only can you can prepare every kind of meat, but also delicious and healthy vegetables.
2in1 device – the appliance is also an excellent tool for preparing grilled bread and rolls. It will allow you to make crunchy grilled cheese sandwiches, toasties, Italian snacks, such as panini and many, many more.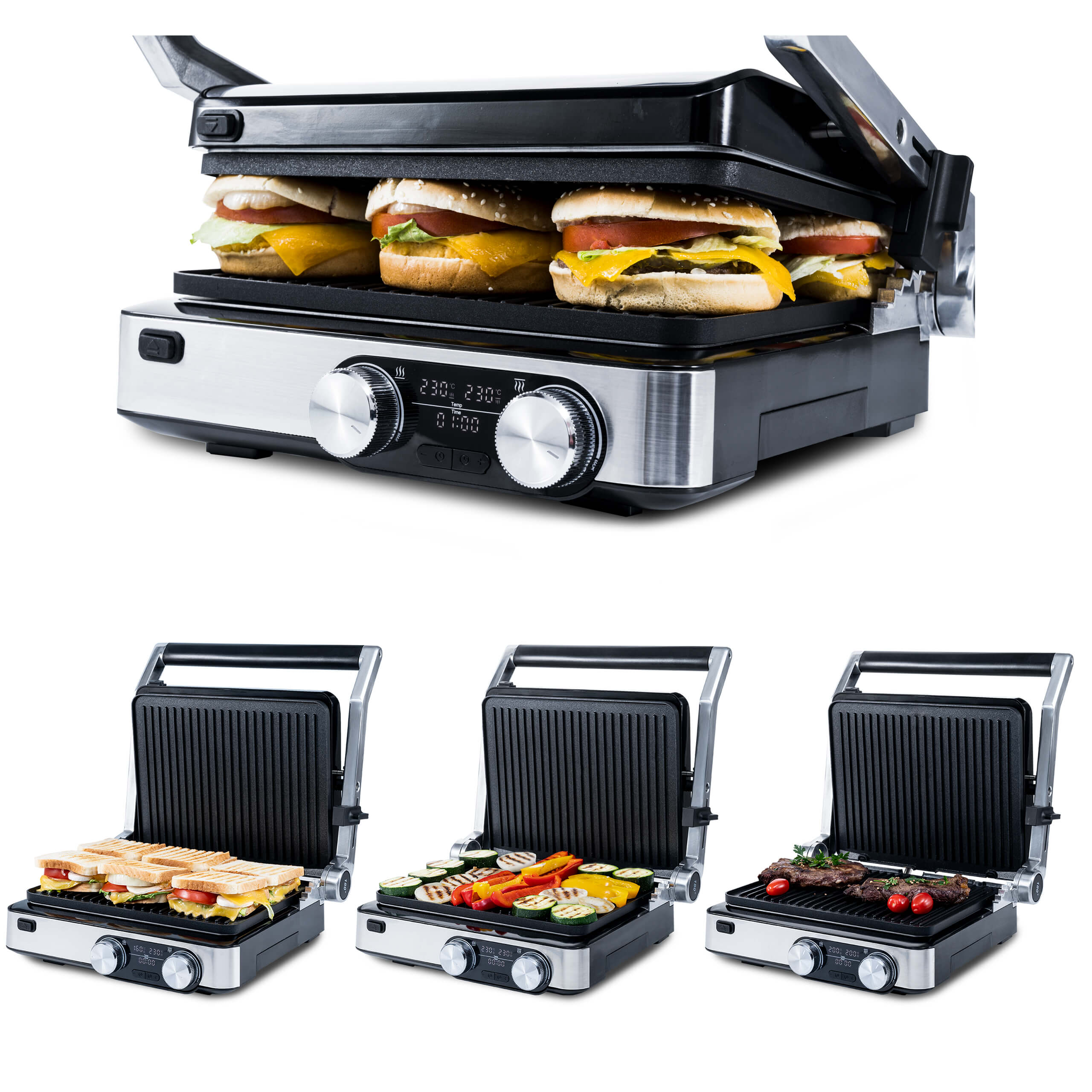 AUTOMATIC GRILLING
Unlike similar devices on the market, the Panino contact grill allows for programming time and temperature of grilling.
Two handy temperature adjustment knobs - you will easily set optimal values for each individual plate.
Timer - allows for choosing a period of time in the 1–90 min. range, after which the device will turn itself off.
Input appropriate settings for each dish, and the grill will prepare perfectly grilled dishes on its own:
Beef steak: 2-6 min. at 200°C
Pork steak: 6-8 min. at 200°C
Poultry: 6-10 min. at 180°C
Minced meat chops: 4-8 min. at 200°C
Sausages: 4-10 min. at 200°C
Shrimp: 3-4 min. at 190°C
Fish: 6-7 min. at 180°C
Fish fillets: 3-5 min. at 180°C
Panini and grilled sandwiches: 4-5 min. at 180°C
Vegetables: 4-7 min. at 190°C
Fruit: 3-4 min. at 190°C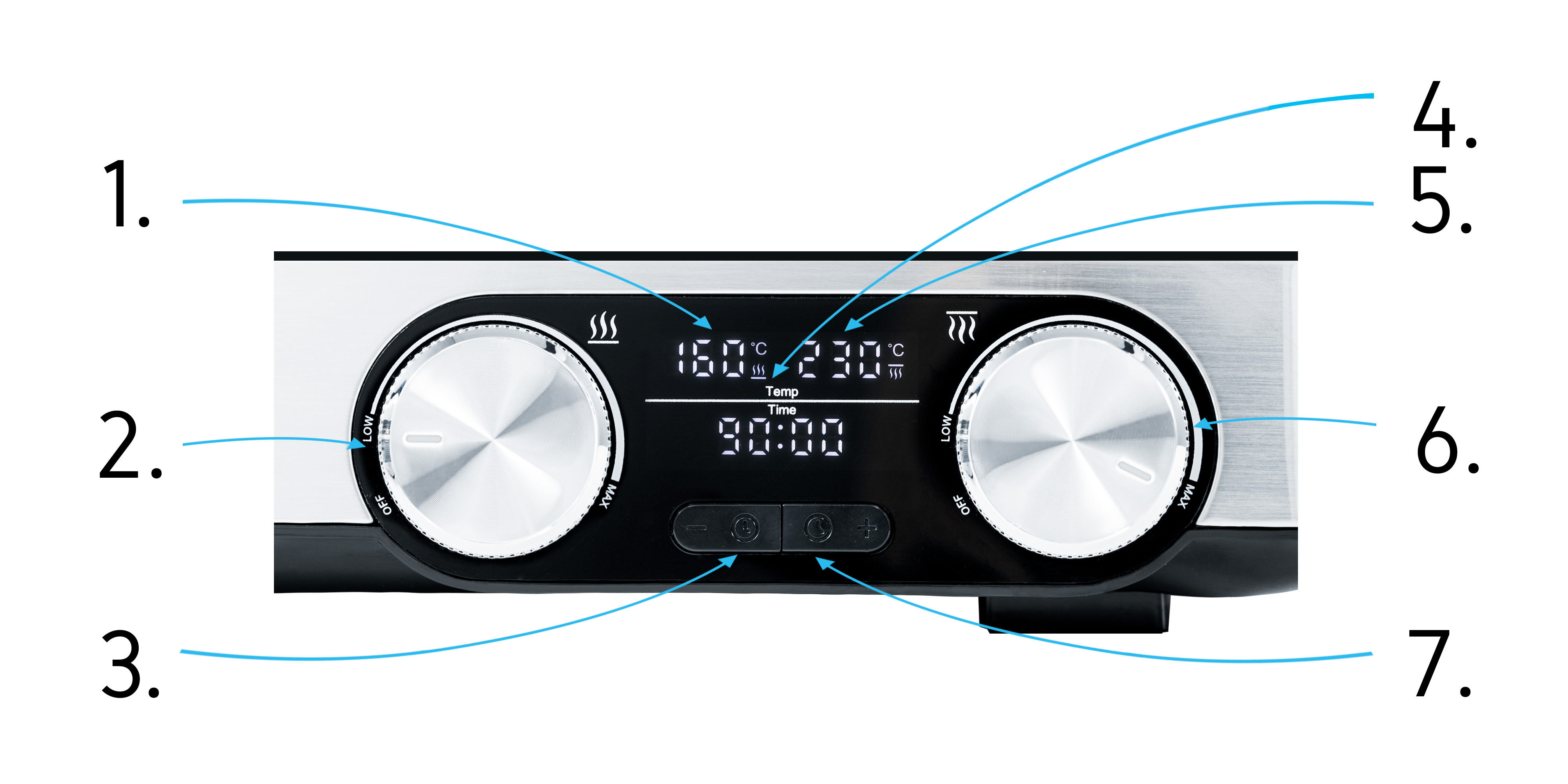 CONTROL PANEL: PRECISE TIME AND TEMPERATURE ADJUSTMENT
Convenient control panel with an easy to read display gives you instant access to all device functionalities.
Selected bottom heating plate temperature indicator - inorms about chosen bottom heating plate temperature
ON/OFF switch/ bottom heating plate temperature control knob - turn on or off, or set the bottom heating plate temperature
Timer decrement button - press the button to decrease the working time of timer
Remaining work time indicator - indicates the remaining time until the end of automatic operation of the device
Top heating plate temperature indicator - informs about chosen top heating plate temperature
ON/OFF switch/ top heating plate temperature control knob - turn on or off, or set the top heating plate temperature
Timer increment button - press the button to increase the working time of timer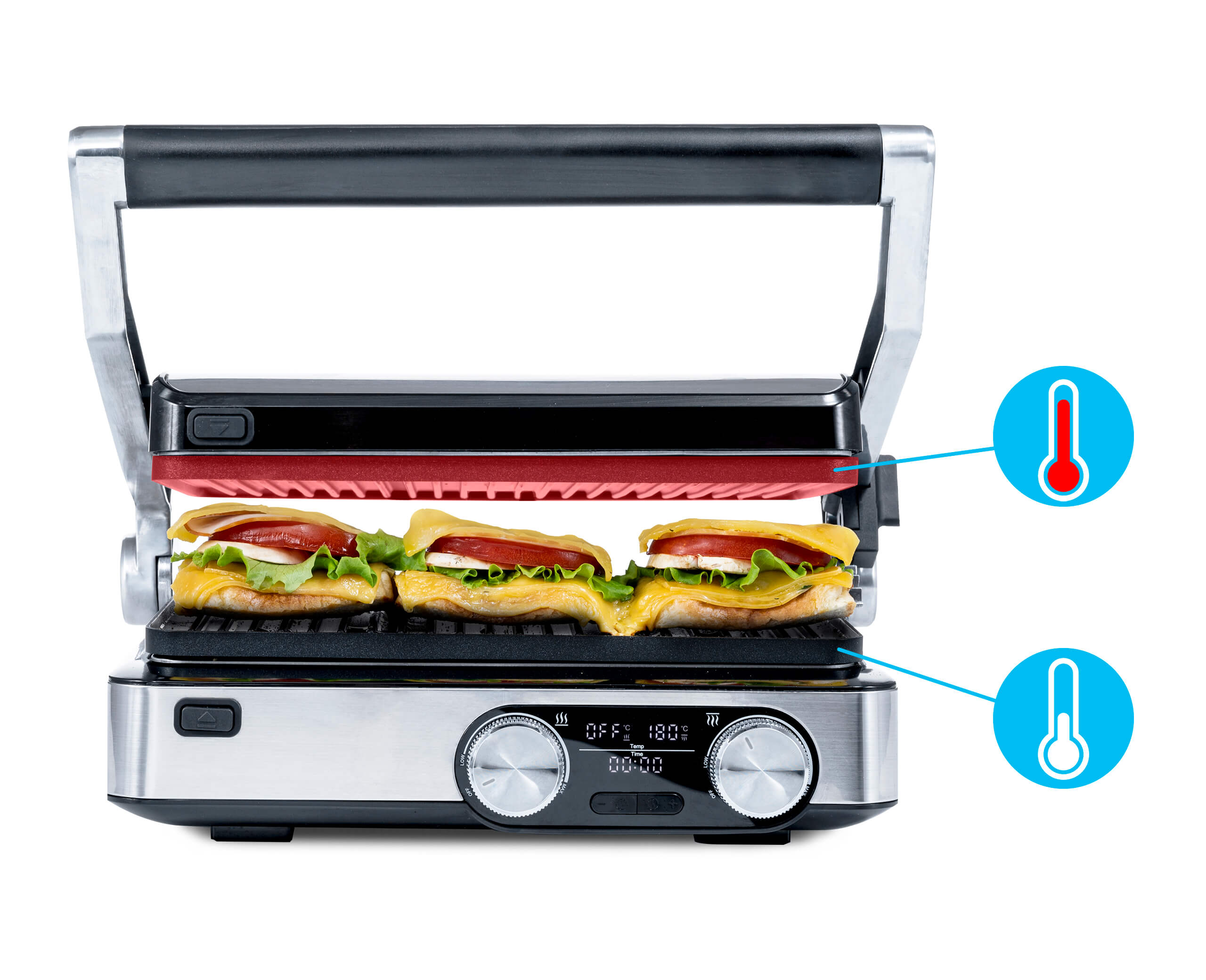 INDEPENDENT TEMPERATURE ADJUSTMENT FOR EACH HEATING PLATE
Dual-zone thermostat - do you like your meat well done, but slightly soft at the bottom? No problem! Thanks to the two independent knobs you will easily set different temperatures for top and bottom plates. This will allow you to avoid burning your meal and assure full control over the grilling process. At any given point, you can decide whether you want to heat up:
a) just the top heating plate,
b) just the bottom heating plate,
c) both plates at the same time.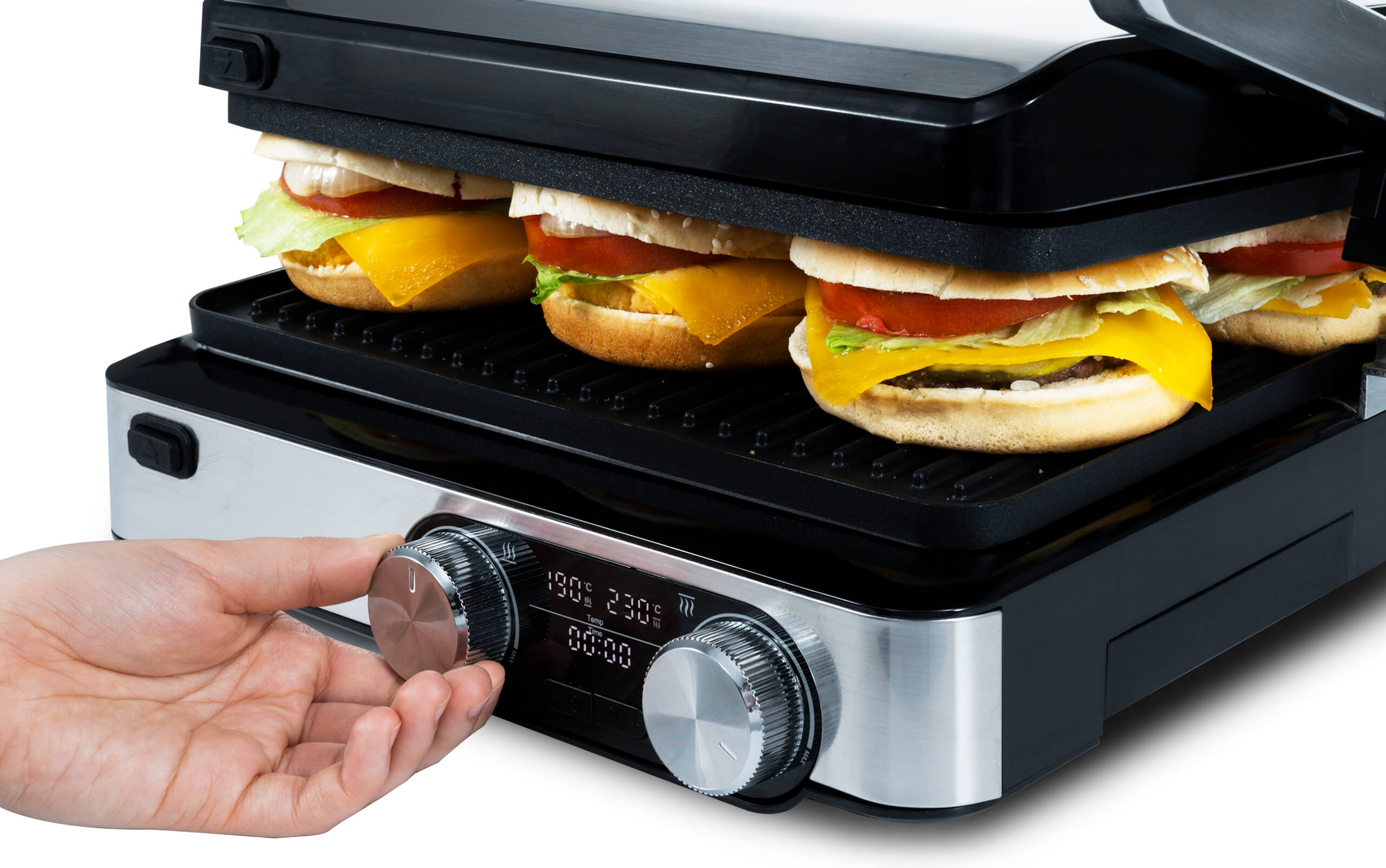 REMARKABLY HIGH POWER AND FULL CONTROL OVER TEMPERATURE
Speed and efficiency – Thanks to the 2000 W power, the grill heats up immediately, and the preparation of dishes will take you a few moments. The grill will inform you that is has reached chosen temperature with a characteristic sound signal.
Precise temperature adjustment – the appliance enables setting temperature in the 160–230°C range.
More power comes with more possibilities – the appliance can even easily replace a traditional cooker or oven.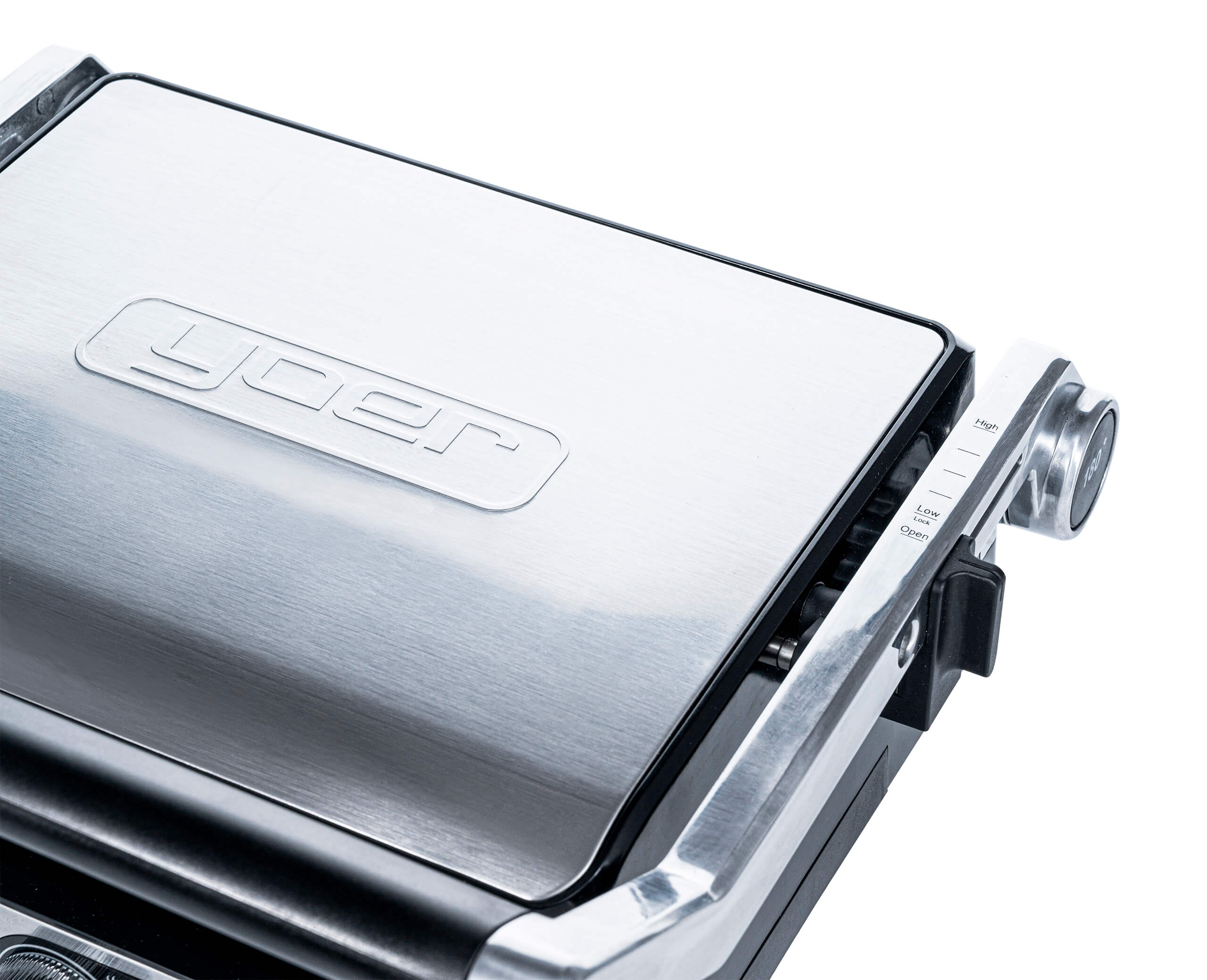 EXCLUSIVE AND ELEGANT DESIGN
Grill adorned with beautiful YOER INOX stainless steel manufacturer insignia.
Metal handle - durability for years to come.
Brushed INOX stainless steel body boasts an awe-inspiring shine making the device a unique piece of decoration in every kitchen.
The well thought-through body is made of a very durable polymer, resistant to heat.
VERY LARGE GRILLING SURFACE
fold-out to 180° – by opening the appliance you increase the grilling area twofold – as much as 1334 cm².
Prepare delicious dishes for a group of people in considerably shorter time – you can place about 4 servings on a single heating plate. When grilling on both plates, you can serve even 8 guests at a time.
Enjoy grilling with great company – place your favorite ingredients on both heating plates and grill together with friends!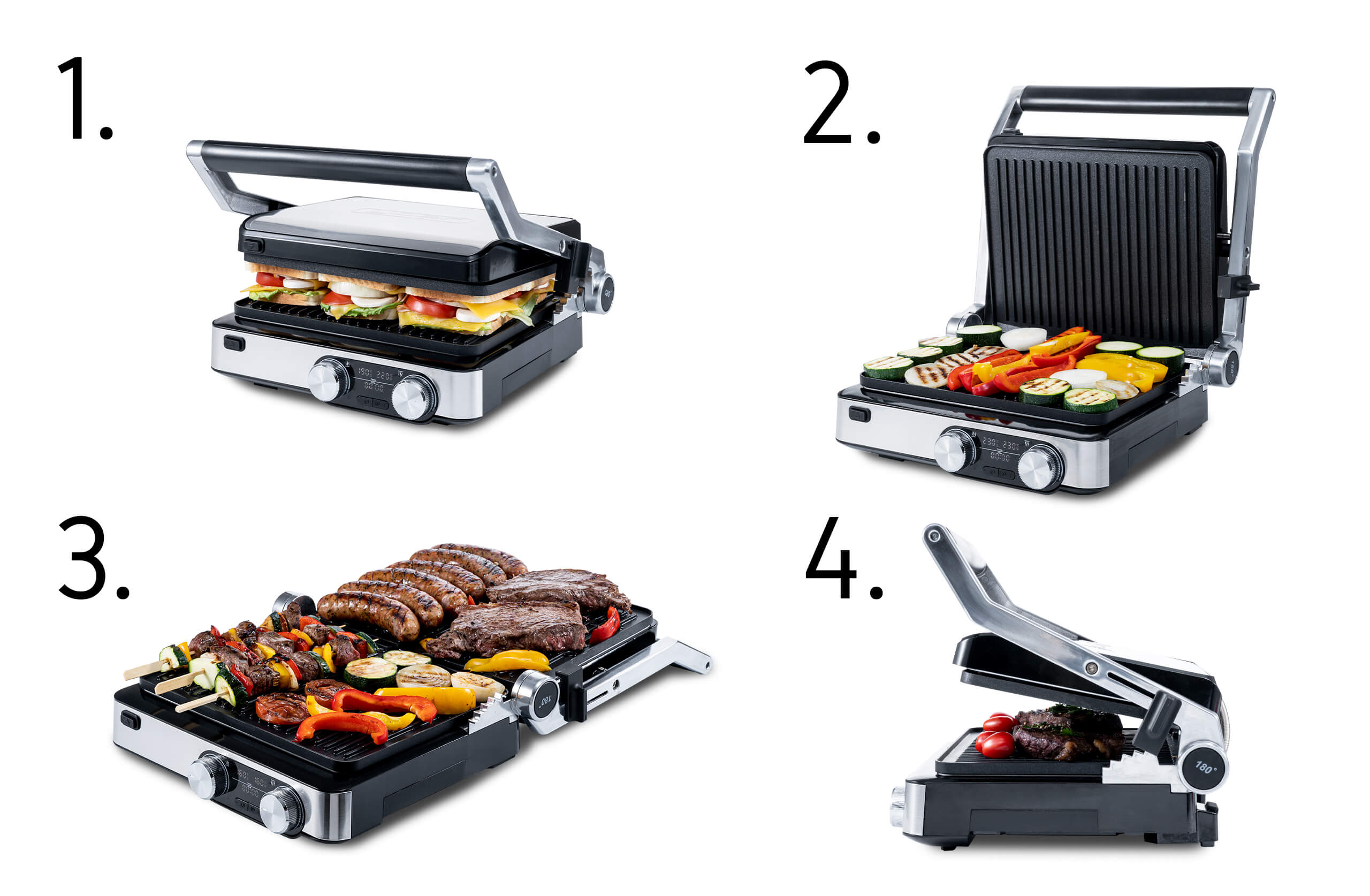 4 GRILLING POSITIONS: GRILL, BROWN AND TOAST
1. Closed grilling – lower the top lid to grill meat evenly from both sides at the same time. You can prepare toast and panini-type sandwiches using the same method.
2. Semi-open grilling (90°) – lift up the top lid and comfortably grill on the bottom heating plate.
3. Open grilling (180°) – fully retract the grill and prepare dishes using the twice as large surface.
4. Toasting with 5-step top plate position adjustment – place the top heating plate the right distance from your ingredients to make sure that they (for example, cheese on a sandwich) do not get burnt.
5 TOASTING POSITIONS - ADJUSTABLE TOP PLATE HEIGHT
The appliance is equipped with a very useful functionality that allows for top heating plate adjustment, owing to which you can toast dishes in a contact-free manner. It will prove indispensable during preparation of toasties, hamburgers and soft dishes. The functionality enables putting the top plate at 5 different heights:
9 cm (3.5 ") - for preparing e.g. toasties and grilled cheese sandwiches
7 cm (2.8 ") - for grilling e.g. steaks and sausages
4,5 cm (1.8 ") - for toasting e.g. a variety of vegetables
2,5 cm (1 ")- for grilling, e.g. bacon slices
0,8 cm (0.3 ")- for heating up e.g. tortillas and pancakes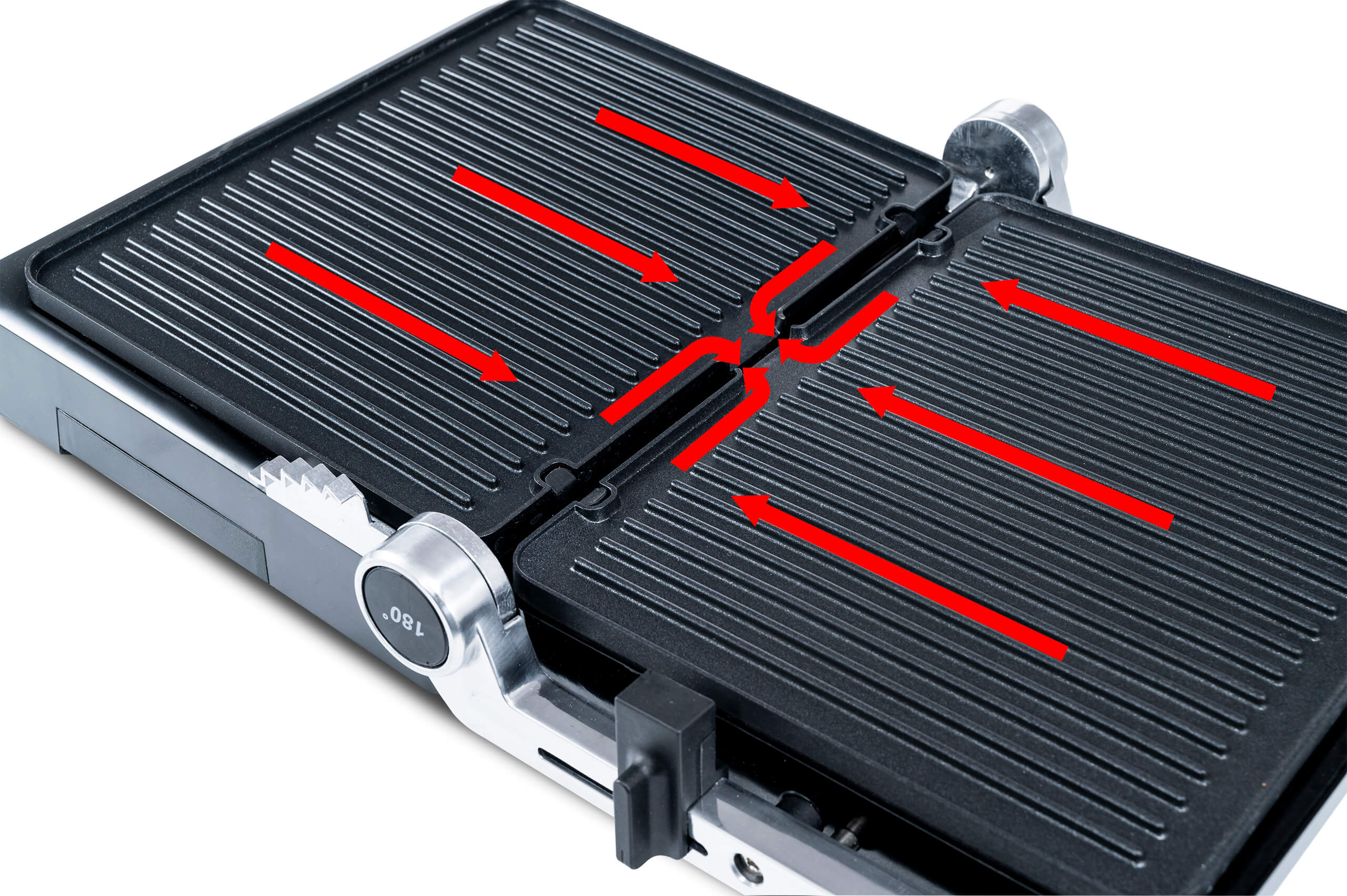 ALUMINUM HEATING PLATES WITH NON-STICK TEFLON COATING
Aluminum surface – ensures effective and even heating of the plates.
Durable non-stick Teflon coating – enables diet grilling, without the addition of oil.
Fat reduction by up to 40% – thanks to the corrugated surface of the plates, the grill will easily squeeze out the surplus of fat from meat being grilled.
Fat runoff ducts - the grill channels the fat directly to the fat tray. That way, it does not collect on the heating surface, does not get burnt and does not stick around the food.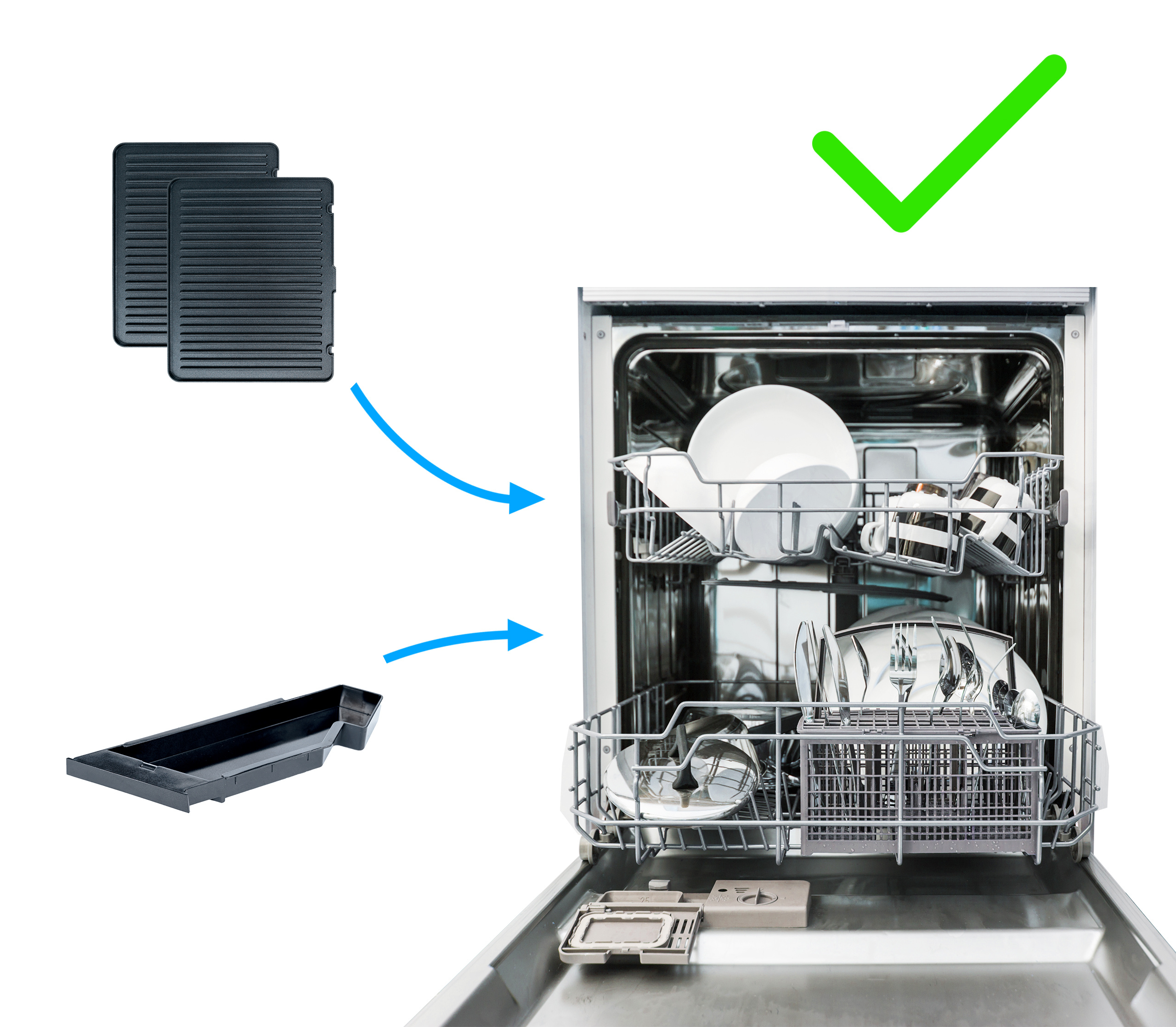 QUICK AND EASY CLEANING
The appliance was designed in such a way as to make keeping it clean as simple as possible. All it takes is to take the dirty elements off after grilling and clean them as you would dishes, (also in a dishwasher!).
Removable fat tray – located directly underneath the bottom heating plate, it collects all fat dripping from the grilled dish. To empty and clean the tray, simply slide it out of the device with a single, simple move.
Removable, dishwasher-safe heating plates – press and hold the top or bottom heating plate removal button and easily take it out of the grill. Do not worry about the dried-up fat remains - the supplied spatula will help you swiftly remove any dirt that's gotten stuck. The heating plates can also be washed in a dishwasher without issue.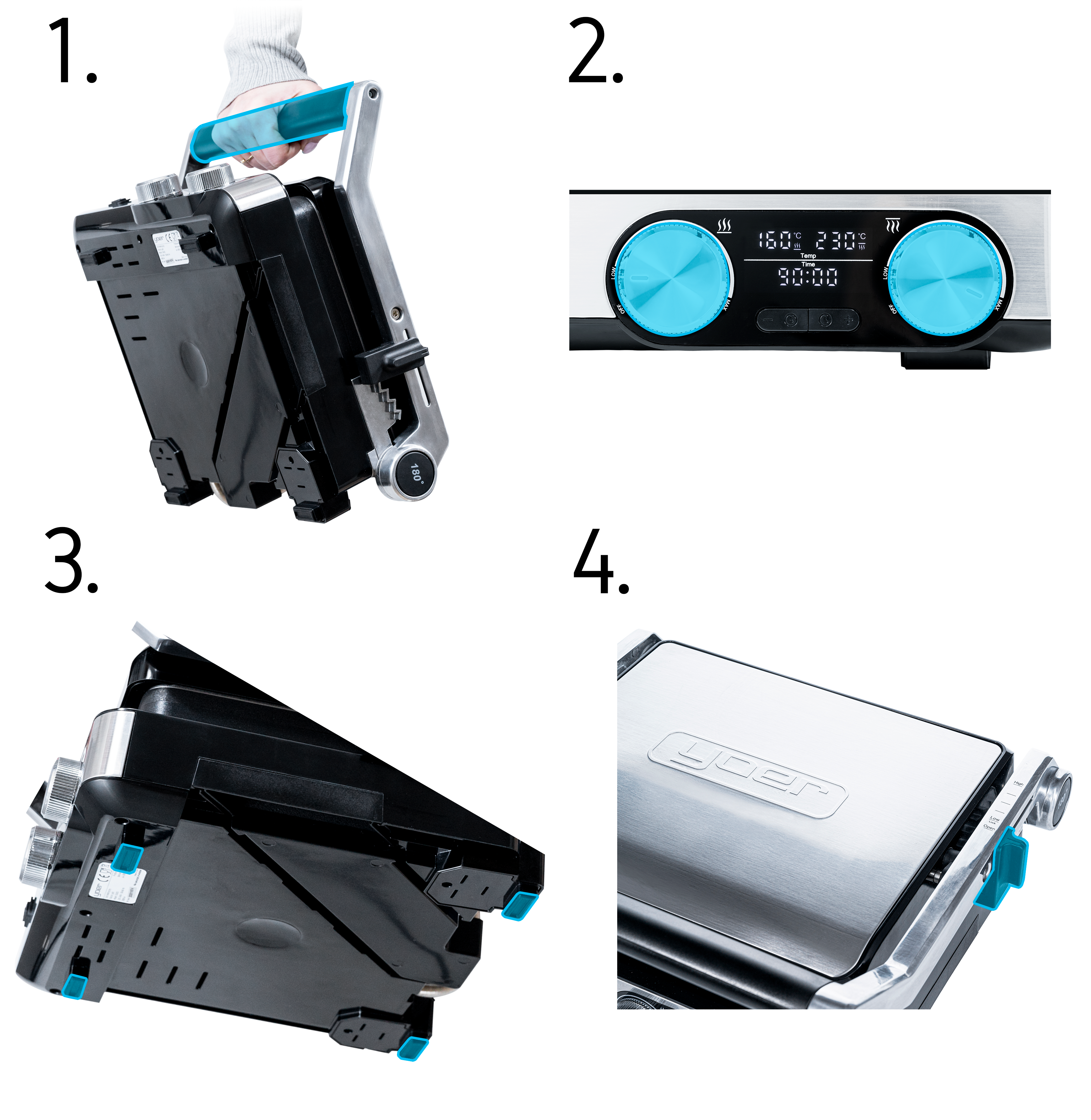 SAFETY
Heat-resistant handle - you can carry the device in a safe way, even immediatelly after turning it off
Heat-resistant control knobs – you can operate the device without worrying about burns.
Anti-slip feet – ensure full device stability and make it impossible to move it accidentally during operation.
Lids locked position – lock the grill's top lid in place using the slider at the side to make it impossible to open and safe to carry.
Friendly to the environment and friendly to you – the appliance is electrically-powered and does not emit any toxic substances, unlike traditional grills.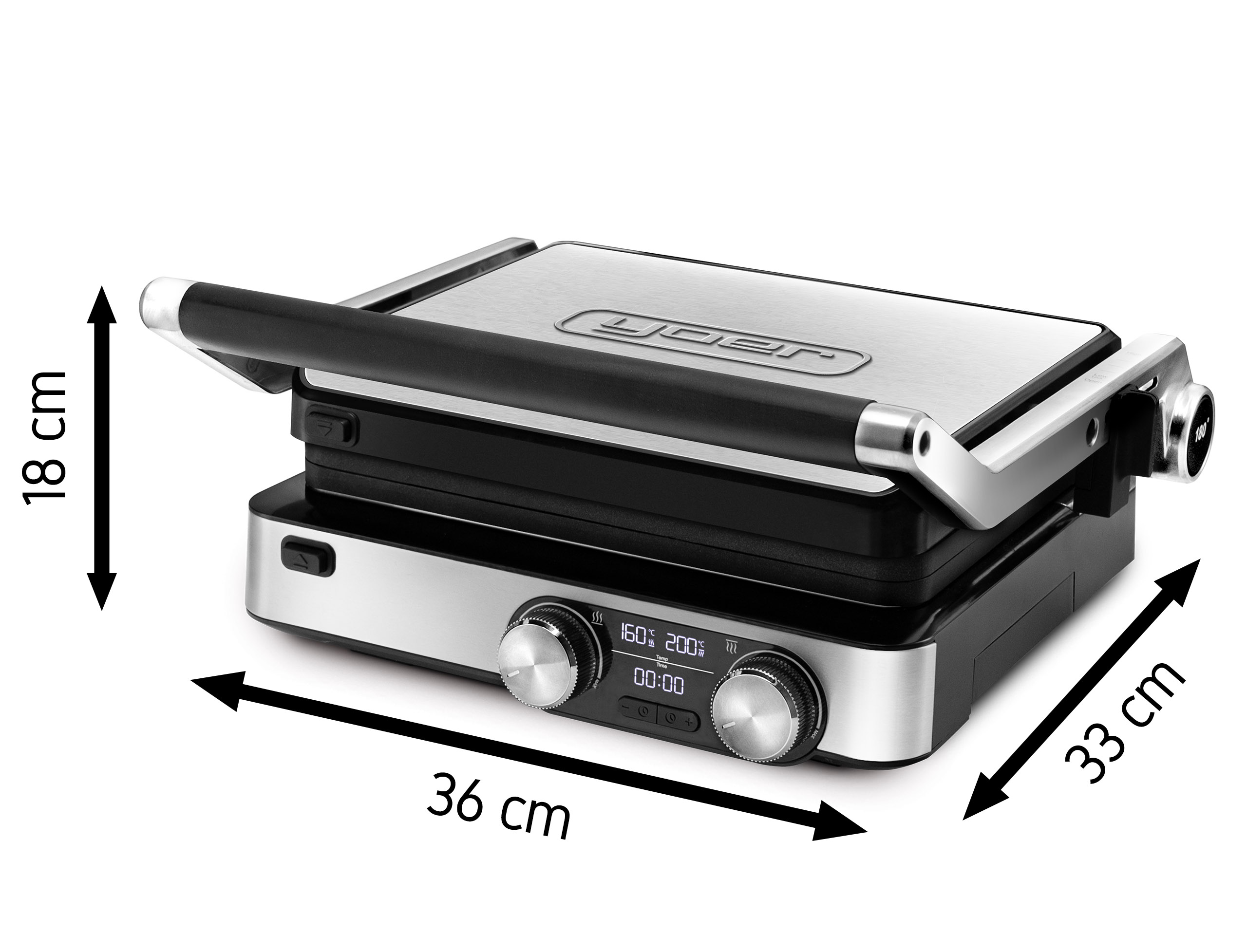 TECHNICAL SPECIFICATION
Power: 2000 W
Combined grilling surface: 1334 cm² (206.8 in²)
Single heating plate dimensions: 29 x 23 cm (11.4 x 9'')
Closed grill dimensions: 36 x 18 x 33 cm (14.2 x 7 x 13'')
Open grill dimensions (180°): 36 x 9.8 x 62 cm (14.2 x 3.9 x 24.4'')
Weight: 5 kg (11 lbs)
Color: silver/black
Body: polymer and INOX stainless steel
Power cord length: 96 cm (3.15 ft)
Polish power plug: 220-240V, 50/60Hz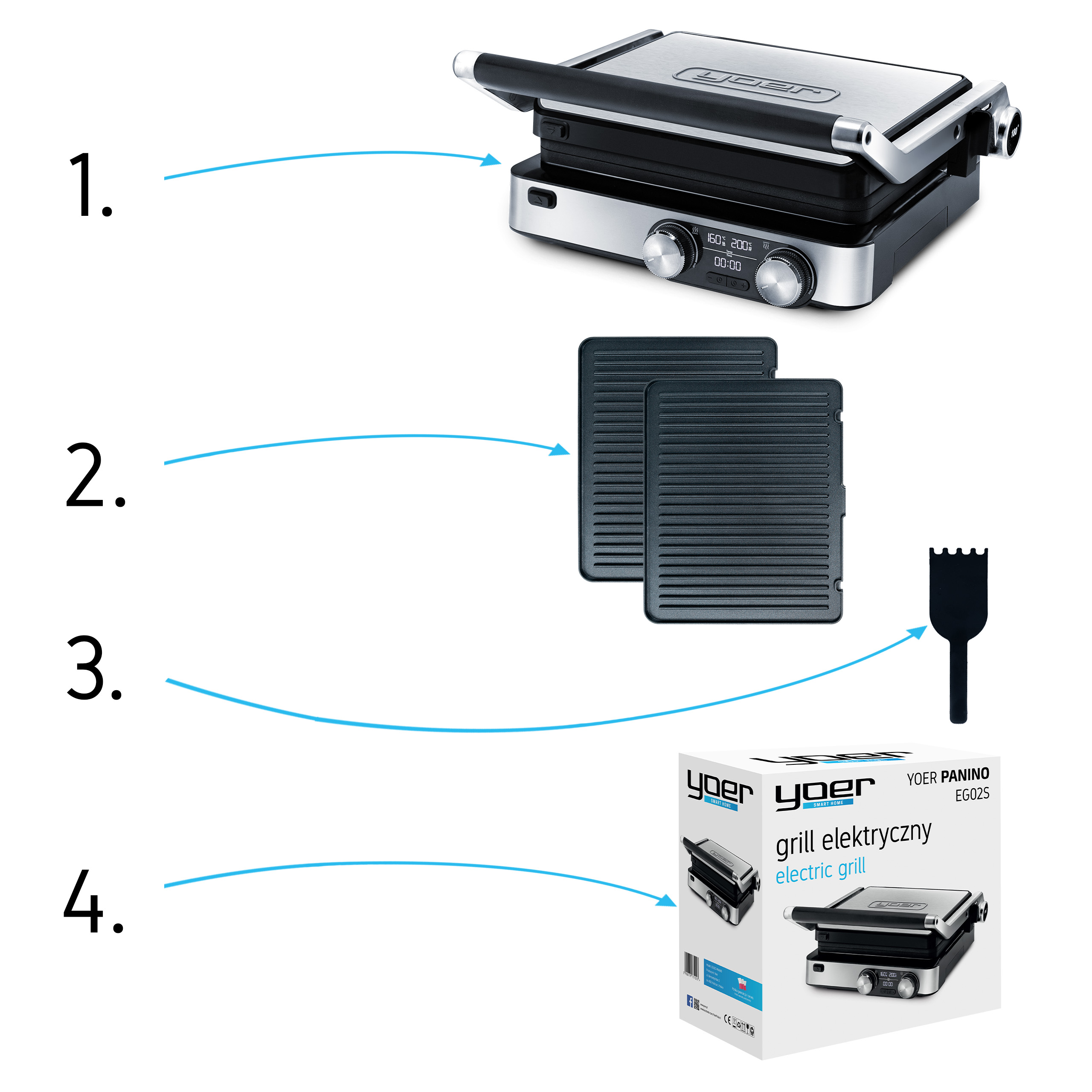 EQUIPMENT
Electric contact grill
Two heating plates
Cleaning spatula
Original packaging
YOU WILL RECEIVE:
Contact grill - details above,
YOER PLATINUM SECURITY card,
Warranty card,
PL/EN instruction manual.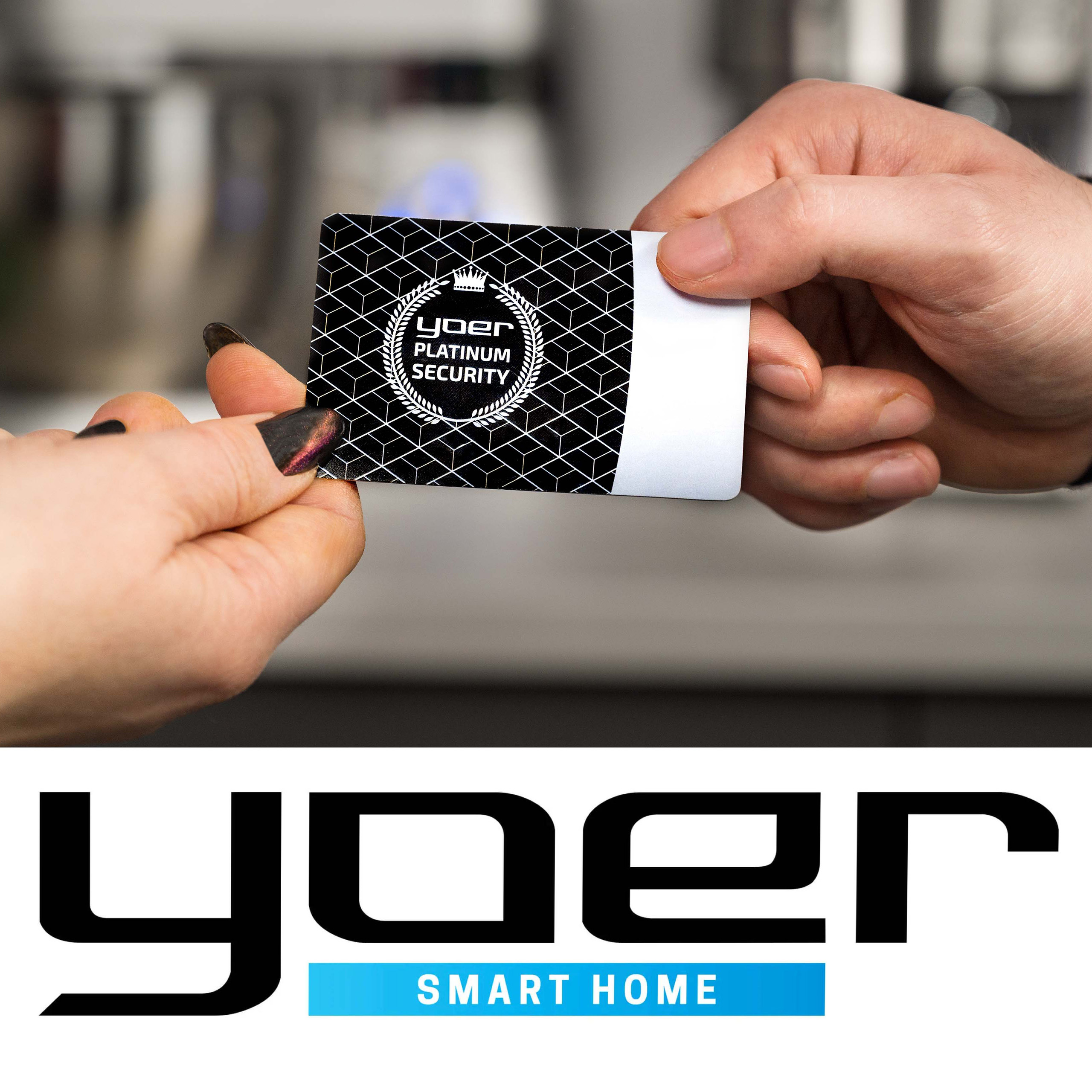 YOER PLATINUM SECURITY
When purchasing products from the official Yoer store you receive the YOER PLATINUM SECURITY package, which is an assurance of additional protection.
YOER - POLISH MANUFACTURER AND BRAND
YOER constitutes an excellent proof that high quality of products does not necesserily go in hand with high prices.

YOER EG02S Instruction manual - Click here