Language
Espresso machine YOER Breve EM01W
Pressure: 15 bar, Power: 1100 W, Milk frothing system, Espresso machine for ground coffee, Cup heating mode, Built-in temperature indicator

Shipping within

24 hours

Availability

High

8449

pcs.
| | |
| --- | --- |
| Bar code | |
| EAN | 5900779770317 |
Description

Instruction manuals
ESPRESSO MACHINE YOER Breve EM01W
📝PRODUCT DETAILS
Removable water tank: 1.2 L (10 coffee cups)
Producing foam system
Smooth steam control
Espresso machine made for ground coffee
Double dispenser allows making 2 coffees at the same time
Cup heating mode
Built-in thermometer
2 coffee filters (single and double espresso)
Removable drip tray
📑TECHNICAL SPECIFICATION
Pressure: 15 bar (218 PSI)
Power: 1100 W
You can use up to 11 cm (4.3'') in height with removed drip tray
You can use up to 9 cm (3.5'') in height with drip tray
Weight: 3,4 kg (7.5 lbs)
Dimensions: 30,5 cm (height) x 20 cm (width) x 27 cm (length) (12 x 7.9 x 10.6 ")
Color: White with silver accents
Polish power plug:220-240V 50Hz
⚙CONSTRUCTION - MAIN COMPONENTS
Cup heating plate
Function buttons
LED indicators
Metal funnel with double dispenser
Anti-slip base
Removable water tank
Thermometer
Steam knob
Steam wand
Removable drip tray
CONTROL PANEL
Steam button
Coffee button
ON / OFF button
Coffee indicator - informs that the appliance has heated up to make coffee.
Power indicator
Steam indicator - informs that the appliance has heated up to froth milk.
Coffee indicator- informs of appropriate coffee making temperature.
Steam icon - informs of appropriate milk frothing temperature.
Steam knob - allows for adjusting the steam dosage.
DEVICE FUNCTIONALITY
15 bar pressure:
will allow you to extract the full taste and aroma from the coffee
will create a gentle foam on the surface
Producing steam system:
with the the help of the steam wand and steam knob you will instantly get warm foamed milk, ready to fuse with your favorite coffee
you will be able to enjoy cafe-quality beverages right at home ☕
Double dispenser and 2 filters:
allow you to prepare a single or double coffee at the same time
you will be able to serve aromatic coffee to your guests in half the time it would take to brew it one by one
🌡Built-in thermometer:
easy-to-read temperature indicator
will show you the exact temperature of the coffee during brewing
will show you the temperature of the milk during foaming.
MORE FUNCTIONALITIES
✅ Every barista will agree that good coffee is served in a preheated cup. If you want to keep perfect temperature and taste of coffee, it should be neither too hot nor too cold. This functionality will ensure perfect temperature automatically ☕.
Cup heating mode.
Max cup height - the design of this espresso machine allows you to:
use cups with height of 11 cm (with drip tray removed)
or 9 cm (with drip tray).
Removable drip tray:
will make keeping the espresso machine clean way easier
allows for the use of higher cups or mugs
💦CAPACIOUS WATER TANK
Removable 1,2 L water tank:
the removability makes it effortless to fill, empty and clean
the large capacity makes preparing a large number of cups of coffee easier, which will make it indispensable during family or business meeting.
3 different sizes of cups and glasses
The construction of the coffee machine - allows different cup sizes to be used, thanks to which you can use your favorite one.
Removable drip tray - because the drip tray is removable you can make coffee in your favorite large cup.
Max. 8,8 cm (3.5'') with drip tray
Max. 10,5 cm (4.1'') without drip mesh
Max. 11,3 cm (4.4'') without drip tray and drip mesh
EQUIPMENT
Espresso machine
Metal funnel
Single coffee filter
Double coffee filter
Measuring scoop with tamper
Original packaging
YOU WILL RECEIVE:
✅ Espresso machine - details above,
✅ YOER PLATINUM SECURITY card,
✅ Warranty card,
✅ PL / EN instrution manual.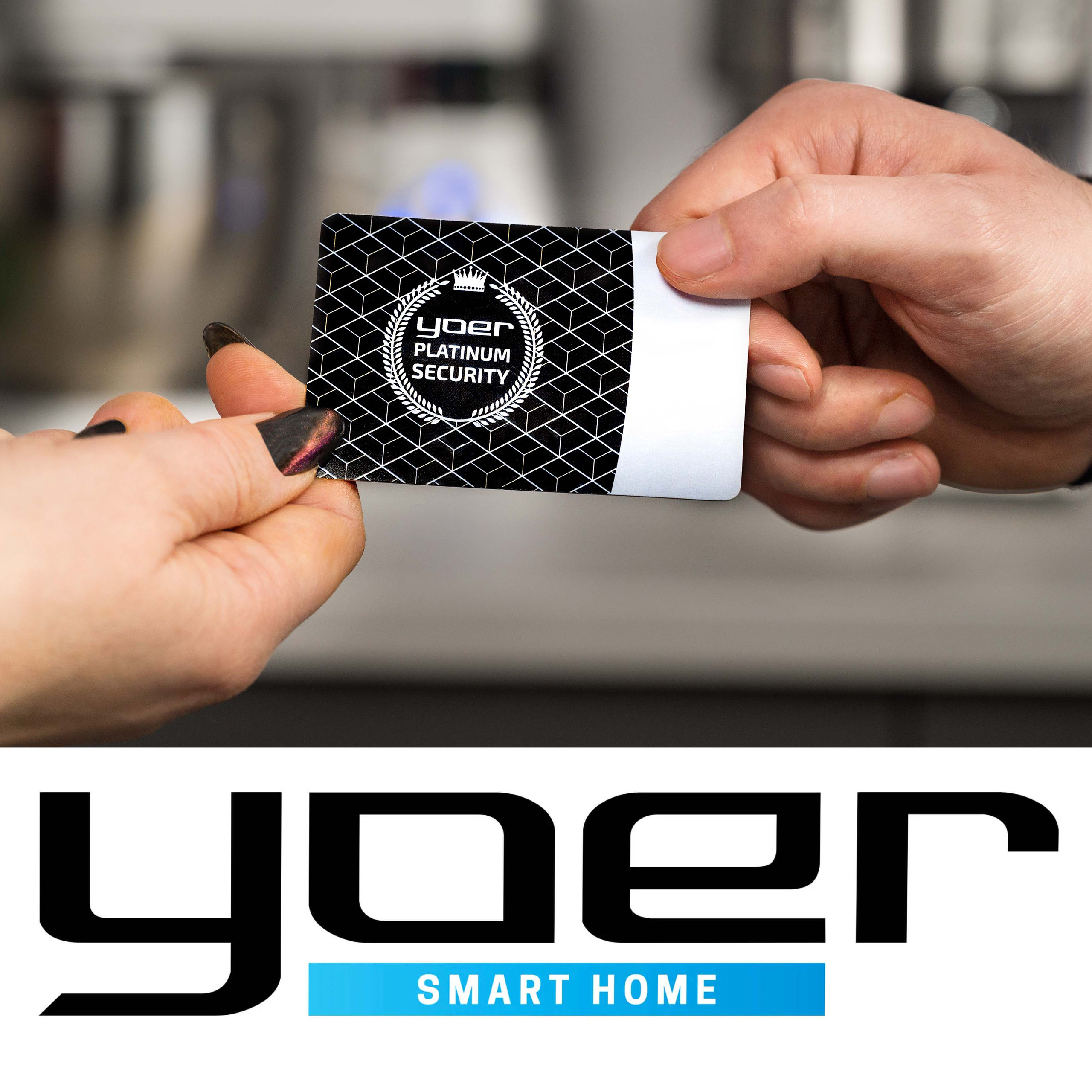 YOER PLATINUM SECURITY
When purchasing products from the official Yoer store you receive the YOER PLATINUM SECURITY package, which is an assurance of additional protection.
YOER - POLISH MANUFACTURER AND BRAND
YOER constitutes an excellent proof that high quality of products does not necesserily go in hand with high prices.

YOER EM01W Instruction manual - Click here