Language
Espresso machine YOER Lattimo EMF01S
1350 W Power, pressure: 15 bar, automatic milk frothing, cup heating function, 1.8 L water reservoir, backlit control panel

Shipping within

24 hours

Availability

Not available

0

pcs.
| | |
| --- | --- |
| Bar code | |
| EAN | 5900779770324 |
Description

Instruction manuals

Reviews & ratings (28)
Espresso machine YOER Lattimo EMF01S
CONSTRUCTION - MAIN COMPONENTS
Heating plate - coffee cup heater
INOX stainless steel body
Porta-filter and funnel holder
Removable frother milk reservoir
Double-sided drip plate
Removable water reservoir
Backlit control panel
High quality Italian-branded Ulka pump
Safety switch
Anti-slip base
PRODUCT DETAILS
Power: 1350 W
Color: Silver and black
Pressure: 20 bar
Coffee type: Ground
Adjustments: Coffee amount, steam generation
Control panel: Yes
Removable tray: Yes
Milk reservoir: 500 ml
Body: Brushed INOX steel, polymer
Additional functionalities: Automatic power-off, energy saving, cup preheating, milk frothing
Supplied accessories: Measure, milk reservoir
REBUST CONSTRUCTION
Thermoblock - the specialized water and milk heating technology keeps constant coffee making temperature, impacting its taste and aroma.
Italian Ulka pump - high quality pump made by one of the best pump manufacturers in the world, prolongs the espresso machine's lifespan by over 50%.
Brushed INOX steel body - gives the device a modern look, while ensuring durability of the finish.
Anti-slip base - the anti-slip feet keep the device stable, eliminating the fear of accidental shifting around.
20 Bar - extracts the perfect taste and aroma of coffee as well as takes part in the creation of the dense froth on its surface. Perfect coffee, like from an Italian cafe at your fingertips!
USEFUL FUNCTIONALITIES
65 seconds work readiness - the 1350 W power allows the device to be work-ready within 65 seconds, which positions it among some of the best espresso machines on the market.
Dual nozzle porta-filter - enables you to prepare stronger coffee within short amount of time.
EASE OF USE
Backlit control panel - enables controlling the device while giving it an exclusive look.
Removable 500 ml milk reservoir - remove the reservoir with remaining milk and put it in the fridge to keep it fresh until next use.
1.8 l removable water reservoir - its huge capacity allows for preparing a large number of cups of coffee. The ability to remove it makes it easy to refill, empty and clean.
Ground coffee machine - the device is designed to prepare beverages of previously ground coffee.
AUTOMATIC COFFEE BREWING PROCESS
4 types of coffee - in this coffee machine you will be able to automatically make 4 types of coffee. Cappuccino and Latte can be made in two different sizes (small and big), thanks to it you will be able to adjust the size according to your preferences:
Espresso or Doppio
Cappuccino
Latte
Automatic coffee brewing - coffee is prepared with the touch of one button, the coffee machine will automatically begin and end the process.
Automatic milk frothing system with steam generation adjustment - the frother will automatically engage at the right moment and distribute the frothed milk into your cup. With the use of the dedicated slider you can adjust the density of frothed milk to suit your taste.
9 AUTOMATIC PROGRAMS + CUP PREAHEATING
Cup preheating functionality - the additional heater and steel tray on top of the device heat the cups up before preparing coffee. From now on you can enjoy hot coffee that keeps its temperature for longer. 2 large or 4 small cups fit onto the tray.
3 button control - coffee is made by pressing one of three buttons:
Espresso button:

Single press - single espresso
Double press - double Cappuccino (Doppio),
Triple press - this function enables you to make any amount of coffee. Press the button again to stop the operation.

Cappuccino button:

Single press - single Cappuccino,
Double press - double Cappuccino,
Triple press - milk frothing functionality. Press the button again to stop the operation.

Latte button:

Single press - single Latte,
Double press - double Latte,
Triple press - you will turn on the automatic frother cleaning function. Remember to empty the frother reservoir and fill it with clean water before turning this function on. This function will be automatically turned off after about 90 seconds, if you want to stop the operation earlier press the button again.
3 SIZES OF CUPS AND GLASSES
Coffee machine design - allows for use of differently sized cups or glasses, thanks to it you will be able to use your favourite one.
Max. 8,8 cm (3.5 ") - with drip tray and flipped drip plate
Max. 10 cm (3.9 ") - with drip tray and drip plate
Max. 11,4 cm (4.5 ") - without drip plate
Max. cup height - the design of the espresso machine enables the use of cups of max 11.4 cm (4.5 ") in height.
Double-sided drip plate - if you are using a smaller cup, the ability to flip the drip plate is sure to come in handy. It decreases the space between the cup and the porta-filter, thus reducing the risk of coffee splashing around and making the machine messy.
2 different filters - single coffee and double coffee filter. The selected filter has to be placed in the porta-filter to prepare the chosen kind of coffee.
Removable drip tray - makes it easier to keep your device clean.
Porta-filter and cup spacing adjustment - allows for keeping everything clean and allows for using receptacles of different sizes.
PRODUCT PRESENTATION
Watch our video and see all the functions of our espresso machine Lattimo!
TECHNICAL SPECIFICATION
Water reservoir capacity: 1,8 L
Milk reservoir capacity: 500 ml
Max. height of the cup: 11,4 cm (4.5'')
Power: 1350 W
Pressure: 20 bar (290.1 PSI)
Ready-up time: 65 seconds
Power cord length: 78 cm (30.7'')
Weight: 4,8 kg (10.6 lbs)
Dimensions: 31,6 cm (height) x 21,5 cm (width) x 29 cm (length) (12.4 x 8.5 x 11.4'')
Color: Black with INOX stainless steel elements
Polish power plug: 220-240 V 50/60 Hz
EQUIPMENT
Espresso machine
Porta-filter
Double coffee filter
Single coffee filter
Spoon
Original packaging
YOU WILL RECEIVE:
Espresso machine - details above,
YOER PLATINUM SECURITY card,
Warranty card,
Receipt / VAT invoice,
PL / EN Instruction manual.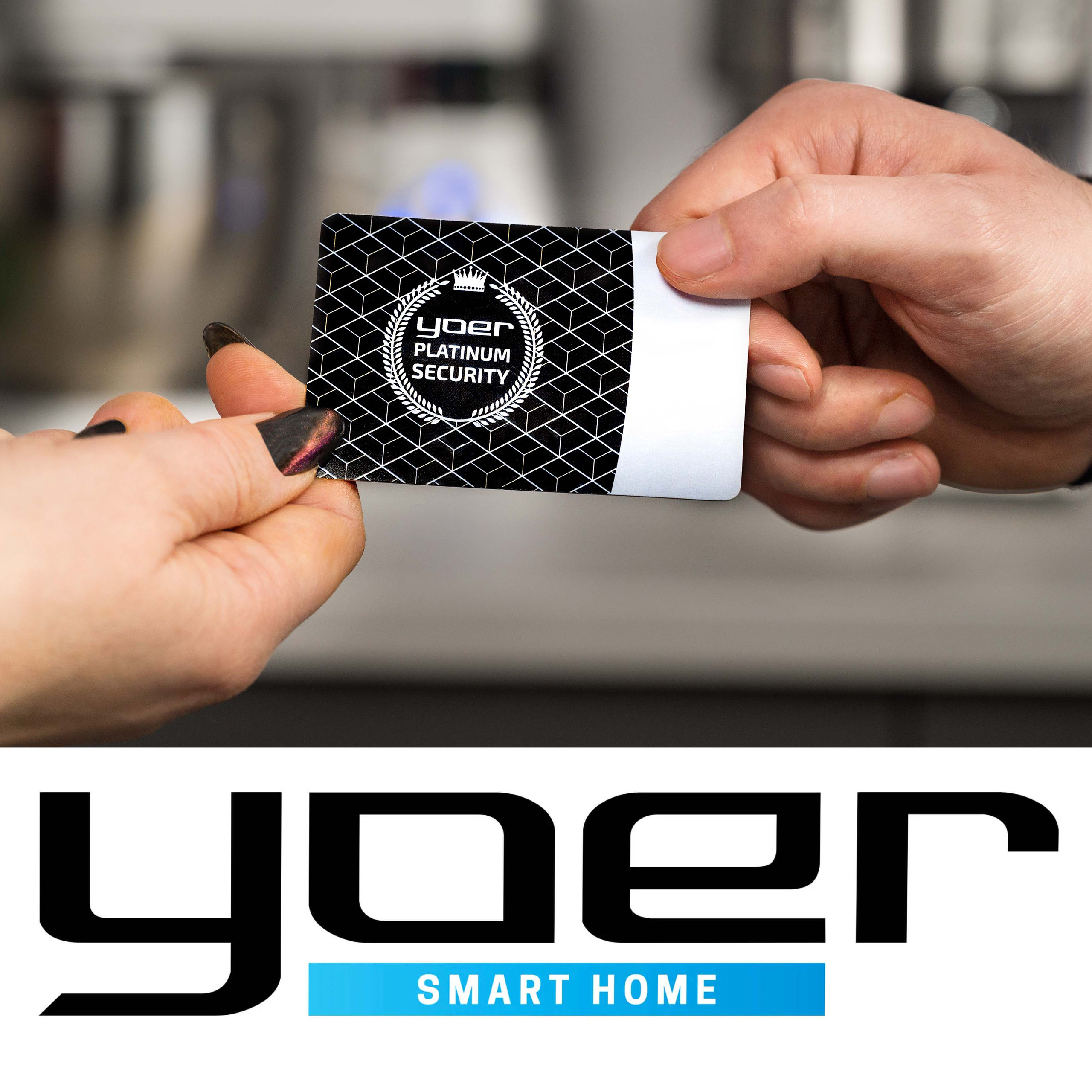 YOER PLATINUM SECURITY
When purchasing products from the official Yoer store you receive the YOER PLATINUM SECURITY package, which is an assurance of additional protection.
YOER - POLISH MANUFACTURER AND BRAND
YOER constitutes an excellent proof that high quality of products does not necesserily go in hand with high prices.

YOER EMF01S Instruction manual - Click here
Kawa z tego expresu jest wspaniała w każdym wykonaniu, jak również obsługa przez miły personel w momencie jakichkolwiek problemów. W transporcie expres uległ niewielkiemu uszkodzeniu, zgłosiłem to do producenta i natychmiast przysłano mi nowy z etykietą do wysyłki uszkodzonego. Expres jak również producent i osoby zajmujące się obsługą posprzedażną zasługują na WYRAZY NAJWYŻSZEGO UZNANIA. Za zaistniałą u mnie sytuację otrzymałem w ramach gratyfikacji termiczny kubek do kawy. Zakup bardzo udany i godny polecenia.

Mieczysław K.

(2022-04-16)

Pyszna kawa, bardzo dobrze spienione mleko, przyjazna cena. Polecam serdecznie

Bardzo fajny ekspres.

zakupiłam expres jakieś 2 lata temu jest po prostu genialny jak na lata działa bez zarzutu jedynie do czego mogę się doczepić to fakt iż logo firmy jest przyklejone i emblemat na 3 dzień użytkowania odkleił się no z tak błahego powodu nie ma co reklamować można samemu przykleić ale mimo wszystko warto wydać takie pieniądze na ten sprzęt

Pyszna kawa, prosta obsługa.... Polecam serdecznie

Jestem bardzo zadowolona z zakupu.Kawy wychodzą przepyszne.Polecam!

5,00 POLECAM
Jesteśmy z mężem po 2 tygodniach testowania ekspresu i jak narazie w 100% spania nasze oczekiwania. Dostaliśmy to czego chcieliśmy- ekspres robiący pyszną kawę. I choć każde z nas pije inną to oboje jesteśmy zadowoleni. Ważne jest to, że ekspres robi nie tylko espresso ale i Americano czyli kawę czarną ale większą niż espresso. Jest to możliwe przez potrójne naciśnięcie przycisku espresso. Mając porównanie z ekpresem automatycznym to z pełną odpowiedzialnością musze przyznać, że kawa z tego ekspresu jest równie pyszna a pianka równie pięknie gęsta! Podsumowując na dziś nie mam się kompletnie do czego przyczepić. Ekspres wygląda porządnie, na dużo droższy. Myślę, że dzięki niewielkim wymiarom zmieści się w każdej kuchni. Do tego 3 letnia gwarancja. Super

Po Prawie dwóch miesiącach mogę już coś napisać. Półautomatyczny ekspres (automatyczny spieniacz mleka i normalna kolba) to dobre rozwiązanie. Kawy mleczne robi się szybko przez naciśnięcie przycisku (po załadowaniu kolby, oczywiście). Ma wszystko, co trzeba, parzy dobrą kawę. Możliwe są nastawy manualne: są trzy przyciski (kawy czarne, cappuccino i latte) i każdy naciskany jest 1, 2 lub 3 razy; jedno - kawy małe, dwa - kawy duże, trzy - manual, ale sam się wyłączy po ok. 1,5 minuty (trzykrotne naciśnięcie przycisku trzeciego służy do czyszczenia toru mlecznego). Brakuje mi łatwiejszego, codziennego czyszczenia - aby to zrobić trzeba wyjąć pojemnik z mlekiem, opróżnić i umyć go i dopiero nalać wody do czyszczenia automatycznego. Nie trzeba tego robić za każdym razem, ale i tak zawsze trzeba zdjąć z góry pojemnika pokrywę z dyszą i wszystko umyć. Niemniej kawa jest naprawdę dobra, crema znakomita. Urządzenie dobrze trzyma temperaturę (być może układ elektroniczny, a nie prosty termostat), ale mam wrażenie, że nawet robiąc czarną kawę warto włożyć pojemnik na mleko, by układ rozgrzał się bardziej. Płyta grzejna u góry (na filiżanki), to pic na wodę, oczywiście. Tym bardziej, że ekspres sam się wyłącza po jakimś czasie i filiżanki i tak nie zdążą się nagrzać.
Ekspres ma też estetyczny wygląd. Informacja o materiale – stal chromowana" nie jest ścisła – są tu zewnętrzne elementy ze stali chromowanej, ale cały korpus jest z plastiku; chyba bardziej miękkiego niż mój poprzedni Saeco, niemniej sprawiającego dobre wrażenie. Jasne, że stalowej obudowy możemy się spodziewać w automatach Jura za 3k… Ponieważ są dwa sitka (małe i większe) można – odpowiednio planując – przyspieszyć proces robienia wieku kaw dla gości.
Wiele braków zawiera instrukcja: nie znajdziemy np. informacji o objętości poszczególnych kaw, więc z wielkością naczynia trzeba trochę poeksperymentować. Wchodzi tam (po wyjęciu kratki) spora szklanka, ale trzeba wcześniej zmierzyć posiadane naczynia. Takie szklanki do latte po 3 zł z Carrefoura nie wchodzą… Przy małych kawach cappuccino i latte dolewa małe espresso, przy dużych – duże (takie lungo). Nie do końca jestem w stanie wyczuć ilości spienianego mleka, a w instrukcji o tym ani słowa…
Producent informuje, że w tym modelu jest włoska pompka, dająca ciśnienie 20 bar. Największym smutkiem jednak napawa mnie treść etykiety na dole: firma polska, ale made in China… Może choć składają w tym Kościanie? Dają trzy lata gwarancji i mam nadzieję, że ekspres nie zepsuje się doszczętnie tydzień po gwarancji… Reasumując – jestem bardzo zadowolony i polecam produkt gorąco. Zwłaszcza, że cenę ma naprawdę dobrą (na razie, bo firma próbuje chyba zdobyć rynek).

Ekspres rewelacyjny. Mleko pieni mega. Kawa pyszna. Wszystko w automacie. Mały i ładnie wykonany. Do tego 100% nasz polski producent. Obsługa sklepu super miła, uczynna i profesjonalna. Cena konkurencyjna i do tego 3 lata gwarancji. Czego chcieć więcej. Polecam produkt!!!

Ekspres ładnie się prezentuje. Kawka przepyszna. Głośno spienia mleko. Prosty w obsłudze. Polecam.

Swietny ekspres z tej kategorii :) polecam bardzo mam prawie rok :)

Nie jestem barista ani klawiszem z górnej półki, ale kawa wyśmienita latte cappuccino jak i espresso... Polecam

Bardzo fajny ekspres , szybki i łatwy w obsłudze. Polecam

Swietny ekspres w super cenie. Jestem bardzo zadowolona. Posoadam od kilku miesiecy :)

Super ekspres. Kawa jak z kawiarni. Tani a daje radę.

Recently viewed products

Other Customers also purchased

Similar products