Language
Espresso machine YOER Lattimo EMF01S
1350 W Power, pressure: 20 bar, automatic milk frothing, cup heating function, 1.8 L water reservoir, backlit control panel
1099.00
-36%
698.00
Lowest price in the last 30 days:

Shipping within

Shipment within 24 hours

Availability

Small

56

pcs.
| | |
| --- | --- |
| Bar code | |
| EAN | 5900779770324 |
Description

Instruction manuals
ESPRESSO MACHINE YOER Lattimo EMF01S
NEW, BETTER MODEL - June 2021 - 20 bar pressure
PRODUCT DETAILS
Power: 1350 W
Color: Silver and black
Pressure: 20 bar
Coffee type: Ground
Adjustments: Coffee amount, steam generation
Control panel: Yes
Removable tray: Yes
Milk reservoir: 500 ml
Body: Brushed INOX steel, polymer
Additional functionalities: Automatic power-off, energy saving, cup preheating, milk frothing
Supplied accessories: Measure, milk reservoir
CONSTRUCTION - MAIN COMPONENTS
Heating plate - coffee cup heater
INOX stainless steel body
Porta-filter and funnel holder
Removable frother milk reservoir
Double-sided drip plate
Removable water reservoir
Backlit control panel
High quality Italian-branded Ulka pump
Safety switch
Anti-slip base
REBUST CONSTRUCTION
Thermoblock - the specialized water and milk heating technology keeps constant coffee making temperature, impacting its taste and aroma.
Italian Ulka pump - high quality pump made by one of the best pump manufacturers in the world, prolongs the espresso machine's lifespan by over 50%.
Brushed INOX steel body - gives the device a modern look, while ensuring durability of the finish.
Anti-slip base - the anti-slip feet keep the device stable, eliminating the fear of accidental shifting around.
20 Bar - extracts the perfect taste and aroma of coffee as well as takes part in the creation of the dense froth on its surface. Perfect coffee, like from an Italian cafe at your fingertips!
USEFUL FUNCTIONALITIES
65 seconds work readiness - the 1350 W power allows the device to be work-ready within 65 seconds, which positions it among some of the best espresso machines on the market.
Dual nozzle porta-filter - enables you to prepare stronger coffee within short amount of time.
EASE OF USE
Backlit control panel - enables controlling the device while giving it an exclusive look.
Removable 500 ml milk reservoir - remove the reservoir with remaining milk and put it in the fridge to keep it fresh until next use.
1.8 l removable water reservoir - its huge capacity allows for preparing a large number of cups of coffee. The ability to remove it makes it easy to refill, empty and clean.
Ground coffee machine - the device is designed to prepare beverages of previously ground coffee.
AUTOMATIC COFFEE BREWING PROCESS
4 types of coffee - in this coffee machine you will be able to automatically make 4 types of coffee. Cappuccino and Cafe latte can be made in two different sizes (small and big), thanks to it you will be able to adjust the size according to your preferences:
Espresso or Doppio
Cappuccino
Cafe latte
Automatic coffee brewing - coffee is prepared with the touch of one button, the coffee machine will automatically begin and end the process.
Automatic milk frothing system with steam generation adjustment - the frother will automatically engage at the right moment and distribute the frothed milk into your cup. With the use of the dedicated slider you can adjust the density of frothed milk to suit your taste.
9 AUTOMATIC PROGRAMS + CUP PREAHEATING
Cup preheating functionality - the additional heater and steel tray on top of the device heat the cups up before preparing coffee. From now on you can enjoy hot coffee that keeps its temperature for longer. 2 large or 4 small cups fit onto the tray.
3 button control - coffee is made by pressing one of three buttons:
Espresso button:

Single press - single espresso
Double press - double Cappuccino (Doppio),
Triple press - this function enables you to make any amount of coffee. Press the button again to stop the operation.

Cappuccino button:

Single press - single Cappuccino,
Double press - double Cappuccino,
Triple press - milk frothing functionality. Press the button again to stop the operation.

Cafe latte button:

Single press - single Cafe latte,
Double press - double Cafe latte,
Triple press - you will turn on the automatic frother cleaning function. Remember to empty the frother reservoir and fill it with clean water before turning this function on. This function will be automatically turned off after about 90 seconds, if you want to stop the operation earlier press the button again.
3 SIZES OF CUPS AND GLASSES
Coffee machine design - allows for use of differently sized cups or glasses, thanks to it you will be able to use your favourite one.
Max. 8,8 cm (3.5 ") - with drip tray and flipped drip plate
Max. 10 cm (3.9 ") - with drip tray and drip plate
Max. 11,4 cm (4.5 ") - without drip plate
Max. cup height - the design of the espresso machine enables the use of cups of max 11.4 cm (4.5 ") in height.
Double-sided drip plate - if you are using a smaller cup, the ability to flip the drip plate is sure to come in handy. It decreases the space between the cup and the porta-filter, thus reducing the risk of coffee splashing around and making the machine messy.
2 different filters - single coffee and double coffee filter. The selected filter has to be placed in the porta-filter to prepare the chosen kind of coffee.
Removable drip tray - makes it easier to keep your device clean.
Porta-filter and cup spacing adjustment - allows for keeping everything clean and allows for using receptacles of different sizes.
TECHNICAL SPECIFICATION
Water reservoir capacity: 1,8 L
Milk reservoir capacity: 500 ml
Max. height of the cup: 11,4 cm (4.5'')
Power: 1350 W
Pressure: 20 bar (290.1 PSI)
Ready-up time: 65 seconds
Power cord length: 78 cm (30.7'')
Weight: 4,8 kg (10.6 lbs)
Dimensions: 31,6 cm (height) x 21,5 cm (width) x 29 cm (length) (12.4 x 8.5 x 11.4'')
Color: Black with INOX stainless steel elements
Polish power plug: 220-240 V 50/60 Hz
EQUIPMENT
Espresso machine
Porta-filter
Double coffee filter
Single coffee filter
Spoon
Original packaging
YOU WILL RECEIVE:
Espresso machine - details above,
YOER PLATINUM SECURITY card,
Warranty card,
PL / EN Instruction manual.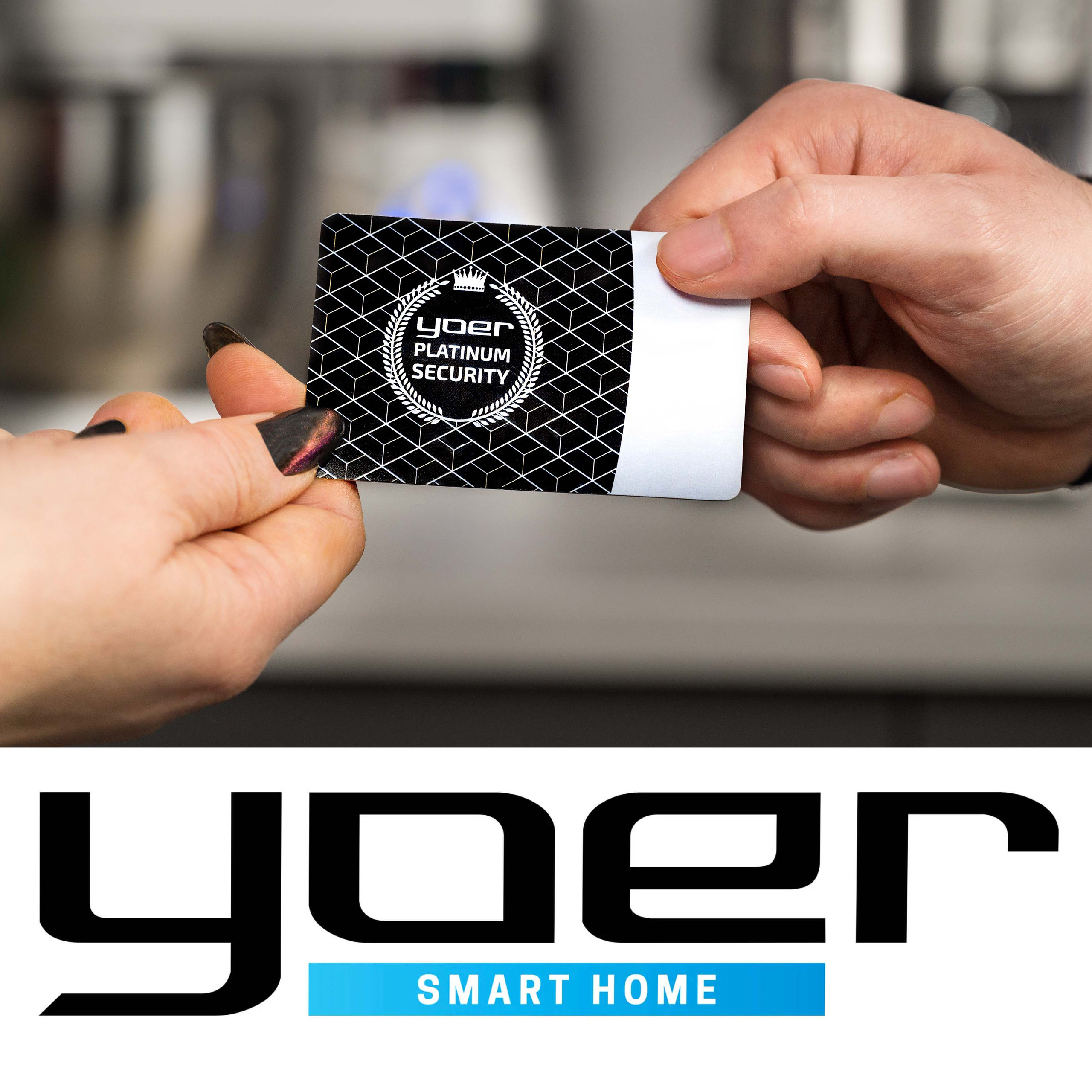 YOER PLATINUM SECURITY
When purchasing products from the official Yoer store you receive the YOER PLATINUM SECURITY package, which is an assurance of additional protection.
YOER - POLISH MANUFACTURER AND BRAND
YOER constitutes an excellent proof that high quality of products does not necesserily go in hand with high prices.

YOER EMF01S Instruction manual - Click here