Language
Frytkownica beztłuszczowa YOER Crispo AF01BK
4w1: frytkownica, piekarnik, grill, suszarka do grzybów, owoców, warzyw, Funkcja Wi-Fi, 10 automatycznych programów, Moc: 1700W, 12-godzinny programator czasowy, Dotykowy panel sterowania, Czytelny wyświetlacz LED, Pojemność: 5,5L, Wstępne nagrzewanie, Podtrzymywanie ciepła
478.00
-17%
398.00
Lowest price in the last 30 days:
Order within
and we will send the package today

Shipping within

Shipment within 24 hours

Availability

Small

72

pcs.
| | |
| --- | --- |
| Bar code | |
| EAN | 5900779772601 |
Description

Instruction manuals
AIR FRYER YOER CRISPO AF01BK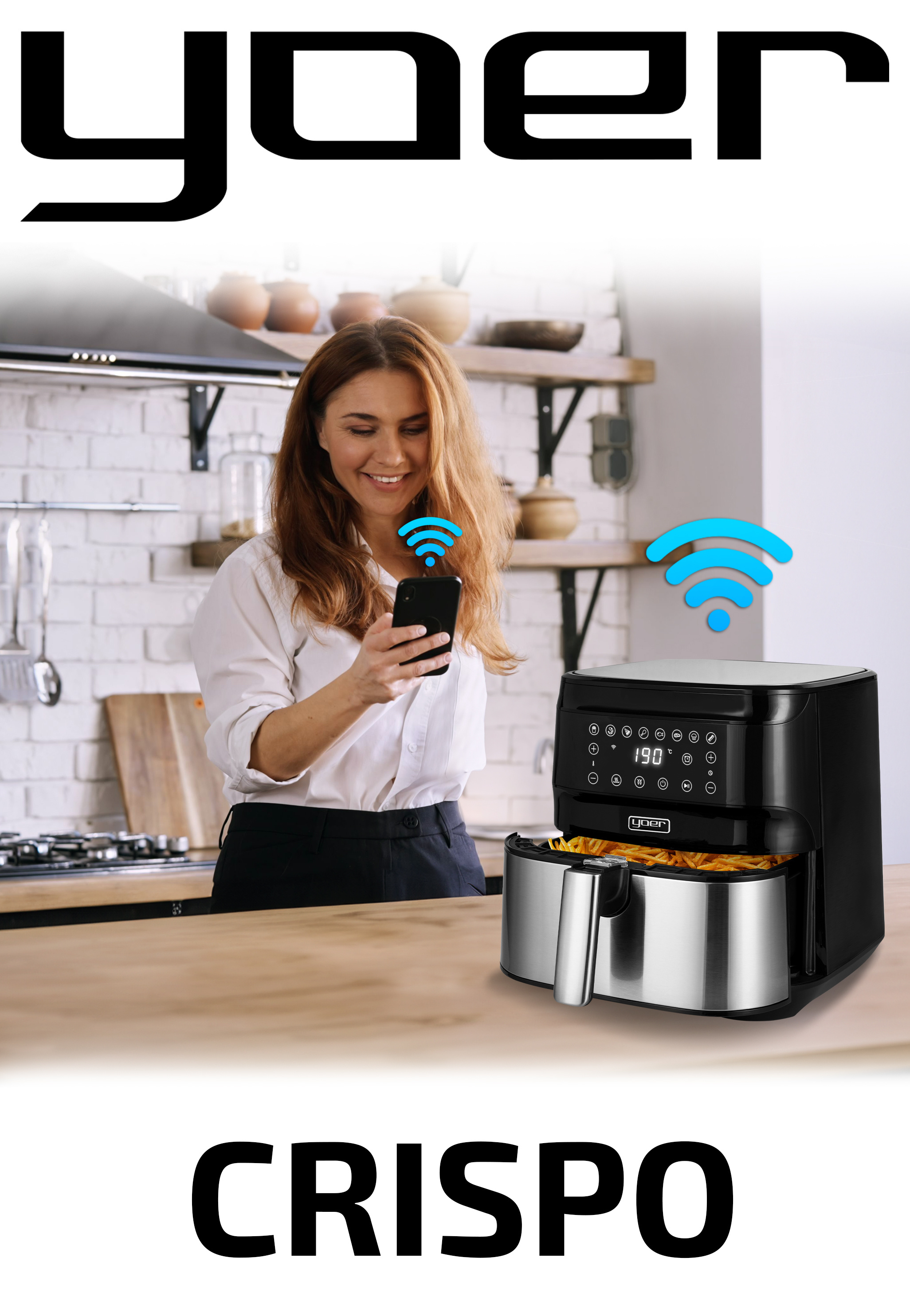 PRODUCT DETAILS
4in1 - air fryer, electric oven, electric grill, foof dehydrator
10 automatic programs - French Fries, skrimps, pizza, chicken, fish, steak, cake, bacon, drying, preheat
Huge power - 1700 W
Air fryer - reduce the amount of consumed calories and fat
Capacious pan - 6l
Capacious basket - 5,5l
Huge temperature range - 80-204°C
12h - timer - start cooking when you want to do it
Preheat - fast heat-up
Exclusive look - will fit into any interior and accentuate your style
Touch control panel with LED display - easy operation and control of the device work
Food separator - prepare two dishes at once
W-Fi - control your Crispo via phone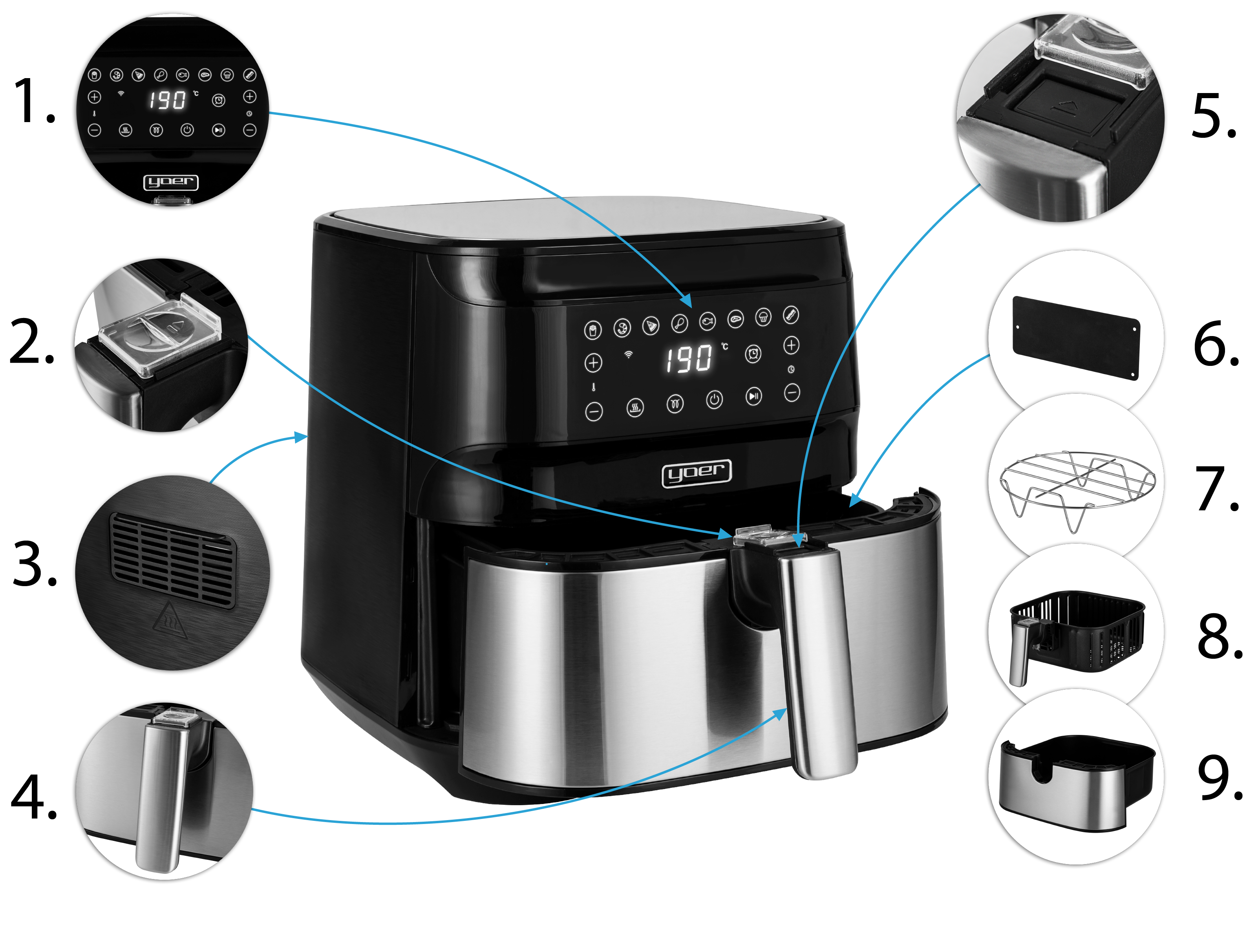 CONSTRUCTION - MAIN COMPONENTS
Control panel with display
Basket
Basket release button cover
Basket release button
Basket handle
Food separator
Grille
Pan
Outlet opening
4in1 - AIR FRYER, ELECTRIC GRILL, ELECTRIC OVEN, FOOD DEHYDRATOR
1. Air fryer - prepare crispy french fires, nuggets, fish
2. Grill - grill juicy chicken, pork shoulder, sausage
3. Oven - bake a cake, pizza, bread
4. Dehydrator - dry mushrooms, fruit, vegetable, meat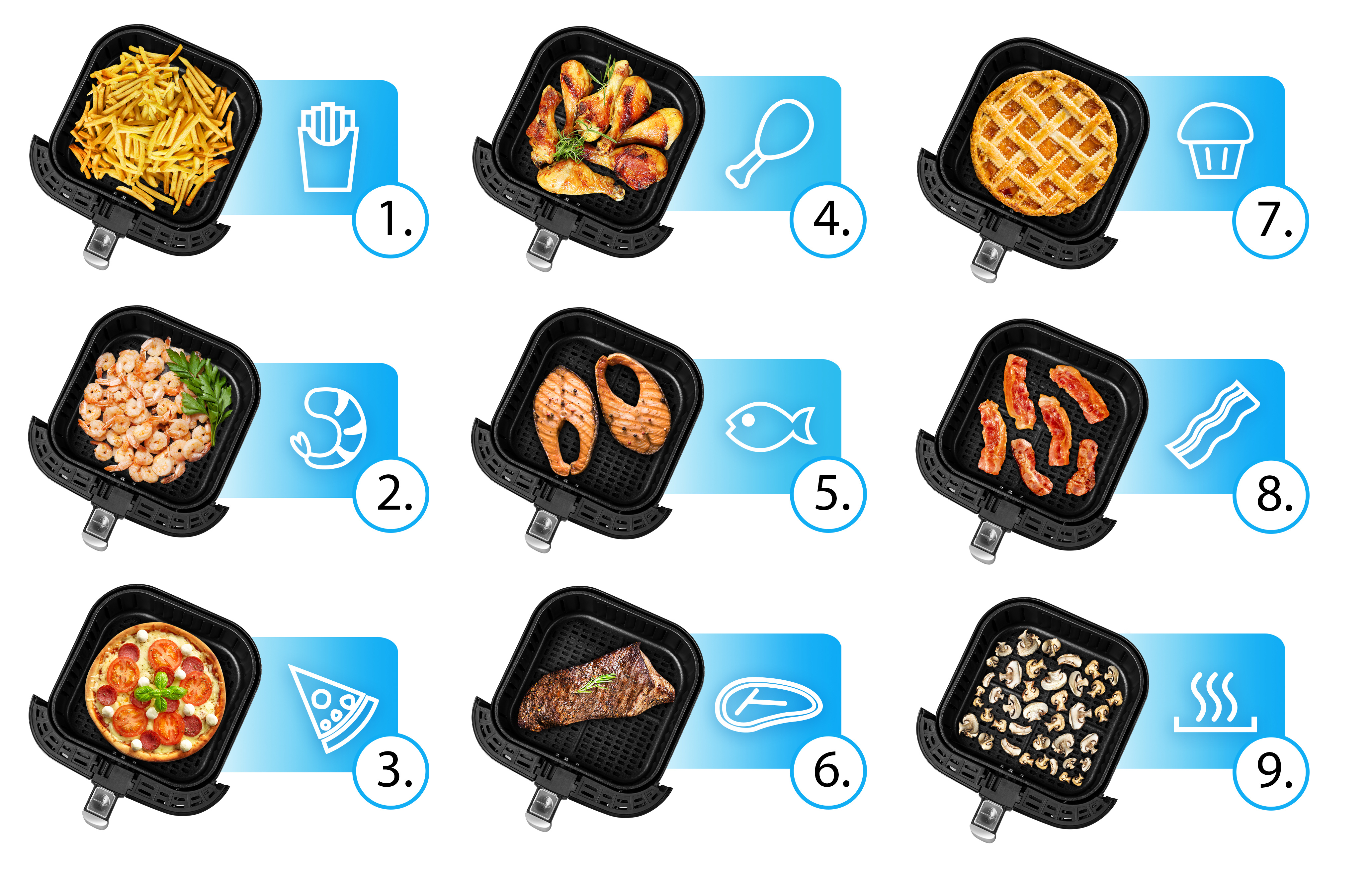 10 AUTOMATIC PROGRAMS
French Fries: 18 min. ➡ 200°C
Shrimps: 8 min. ➡ 180°C
Pizza: 7 min. ➡ 165°C
Chicken: 20 min. ➡ 180°C
Fish: 10 min. ➡ 200°C
Steak: 8 min. ➡ 180°C
Cake: 12 min. ➡ 180°C
Bacon: 12 min. ➡ 180°C
Drying: 80°C (default setting)
Preheat: 5 min. ➡ 190°C (default setting)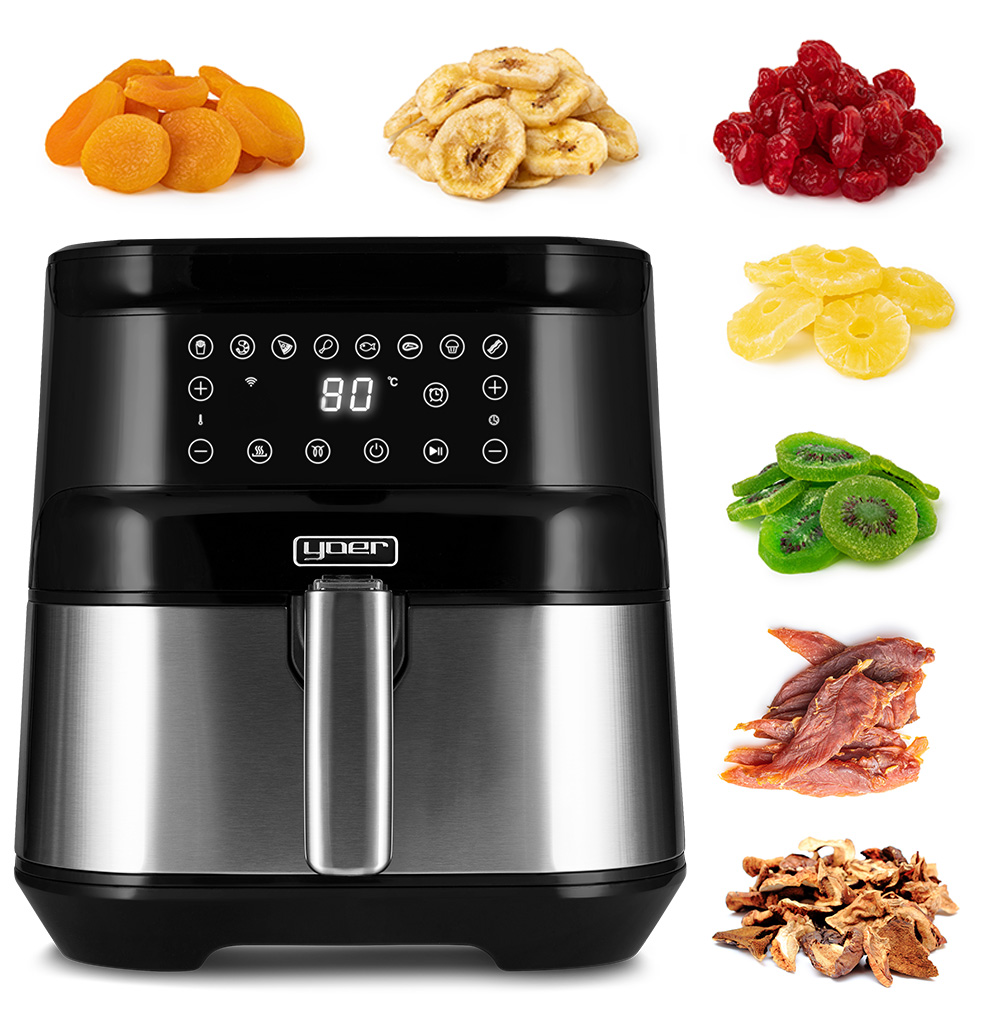 DEHYDRATOR FOR MUSHROOMS, FRUITS, VEGETABLES, MEAT, AND HERBS
Dry products, such as:
mushrooms - boletus mushrooms, button mushrooms, and even chanterelles
fruit - dried apples, pears, plums, grapes, or strawberries will be a great addition to cakes or a healthy breakfast
vegetables - Yyu can add dried carrots, beets, bell peppers, or celery to your homemade dishes
meat - create meaty treats for your pet
herbs - dry basil, oregano, and even soothing lemon balm
2in1 - FOOD SEPARATOR - MAKE TWO DISHES AT ONCE
Food separator will enable you to prepare two different dishes simultaneusly:
▪ place the separator in the special grooves of the fryer basket to divide it in half
▪ place your selected dishes on both sides of the basket, and don't worry about them mixing during cooking
Thanks to this you will save time and you will avoid high electricity bills.
GRILL YOUR FAVOURITE FOOD IN THE AIR FRYER
Do not wait for the grilling season and use Crispo to prepare your favourite dishes, such as:
▪ grilled fisha
▪ juicy sausage
▪ crunchy pork shoulder,
▪ marinated chicken
Specially designed grille will enable you to grill fresh dishes with lower amount of fat and help you keep the device more clean.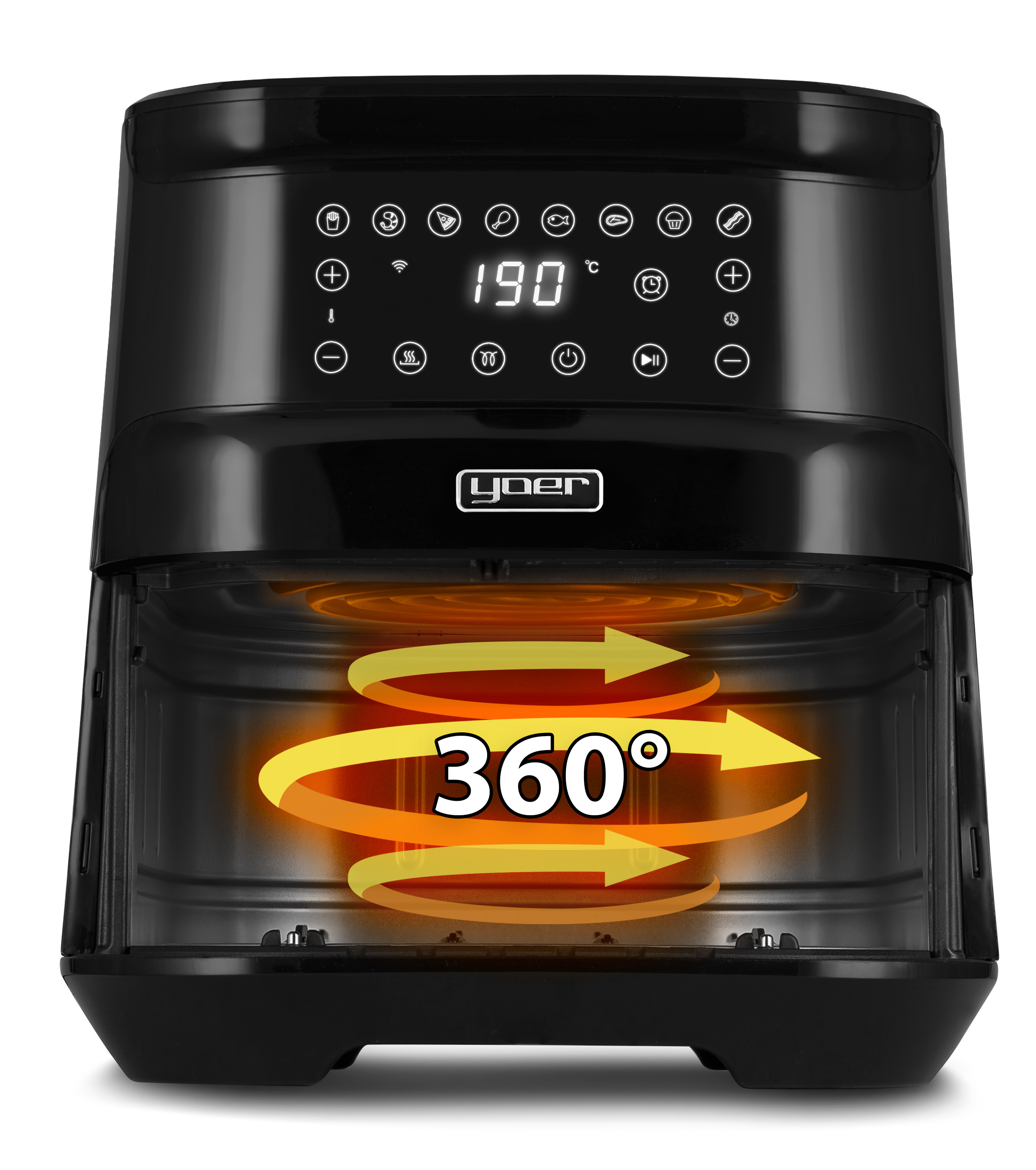 CONVECTION - HOW DOES THE AIR FRYER WORK?
The air fryer Crispo, uses innovative technology AIR FRY 360° which causes hot air to circulate around the food with the help of a fan, ensuring a crispy and juicy end result, thanks to even cooking.
Thank to this technology you will:
prepare fresh and various dishes without the use of oil - meat and vegetables
reduce calories while enjoying your favorite dishes
save your money, because you will not have to buy and change the oil
clean the device which will have no grease spots and oil
Some of the elements of the air fryer can be washed in a dishwasher
BAKING SET
Additional baking set is the source of pleasure for baking lowers:
enjoy delicious home-made cakes, muffins and other sweet pastries without the ned to use a traditional oven,
experiment with various recipes and create healthy, fluffy baked goods in just a few moments.
❗Available for purchase in a separate offer❗
SKEWER SET
Additional skewer set is the best solution for grilling lovers:
enjoy juicy and aromatic skewers, without having to grill in a traditional way,
experiment with different flavors, starting with meat and finishing with fruit or vegetables, creating fresh delicious dishes which will enliven your palate and senses
❗Available for purchase in a separate offer❗
Wi-Fi + AUTOMATIC COOKING
Control your Crispo via app from any mobile device thanks to the built-in module of wireless connection.
The app is available in Google Play and AppStore.
The app works on Android and iOS operating systems.
Programming and controlling the device from any place with the access to the Internet.
The app enables you to set the air fryer operation in the range of:
turning the device on and off,
turning the device on and stopping the air fryer's operation,
changing the temperature and the time of cooking,
turning on a selected program,
turning on adn off the preheat function and keep warm function,
programing the delayed start of program or keep warm function.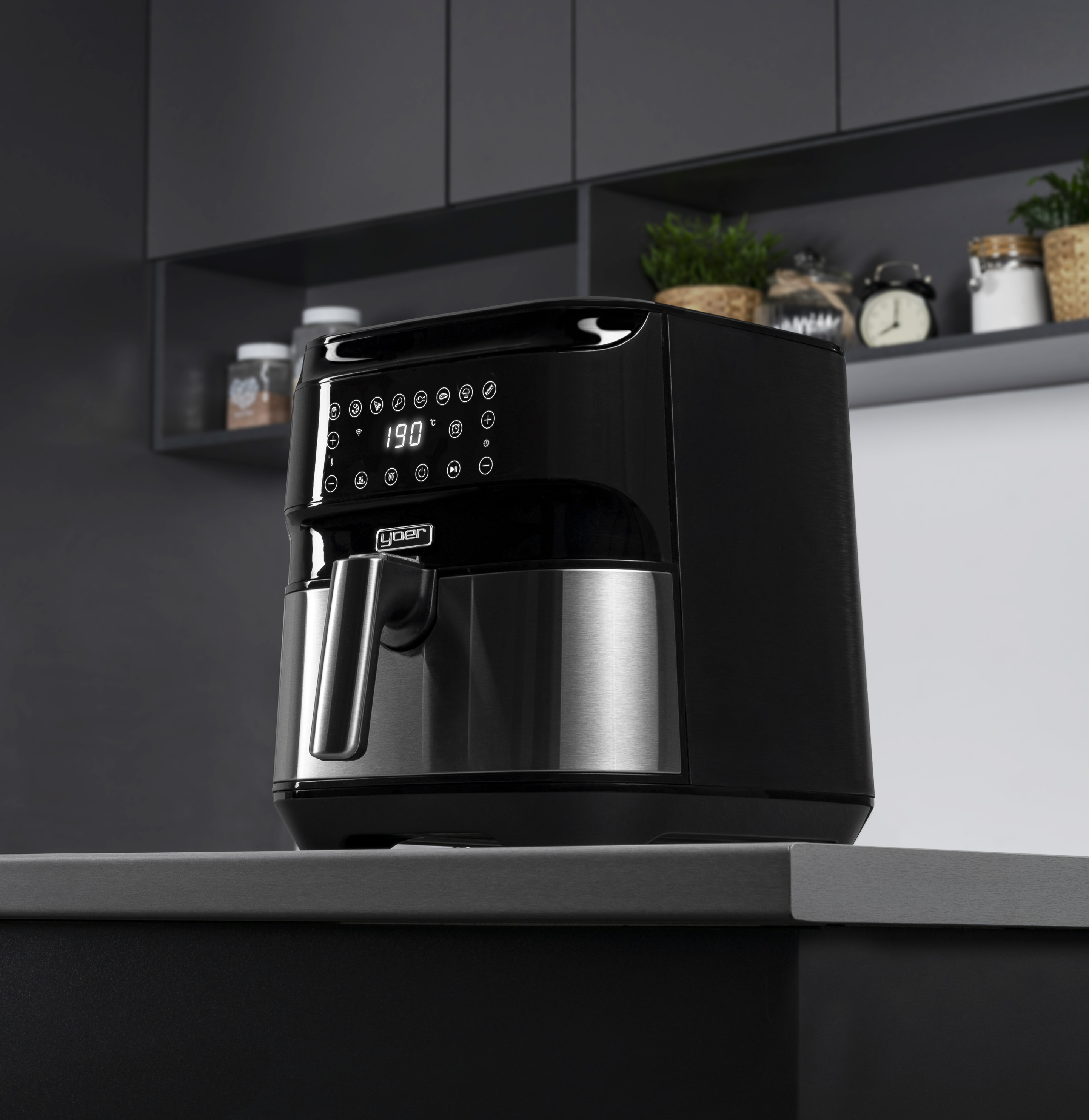 EXCLUSIVE DESIGN
▶ Black color with INOX stainless steel elements - add elegance and modernity to the interior
▶ Casing made of high quality polymer - years of durability guarantee
▶ Easy-to-read LED display - ensures easy control over the cooking process
▶ Touch control panel - adds elegance and ensures intuitive operation
▶ Body equipped with YOER producer logotype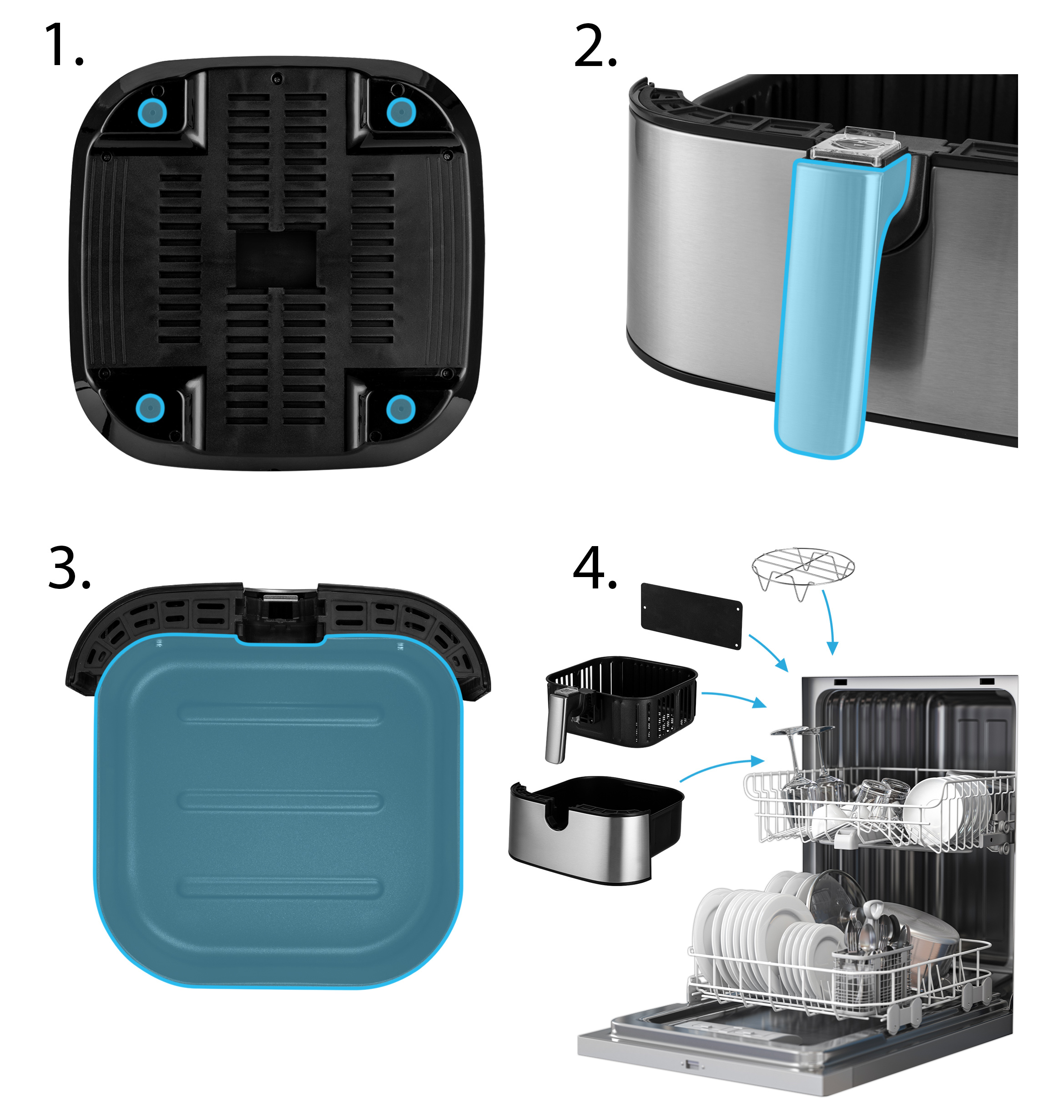 SAFETY AND CONVENIENCE
Anti-slip feet - ensure stability and prevent from moving the device.
Non-heating up handle - enjoy comfort and safety.
Non-heat layer - will enable you to heep hygiene and clean.
Dishwasher-safe - - wash pan, basket, grille and separator in a dishwasher.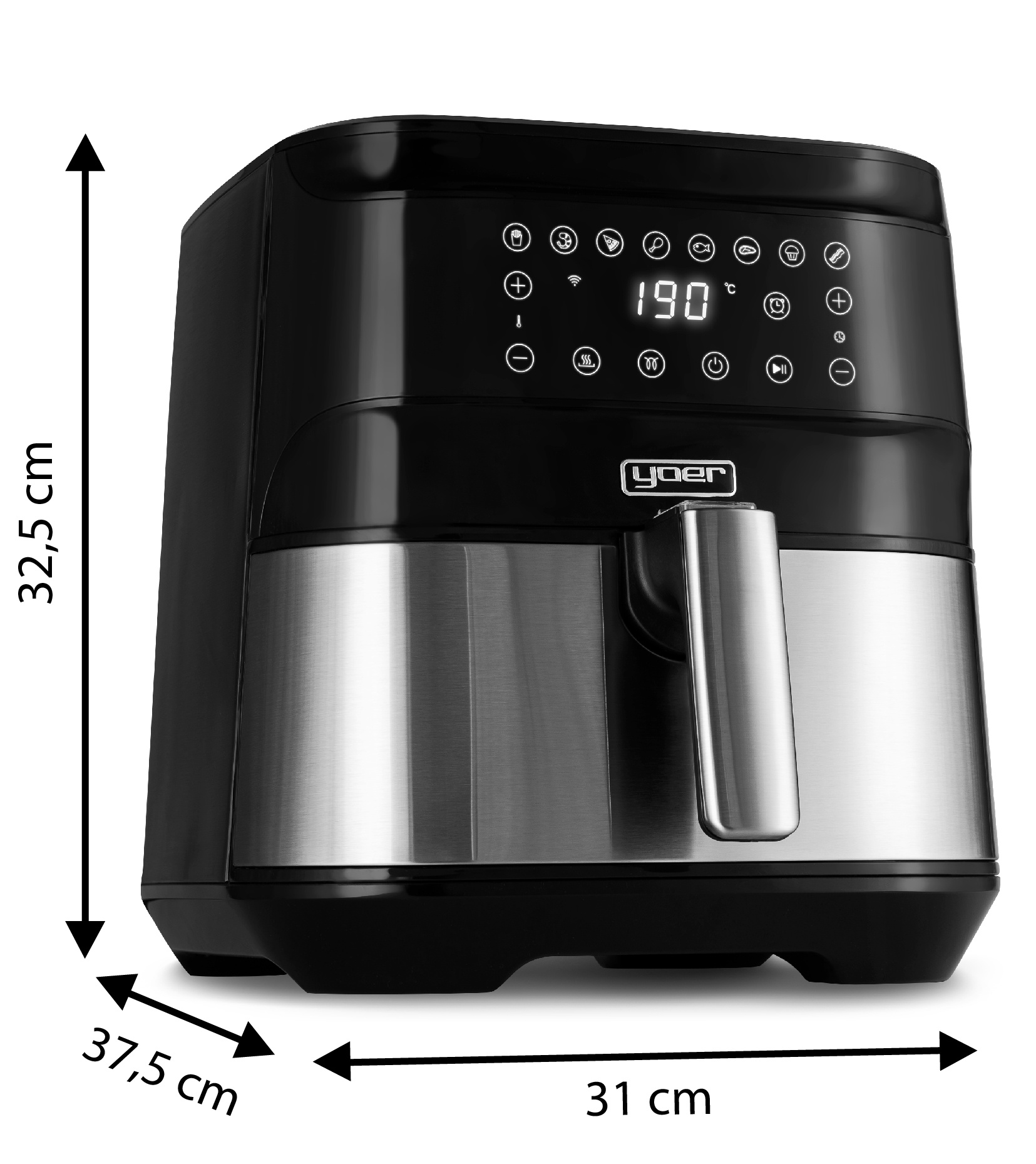 TECHNICAL SPECIFICATION
Power - 1700 W
Type of fryer - Air fryer
Pan capacity - 6 L
Basket capacity - 5,5 kg
Amout of automatic programs - 10
Timer - 12 h
Power cord length - 95 cm
Weight - 6 kg
Dimensions - 31 cm x 32,5 cm x 37,5 cm
Color - Black with silver INOX stainless steel elements
Polish power plug - 220-240V 50/60Hz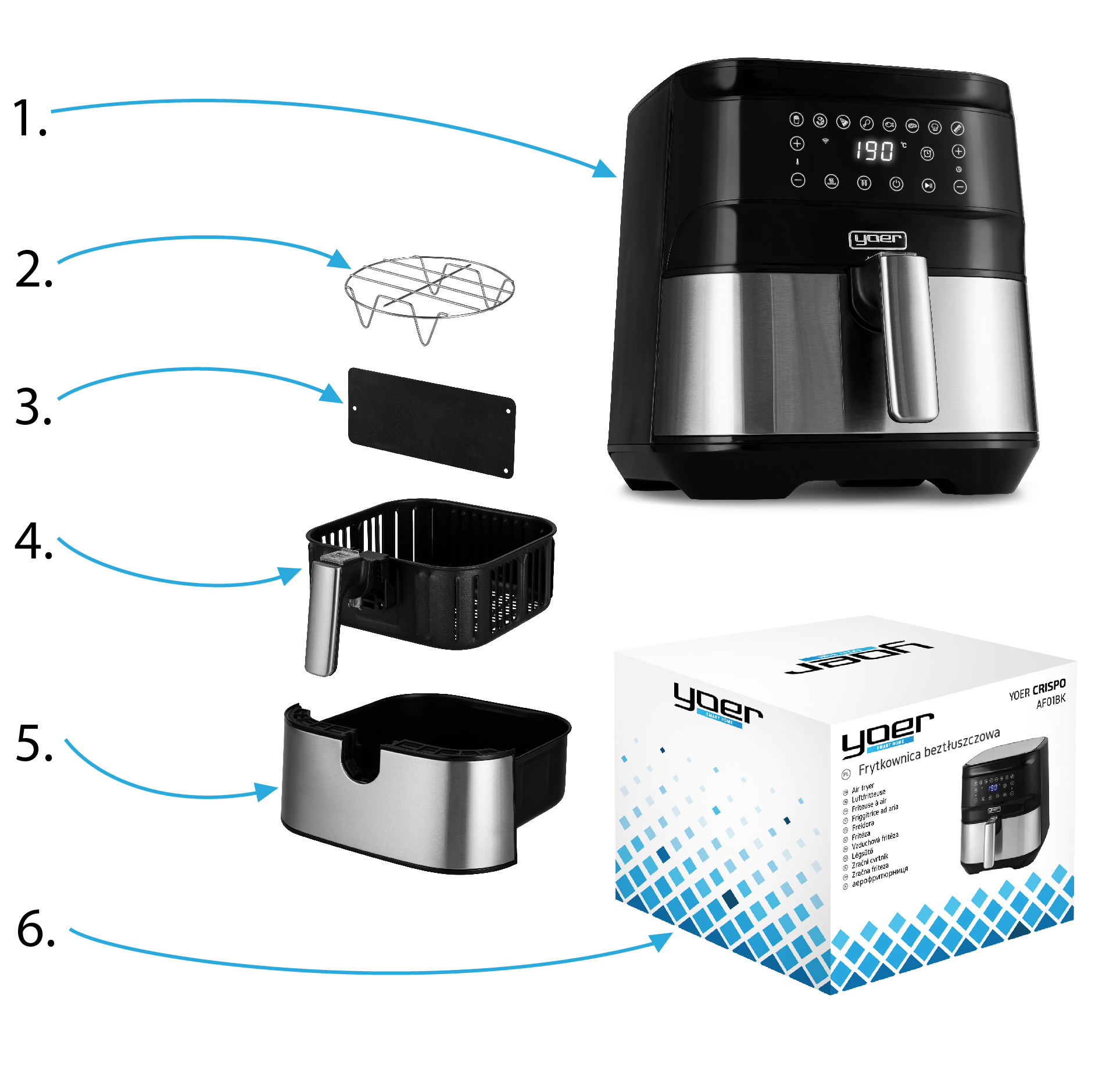 EQUIPMENT:
Air fryer
Basket
Food separator
Grille
Pan
Original packaging
◾◾◾
YOU WILL RECEIVE:
Air fryer - details above,
YOER PLATINUM SECURITY card
PL and EN instruction manual.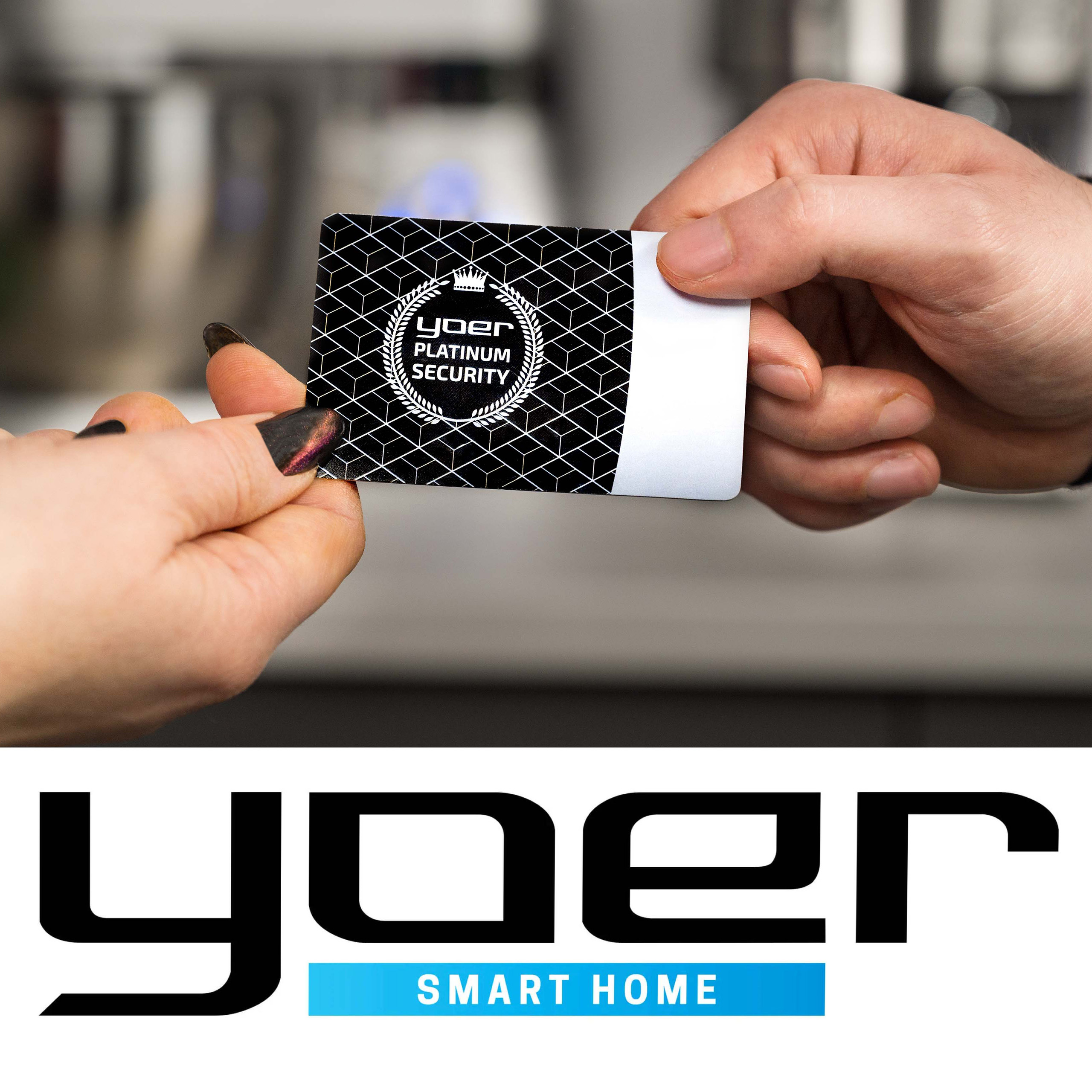 YOER PLATINUM SECURITY
When purchasing products from the official Yoer store you receive the YOER PLATINUM SECURITY package, which is an assurance of additional protection.
YOER - POLISH MANUFACTURER AND BRAND
YOER constitutes an excellent proof that high quality of products does not necesserily go in hand with high prices

YOER AF01BK Instruction manual - Click here