Language
Handheld garment steamer YOER X-Smooth HGS01WP
Power: 1000 W, vertical and horizontal ironing, 20 g/min steam shot, LED display, soleplate rotation

Shipping within

24 hours

Availability

Small

6

pcs.
| | |
| --- | --- |
| Bar code | |
| EAN | 5906874237410 |
Description

Instruction manuals

Reviews & ratings (1)
Steamer - Handheld garment steamer YOER X-Smooth HGS01WP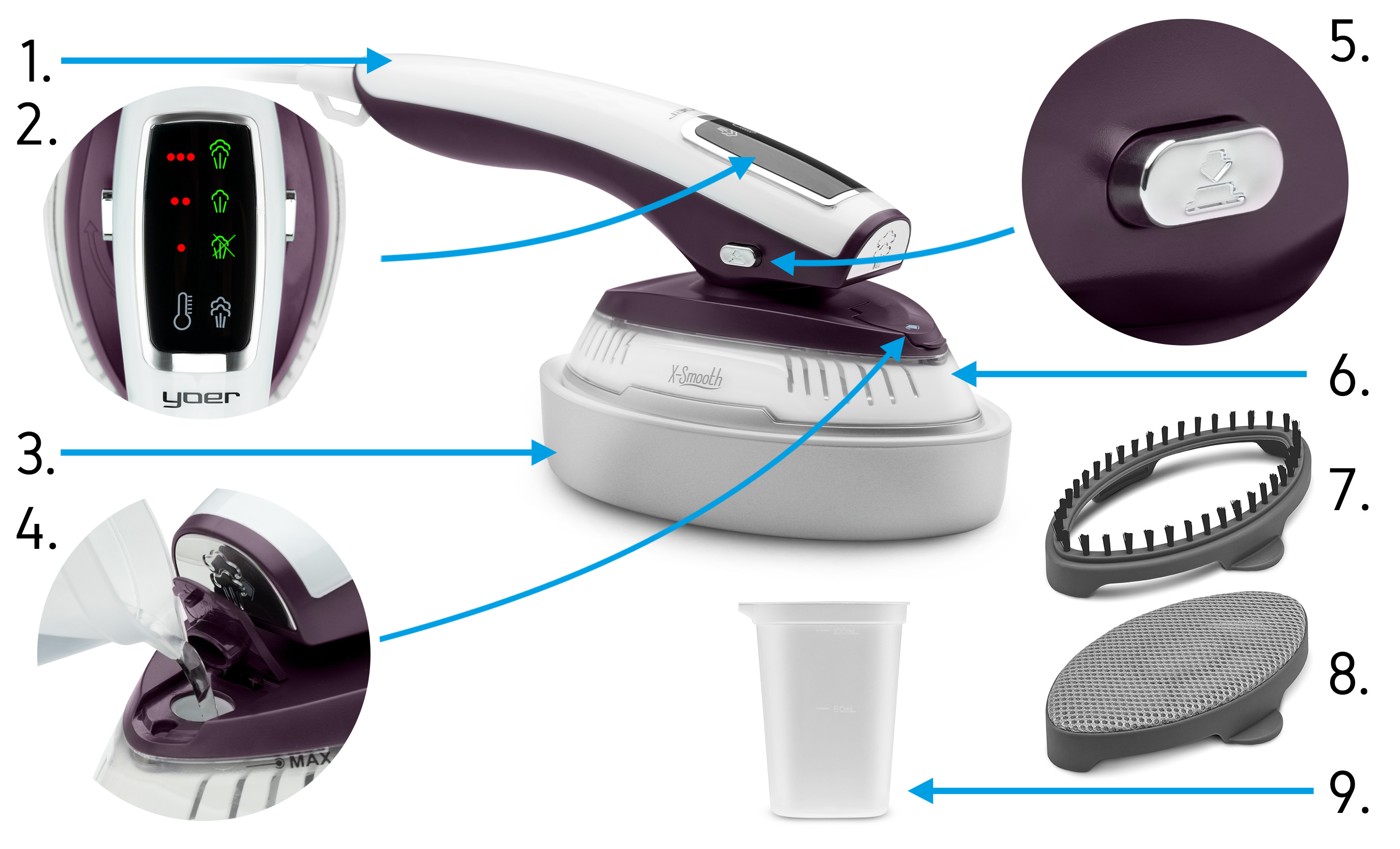 CONSTRUCTION-MAIN COMPONENTS
Convenient handle
LED display with touch control panel
Base
Cover of the water tank
Nozzle rotation buttons
Water tank
Brush for thick fabrics
Nozzle cap for delicate fabrics
Jug with scale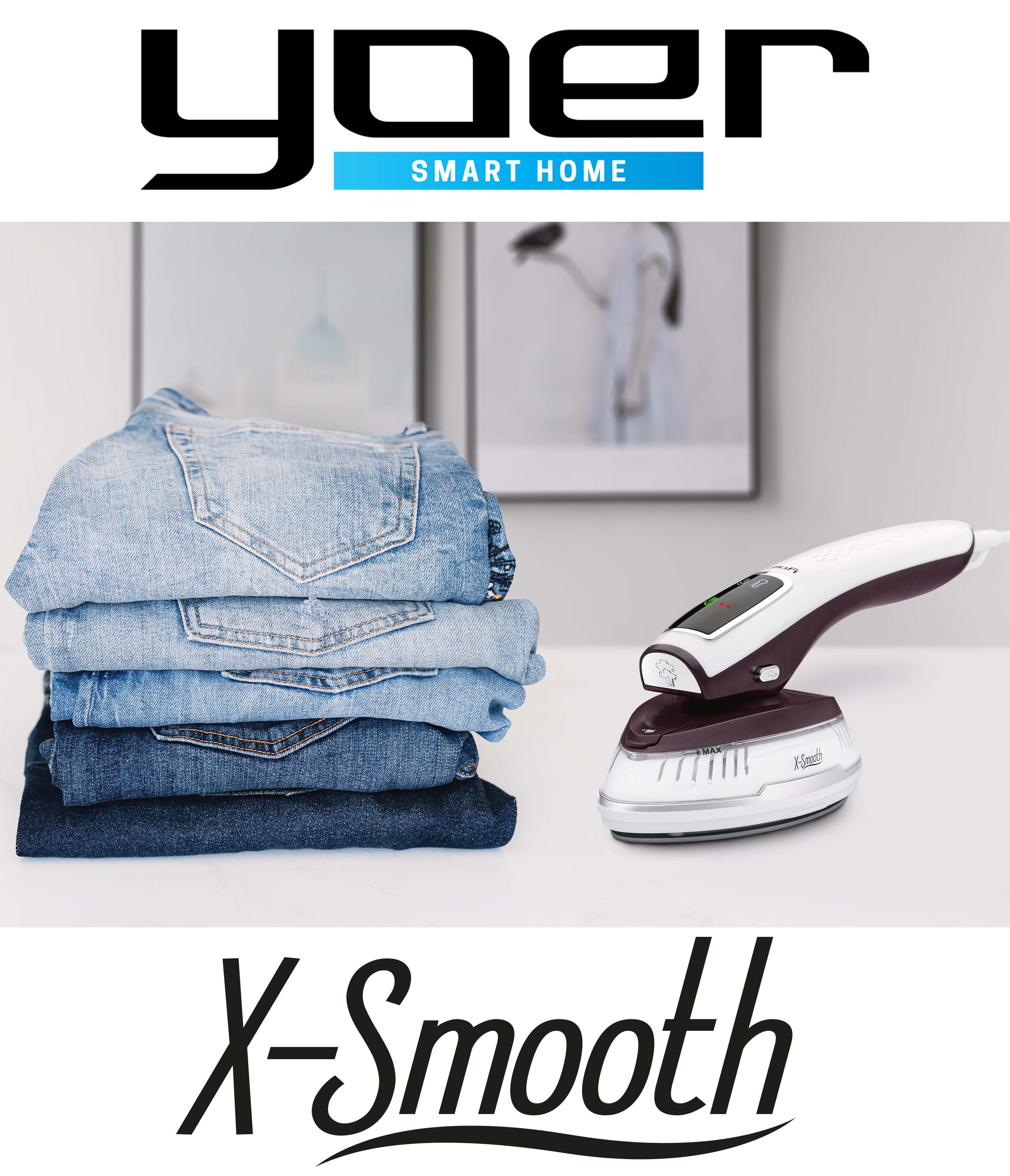 PRODUCT DETAILS
Quick heat-up - within just 45 seconds
Continuous steam generation - enables 10-minute continuous steam generation
2 steam levels and 3 temperature levels - it is your choice
90° rotational nozzle - ceramic soleplate
Ironing with or without steam
Horizontal and vertical ironing - the device construcion enables you to iron in 2 ways: steamer and iron
Profilated soleplate with button crevice - will enable you to iron even hard to access surface
Refreshing clothes, uholstery and plush toys
Water reservoir capacity - 100 ml - with the drip stop
Touch control panel - you can easily adjust the settings to your personal needs
Nozzle cap for delicate fabrics - woal, tulle, satin and sulk
Brush for thick fabrics - removes dust, fur and hair
Palm sensor - the device will automatically turn on the steam after grabbing the handle
Automatic shutoff - after 3 minutes of inactivity
Base - will enable you to safely put down the steamer when it is hot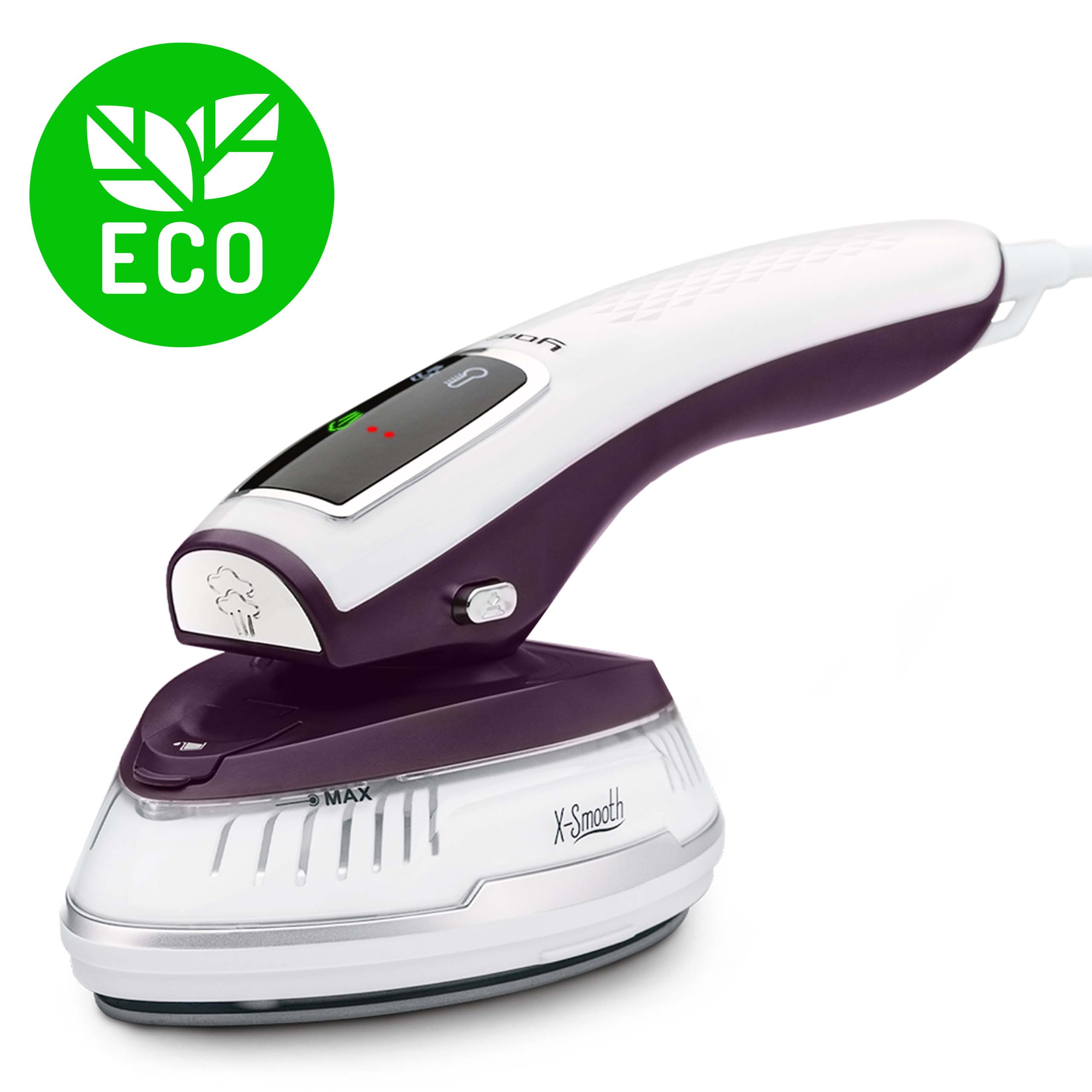 BIGGER EFFECTIVENESS AND ENERGY EFFICIENCE
Handheld garment steamer is a synonym of more effective and faster work!
Energy-efficient energy consumption on the level of 1000W ensures effectivenes comparable to the use of 1300W - convenience of ironing which gives spectacular effects with the use of optimal device power.
23% W smaller energy use in comparison to traditional steamers - huge effectiveness and saving money.
Steam generation 20g/min – the steam enables ironing double layer of fabric at once - saving up to 50% of your time.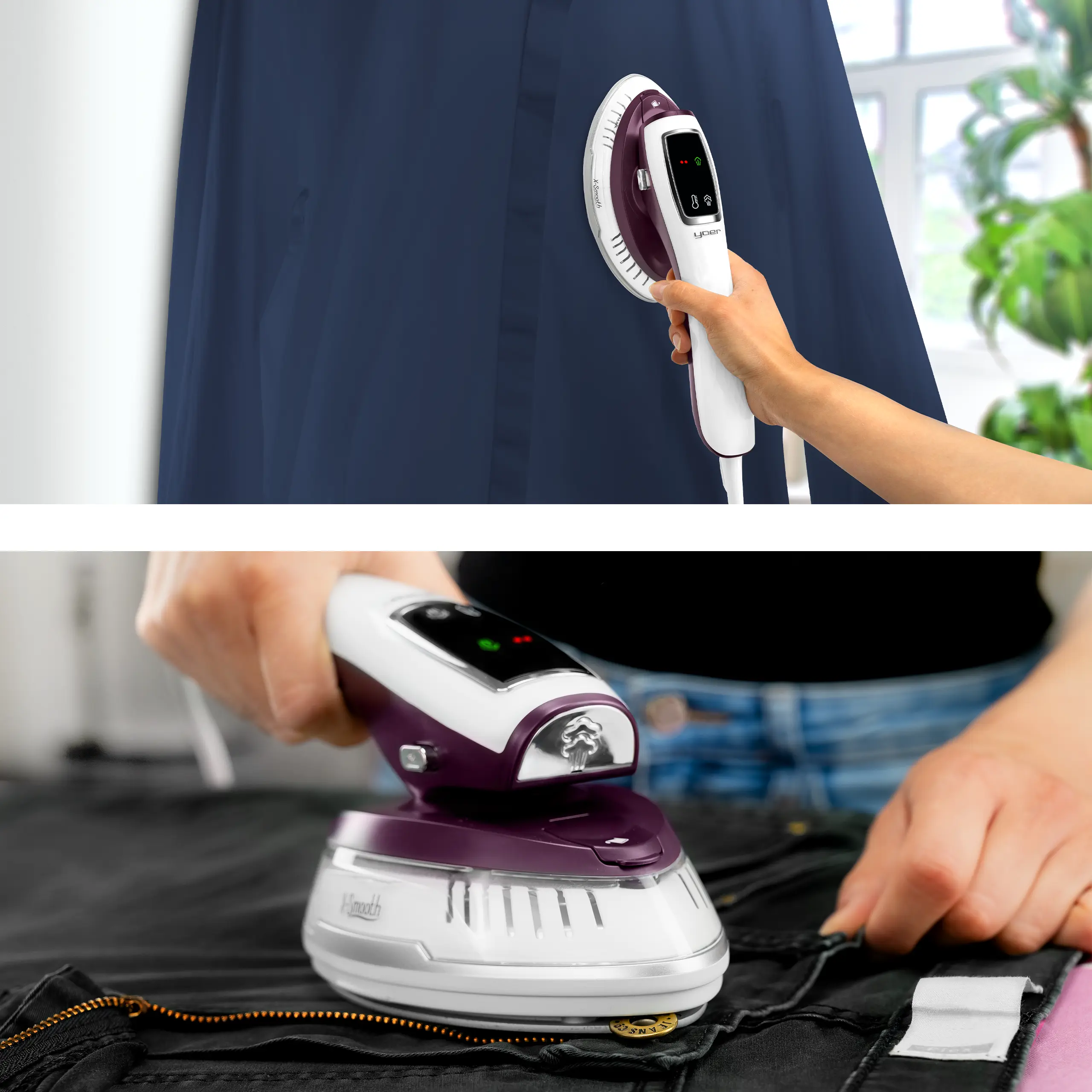 2in1 - STEAMER AND IRON
Vertical ironing
All you need to do is hang a piece of clothing on a wire hanger and, with the help of high temperature and steam, you can get rid of creases. No more hassle during pressing narrow sleeves and creating new creases in the process!
Horizontal ironing
If you are a fan of the classic horizontal pressing method, just put your garment on an ironing board, hold the steamer as you would an iron and begin pressing.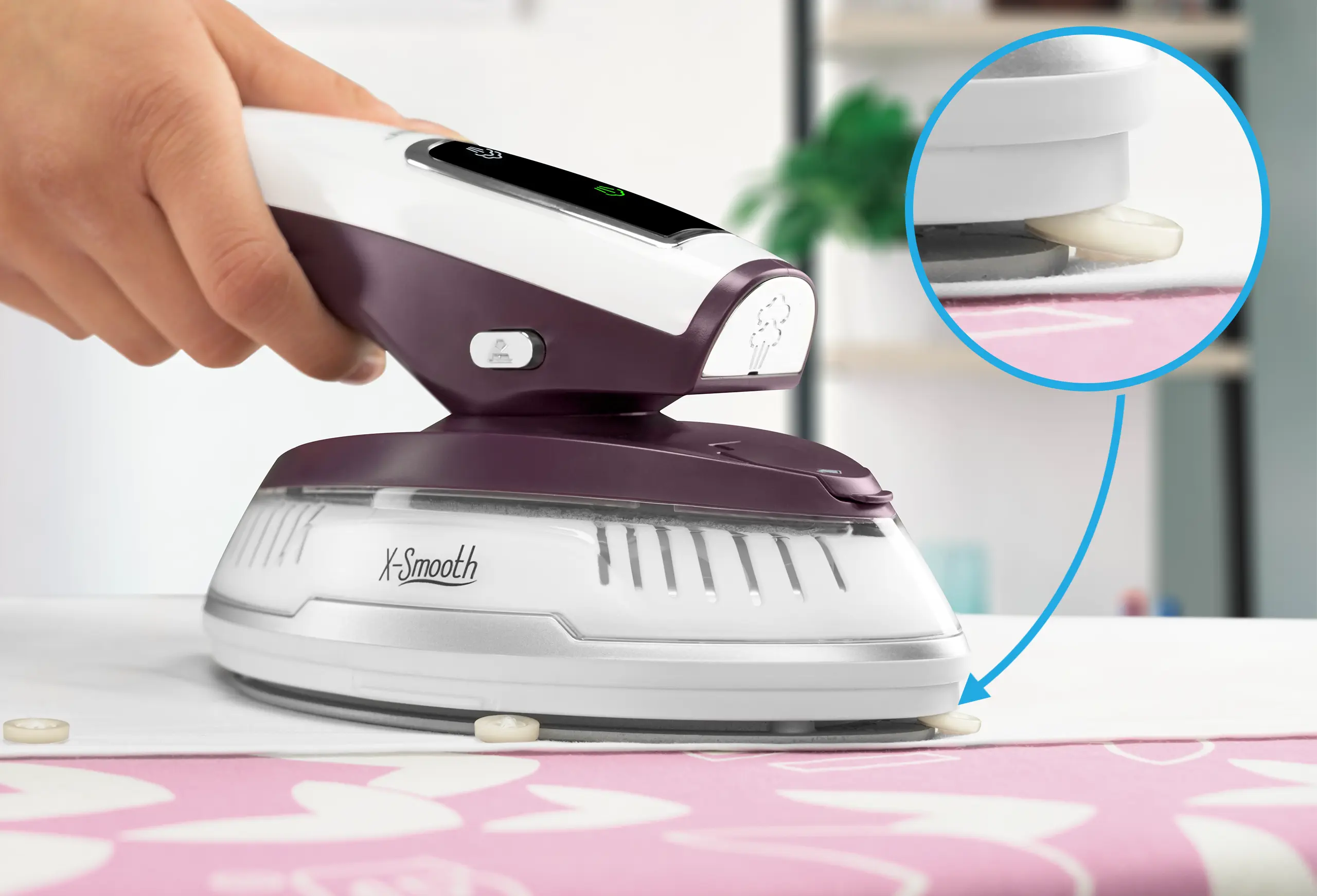 IRONING DIFFICULT-TO-REACH SPOTS
Profiled soleplate for reaching difficult spots - was designed to allow for pressing difficult-to-reach parts of garments. Its shape tapers slightly towards the ends. You will iron stitches, pocket creases or any creases around buttons without trouble.
Soleplate with button crevice - thanks to the space between the ceramic soleplate and the garment steamer head, pressing fabrics around buttons will not cause an issue. During pressing they can "hide away" in the dedicated crevice, which makes it easier to iron creases around them.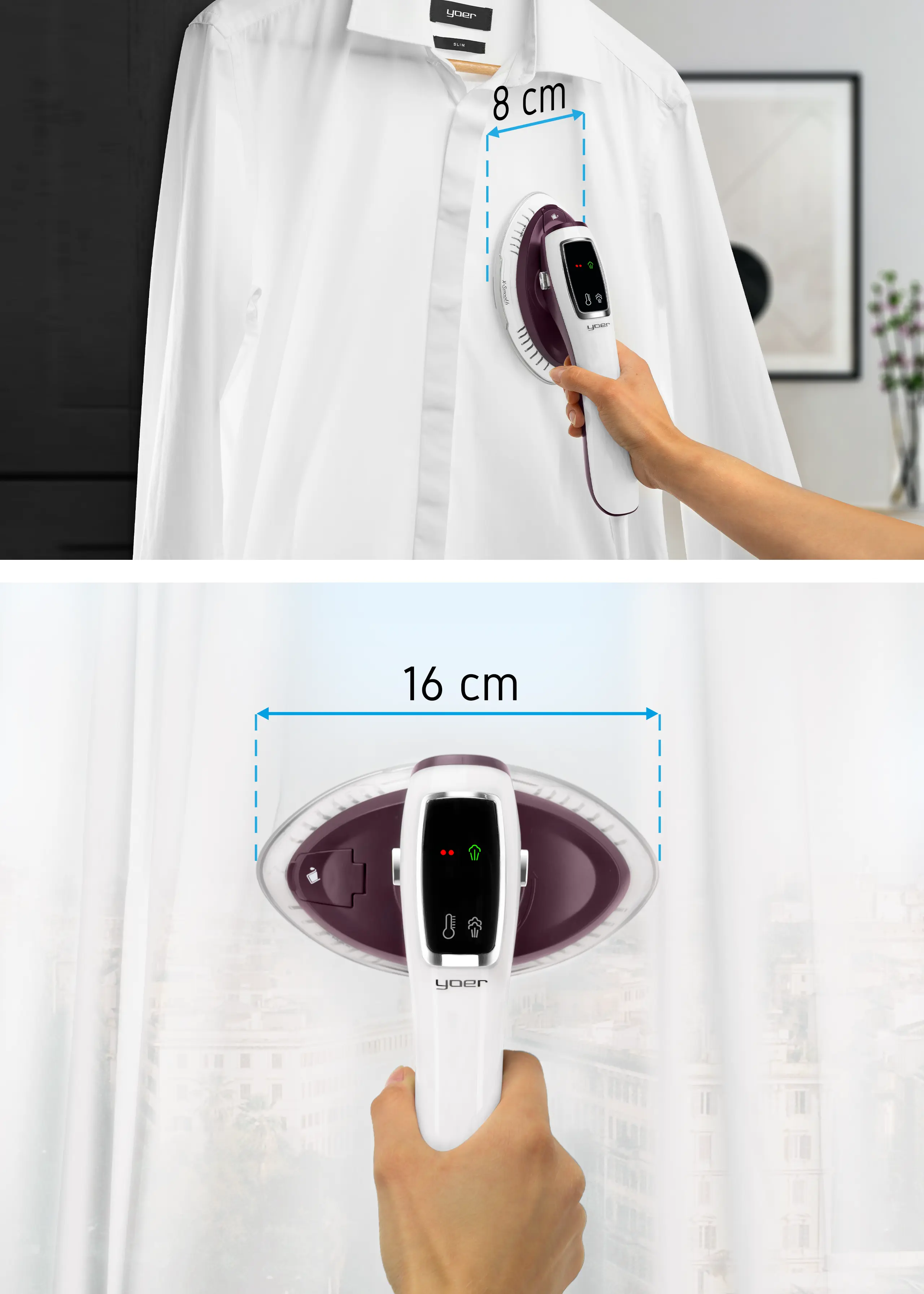 ROTATIONAL CERAMIC SOLEPLATE
The soleplate can be rotated by 90° - just press the buttons on both sides of the device and twist the handle. Because of the possibility of adjusting the pad's position you get a pressing area of 8 cm or 16 cm, depending on whether you want to iron a narrow shirt or a wide window curtain.
2 WAYS OF IRONING:
Wet ironing - the steamer has the ability to iron with 2 steam settings: low or high continuous steam production level.
Dry ironing - the steam generation functionality can be turned off in order to dry-press clothing, using the high temperature of the pad.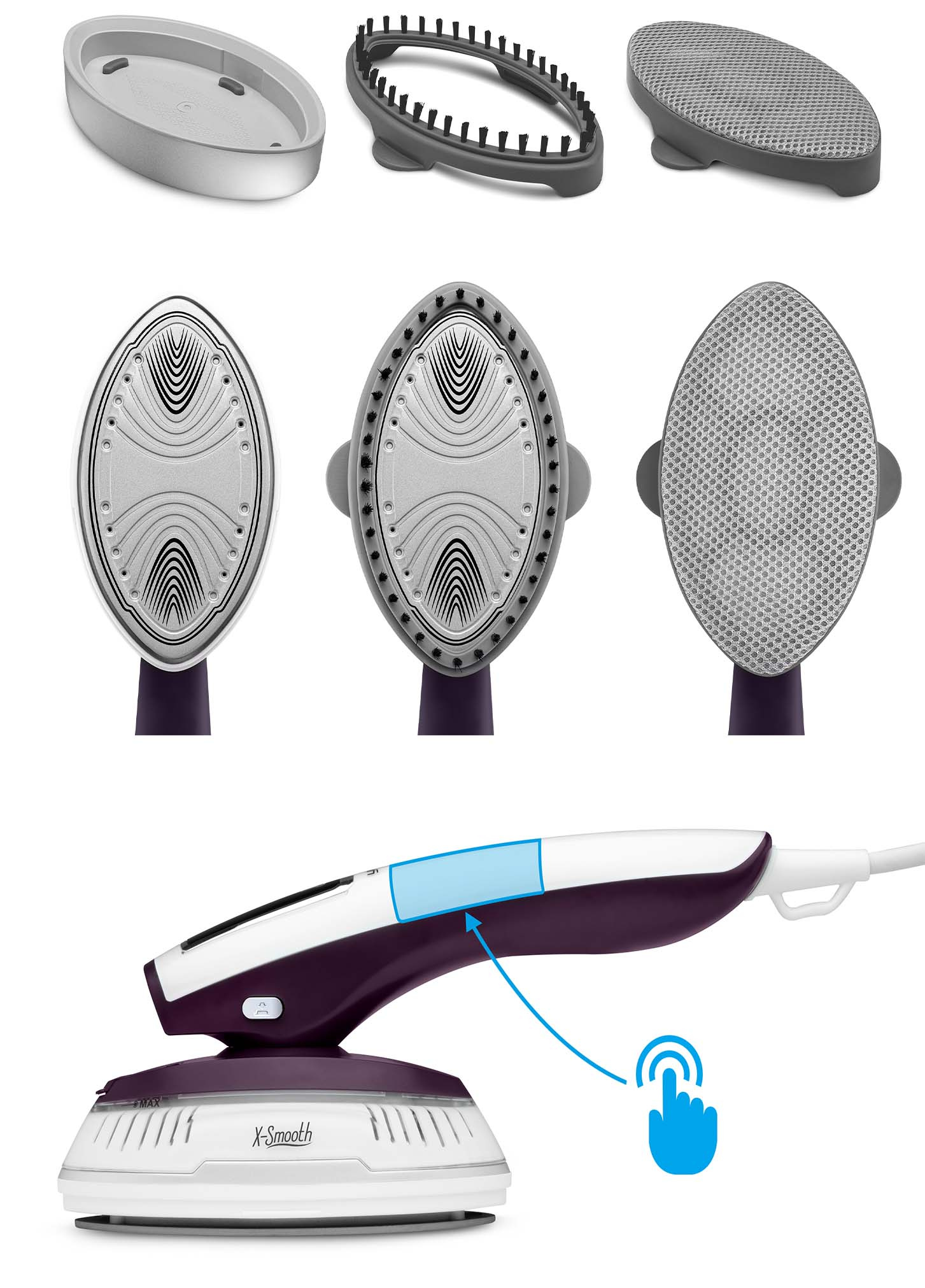 CERAMIC PAD
The ceramic coating assures not just a smooth glide over fabrics, but also higher durability and resilience to scratching.
Four zones of symmetrically spaced vents on the steamer's pad allow for even spread of steam on the pressed fabric.
ADDITIONAL EQUIPMENT
Stand for the hot pad - allows you to comfortably and safely put away the hot appliance at any moment, for example after you finish work or during pressing.
Thick fabric brush - makes it effortless to restore a coat or heavy curtains to their proper condition. The onlay is equipped with hard bristles, which will also brush the fabrics and remove any specs.
Fragile fabric onlay - with its help you will easily press such fabrics as voile, silk, sateen, think polyester or jersey. The onlay is composed of two layers of soft mesh that protect clothing from hooking.
COMFORTABLE AND SAFE OPERATION
Palm sensor - steam will automatically begin being generated as soon as you grip the handle. All that is made possible by the specialized sensor in the handle.
Automatic power-off functionality - when you stop using the device, it will automatically turn off after 3 minutes. If you hold it by the handle again, it will return to previous settings.
Overheating protection - the device will shut down if there is a risk of damage due to overheating.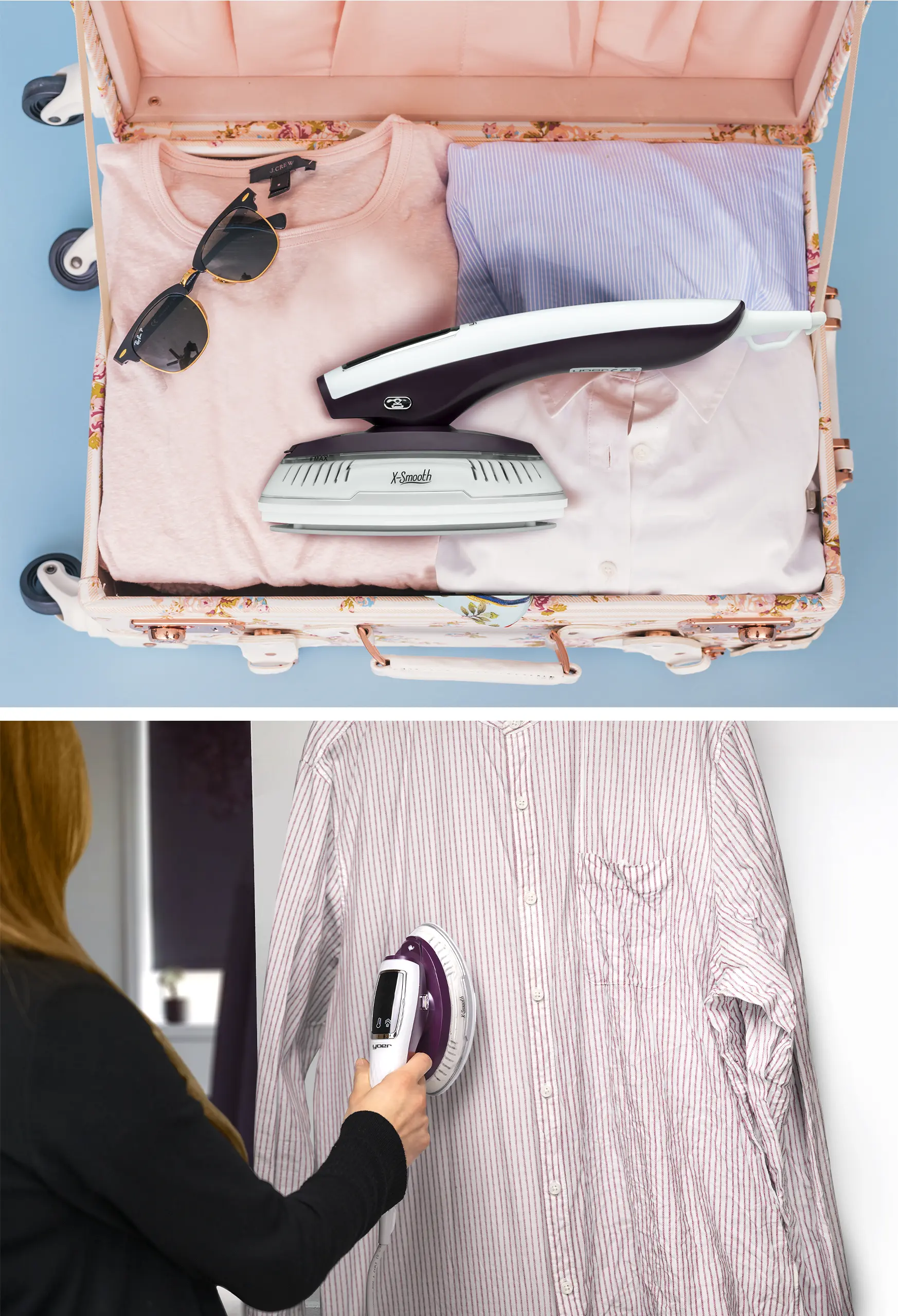 SMALL DEVICE - BIG POSSIBILITIES
Small dimensions - the garment steamer will make a great travel iron, which will easily fit into a suitcase or travel bag, without the need for compromising for other pieces of luggage. Enjoy smart looking clothes on every business trip or on holiday!
EFFECTIVE IRONING
Optimal power - despite its small size, the steamer is characterized by appropriate, carefully tailored power that allows for uninterrupted generation of steam at the optimal volume. Your clothes will be perfectly pressed, without drip stains or the need for drying after pressing is done.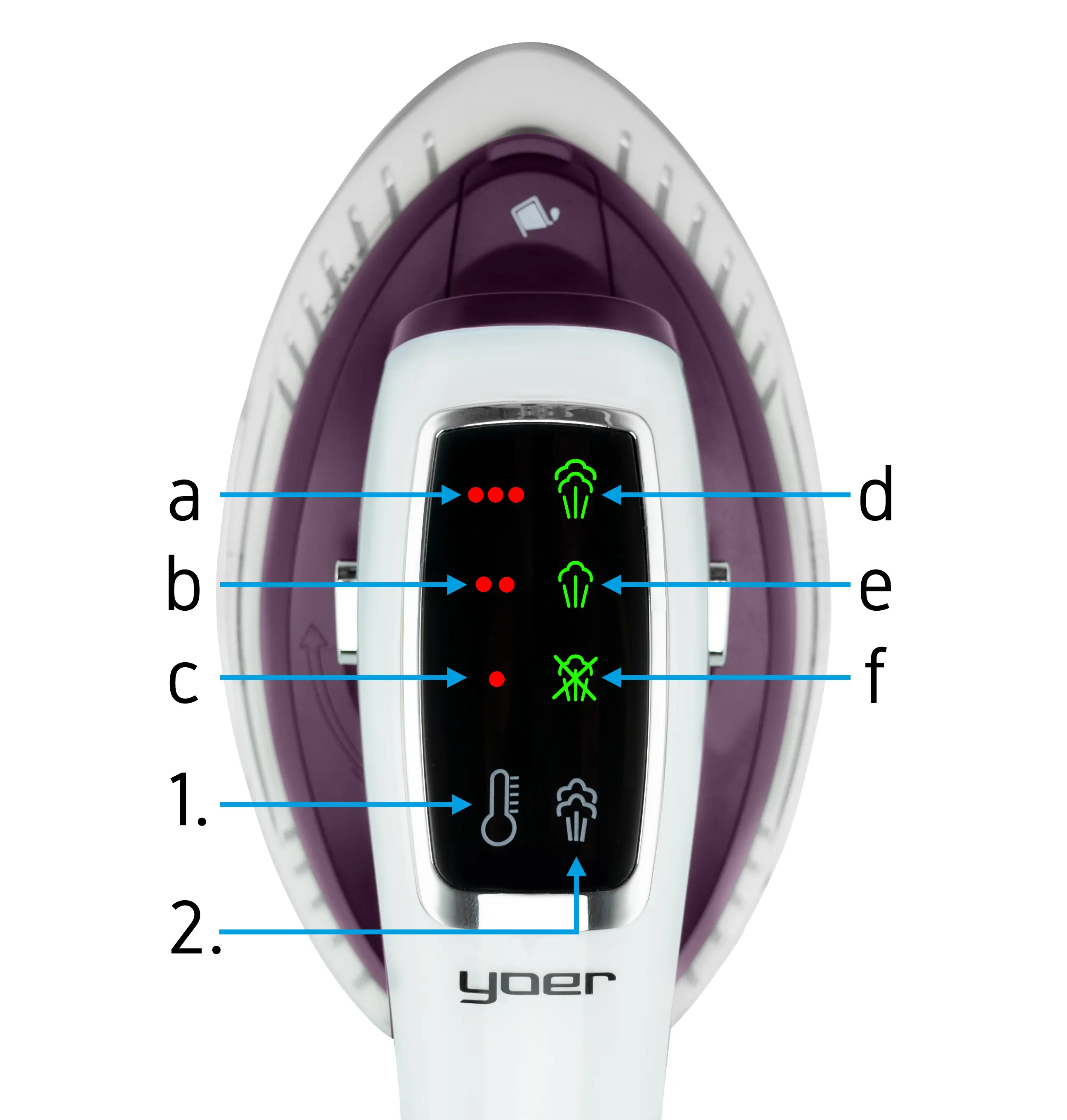 TOUCH CONTROL PANEL WITH LED DISPLAY
A comfortable control panel with an easy-to-read display is located on the handle to help you adjust and check temperature and steam settings in a few seconds.
2 STEAM GENERATION SETTINGS AND 3 TEMPERATURE SETTINGS
Temperature adjustment button - allows for selecting desired steamer temperature:

a. High (three dots)

b. Medium (two dots)

c. Low (one dot)

Steam generation button – allows for choosing between 2 modes of steam generation or turn it off completely:

d. Strong

e. Gentle

f. No steam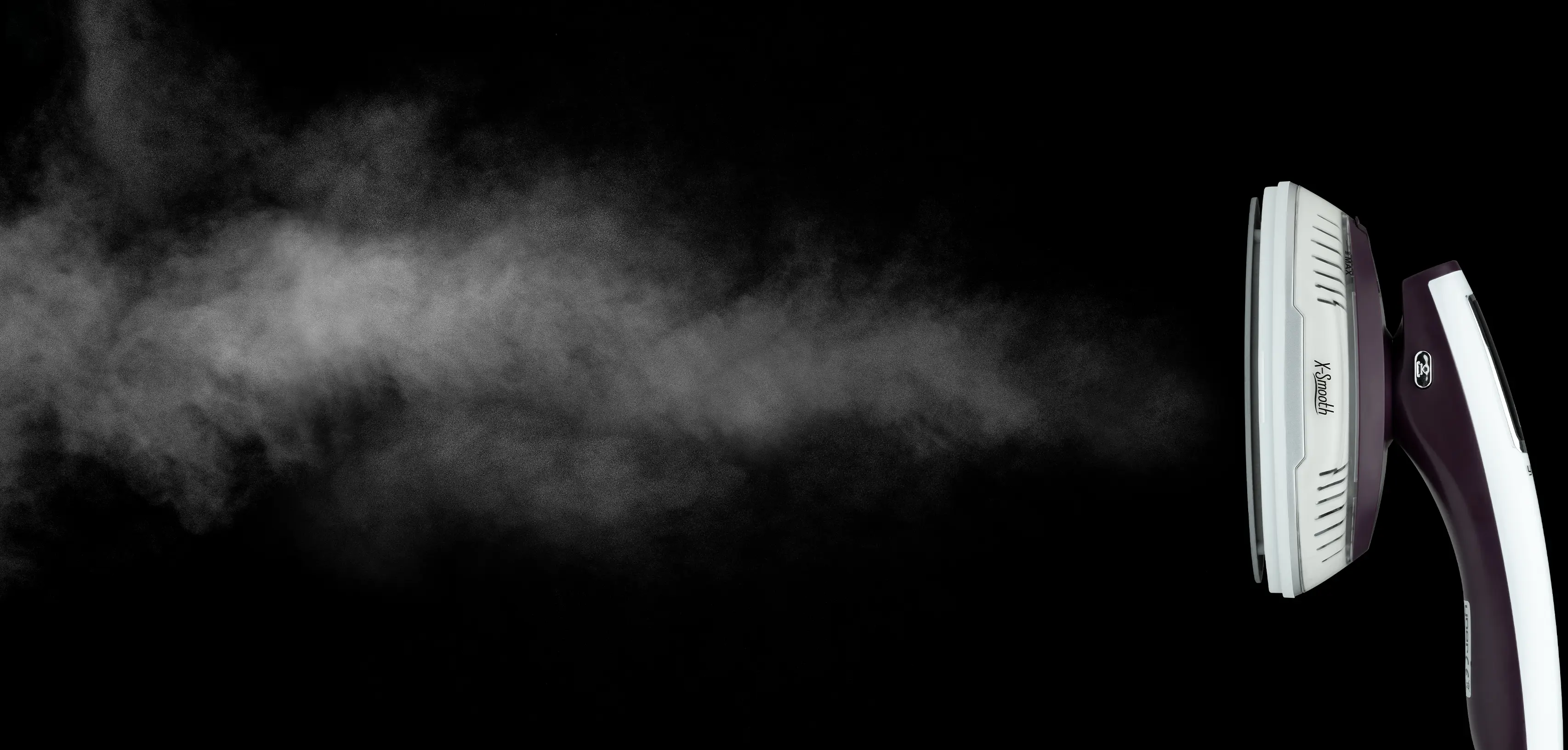 CONTINUOUS STEAM GENERATION
Despite its small size, the device can continuously produce as much as 20 g of steam per minute for 10 minutes on a single reservoir of water. You can thoroughly iron your entire piece of clothing, and when the water does run out, all you have to do is refill the reservoir to continue work.
LIGHTNING-FAST 45-SECOND HEAT-UP
The device is ready to work nearly immediately after being turned on. You do not have to turn it on long before you need it, or wait for it to heat up - the garment steamer is ready to work in the blink of an eye.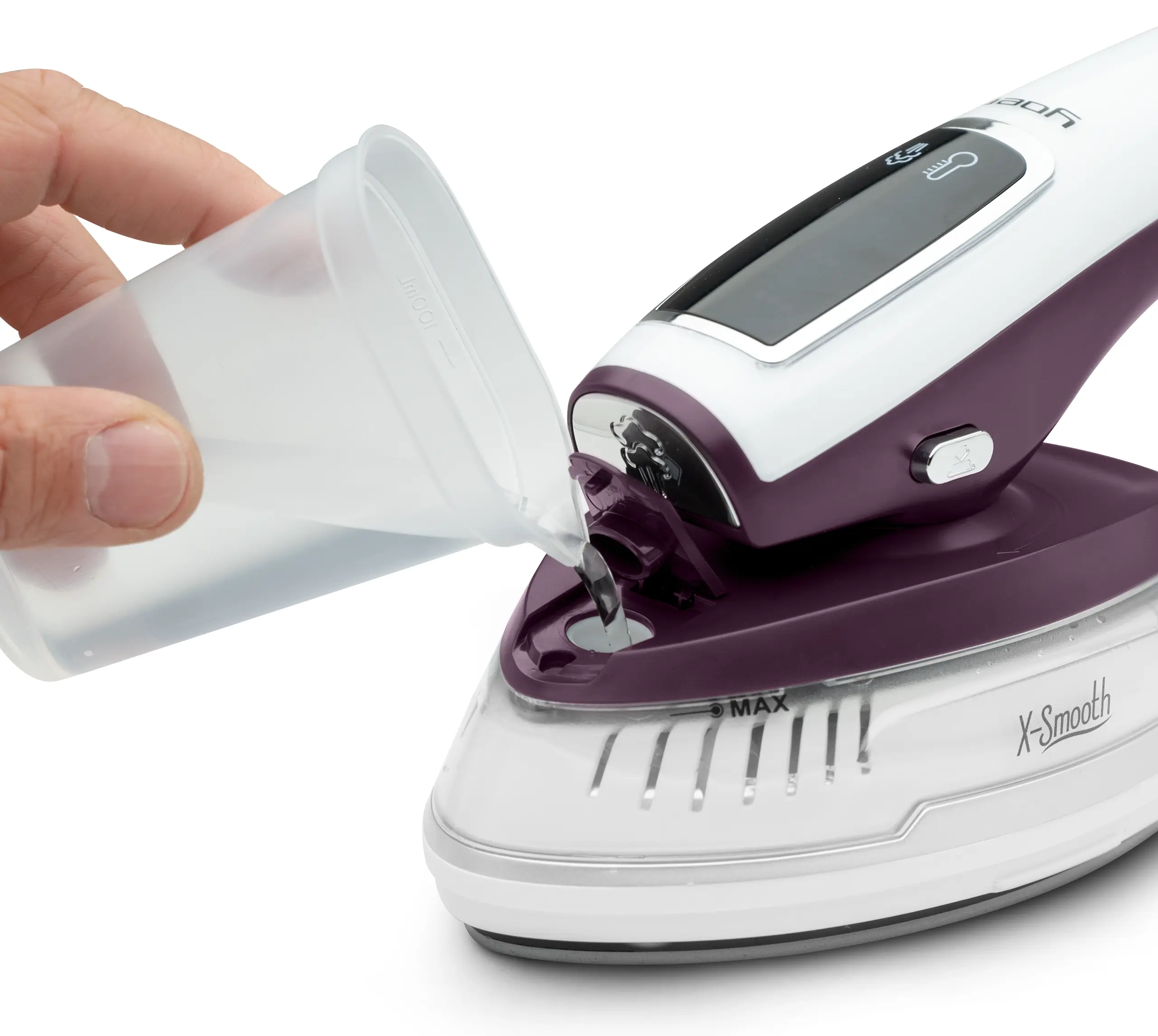 BUILT-IN WATER RESERVOIR
The device was designed to allow for comfortable and quick refilling. Additionally, the set includes a container with a spout to make the task even easier.
DRIP PREVENTION
The drip prevention mechanism eliminates the risk of undesirable water leakage during operation at low temperatures.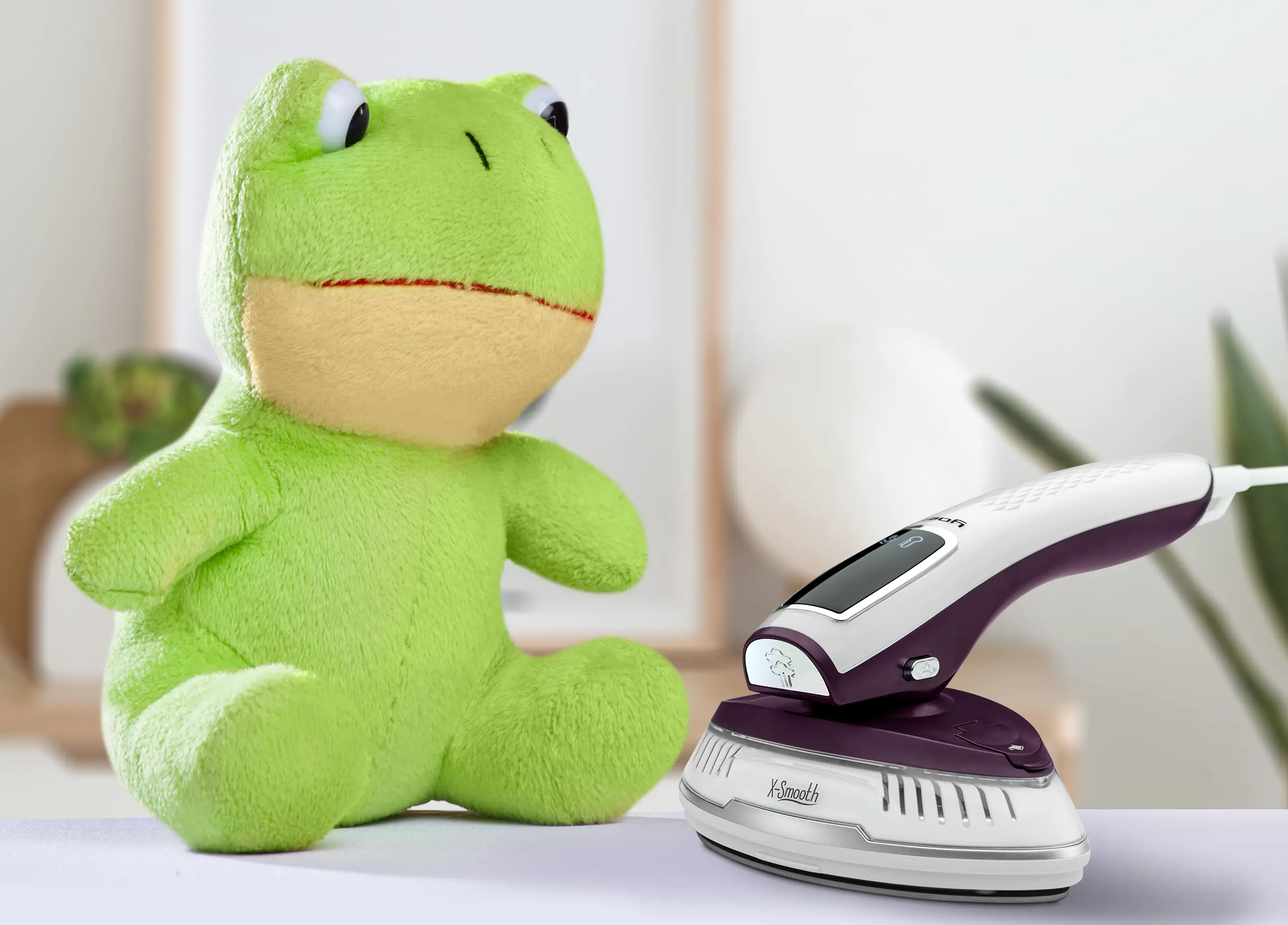 NOT JUST PRESSING - GET RID OF VIRUSES AND BACTERIA
The garment steamer will allow you to not only press clothes, but also:
Refresh your overclothes - after they had spent a lot of time stored in the wardrobe, for example suits and coats require refreshing, and because they cannot be ironed, the steamer becomes the perfect solution for restoring their proper condition.
Refresh padded furniture and decorative cushions - steam cleaning is an effective way of doing away with unpleasant smells, as well as dust, which is is an effective way of getting rid of not only unpleasant smells, but also dust, which is a fostering environment for the allergenic dust mites.
Disinfect fabric and plush toys - thanks to high temperature and steam you will remove dangerous microbes: viruses, bacteria, or allergenic fungi.
PRODUCT PRESENTATION
Watch our video and see all the functions of our Handheld garment steamer X-Smooth!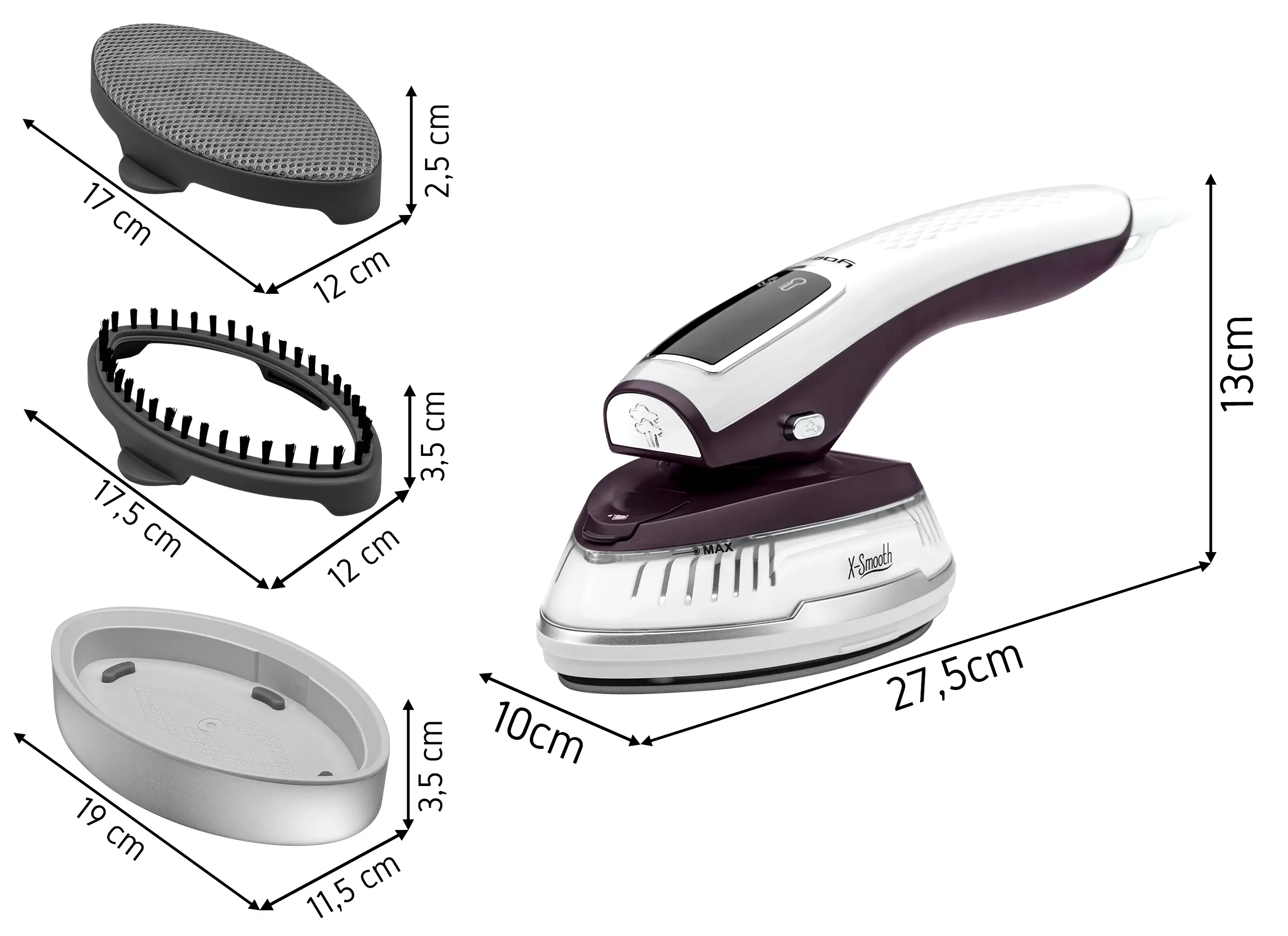 TECHNICAL SPECIFICATION
Steam generation: 20g/min
Max. nozzle temperature: 185°C (365°F)
Water reservoir capacity: 100 ml (3.4 oz)
Effectiveness: 6 minutes of doing the ironing without the need for refilling the water reservoir
Heat-up time: 45 seconds
Power cord length: 190 cm (74.8'')
Weight:1,3 kg (2.9 lbs)
Color: White with plum purple accents
Dimensions: 27,5 x 10 x 13 cm (10.8 x 3.9 x 5.1'')
Energy use: 1000W
Performance power: 1300W
Nominal power: 1000W
Polish power plug 220-240V ~ 50/60 Hz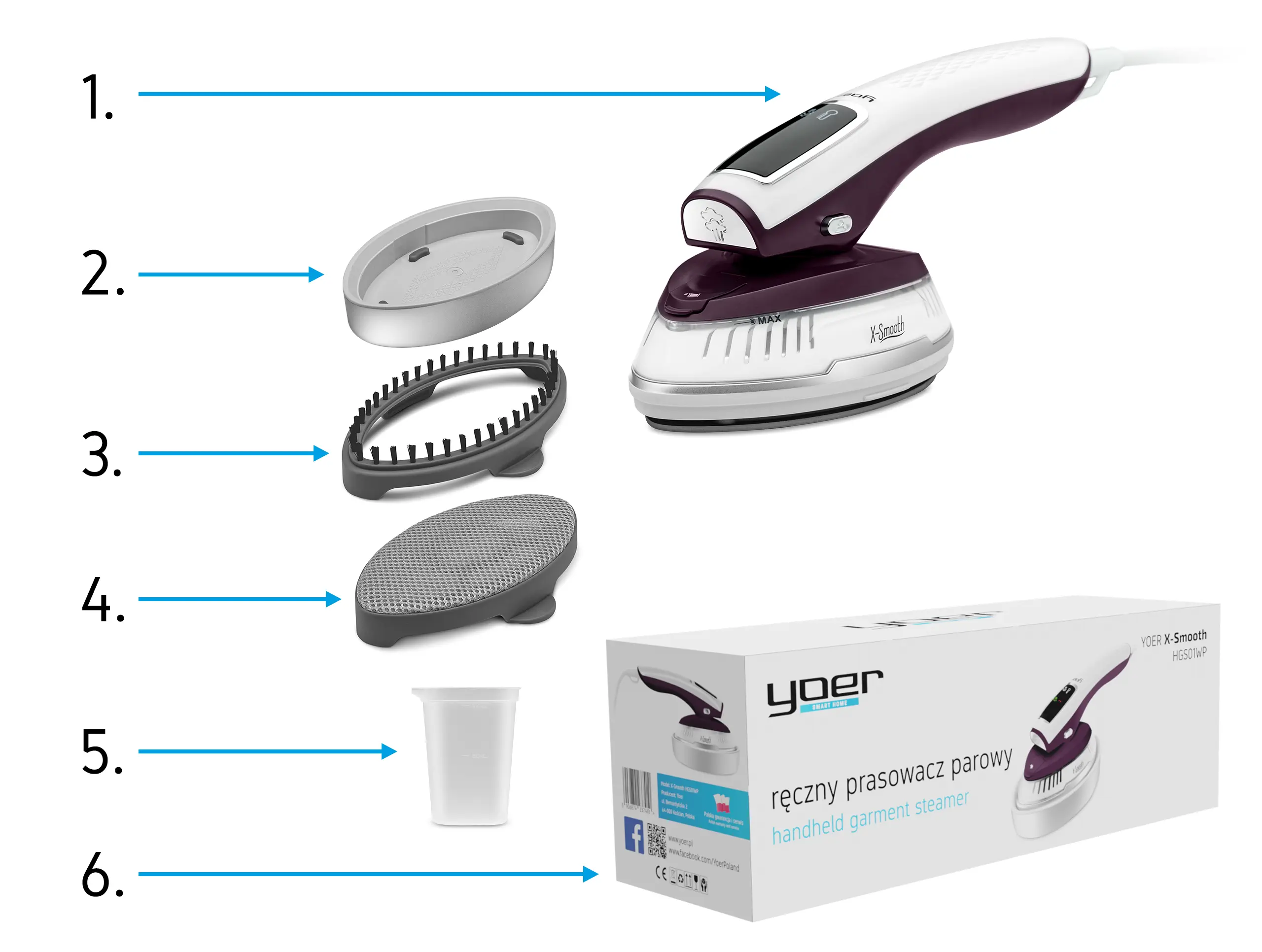 EQUIPMENT
Grament steamer
Stand
Thick fabric onlay
Fragile fabric onlay
Water refilling container with measure
Original packaging
YOU WILL RECEIVE:
Grament steamer - details above,
YOER PLATINUM SECURITY card,
Warranty card,
Receipt/ VAT invoice,
PL / EN instruction manual.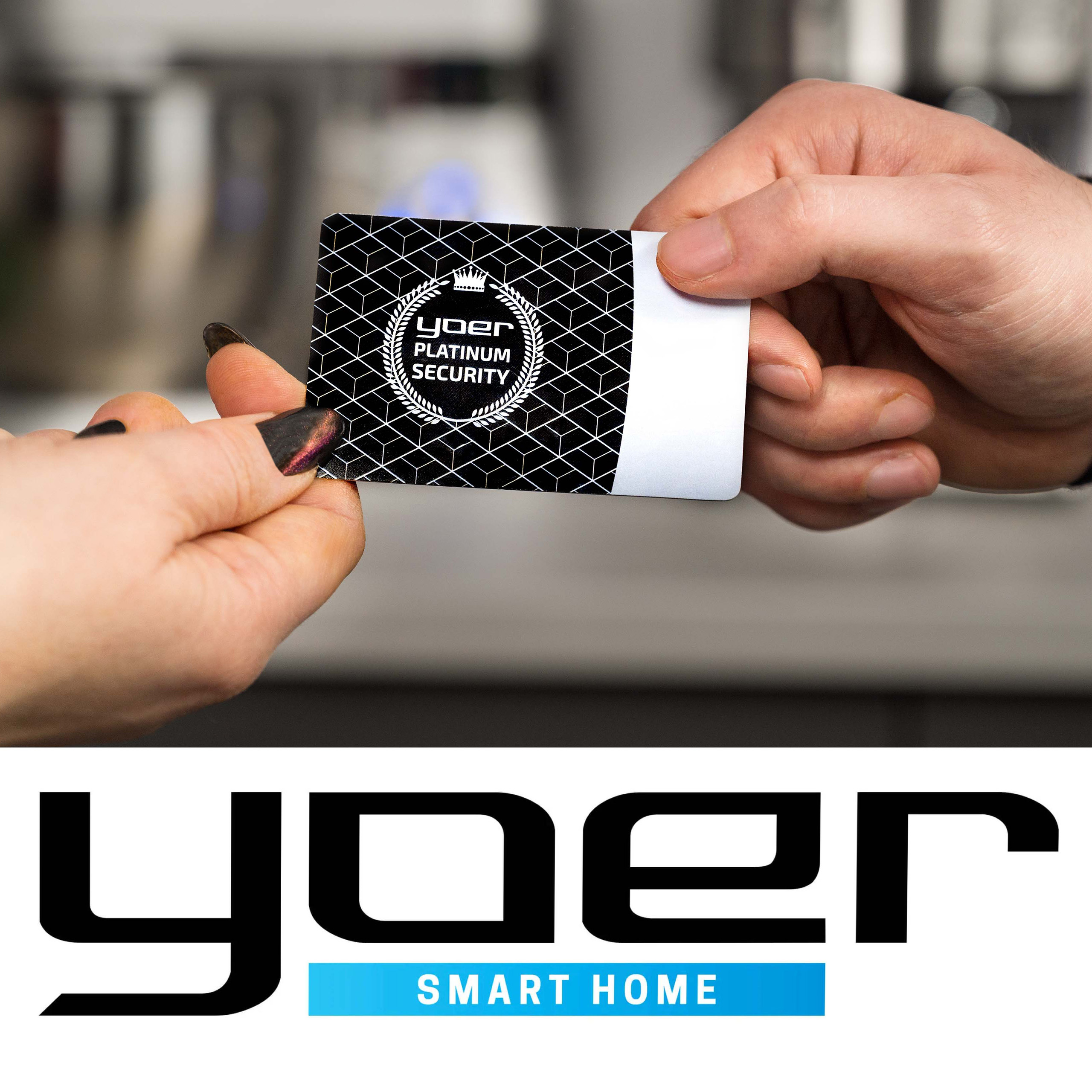 YOER PLATINUM SECURITY
When purchasing products from the official Yoer store you receive the YOER PLATINUM SECURITY package, which is an assurance of additional protection.
YOER - POLISH MANUFACTURER AND BRAND
YOER constitutes an excellent proof that high quality of products does not necesserily go in hand with high prices.

YOER HGS01WP Instruction manual - Click here
rewelacyjna parownica, wygodna, bardzo fajna, poręczna, również bardzo szybko została doręczona. Dziękuję!

Recently viewed products

Other Customers also purchased

Similar products