Language
Ice maker with water dispenser YOER Everest IMW02S
Output: 10-15 kg/24 h, Water reservoir: 1.8 L, Ice container: 600 g, Ability to connect a permanent water supply 3 ice cube sizes Touch control panel, Durable steel case, Ice cubes and water dispenser

Shipping within

24 hours

Availability

Small

7

pcs.
| | |
| --- | --- |
| Bar code | |
| EAN | 5906874237113 |
Description

Instruction manuals

Reviews & ratings (0)
2in1 Ice maker with water dispenser YOER Everest IMW02S
CONSTRUCTION - MAIN COMPONENTS
Transparent sight window
LCD display
Touch control panel
Ice cubes and water dispenser
Ice cube release button
Water reservoir access window
Removable drip tray
Rebust, heavy base
Cooling compressor
Water inlet allowing for a permanent water supply, and a port for drain pipe
Additional water return port
PRODUCT DETAILS
Power: 150 W
Output: 15 kg / 24 h (33 lb / 24 h)
Water dispenser output: about 2,7 L / min
Refrigerant: R600a
Color: Silver with black accents
Ice cube container capacity: 600 g (0.88 lbs)
Water reservoir capacity: 1,8 L
Ice cube size adjustment: Yes, 3 sizes
Ice cube dispenser: Yes
Cold water dispenser: Yes
LED display: Yes
Touch control panel: Yes
Ability to connect a permanent water supply: Yes
Ability to connect a water drain pipe: Yes
Settings memory: Yes
Water drain valve: Yes
Sound indicator: Yes
Transparent preview window: Yes
Body: Brushed INOX stainless steel, polymer
Additional functionalities: Water tank empty indicator, ice cube container full indicator, removable drip tray
Supplied accessories: Ice scoop, permanent water supply connector set, water refill container
EFFECTIVENESS AND EASE OF USE
High effectivity - owing to the efficient heat-extracting compressor, the device can produce as much as 10-15 kg (22-33.1 lbs) of ice cubes per day. First ice cubes are ready after just 10 minutes of operation.
Ease of use - the ice maker is very easy and intuitive to use. Simply supply water and it will automatically begin making ice cubes according to chosen size.
Sound indicator - the device is equipped with a sound indicator that alerts the user when the ice cube container is full or the water reservoir is empty.
Settings memory - after turning the appliance off and on again, the previously selected ice making mode will automatically resume.
TWO WAYS TO SUPPLY WATER:
Permanent water supply (with or without external filter).
Manual refilling.
EASY-TO-READ LED DISPLAY
LED display - displays current ice maker operational status, which makes it a lot easier to use the device. Indicators on the display allow for convenient operation:
Warning indicator - informs of improper or faulty device operation. If this occurs, contact official YOER customer service.
Water tank empty indicator - a prompt will appear on the screen to let you know that the water reservoir is empty, so that you know when to refill it or when the permanent water supply has been closed off.
Ice cube container full indicator - when the container is full, a symbol will be shown on the screen, so there is no need to access the container to check it.
Ice cube extrusion indicator - lights up when the right side dispenser is serving ice cubes.
Set ice cube size indicator - shows currently chosen size of ice cubes.
TOUCH CONTROL PANEL
Control panel - equipped with 4 buttons allowing for quick and easy changing of settings:
Power ON
Ice cube size selection button
Water dispenser button
Power OFF
EXPANDED REAR PANEL
Water inlet port - allows for connecting the ice maker to a permanent water supply, with, or without a filter, using the supplied connection set.
Water return port - drains excess water from the ice maker.
Power cord
Drain valve - makes it possible to manually drain the water reservoir.
Cooling compressor - located at the side of the device, it channels heat away from the ice maker to assure high ice making efficiency.
ADDITIONAL FUNCTIONS
TRANSPARENT SIGHT WINDOW

Ability to observe the process - owing to that you can observe the process of ice cube production and ice cube container filling up.

CAPACIOUS ICE CUBE CONTAINER

Large container - fits as much as 600 g of ice cubes to make it possible to prepare a large number of chilled beverages.

EFFICIENT COLD WATER DISPENSER

Dispenser functionalities - using the dispenser you can get about 2.7 L of water within a minute, which equates to as much as 3888 L of cold water per day. Using the cold water dispenser is very easy - all it takes is a push of the correct button on the control panel.
MAXIMUM GLASS HEIGHT
Ice maker construction - allows for using glasses as tall as 16 cm (6.3 ") (with drip tray removed) or 14 cm (5.5 ") (with drip tray installed). No matter how tall your glasses are, fitting them under the dispenser will not be a problem.
2 WAYS TO SERVE ICE CUBES
Ice cube dispenser - all it takes is a press of the appropriate button and ice cubes will be served straight into your glass. They will continue being served until the button is released, or until the container has been completely emptied.
Manual serving utilizing the scoop - upon opening of the sight window at the top of the machine, ice cubes can be taken out using the supplied scoop.
AUTOMATIC AND MANUAL WATER RESERVOIR REFILLING
1. Permanent water supply, with or without a filter:
a. Connecting to a permanent water supply without a filter - using the supplied accessories, the ice maker can be connected to an external water source. That way, the device will take up the needed amount of water on its own.
b. Connecting to a permanent water supply with an external filter - when connecting the device to a permanent water supply, an external water water filter can be installed in the supply circuit. This provides healthier water and does away with the unpleasant smell and taste of chloride.
2. Manual water reservoir refilling:
Container with measure - supplied with the set, it allows for refilling the reservoir without the need of connecting the ice maker to a permanent water supply.
TECHNICAL SPECIFICATION
Device output: 10-15 kg/24 h (22 - 33 lbs / 24 h)
Ice cube container capacity: 600 g (0.88 lbs)
Water reservoir capacity: 1,8 L
Water dispenser output: 2,7 L/min (3888 L/24 h)
First ice cubes are ready after about 10 min of operation
Power: 150 W
Refrigerant: R600a
Dimensions: 31 cm x 42,5 cm x 37 cm (12.2 x 16.7 x 14.6'')
Weight: 13 kg (28.7 lbs)
Color: Silver and black (INOX stainless steel)
Polish power plug: 230-240V 50/60Hz
EQUIPMENT
Ice maker
Water refilling container
Scoop
External water source installation accessories
Original packaging
YOU WILL RECEIVE:
Ice maker - details above,
YOER PLATINUM SECURITY card,
Warranty card,
Receipt / VAT invoice,
PL/EN instruction manual.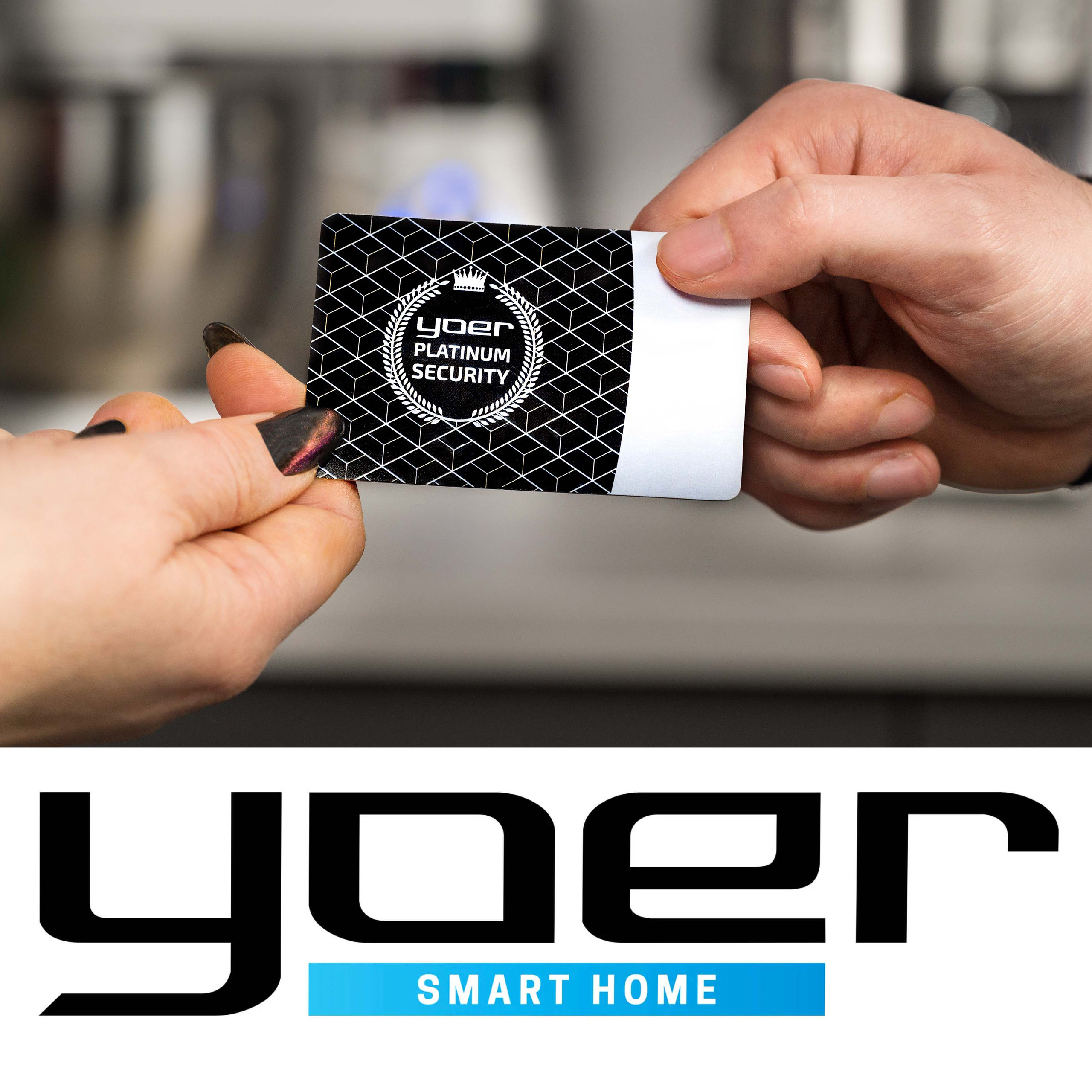 YOER PLATINUM SECURITY
When purchasing products from the official Yoer store you receive the YOER PLATINUM SECURITY package, which is an assurance of additional protection.
YOER - POLISH MANUFACTURER AND BRAND
YOER constitutes an excellent proof that high quality of products does not necesserily go in hand with high prices.

YOER IMW02S Instruction manual - Click here
There is currently no comments or ratings for this product.

Recently viewed products

Other Customers also purchased

Similar products