Language
Jug blender YOER Titano JB03S
Jug blender YOER TITANO JB03S 4in1: 6 stainless steel cutting blades, coffee, herb and nut grinder, 2 blender cups, power 1600W, fluent speed control, max capacity 2,4 L, 3 automatic functions (smoothie, purée, ice-crushing), pulse mode, stainless, brushed INOX steel

Shipping within

PRE - ORDER - shipping starts on 17.05., within 7 weekdays

Availability

Small

6

pcs.
| | |
| --- | --- |
| Bar code | |
| EAN | 5900779770829 |
Description

Instruction manuals

Reviews & ratings (1)
⚙CONSTRUCTION - MAIN COMPONENTS
Removable measure
Jug lid with rubber seal
Rebust, glass jug with a convenient spout
6 stainless steel cutting blades with a rubber seal
Jug mount with a safety lock
Body
Illuminated knob with speed indicator
Rebust base with non-slip feet
6 stainless steel cutting blades for bidons
Convenient jug handle
2 screw-in cup lids with and a pendant and a mouthpiece
2 blender cups
Grinder lid with a rubber seal
Coffee, herb and nut grinder
PRODUCT DETAILS
Multi-functional blender 4w1:
Jug blender
2 compatibile blender cups
coffee, nut and herb grinder
6 steel cutting blades with some stain: the most persistant device on the market
3 completely automatic programs:
purée
smoothie
ice-crushing
Pulse mode: full control over the blending process during the highest rotations
Fluent speed regulation: perfect for mixing soft and hard products
1600 W - max power (blocking the engine): a quarantee of convenient work and perfectally blended ingredients
1200 W - energy using: energy-efficience and power optimalisation
2,4 l glass jug with a 1,8l of working capacity: every time you will prepare 8 portions of 225ml of coctail during one try
Device body made of stainless, brushed INOX steel: impessing design and unbeatable quality
Convenient orifice in a jug lid: fast ingredients adding during the work of the device
Removable measure: allows you to define in a precise way the amount of needed ingredients
Safety lock: the device will not turn on when you incorrectly install it
Non-slip feet: complete stability and safety
Automatic overheating protection
Illuminated knob
🍃INCREASED EFFECTIVITY AND ENERGY - EFFICIENCE
Jug blender Titano is a synonyme of more effective and faster work!
Energy-efficience on the level of 1200W ensures the effectivity compared to using 1600W - a quaratee of comfortable work and perfectly blended products with the use of optimal power.
The device uses around 25% less energy than traditional blenders- - thanks to that you can truely say it is energy efficient.
Pulse mode - is an ability of blending on the highest rotations with a full control.
INTUITIVE PANEL CONTROL
Ready to pulsating work position/stopping the device from working - immediatelly stops blender from working and enables using the pulse mode.
Ice crushing functionality - you will receive a full jug of perfectly crushed ice within a couple of minutes.
Smoothie functionality - you will prepare fresh smoothie with your favourite fruit and vegetables within just a minute.
Vegetable and fruit purée functionality - allows you to automatically prepare smooth purée or delicious, fruit mousse.
Function engage/pulse mode - press the button to attach the highest rotations of the motor. Function engage is useful if you want to blend harder products.
Continuous operation mode with speed adjustment - convenient, illuminated knob will allow you to adjust the rotational speed that you actually need.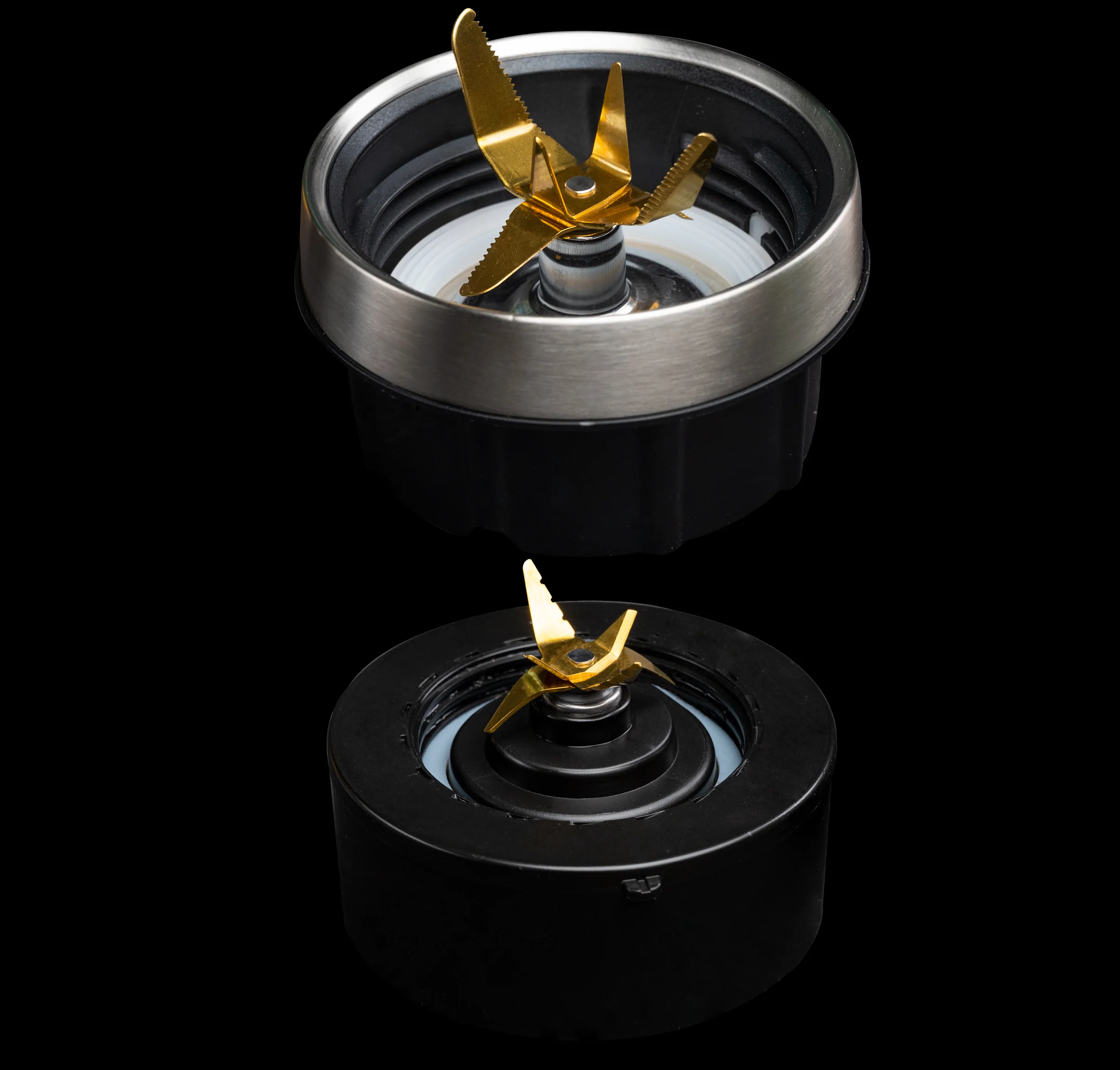 UNBEATABLE - 6 STAINLESS STEEL CUTTING BLADES
6-wing, steel cutting blades with some stain is a quarantee of:
unbeatable durability,
bigger sustainability,
resistance to damage,
much more effective food grinding.
✅ Thanks to that blender Titano is better than a huge amount of simmilar products on the market!
Simple cleaning - each of two packages of 6-way cutting blades can be easily plugged out of the device and dried after finished work.
WINGED CONSTRUCTION AND INDENTED EDGES
more precise, effective and faster mixing
precise hard food grinding
bigger resistence to using-up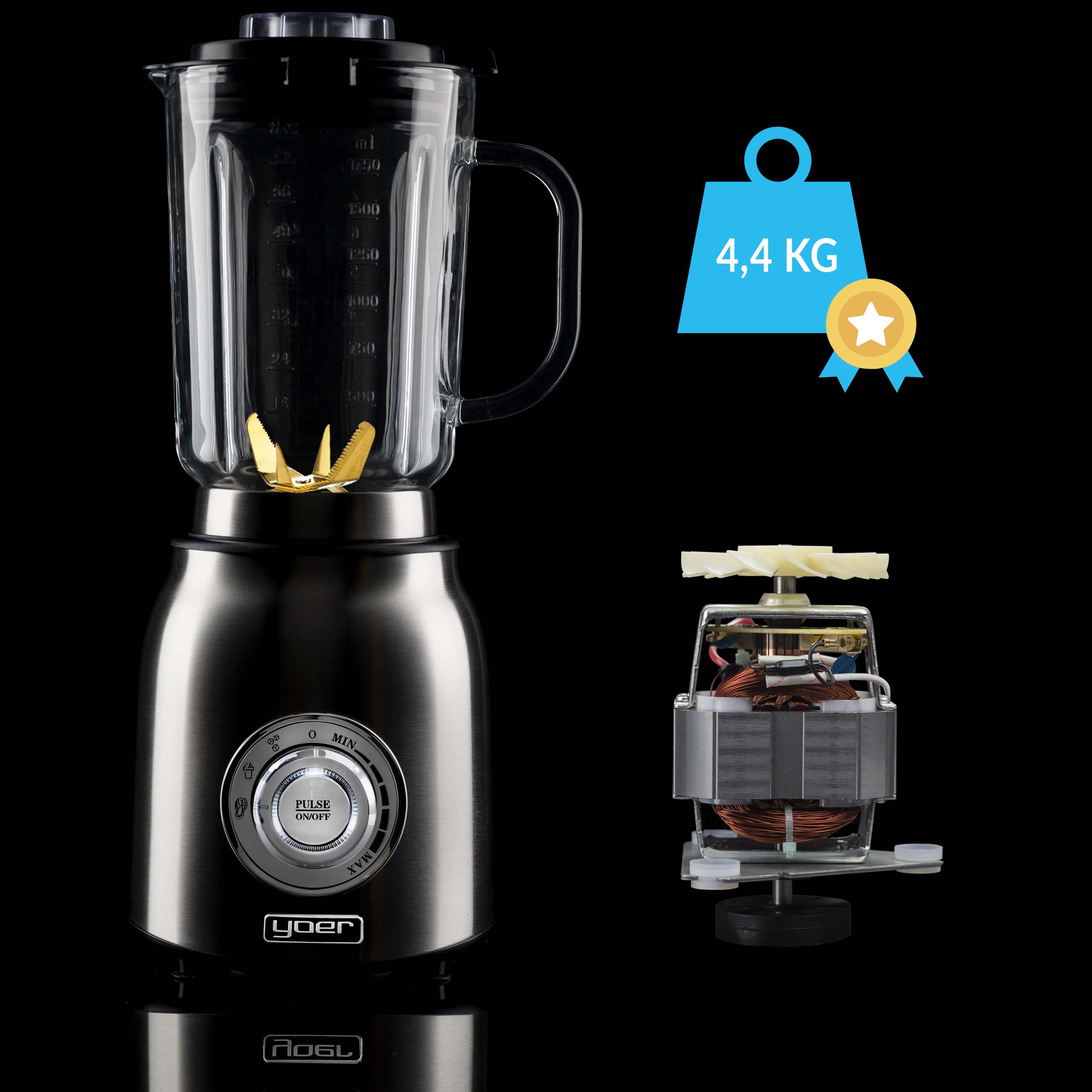 EXCLUSIVE DESIGN - QUALITY, WHICH CAN BE SEEN FROM A DISTANCE
⭐ When it comes to design we do not compromise. Blender has not only the best functionality, but it also has a unique, luxurious design:
Jug mount and device body are made of brushed INOX stainless steel with a beautiful, silver shine.
Control knob is whitely lluminated::
fully visible
good for your eyes
Cutting blades have shining, golden, stainless cover
Jug is made of extremally hard harten glass
The device body has the producer YOER logo
⚖WEIGHT SPEAKS FOR ITSELF
4,4 kg of weight is:
an indication of high quality fabrics
a quarantee of device rebust during intensive work
✅ Scrolls inside the blender motor are made of high quality cuprum. Thanks to that the motor is heavy and stable. It guarantees bigger productivity during work and better energy leading.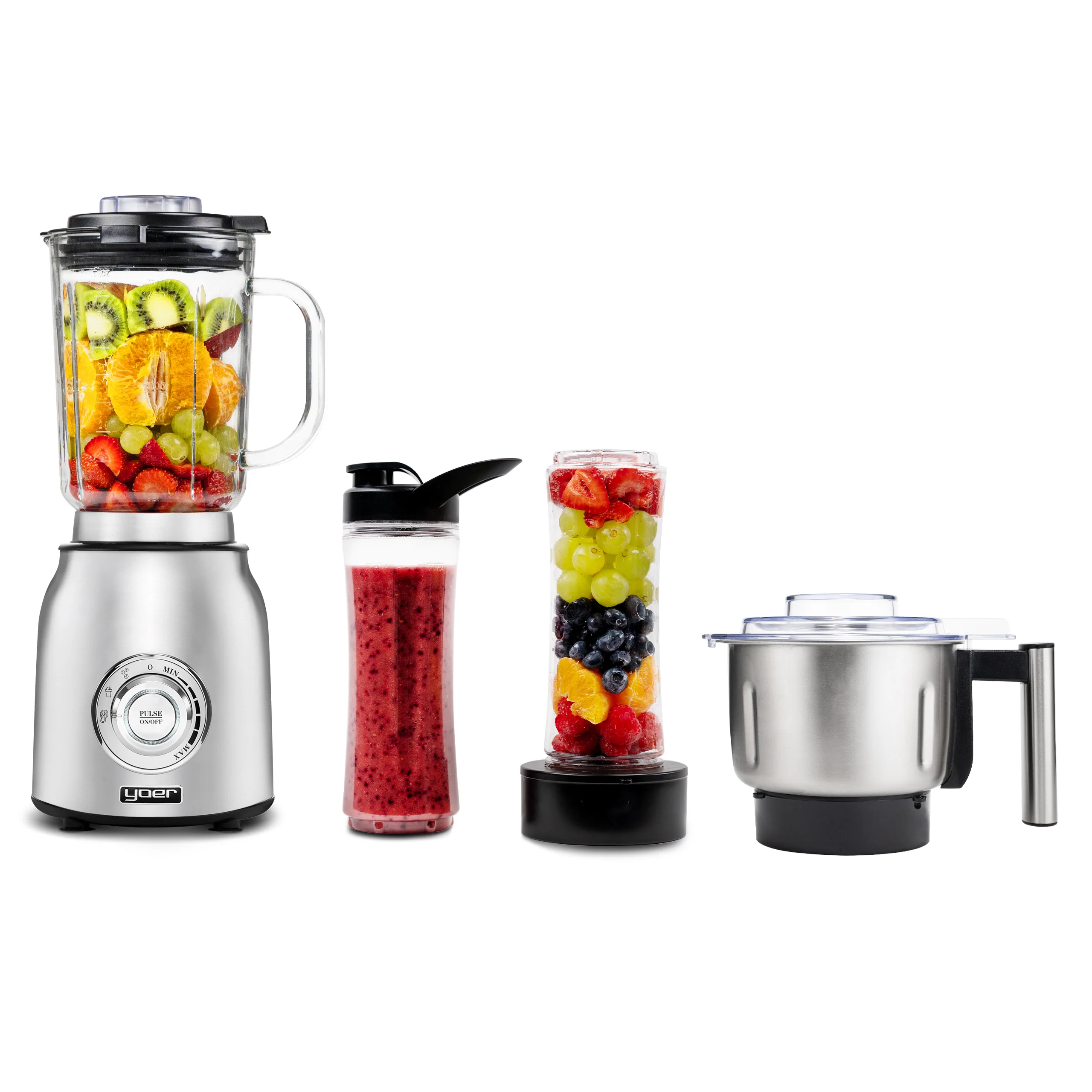 4in1 DEVICE
Jug blender - a lot of functions, excellent quality of jug glass and stainless steel cutting blades make Titano blender perfect for extra tasks.
Grinder - pluging into the blender base allows extremaly fast coffee, herb and nut grinding.
2 blender cups - twist them clockwise to the device body. In a couple of minutes it will prepare delicious, fresh beverage directly in your cup.
STRONG AND EFFECTIVE
Huge power of 1600 W:
interconnected with stainless steel cutting blades gives amazing effects of blending
within less than a minute, blender prepares whatever snack you want with a perfect consistence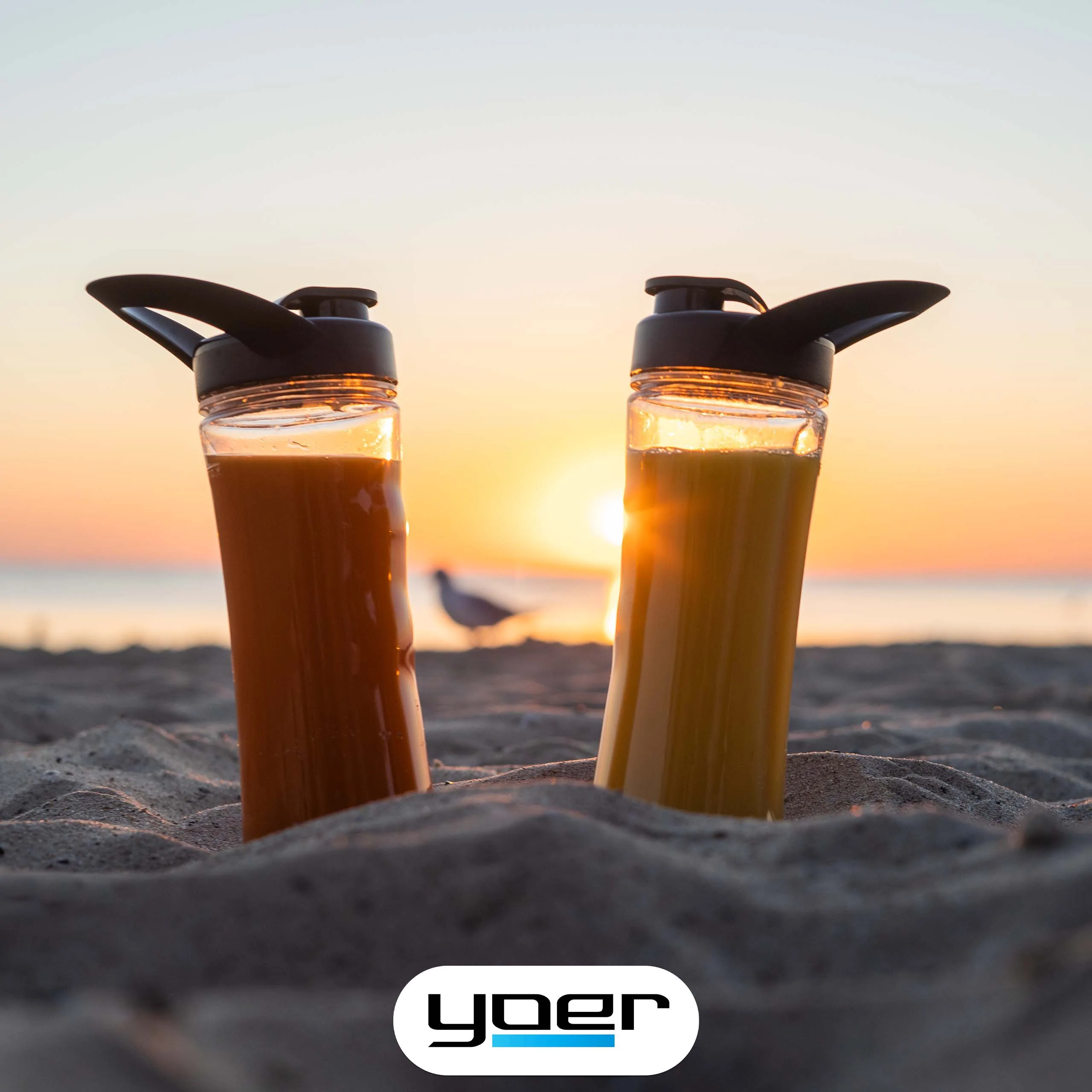 2 CONVENIENT BLENDER CUPS
❓ Do you have no time for spending much time in the kitchen? Are your life active? Do you appreciate your free time?
✅ We equipped our blender with 2 practical blender cups with max. capacity of 0,7l just for you!
Prepare your beverage in 4 easy steps!
Put your favourite fruit and vegetables inside the cup,
Screw the cup on the blender base, using the package of dedicated cutting blades,
Choose function SMOOTHIE,
After less than a minute take the cup with your beverage off and go!
Tight nuts with a pendant and a mouthpiece - our pendant allows you to attach the cup to the backpack or bag. Thanks to that you can have your favourite beverage always with you.
Durability and reliability:
cups are made of high quality plastic
they are resistent to cracks and scraches.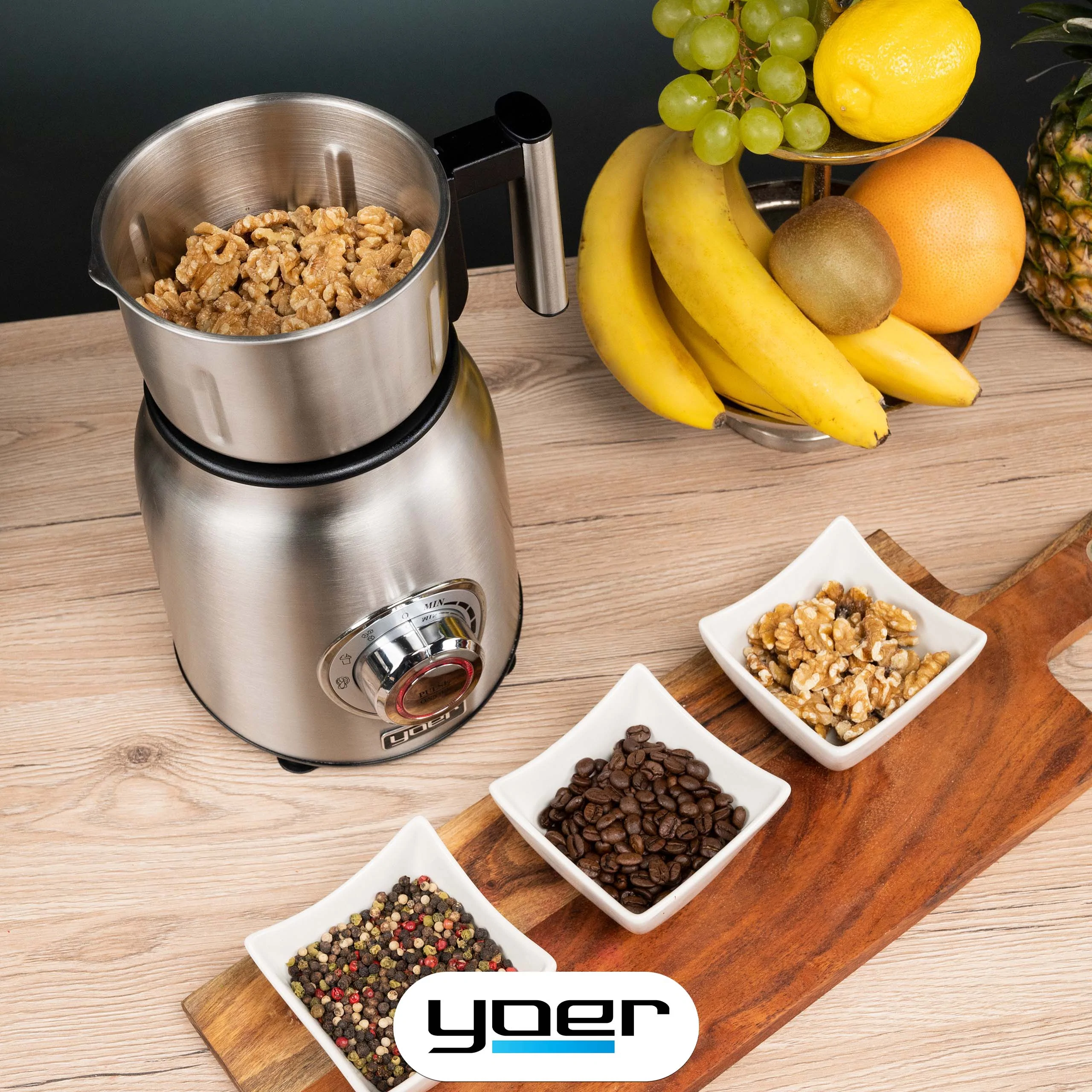 COFFEE, HERB AND NUT GRINDER
⭐ Do not waste your money on buying another device - blender Titano has coffee, herb and nut grinder for chopping and grinding:
aromatic coffee,
hard nut,
smelling herb.
Completely ready - to begin grinding:
plug the grinder into the blender base
adjust preferable speed.
Huge and rebust:
you can grind even 250 g of dry ingredients
grinder max. capacity is 1,7 l.
In the package with 4-wing, steel cutting blades:
guarantee fast grinding
bigger effectivity.
DURABLE, CONVENIENT JUG
Glass jug quarantees durability:
It is made of harten glass of 0,7 cm (0.3 ") width
It is resistent to scraches and cracks
It does not absorb smells or colors of blended products
Huge max. capacity 2,4 l - it is almost 2l of working surface. Every time, you can give it to even 8 people, preparing 225ml glasses of coctail for them.
EVERY DETAIL IS PERFECTLY DONE
Convenient spout - located in the upper part of the jug, it enables easy and mess-free pouring of beverages!
Ergonomic handle - its shape was designed to increase the comfort of using the jug, while reducing the risk of accidentally slipping it out of your hand.
Measure - located on the side of the jug, it allows checking the amount of products which are put in the blender. The measure displays 4 different units:

mililitres,
glasses,
pints,
ounces.

Impermeable lid with a pratical opening - opening with a diameter of 5cm (2 ") will help you add, in a safe way another ingredients without the need for lifting a whole lid.

Removable measure - closing the hole is a flexible handle to precise measuring your ingredients.
💦 FAST AND SIMPLE CLEANING
✅ It is dishwasher-safe - most of the accessories which are interconnected with the device can be washed in a dishwasher:
Removable measure
Jug lid
Jug lid rubber seal
Glass jug
Grinder lid
Grinder lid rubber seal
Cup lids
Blender cups
COMPLETELY SAFE
Safety lock:

prevents the blender from turning on in the event of improper assembly. If the jug, cup or grinder are incorrectly installed,
prevents from accidentally turning the device on.

Non-slip feet:

make the blender rebust
effectively prevent the device from moving while working on the highest rotations.

Automatic overheating protection:

blender will automatically turn off after achieving the maximum temperature
avoiding overheating will make your blender usefull for a longer time.
📝TECHNICAL SPECIFICATION
Max power (blocking the motor): 1600 W
Nominal power: 1200 W
Volume level: 69 dB
Jug max. capacity: 2,4 l
Jug working capacity: 1,8 l
Cup max capacity: 0,7 l
Cup working capacity: 0,6 l
Grinder capacity: 1,7 l
Blender dimensions: 44,5 x 18 x 19,5 cm (17.5 x 7.1 x 7.7 ")
Cup dimensions: 24 x 7,5 x 7,5 cm (9.4 x 3 x 3 ")
Grinder dimensions: 15 x 20,5 x 14,5 cm (6 x 8.1 x 5.7 ")
Jug dimensions: 28,5 x 20,5 x 15 cm (11.2 x 8.1 x 6 ")
Blender with jug weight: 4,4 kg (9.7 lbs)
Blender with accessories weight: 5,5 kg (12.1 lbs)
Power cord length: 104 cm (41 ")
Color: Silver
Polish power plug: 220-240 V~ 50-60 Hz
EQUIPMENT
Removable measure
Jug lid
Jug lid rubber seal
Glass jug
6 stainless steel cutting blades
Jug cutting blades rubber seal
Jug mount
Blender base
2 screw-in cup lid
2 blender cups
6 stainless steel cup cutting blades
Grinder lid
Grinder lid rubber seal
Coffee, herb and nut grinder
Original packaging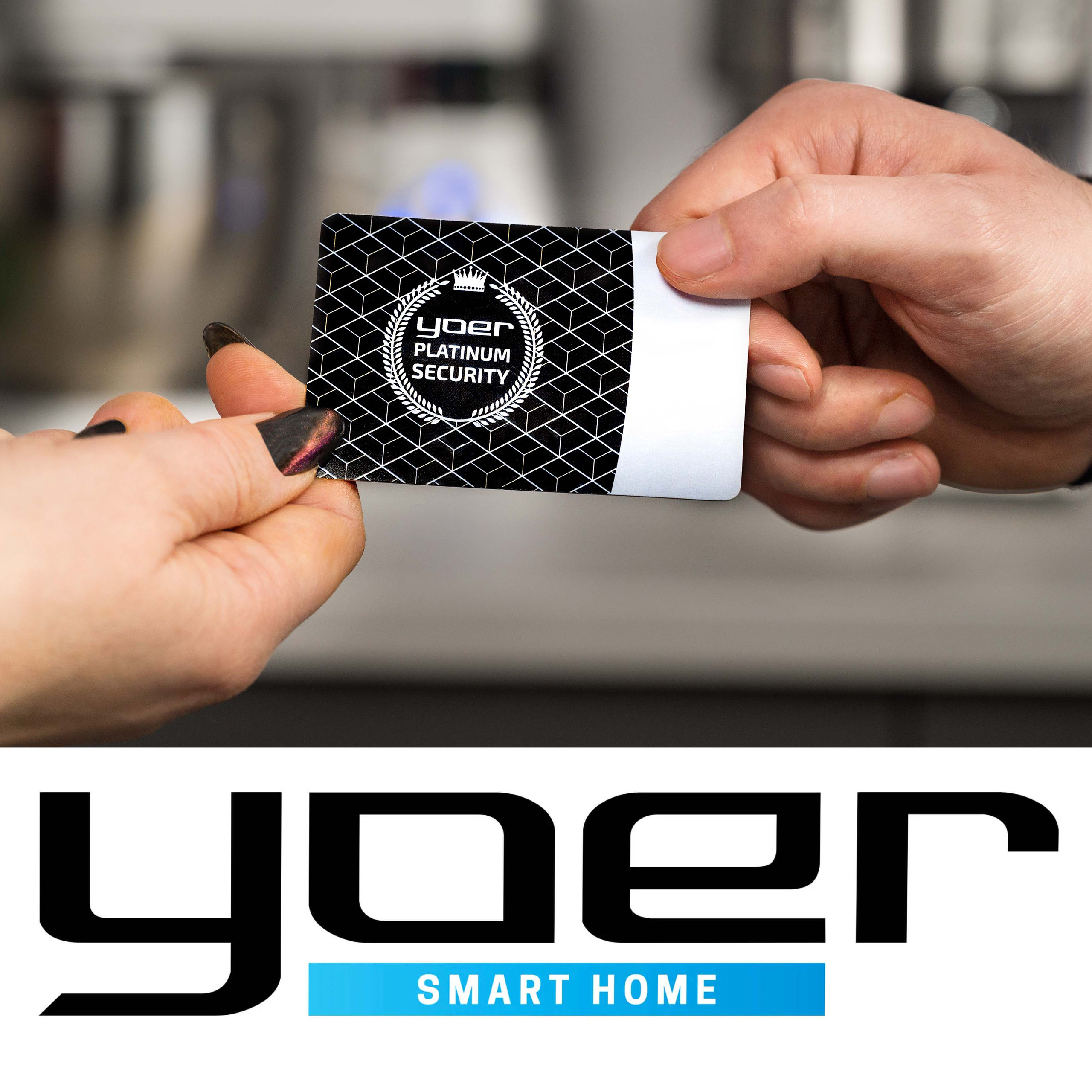 YOER PLATINUM SECURITY
When purchasing products from the official Yoer store you receive the YOER PLATINUM SECURITY package, which is an assurance of additional protection.
YOER - POLISH MANUFACTURER AND BRAND
YOER constitutes an excellent proof that high quality of products does not necesserily go in hand with high prices.

YOER JB03S Instruction manual - Click here
Super blender.W 100% spełnia swoje zadanie.Do tego przystępna cena ,piękne wykonanie i szybka dostawa.Jestem zachwycona.Polecam sklep i produkt.

Recently viewed products

Other Customers also purchased

Similar products