Language
Jug blender YOER Triplo JB02S
Jug blender, 3 grinder blade sets, coffee, grinder for: coffee, nuts and herbs, convenient sports cup, 1000 W power, 14 speed steps, 2.5 L max capacity
Out of stock
699.00
-79%
148.00
Lowest price in the last 30 days:

Shipping within

24 hours

Availability

Not available

0

pcs.
| | |
| --- | --- |
| Bar code | |
| EAN | 5900779770812 |
Description

Instruction manuals
JUG BLENDER YOER Triplo JB02S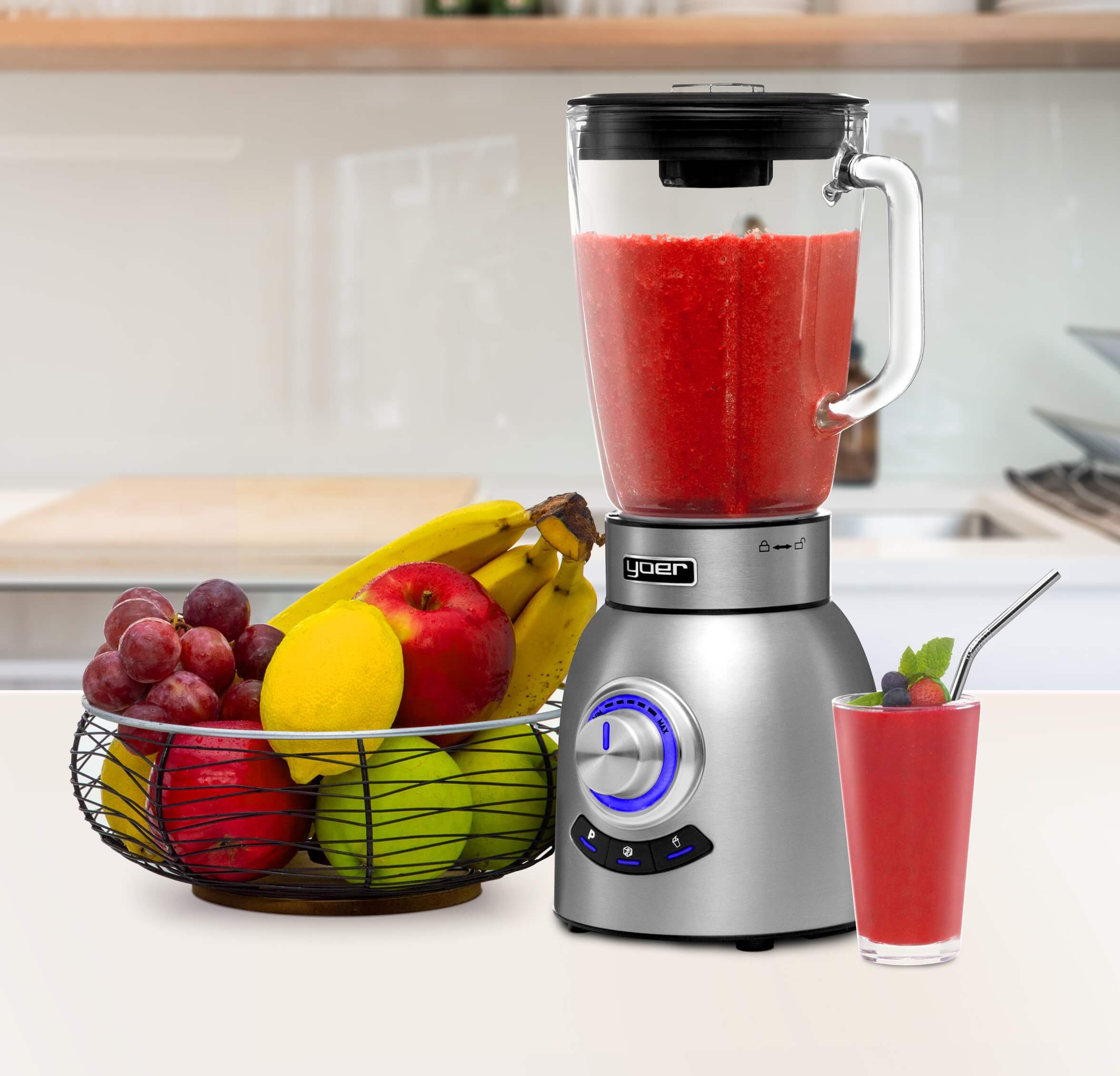 PRODUCT DETAILS
Power: 1000 W
Blade material: Stainless steel
Blade count: 6
Automatic program count: 3
Speed step count: 14
Regulation type: Step
Max jug capacity: 2,5 L
Jug functional capacity: 1,5 L
Jug material: Glass
Main body material: Brushed INOX stainless steel
Control knob: Yes, illuminated
Pulsating mode: Yes
Ice crushing functionality: Yes
Smoothie mode: Yes
Grinder: Yes
Sports cup: Yes
Additional functionalities: anti-slip feet, jug lid orifice, jug lid measure, backlit function keys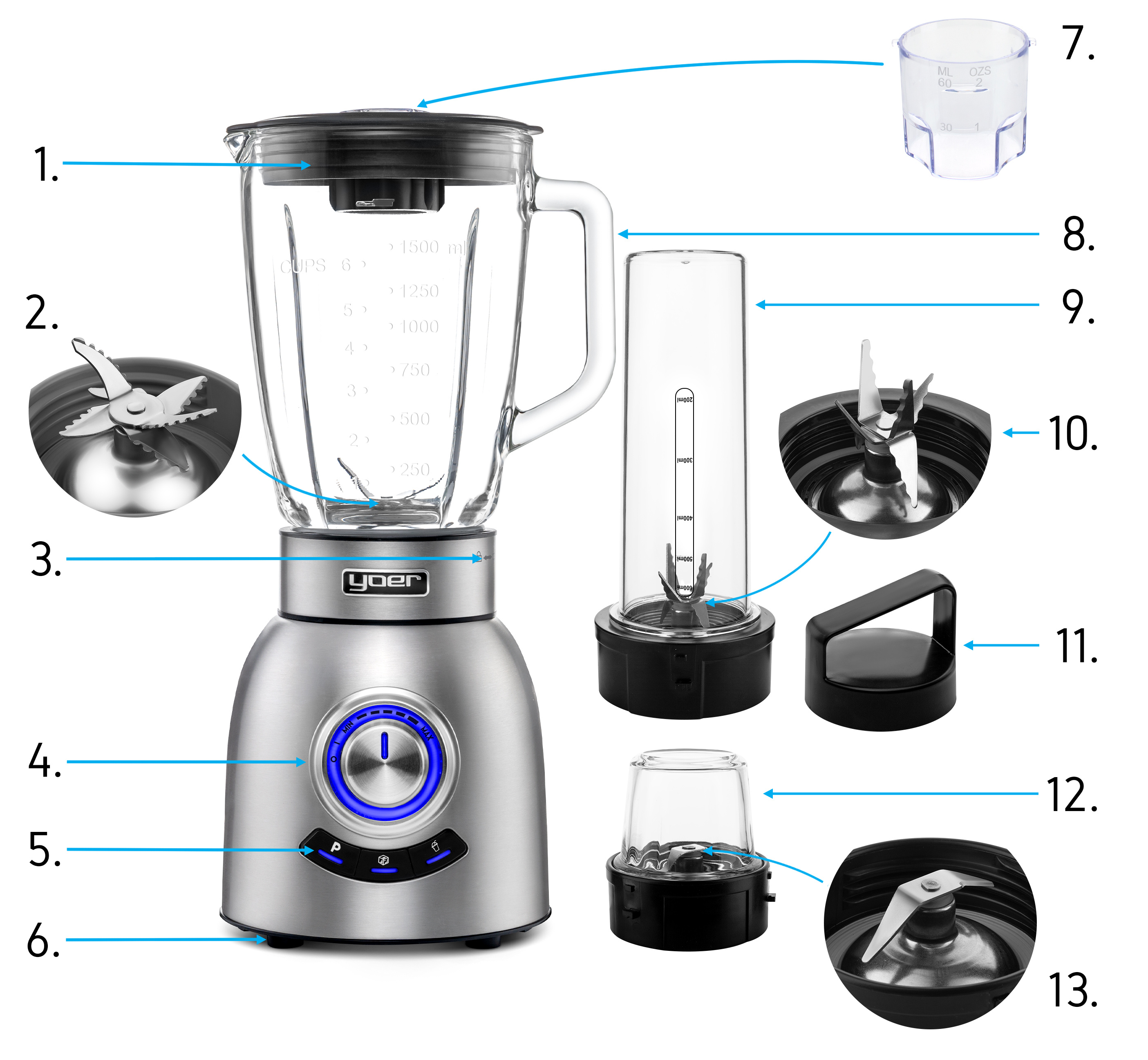 CONSTRUCTION-MAIN COMPONENTS
Rebust glass jug with profiled spout
6 stainless steel blades
Safety lock
Illuminated knob
Control panel with 3 automatic programs
Stable base
Jug lid with removable measure
Ergonomic jug handle
Rebust cup
Dedicated cup blade set
Convenient screw-in cup lid
Coffee, nut and herb grinder
Dedicated grinder blade set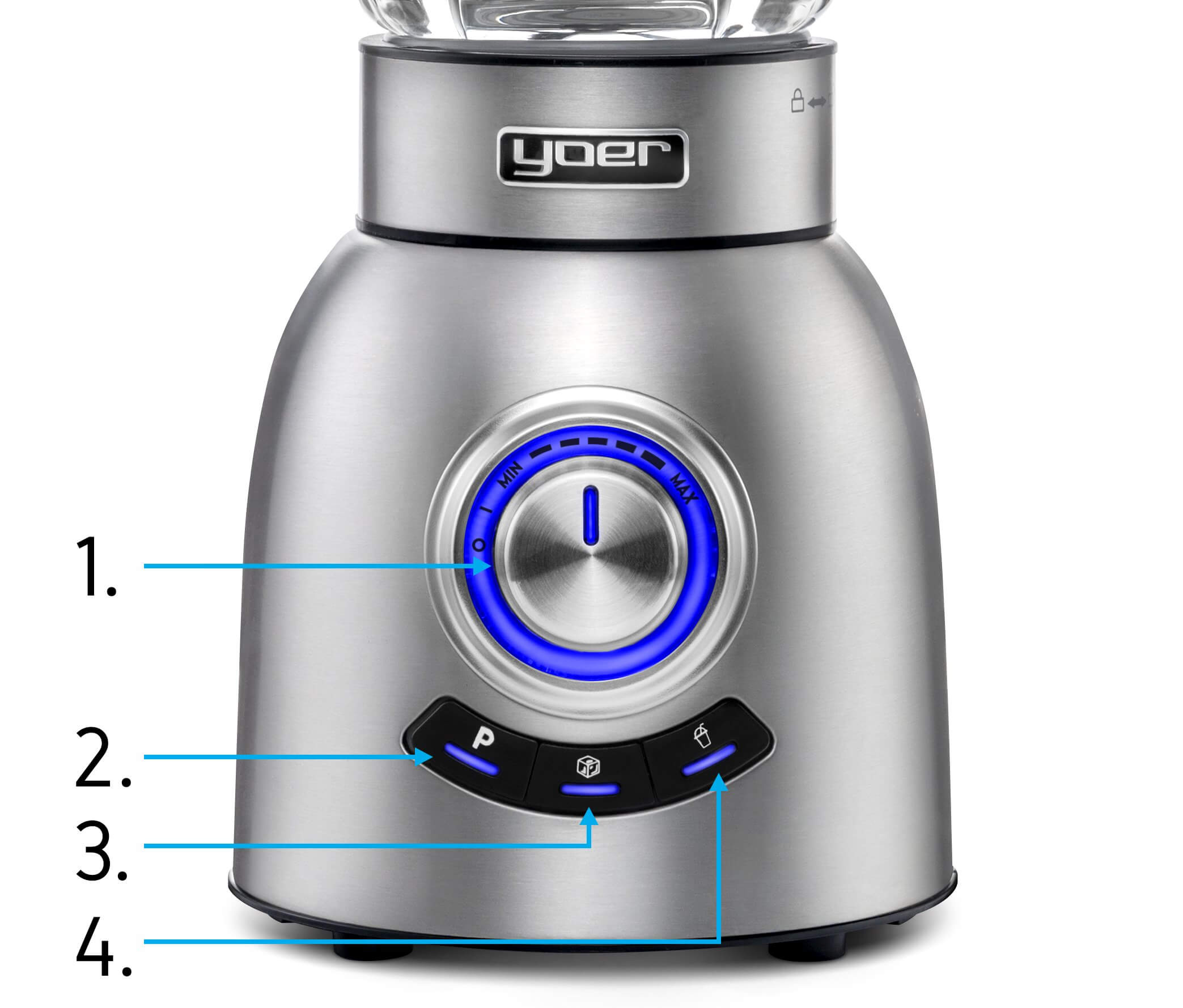 3 AUTOMATIC PROGRAMS + 14 BLENDER SPEED STEPS
Illuminated knob + 14 speed steps - the blender is equipped with a convenient knob, which allows the user to select appropriate speed for a given treat. The step mechanism of the knob enables choice of 14 possible speeds. Depending on the fruit or vegetable, you can freely adjust the revolutions to achieve the desired thickness of the blended ingredients.
Pulsating mode - this button enables the blender's pulsating mode, utilizing the highest possible speed. This functionality is engaged for as long as the button is pressed.
Ice crushing functionality - pressing this button will cause the blender to begin the ice crushing program and will turn itself off after it has done the job. This functionality comes in handy during heat waves or when throwing a party.
Smoothie functionality - this program makes a mellow smoothie. All you need to do is put the ingredients in the jug and engage the functionality. The blender will automatically prepare your favorite beverage.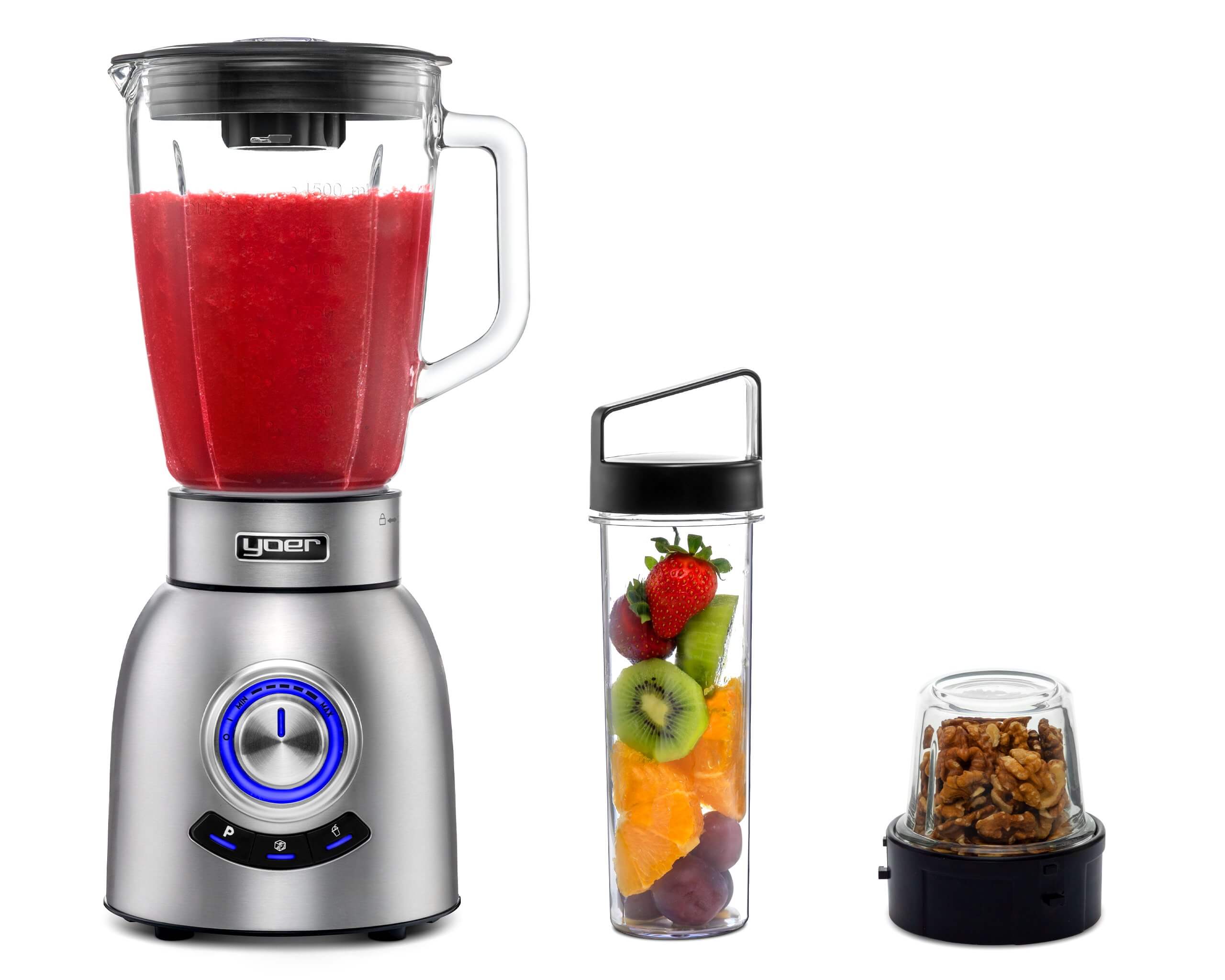 3in1 DEVIE
Multi-purpose set - aside from the glass jug, a convenient lidded cup is supplied, as well as a grinder to improve the utility of the device.
Ice crushing - in the blender you can easily crush ice for your favourite beverages.
STRENGTH AND DURABILITY
Substantial 1000 W power - ensures first-rate results every time. Thanks to the 19500 RPM speed, it only takes a moment to prepare your beverage.
Robust body - the construction of the blender assures excellent stability and safety. Due to its mass and the 4 anti-slip feet, the blender is not going to slide around the counter, even during operation at the highest speed. Moreover, the body was made of high quality brushed INOX steel, which gives the appliance a unique look.
Anti-slip base - thanks to your bowl and 4 anti-slip feet the blender will not move on the worktop even during the highest rotates.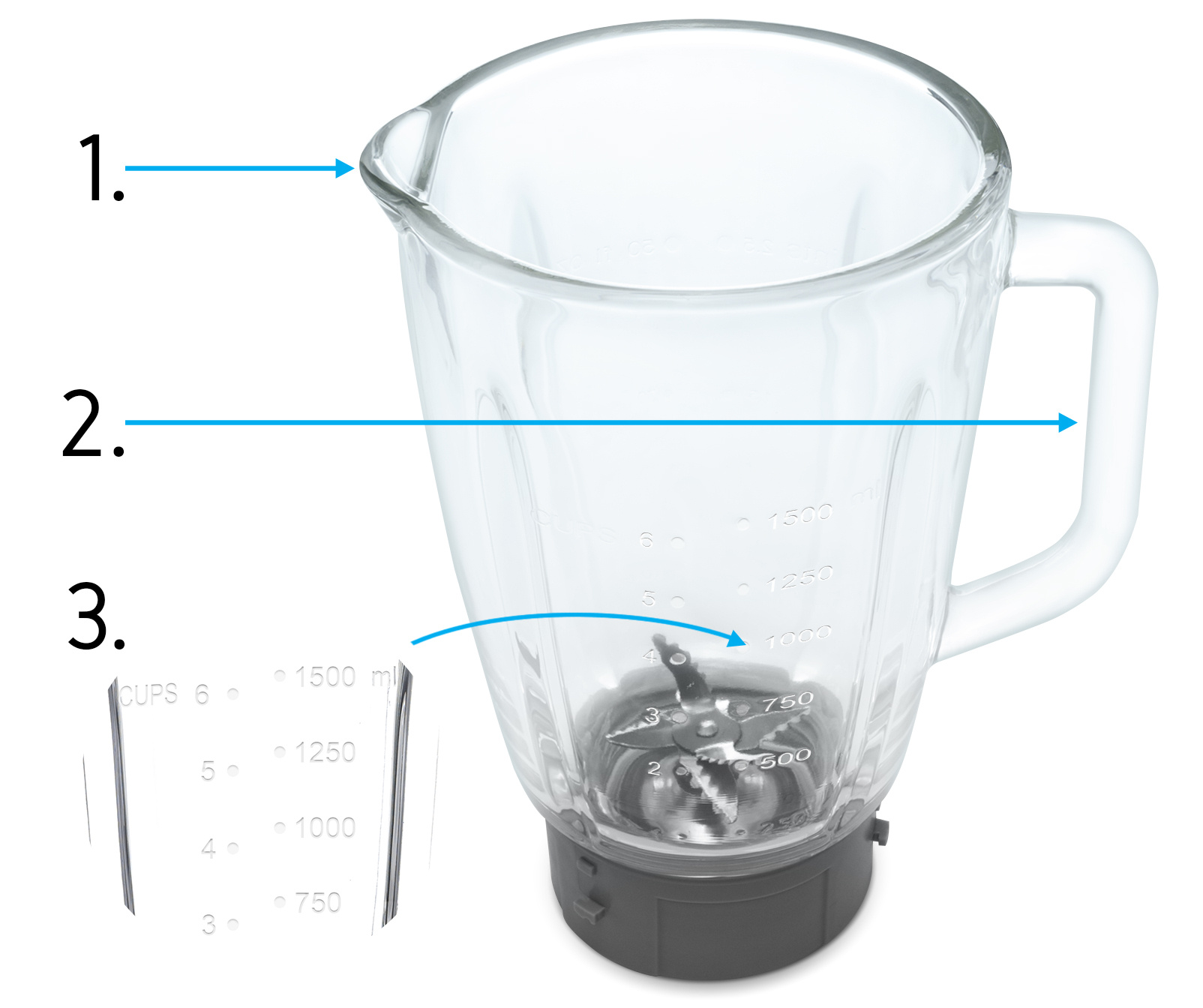 REBUST GLASS JUG
The glass jug - was made of high quality 0.8 cm thick glass (0.31''), which ensures durability and resilience to scratches or cracks in contrast to other, more fragile widely available jugs. An additional advantage of the jug is that it does not absorb the smells or colors of the blended products, which is a common issue with plastic jugs.
Large capacity - the max capacity of the jug is as much as 2.5 L, which also results in a large functional capacity of 1.5 L, so it is possible to prepare a smoothie for 6-8 people at once.
JUG CONSTRUCTION
Convenient spout - located in the upper part of the jug, it enables easy and mess-free pouring of beverages.
Ergonomic handle - its shape was designed to increase the comfort of using the jug, while reducing the risk of it accidentally slipping out of your hand.
Measure - located on the side of the jug, it allows for checking the amount of products put in the blender. The measure displays 4 different units (ml, glasses, pints and oz).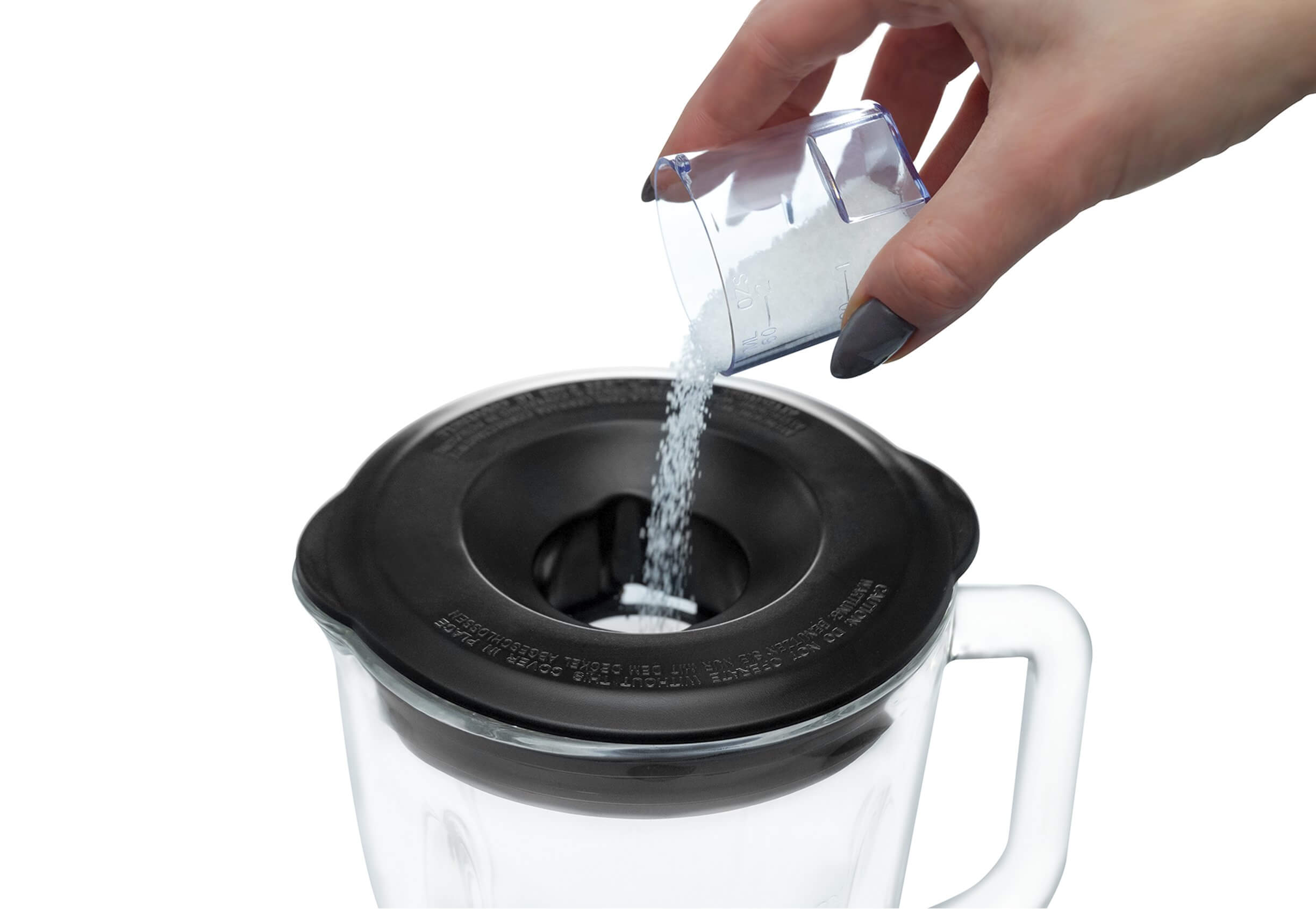 CONVENIENCE OF USE
Equipped with - a dedicated 4.5 cm (1.8'') orifice, allows for adding sliced vegetables, fruits, spices, milk or water without needing to take it off. The orifice plug also doubles as another convenient measure, useful while preparing a beverage.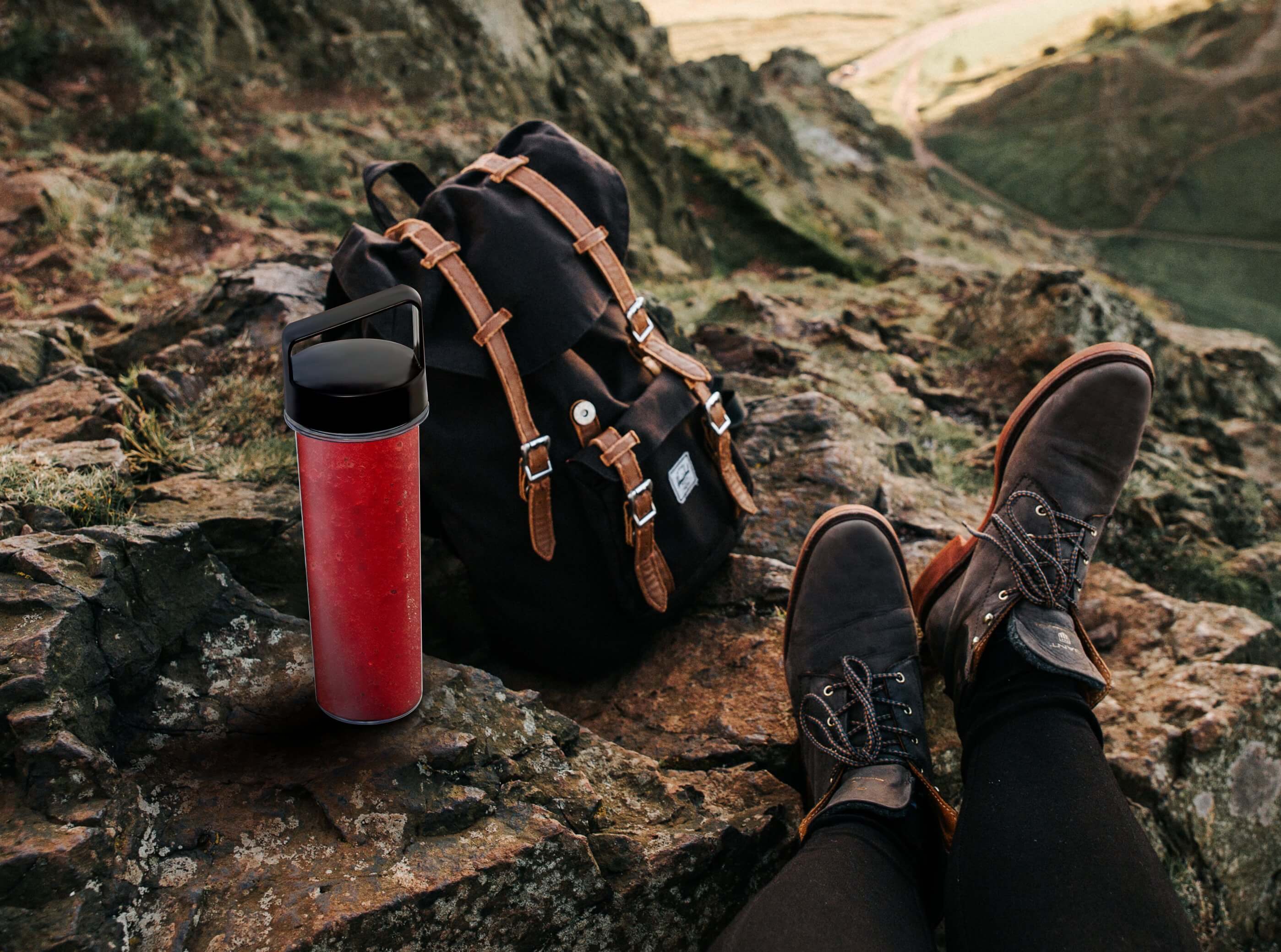 CONVENIENT CUP
Supplied with the set is a convenient lidded cup - perfect for taking to work or school. Due to its modular construction, the cup can be connected straight to the base of the blender to make a to-go smoothie in just a few seconds. It is a splendid solution for people who living in the fast lane, and have precious little time to prepare a meal or drink. The cup has a 500 ml (16.9 oz) capacity, so it will fit a healthy and nutritious treat.
DURABLE BODY
The polymer used to create the cup is - considerably more resilient to scratches and cracks than glass or regular plastic, while retaining the aesthetics of a glass cup as well as the low weight of plastic.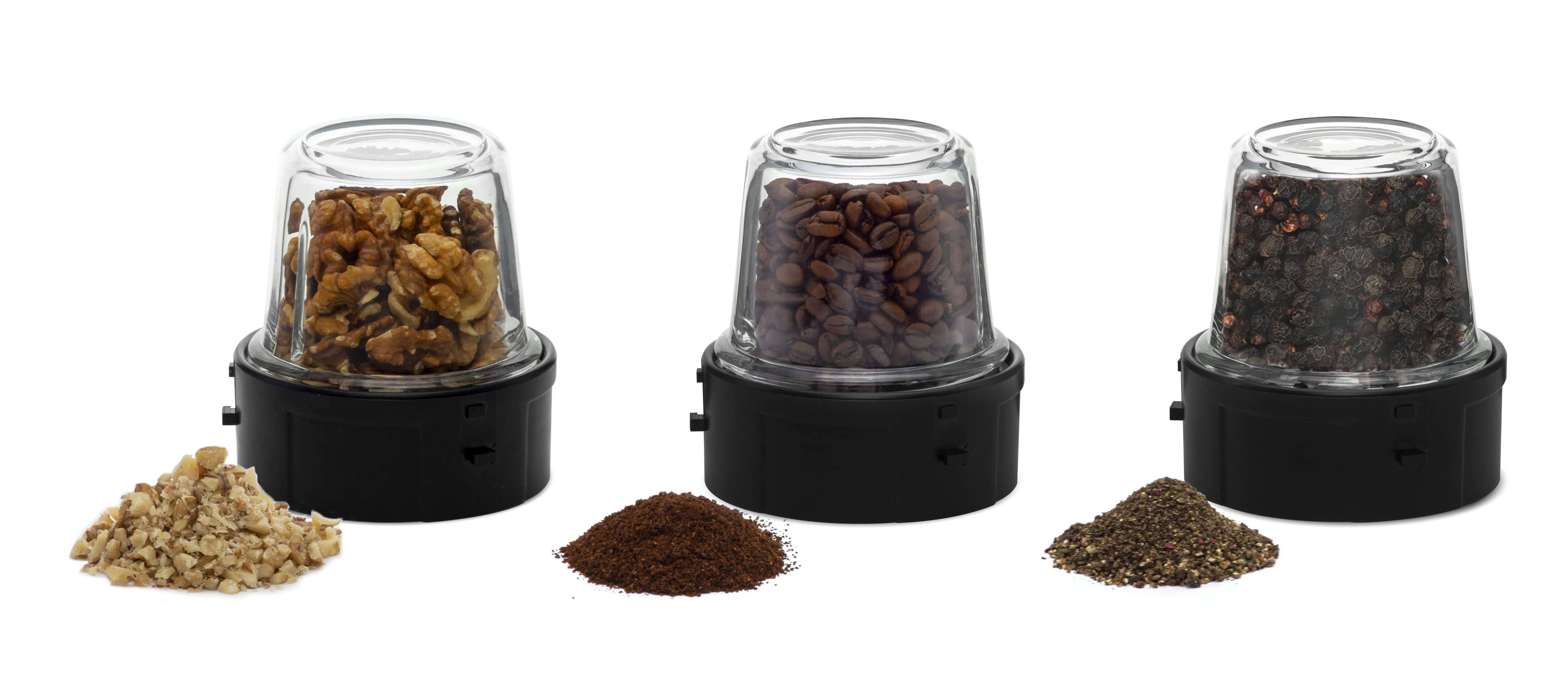 NUT, COFFEE AND HERB GRINDER
Supplied with the set - is also a convenient attachment that, when applied to the device, turns it into a perfect addition to every kitchen - a grinder that enables you to quickly and easily grind coffee, herbs and nuts.
The tried and tested stainless steel blades - are resilient to damage and remain sharp for a long time, thanks to which the grinder will make quick work of turning various ingredients into fine powder.

HIGH EFFECTIVENESS
The blender is equipped with 3 stainless steel blade sets - which will easily mince fruits, vegetables and crush ice. When the 1000 W power is applied, the blades allow for quickly achieving mellow smoothie texture.
Dedicated jug blades - 6 steel blades designed to completely mince or grind the content of the jug.
Dedicated cup blades - 6 steel blades arranged in a vertical position to enable preparing a healthy smoothie in a convenient cup.
Dedicated grinder blades - The flat blades comprehensively grind coffee, nuts or herbs.

SAFE OPERATION
Safety lock - prevents the blender turning on in the event of improper assembly. If the jug, cup or grinder are incorrectly mounted to the base, operation will not commence. A characteristic "click" assures the appliance has been properly put together and is ready to begin work.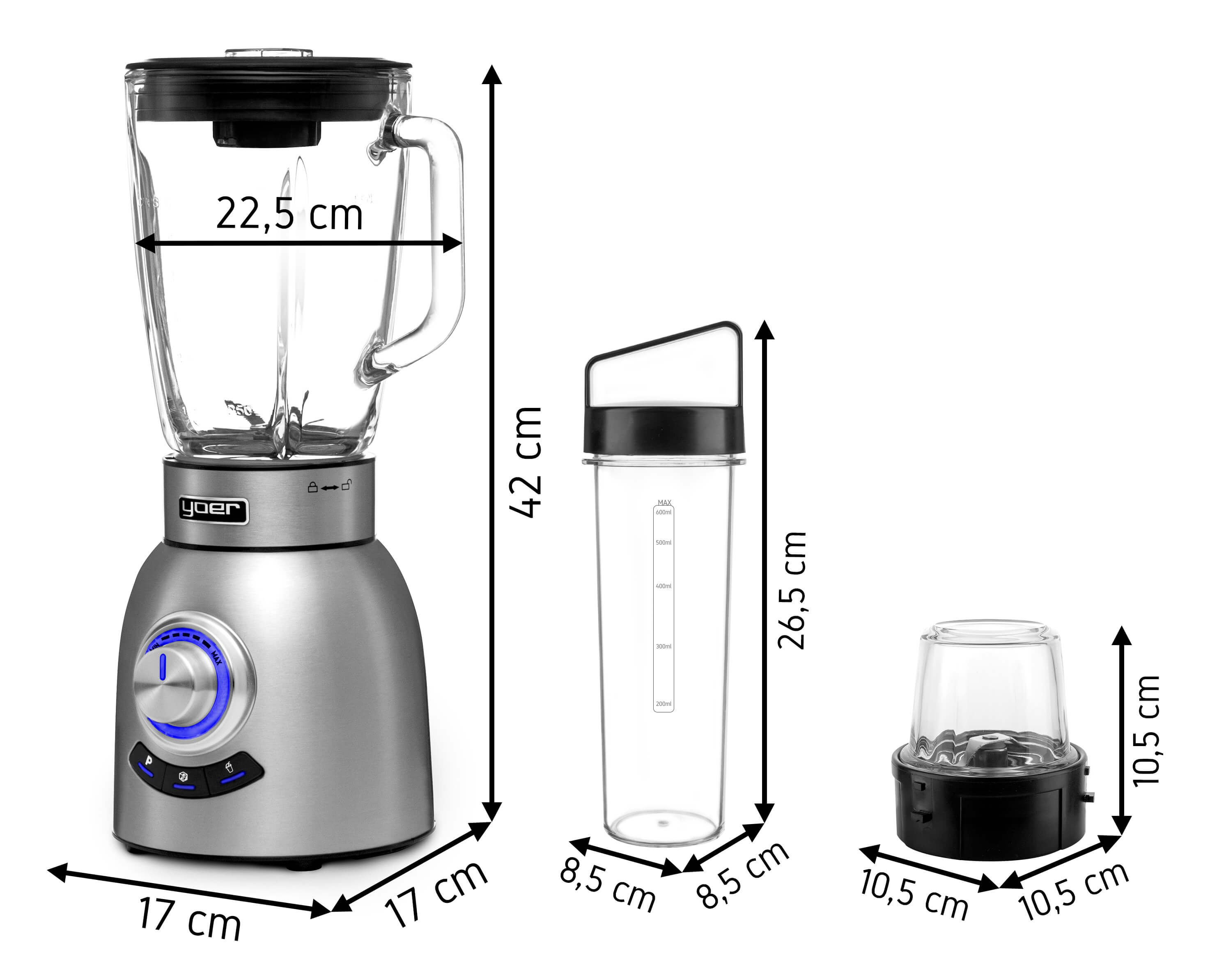 TECHNICAL SPECIFICATION
Power: 1000 W
Max jug capacity: 2,5 L
Jug functional capacity: 1,5 L
Speed steps: 14
Jug material: Glass
Main body material: Brushed INOX stainless steel
Dimensions: 17 x 22,5 x 42 cm (6.7 x 8.9 x 16.5'')
Cup dimensions: 8,5 x 8,5 x 26,5 cm (3.3 x 3.3 x 10.4'')
Grinder dimensions: 10,5 x 10,5 x 10,5 cm (4.1 x 4.1 x 4.1'')
Jug dimensions: 15 x 22,5 x 24 cm (5.9 x 8.9 x 9.4'')
Weight: 4,4 kg (9.7 lbs)
Power cord length: 1,2 m (47.2'')
Color: Silver
Polish power plug: 230V~ 50Hz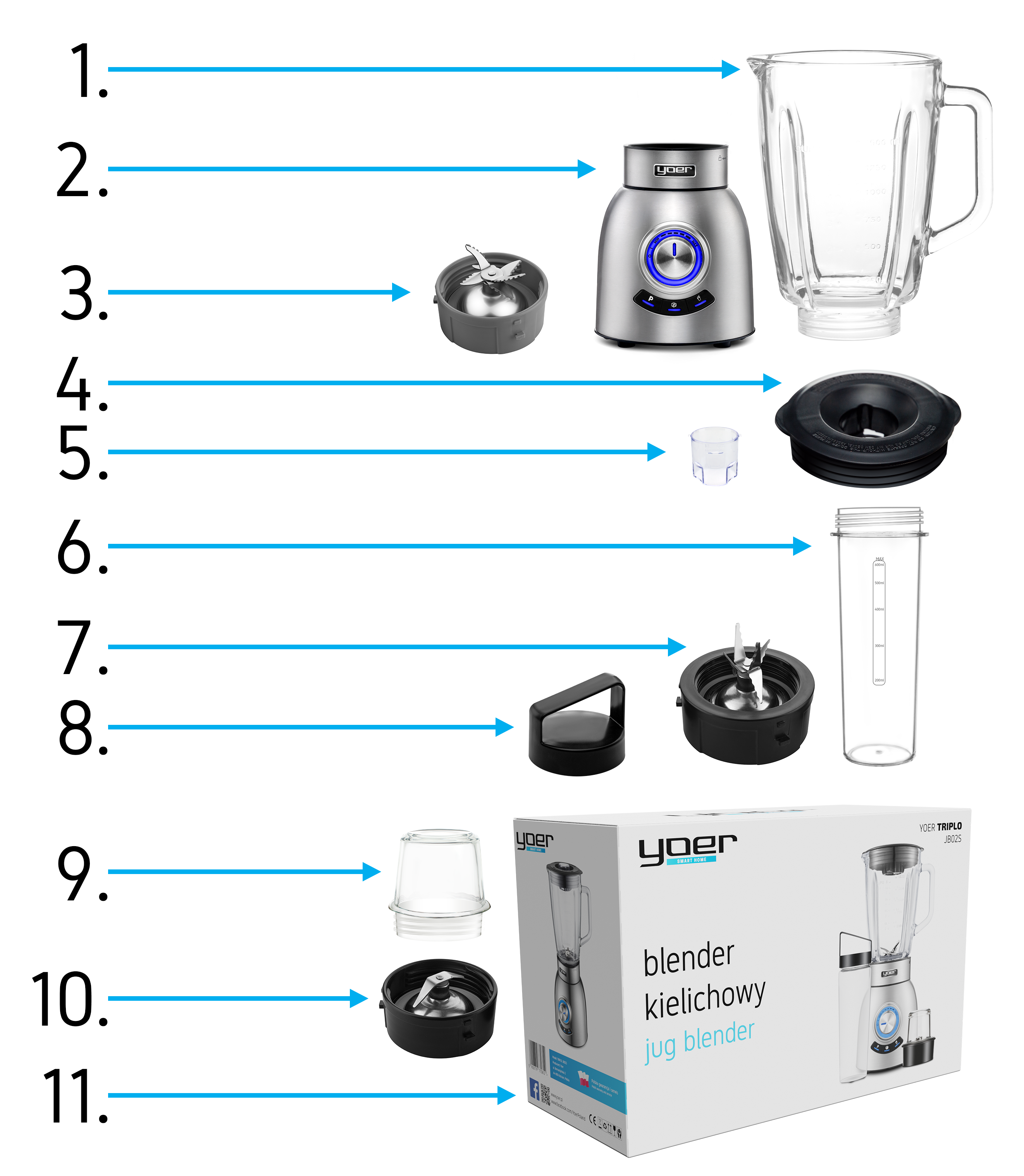 EQUIPMENT
Glass jug
Blender base
Dedicated jug blade set
Jug lid
Measure
Rebust cup
Dedicated cup lid
Removable cup lid
Glass grinder lid
Dedicated grinder blade set
Original packaging
YOU WILL RECEIVE:
3in1 jug blender - details above,
YOER PLATINUM SECURITY card,
Warranty card,
PL / EN instruction manual.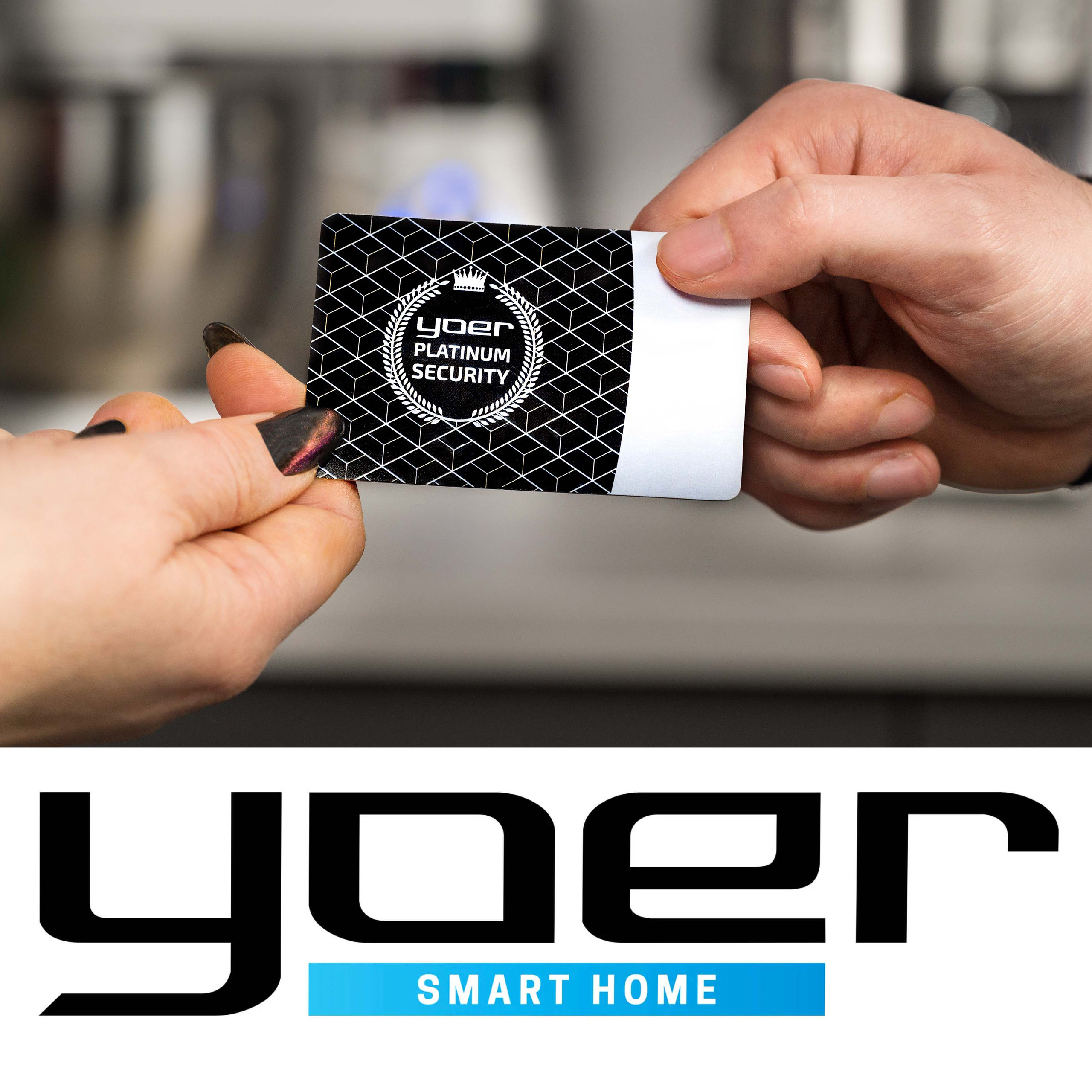 YOER PLATINUM SECURITY
When purchasing products from the official Yoer store you receive the YOER PLATINUM SECURITY package, which is an assurance of additional protection.
YOER - POLISH MANUFACTURER AND BRAND
YOER constitutes an excellent proof that high quality of products does not necesserily go in hand with high prices.

YOER JB02S Instruction manual - Click here