Language
Steam Mop with Handheld Cleaner YOER Clean Slide SMC01W
Steam mop with handheld cleaner: 2100 W effective power, 15 s preheat time, 25 min. operational time, 6 m operational range, detergent reservoir, water filter, carpet attachment, handheld cleaner hose, nylon brushes, metal brush, window sqeegee/upholstery and garment attachment, scraper, crevice attachment, grout attachment

Shipping within

24 hours

Availability

Medium

26

pcs.
| | |
| --- | --- |
| Bar code | |
| EAN | 5900779771505 |
Description

Instruction manuals

Reviews & ratings (2)
Steam Mop with Handheld Cleaner YOER Clean Slide SMC01W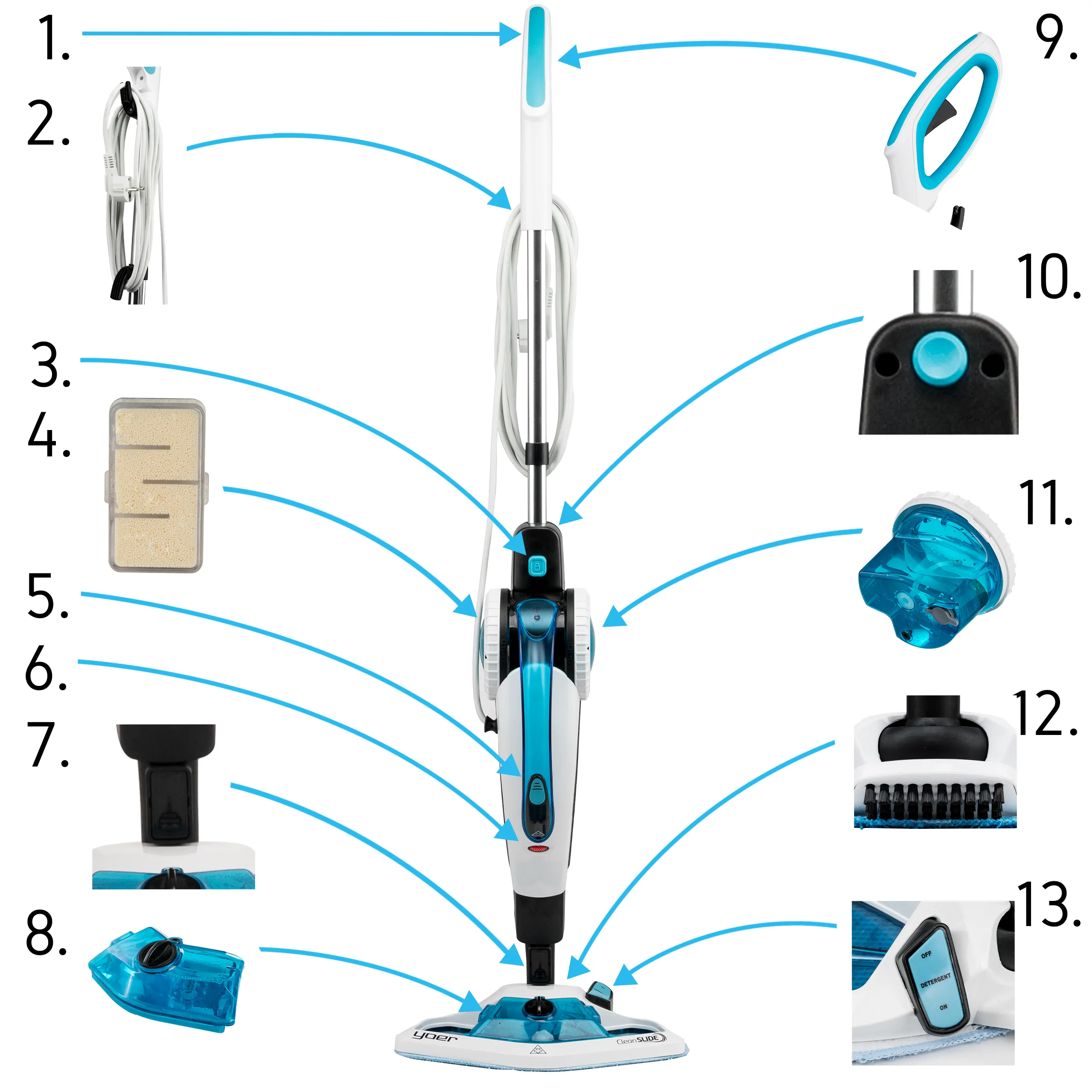 CONSTRUCTION - MAIN COMPONENTS
Ergonomic handle with rubber padding
Power cord hook
Handheld cleaner release button
Replaceable water filter
Handle and steam generation button
Steam readiness indicator
Floor head removal button
Removable detergent reservoir
Floor head steam generation button
handle release button
Detergent reservoir
Removable brush
Detergent dosing ON/OFF switch
A VARIETY OF ACCESSORIES AND REPLACEABLE PARTS
Metal brush
Small nylon brush
Crevice attachment
Scraper
Grout attachment
Large nylon brush
Water filter
Back brush
Upholstery and garment cloth
Window squeegee / upholstery and garment attachment
Carpet attachment
Water reservoir
Detergent reservoir
3 reusable fabric pads
Handheld cleaner hose
A full offer of replaceable attachments, brushes and water filters for the Clean Slide cleaner are continuously available for sale. You can find them in the "accessories" tab.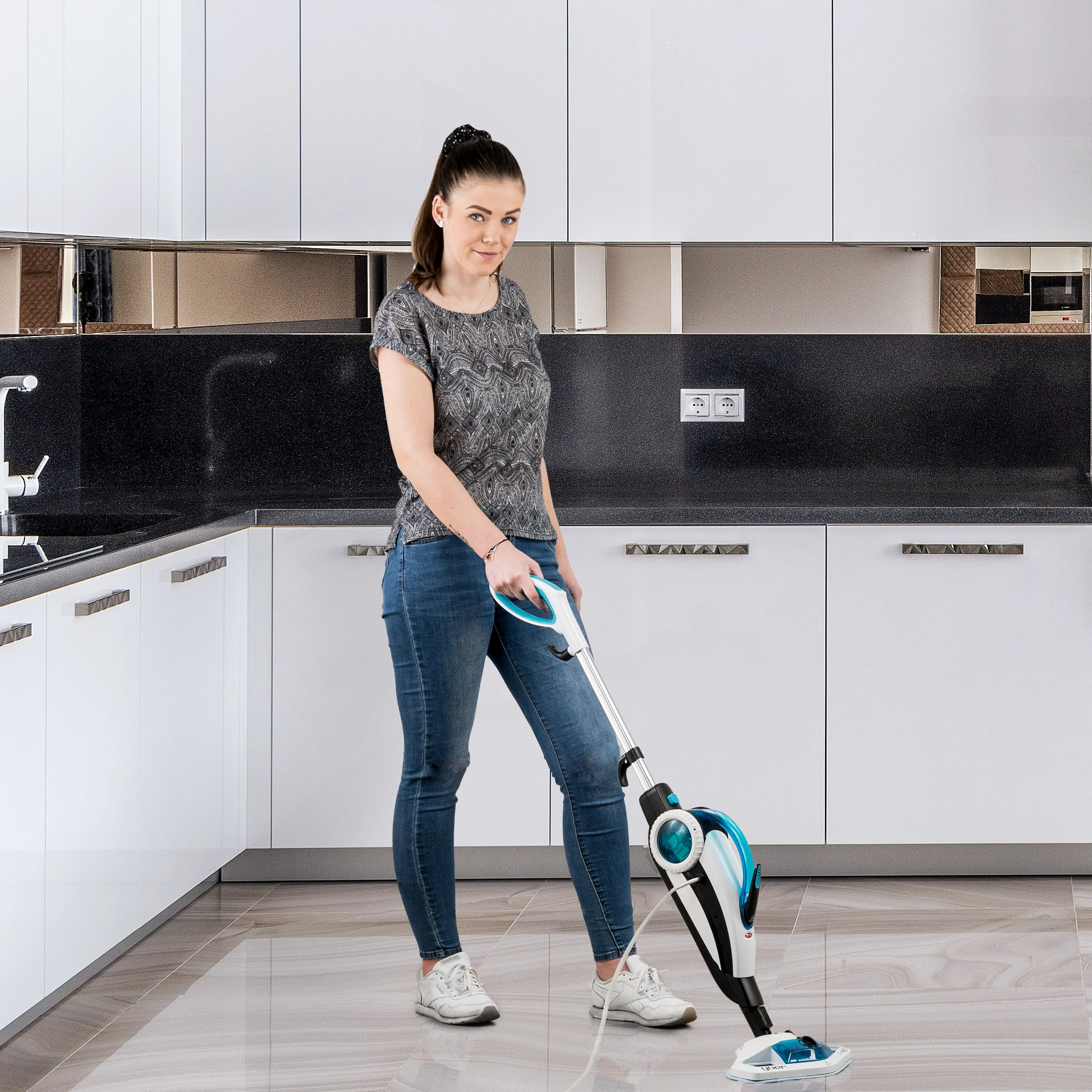 PRODUCT DETAILS
Multi-purpose cleaning device: steam mop and independent steam cleaner
Formidable 2100 W effective power: high efficiency and exceptionally effective cleaning
2.7 kg (6 lbs) weight: handy and lightweight
Detergent reservoir: shiny floors that smell beautifully
6-meter (19.7 ft) range: long power cord
15-second heat-up time: immediate work readiness
25-minute uninterrupted work time: 400 ml water reservoir
Dry floor in under 3 minutes: lightning-fast drying of cleaned surfaces
Handy steam cleaner with hose: precise cleaning of even the hardest to reach spots
Replaceable water reservoir: proper operation of the appliance and better longevity
Built-in brush: comfortable and effective cleaning of resilient dirt
Rotational floor head: the floor head rotates by 180°, making it considerably easier to move the mop around
Power cord hook: safe storage
3 machine-washable fabric pads: savings and convenience
Power usage: 1600 W
Effective power: 2100 W
Carpet attachment
Handheld cleaner hose
Small and large nylon brushes
Metal brush
Window squeegee / upholstery and garment attachment
Scraper
Crevice attachment
Grout attachment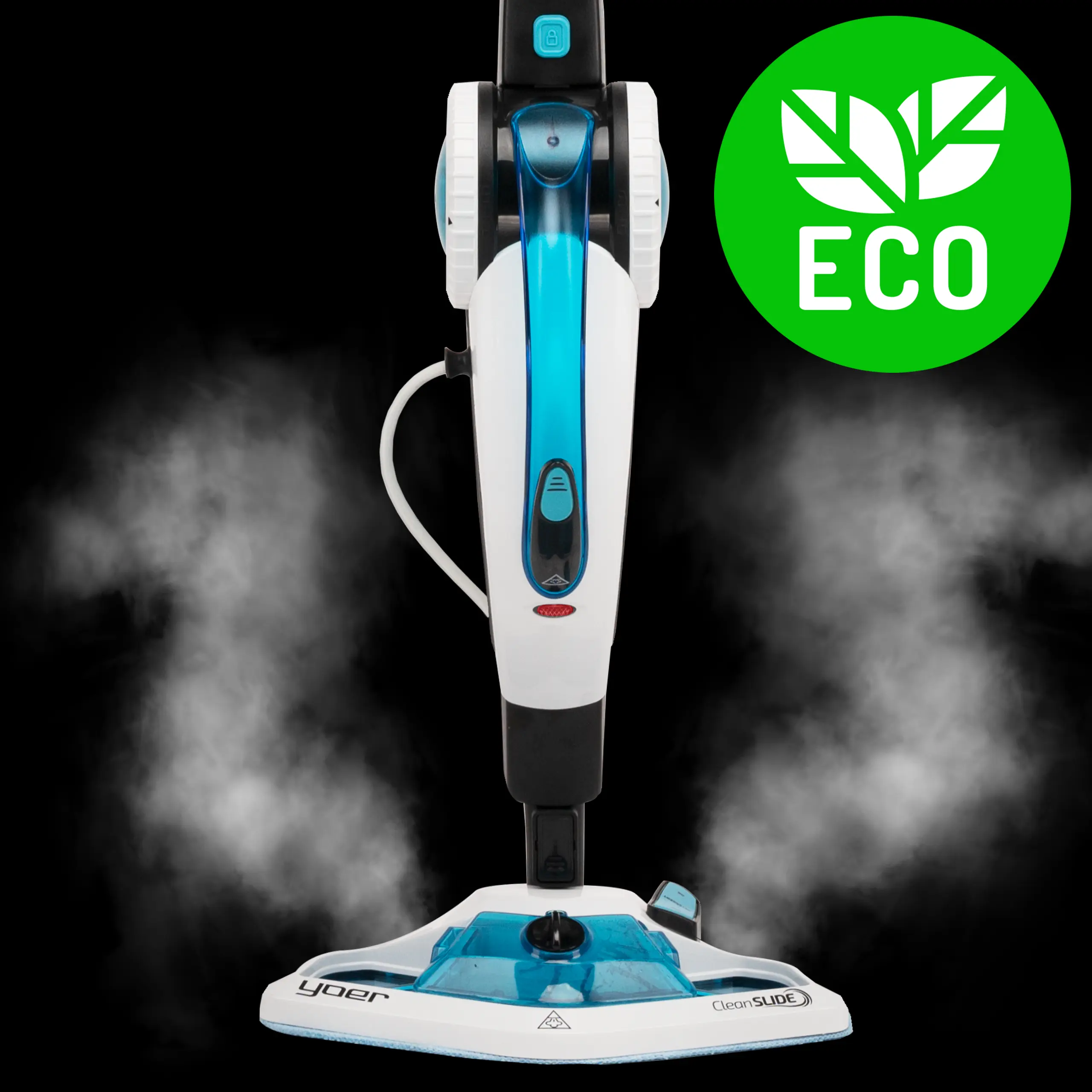 INCREASED EFFICIENCY - MORE EFFECTIVE CLEANING
It's full steam ahead with the Clean Slide steam mop!
The astonishing 2100 W power enables effective cleaning of even the most stubborn dirt.
The appliance generates a strong stream of hot steam, which is then spread around the surface being cleaned.
Comprehensive disinfection - the hot steam removes viruses, bacteria and other microbes that endanger your health.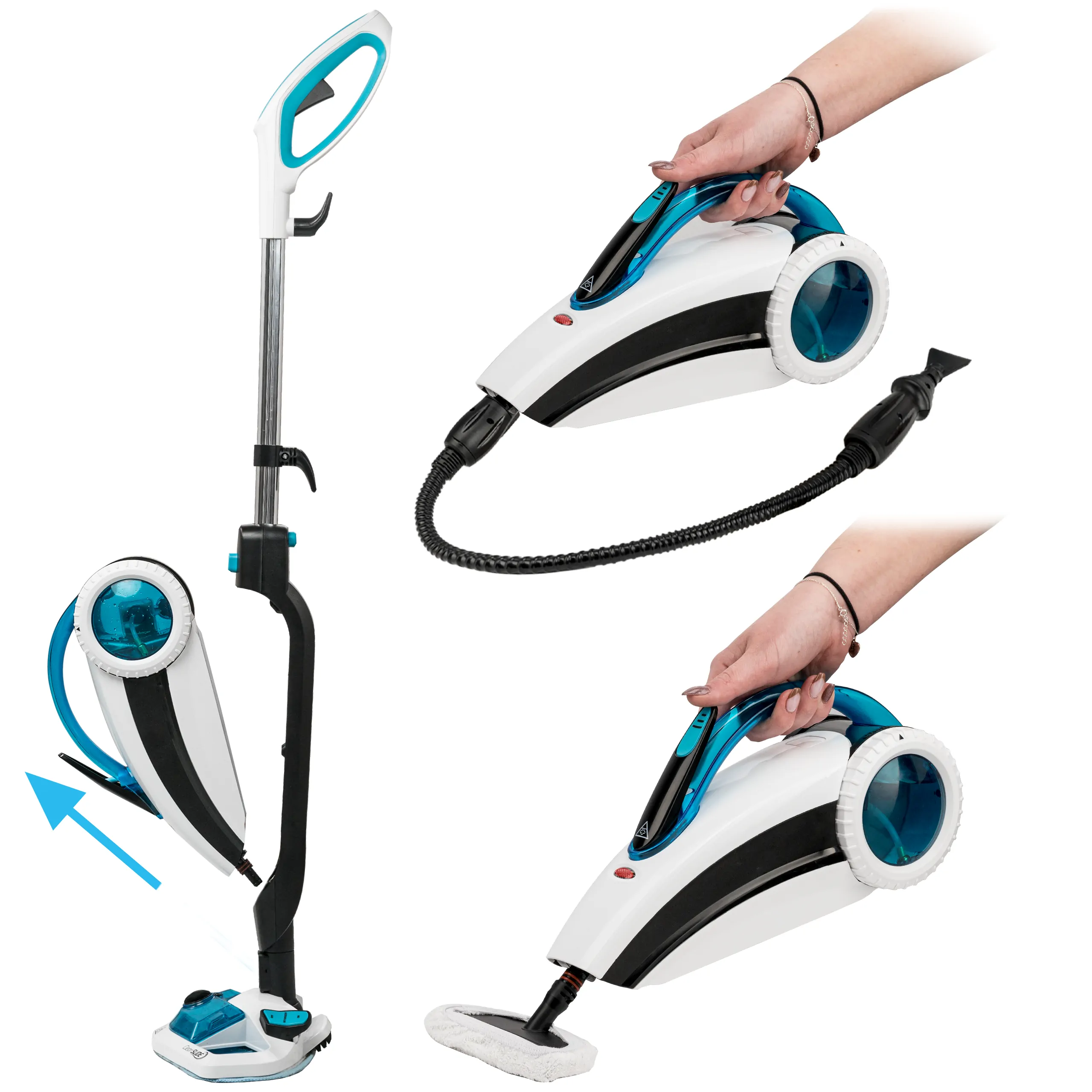 THREE WAYS TO USE THE DEVICE
Steam mop
Handheld cleaner

Turn the steam mop into a handy, universal cleaner with a push of a button.
The cleaner is equipped with a comfortable handle and steam generation button.
Thanks to the various attachments, the cleaner will allow you to clean pretty much any surface in your house.

Handheld cleaner with hose

A long, flexible hose with a handy handgrip can be attached to the cleaner to increase its range and precisely clean even the tightest of places.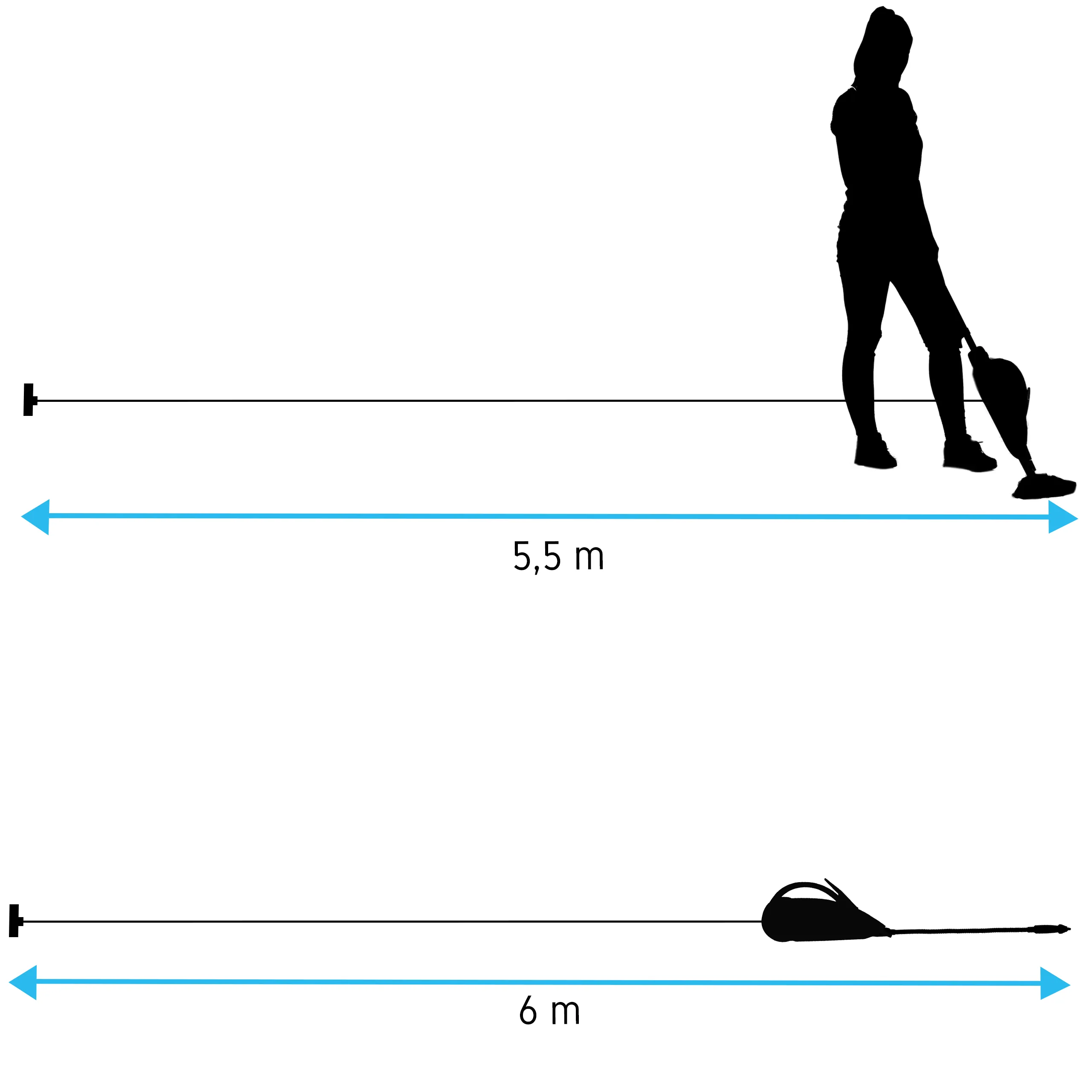 BIG OPERATIONAL RANGE
Owing to the long power cord, the operational range of the mop is as many as 5.5 meters (18 ft). This will allow you to clean even very large rooms, without the need for frequent plugging into other sockets.
The range of the handheld cleaner with the hose attached has an even bigger range of 6 meters (19.7 ft), which makes working with the device seem cordless.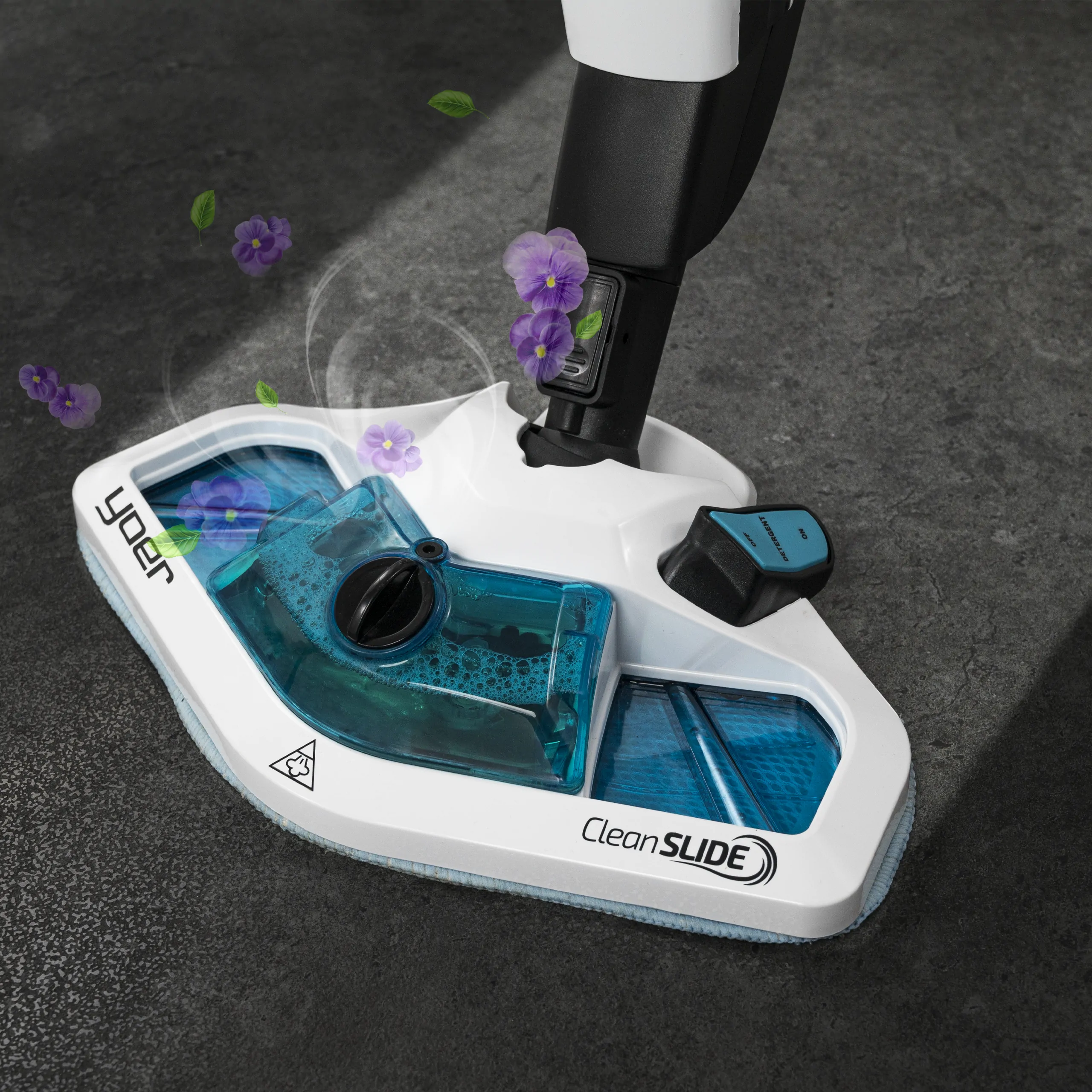 ABILITY TO USE DETERGENT: A GUARANTEE OF IMPECCABLY CLEAN FLOORS THAT SMELL GREAT
2 times more effective cleaning - if you think that steam isn't enough on its own, you are sure to appreciate the detergent dosing functionality, which will allow you to clean even the most sullied surfaces while giving them a lovely shine.
Automatic dosing - the mop channels an appropriate amount of cleaning agent along with the heated steam. During operation you may comfortably turn the detergent dosing on and off according to your wishes - all it takes is to press the appropriate button with your foot.
A perfect solution for children and allergy sufferers - the combination of hot steam and cleaning agent effectively eliminates dangerous microbes, fungi and parasites.
Floors with a fresh scent - steam cleaning floors using a detergent will fill your house with a lovely, refreshing scent. This functionality is sure to be most appreciated by lovers of animals and owners of furry pets.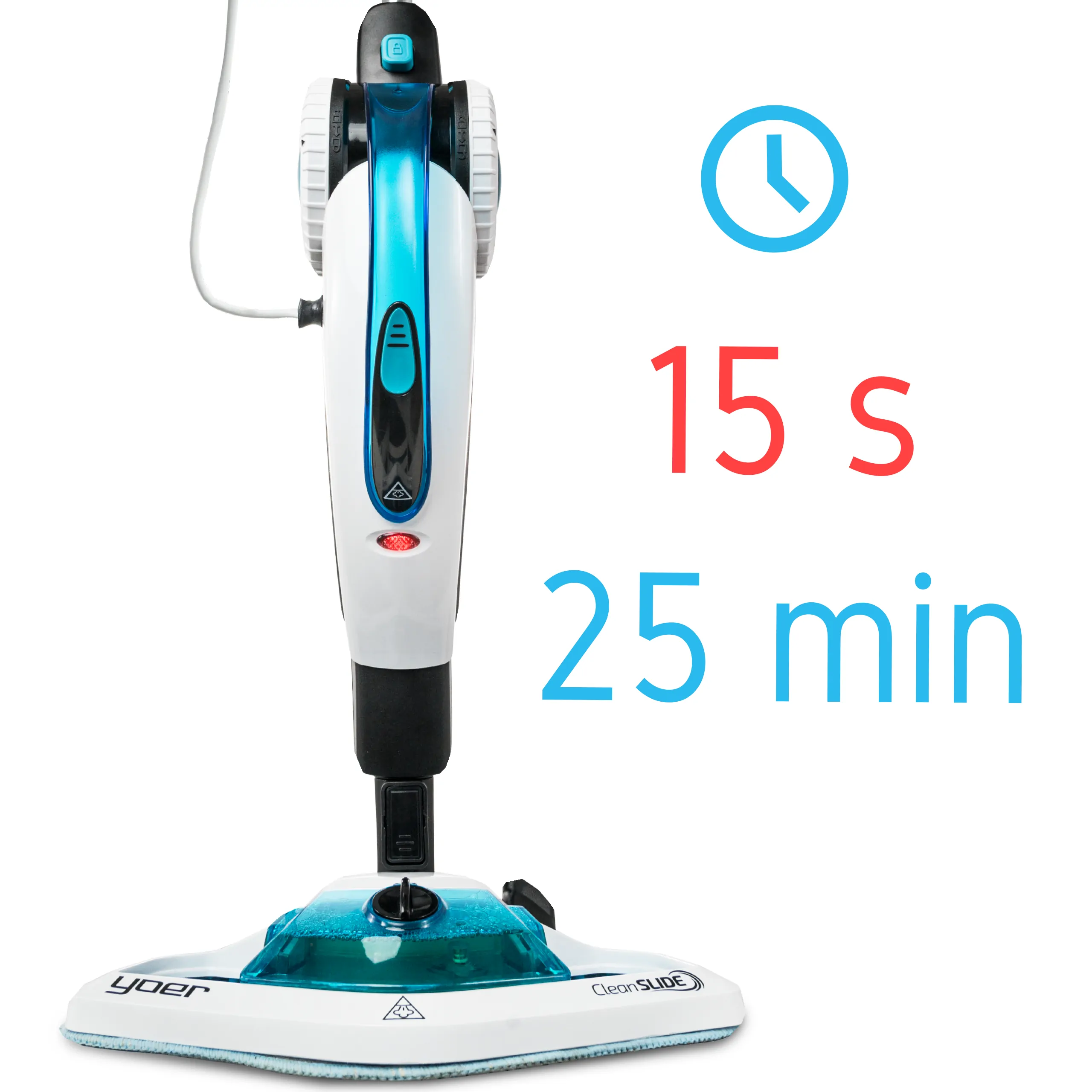 IMMEDIATE READINESS
Quick preheat - owing to the exceptionally high power and efficiency of 2100 W you can begin working with the mop after just 15 seconds from turning it on - during this time, the appliance will heat up to operational temperature.
LONG OPERATIONAL TIME
Up to 25 minutes of uninterrupted operation - the appliance effectively optimizes power and the volume of steam, thus increasing its operational time. At the same time, the 400 ml water reservoir will allow you to calmly clean the whole room without the need for refills. During cleaning, you can easily monitor the water level thanks to the see-through reservoir body.
Forget about squeezing out water - the mop was designed to always dose the most optimal amount of steam, owing to which you can avoid the creation of stagnant water stains or oversaturating surfaces with water.
LIGHTNING-FAST DRYING
Dry floor in under 3 minutes - you only need to wait this long for the cleaned surface to become completely dry.
LIGHTWEIGHT, HANDY AND INTUITIVE
Cleaning with the Clean Slide steam mop is pure fun:
Compact and featherweight - frequent floor cleaning won't be a problem for you anymore. The mop weighs in at just 2.7 kg (6 lbs), and its smooth sliding action doesn't require any effort.
Handle and floor head sensitive to your every movement:
1. The floor head rotates in the 180° range, owing to which you will easily get to every corner in the room.
2. Direct the handle and the body of the device towards the floorto thoroughly clean the surface hidden under furniture.
PERFECT FOR EVERY SURFACE
3. Fabric pad - a universal pad appropriate for cleaning all kinds of floors, tile, parquets, flooring panels and wooden floors
4. Carpet attachment - will allow you to refresh, clean and disinfect all carpets and floor coverings in your house.
5. Window squeegee - perfect for cleaning glass panes, mirrors and windows - smoothly and effortlessly.
6. Upholstery and garment cloth - after putting the cloth onto the window squeegee you will be able to effectively clean the upholstery on your sofa or armchair. You may also use it to refresh and press clothes, window covers, plush toys and other materials..
MADE FOR SPECIAL TASKS
Hose nozzle - you can use the nozzle itself without any attachments to remove soap remains in your toilet and clean the spaces between tiles.
Nylon brushes - the universal brushes in two sizes will help you remove even the most stubborn stains from any surface (e.g. kitchen counters, washbasins, refrigerators, cookers, shower cabins etc.)
Metal brush - makes it easy to clean grill grates, the inside of your fireplace and other difficult surfaces from exceptionally insistent residue, soot and fat.
Grout attachment - will effectively clean dirt firmly embedded between tiles.
Crevice attachment - enables getting to even the most unreachable spots and narrow crevices, for instance around the tap.
Scraper - cleans ovens or frying pans by removing the stuck fat and food remains.
CLEANING USING THE ADDITIONAL BRUSH
1. Operation using the brush - ideal for cleaning extra stubborn dirt. Lock the mop in the vertical position and tilt the whole device backwards to thoroughly clean the floor using the built-in brush located at the back of the floor head..
CONVENIENT PARKING
2. If you need to take a break from cleaning or want to move the mop to another place, there is nothing easier. Simply put the mop in a vertical position and gently push it forward to slide the bottom part of the body into the special insert on the floor head to make the appliance stand on its own.
PROBLEM-FREE CLEANING: REUSABLE PADS AND REPLACEABLE FILTER
1. Machine-washable fabric pads - the device is equipped with three reusable fabric pads for cleaning floors. Owing to the exceptionally durable velcro on the floor head you can be sure that the pad won't slide off the mop during cleaning. After finishing work simply put the pad in a washing machine and use it again.
2. Replaceable water filter - the supplied water filter is good for as many as 3-6 months of operation, depending on the frequency of use. Thanks to the filter you can use mains water without worry. It ensures problem-free operation of the mop and significantly increases its longevity.
COMFORT AND SAFETY
3. Ergonomic, convenient handle with rubber padding - ensures a uniquely usage experience and makes it easier to smoothly slide the mop around. The button located underneath allows for direct control of steam generation from the floor head during cleaning.
4. Power cord hook - enables safe storage of excess cable on the handle, thus minimizing the risk of tripping over the power cord during operation. It also makes it easier to carry and store the appliance.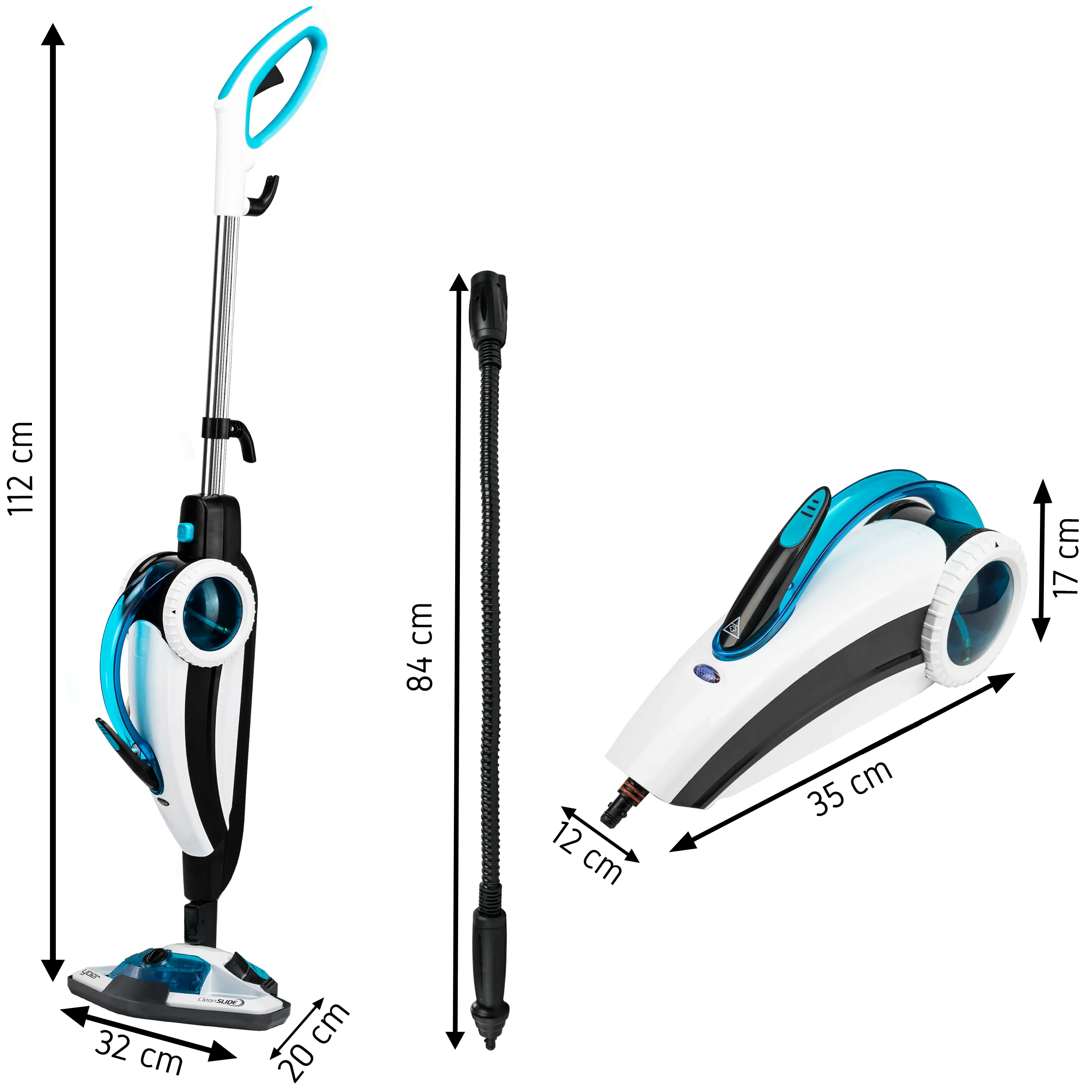 TECHNICAL SPECIFICATION
Preheat time: 15 s
Operational time: 25 min.
Power usage: 1600 W
Effective power: 2100 W
Nominal power: 1600 W
Power cord length: 5 m (16.4 ft)
Steam mop operational range: 5.5 m (18 ft)
Handheld cleaner with hose operational range: 6 m (19.7 ft)
Steam mop dimensions: 112 x 32 x 20 cm (44.1 x 12.6 x 7.9'')
Handheld cleaner dimensions: 17 x 12 x 35 cm (6.7 x 4.7 x 13.8'')
Handheld cleaner hose length: 84 cm (33'')
Weight: 2.7 kg (5.9 lb)
Water reservoir capacity: 400 ml
Detergent reservoir capacity: 120 ml
Color: Black and white with blue elements
Polish power plug 220-240V, 50/60Hz
EQUIPMENT
Steam mop handle
Water filter
Water reservoir
Handheld steam cleaner
Steam mop body
Detergent reservoir
Steam mop floor head
Carpet attachment
3 fabric pads
Handheld cleaner hose
Crevice attachment
Metal brush
Small nylon brush
Large nylon brush
Scraper
Grout attachment
Window squeegee / upholstery and garment attachment
Garment and upholstery cloth
Back brush
Original packaging
YOU WILL RECEIVE:
Steam mop with handheld cleaner - details above,
YOER PLATINUM SECURITY card,
Warranty card,
Receipt/VAT invoice,
PL/EN instruction manual.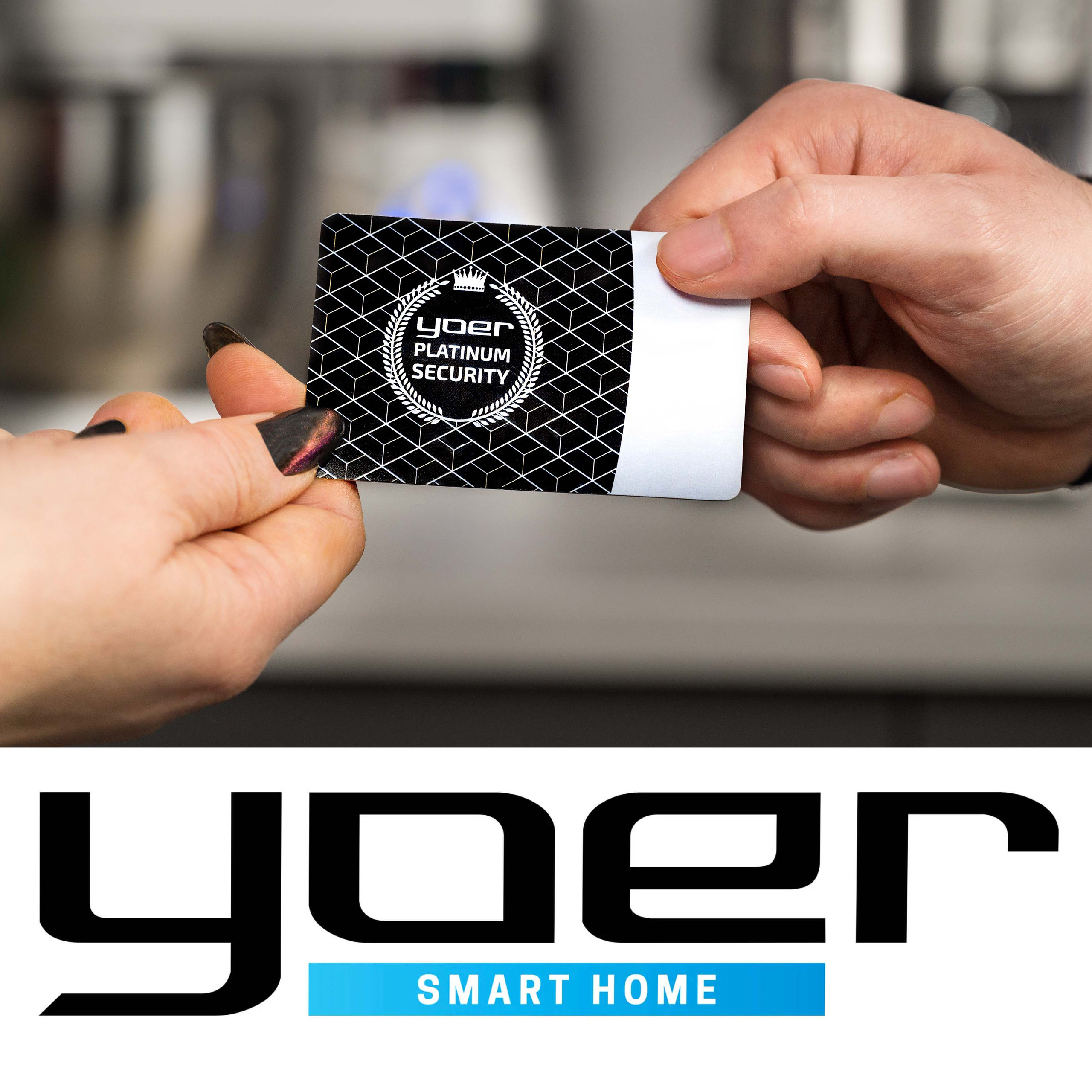 YOER PLATINUM SECURITY
When purchasing products from the official Yoer store you receive the YOER PLATINUM SECURITY package, which is an assurance of additional protection.
YOER - POLISH MANUFACTURER AND BRAND
YOER constitutes an excellent proof that high quality of products does not necesserily go in hand with high prices.

YOER SMC01W Instruction manual - Click here
użytkuje mop u moich dzieci w mieszkaniu które mają remont
z łatwością myjka parowa z końcówkami radzi sobie z wyczyszczeniem nieużywanej lodówki przez pół roku i piekarnikiem z tłustymi plamami i zaschniętymi pozostałościami, o łatwości z umyciem szafek nie wspomnę
nie wiem jakbym to umyła bez tego sprzętu...
podłogi też dobrze myje szybko i ładnie, choć chciałabym większy pojemnik na wode

Plusy: Łatwy montaż i demontaż urządzenia, łatwy w użyciu, dużo końcówek ułatwiających czyszczenie, dodatkowy zbiornik na detergent
Minusy: Przewód mógłby być 1m dłuższy, odpinana myjka mogłaby być akumulatorowa zapewniło by to większą mobilność urządzenia, mała pojemność zbiornika na wodę

SYLWESTER �.

(2021-06-11)

Recently viewed products

Other Customers also purchased

Similar products