Language
Ceramic fan heater YOER Feno FH04BK
Power: 2000W, Wi-Fi function, ECO function, 24-h timer, Oscillation function, Remote control, Touch control panel, Easy-to-read LED display, Dust filter, Turning the display off
698.00
-43%
398.00
Lowest price in the last 30 days:
Order within
and we will send the package today

Shipping within

Shipment within 24 hours

Availability

Small

65

pcs.
| | |
| --- | --- |
| Bar code | |
| EAN | 5900779770935 |
Description

Instruction manuals
Mobile ceramic fan heater YOER FENO FH04BK
PRODUCT DETAILS
2 power levels - adjust proper level of power to your needs
Electronic thermostat - change the temperature from 15° to 35°C in a convenient way
ECO function - use automatic energy-use adjustment and enjoy your decreased energy-use
Oscillation function - heat your room up in a quick way thanks to even heat distribution
Touch control panel with LED display - will make using and controlling the device easier
Delayed start function - you can decide when the device should be turned on
Remote control via app - control your fan heater via smart phone or tablet with Android or iOS operating system, only using a 2.4 GHz frequency
Display off function - turn off the display and enjoy comfort at night
24-h timer - you do not have to remember to turn off the device
Overheating protection - the device will turn off automatically after achieving set temperature
Modern look - it will suit every interior and it will accentuate your style
Safety - in case the device tips over, it will automatically shut off to prevent damage
Anti-frost function - enjoy automatic activation of the space heater when the temperature drops below 7°C
CONSTRUCTION - MAIN COMPONENTS
Touch control panel with LED display
Non-heating cover
4-heating-element ceramic heater
Wide base
Handle for easy carrying
Remote control storage compartment
Dust filter
3 WAYS OF USING THE DEVICE
I. TOUCH CONTROL PANEL - makes using the device easy and intuitive:
1. ON / OFF button - turn the device on or off
2. Display off button and Wi-Fi function - press it to turn on or off the display, press and hold it to turn on the Wi-Fi function
3. Timer - program the automatic power on or off of the device
4. "-" button - decrease temperature or time
5. Heating power adjustment button - choose the desired heating power
6. Oscillation mode function - turn on the device's oscillation
7. Temperature adjustment button and ECO function - set proper temperature of the device and turn on the ECO function
8. "+" button - increase temperature or time
II. REMOTE CONTROL - gives you the opportunity to control the device without having to get up.
III. APPLICATION - enables seamless management of the device through a smartphone or tablet using a Wi-Fi-connected app.
DIGITAL LED DISPLAY
The device has been equipped with easy-to-read LED display, thanks to which you will read current temperature and activated functions in a quick and convenient way:
Digital display - indicates current temperature and working time or the information about the delayed start function
Wi-Fi icon - informs about advice Wi-Fi function
Temperature icon - informs that the displayed number indicates temperature
Heating power icon - informs about selected heating power
Oscillation icon - indicates that the oscillation function is active
Digital LCD display is a solution which combines functionality and design. It is the perfect way to upgrade your equipment and enhance its performance.
2 HEATING POWERS - OPTIMAL HEATING REGARDLESS THE CONDITIONS
Choose one of two heating powers according to the size of your room, outdoor temperature and preferences:
1. Warm mode:
heats with the power of 1300 W
will enable you to heat a small room or keep a constant temperature
2. Hot mode:
heats with the power of 2000 W
uses full power thanks to which you will heat up a huge room
The device has also anti-frost function which is turned on when the temperature drops below 7°C
◾◾◾
ECO FUNCTION - COMFORT AND SAVING MONEY IN ONE
ECO mode - enjoy high comfort and reduced electricity bills because our fan heater will:
automatically adjust proper heating power, switching power modes in such a way that the selected temperature is maintained in the room,
reduce electricity bills because it will only consume as much energy as needed to maintain the desired temperature.
Thermostat during ECO mode has a default temperature of 24°C.
DEVICE WORKING TIME CONTROL
1. 24-h timer:
enables you to set the time after which the device will turn off automatically
you do not have to worry that you will forget about turning off the fan heater at night because it will be turned off automatically after the set by you time has elapsed
2. Delayed start function:
enables you to set the time after which the device will turn on automatically
program the fan heater to turn on before you return from work so that you can enjoy the warmth as soon as you walk in the door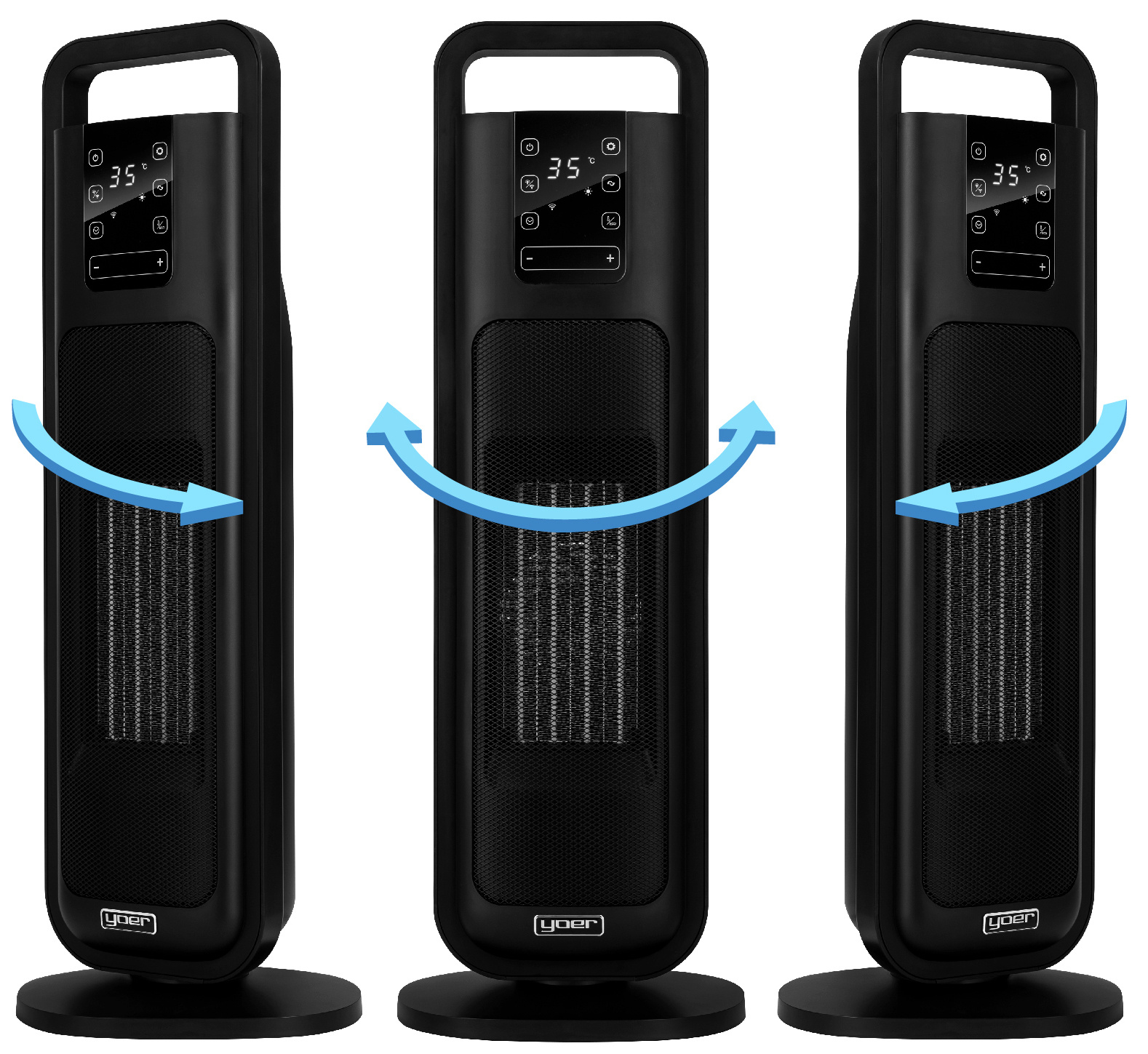 OSCILLATION FUNCTION
Oscillation will enable you to heat your rooms in a more efficient way:
the oscillating motion of the space heater allows for the dispersion of heat over a larger area
your room will be heated up in a quick way
Greater efficiency and a faster room heating time will enable you to use the fan heater for a shorter duration, resulting in lower electricity bills.
REMOTE CONTROL
Control the device in a convenient way via Wi-Fi. The device has biult-in module of wireless connection which will enable you to control the fan ehater in a comfortable way via your smart phone.
◾◾◾
Controlling the device via Wi-Fi with the ability to program the space heater's operation on a smartphone or tablet through an easy-to-use app.
The app is available in Google Play Store and AppStore.
The app operates on Android and iOS.
Programming and controlling the device from any location with Internet connection.
◾◾◾
Thanks to this app you will be able to:
turn the device on and off,
increase the room heating temperature,
choose the heating power between warm and hot mode,
turn the oscillation function on and off,
program the fan heater for automatic on/off operation,
turn the display on or off.
◾◾◾
HUMIDITY SENSOR AND FAN HEATER - INTELLIGENT DUO FOR YOUR HOUSE
Door and window opening sensor will enable you to make scenes which will automatically turn on or off your fan heater when the door or windows will be open. For instance, you can set the sensor to make the fan heater turn off when the windows and door are open and turn on when the windows and door are closed. Thanks to this you will avoid the unnecessary lose of energy and warmth, while ventilating rooms or not being home.
You can easily control the sensor and fan heater via app in the smart phone, where you can change the setting, check the measurement history and receive notifications about changes in the state of doors and windows.
MODERN LOOK
The fan heater is a perfect solution for those who value both comfort and aesthetics. Thanks to its high-quality plastic casing in a universal color, the fan heater will blend seamlessly into any interior and accentuate your style.
Casing made of high quality polymer - timeless elegance and years of use
Universal, modern look - perfect solution for every interior
Easy-to-read LED display - easy operation and esthetically pleasing.
Touch control panel - elegance and convenience of control
Body decorated with YOER logotype
SAFETY AND CONVENIENCE
Convenient handle- thanks to the handle, you can easily and comfortably transport the device from place to place without worrying about its damage or dropping. The handle is well-fitted to the hand and provides a secure grip.
Non-heating casing - the device's casing has been designed so that it does not heat up during the space heater's operation. This extends its lifespan.
Wide base - provides stability to the device and prevents it from tipping over.
Dust filter - captures impurities from the sucked-in air and reduces unpleasant odors. Additionally, it's easy to clean and reassemble.
Safety mechanism to prevent the device from operating when overturned - in the event that the device is overturned, the safety feature will automatically disconnect the power supply from the device to prevent damage.
Overheating protection - after achieving too high temperature the device will turn off automatically.
Possibility of turning off the display - turn the display off and enjoy comfort at night.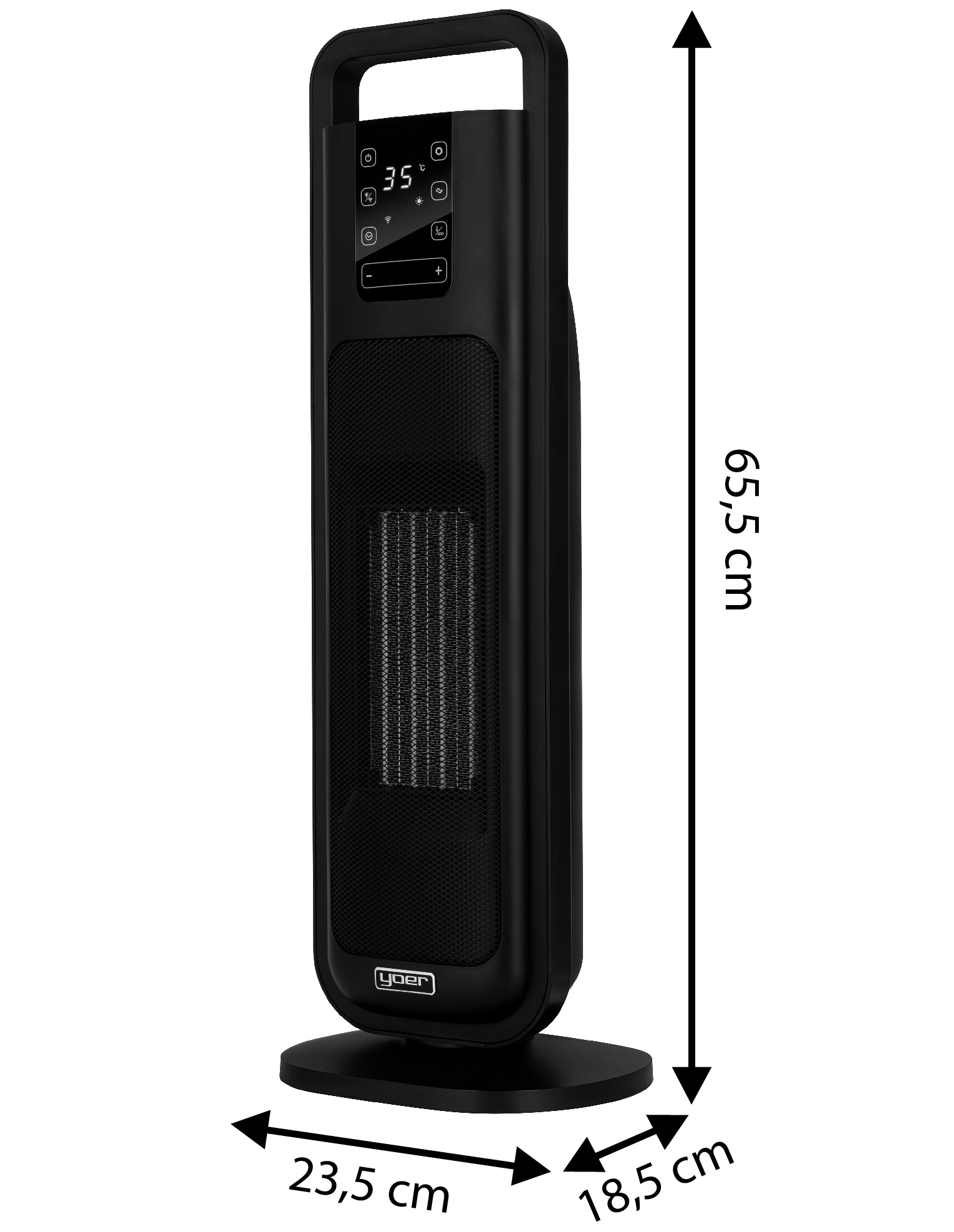 TECHNICAL SPECIFICATION
Power - 2000 W
Maximum room size - 20-25 m²
Heating element type - Ceramic
Min. noise level - 39 dB
Max. noise level - 40 dB
Power cord length - 1,7 m
Weight - 2,9 kg
Dimensions - 65,5 cm x 23,5 cm x 18,5 cm
Color - Biały
Polish power plug - 220-240V 50/60Hz
This product is only suitable for well insulated spaces or occasional use.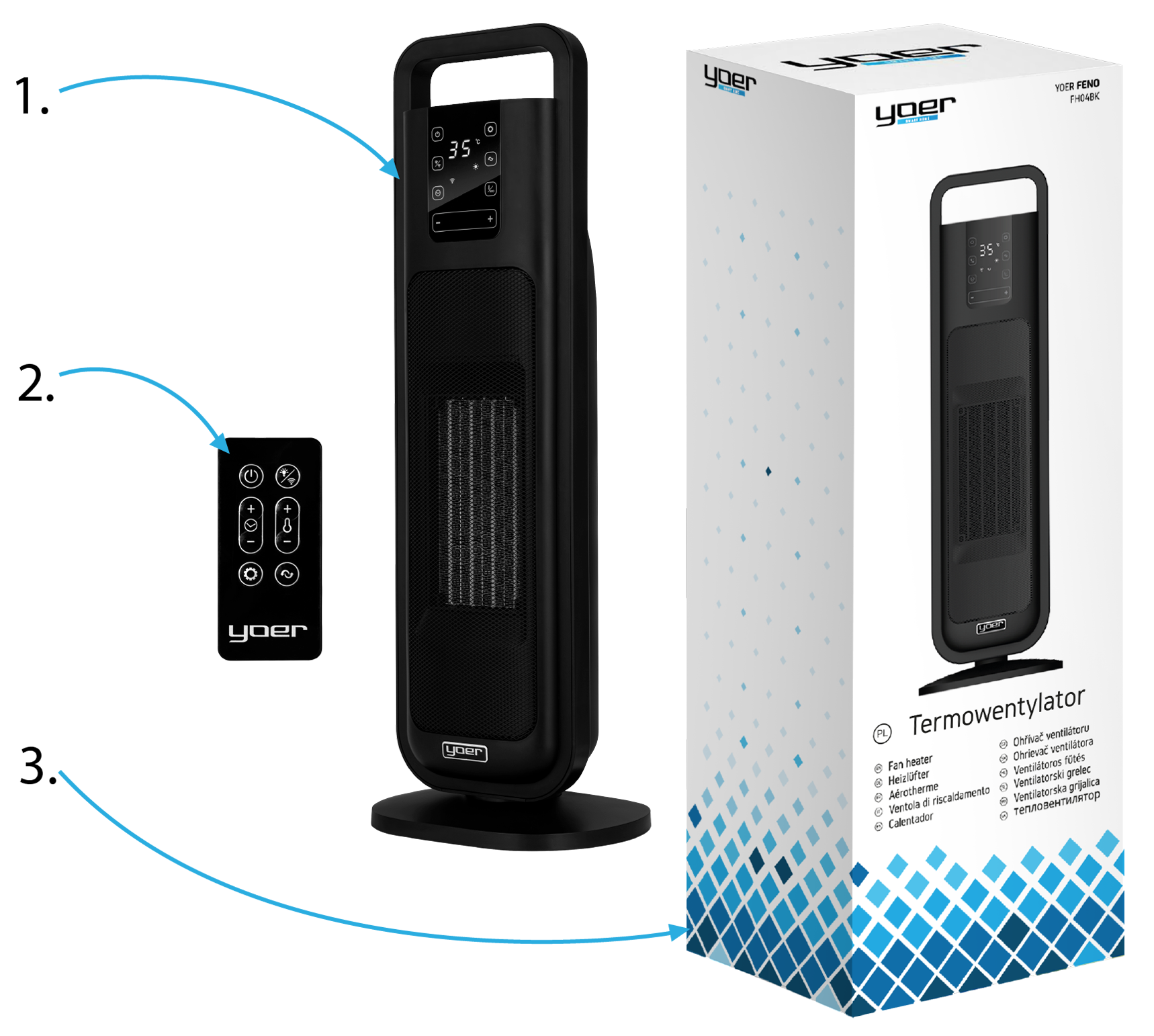 EQUIPMENT:
Fan heater
Remote control
Original packaging
◾◾◾
YOU WILL RECEIVE:
Fan heater - details above,
YOER PLATINUM SECURITY card
PL and EN instruction manual.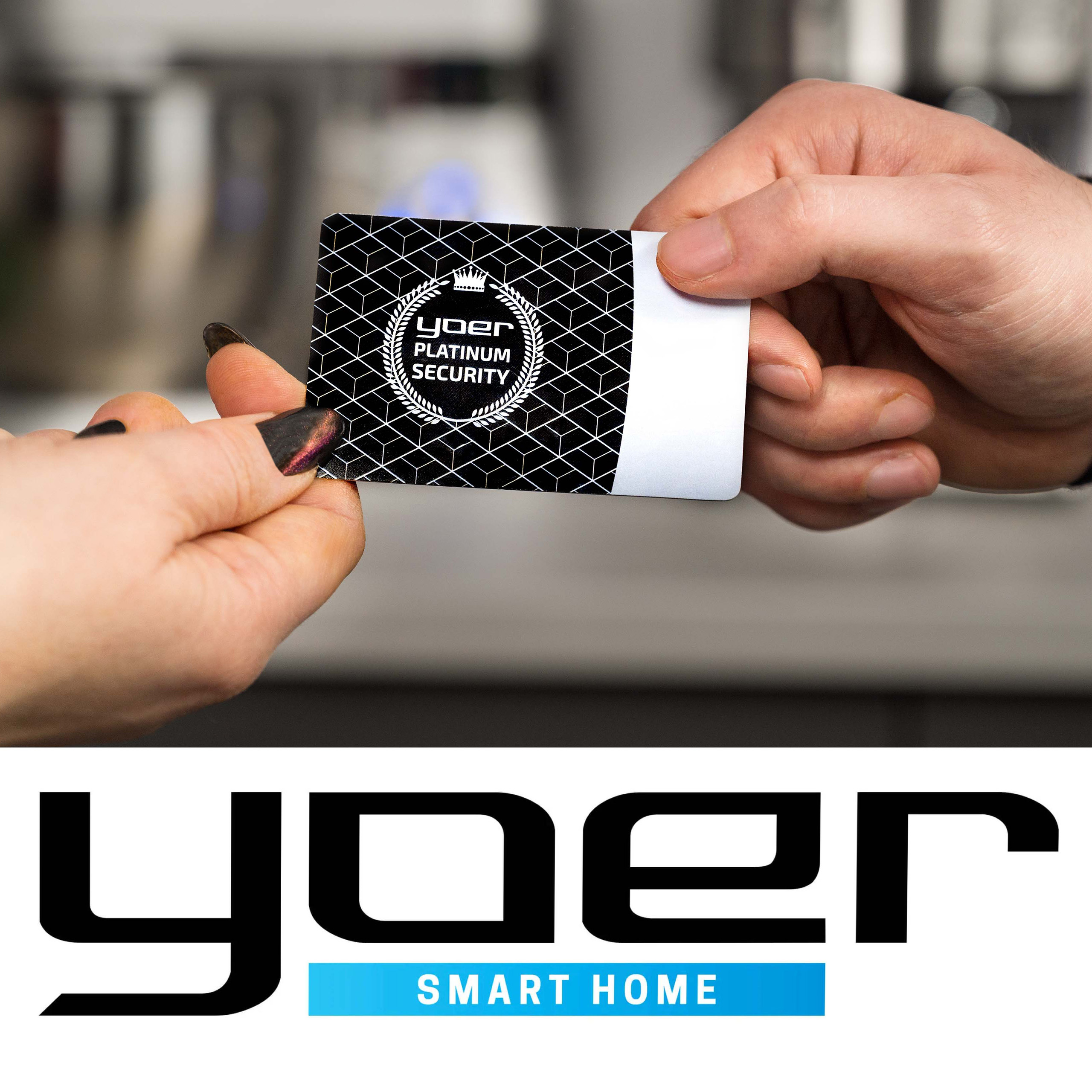 YOER PLATINUM SECURITY
When purchasing products from the official Yoer store you receive the YOER PLATINUM SECURITY package, which is an assurance of additional protection.
YOER - POLISH MANUFACTURER AND BRAND
YOER constitutes an excellent proof that high quality of products does not necesserily go in hand with high prices.

YOER FH04BK Instruction manual - Click here