Language
Tower fan Turo Pro TF05BK
YOER TF05BK Portable desktop tower fan with remote control; power 20 W; 3 speed levels; oscillation functionality; 12-hour timer; ventilation range: 5,1m; noise level: 40 dB; anti-slip feet; protective guard
289.00
-52%
138.00
Lowest price in the last 30 days:
Order within
and we will send the package today

Shipping within

Shipment within 24 hours

Availability

Medium

97

pcs.
| | |
| --- | --- |
| Bar code | |
| EAN | 5900779771062 |
Description

Instruction manuals
TOWER FAN YOER Turo Pro TF05BK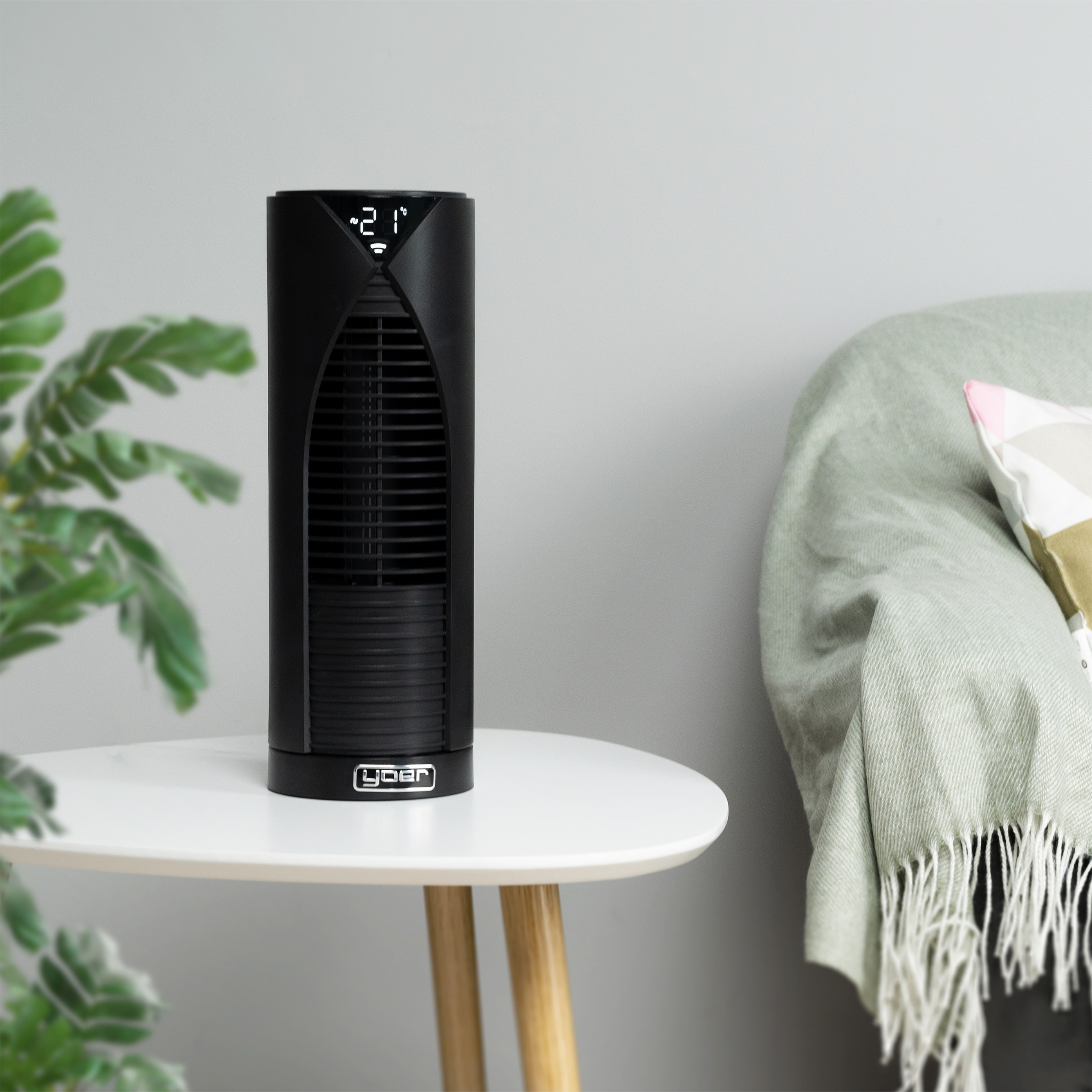 PRODUCT DETAILS
20 W power: fan power input
3 speed levels: low, medium and high
Oscillation angle 0-90°: ability to engage oscillatory movement
40 dB noise level: quiet operation
Remote control: operate the device without having to get up
12-hour timer: the device will shut itself down after you have fallen asleep
LED display: displays current temperature and speed level
Display switch: comfortable sleep at an ideal temperature and in complete darkness
Anti-slip feet: full device stability
Protective guard: covers up the air outlet and provides safety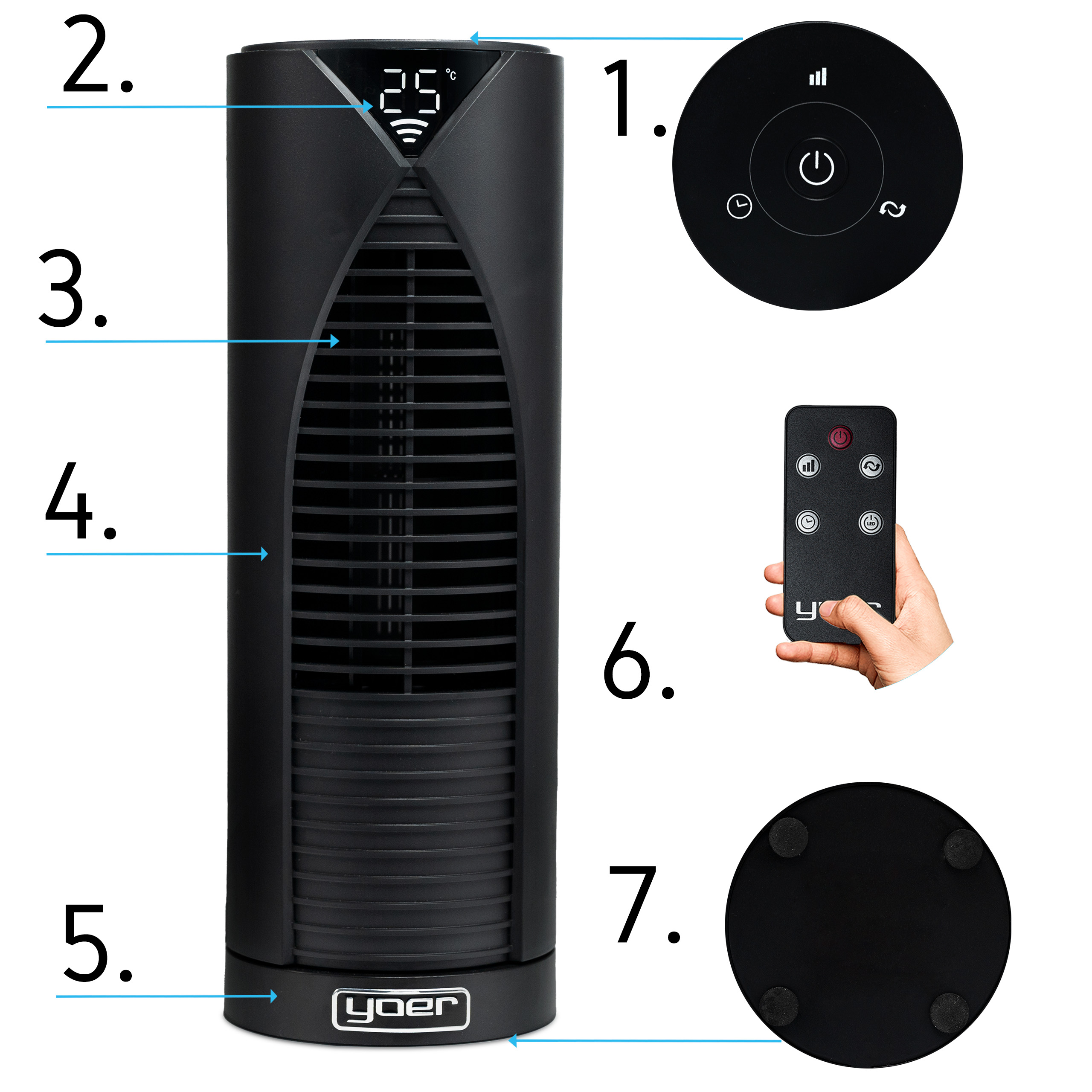 CONSTRUCTION - MAIN COMPONENTS
Touch control panel
Easy-to-read LED display
Air outlet
Device body
Base
Remote control
Anti-slip feet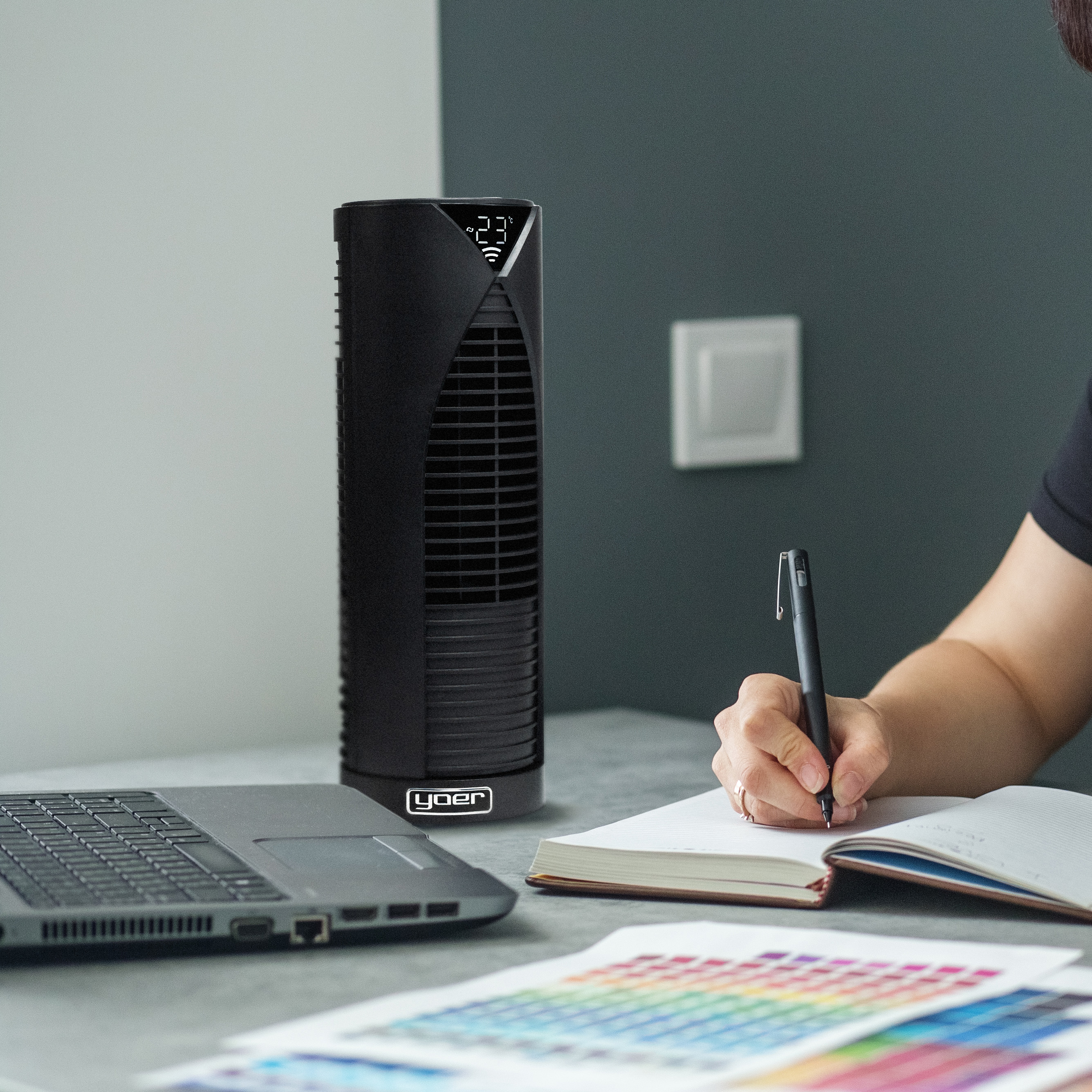 ALWAYS WITH YOU
At home, at work or on holidays - the desktop fan excels in every environment:
it is lightweight
it is easy to use
does not take up much space,
owing to that you can move it to any room.
On particularly hot days, the fan will prove a valuable work companion:
you can enjoy a pleasant and cool whiff of air at a comfortable temperature in a moment.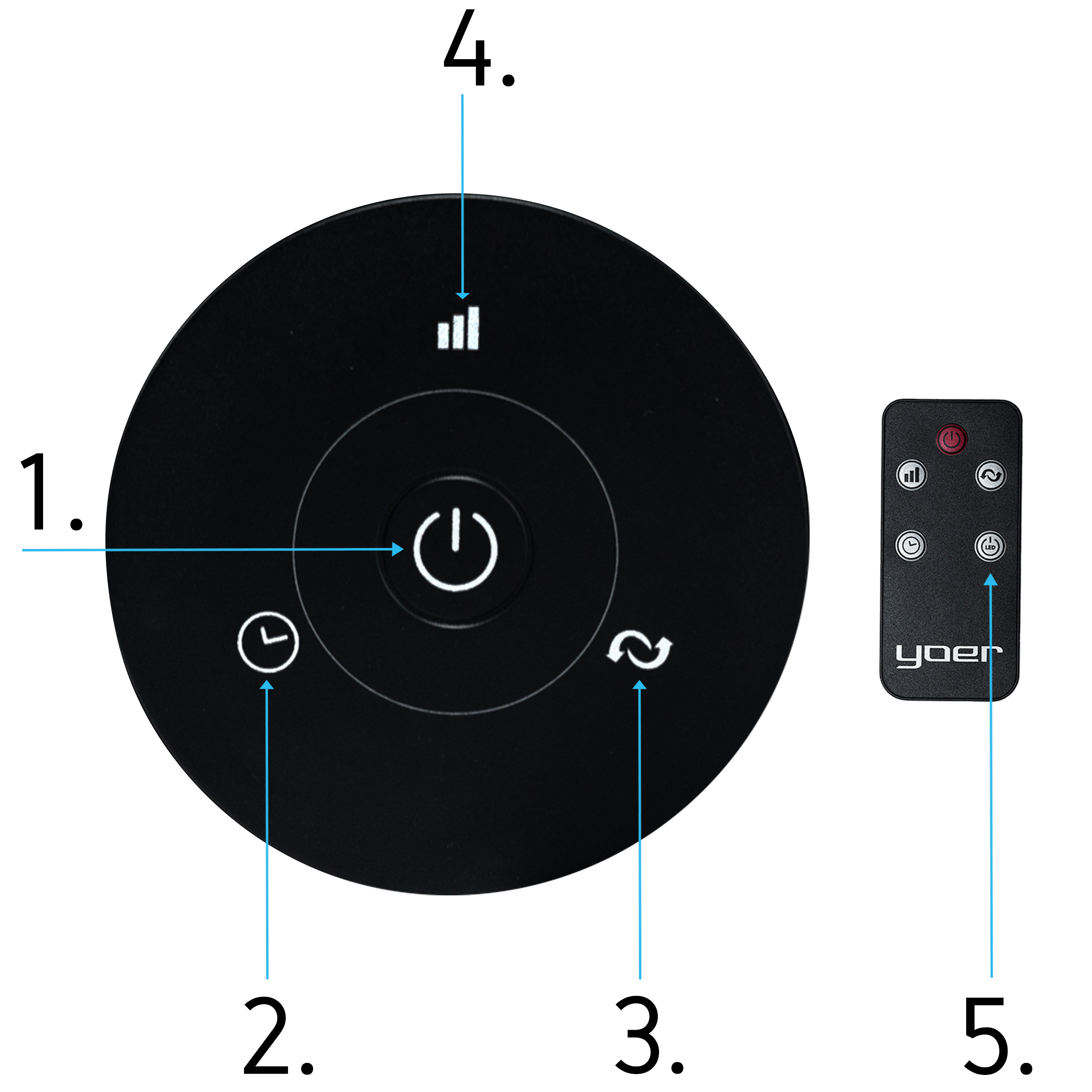 2 WAYS TO CONTROL THE DEVICE
Touch control panel - convenient and intuitive control panel gives you the access to all the functions of the device.
Remote control - there is a remote control supplied with the appliance, thanks to which you can control the fan without having to get up.
ON/OFF button
Timer button - enables setting the time (from 1 to 12 hours) after which the device is to automatically shut itself down.
Oscillation function button - allows for enabling the oscillatory movement of the fan in the 0-90° range.
Speed adjustment button - allows for choosing one of 3 available fan speeds (low, medium, high).
LED display switch - press the button on the remote control and turn on the display blanking to be able to peacefully fall asleep in complete darkness.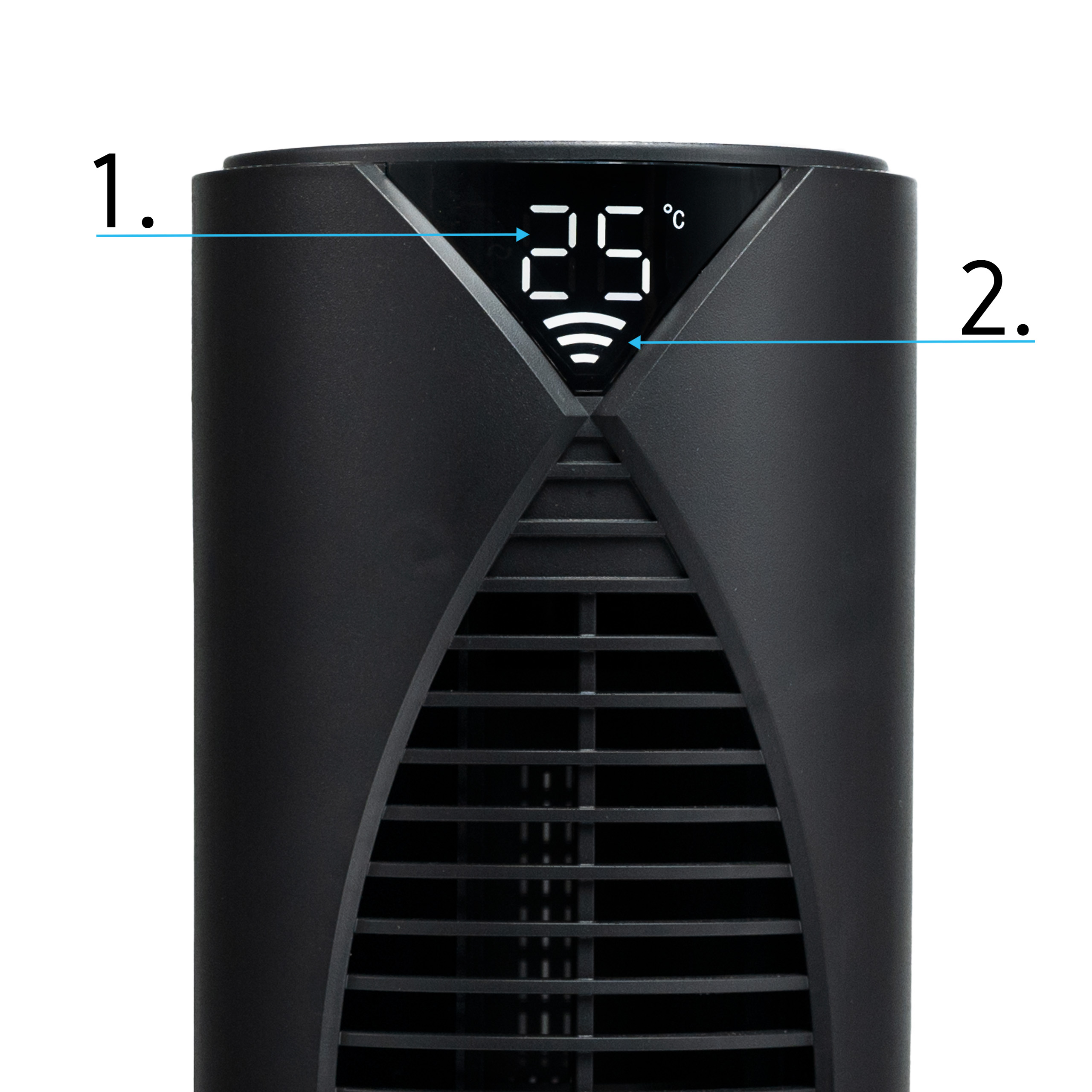 LED DISPLAY WITH TEMPERATURE MEASUREMENT
Easy-to-read display - informs you about the operating speed of the device. It also works as a home thermometer. Plug the fan in to display current room temperature.
Icons on the display:
Current room temperature indicator - informs about current temperature in a room.
Selected speed indicator - informs about chosen speed level: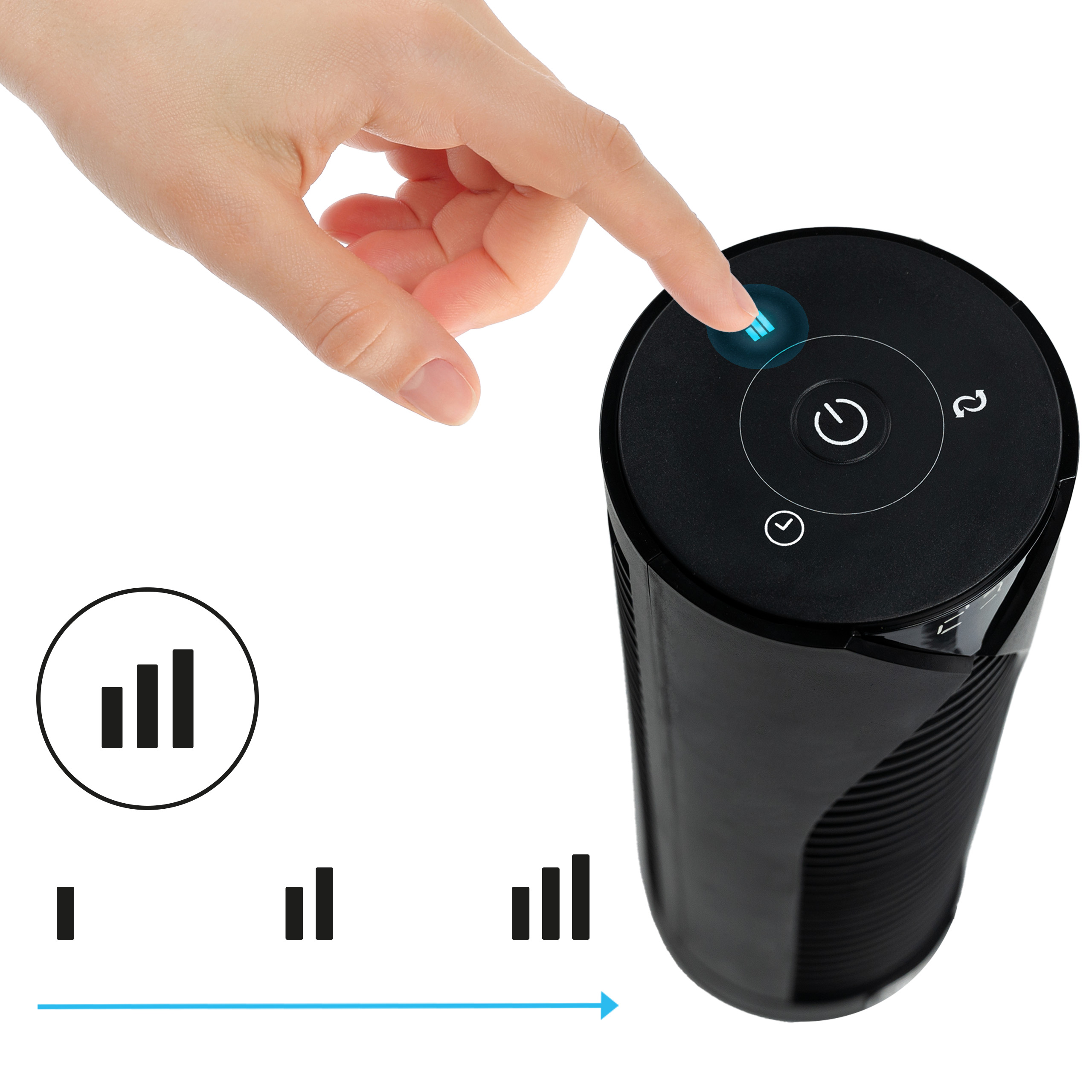 3 SPEED LEVELS
Speed adjustment button - thanks to it you can set one of 3 available speed levels:
Adjust the operating speed of the device to your personal needs.
The lowest value will prove excellent for example: in a child's room or near the bed.
Choose the highest value if you want to quickly cool the entire room on a particularly hot day.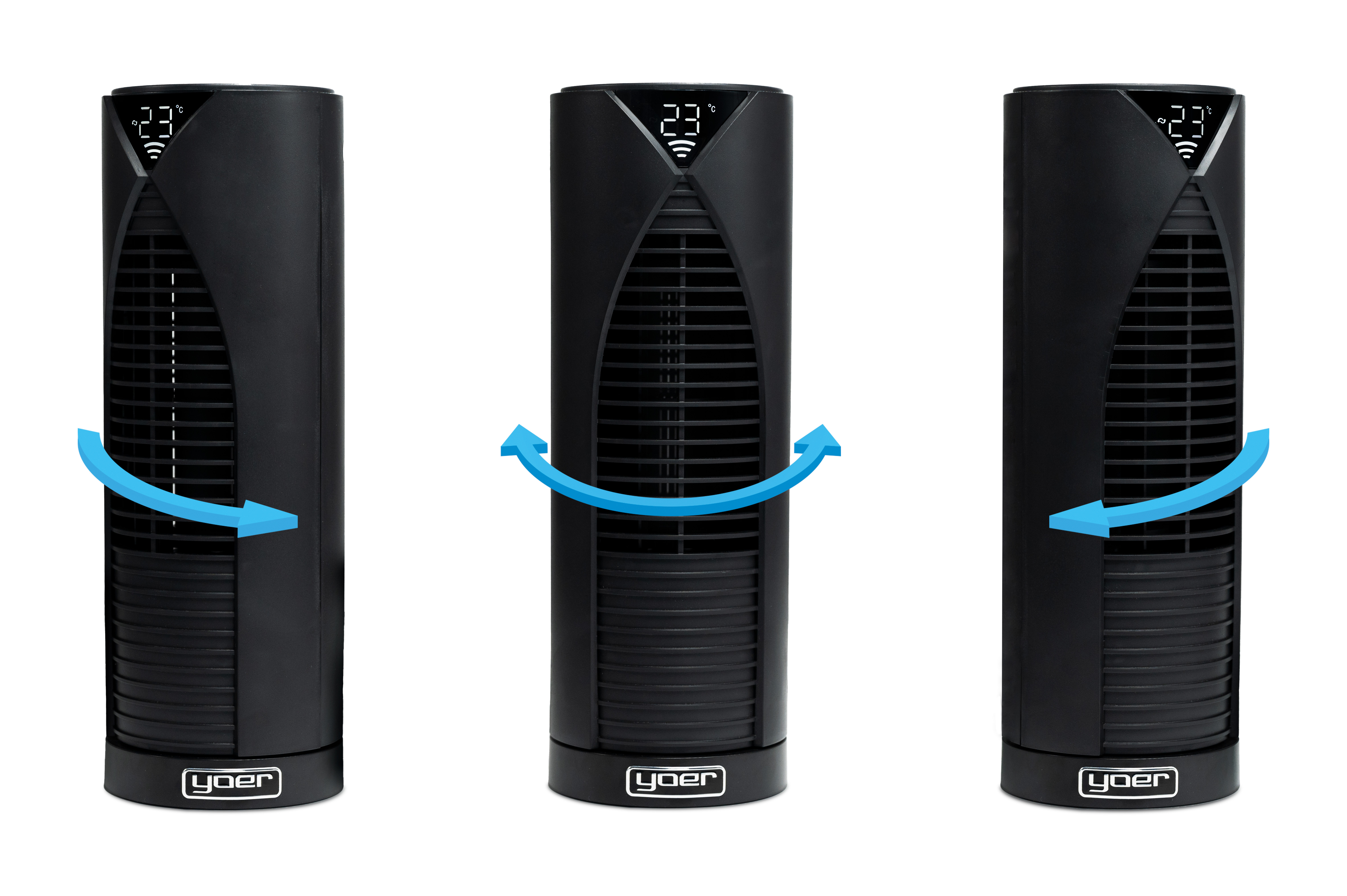 OSCILLATION FUNCTIONALITY
Oscillation function - thanks to the oscillation function you are able to set the direction of the airflow and provide continuous air circulation in a room.
Turn on the oscillatory movement function for the fan to begin to automatically swivel in the 0-90° range.
When swiveling, the device will generate refreshing, natural air circulation.
This allows for quicker cooling of the room and increases ventilation range.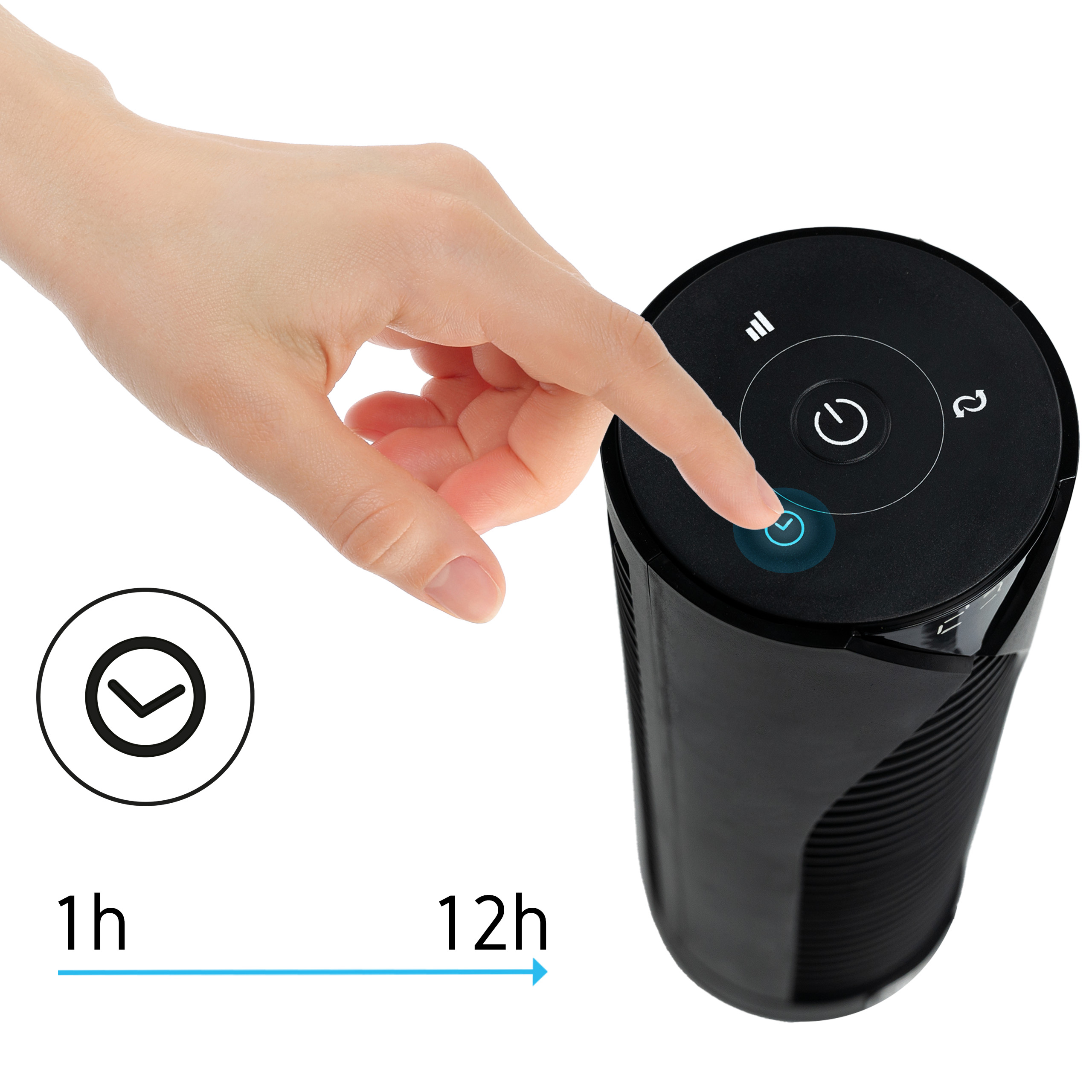 TIMER
Modern technology will allow you to fully enjoy the tower fan functionalities.
12-hour timer - program the device operating time from 1 to 12 h by pressing the button.
Quick operating time programming:
Press the timer button.
Program the operating time of the device with the help of the timer button - every single click coresponds to 1h.
DONE - the fan will shut itself down after the set time has elapsed.
Using the timer you can set the time after which the fan is to automatically shut itself down.
This function is especially useful at night, as you may fall asleep with the fan on without worrying about turning it off.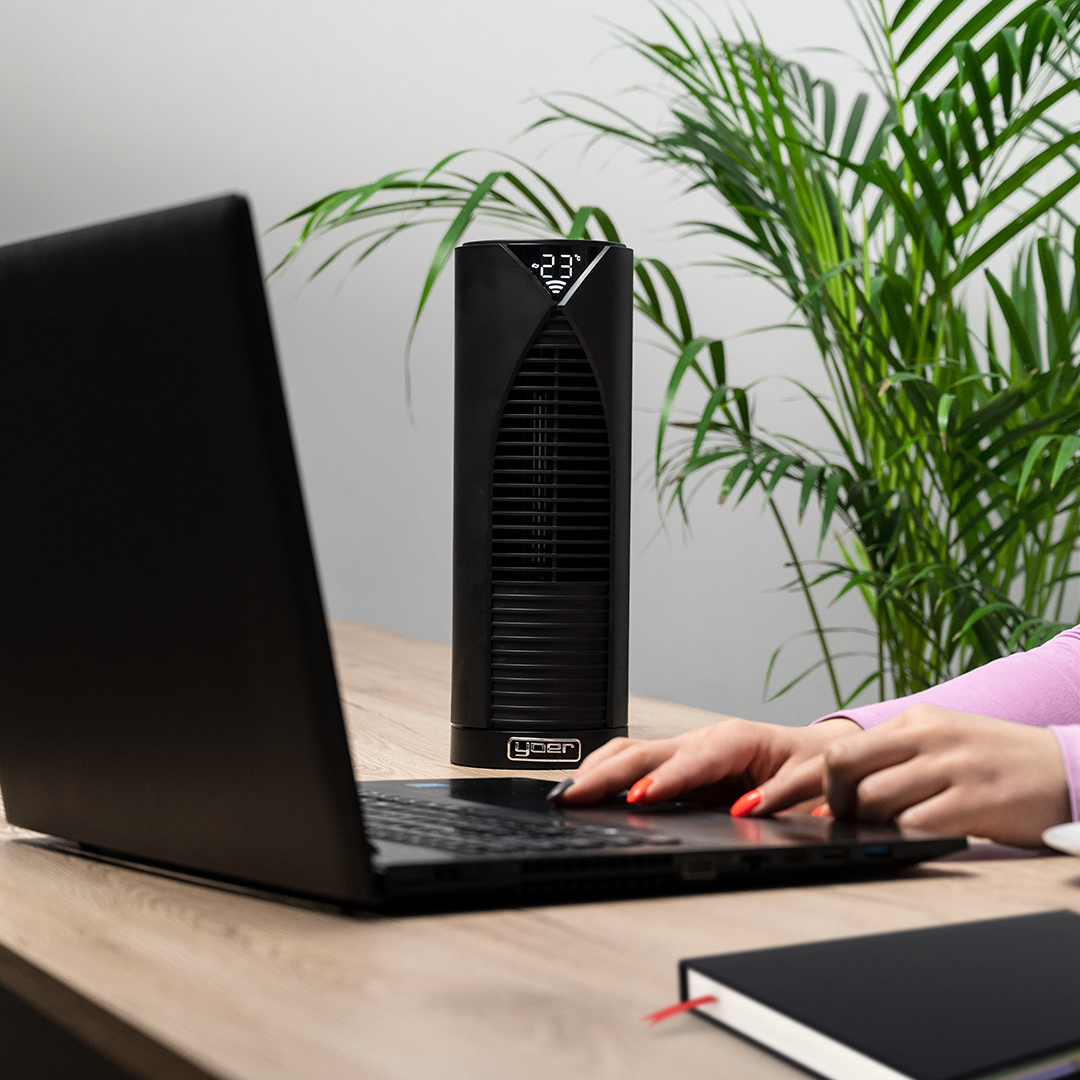 MODERN DESIGN
The fan stands out not only with its functionalities but high quality of workmanship and unreplaceable, elegant look as well - it will become an effective addition for every modern room.
Universal, modern look - suits perfectly every interior
Easy-to-read LED display
Minimalistic, touch control panel - elegance and ease of control
Body made of high-quality polymer - timeless elegance and years of use
Convenient - it does not take up much space and it is surprisingly lightweight.
If you flinch at the sight of huge and clunky cooling fans then a tower fan will be the best possible solution for you.
It will fit perfectly into a small apartment.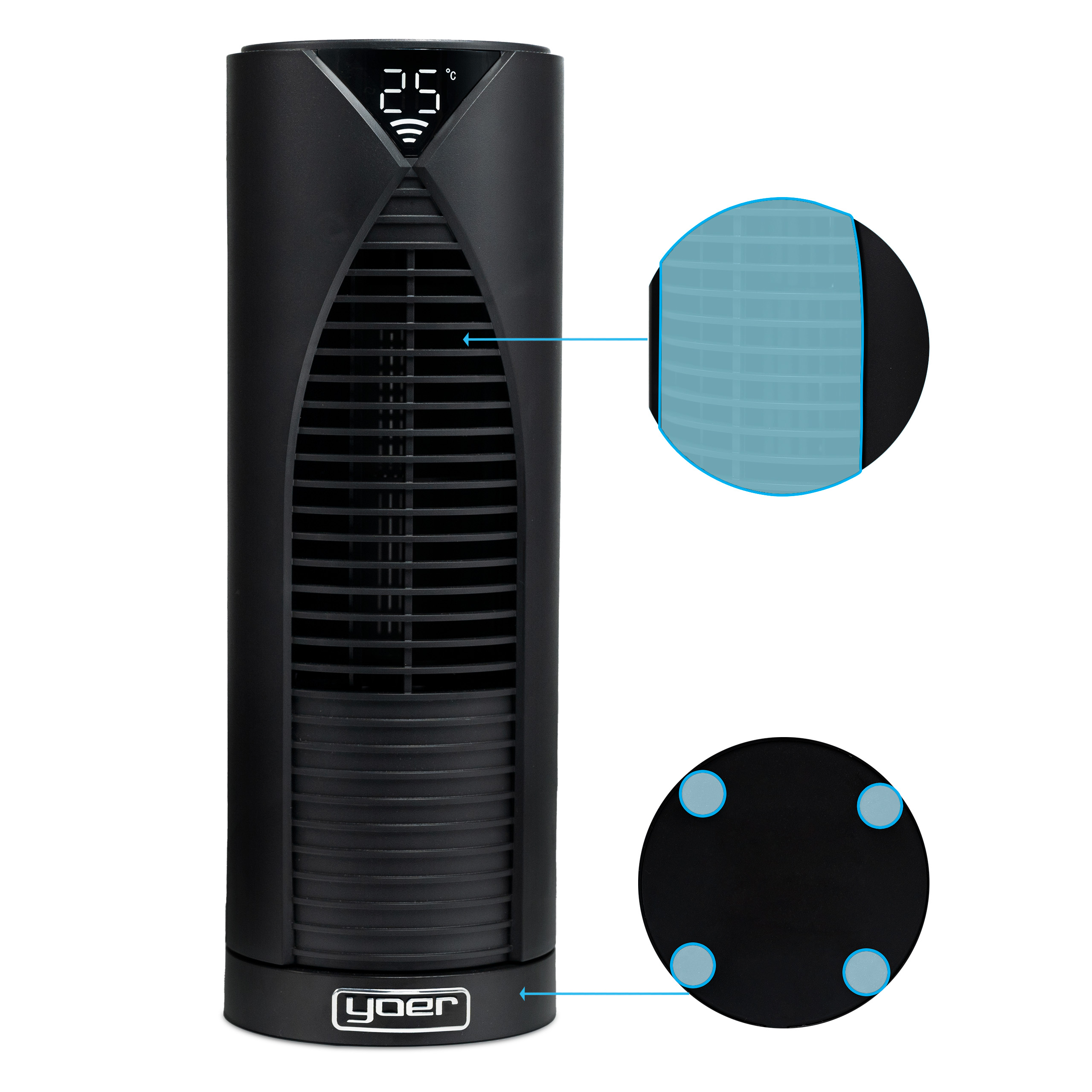 SAFETY
Protective guard:
covers the air inlet and outlet,
secures the internals of the fan,
makes contact with the moving parts of the fan impossible.
ensures even air distribution in the room.
Anti-slip feet:
assure full device stability,
prevent the device from accidental movements, especially in the oscillation mode.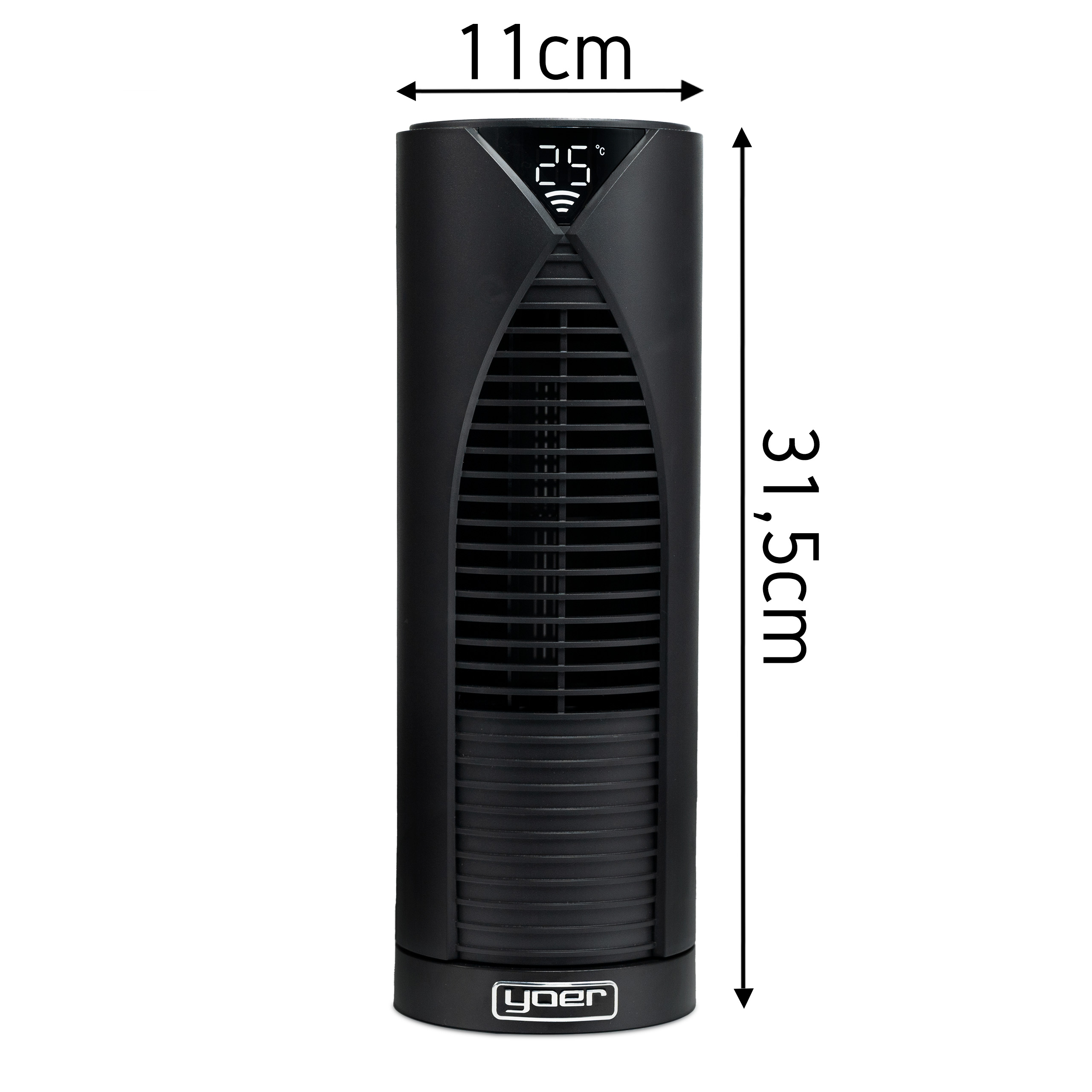 TECHNICAL SPECIFICATION:
Power- 20 W
Max. air velocity - 1,75 m/s
Max. fan flow rate - 8,83 m³/min
Ventilation range - 5,1 m (16.7 ft)
Noise level -40 dB
Power cord length - 150 cm (1.7 ft)
Weight- 1,2 kg (2.6 lb)
Fan dimensions - 11 x 11 x 31,5 cm (4.3 x 4.3 x 12.4 ")
Material - polymer
Color- black
Polish power plug - 220-240V, 50/60Hz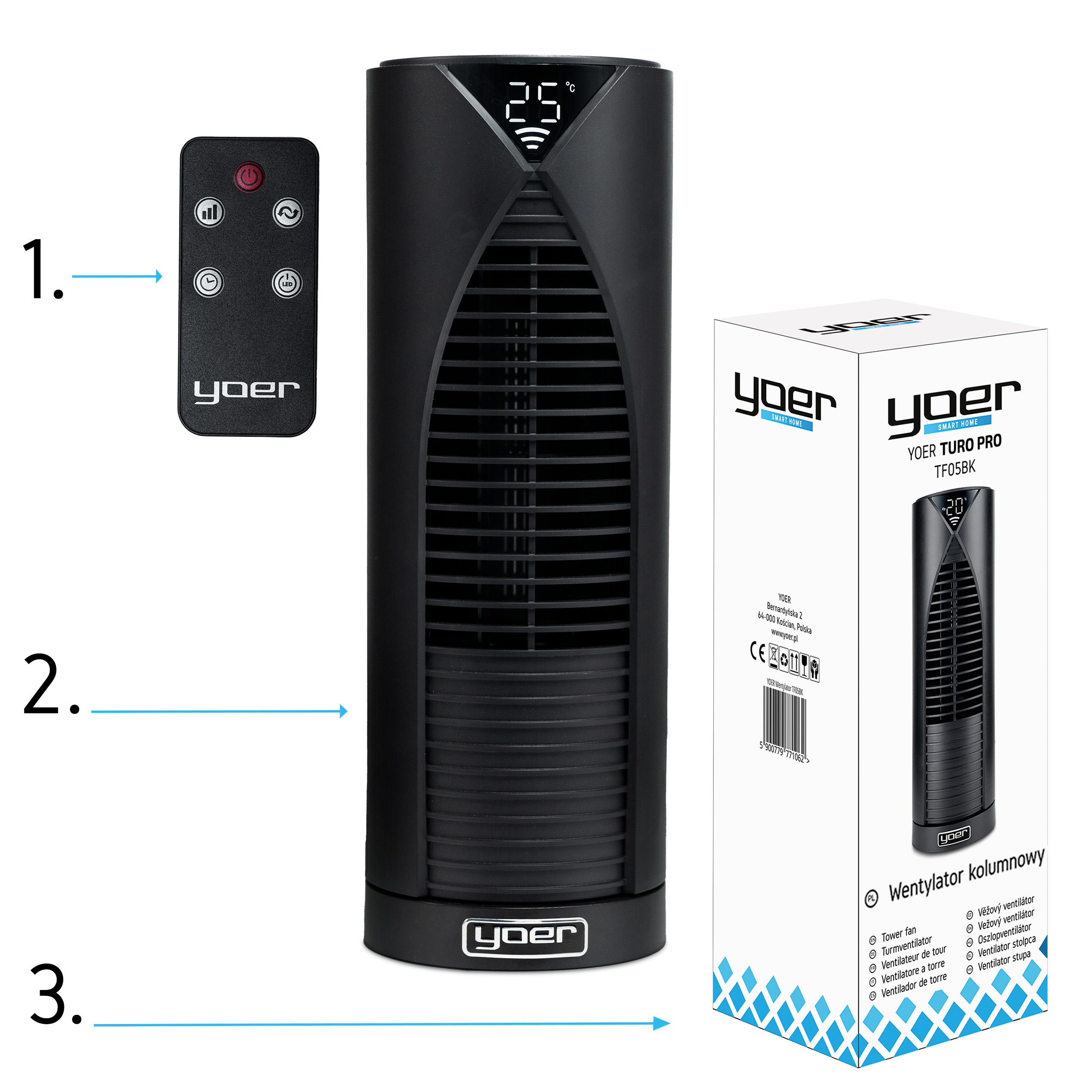 EQUIPMENT
Remote control + 1x CR2025 - 3V battery
Tower fan
Original packaging
YOU WILL RECEIVE:
Tower fan - details above
YOER PLATINUM SECURITY card
PL / EN Instruction manual.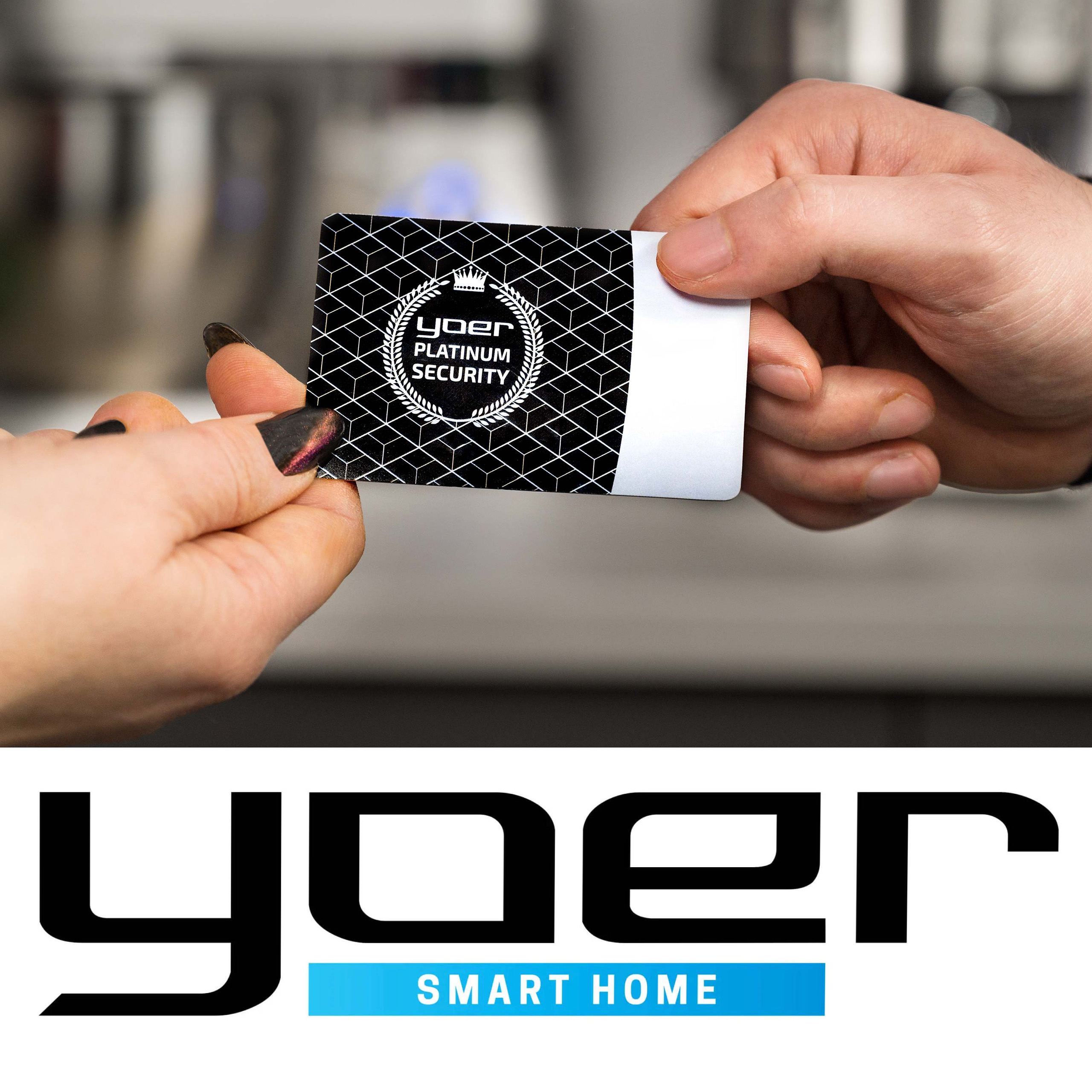 YOER PLATINUM SECURITY
When purchasing products from the official Yoer store you receive the YOER PLATINUM SECURITY package, which is an assurance of additional protection.
YOER - POLISH MANUFACTURER AND BRAND
YOER constitutes an excellent proof that high quality of products does not necesserily go in hand with high prices.

YOER TF05BK Instruction manual - Click here