Language
Tower fan with cooler and ionizer YOER Cascado TFC06G
YOER TFC06G Tower fan with cooler, ionizer and remote control, Wi-Fi function: 60 W power, 3 speed levels, cooler, ionization, oscillation, cooling, air purifying and humidifying, 4 ventilation modes, natural wind mode, sleep mode, child mode, 12-hour timer, 10 m ventilation range, 39 dB noise level, cooling cartrige.
1289.00
-54%
598.00
Lowest price in the last 30 days:
Order within
and we will send the package today

Shipping within

Shipment within 24 hours

Availability

Small

2

pcs.
| | |
| --- | --- |
| Bar code | |
| EAN | 5900779771086 |
Description

Instruction manuals
TOWER FAN WITH COOLER AND IONIZER YOER Cascado TFC06G
PRODUCT DETAILS
60 W power: new devices
Remote control via App: possibility of remote control via smarphone or tablet with Android or iOS system.
10 m ventilation range: the fan briskly cools the entire room
39 dB noise level: quiet operation
Cooler:humidifying and cleaning air + twice as effective cooling
Ionizer: cleans the air of viruses and bacteria
4 ventilation modes: Normal, Natural wind, Sleep, Child
3 speed levels: low, medium and high
0-90° oscillation angle: ability to engage oscillatory motion
Remote control with a 15 m (49.2 ft) range: operate the device without getting off the couch
12-hour timer: the device will shut itself down after you have fallen asleep
Display off button: comfortable sleep at an ideal temperature and in complete darkness
Wide base: full appliance stability
Protective guard: covers up the air outlet and provides safety
Handle with remote control compartment: easy carrying
Power plug hook
CONSTRUCTION - MAIN COMPONENTS
Touch control panel
Backlit LED display
Air outlet with guard
Remote control
Open/close cooler water reservoir
Cooler water level indicator
Easy carrying handle
Remote control compartment
Power cord hook
Cooler water emptying plug
Two-piece, stable device base
QUIET, STRONG AND EFFICIENT
39 dB QUIET - the fan genegares sound of only 39 dB during operation at the lowest speed setting. Owing to that, you can easily sleep with the appliance on.
60 W STRONG - the high power of the fan guarantees its fast and efficient operation.
10 m EFFICIENT - the fan provides as much as 10 meters (32.8 ft) of range, which is sure to fill even large rooms with cool air in just a few moments.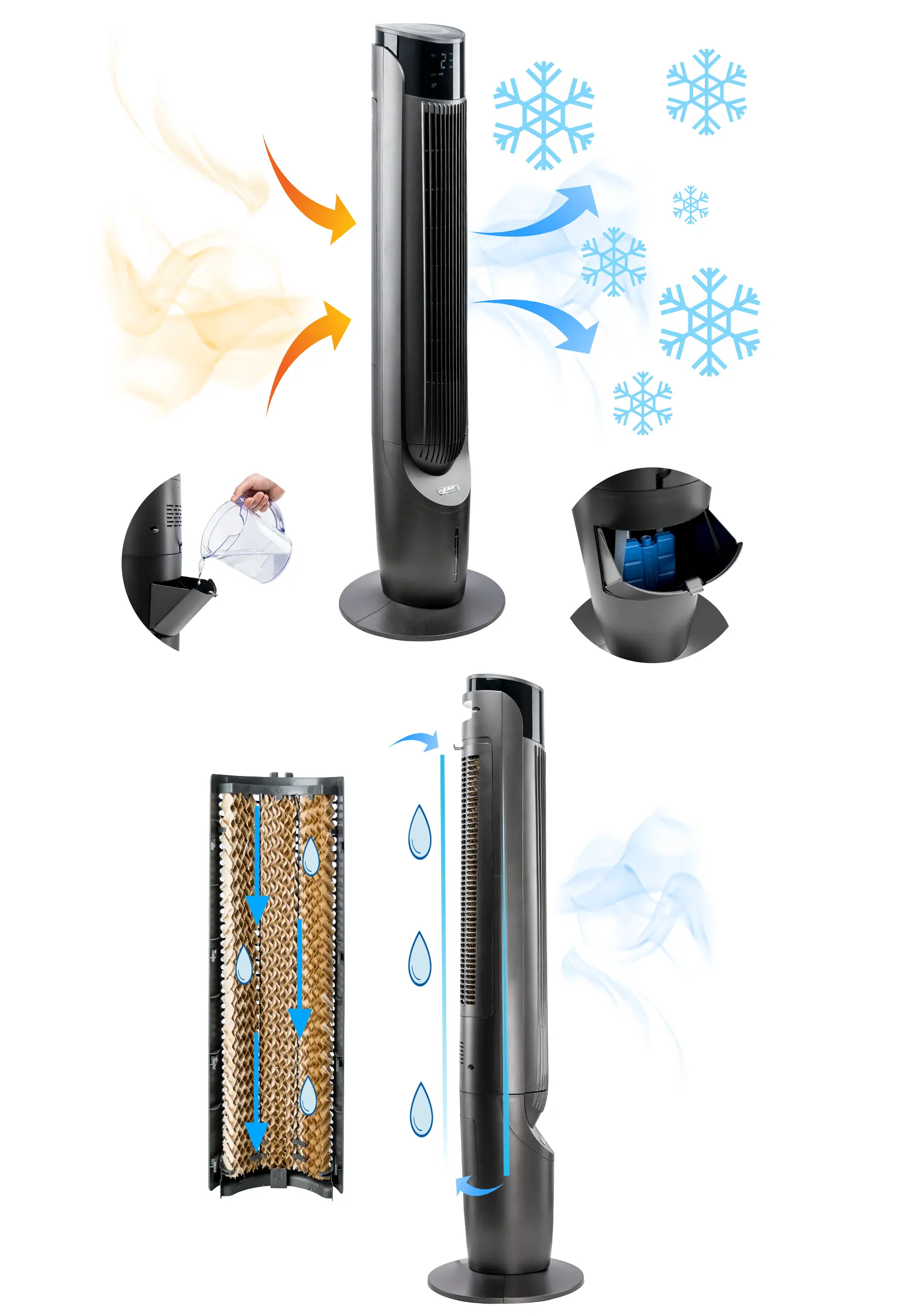 TWO TIMES MORE EFFECTIVE EVAPORATIVE COOLING
Thanks to the built-in eco-friendly cooler - the fan sucks in the air from the room and forces it through a specially profiled material soaked with water which is taken from the 2.8 l water reservoir, without depositing mist and ultrasounds unpleasant for animals. The air filtered in this way is simultaneously subjected to:
Cooling - the cooler significantly increases the device's efficiency by lowering the perceptible temperature of the room 2 times quicker compared to standard fans.
Mouisturizing - the fan serves also as a humidifier, maintaining an optimal humidity level and making it easier to breathe.
Purification - the cooler decreases the amount of dust and allergens in the air, which has a profound effect on your health.
Ionization - the ionization additionally cleans the air of allergens and prevents unpleasant electrostatic discharges
Evaporative cooling technology in comparison to standard air conditioning, is characterized by even twice as effective cooling without the air drying effect, lower electricity consumption and as a result reduction of CO2 gas emissions.
Along with the fan, you will receive a cooling cartridge for water reservoir, which ensures even more effective cooling and comfort during unbearable heat.
3 WAYS TO CONTROL THE DEVICE
Touch control panel - the comfortable and intuitive control panel gives you access to all device functions.
Remote control - supplied with the device is a remote control with a 15 m (49.2 ft) range, thanks to which you can control the fan without moving.
Power ON / OFF
Mode change button - allows you to select one of 4 ventilation modes:

Normal
Natural wind
Sleep mode
Child mode

Speed selection button - allows for choosing one of 3 available fan speeds: low, medium or high.
Cooler functionality button - engages the cooler, which humidifies and cleans the air while circulating water from the reservoir.
Oscillation functionality button - allows for enabling the oscillatory motion of the fan in the 0-90° range.
Timer button - allows you to pick a time period (1 to 12 hours) after which the device is to turn itself off.
Ionizer functionality button - enables the ionizer, which purifies the air by ridding it of circulating microbes.
LED display ON / OFF button - press the appropriate button on the remote to turn off the fan's display, so that you may sleep in complete darkness.
Application - possibility of remote control via smartphone or tablet, thanks to Wi-Fi connection.
WI-FI - CONTROLLING THE DEVICE VIA PHONE
The cooler is equipped with Wi-Fi functionality thanks to which the device can be controlled not only with the help of touch control panel and remote control but also by the mobile app thanks to the connection with Wi-Fi.
Control via Wi-Fi with the possibility of programming the fan operation on your phone or tablet thanks to easy to use app.
The app is available in Google Play Store and AppStore.
The app works on Android and iOS.
Programming and device control from anywhere with Internet access.
The app enables setting the device operation in the range of:
Turning the operation on and off.
Reading current room temperature.
Mode selection.
Planning the device shut down or turning on - up to 12h.
Cooling and ionization selection.
Making the display fade out.
LED DISPLAY WITH TEMPERATURE MEASUREMENT
Readable display - informs you of the currently active functionalities and serves also as a household thermometer. Plug the fan in and it will start displaying current room temperature.
Icons on the display:
Current room temperature indicator / Timer hours
Displayed value indicator (temperature or time set in the timer)
Cooler funcion icon
Speed setting indicator (low, medium, high)
Active Wi-Fi mode icon
Normal mode icon
Natural mode icon
Sleep mode icon
Units corresponding to the value on the display
Ionizer function icon
Oscillation function icon
Child mode icon
Air purifying FUNCTIONALITY - IONIZATION
Air ionizer - uses negatively-charged ions to neutralize positively-charged ions, which makes dust and microbes fall to the ground and no longer circulate in the air. Owing to that, you can breathe much cleaner, healthier air.
Take care of your health - the ionization functionality is especially recommended to asthma or migraine sufferers. Negatively ionized air also significantly improves sleep quality.
OSCILLATION AND ADJUSTABLE SPEED
Oscillation functionality - turn on the oscillatory movement functionality for the fan to begin to automatically swivel in the 0-90° range. This allows for quicker cooling of the room and increases ventilation range.
3 speed levels: depending on your preferences, you can choose one of 3 speed levels of the appliance: low, medium and high. The lowest value will prove excellent, for example, in a child's room, and the highest - when you want to quickly cool the entire room on a particularly hot day.
4 DIFFERENT OPERATION MODES - A WHIFF OF NATURAL WIND
3. 4 mode selections:
Normal - even ventilation at selected speed level.
NATURAL WIND - generates refreshing, pleasant air circulation based on chosen speed. The fan imitates irregular whiffs of natural wind using this method.
Sleep mode - the fan automatically begins work at chosen speed and will gradually decrease it to the lowest level. After 30 seconds, the display will automatically turn off.
Child mode - the fan will automatically set a 3-hour timer and enable the ionizer and oscillation functionalities. The appliance will begin work at the highest speed and gradually lower it to the lowest level. After 30 seconds the display will turn off automatically.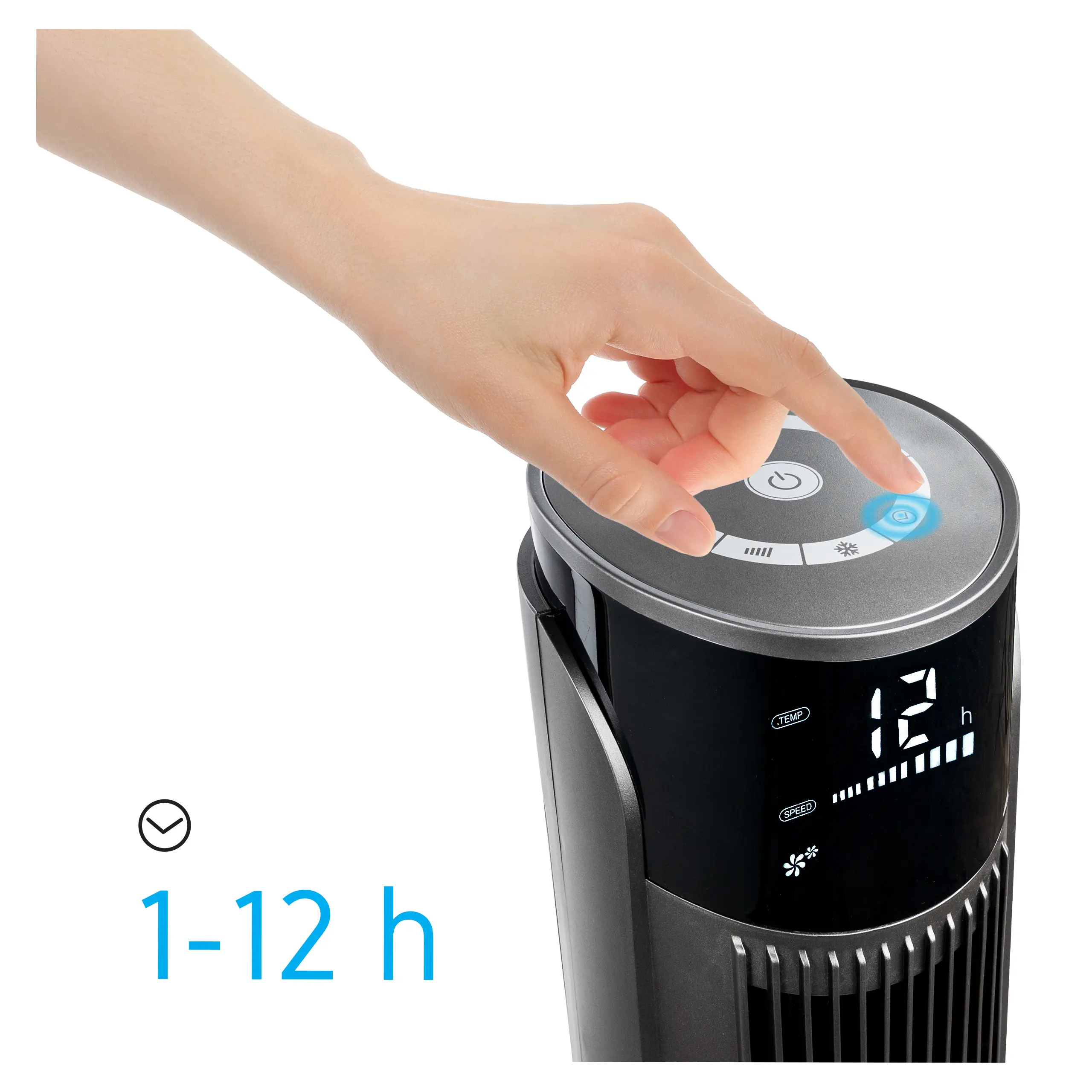 TIMER
12-hour timer - Using the timer you can select a time period after which the fan is to turn itself off.
The shortest possible fan operation time is 1 hour, and the longest - 12 hours.
Fall asleep peacefully with the fan turned on without worrying about turning it off.
Program the operation of the device via app outside the home!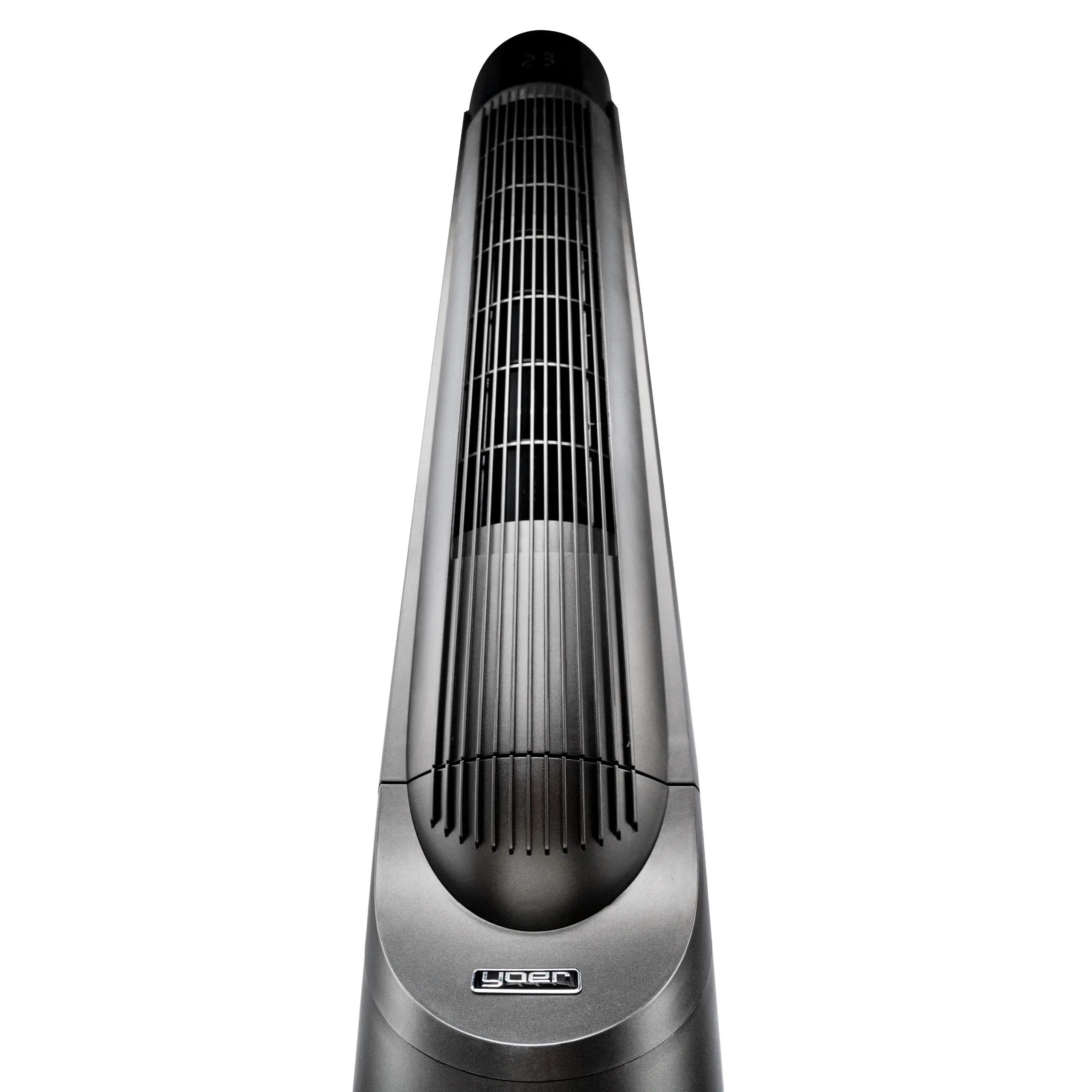 MODERN DESIGN
The fan is differentiated from others not just by its functionalities, but also the high build quality and its unique, elegant look - it will undoubtedly become an impressive addition to every modern room.
Universal, modern look - suits perfectly every interior
Body made of high quality polymer - timeless elegance and use for years
Easy-to-read LED display
Easier control
Convenient for your eyes
Minimalistic control panel - elegance and ease of control
Body decorated with YOER producer logotype
SAFE AND CONVENIENT
Wide, stable base - owing to the round, wide base the appliance is kept completely stable, especially in the oscillation mode.
Protective guard - covers the air inlet and outlet, thus securing the internals of the fan and making contact with its moving parts impossible.
Convenient handle - makes it easy to quickly and safety carry the appliance.
Power plug hook - allows for comfortably hooking the power cord to the appliance, thus protecting it from damage and enabling safe storage and moving of the fan.
Remote control compartment - store the remote control in the specially designated place to never lose it.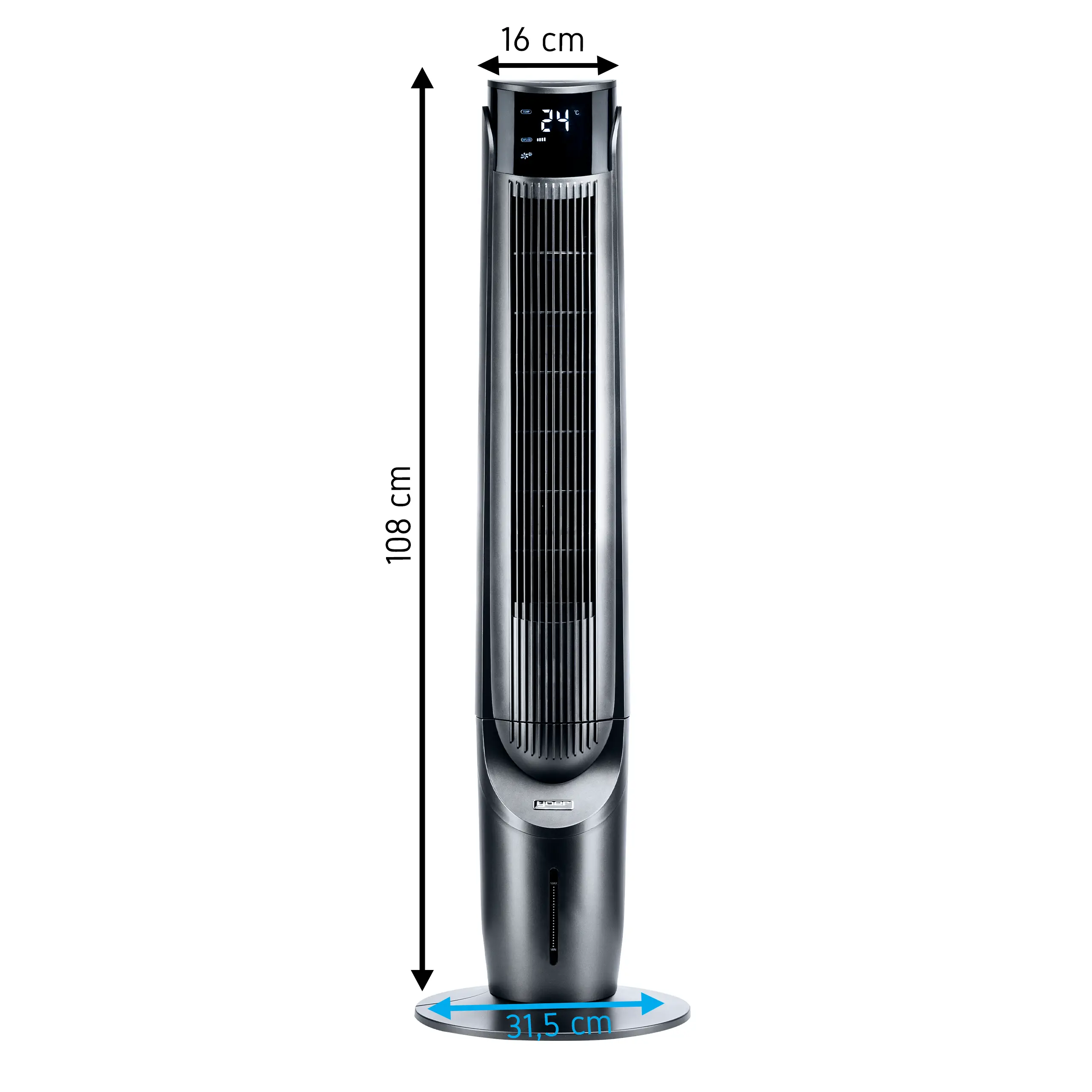 TECHNICAL SPECIFICATION
Power: 60 W
Max. air velocity: 2.66 m/s (8.7 ft/s)
Max. fan flow rate: 23.86 m³/min (842.6 ft³/min)
Noise level: 39 dB
Water reservoir capacity: about 2.8 L
Power cord length: 153 cm (5 ft)
Weight: 4.9 kg (10.8 lbs)
Dimensions: 16 x 16 x 108 cm (6.3 x 6.3 x 42.5'')
Diamater of the base: 31.5 cm (12.4'')
Color: Black
Polish power plug: 230V~ 50Hz
EQUIPMENT
Fan
Remote control + 1 x CR2025 - 3V battery
Water reservoir cooling cartridge
Two-piece base
Original packaging
YOU WILL RECEIVE
Tower fan- details above,
YOER PLATINUM SECURITY card,
Warranty card,
PL/EN instruction manual.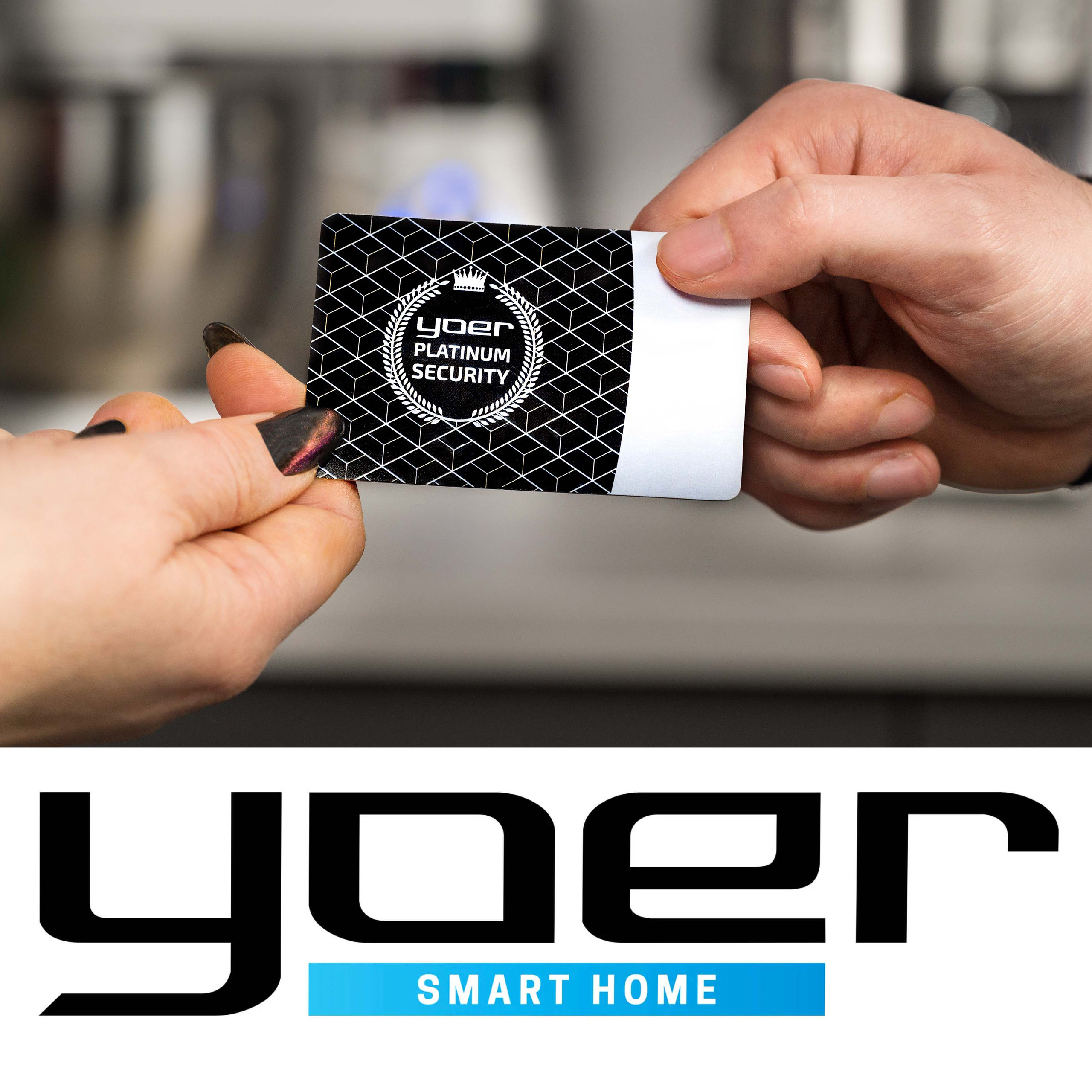 YOER PLATINUM SECURITY
When purchasing products from the official Yoer store you receive the YOER PLATINUM SECURITY package, which is an assurance of additional protection.
YOER - POLISH MANUFACTURER AND BRAND
YOER constitutes an excellent proof that high quality of products does not necesserily go in hand with high prices.

YOER TFC06G Instruction manual - Click here