Language
YOER CLEVER-COOK SC4502S Slow Cooker - Electric Ceramic Pot with Timer
4.5L ceramic pot, Digital display, Stainless INOX steel body, 16 h timer, Delayed start functionality
238.00
-21%
188.00
Lowest price in the last 30 days:
Order within
and we will send the package today

Shipping within

Shipment within 24 hours

Availability

High

164

pcs.
| | |
| --- | --- |
| Bar code | |
| EAN | 5906874237045 |
Description

Instruction manuals
Slow Cooker - Wolnowar - Elektryczny garnek ceramiczny z programatorem czasowym YOER CLEVER-COOK SC4502S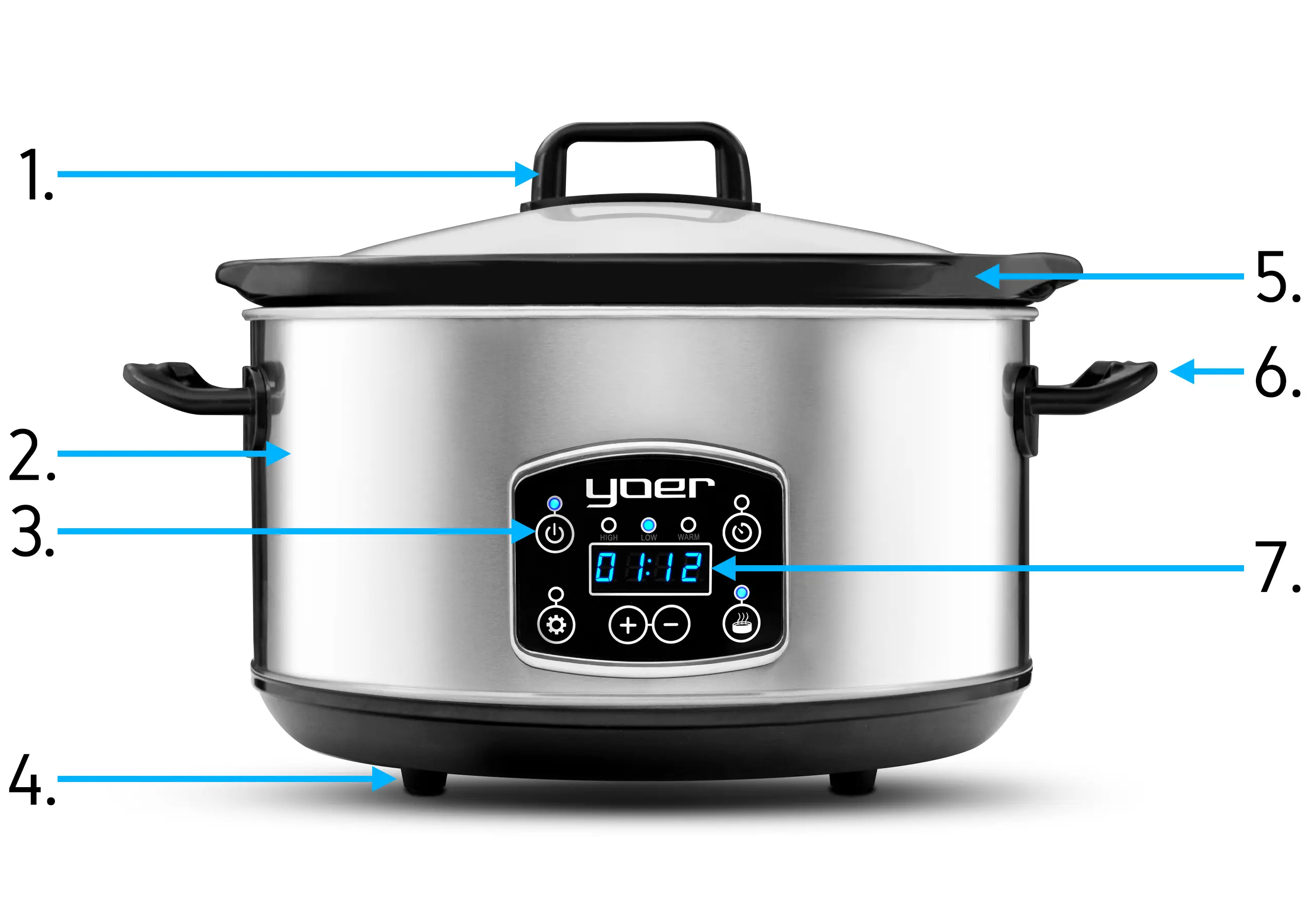 PRODUCT DETAILS
Power: 280 W
Color: Silver with black acents
Capacity: 4,5 L
Power adjustment: Yes, 3 steps
Touch control panel: Yes
LCD display: Yes
Dishwasher-safe: Yes
Body: Brushed INOX stainless steel, polymer
Additional functionalities: Delayed start, temperature sustain, 16-hour timer
Supplied accessories: Ceramic pot, glass lid
CONSTRUCTION-MAIN COMPONENTS
Tempered glass lid with handle
Brushed INOX stainless steel body
Touch control panel
Anti-slip base
Removable ceramic bowl
Heat-resistant grips
LCD display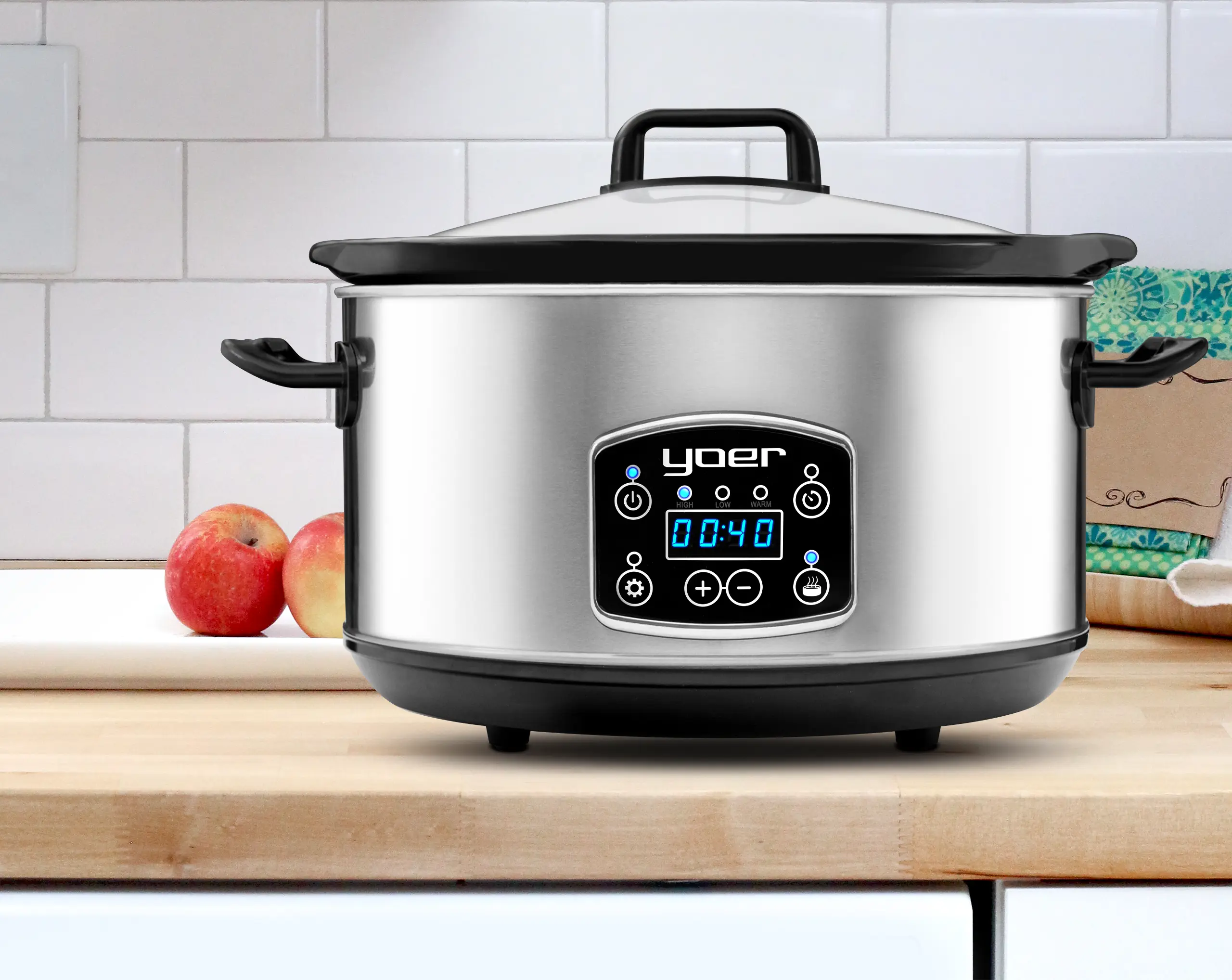 CAPACIOUS AND FUNCTIONAL
4,5 L capacity - allows for preparing several servings of delicious dish at once, thanks to which you will be able to prepare dinner for several days or a meal for the whole family.
DIGITAL LCD DISPLAY AND CONTROL PANEL
Touch control panel with built-in display - makes it easy to adjust settings of your device to your needs. Currently selected settings are indicated with LEDs over the buttons on the control panel. The active cooking mode is indicated above the digital display.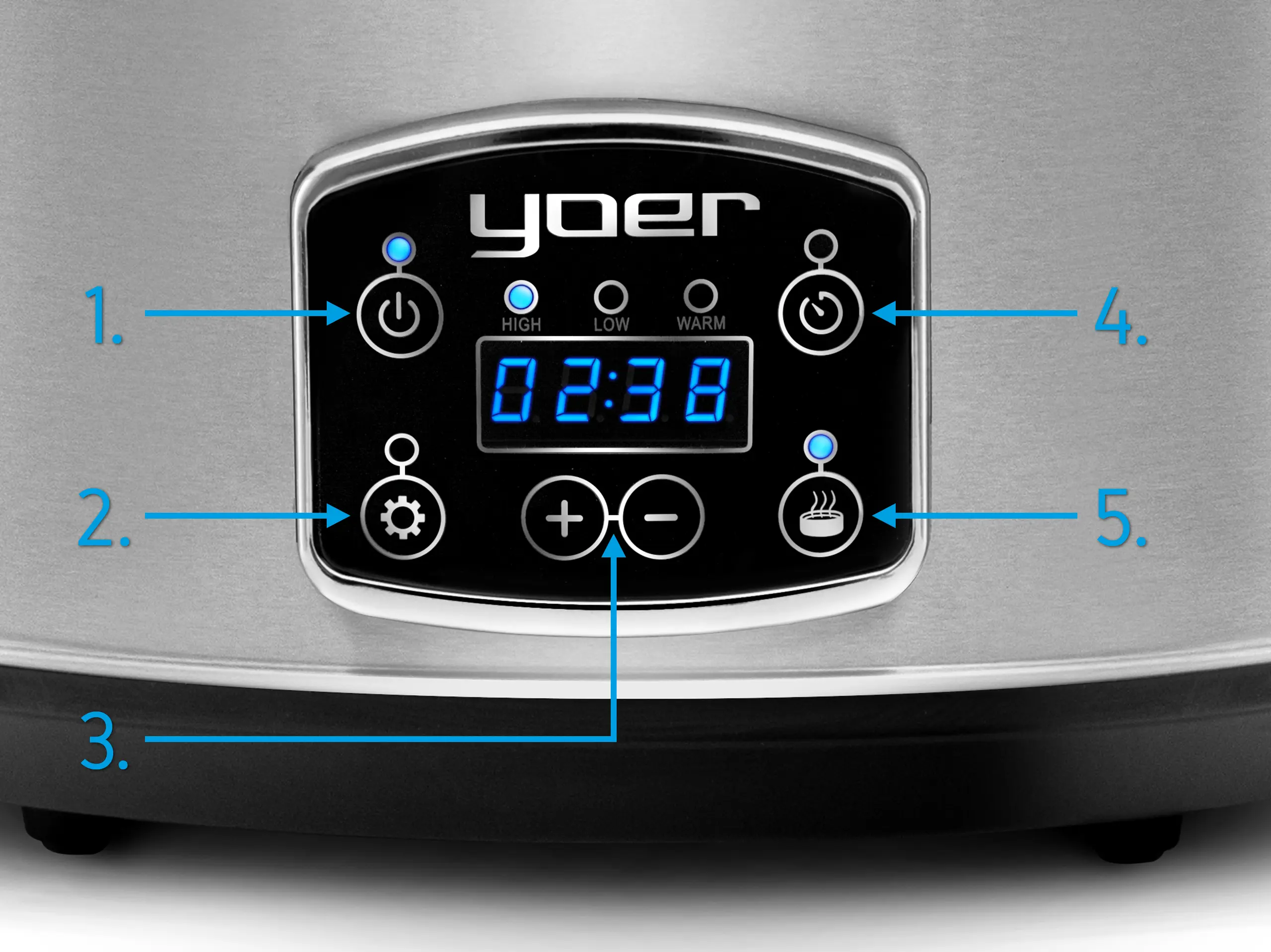 FUNCTION BUTTONS
Start/stop - turns the appliance on or off.
Three-step power adjustment - allows for switching cooking modes:

2 cooking programs: low and high - make it easier to perfectly match the slow cooker's power with a given dish.
Temperature sustain program (WARM): engages automatically after cooking has finished. It is exceptionally useful especially when you do not want to serve the dish immediately after cooking.

Timer adjustment - these buttons allow the user to pick the exact delay or timer values.
Delayed start functionality - will begin the cooking process at the time you choose. Owing to this functionality you can plan your cooking according to your schedule. Even if you get back home late, a hot meal will be waiting for you.
Timer - allows for setting the time (16 h max.) after which the appliance is to turn itself off.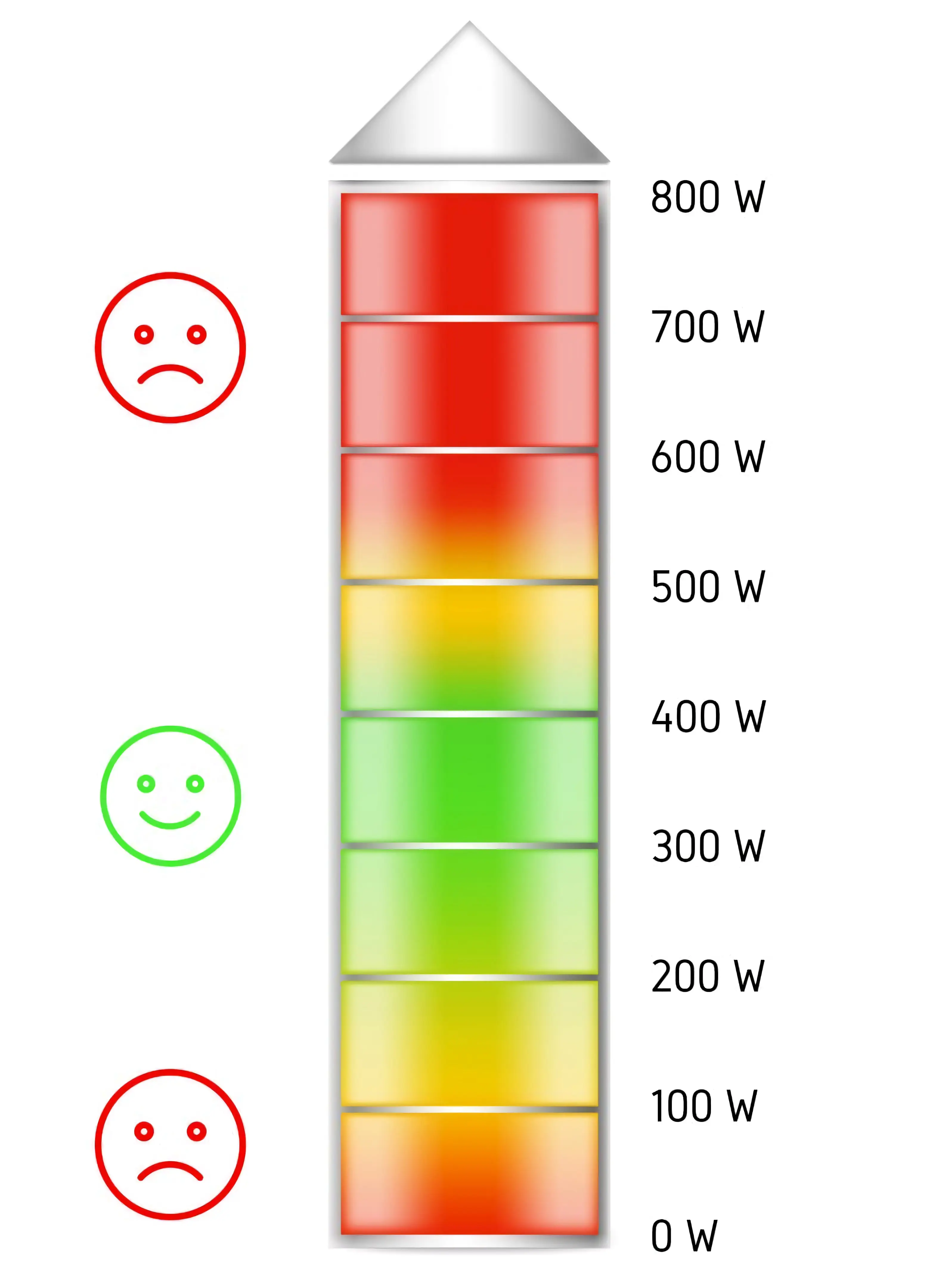 ENERGY-EFFICIENT AND HEALTHY COOKING
Optimal 280 W power - the best chefs in the world make the choice to buy slow cookers. The long and slow cooking process gives the best results, while saving energy.
Economical cooking - the slow cooker is exceptionally efficient. You will only pay 1.15 PLN (0.23236 EUR) for 6 hours of cooking at the highest setting (prices may vary depending on country and power supplier).
Lower power bills - the slow cooker belongs to some of the most energy efficient devices. Despite the long operation, it uses less energy than a gas or electric cooker, which results in lower power bills than when using traditional household appliances.
Why is optimal power so importnat?

Insufficient power - may result in undercooked dishes, which formidably influences their taste,
Too much power - may cause high energy consumption, which makes your wallet thinner. If power is too high, prepared dishes might turn out to be dry, burnt or devoid of taste and nutritional values.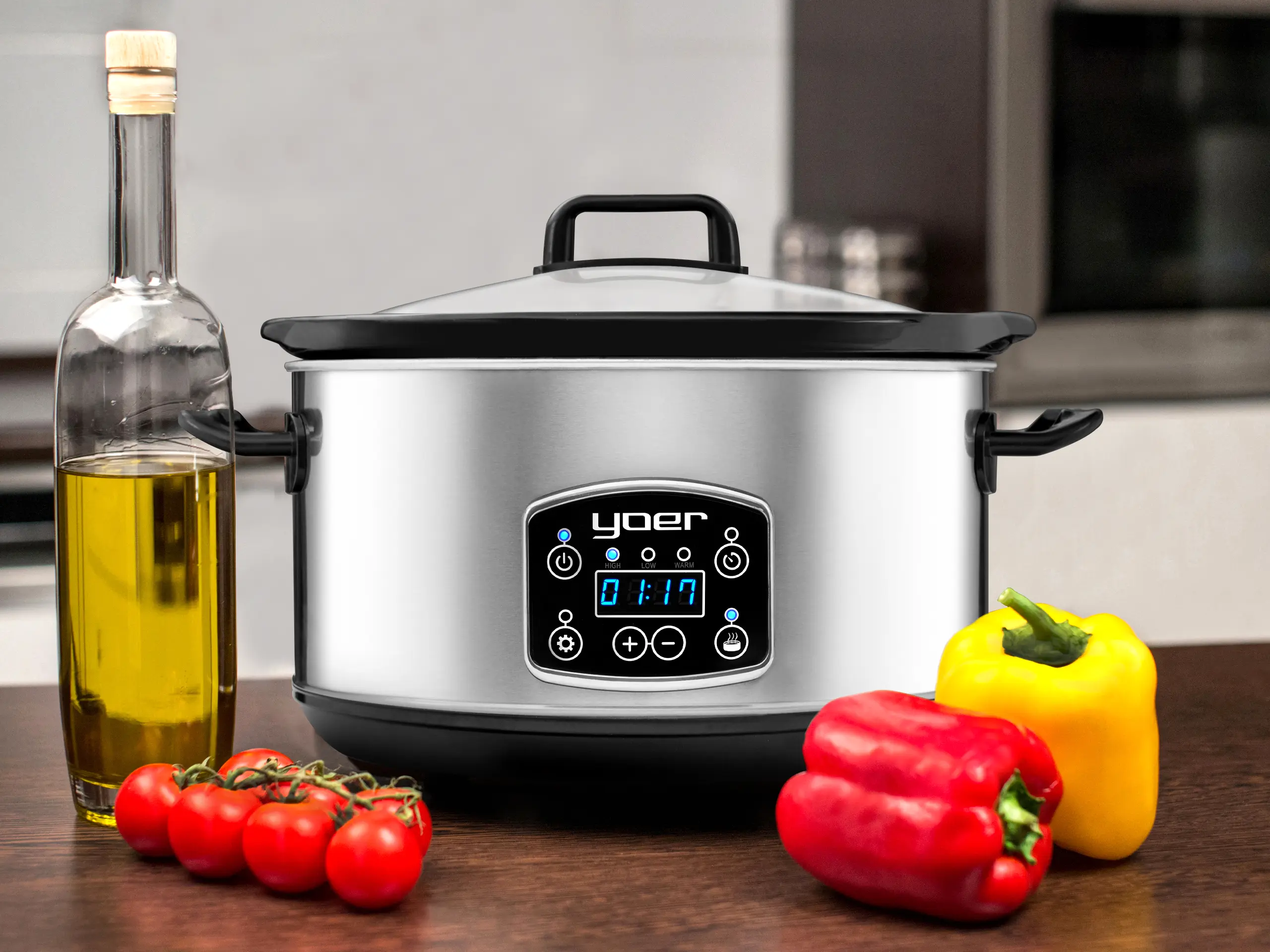 HEALTHY COOKING WITHOUT FAT
Limit fat consumption - you do not have to use large amount of fat in the slow cooker, you can even completely forget about it. The slow cooker, while cooking at a finely tuned temperature ensures that the nutritional values of food remain intact. Most of your recipes can be easily adapted to work with a slow cooker, and all dishes will gain a deeper and more pronounced taste.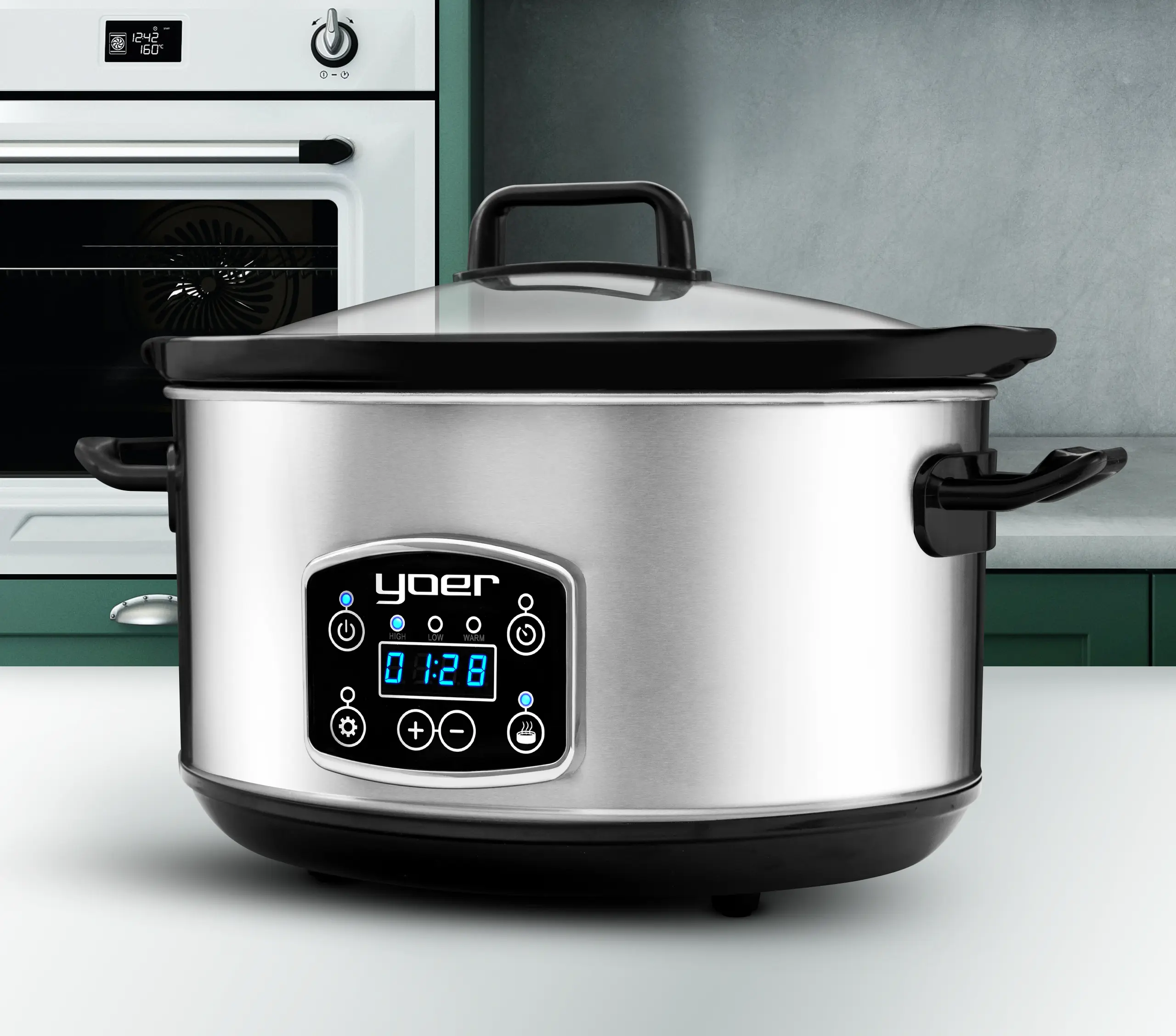 MODERN DESIGN AND STURDY CONSTRUCTION
INOX stainless steel body - the body of the slow cooker is made of high quality INOX stainless steel. Notable is also the LCD display, which not only makes it easier to operate the appliance, but also gives it the exclusive look.
Heat-resistant handgrips - provide the ease of carrying, without the need for oven mitts. They make using the device highly convenient, and take away the worry of accidental burns.
Profiled handgrips - provide a comfortable and trustworthy grip when you need to carry the slow cooker.
Glass lid with handle - allows for monitoring of the dish preparation process, without the need for constantly lifting the lid up. As a result, the ingredients in the pot do not lose their heat.
Anti-slip feet - the base of the slow cooker is equipped with anti-slip feet to ensure the device remains stable during work.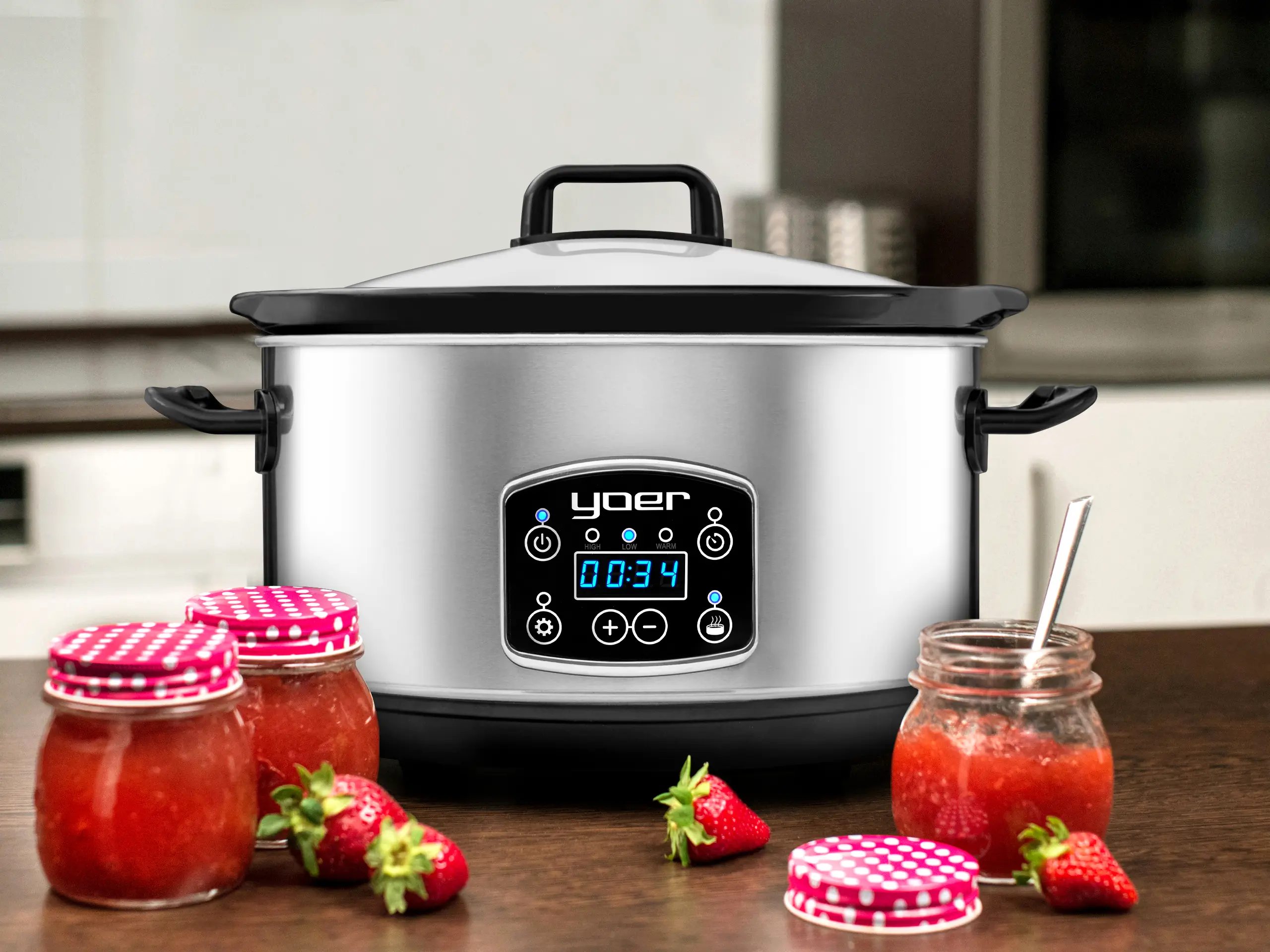 VERSATILE USE
Wide variety of dishes - the device is great for preparing a myriad of different dishes, such as:
Soups and broths,
Tender meats,
Pasta and rice dishes,
Single-pot dishes,
Goulashes,
Meatballs,
Stews,
Stuffed cabbage rolls,
Curries,
Chili con carne,
Stewed cabbage,
Cakes,
jams, marmalades and plum stews.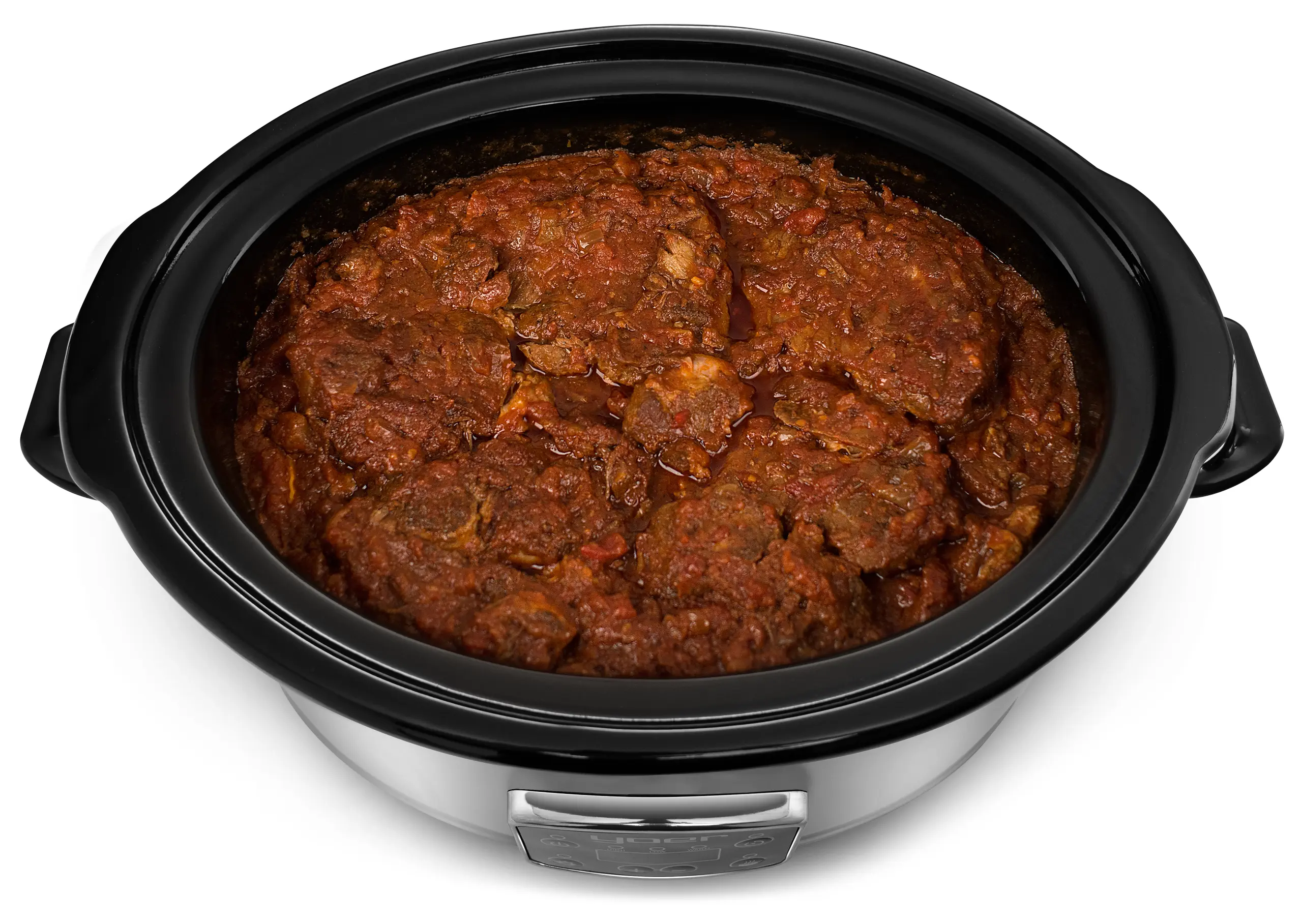 EXAMPLES OF SLOW COOKER DISHES:
Meatballs, goulashes and other meat-based dishes - the device enables preparing a variety of meat-based dishes. Owing to the low stewing temperature, pork, as well as beef will become incredibly tender.
Pulled pork:
Cooking time: 8 h
Program: LOW
Power usage cost: around 0,72 PLN (0.14548 EUR)
Power consumption: 1,2 kWh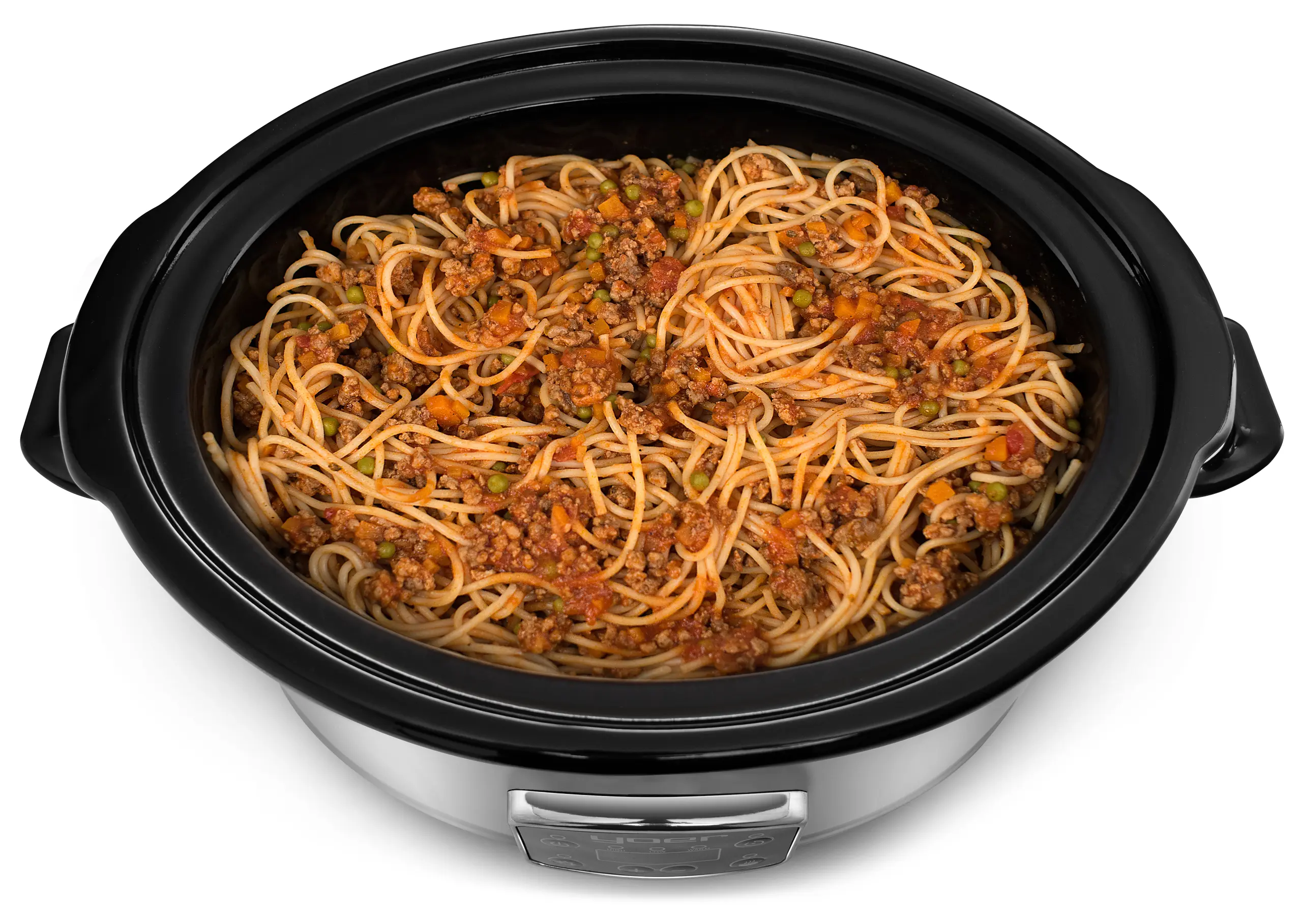 Pasta-based dishes - the slow cooker will excel in preparing delicious pasta-based dishes, including spaghetti bolognese, carbonara and lasagne.
Spaghetti bolognese:
Cooking time: 4 h
Program: HIGH
Power usage cost: around 0,77 PLN (0.15558 EUR)
Power consumption: 1,28 kWh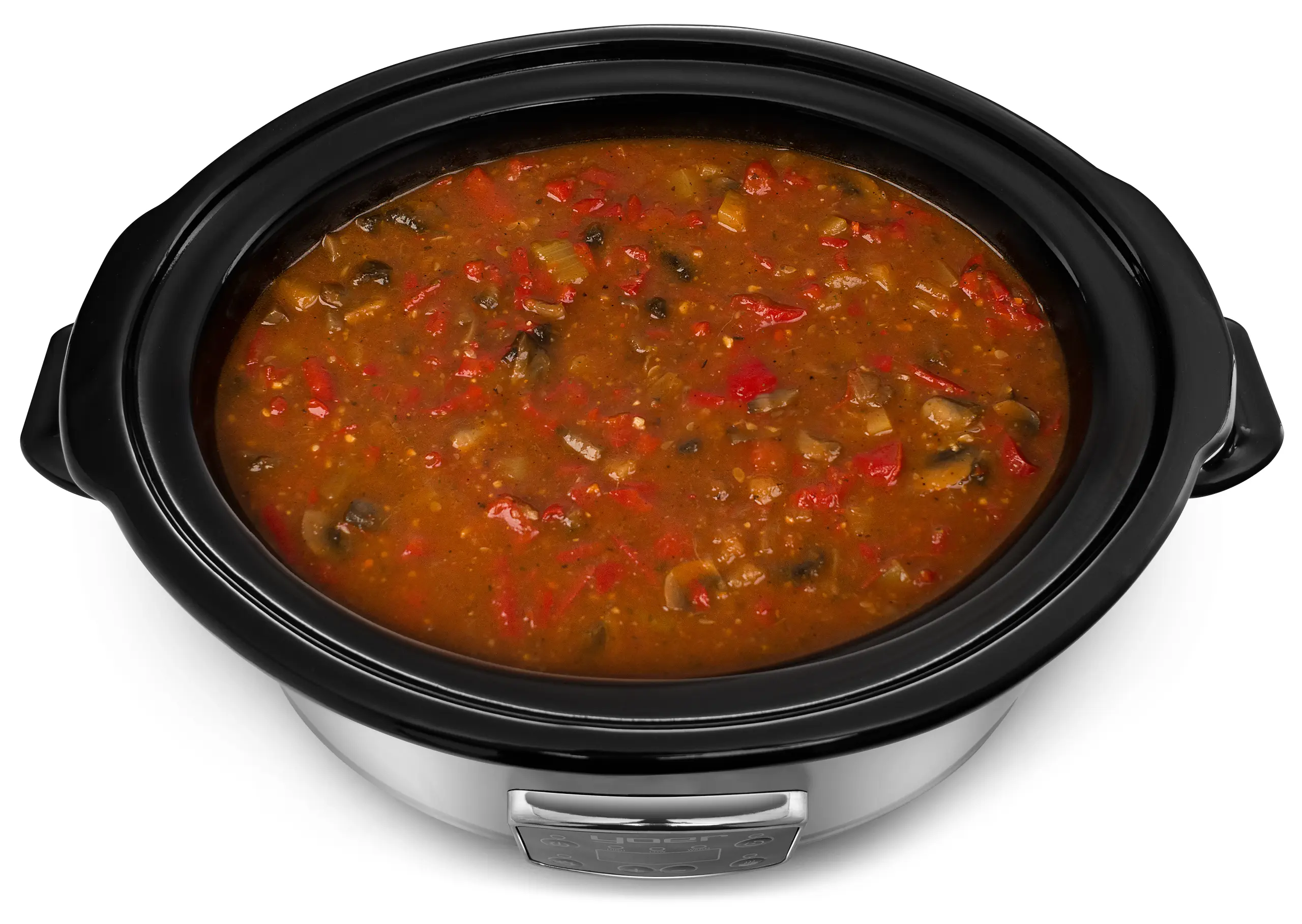 Lecho, soups and broths - the device is a perfect solution for preparing a wide variety of soups, especially chicken soups and vegetable lecho, as well as other single-pot dishes.
Leczo:
Cooking time: 6 h
Program: HIGH
Power usage cost: around 1,15 PLN (0.23236 EUR)
Power consumption: 1,92 kWh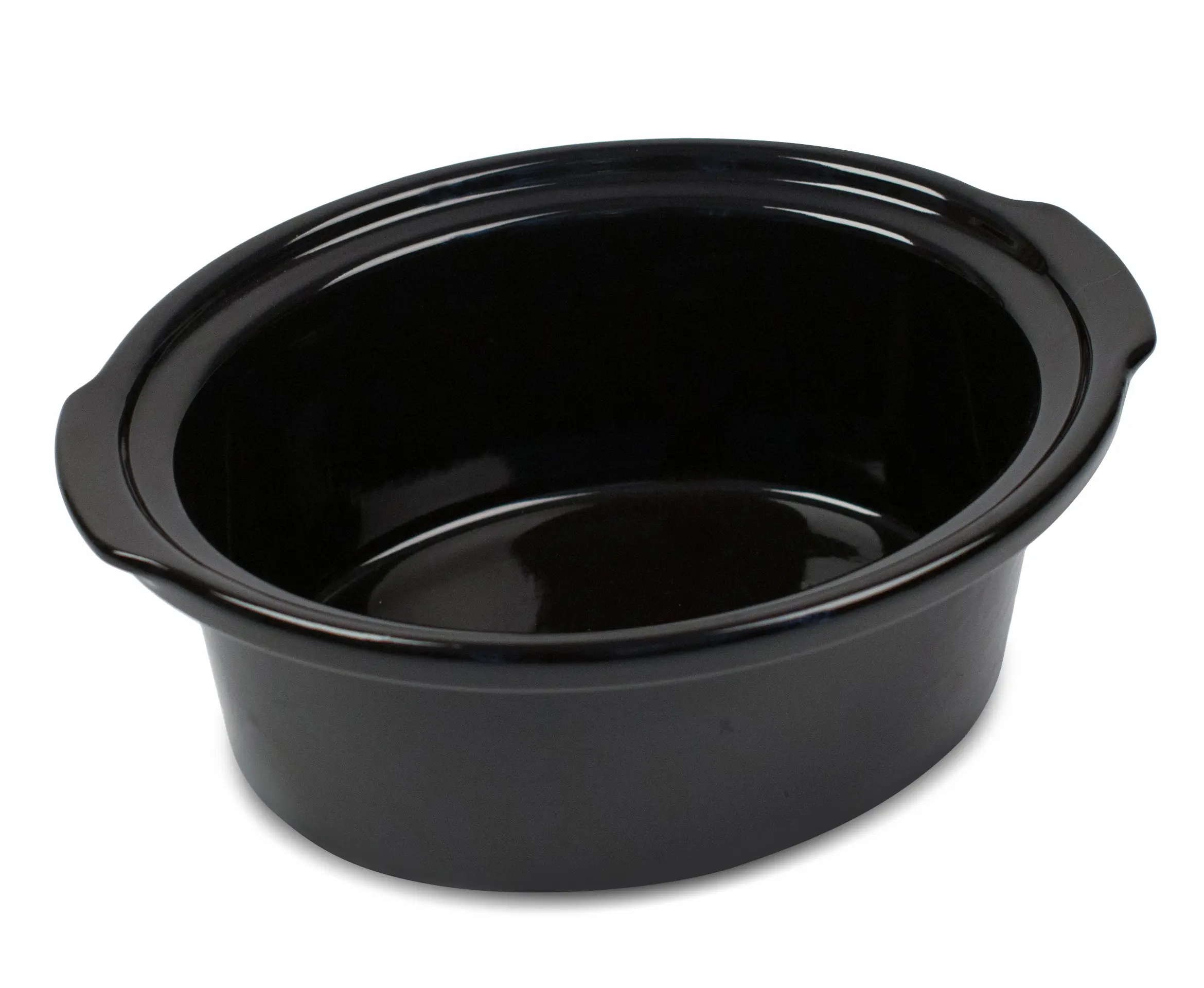 REMOVABLE CRAMIC POT
Perfectly conducts and spreads heat - your dishes will keep their temperature for a long time.
High quality ceramic coating - ensures easy and quick cleaning without the need for scrubbing. The coating is also resilient to scratching. The food does not stick to the pot, which minimizes the risk of burning.
Does not contain PFTE polymer - the composition of the coating does not include teflon. This makes it a safe for humans, eco-friendly solution.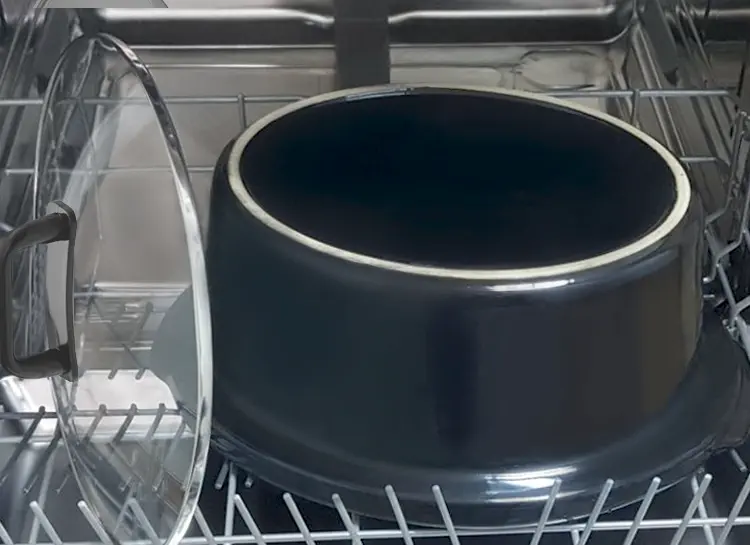 EASY TO CLEAN
Dishwasher-safe - the pot and the lid can be cleaned with running water, additionally, non-electrical parts can be washed in a dishwasher to save time for you and your family.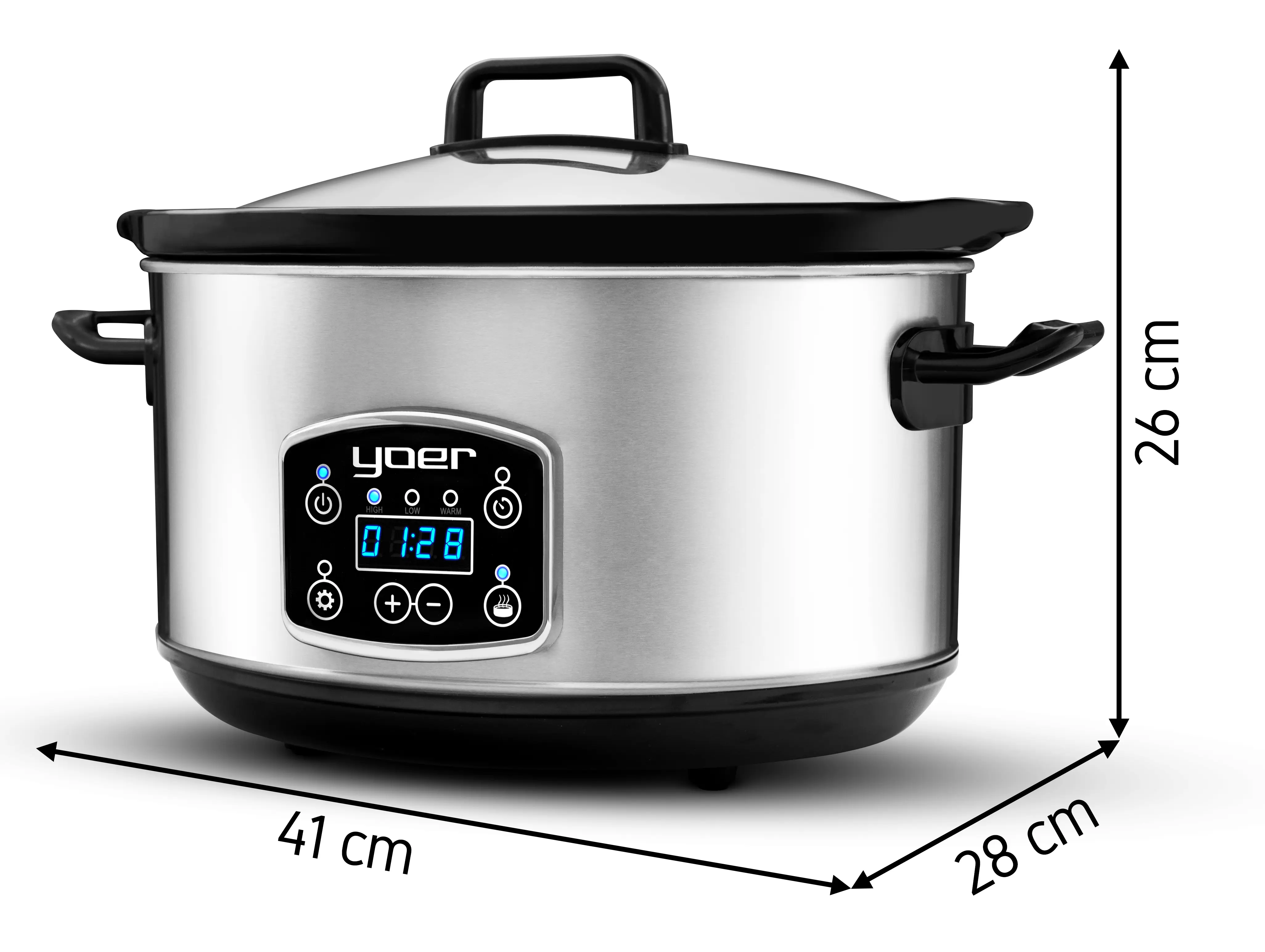 TECHNICAL SPECIFICATION
Capacity: 4,5 L
Max. power: 280 W
Power cord length: 100 cm (39.4'')
Weight: 4,5 kg (9.9 lbs)
Dimensions: 26 cm (height) x 41 cm (width) x 28 cm (length)
Color: Silver INOX with black accents
Polish power plug 220-240V 50/60Hz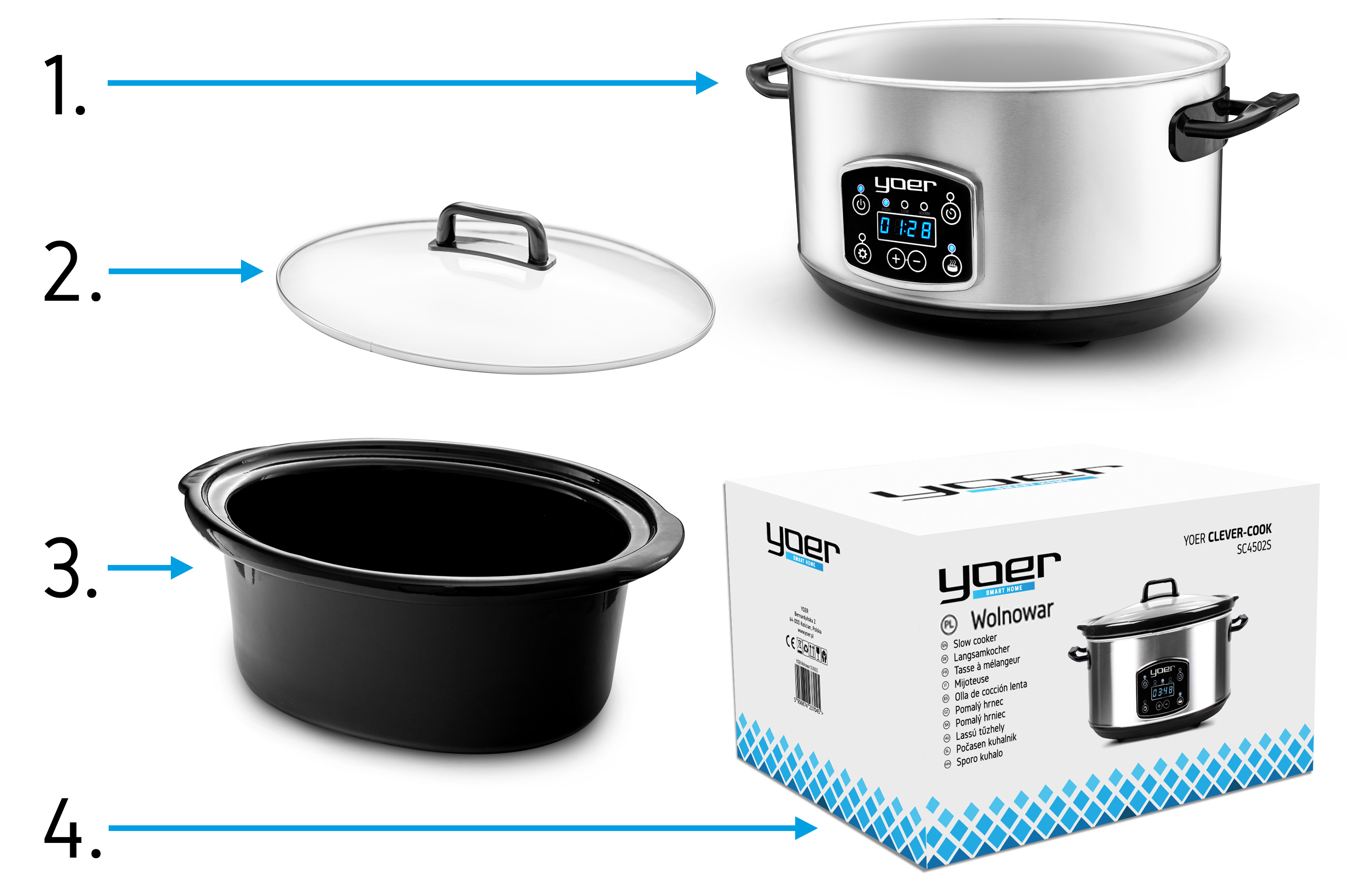 EQUIPMENT
Slow cooker
Lid
Ceramic pot
Original packaging
YOU WILL RECEIVE:
Slow cooker - details above,
A set of recipes,
YOER PLATINUM SECURITY card,
Warranty card,
PL/EN instruction manual.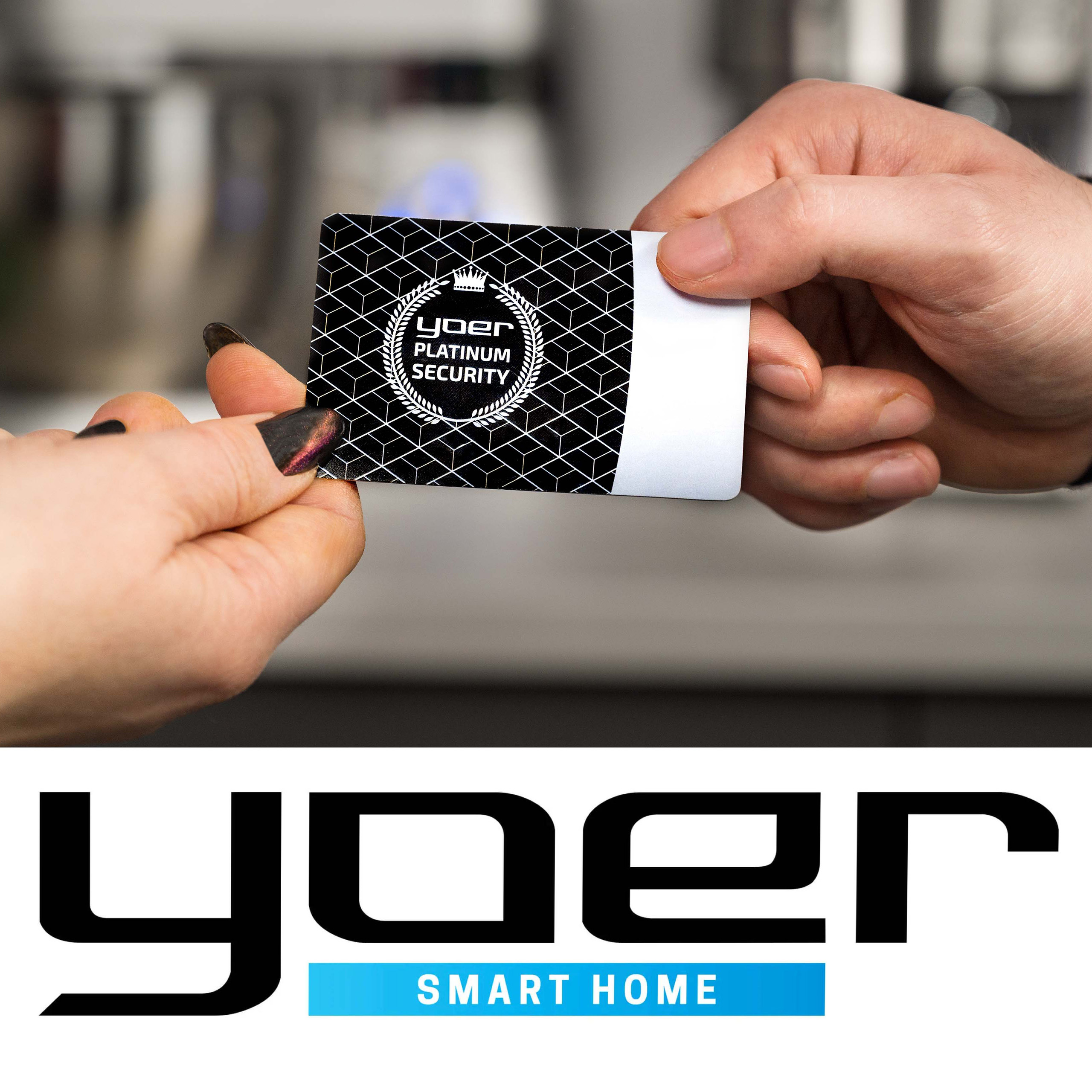 YOER PLATINUM SECURITY
When purchasing products from the official Yoer store you receive the YOER PLATINUM SECURITY package, which is an assurance of additional protection.
YOER - POLISH MANUFACTURER AND BRAND
YOER constitutes an excellent proof that high quality of products does not necesserily go in hand with high prices.

YOER SC4502S Instruction manual - Click here