Language
YOER SteakKing GG02S 6+1 Gas Grill
Gas grill 6+1, 2 cast-iron grates, Power 22,05kW, Lid with a thermometer, Side burner, Shelf with a fat tray, Cabinet for a propan bottle 11 kg

The quantity in the package

1 pcs.

Shipping within

PRE - ORDER - shipping starts on 18.07., within 7 weekdays

Availability

Medium

29

pcs.
| | |
| --- | --- |
| Bar code | |
| EAN | 5900779771130 |
Description

Instruction manuals

Reviews & ratings (1)
YOER STEAKKING GG02S 6+1 GAS GRILL
POPULAR GAS GRILL IN A NEW, BETTER XXL VERSION – JUNE 2021- 7 BURNERS, POWER 22,05 KW, 2 CAST-IRON GRATES+CAST-IRON PLATE, ABILITY TO GRILL WITH A GAS BOTTLE INSIDE THE CABINET
CONSTRUCTION - MAIN ELEMENTS
Open/close grill lid with a thermometer
Steel grate for food heating (91 x 12 cm) (35.8 x 4.7 ")
Removable tray with chromed handles
Two cast-iron grates (43 x 36 cm and 43 x 20,5 cm) (16.9 x 14.2 " and 16.9 x 8.1 ") - about 5kg (11 lbs)
Coaster wheels with brakes
Cabinet for an 11 kg (24.26 lbs) propane bottle and accessories
Cast-iron plate
Side burner
6+1 burner system control knobs
Accessory rack
Removable fat tray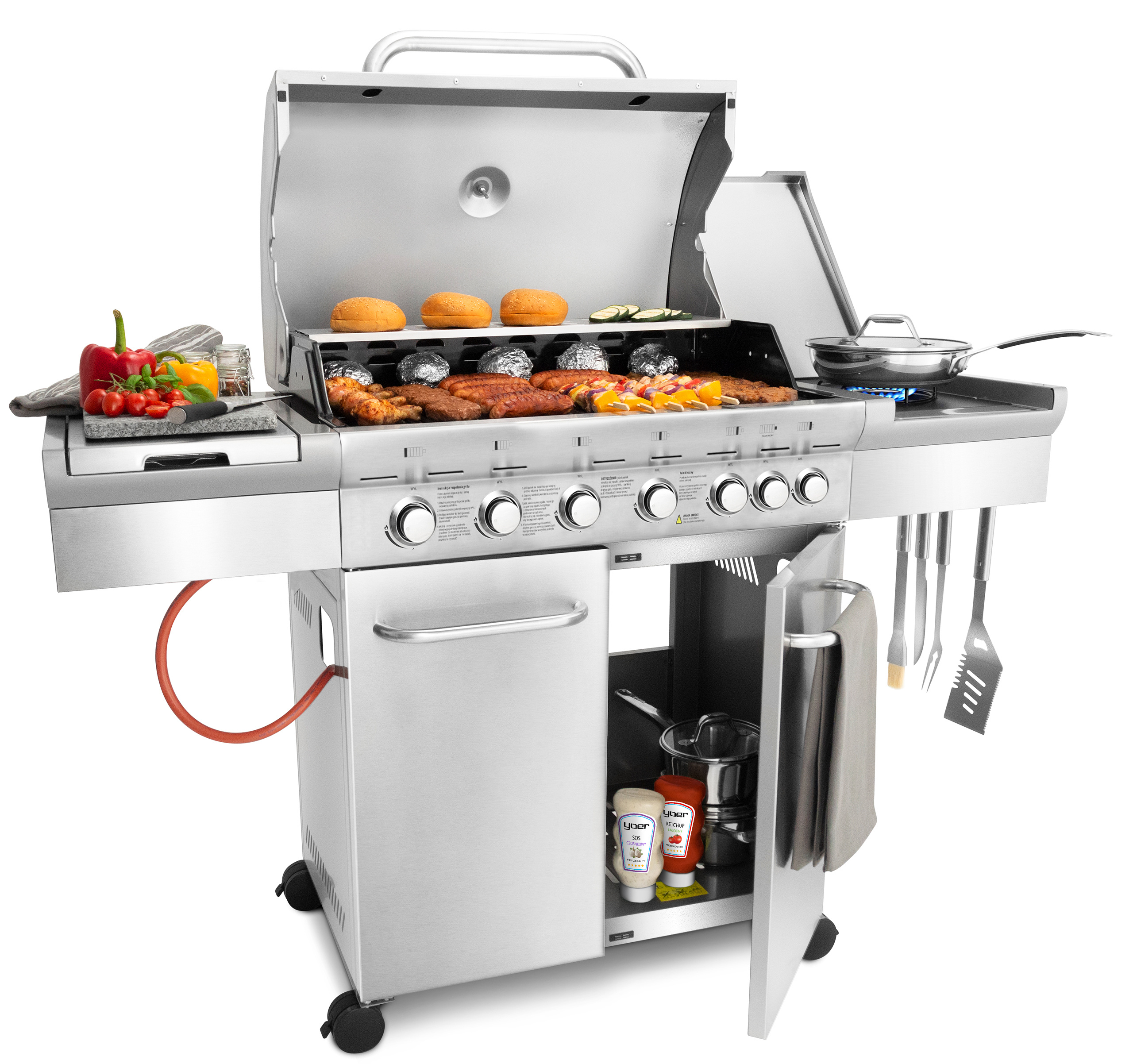 PRODUCT DETAILS
Ability to grill with a gas bottle inside the grill: Yes
Grilling surface: 5069,5 cm²
Main grilling surface: 3977,5 cm² (92,5 x 43 cm)
Upper grilling surface: 1092 cm² (91 x 12 cm)
Power: 22,05 kW
Weight: 59 kg (130.1 lbs)
Burner count: 7 (7 x 3,15 kW)
Cast-iron grate count: 2
Cast-iron plate count: 1
Bigger cast-iron grate dimensions: 43 x 36 cm (17 x 14.2 ")
Smaller cast-iron grate dimensions: 43 x 20,5 cm (17 x 8.1 ")
Cast-iron plate dimensions: 43 x 36 cm (17 x 14.2 ")
Side shelf dimensions: 49 x 35 cm (19.3 x 13.8 ")
Cabinet dimensions: 88 x 44 x 56 cm (34.6 x 17.3 x 22 ")
Gas reducer: Yes
Side burner: Yes
Regulated thermostat: Yes
Thermometer: Yes
Heating grate: Yes
Fat tray: Yes
Electrical igniter: Yes
Lid: Yes
Accessory cabinet: Yes
Coaster wheels with brakes: Yes
Modular construction: Yes
Other: Removable tray with handles.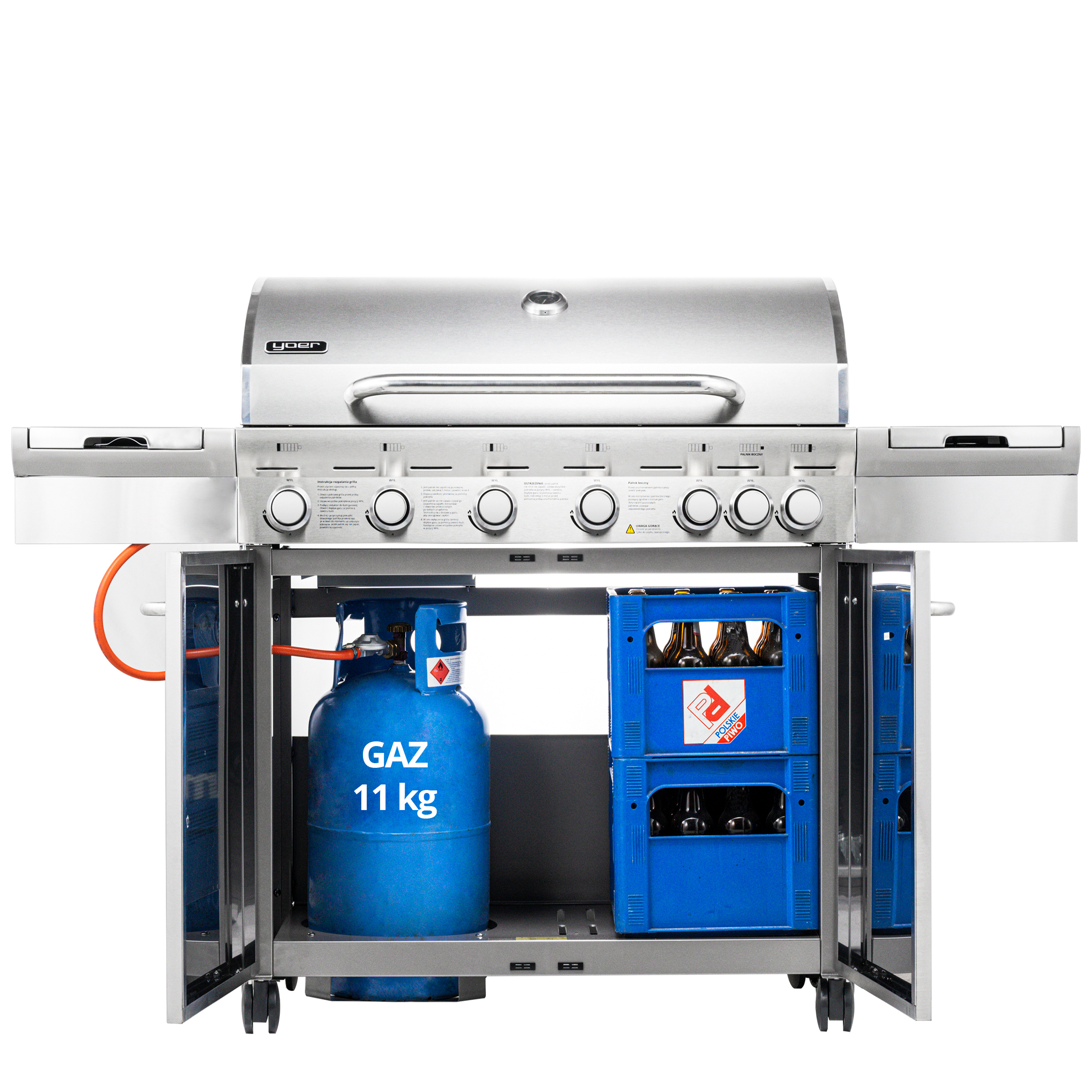 GRILL WITH A BOTTLE INSIDE THE CABINET - CAPACIOUS AND PRACTICAL
You can grill with a propan bottle inside the grill- high-capacity cabinet - underneath the grill, a large cabinet is located, which will fit the 11 kg (24.3 lbs) gas bottle, after you have finished grilling. There is more - it will also easily accommodate 2 large 24-bottle crates of your favorite beer or various accessories and grilling peripherals.
Special orifice for gas bottle
On the upper side of the cabinet there is a special plate, it is an additional protection while grilling with a gas bottle inside the appliance.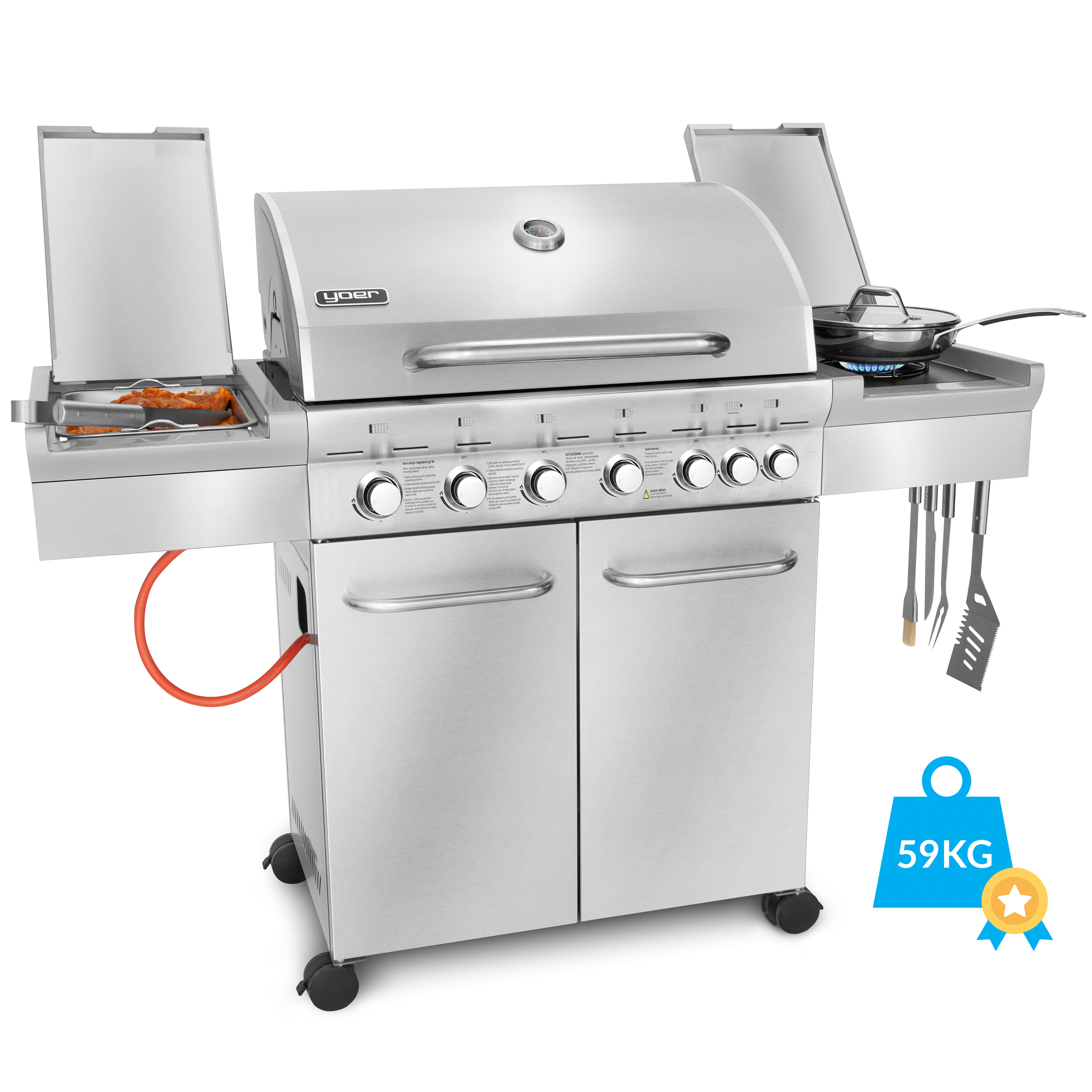 HAND - POLISHED – HIGH QUALITY OF WORKMANSHIP
Main grates: cast-iron
Main plate: cast-iron
Mini grate: INOX stainless steel (S/S 430)
Grill lid: INOX stainless steel (S/S 430)
Thermometer body: INOX stainless steel (S/S 430)
Control panel: INOX stainless steel (S/S 430)
Side shelf lids: INOX stainless steel (S/S 430)
Side shelf masking plates: INOX stainless steel (S/S 430)
Side shelves: silver powder-painted steel
Front door: INOX stainless steel (S/S 430)
Side walls: silver powder-painted steel
Bottom shelf: silver powder-painted steel
Burners: INOX stainless steel (S/S 430)
Burner shields: black enamel-coated steel
Wind cover: black enamel-coated steel
Handles: hand-polished steel
Knobs: chromed polymer
INOX stainless steel (S/S 430) - a high-quality ferritic steel with a high chrome content, which makes it exceedingly resilient to corrosion.
WEIGHT SPEAKS FOR ITSELF -HEAVY AND ROBUST: 59 KG (130.1 lbs)
+ Rebust rotary spit made of stanless steel - available to buy in a tab called "Accessory"
Excellent stability - Thanks to the increased weight compared to other, standard grills, the appliance is rebust and difficult to tip over, which improves comfort and safety during the operation.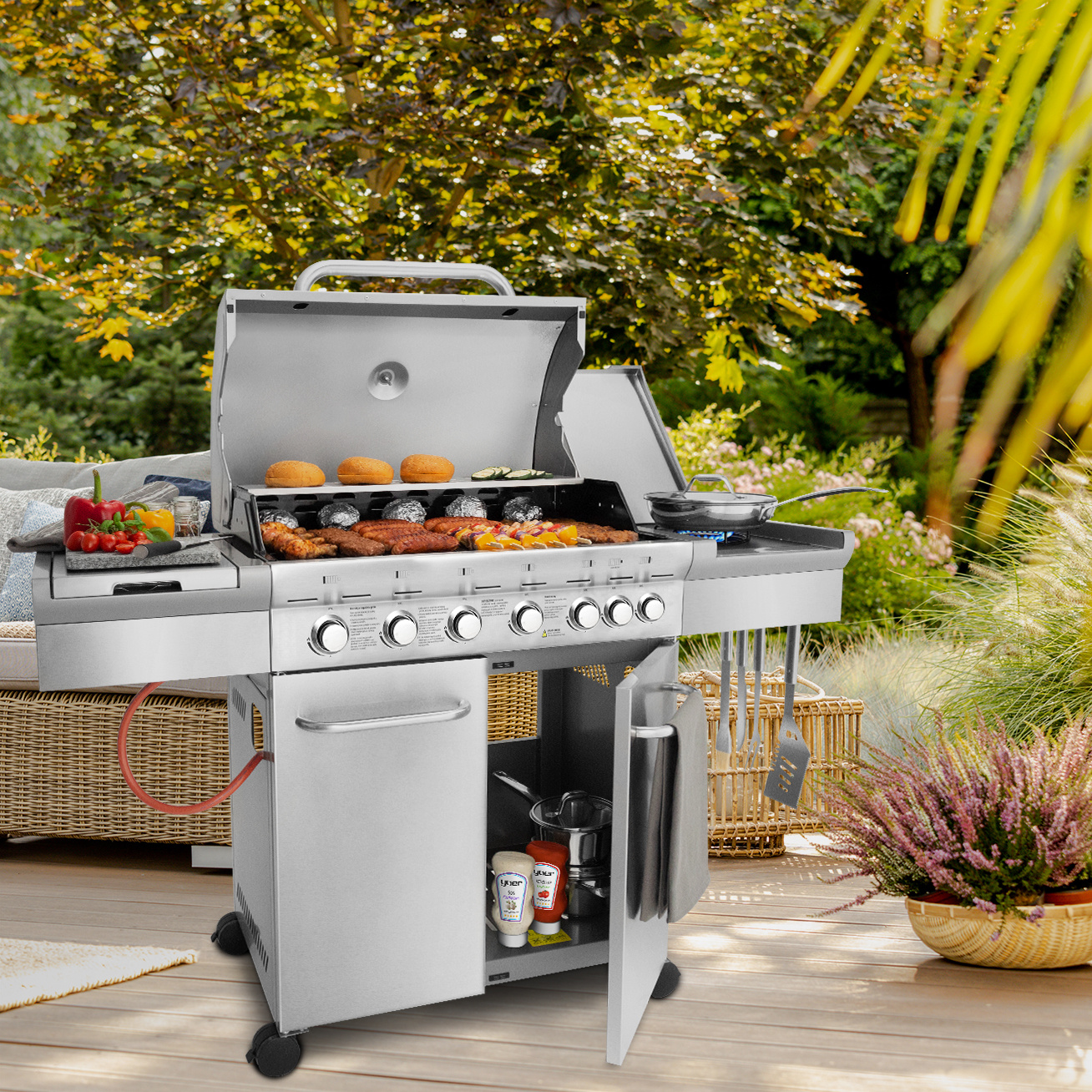 CONVENIENT GRILLING
Natural gas-powered - due to the use of natural gas power, grilling becomes faster, easier and healthier. Because of the propane bottle, there is no need to remove ash, which would have been necessary when using a traditional charcoal grill, and the burners allow for reaching optimal temperature in moments.
Gas reducer - the specialized reducer mounted in the grill assures stable gas pressure. The set also includes an 80cm (31.5 '') elastic hose along with screw clamps and other elements needed for secure bottle connection.
SPACIOUS XXL GRILLING SURFACE
Main grilling surface 3977,5 cm² - composed of three removable cast-iron grates. This size gives the user plentiful room for preparing a copious amount of meals simultaneously.
Upper heating grate 1092 cm² - previously prepared meals can be placed on a steel heating grate .The steel grate mounted over the cast-iron grate allows for heating of grilled meats, vegetables or pastries.
HIGH QUALITY CAST - IRON GRATE
2 cast-iron grates - The YOER grill employs 2 grates made entirely of cast iron with combined weight of over 5.5 kg (12.1 lbs)!
Rebust cast-iron plate - Grill is also equipped with high quality cast-iron plate. It keeps warmth for a long time and it has its own opening which helps getting rid of fat.
What kinds of grates are used in natural gas grills?
Cast-iron grate - made of a high-carbon iron alloy, characterized by high resilience to mechanical damage and rust. Additionally, it efficiently conducts heat, which makes it warm up evenly, as well as keeps its temperature for longer. The cast-iron grate is robust, and because it is a single piece, does not require welding. The grate bars are rough in texture, not coated with enamel, which means it does not get scratched during use or cleaning.
Enamel - coated bar grate - composed of parallel, welded thin bars, which are then coated with shiny enamel. This kind of grate is susceptible to damage, chipping and deformation due to its simplistic construction. They are also characterized by low heat conductivity, are significantly cheaper to make, and less durable than their cast-iron counterparts.
Sheet metal enamel - coated grate - made of low-carbon cast carbon steel, is light, formed into bars and coated with enamel. It represents the cheapest kind of grate, which conducts heat poorly and is susceptible to damage, chipping and deformation.
SIMPLY AND EASY OPERATION
Polish and English instruction manual- in addition to the full instruction manual supplied with the device, the control panel also contains a list of instructions on lighting the grill in Polish and English, which allows the user to quickly and easily learn how to use the appliance.
Independent knobs - all burners are controlled with their respective knobs, which gives the user control of the temperature on the grate. Each of the 7 burners can be used individually to make grilling different kinds of dishes using varied methods possible.
Electrical igniter - helps easily light each of the burners. All it takes is to push in and twist the knob, and the igniter will generate a spark, which will light the grill. The modern ignition system enables beginning operation with any burner rather than having to ignite the first in line before the others.
7-burner control panel - the appliance is equipped with a 7-burner heating system. Six burners heat up the main grate, and the additional side burner can be used to prepare dishes on a frying pan, or boil water in a kettle.
7 BURNER CONTROL KNOBS
The knobs marked "1, 2, 3, 4, 5, 7" correspond to the main grate burners.
The knob marked "6" controls the additional side burner.
QUICK HEAT-UP TIME
Substantial 22,05 kW power - thanks to the high -power burners, heating up the grate takes a very short time, without much fuel use. Burners power: 3.15 kW.
FUNCTIONALITIES OF THE LEFT SIDE SHELF WITH AN ADDITIONAL TRAY
The tray under the lid - a 26.5 x 35.5 cm (10.4 x 14 ") of dimensions and 5 cm (2 ") of depth tray is placed under under the side shelf lid, and has a plethora of uses.
Removability of the tray - two chromed handles are located on both sides of the metal tray, so you can carry your cured ingredients, for example, before grilling.
Cured food receptacle - the tray is made to fit into the cutout in the side shelf, which places it in a convenient spot. This gives the user easy access to the cured meals to be put onto the grate.
Grilled food receptacle -during grilling you can also use the tray as a plate for ready meals, which you can then comfortably carry to the table for serving.
Hot meal storage tray - the tray will also do great as hot meal storage, without worrying about them getting cold. In addition, the grilled dishes may be wrapped in aluminium foil, and the lid may be closed to ensure the temperature is retained even better.
Regular shelf - after closing the lid, the side shelf becomes a space on which any grilling ingredients, spices or accessories can be put. The shelf has a 35 x 49 cm (13.8 x 19.3 ") area.
ACCESSORY STORAGE
Right side shelf with a burner - the right side shelf houses a burner under its lid, onto which a pot or a frying pan can be put in order to prepare appetizers, or a kettle to make tea. After closing the lid, you get a usable space of 35 x 49 cm (13.8 x 19.3 ").
Chromed racks - mounted to the outer part of the right side shelf, they allow the user to hang utensils or oven mitts. As a result, those will not take up space on the shelves or inside the cabinet, as well as remain easily accessible while grilling.
EASY TO CLEAN
The body of the grill - is made of steel, including INOX stainless steel, which, when properly maintained, will keep its exquisite look for many years. The appliance can be easily maintained after each use, thanks to the amenities it possesses:
Removable cast-iron grates - because the two-piece cast-iron grate is removable, it is easy to take out for cleaning with a brush. It should also be washed with warm water using a mild dish washing detergent.
Removable fat tray - the receptacle catching all the fat dripping from the grate ensures that other parts of the device remain clean. The ability to take it out of the back of the grill makes is easy to empty and refill with specialized fat-absorbent material.
Removable heating grate and cast-iron plate - the steel grate is easy to remove and clean with a warm, wet cloth, along with a spot of dish washing detergent.
ADDITIONAL ELEMENTS
Thermometer - located in the middle of the lid, the thermometer allows the user to keep an eye on the temperature so that it may be kept in check without the need for lifting the lid and losing heat. The temperature is measured in degrees Celsius as well as Fahrenheit.
Steel lid - The convenient, lift-up lid covers all the grates and makes sure that the food is grilled evenly as well as becomes infused with the barbecue taste and aroma. The lid does away with any problems related to the wind or insects. It helps keep the optimal temperature of the main grate, as well as the upper heating grate, which will keep the dishes that are already done hot, if you are not ready to serve them yet.
Steel burners with shields - the grill is equipped with burners made of high-quality steel, which distribute the flames evenly. Additionally, specialized shields are mounted above them, to protect the burners from the dripping fat, so that it does not come in contact with the flame and remains on the shields. As they become hot, the fat evaporates thus infusing the food with the barbeque aroma and unique taste.
4 coaster wheels with brakes - mounted at the bottom of the appliance, they make moving it easy and comfortable despite the hefty weight. Brakes on each wheel ensure safe operation of the device thanks to the stability while grilling.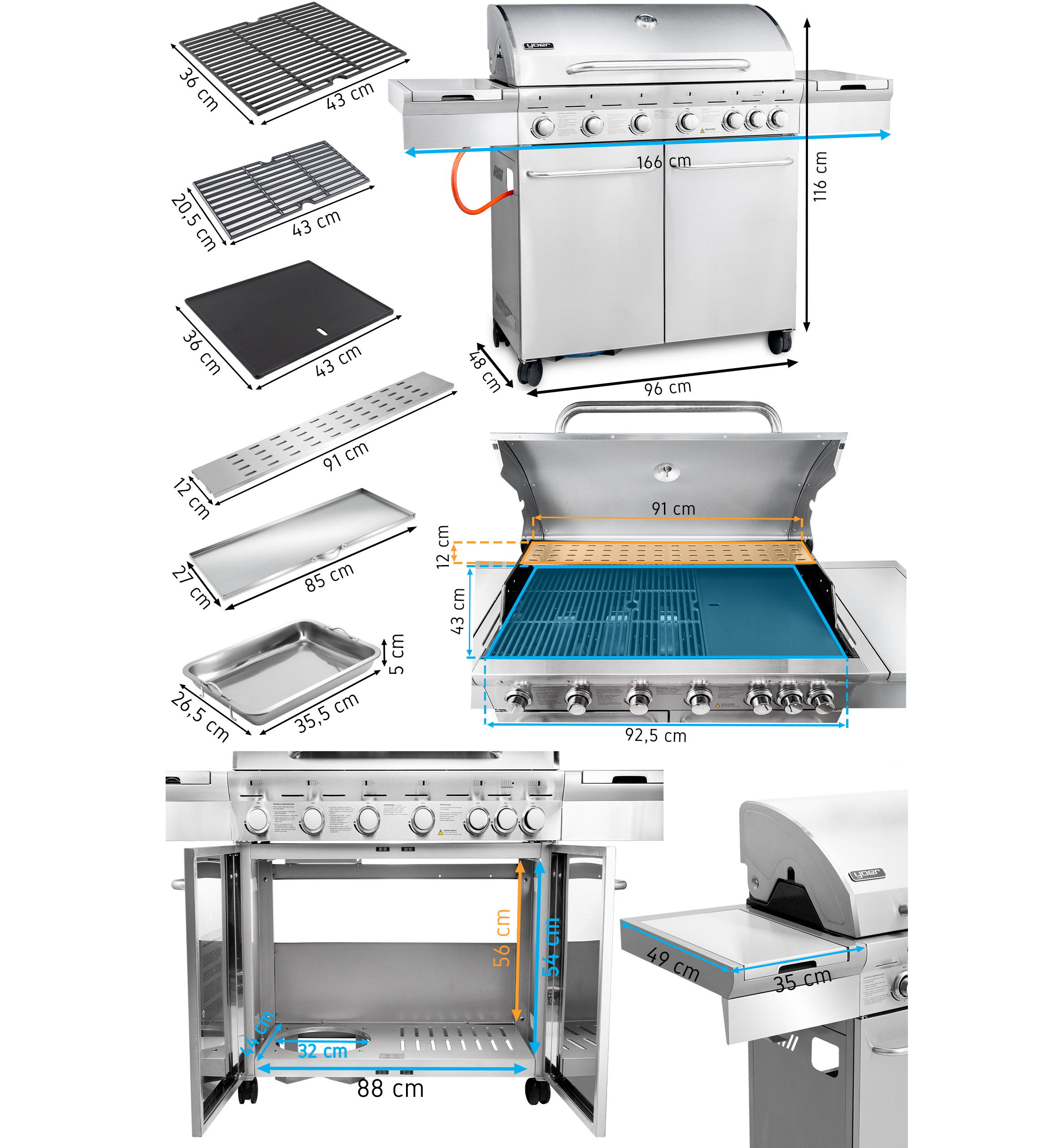 TECHNICAL SPECIFICATION
Grilling surface: 5069,5 cm²
Main grilling surface: 3977,5 cm² (92,5 x 43 cm)
Upper grilling surface: 1092 cm² (91 x 12 cm)
Input power: 22,05 kW (1604 g/h)
Input power of each main burner: 3,15 kW
Side burner input power: 3,15 kW
Category: I3B/P(37)
Gas type: Propane, Butane, Propane-Butane mixture (LPG)
Working pressure: 37 mbar
Main burner nozzle diameter: 0,8 mm
Side burner nozzle diameter: 0,8 mm
Wieght: 59 kg (130.1 lbs)
Dimensions: 116 cm (of height) x 166 cm (of width) x 48 cm (of depth) (45.7 x 65.4 x 18.9 ")
Bigger grate dimensions: 43 x 36 cm (17 x 14.2 ")
Smaller grate dimensions: 43 x 20,5 cm (17 x 8.1 ")
Cast-iron plate dimensions: 43 x 36 cm (17 x 14.2 ")
Main grate dimensions: 91 x 12 cm (35.8 x 4.7 ")
Side shelves dimensions: 49 x 35 cm (19.3 x 13.8 ")
Internal cabinet dimensions: 56 x 88 x 44 cm (22 x 35 x 17.3 ")
Internal cabinet lights dimensions: 54 x 88 cm (21.3 x 35 ")
Removable tray dimensions: 26,5 x 35,5 x 5 cm (10.4 x 14 x 2 ")
Removable fat tray dimensions: 85 x 27 cm (33.5 x 10.6 ")
Opening in a gas bottle diameter: 32 cm (12.6 ")
Working surface: 3430 cm² (3.7 ft²)
Cast-iron grate count: 2
Steel grate count: 1
Steel grate count: 1
Color: Silver
EQUIPMENT
Gas grill
Accessory racks
Tray
Gas reducer with a hose
Fat tray
Steel heating grate
Cast-iron plate
2 cast-iron grates
Original packaging
YOU WILL RECEIVE
Gas grill- details above,
YOER PLATINUM SECURITY card,
Warranty card,
Receipt/VAT invoice,
PL instruction manual.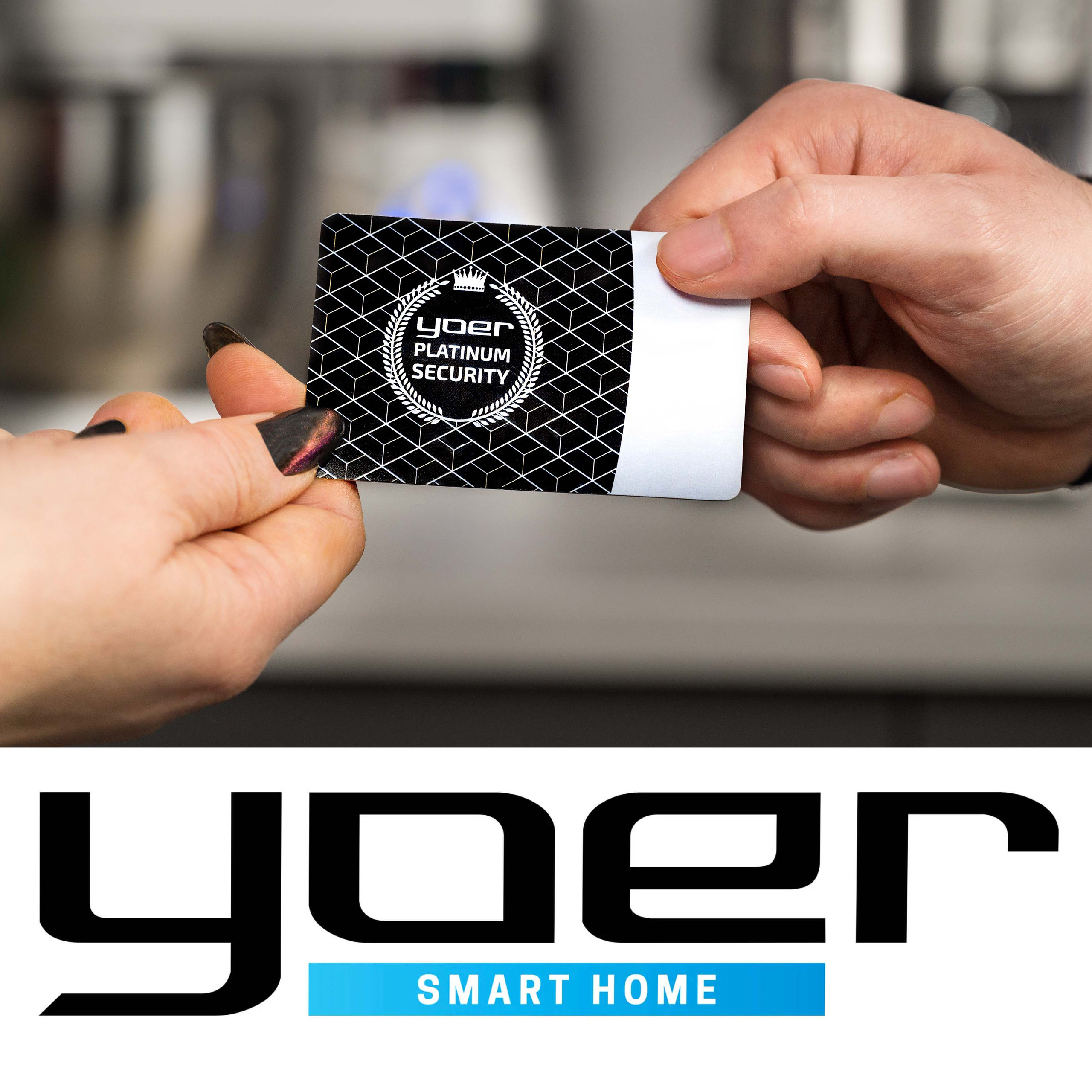 YOER PLATINUM SECURITY
When purchasing products from the official Yoer store you receive the YOER PLATINUM SECURITY package, which is an assurance of additional protection.
YOER - POLISH MANUFACTURER AND BRAND
YOER constitutes an excellent proof that high quality of products does not necesserily go in hand with high prices.

YOER GG02S Instruction manual - Click here
Jestem bardzo zadowolony z kontaktu ze sklepem oraz zakupu grilla. Jakość wykonania naprawdę bardzo pozytywnie mnie zaskoczyła.
Solidny i stabilny kawał Grilla za naprawdę dobre pieniądze.

Recently viewed products

Other Customers also purchased

Similar products