Language
Yoer Silent Intense VC01BK Bag vacuum cleaner
Bag vacuum cleaner: quiet work 55dB, operational range 12m, HEPA H13 filter, 5 power levels, 6 replaceable attachments, power 4200 W, wireless control, LED display, parking function, nozzle storage, rubber wheels
1289.00
-38%
798.00
Lowest price in the last 30 days:

Shipping within

Shipment within 24 hours

Availability

Small

56

pcs.
| | |
| --- | --- |
| Bar code | |
| EAN | 5900779771406 |
Description

Instruction manuals
VACUUM CLEANER YOER Silent Intense VC01BK
PRODUCT DETAILS
Quiet operation: vacuum comfortably, without making huge noise
HEPA H13 filter: reduces the amount of allergents, dust, bacteria and viruses in your room
800 W - energy use: you will have lower energy bills' costs
4200 W - performance power: vacuum precisely your room
Practical construction: use adjustable telescopic tube and automatically coiled cord
12 meters (39.4 ft) of operational range: vacuum huge rooms in a convenient way
5-step power of tooling regulation: you can vacuum carpets, flooring panels, parquets, upholsteries, curtains, a piece of furniture cor blinds in a comfortable way
6 replaceable brushes and attachments: adjust vacuuming to your needs
Handgrip with power regulation: control your vacuum cleaner without the need to bend down
Automatic power regulation: let the device choose proper level of tooling
Control panel with LED display: control the working parameters of the vacuum cleaner operation in such an easy way
Handle: move the device without any problem
2 turbo-brushes: get rid of fur and hair from carpets and upholsteries precisely
Horizontal and vertical parking: you can store the device in two ways
Rubber wheels: will make moving the device easier
Nozzle storage: prevents from loosing the nozzle and dusting brush
CONSTRUCTION - MAIN ELEMENTS
Flexible hose
Handgrip with power regulation
Crevice tool
Dusting brush
Mini turbo-brush
Metal telescopic tube
Parquet attachment
Turbo-brush
Hard floor and carpet attachment
Handle
Rubber rotatable wheel
Device body
Attachment handle (vertical parking)
Rubber wheel
Control panel with LED display
Attachment handle (horizontal parking)
Nozzle storage
QUIET OPERATION - JUST 55 dB
Volume on the level of 55 dB makes our vacuum cleaner one of the most quiet vacuum cleaner on the market.
The level of the vacuum cleaner's loudeness is compared to the loudeness of a normal speech:
the vacuum cleaner does not make your ears ache even during a long operation,
you can listen to the music while vacuuming.
INTELLIGENT - AUTOMATIC POWER REGULATION
5 power levels to choose - choosing one of the 5, you can adjust appropriable mode of operation on the basis of the vacuuming surface:

Curtains made of thick material
Upholstery
Floor tiles
Hard floors/parquets
Carpets - if chosen vacuum power turns out to be too high for the surface, the vacuum cleaner will inform you by backlitting 5 red icons of pwoer.

Automatic power regulation - if chosen vacuum power turns out to be too high, the vacuum cleaner will inform you about it by backlitting 5 red icons of power.
Communication - constant backlitting of 5 icons of power will inform you about the neccesity for replacing the bag.
CONTROLLER IN A HANDLE - WIRELESS CONTROL
Intelligent handgrip - enables convenient control of the appliance without approaching the vacuum and bowing above it. You can turn the vacuum cleaner on or off in an easy way and convenient way, and increase or decrease the power
Buttons on the handgrip:

Power decrease button - enables switching the power level to the lower one
Power increase button - enables switching the power level to the higher one
ON/OFF button - enables turning the appliance on or off
Signalising lamp - red light goes together with pressing a button, informing about choosing new settings
INCREASED EFFECTIVITY
Using energy on the level of 800W gives the efficient power on the level of 4200W - ensures identical effects of work as traditional vacuum cleaners which in general have much bigger coductivity of power.
The appliance ensures effectivity comparable to the vacuum power of 4200W.
At the same time it guarantees more effective vacuuming every time you use it - thanks to this it is considered as one of energy efficient.
HUGE OPERATIONAL RANGE
Thanks to the cord and adjustable telescopic tube you have 12 meters of operational range:
thanks to this you can easily vacuum huge surfaces without the need for frequent plugging the cable into other sockets,
the tube is being controlled during the range of 56,5-84,5 cm (22.2 - 33.3 "),
it enables convenient vaccuuming without causing a backache.
HUGE SET OF BRUSHES AND ATTACHMENTS
6 replaceable brushes and attachments - will enable you to vacuum every nooks and crannies and other hard to access places. Attachments are easy to install, so you can replace them many times.
You can adjust the vacuum cleaner easily to the currently vacuumed surface:
Attachment for thick floors and carpets - will enable you to vacuum carpets with short and long carpets and every shallow floors in your apartment.
Parquet attachment - will enable you to vacuum flooring panels and parquets without the risk of scraching them.
Turbo-brush - get rid of hair or fur from your carpets and upholsteries in an easy way.
Mini turbo-brush - it will be useful when you would like to get rid of hair or fur from sofas, armchairs and other small surfaces. It is installed directly to vaccuum cleaner handgrip.
Dusting brush - it will enable you to vacuum furniture, blinds or books.
Crevice tool - will enable you to vacuum every nooks and crannies, corners, heaters and spacies between sofa and pillows.
LED DISPLAY
Illuminated LED screen – shows the information about the active vacuum cleaner modes of operation.
On the display:

Vacuuming thick curtains mode icon/1st level of power - informs about active functon for thick curtains
Vacuuming upholstery mode icon/2nd level of power - informs about active function for vacuuming uholstery
Vacuuming floor tile mode icon/3th level of power - informs about active function for vacuuming floor tile
Vacuuming hard floors and parquets mode icon/ 4th level of power - informs about active function for vacuuming hard floors and parquets
Vacuuming carpets mode icon/5th level of power - informs about active function for vacuuming carpets
Too high level of power icon mode - informs about setting too high power for the surface
Active level of power symbol - indicates the level of power which is being used
INTUITIVE CONTROL PANEL
Control panel – is an easy access to all the functions of the device. Buttons are big enough to use them with a feet without the need to bow.
Function buttons:

ON/OFF button - allows you to turn the appliance on and off
Power cord rewind - allows automatic reeling of the power cord
Power decrease button - allows you to switch the level of power to a lower one
Power increase buttton - allows you to switch the level of power to a higher one
CONEVIENT USE AND STORAGE
1. Handle - makes moving the vacuum cleaner to another room or between floors easier.
2. Nozzle storage
is under the front layer of the vacuum cleaner.
you will hide there a dusting brush and crevice tool, thanks to that they will never be dirty.
3. 2 big, rubber wheels + small swivel wheels
will make the vacuum cleaner move fluently on the surface,
without the risk of scraching the floor.
4. Parking function
makes storage of your device convenient.
There are hooks at the back side and under the appliance body.
Install them to the telescopic tube. Set the appliance in a horizontal or vertical position, then insert the attachment hook inside the hitch.
SYSTEM OF AIR FILTERS, REPLACEABLE DUST BAGS
2 inlet filters (fabric and fiber):
protect the engine from pollen and dust from sucked air,
they have an influence on effectivity and productivity of the appliance.
2 outlet filters (preliminary + sponges and washable HEPA H13):
prevent from letting the pollute transmit outside the vaccuum cleaner,
they protect from alergents, dust, viruses and bacteria.
used in a vacuum cleaner HEPA H13 filter is washable and thanks to that the costs of exploation are lower.
Reusable dust bags:
will allow you to keep your device clean.
you can use one-time bags or multi-time textil bags.
We are constantly selling a full offer of replaceable filters and dust bags for Silent Intense vacuum cleaner. You can find them on our auctions.
TECHNICAL SPECIFICATION
Operational range: about 12 m (39.4 ft)
Power cord length: 9,8 m (32.3 ft)
Energy use: 800 W
Effectivity power: 4200 W
Nominal power: 800 W
Minimum noise power: 55 dB
Dimensions: 53 x 33,5 x 24 cm (20.9 x 13.2 x 9.4 ")
Vacuum weight: 6,2 kg (13.7 lb)
Vacuum with a standard equipment weight: 7,8 kg (17.2 lb)
Telescopic tube length: 56,5 - 84,5 cm (22.2 x 33.3 ")
Dust bag capacity: 2 l
Color: Black
Polish power plug: 230V, 50/60Hz
EQUIPMENT
Vacuum cleaner
Metal telescopic tube
Flexible hose
Hard floors and carpets attachment
Parquets attachment
Turbo-brush
Mini turbo-brush
Crevice tool
Dusting brush
Material dust bag
Original packaging
YOU WILL RECEIVE:
Vacuum cleaner - details above,
YOER PLATINUM SECURITY card,
Warranty card,
PL / EN Instruction manual.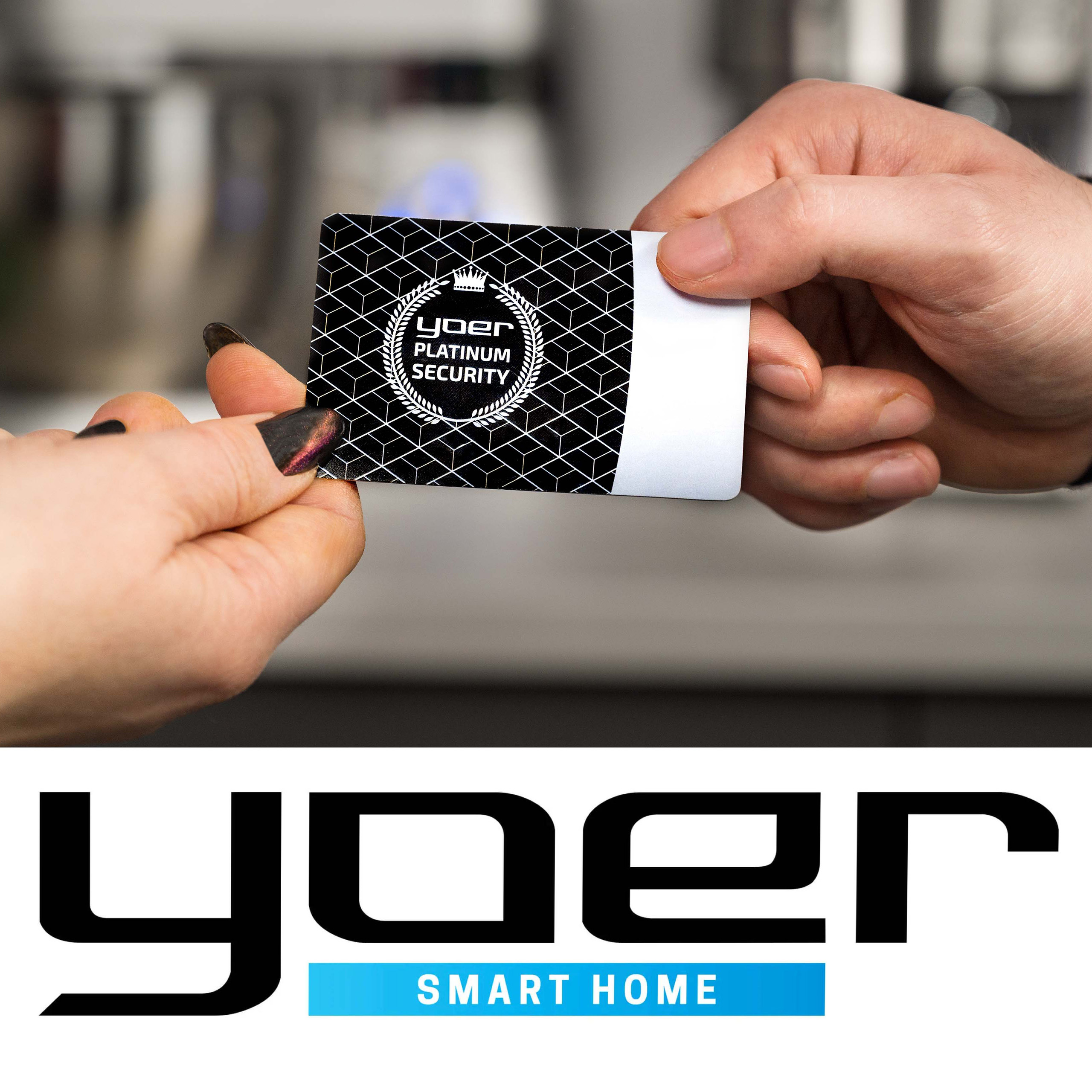 YOER PLATINUM SECURITY
When purchasing products from the official Yoer store you receive the YOER PLATINUM SECURITY package, which is an assurance of additional protection.
YOER - POLISH MANUFACTURER AND BRAND
YOER constitutes an excellent proof that high quality of products does not necesserily go in hand with high prices.

YOER VC01BK Instruction manual - Click here