Language
3in1 Fan YOER Trifano BF02BK
Fan: 3in1, 3 ways of assembly, 3 work modes, quiet, 37 dB, 55 W, timer, oscillation function, Wi-Fi + remote control, 11 meters of range

Shipping within

24 hours

Availability

Small

8

pcs.
| | |
| --- | --- |
| Bar code | |
| EAN | 5900779771093 |
Description

Instruction manuals

Reviews & ratings (0)
FAN YOER Trifano BF02BK
PRODUCT DETAILS
3in1 - place the fan on your desk, floor or mount it to the wall
55W - efficient work
37 dB - extremely quiet
11 m (36.1 ft) - max. airflow range
2,29 m/s (7.5 ft) - max. air speed
37,23 m³/min - max. fan flow rate
3 airflow modes - normal, natural, automatic
3 speed levels - low, medium and high
Oscillation angle 0-90° - possibility of turning on the swinging movement
5 degrees of regulation - possibility of setting the airflow angle
Remote control - control the device comfortably from a distance without having to get up
8-hour timer - the device will be automatically turned off when you sleep well
Wide base - full device stability
Protective guard - air vent cover and safety
Remote control via App - remote control via smartphone and tablet with Android and iOS system.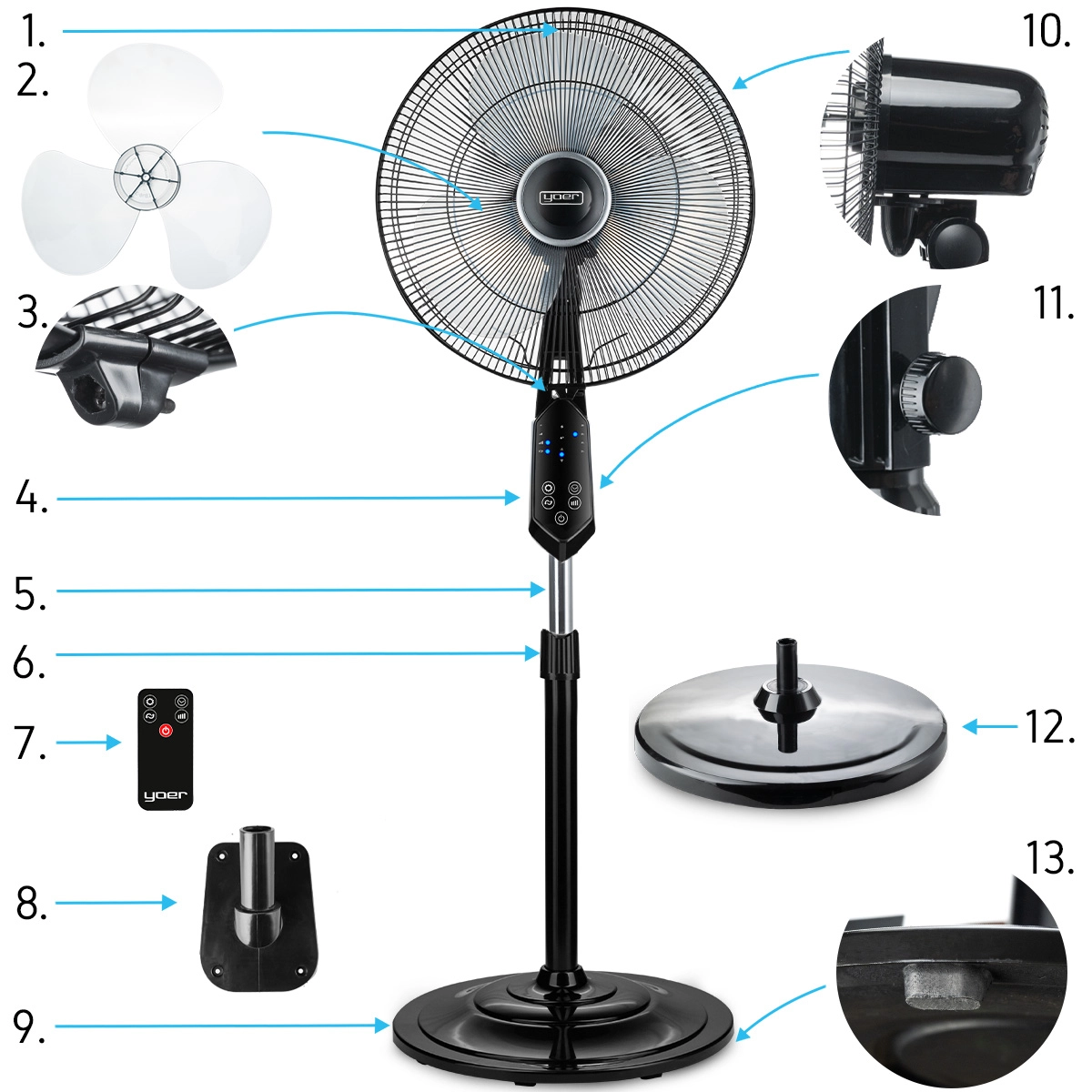 CONSTRUCTION - MAIN COMPONENTS
Metal guard
Blade
Cover lock
Control panel
Metal tube
Height adjustment nut
Remote control
Wall mounting bracket
Stand fan base
Motor
Fixing screw
Table fan base
Stand fan anti-slip feet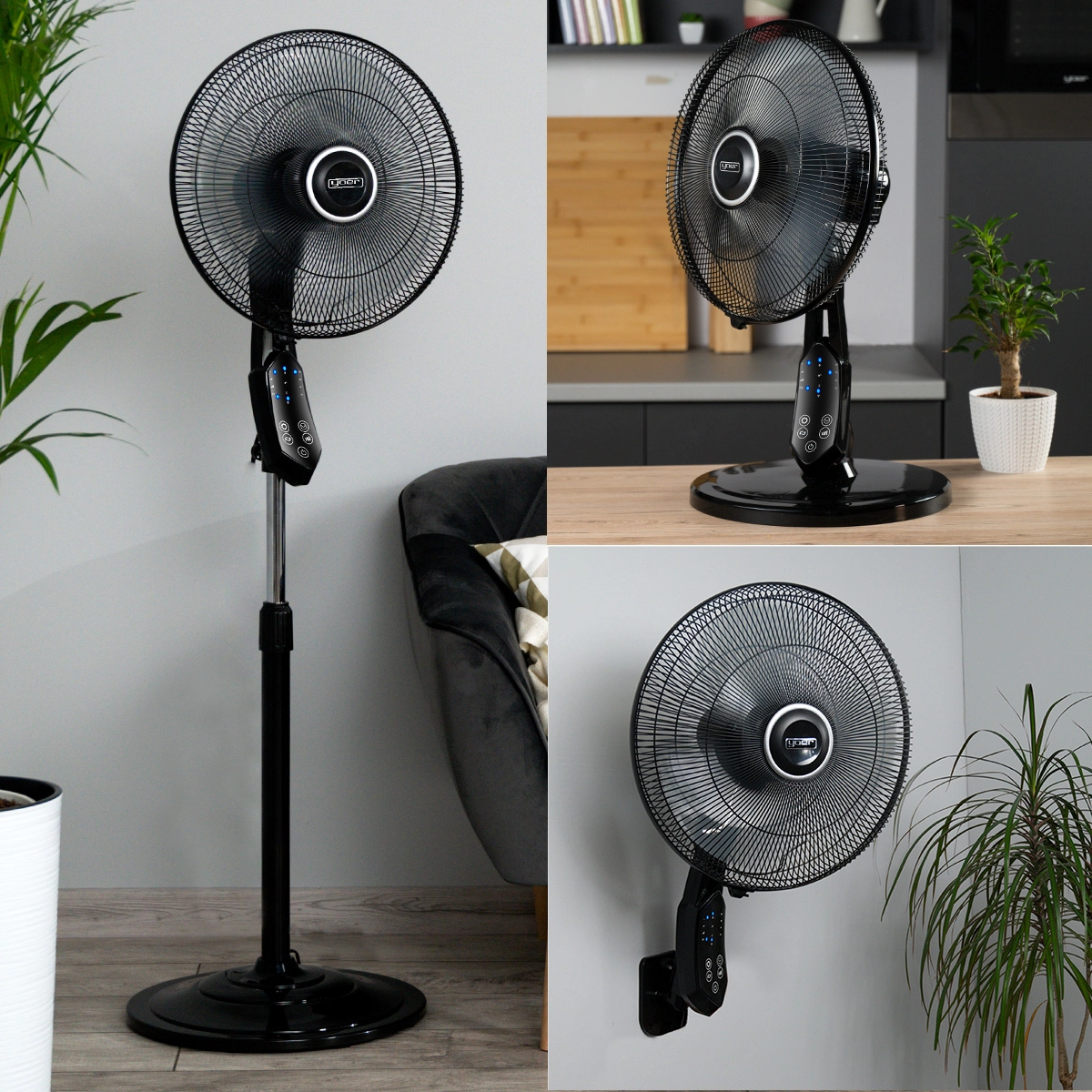 3IN1 - TABLE, STAND AND WALL FAN
3 ways of assembly ensure versatile use of the device in your house and in an office.
Stand fan - mount the stand fan base and place the fan wherever you want.
Table fan - place the fan on your desk thanks to replaceable base with anti-slip feet.
Wall fan - mount the fan on the wall thanks to special wall mounting bracket.
All of the necessary elements for the assembly of the device will be included in the set.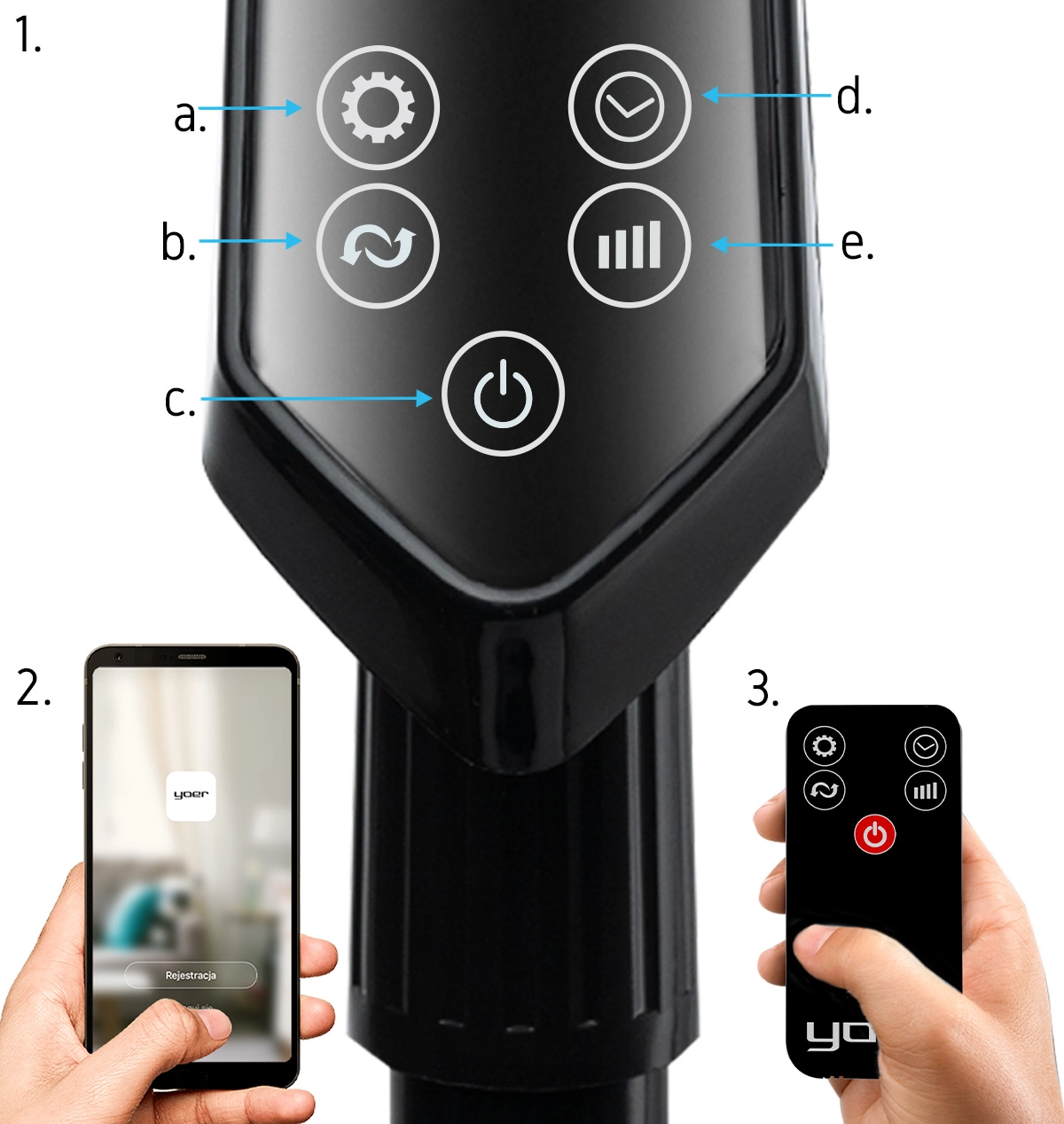 3 WAYS TO CONTROL THE DEVICE
Touch control panel - comfortable and intuitive control panel enables the access to all of the device functions.

Mode selection - press the button to choose one of 3 airflow modes:
Oscillation functionality - pressing the button enables you to turn on the swinging movement in the range of 0-90°.
ON/OFF button.
Timer button - thanks to it you can choose the duration of the mode (from 2 to 8 hours). After the selected time the device will be automatically turned off.
Power mode selection - pressing the button enables you to choose one of 3 available power levels: low, medium or high.

Mobile app - possibility of remote control via smartphone and tablet, thanks to Wi-Fi connection.
Remote control - there is a remote control attached to the set thanks to which, you can control your device without getting up.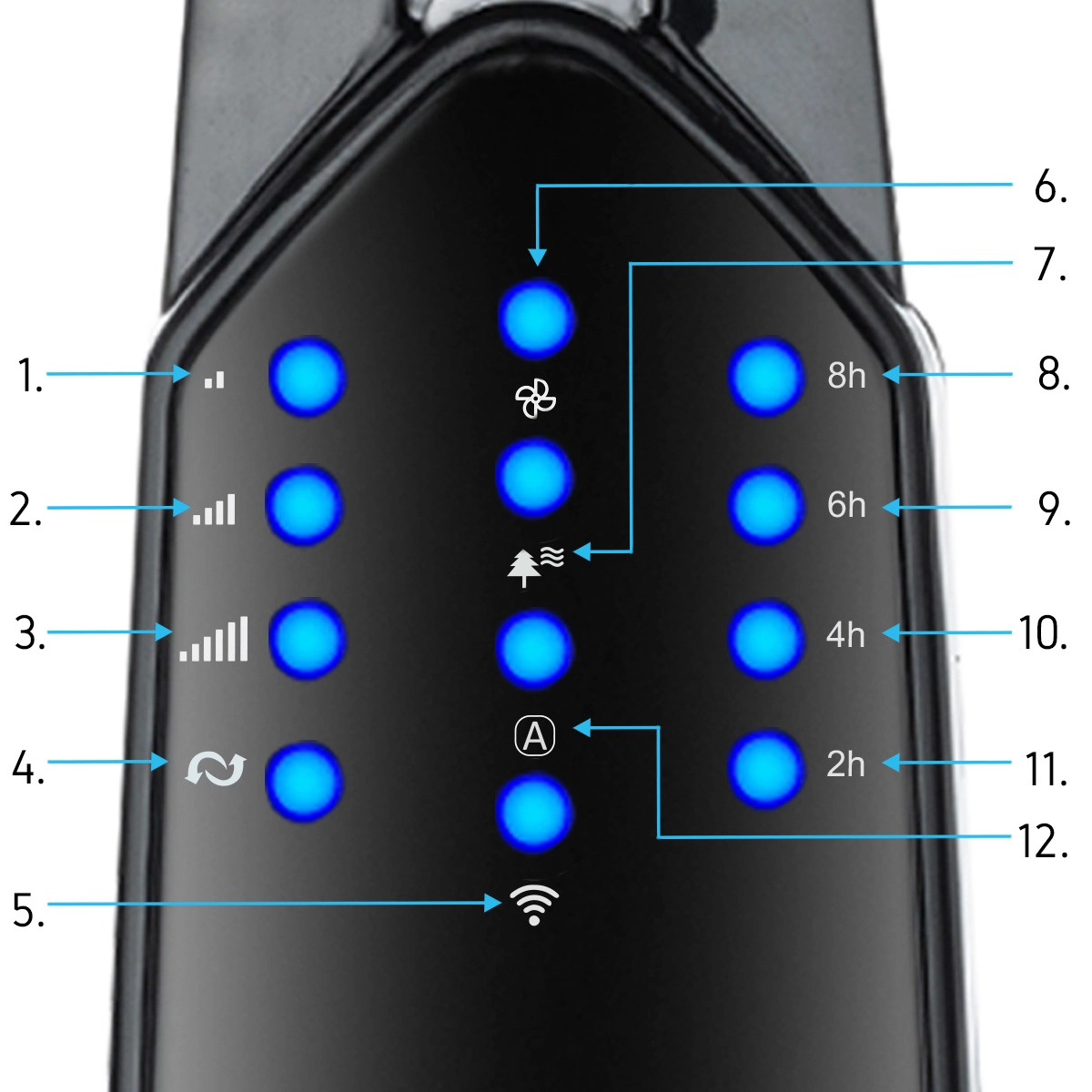 DISPLAY
Readable display - informs about active device functions.
Low power level icon
Medium power level icon
High power level icon
Oscillation function icon
Active Wi-Fi function indicator
Active normal mode indicator
Natural mode indicator
Active programmed work for 8 h icon and indicator
Active programmed work for 6 h icon and indicator
Active programmed work for 4 h icon and indicator
Active programmed work for 2 h icon and indicator
Automatic mode icon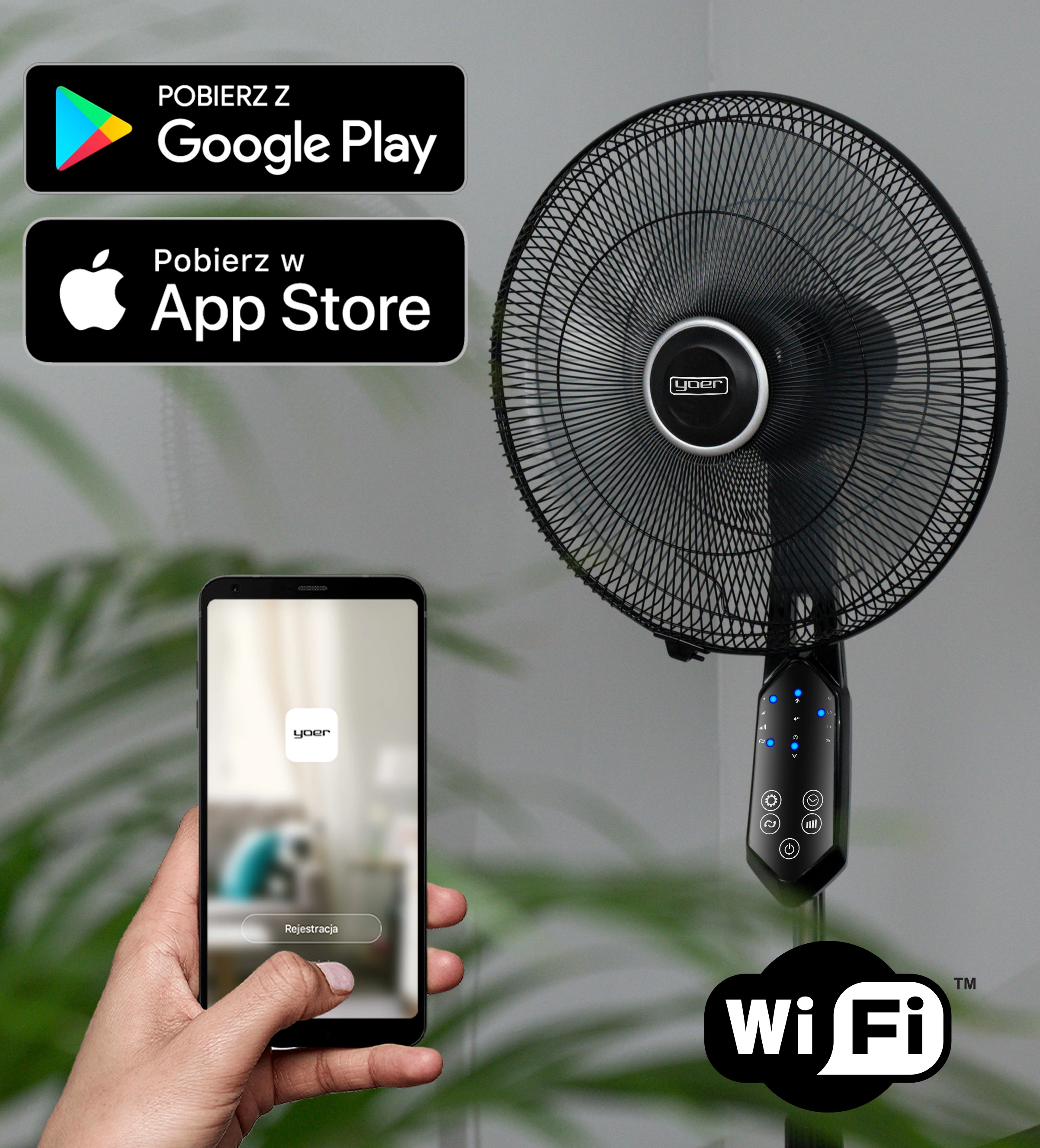 Wi-Fi - CONTROL VIA APP ON YOUR PHONE
The fan is equipped with Wi-Fi function, thanks to which the device apart from standard ways to control via touch control panel or attached remote control, can be programmed via app on your phone with Wi-Fi connection.
Controlling the device via Wi-Fi with possibility of programming the fan operation on your smartphone and tablet thanks to easy to use app.
The app is available in the Google Play Store and the AppStore.
The app works on Android and iOS.
Programming and controlling the device from anywhere with Internet access.
The app enables you to set the operation of the fan in the rage of:
Turning the operation on and off.
Selecting the airflow mode.
Programming the device shutoff to 8h.
Turning the oscillation function on and off.
Selecting the air speed.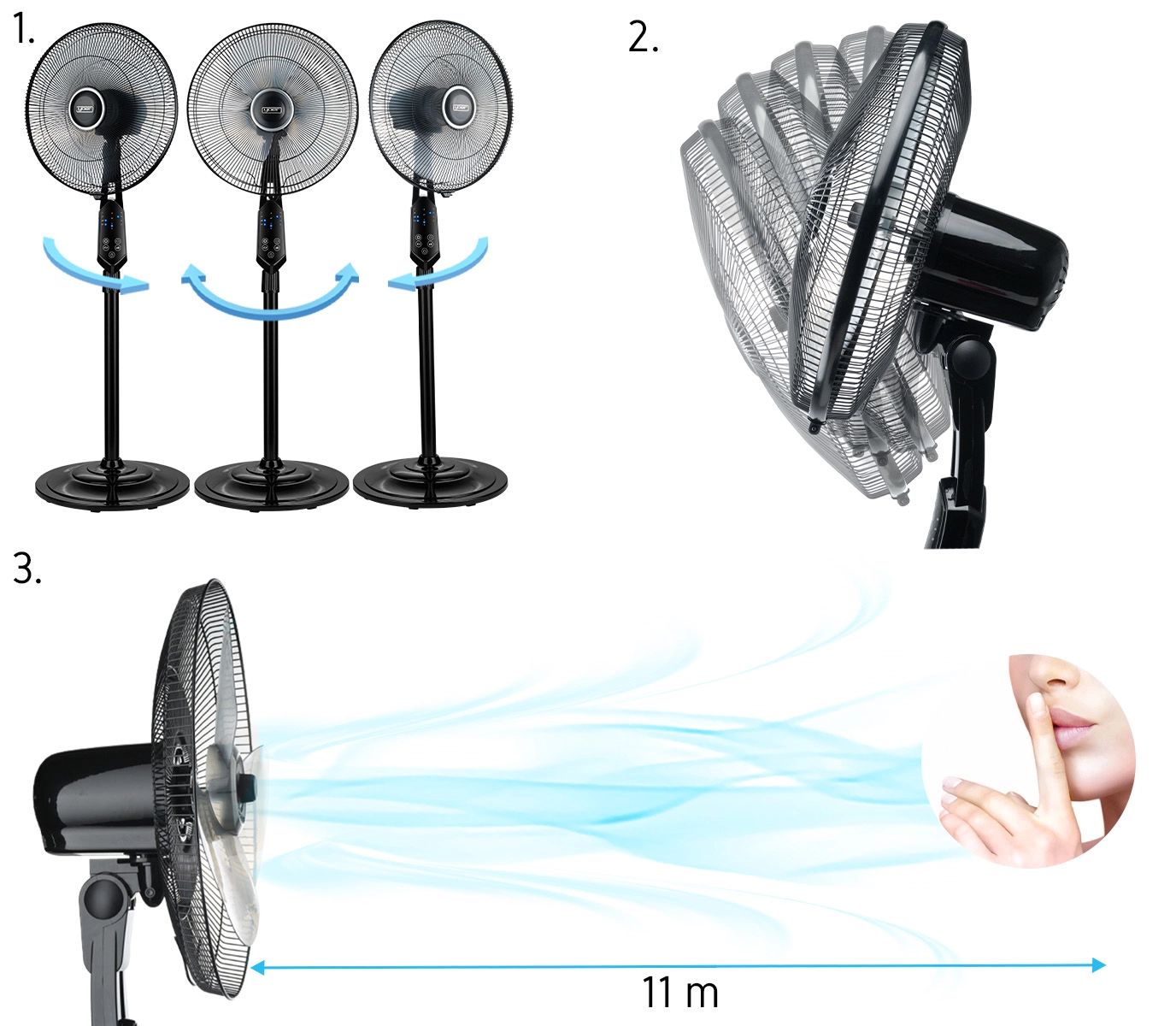 QUIET, HUGE RANGE AND POSSIBILITY OF TILT ADJUSTMENT
Oscillation function - thanks to oscillation function you can set the airflow direction and ensure constant air movement in the room.
5-step tilt angle adjustment - adjust the airflow angle as needed by adjusting the tilt angle.
Optimal heat distribution - profilated blades of the fan ensure wide-angle distribution of air in the room.
Construction with a 55W motor and a 33 cm (13 ") diameter blade with 3 paddles - quarantee of effective air circulation.
Timer - enables you to set the time afer which the device will is to turn itslef off.
37 dB and 11 meters (36.1 ft) range have an impact on extremely quiet device work which is efficient at the same time.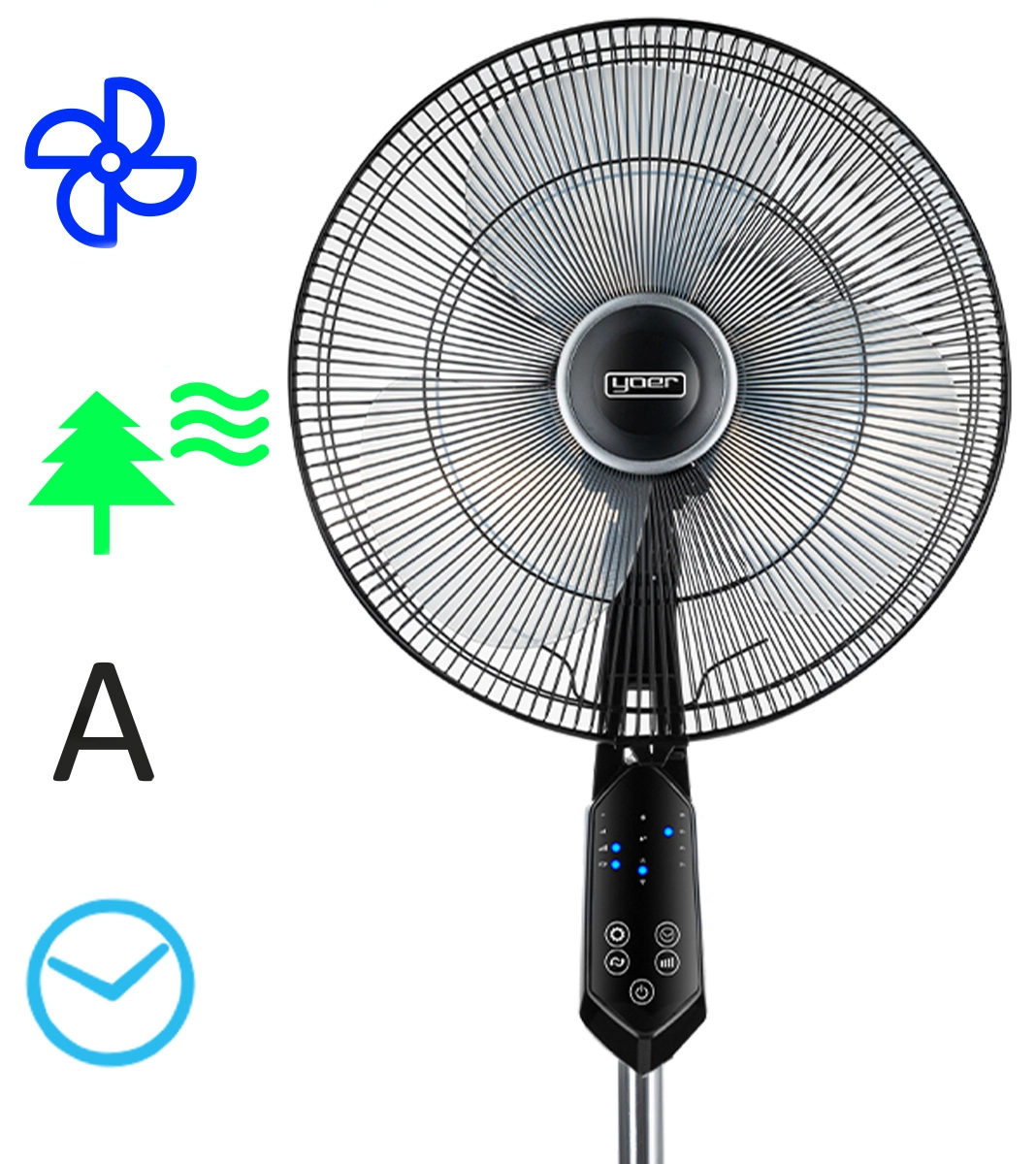 3 WORK MODES AND TIMER
Thanks to the modes you can adjust the air speed to your personal needs.
Normal mode - wind flows steady on the basis of the chosen speed level.
Natural mode - the fan imitates the flow of natural wind on the basis of chosen speed level.
Automatic mode - the fan adjusts the speed to current temperature in a room.
Thanks to the timer you can set the working time according to your needs. The device will be automatically turned off after the chosen time has elapsed.
8h - the device will work for 8 hours
6h - the device will work for 6 hours
4h - the device will work for 4 hours
2h - the device will work for 2 hours
Thanks to 3-step air speed regulation you can adjust the speed to the work mode.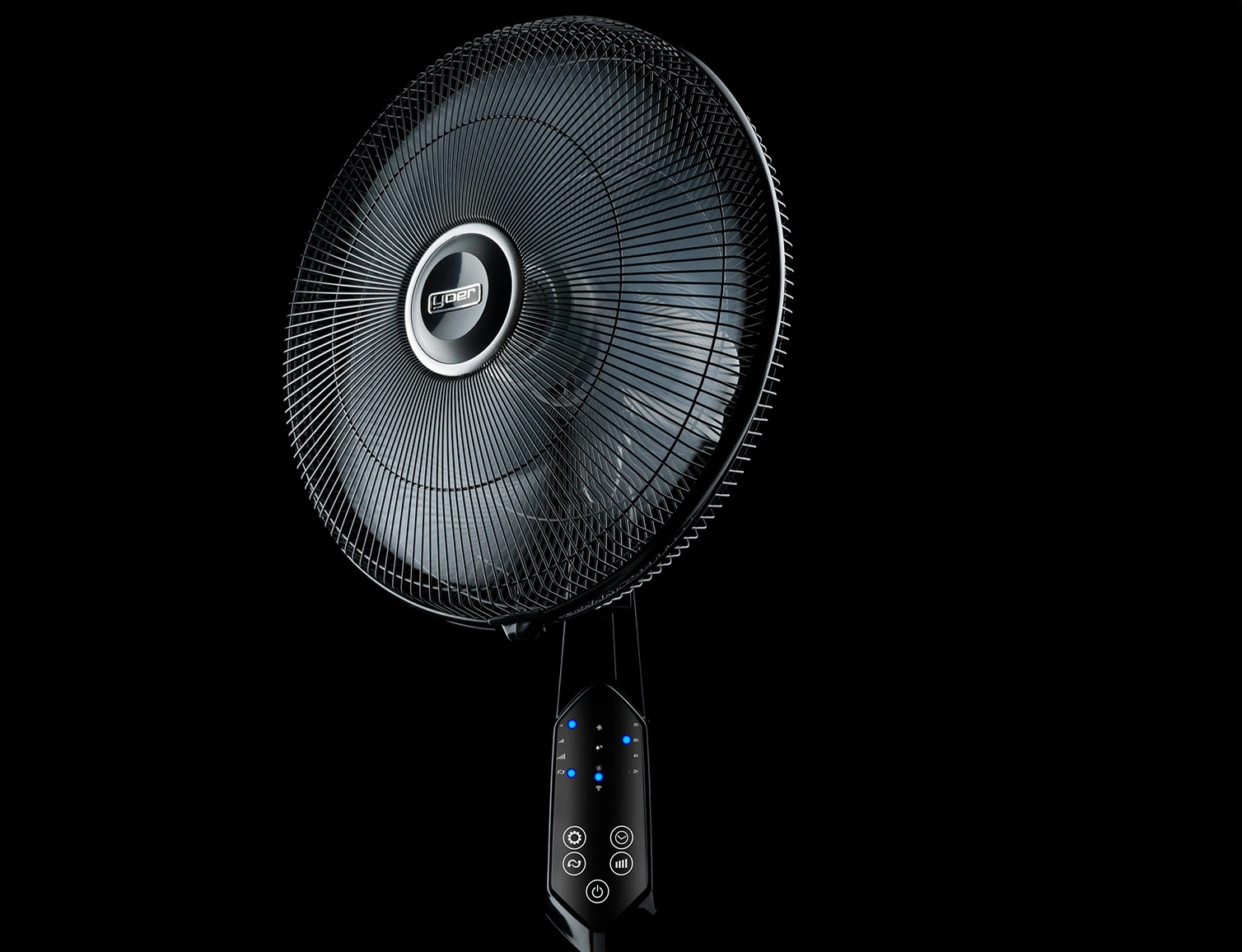 EXCLUSIVE DESIGN
The fan is distinguished not ony by its functionalities but its high quality and unique, elegant look as well - it will perfectly suit every interior without doubt.
Universal, modern design - suits perfectly every interior.
Casing made of high-quality polymer - timeless elegance and years of use.
Minimalstic, touch control panel - elegance and ease of controlling the device.
The device body is decorated with YOER producer logotype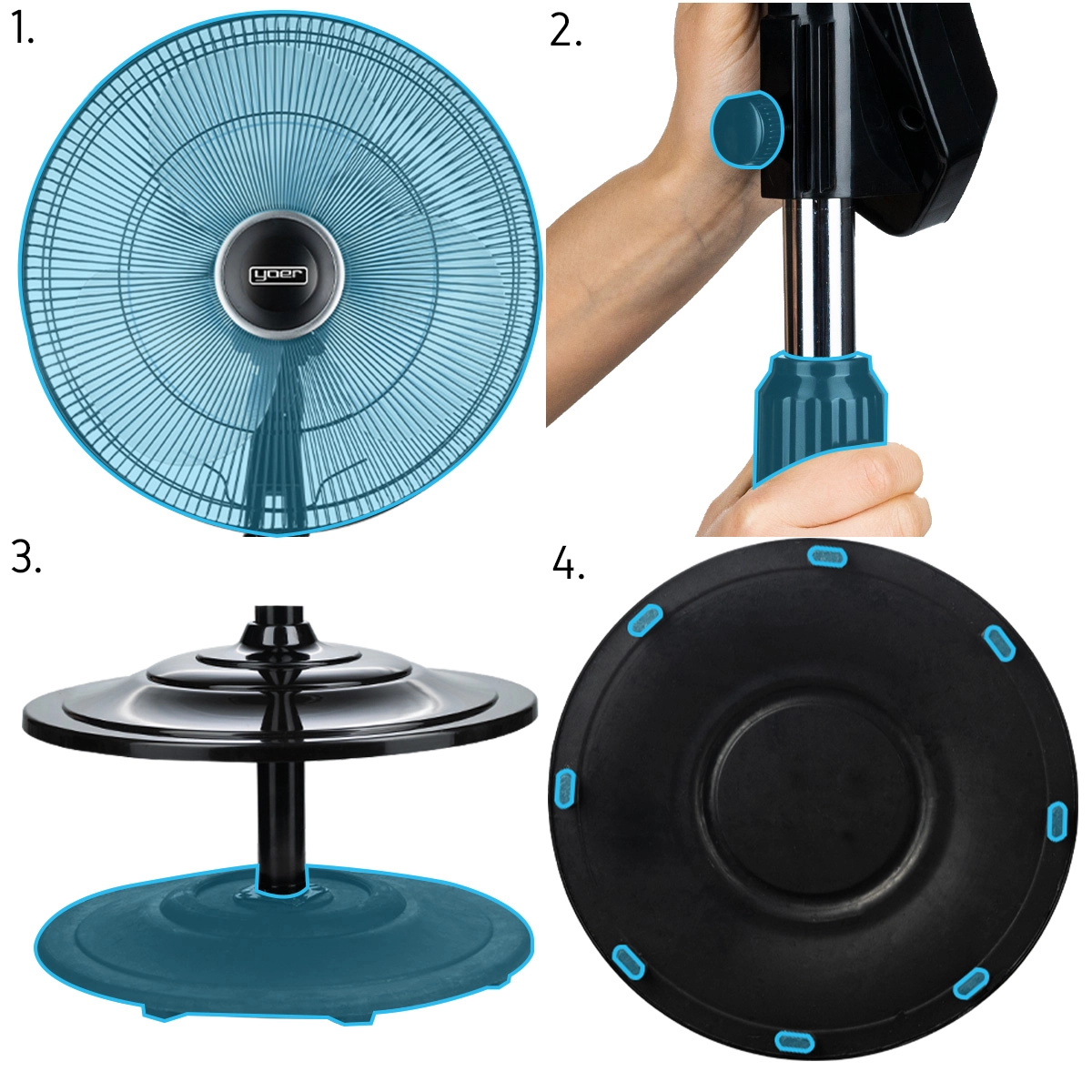 SAFE TO USE
Quard - made of metal, protects the interior of the device preventing from direct contact with the moving parts of the device.
Regularable metal tube with height adjustment nut and fixing screw - the height adjustment nut will lock the fan at the set height. The fixing screw will secure the fan head to the metal tube of the stand fan and table fan.
Wide, stable bases - thanks to round, wide bases, the device remains stable especially during oscillation mode.
Anti-slip feet - additionally equipped with anti-slip feet bases will prevent the device from moving during its operation.
Stable, weighted bases - thanks to proper balance of the bases, the fan is additionally secured against falling.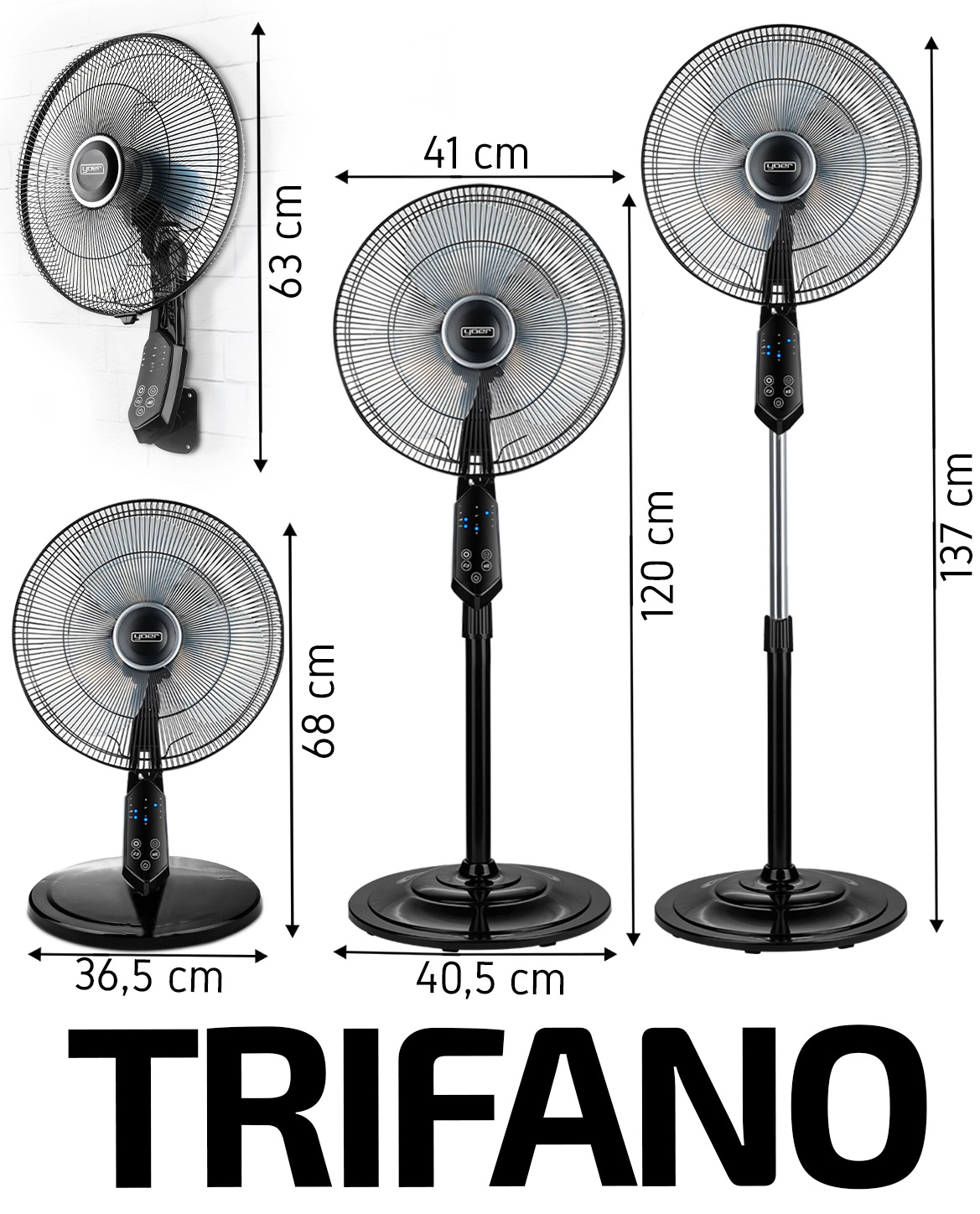 TECHNICAL SPECIFICATION
Power - 55W
Blade diameter- 35 cm (13.8 ")
Guard diameter - 41 cm (16.1 ")
Max. air velocity - 2,39 m/s (7.8 ft/s)
Max. fan flow rate - 37,23 m³/min
Extremely quiet - 53 dB
Power cord length - 157 cm (5.2 ft)
Material - polymer, metal
Weight - 6kg (13.2 lb)
Table fan base diameter - 35,5 cm (14 ")
Stand fan base diameter - 40,5 cm (15.9 ")
Stand fan with base max. height -137 cm (4.5 ft)
Stand fan with base min. height - 120 cm (3.9 ft)
Table fan with base height - 68 cm (26.8 ")
Color - black
Polish power plug - 220-240V ~ 50/60Hz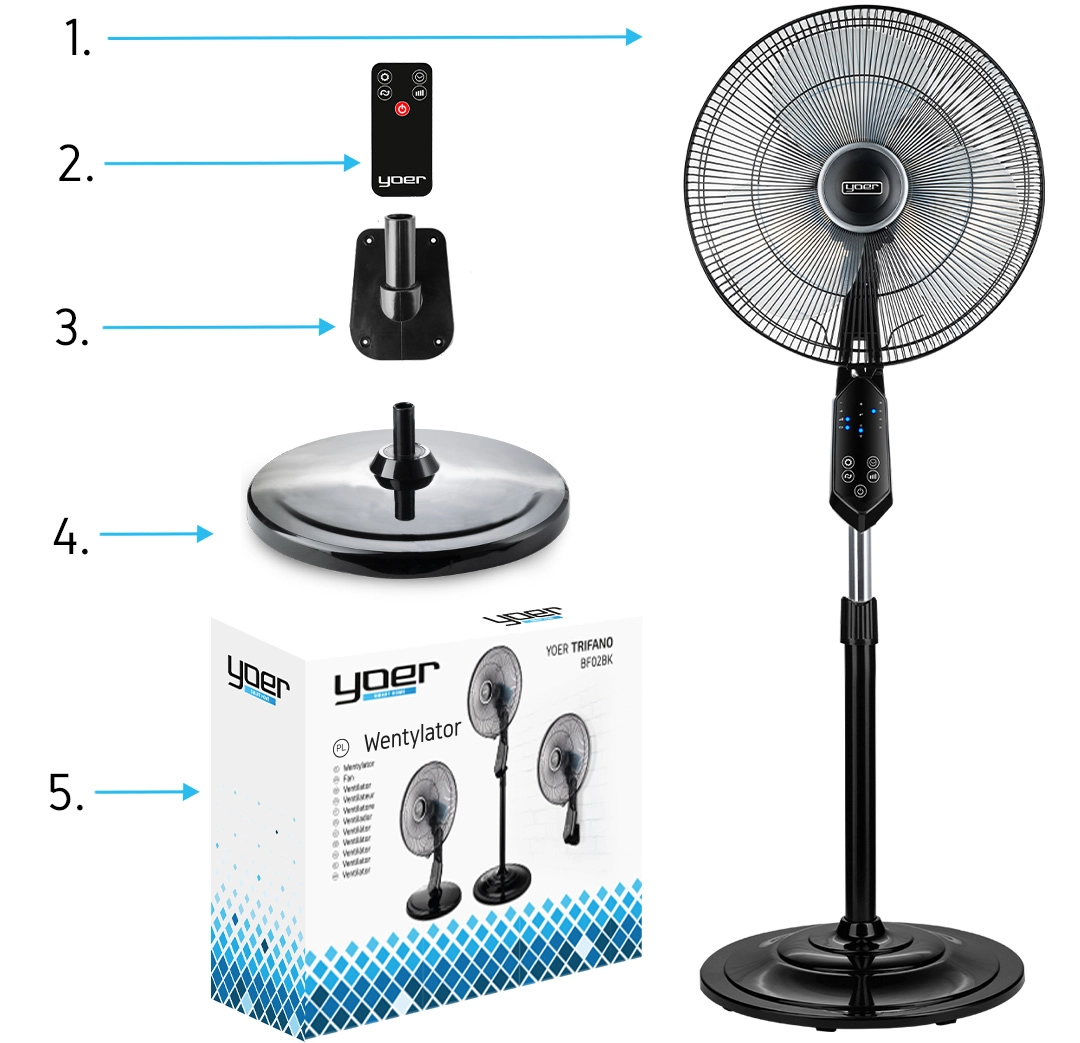 EQUIPMENT
Fan
Remote control
Wall mounting bracket
Table fan base
Original packaging
YOU WILL RECEIVE
Fan - details above,
YOER PLATINUM SECURITY card,
Warranty card,
PL / EN Instruction manual.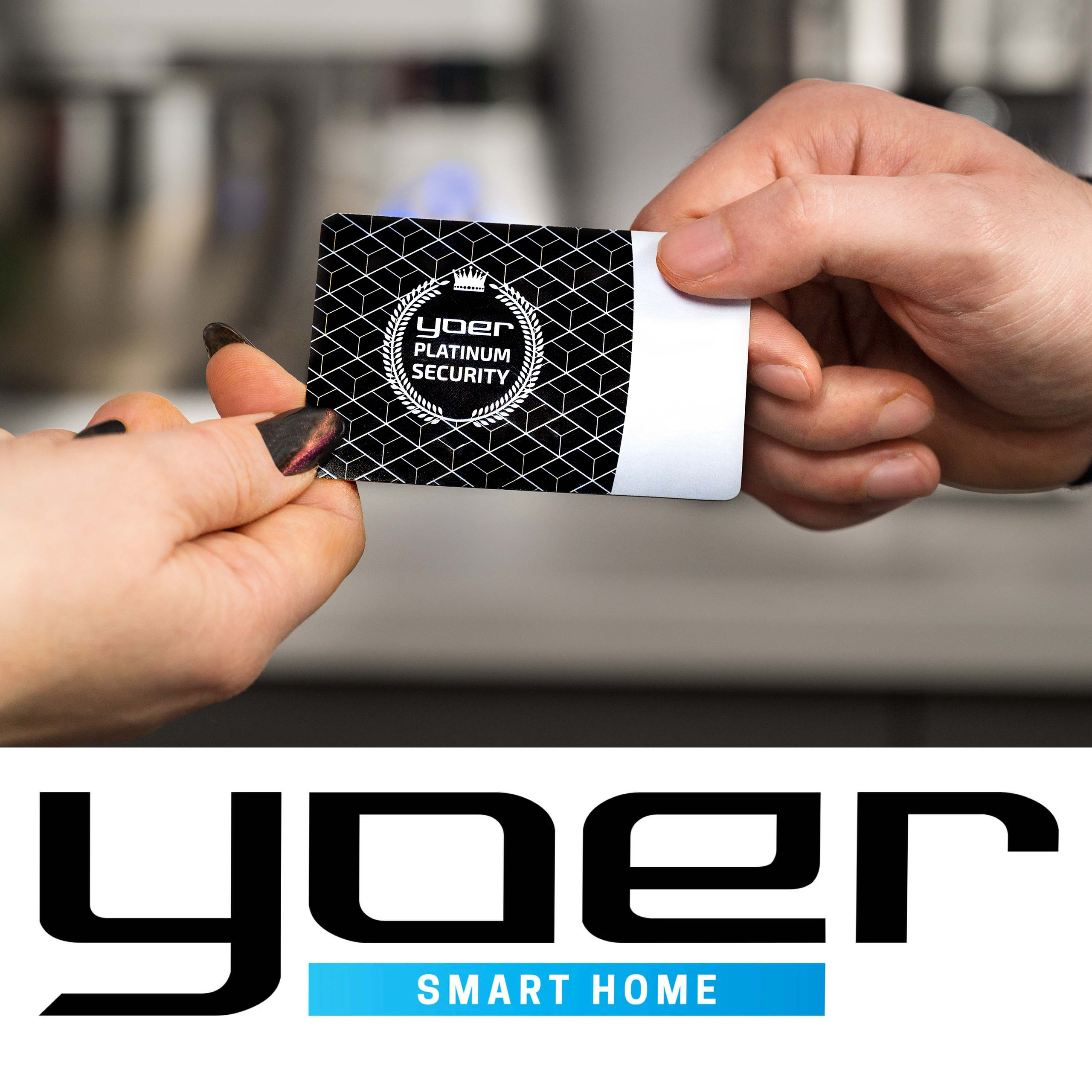 YOER PLATINUM SECURITY
When purchasing products from the official Yoer store you receive the YOER PLATINUM SECURITY package, which is an assurance of additional protection.
YOER - POLISH MANUFACTURER AND BRAND
YOER constitutes an excellent proof that high quality of products does not necesserily go in hand with high prices.

YOER BF02BK Instruction manual – Click here
There is currently no comments or ratings for this product.