Language
Combi coffee maker YOER Doppio CCM01BK 2in1
Pressure: 15 bar, Power: 1850 W, Milk frothing functionality, Coffee maker designed for ground coffee and coffee in pads, Cup heating functionality, Delayed start functionality

Shipping within

24 hours

Availability

Not available

0

pcs.
| | |
| --- | --- |
| Bar code | |
| EAN | 5900779770508 |
Description

Instruction manuals

Reviews & ratings (12)
2in1 COMBI COFFEE MAKER Yoer Doppio CCM01BK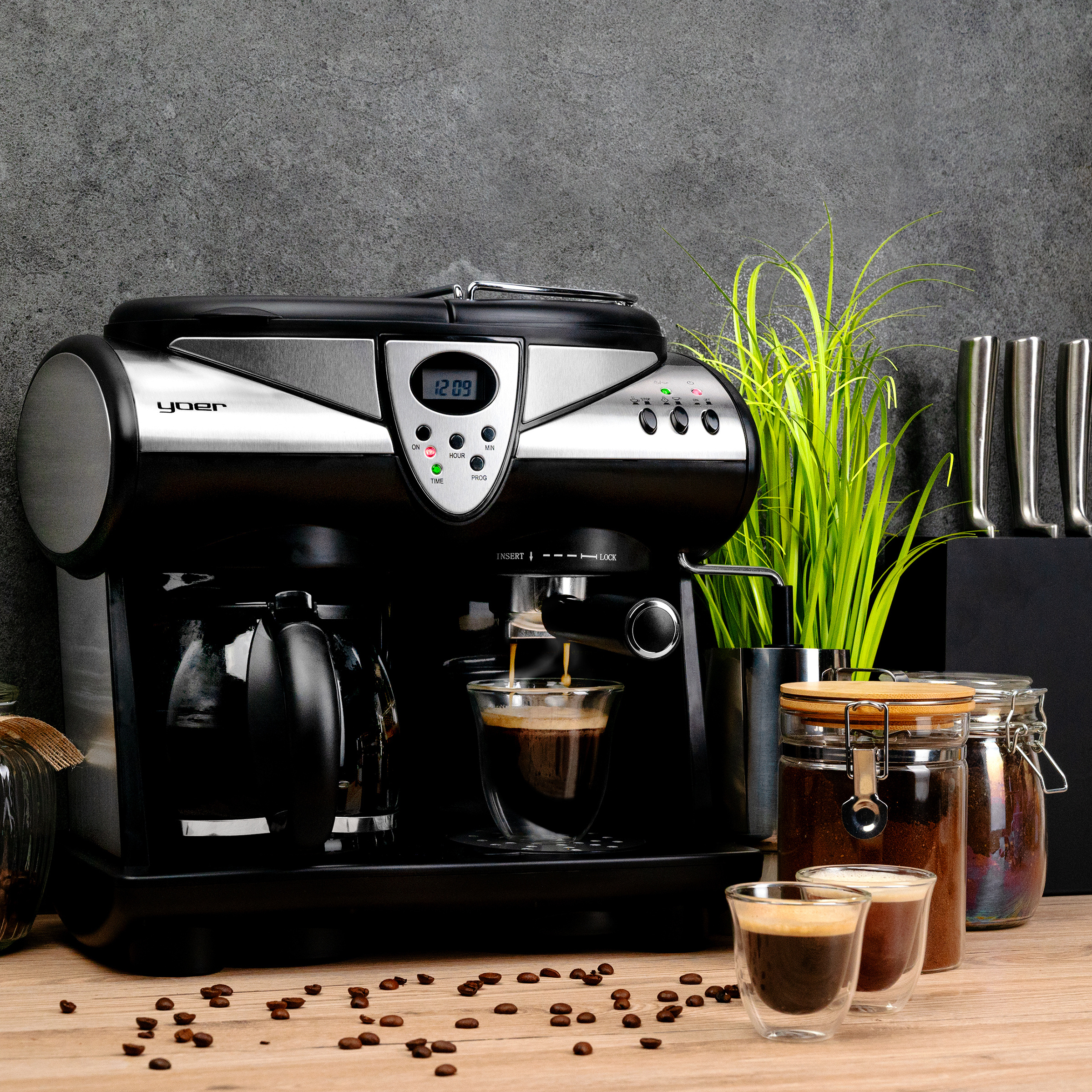 PRODUCT DETAILS
2in1 - espresso machine and drip coffee maker - perfect solution to coffee lovers,
Espresso machine for coffee made with 15 bars of pressure,
Drip coffee maker with glass jug for traditionally brewed coffee,
Both sides can be used at the same time,
Built-in LCD display with a clock,
24-h timer with a function of delayed start,
Milk frothing mode with the help of a handy nozzle with fluid adjustment of steam release,
Possibility of heating up drinks with the use of hot steam,
Cup heating mode,
Device designed for ground coffee and coffee in pads,
Glass jug with a capacity of 1.5 L and a comfortable handle,
Coffee heating mode - jug heating plate with automatic turn off mode,
Double nozzle porta-filter allows you to make 2 coffee cups at the same time,
3 filters: for 1 coffee cup, for 2 coffee cups, for coffee in pads
Multiuse filter for ground coffee, made in drip coffee maker,
ECO mode - the device will be turned off after 35 minutes of inactivity
Removable drip tray,
Anti-slip base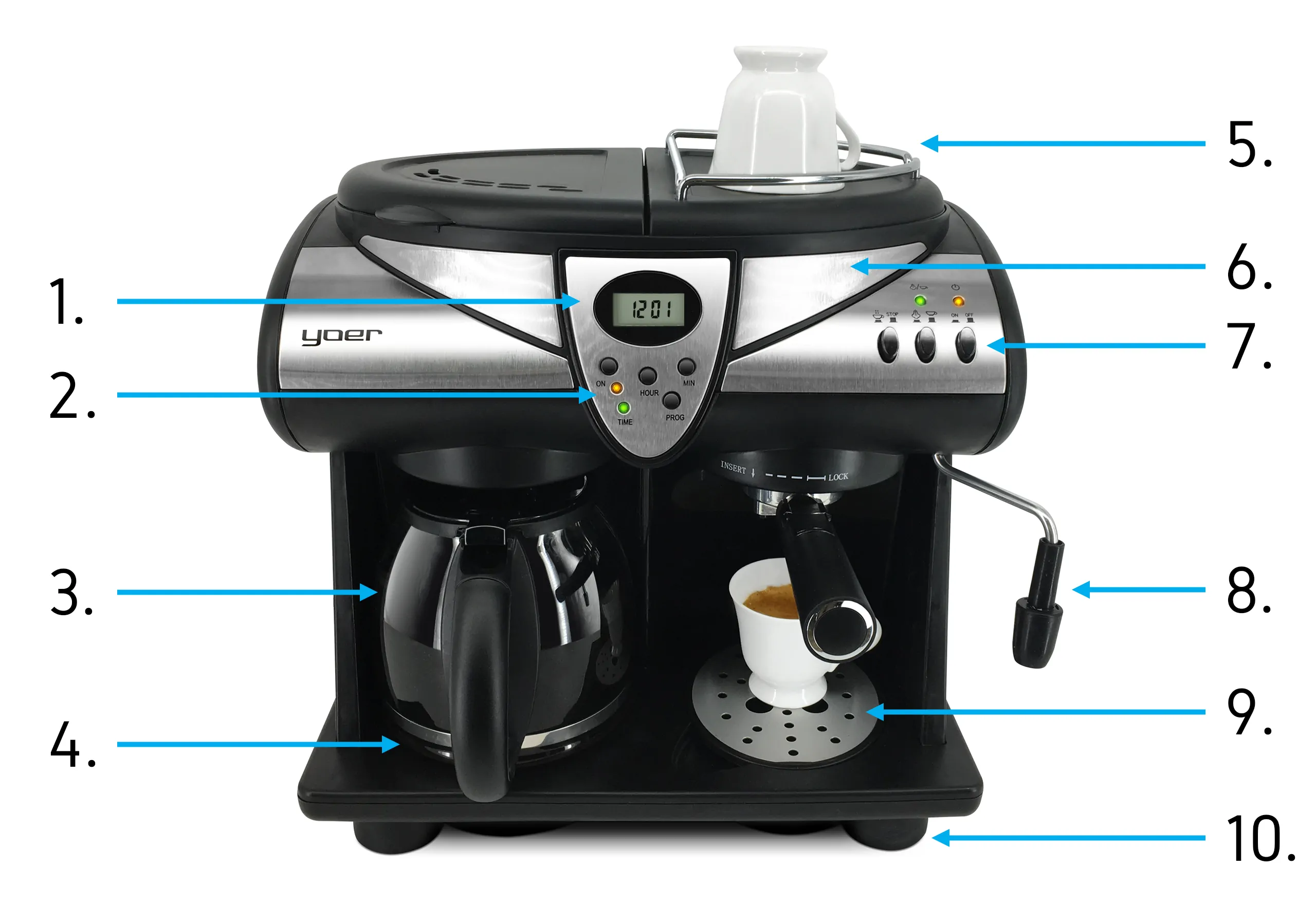 CONSTRUCTION-MAIN COMPONENTS
LCD display
Drip coffee maker control panel
Glass jug
Glass jug heating plate
Coffee cup heating plate
Decorative elements made of INOX stainless steel
Espresso machine control panel
Milk frother nozzle
Removable drip tray and plate tray
Anti-slip feet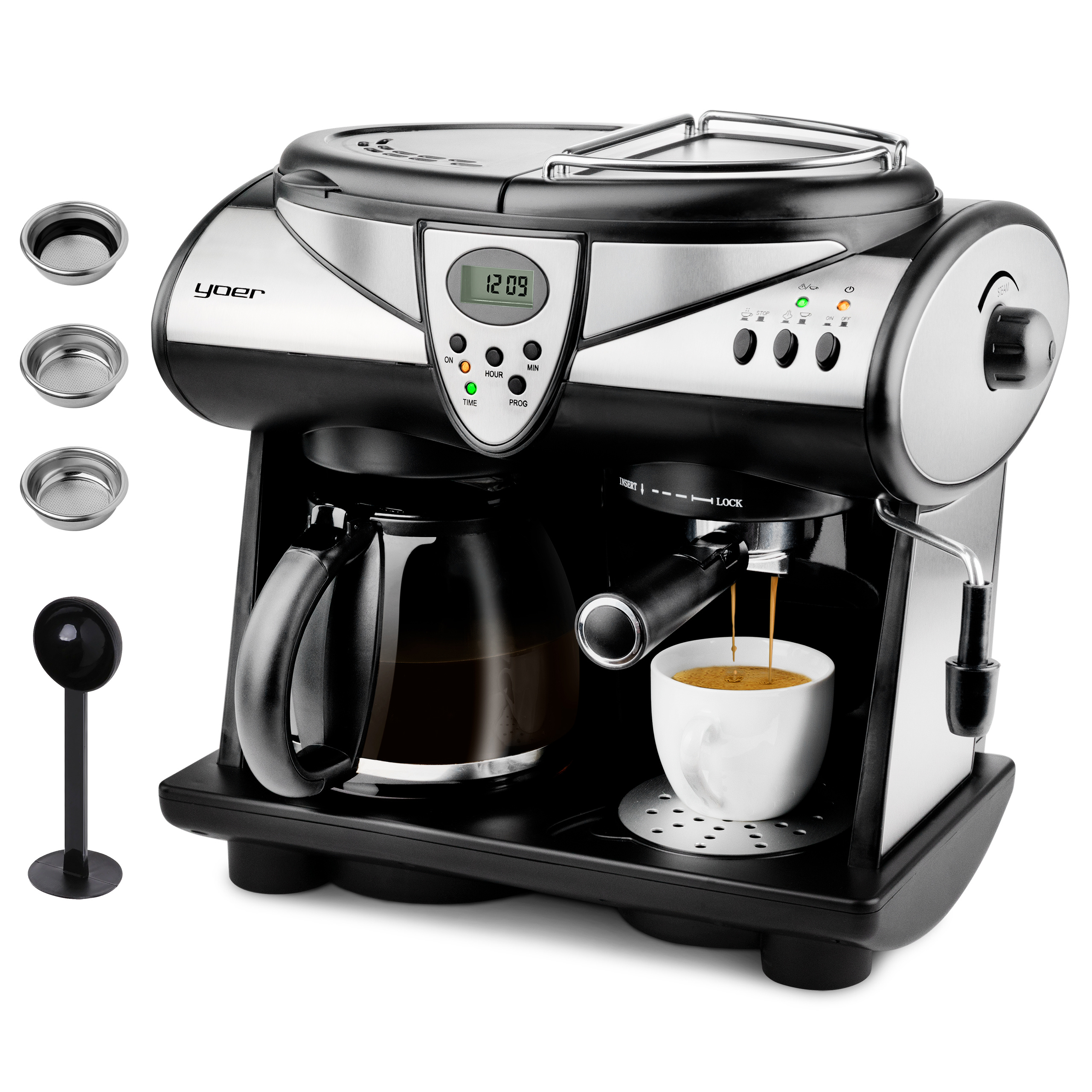 MULTIFUNCTIONALITY
Combi coffee machine - is a fusion of an espresso machine system with a drip coffee maker. It is perfect for people who like strong drip coffee and lovers of delicate coffee with smooth crema.
24h timer - the device allows for a delayed start of brewing after set hour, thanks to it you will be welcomed by a freshly brewed aromatic coffee in the morning.
Milk frothing system - with the help of an easy to use milk frother you will be able to get warm, frothed milk and if you add it to your favourite coffee you will be able to enjoy delicious cappuccino or Latte.
Cup heating mode - to get ideal taste and aroma of the coffee it should be brewed in previously heated-up cup, function used in this coffee maker will enables the coffee cup to be heated up to the optimal temperature before brewing.
Drinks heated up with hot steam - frother nozzle can be used to prepare hot drinks such as: hot chocolate, water or tea.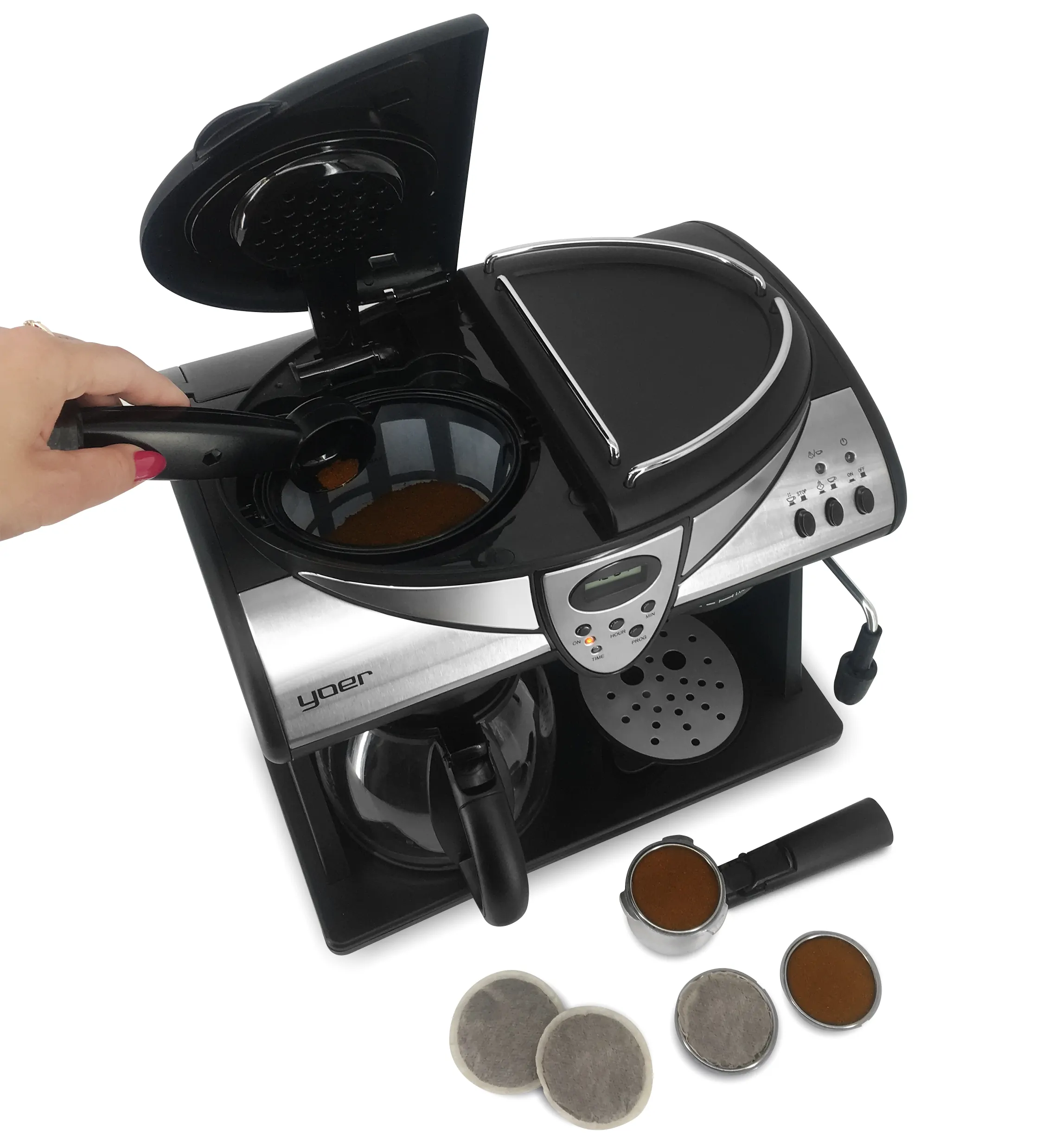 Possibility of the use of ground coffee and coffee in pads - you do not have to limit yourself to one type of coffee, in drip coffee maker you can use your favourite mix of ground coffee, in espresso machine you can use both ground coffee and coffee in pods.
Double nozzle porta-filter - special porta-filter and added to the package filters will allow you to make one cup of coffee or two cups at the same time, that will shorten the time to serve the coffee to your guests by a lot.
Set includes 3 filters: for 1 cup of coffee, for 2 cups or coffee (or double espresso) and one for pad coffee. You need to place appropriate filter in the porta-filter for the coffee you are preparing.
Multiuse filter - under comfortable liftable cover on the drip coffee maker side you can find a special nylon filter for ground coffee, that you can easily take out, clean and use again without need for buying new paper filters.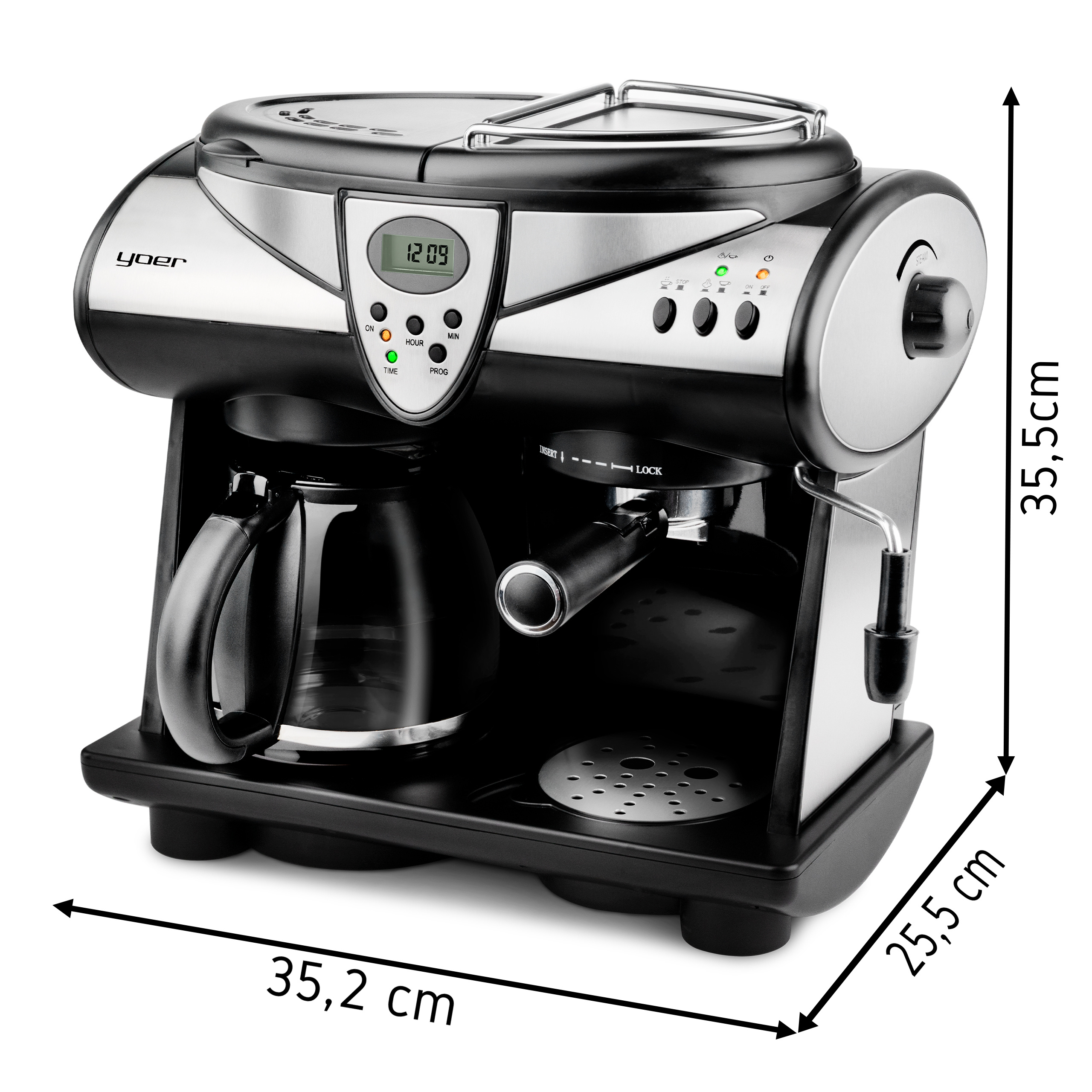 TECHNICAL SPECIFICATION
Water reservoir capacity: 1,5 L (12 coffee cups)
Jug capacity: 1,5 L
You can use cups as tall as 10 cm (3.9 '')
Power: 1850 W
Pressure: 15 bar (218 PSI)
Power cord length: 80 cm (31.5 ")
Weight: 5 kg (11 lbs)
Dimensions: 35,5 cm (height) x 35,2 cm (width) x 25,5 cm (length) (14 x 13.9 x 10 ")
Color: Black with silver elements made of INOX stainless steel
Polish power plug: 220-240V 50/60Hz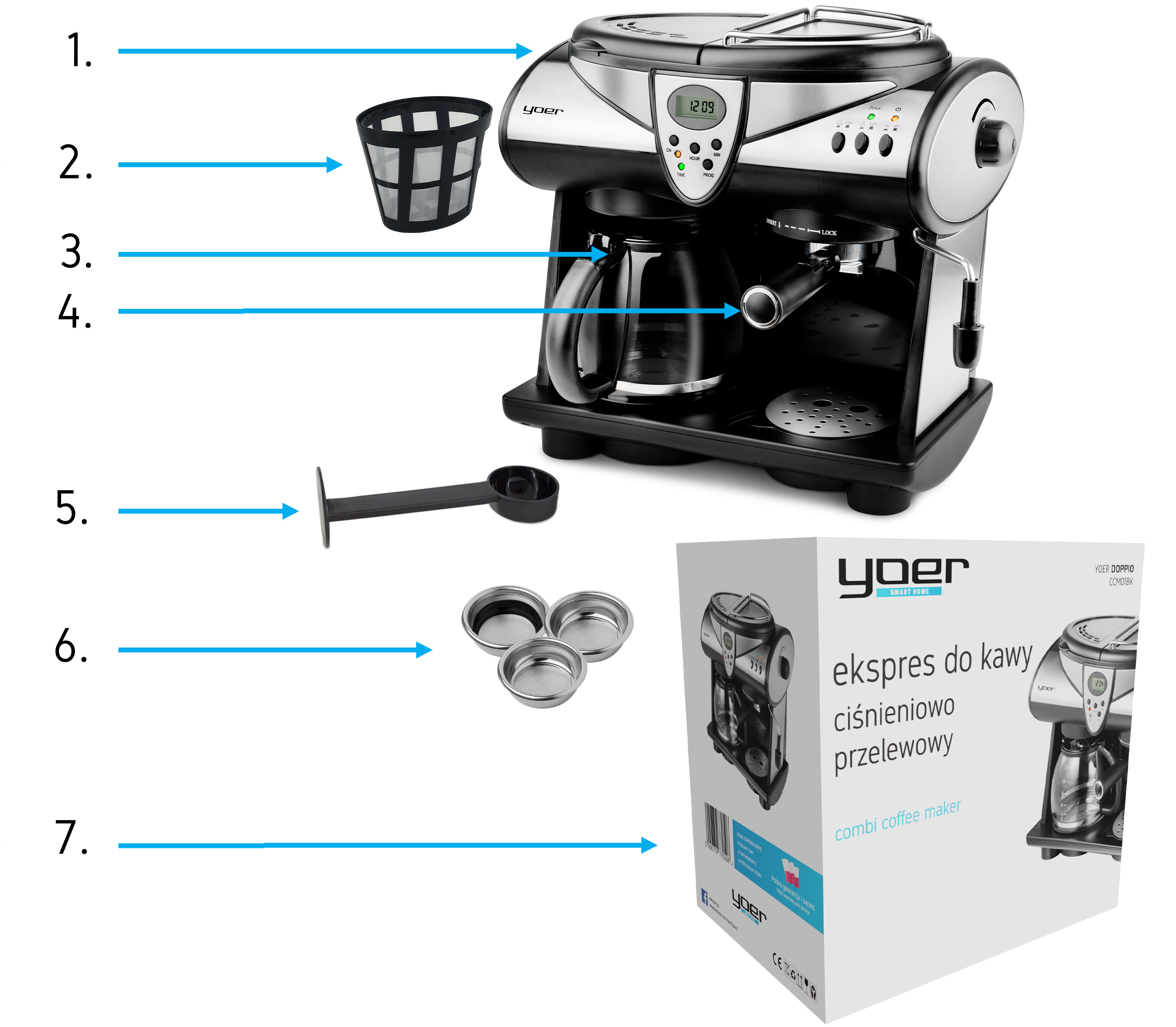 EQUIPMENT
Combi coffee maker,
Multiuse filter for ground coffee,
Glass jug 1,5 L,
Double nozzle porta-filter
Spoon,
Set of 3 filters: for 1 coffee cup, for 2 coffee cups, for coffee in pads,
Original packaging
YOU WILL RECEIVE:
Coffee maker - details above,
YOER PLATINUM SECURITY card,
Warranty card,
PL/EN instruction manual.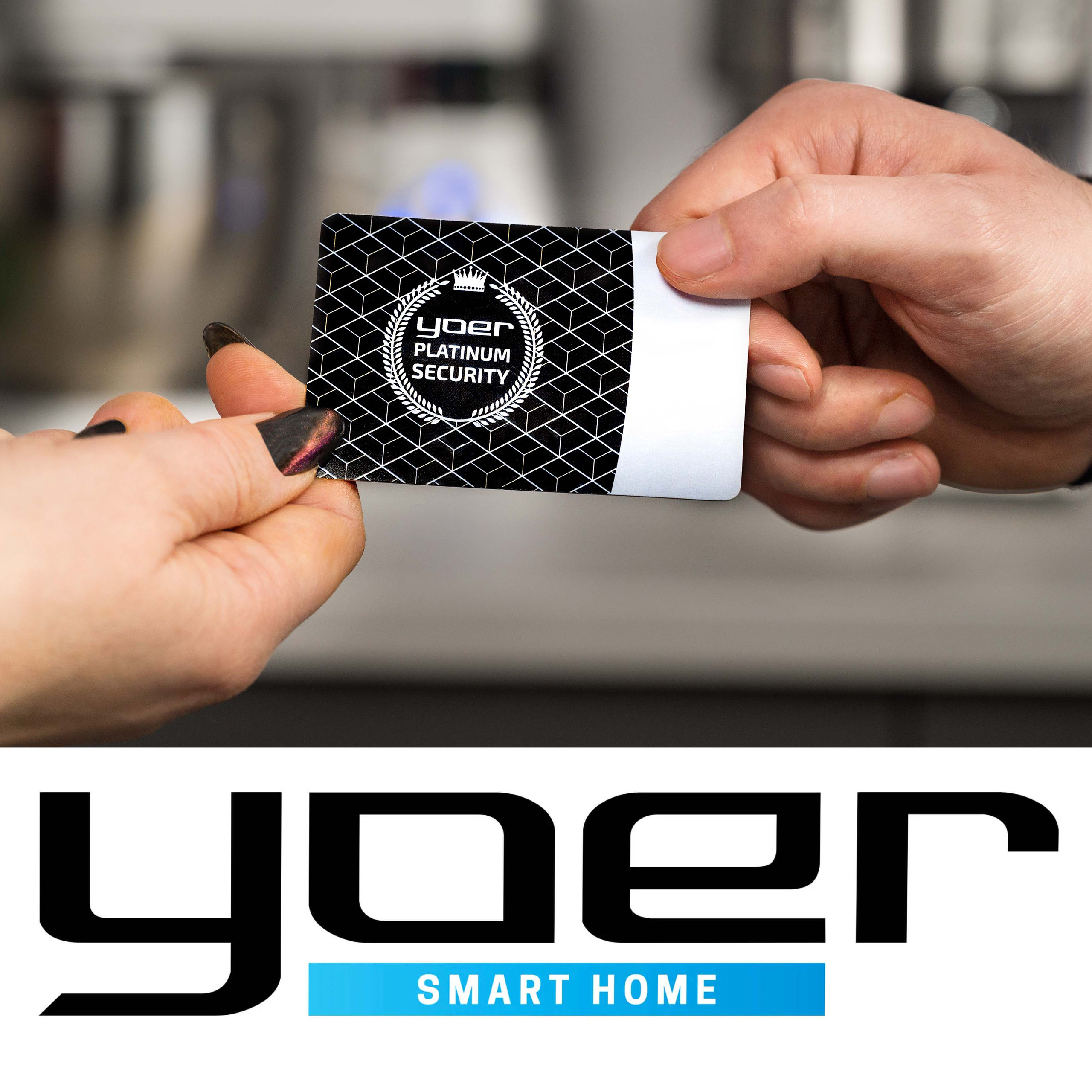 YOER PLATINUM SECURITY
When purchasing products from the official Yoer store you receive the YOER PLATINUM SECURITY package, which is an assurance of additional protection.
YOER - POLISH MANUFACTURER AND BRAND
YOER constitutes an excellent proof that high quality of products does not necesserily go in hand with high prices.

YOER CCM01BK Instruction manual - Click here
Świetny ekspres , pyszna kawa zarówno z ekspresu ciśnieniowego i z przelewowego , dużym plusem jest sitko do kawy w saszetkach , jedyny mały minus brak wskaźnika wody

Kupiłam ponad rok temu. Super ekspres.

Dobra jakość produktu w niskiej cenie . Sprawdza się w domu.

Wszystko ok. Fajny, uniwersalny ekspres, łatwy w obsłudze. Polecam!

Za takie pieniądze nie dostanie się nic lepszego. Wcześniej korzystałam z droższego ekspresu znanej polskiej firmy, ale wcale nie był lepszy. Ekspres Yoer spełnia moje oczekiwania (wszystkich gości też). Kawa wychodzi aromatyczna, mleko dobrze się spenia. Sam ekspres nie pracuje jakoś bardzo głośno. Dodatkowo ma ciekawe bajery z programowaniem czasowym. Czego chcieć więcej? Na użytek domowy idealny!

Pierwsza kawa zrobiona. Ekspres prezentuje sie okazale i jest ozdoba kuchni. Kawa pyszna.

Super ekspres, to był prezent trafiony w 10! Dziękuję i pozdrawiam :)

Zgodny z opisem. Niewielki zbiornik na wodę, trzeba często uzupełniać. Kawa smakuje dobrze.

Kawa wyśmienita, nie jest bardzo głośny, szybko nalewa, wszystko działa i zgodne z opisem.

Express bardzo dobry. Mogę go śmiało polecić.

Wiele funkcji, naprawdę dobra jakość za niską cenę.

świetny produkt, pyszna kawa w domowych warunkach w dodatku urządzenie jest kompaktowe i eleganckie. Jedyną wadą jest brak wskaźnika poziomu wody wszystko inne super.