Language
Electric grill YOER GrillMate EG01BK
2in1 electric grill, exchangeable grates, 2000 W power, regulated thermostat, accessory shelves

Shipping within

24 hours

Availability

Small

18

pcs.
| | |
| --- | --- |
| Bar code | |
| EAN | 5900779771116 |
Description

Instruction manuals

Reviews & ratings (6)
ELECTRIC GRILL YOER GrillMate EG01BK
CONSTRUCTION-MAIN COMPONENTS
Chromed grate (41 x 26 cm) (16.1 x 10.2'')
Fat free grilling plate (41 x 26 cm) (16.1 x 10.2'')
Grate mount
Control lamp
Power cord length
Bottom shelf
Non-slip overlays for the feet
Mini grate (47,5 x 8,5 cm) (18.8 x 3.3 ")
Fat and water tray
Wind cover
Side shelves
Thermostat knob
83,5 cm (32.9'') stand
Easy to assembly connectors
Micro safety switch
PRODUCT DETAILS
Power: 2000 W
Grilling surface: about 1470 cm²
Main grilling surface: 1066 cm² (165.23 in²)
Top grilling surface: about 404 cm² (47,5 x 8,5 cm)
Side shelf dimensions: 20 x 31,5 cm (7.9 x 12.4 ")
Bottom shelf dimensions: 51,5 x 35,5 cm (20.3 x 14 ")
Stand height: 83,5 cm (32.9 ")
Body: Polymer, varnished steel
Regulated thermostat: Yes
Heater work LED: Yes
Micro safety switch: Yes
Overheat protection: Yes
Thermoisolated body: Yes
Non-heating up control knob: Yes
Removable heater: Yes
Non-slip feet: Yes
Fat free grilling plate: Yes
Fat tray: Yes
Wind cover: Yes
Modular body: Yes
Other: Simple and quick assembly, convenient transport
6in1 MULTIFUNCTIONAL GRILL
You do not need to buy separate devices to grill at home and in the garden anymore - GrillMate was designed to satisfy every connoisseur of grilled specialties.
Table - take the grill out of the rack and grill on the table or the kitchen worktop.
Stand - thanks to special, easy to assembly rack, you can place the grill on your terrace or gazebo.
Home - in case of bad weather, grill without smoke in the comfort of your kitchen.
Garden - grill comfortably in your garden
Traditional - use included in the set grate for traditional grilling of meat or vegetables.
Plate - use the fat-free grilling plate with non-stick layer to prepare your favourite dishes in a healthy way.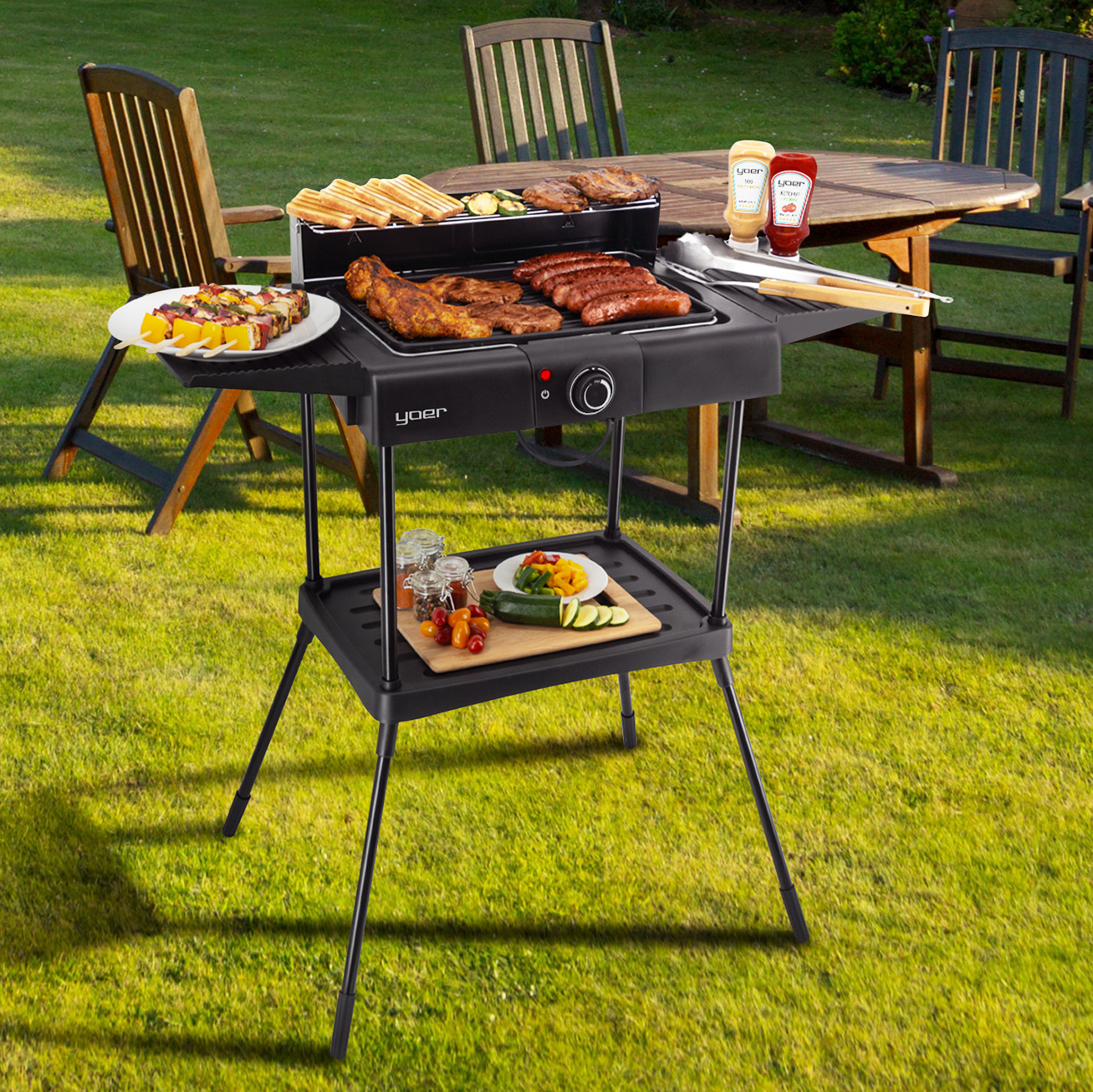 GRILL THROUGHOUT THE YEAR
Electric power - it allows you to enjoy grilled food all year long, regardless of the weather condition. Thanks to the specialized heater and the fat tray filled with water, you will avoid smoke-related problems while grilling which allows the use of the device at home and on a balcony.
Removable wind cover - 9,5 cm (3.7 ") tall, ensures worry-free grilling in the garden without wind getting in the way.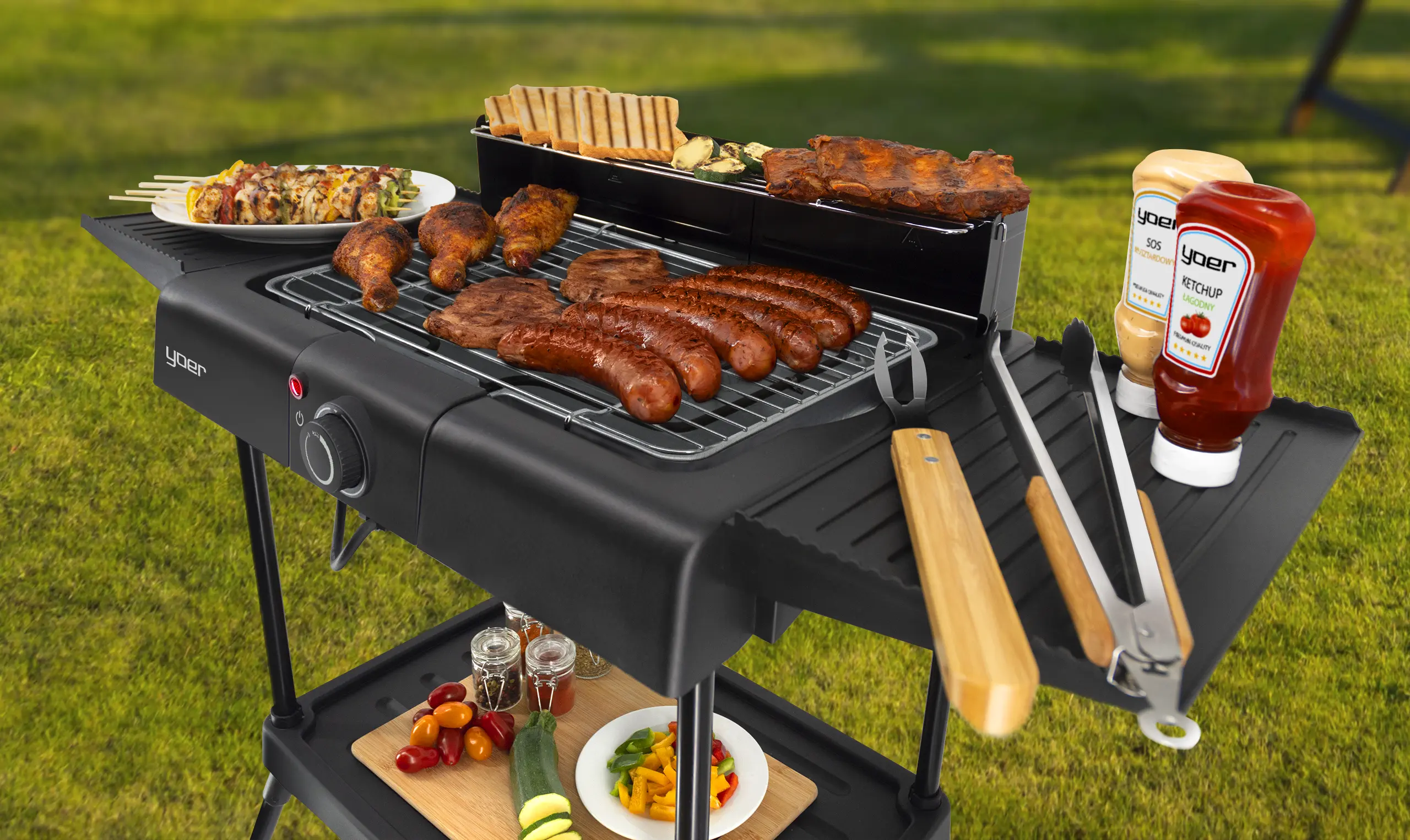 MORE, BETTER AND FASTER
Exceptionally large XXL grilling surface (41x26 cm) (16.1 x 10.2 ") - makes it possible to prepare a large number of meals simultaneously!
Mini grate 404 cm² -mounted on top of the grill cover, keeps your dishes hot, so there is no need to worry that they will get cold before serving.
High power 2000 W - the grill heats up straight away due to its 2000 W power, so your meals will be ready in no time. No need to waste time and patience lighting a traditional grill using charcoal and kindling.
PRACTICAL AND CAPACIOUS
Two convenient and practical side shelves (20 x 31.5 cm) (7.9 x 12.4 ")- You can use it for spices, sauces, silverware, plates and other accessories while grilling.
Commodious bottom shelf (51.5 x 35.5 cm) (20.3 x 14 ")- constituting an integral part of the grill base, it is a great place to put any extra dishes, drinks or spices thanks to its large surface, removing the need for walking away from the appliance to get them.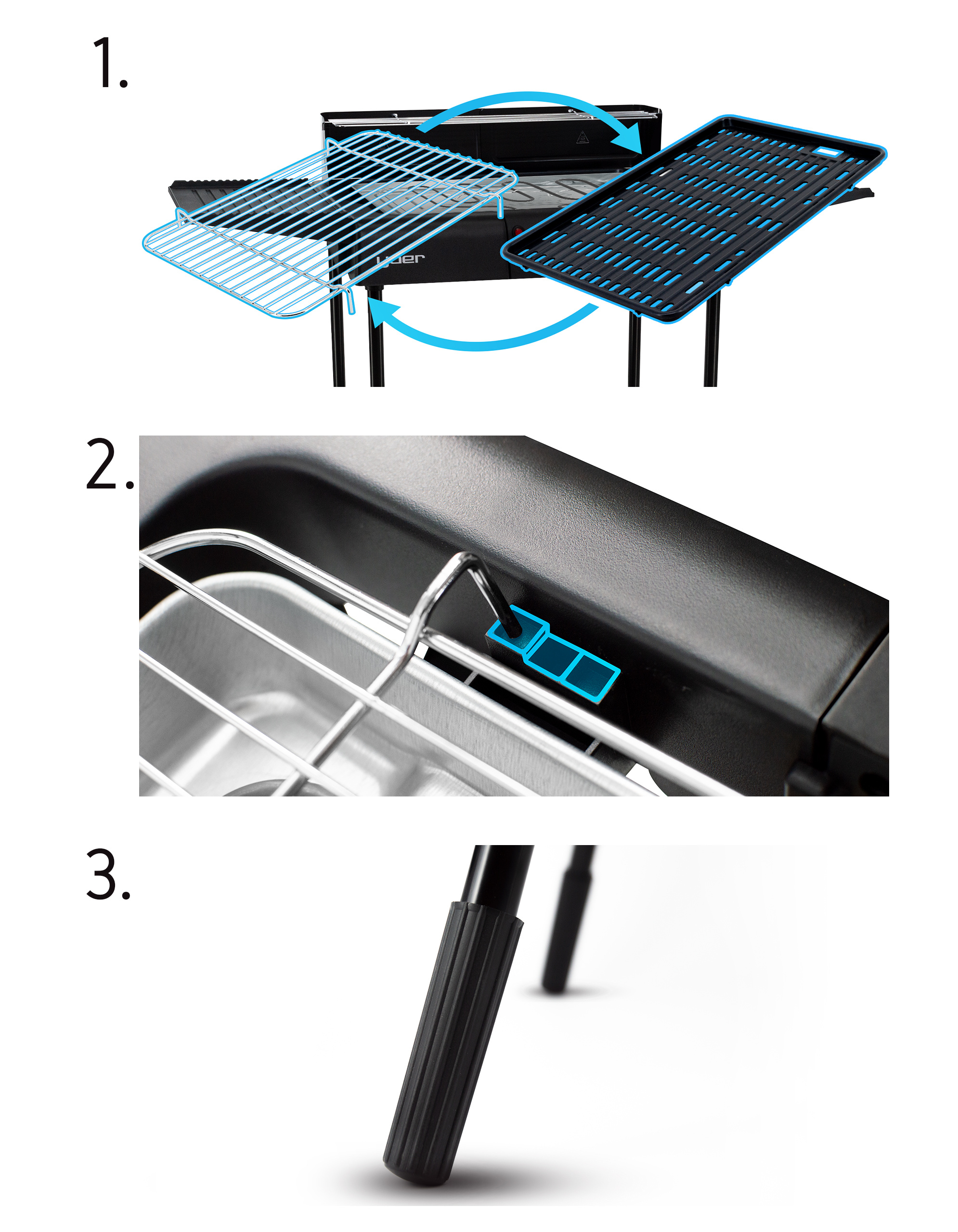 ADDITIONAL FUNCTIONALITIES
TWO TYPES OF INTERCHANGEABLE GRATES

Elegant, chromed grate made od stainless steel - is characterized by fantastically low weight and ease of cleaning. Its high resilience assures long usage life.
Specialized fat-free grilling plate - made of aluminum and covered with a non-stick layer. Prepared meals do not stick do the plate, which makes using it a joy.

THREE GRATE HEIGHT SETTINGS

Grate height adjustment - the dedicated body element allows adjusting the height of the chromed grate by increasing or decreasing the distance of the grate from the heater by one of three settings: 1 cm, 1.5 cm, 2 cm (0.4, 0.6, 0.8 ") .

PROTECTIVE STAND LEG ONLAYS

Stability at any spot - ensure additional stability during operation of the grill in the standalone configuration. The assembly is as simple as putting them onto the stand leg tubes.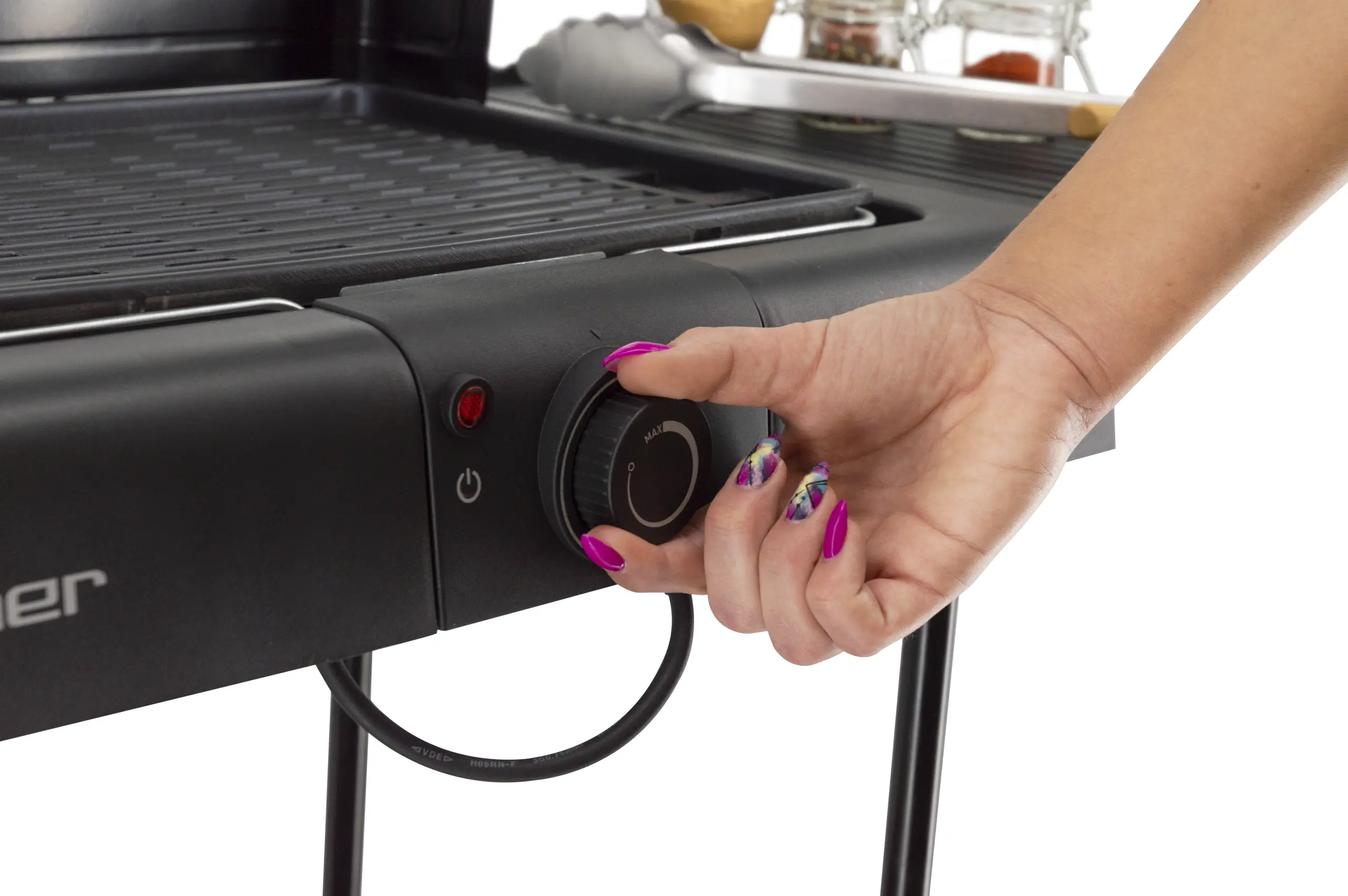 COMPLETELY INTUITIVE CONTROL PANEL
Convenient control - thanks to the built-in thermostat and the stepless knob mounted to the front side of the device, power can be easily adjusted in the range of 1700-2000 W.
Heat-resistant control knob - the specialized construction of the heating element and the control panel ensures that the control knob's temperature remains unchanged during operation.
Micro safety switch - instantly cuts the power should the heater be removed from its mount. Also, in case of a risk of damage due to the grill's temperature, it will shut it off.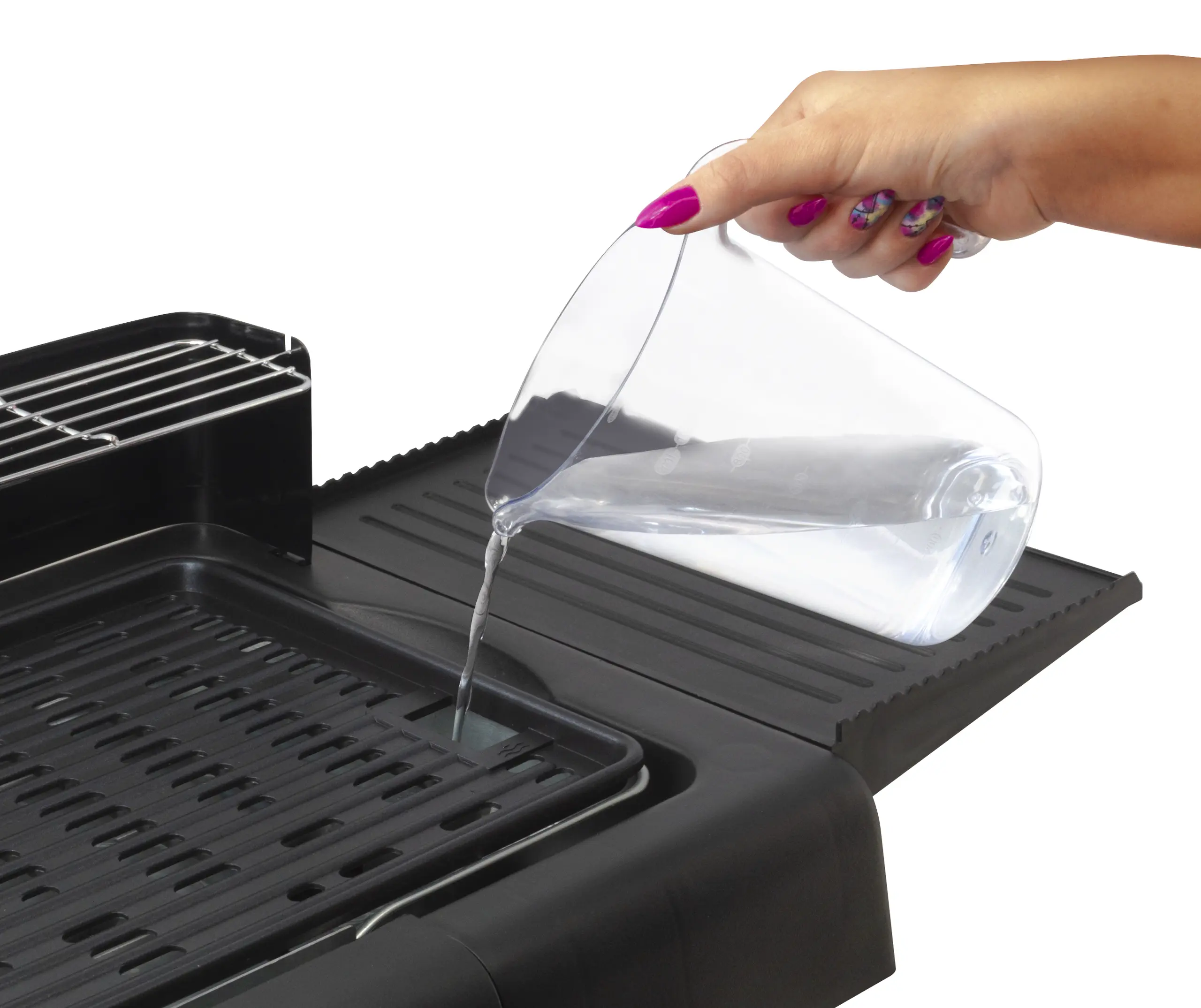 HEALTHY SMOKE-FREE GRILLING
Aluminium fat tray - located directly under the grate, the aluminum water-fillable tray collects fat dripping from grilled meals, so as to prevent the fat from burning up and forming smoke.
Health and safety - in contrast to charcoal grills, electric grills prevent any harmful chemicals getting in the food or the air like those created when using certain kinds of wood, coal, kindling or petrol.
Quick and easy cleaning - owing to the simplicity and modularity of the grill's body, it is very easy to clean. After use, all it takes is to take off the dirty elements and wash them with warm water.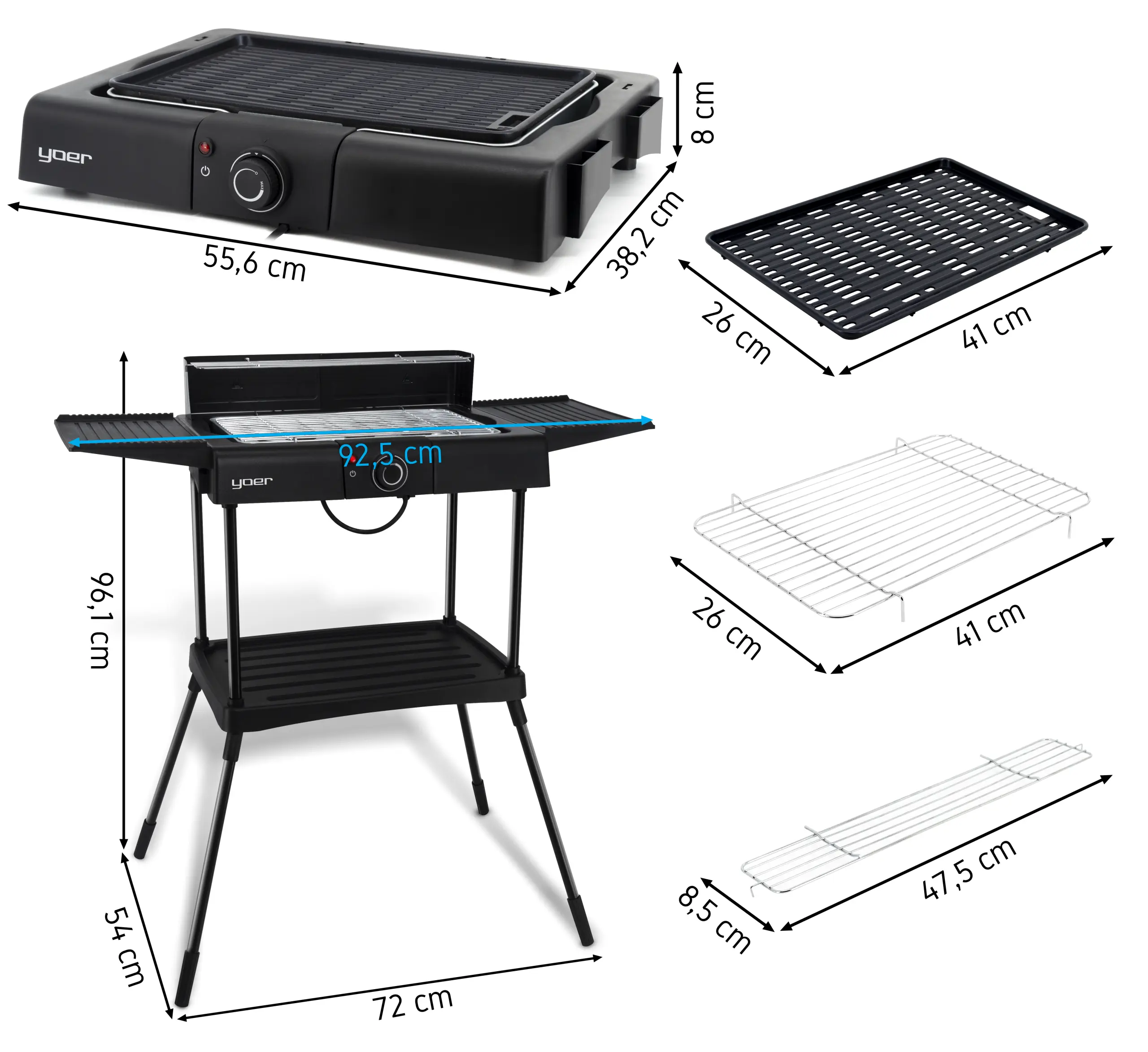 TECHNICAL SPECIFICATION
Body: Polymer, steel
Grilling surface: about 1470 cm²
Main grilling surface: 1066 cm²
Power: 1700-2000 W
Power cord length: 182,5 cm (6 ft)
Weight: 5,45 kg (12 lbs)
Base dimensions: 55,6 cm (width) x 38,2 cm (length) x 8 cm (height) (22 x 15 x 3 ")
Device dimensions (fully extended): 92,5 cm (width) x 54 cm (length) x 96,1 cm (height) (36.4 x 21.3 x 38 ")
Side shelf dimensions: 20 x 31,5 cm (7.9 x 12.4'')
Bottom shelf dimensions: 51,5 x 35,5 cm (20.3 x 14'')
Chromed grate dimensions: 41 x 26 cm (16.1 x 10.2)
Fat free grilling plate dimensions: 41 x 26 cm (16.1 x 10.2'')
Mini grate dimensions: 47,5 x 8,5 cm (18.7 x 3.3'')
Wind cover dimensions: 9,5 cm (3.7'')
Stand height: 81,5 cm (32'')
Color: Black
Polish power plug: 220-240V 50/60Hz
EQUIPMENT
Spiral heater
Grill base
Bottom shelf
2 x side shelf
Fat free grilling plate (26 x 41 cm) (10.2 x 16.1'')
Chromed grate
Mini grate
Fat tray
4 x protective stand leg onlay
4 x stand connectors
8 x stand leg
2 x wind cover
Original packaging
YOU WILL RECEIVE:
Electric grill - details above,
YOER PLATINUM SECURITY card,
Warranty card,
Receipt / VAT invoice,
PL / EN instruction manual.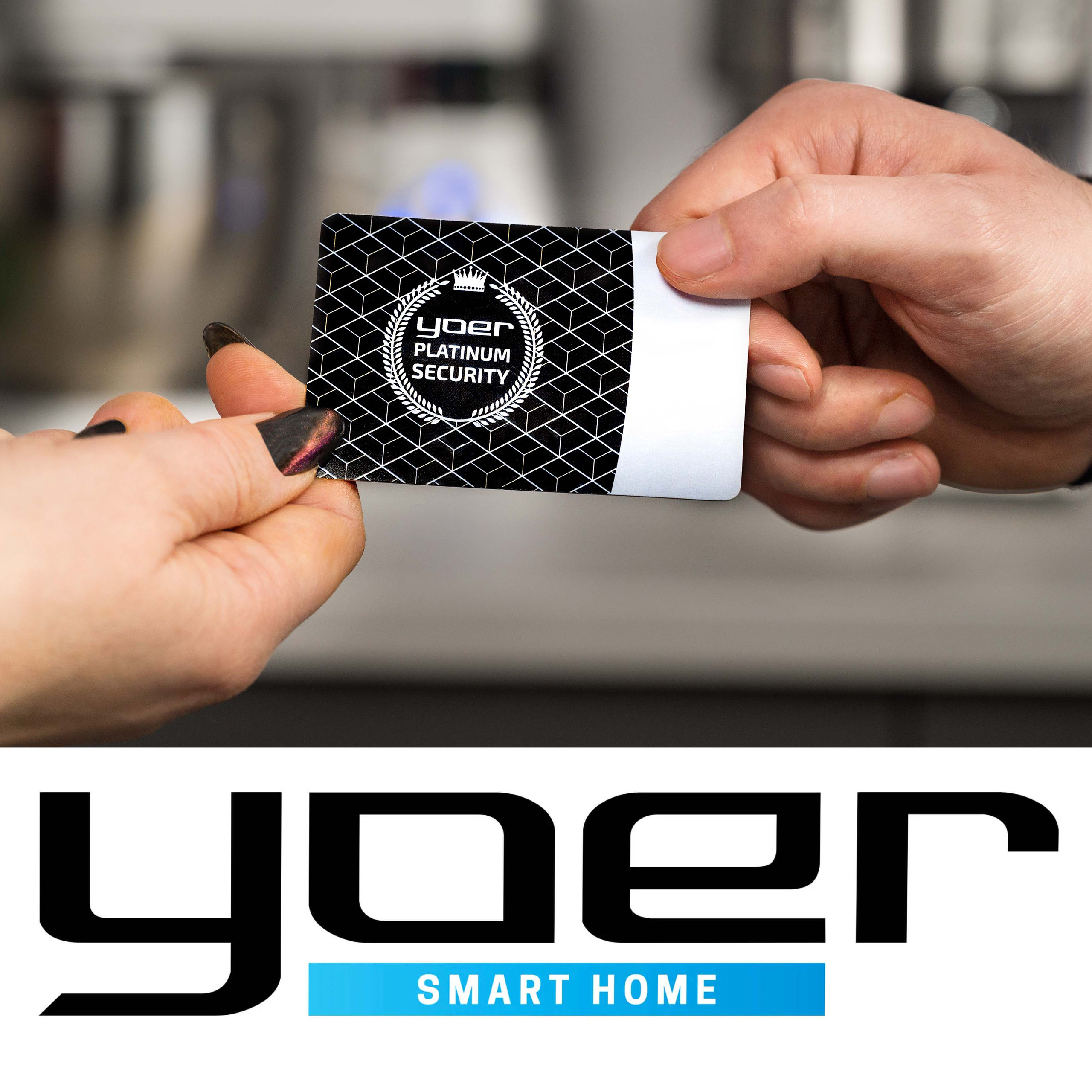 YOER PLATINUM SECURITY
When purchasing products from the official Yoer store you receive the YOER PLATINUM SECURITY package, which is an assurance of additional protection.
YOER - POLISH MANUFACTURER AND BRAND
YOER constitutes an excellent proof that high quality of products does not necesserily go in hand with high prices.

YOER EG01BK Instruction manual - Click here
Super jakość i funkcjonalność. Bardzo praktyczny. Gorąco polecam.
+ Jakość wykonania. Funkcjonalność Niska cena

Polecam

Polecam! Super grill, ma wszystko co trzeba.

Sprzęt jak za te pieniądze klasa!

super grill polecam

Dobry i praktyczny grill, efekt taki sam i bez zadymiania sąsiadów! Polecam!

Recently viewed products

Other Customers also purchased

Similar products