Language
Humidifier YOER Aqualio HU01W
Remote control, ultrasonic humidifying, ionizer, humidity sensor, aromatherapy functionality, 12-hour timer, sleep mode, quiet operation, 3 power levels.
Order within
and we will send the package today

Shipping within

Shipment within 24 hours

Availability

Small

45

pcs.
| | |
| --- | --- |
| Bar code | |
| EAN | 5900779771215 |
Description

Instruction manuals
HUMIDIFIER YOER Aqualio HU01W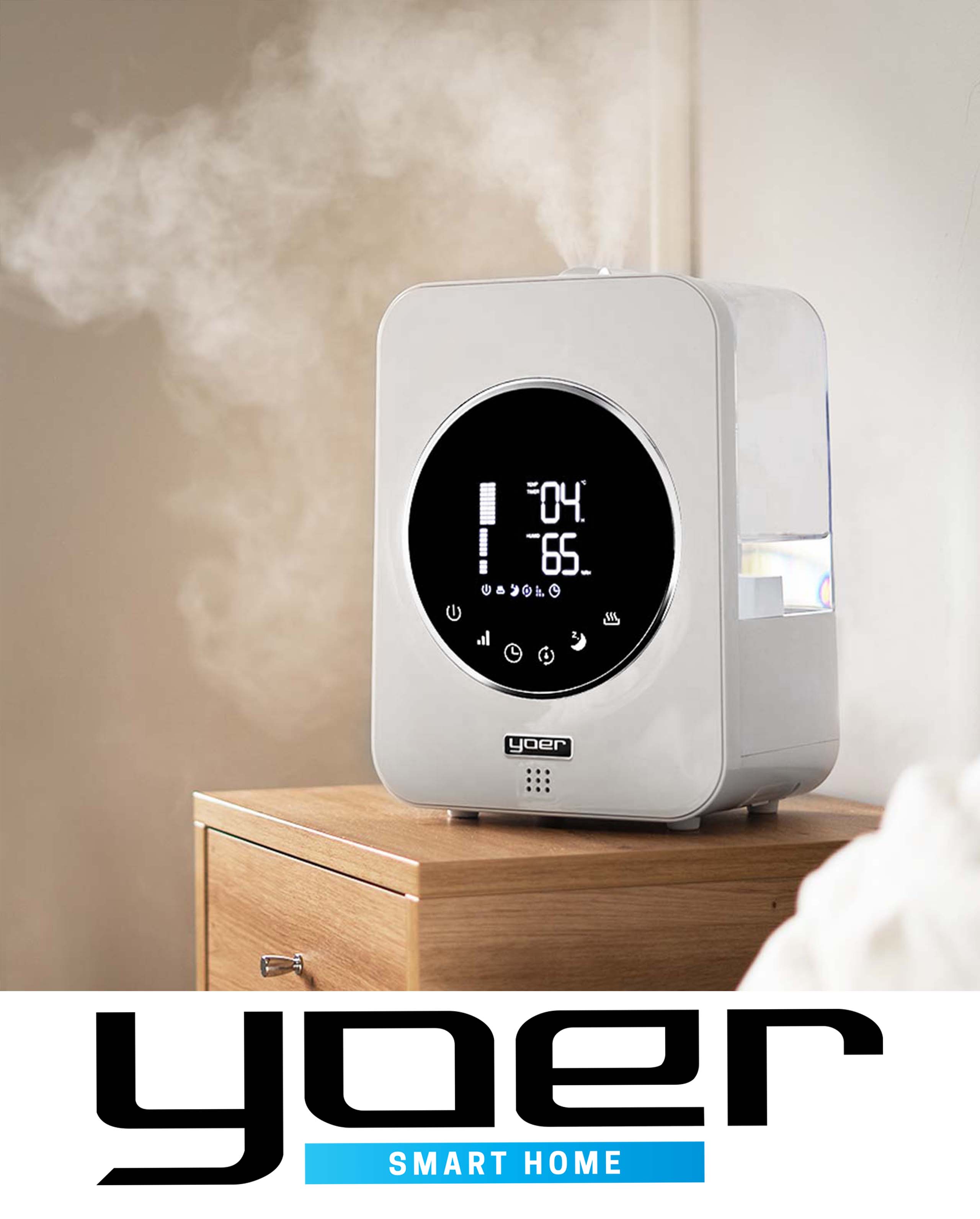 📝PRODUCT DETAILS
4in1: enjoy your humidifier, ionizer (air purifier), aroma (aromatherapy), night light in one device,
350 ml/h: will ensure tremendous humidifying performance,
Automatic operation - built-in humidity sensor: keep the selected humidity level in your room,
Two-piece rotary nozzle: put the mist stream in preferable direction,
32 working hours: do not worry about constant refilling of water,
LED display: will make the control of the device easier,
Touch control panel: control your humidifier in such an easy way,
Remote control: control your device without the need to get up,
Sleep mode: enjoy the specialized mode while sleeping,
Compact dimensions: put the device on a little night stand,
22 dB noise level: do not worry about loud operation of the device,
12-hour timer: program the device oepration according to your needs.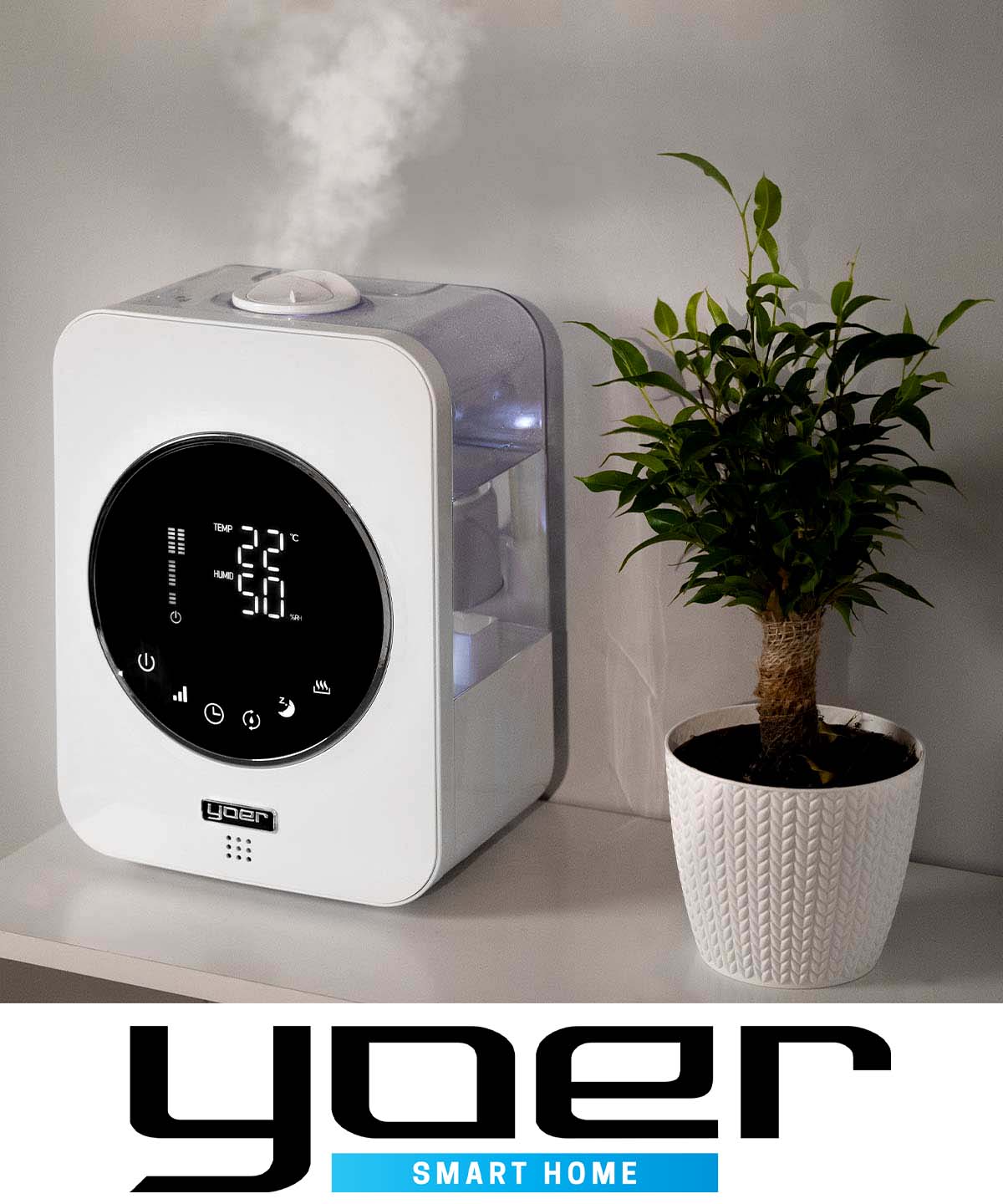 MORE CONVENIENT PROPERTIES
3 humidifying intensity levels: choose between low, medium and high level,
Ionizer | Air purifier: negatively-charged ions will remove vontaminants from the air in your room,
Ceramic antibacterial filter: will secure your device against microbe cultivation in the water,
Aromatherapy function: fill your room with your favourite scent,
4.5 L removable reservoir: you will fill up the water in an easy way,
Humidity and temperature sensors: you will check the humidity level and room temperature,
Automatic humidity sensor: monitors the humidity level and turns the device on or off when needed,
Water level sensor: will inform you when there is not water in the water reservoir,
Warm/cold mist: choose the type of the mist.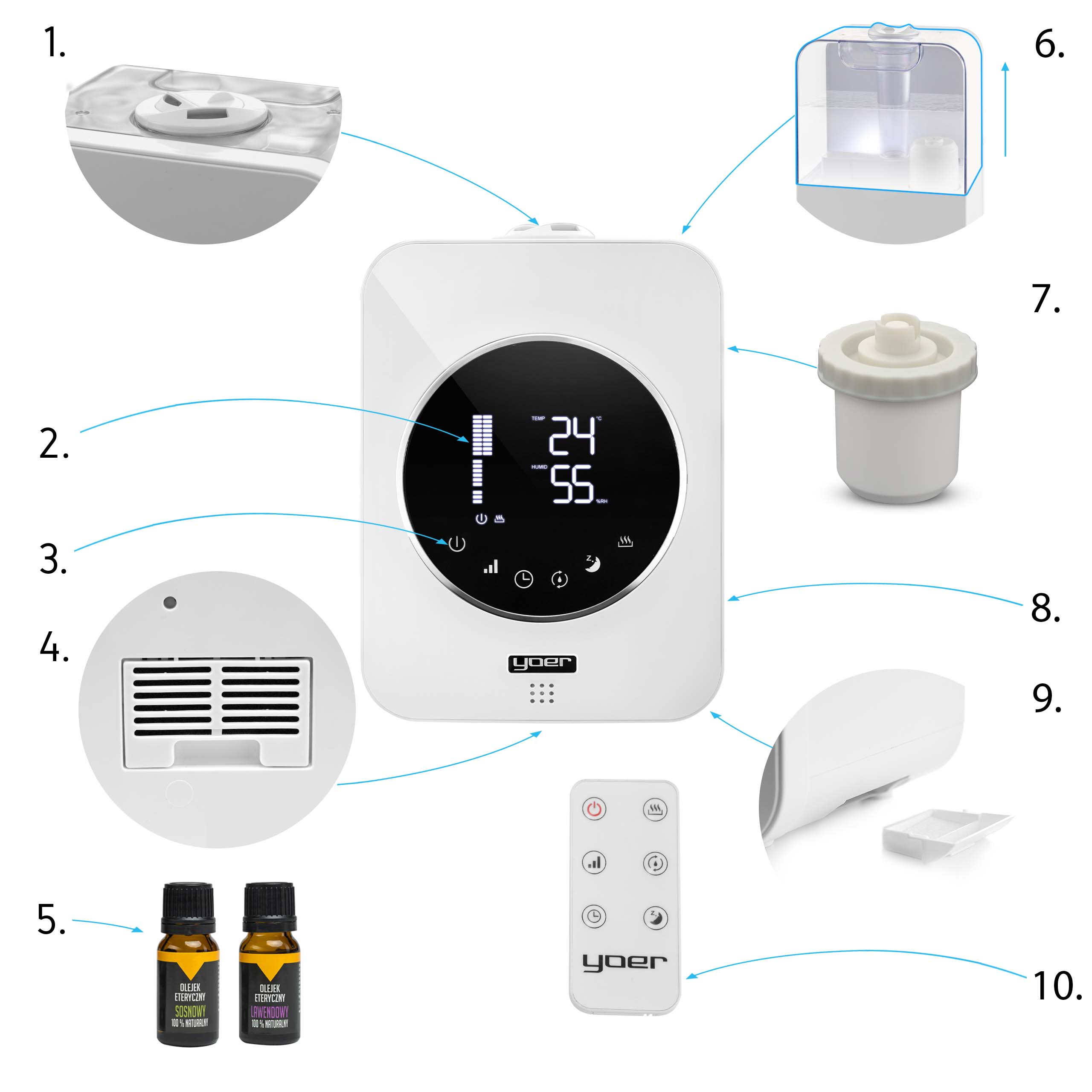 ⚙CONSTRUCTION - MAIN COMPONENTS
Two-piece mist nozzle with direction adjustment
LED display
Touch control panel
Air inlet filter
2 essential oils
Removable backlit water reservoir with handle (4.5 L capacity)
Ceramic antibacterial filter
Main body
Essential oil tray
Remote control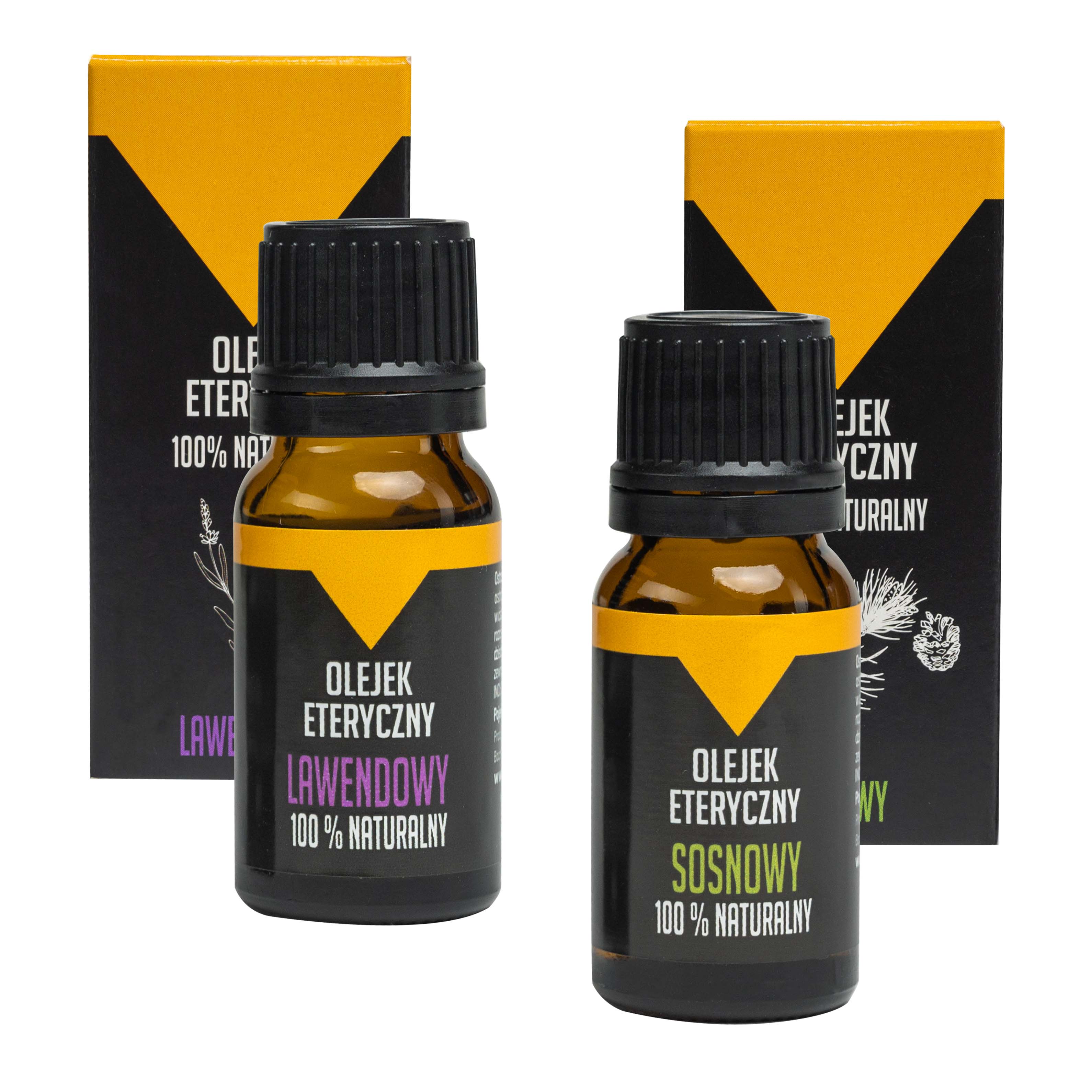 2 ESSENTIAL OILS FOR FREE !!!
Lavender: it is perfect for those, who appreciate relax and rest. Delicate and soothing scent of lavender allows you to break away from everyday matters and allows you to feel bissful peace.
Pine: enrich your interiors with the natural aroma of a pine forest that will allow you to relax. Allow yourself a moment of respite and feel the power of nature with wonderful smell of pine.
Capacity10 ml - will allow you to enjoy many hours of aromatherapy.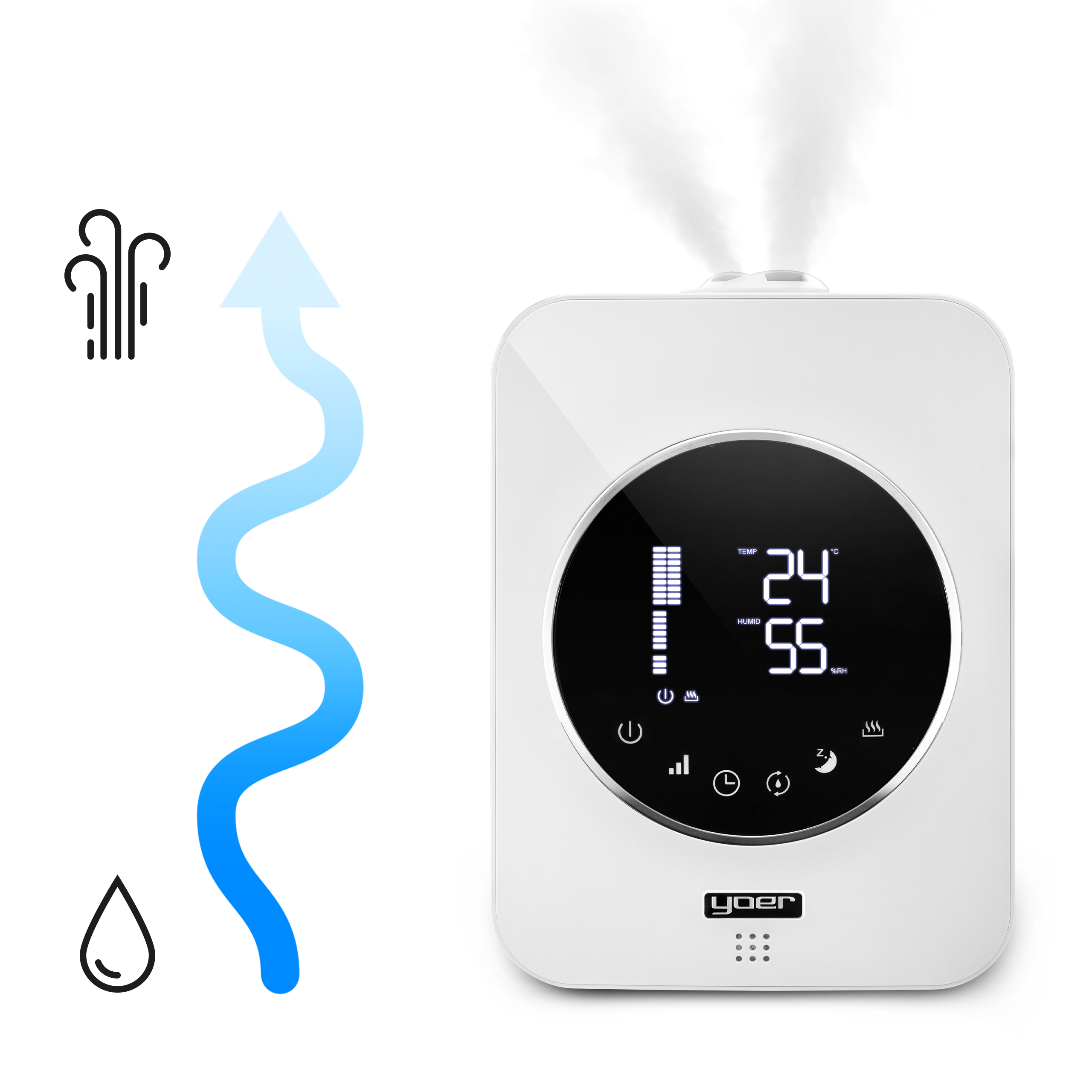 ULTRASONIC HUMIDIFIER
Ultrasonic system:

generates high-frequency sound waves that dissolve water droplets into microscopic particles.
Regular water is turned into cool, refreshing mist.

The ultrasonic humidifier spreads a gentle, brisk mist:

without allowing a wet puddle to be created around the device.
Ultrasonic humidifying does not heat up air,
it is perfect for hot days!

Full control of the humidifying process:

set the humidity level in the 40-80% range, and the humidifying intensity level (low, medium, high).
Depending on the power level, the volume of the generated mist will change.
When the desired humidity level in the air is reached, the device will cease generating mist.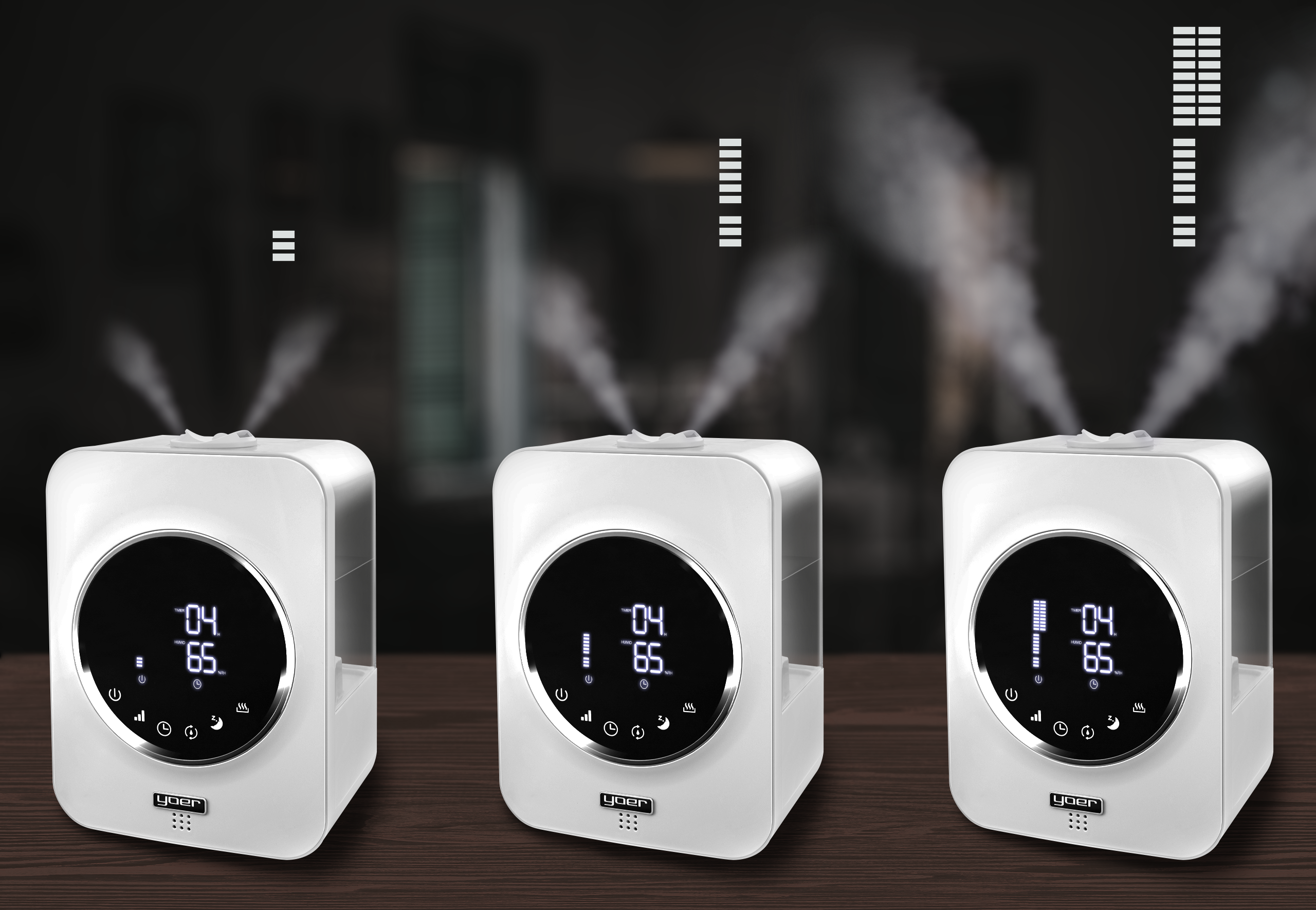 3 LEVELS OF HUMIDIFYING INTENSITY
✅ Low - 140 ml/h
✅ Medium - 160 ml/h
✅ High - 350 ml/h
The ability to manually set the intensity of the mist allows you to have full control over air humidity level, power usage and device work time.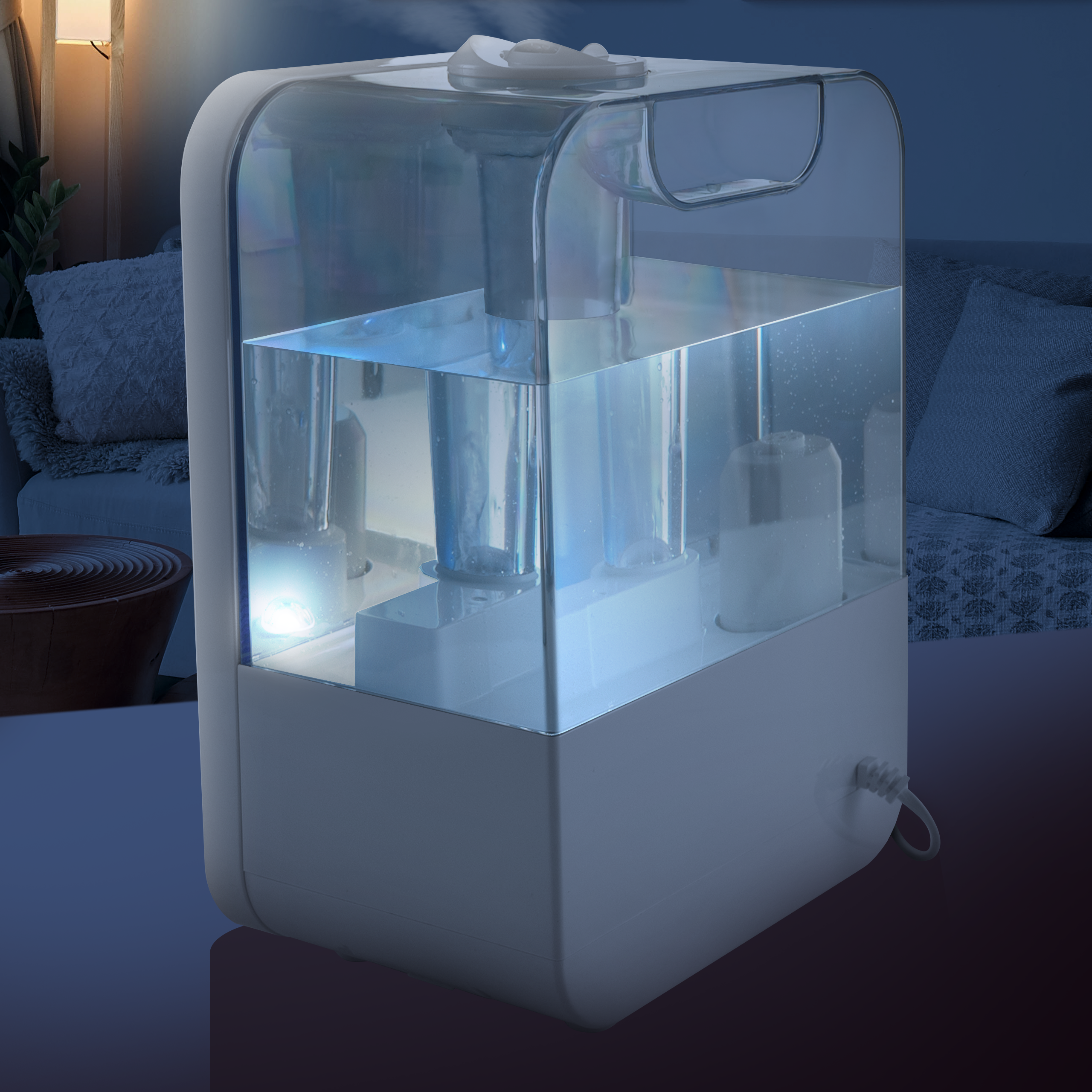 CAPACIOUS RESERVOIR - HIGH EFFICIENCY
Removable water reservoir - it is semi-transparent, so you will easily monitor its water level. The reservoir is additionally backlit.
The reservoir has a 4.5 liter capacity - and during one hour of operation, the device uses 150 ml of water at the highest power setting, or 140 ml, at the lowest setting
Highly efficient device - the humidifier can work as much as 32 hours on a single reservoir (at the lowest power setting) or up to 13 hours (at the highest setting)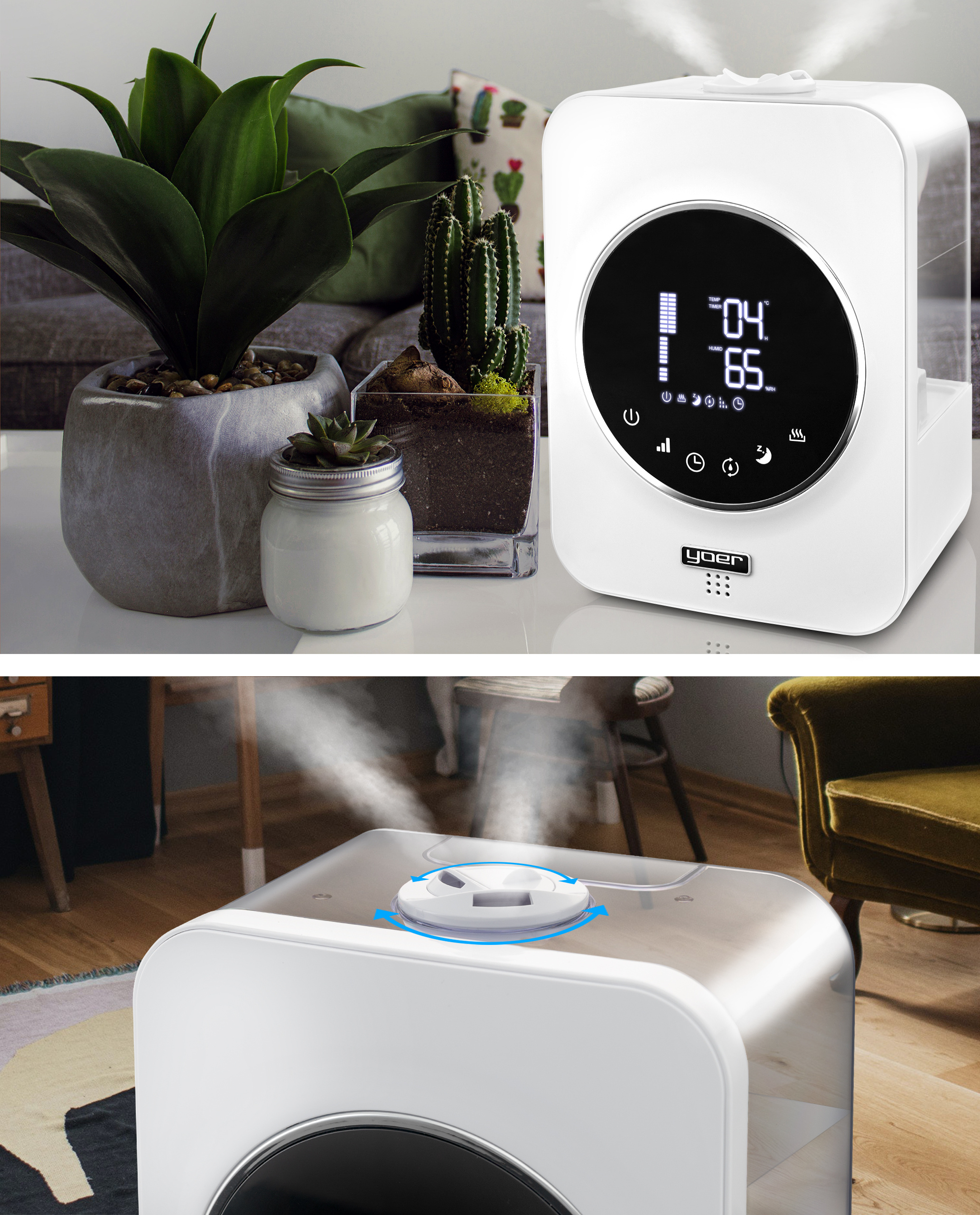 SMALL, BUT EFFICIENT AND EFFECTIVE
4in1 device: humidifier, ionizer, aromatyzer, night lamp
Modern and elegant design - fits any kind of interior, and its lightweight nature makes it easy to move between rooms.
💡 Night light functionality - a lamp is located at the back of the device, which lights up the water reservoir and generates subtle light. The light may be turned off at any moment.
Compact-sized humidifier - you can place it in any part of the room, without having to worry that it will take up too much space. The device effectively humidifies rooms of up to 25 m² in area (assuming that the ceiling is no higher than 2.6 meters).
Anti-slip feet - prevent accidental tipping over and pouring the water on the floor.
↖ ↗MIST DIRECTION CONTROL FUNCTIONALITY
The two-piece, independently adjustable nozzle:
may be rotated in the 360 degree range
makes it possible to put the stream of the brisk mist in two directions at once.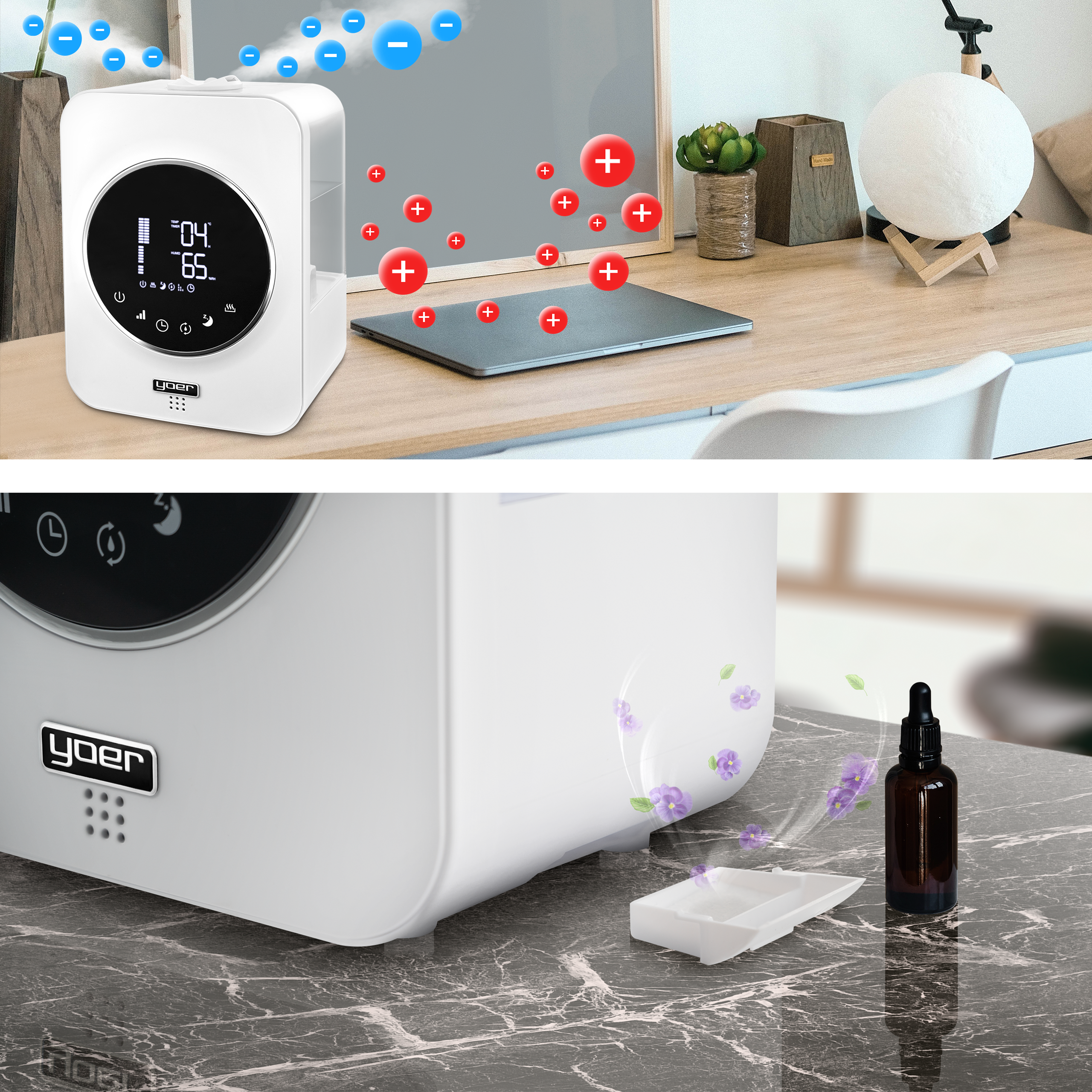 AIR IONIZER
Negatively-charged ions
are created during the mist generation process, neutralizing any contaminants and microbes floating around the room, as well as electrosmog coming from electrical devices.
Health virtues
ionized air has a positive influence on those who suffer from asthma or migranes,
it improves concentration and sleep quality
🌸AROMATHERAPY FUNCTIONALITY
✅ Aromatization functionality - allows you to fill the room with your favorite aroma. At the side of the device body, a slide-out tray is located, which can be sprinkled with your favorite essential oil. When the humidifier is turned on, a pleasant smell is spread around the whole room
⏩⏩ How to turn it on❓⏪⏪
Find removable tray on the side of the device body.
Pour in a few drops of your favourite essential oil on the tray.
Turn on the device and enjoy the fegrance speading throughout the house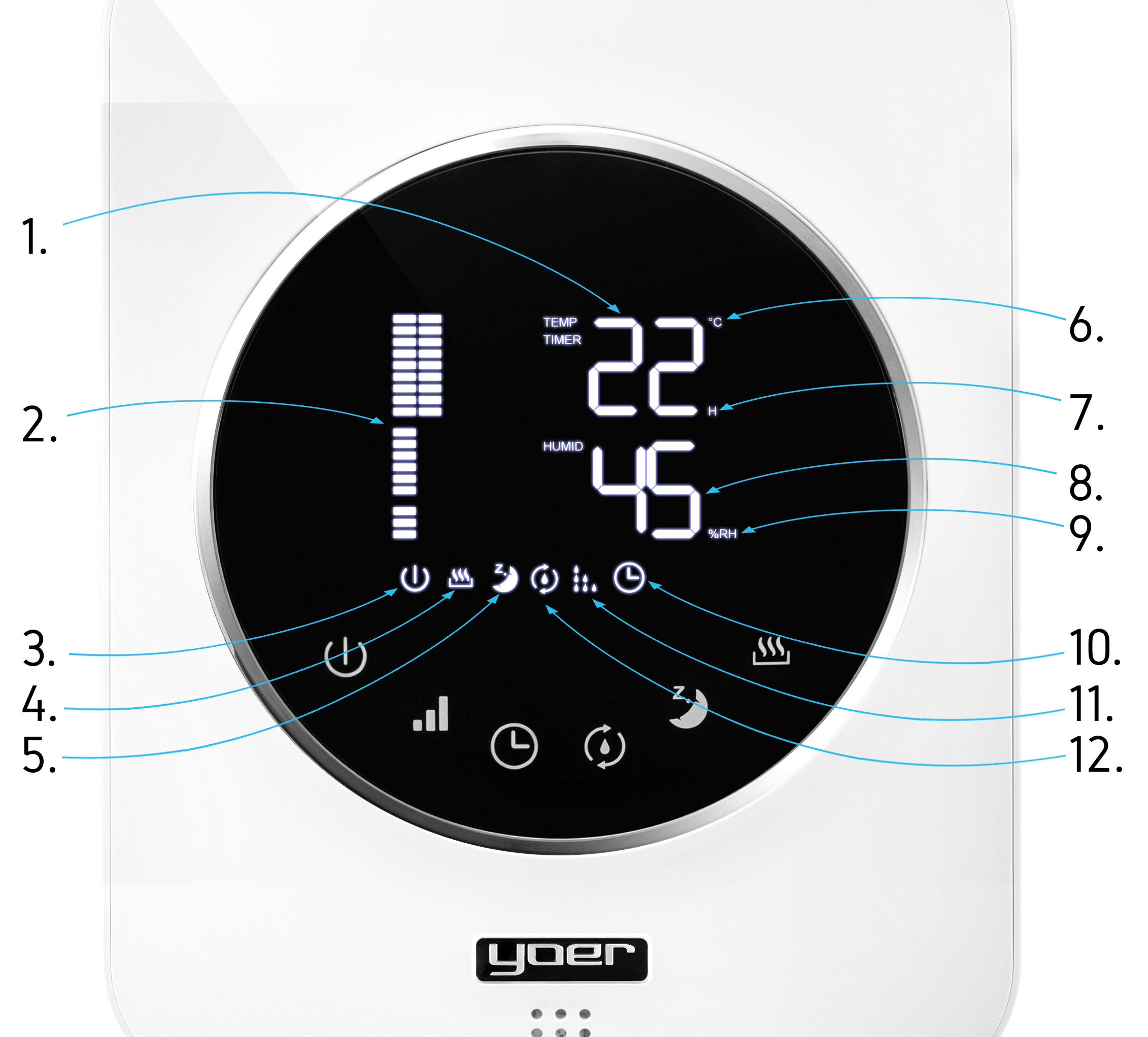 DIGITAL LED DISPLAY
✅ Backlit LED display shows information about active humidifier work modes.
Numerical indicator - shows current room temperature / hour count set in the timer,
3-level selected power mode indicator - informs about low, medium or high level,
ON/OFF indicator - indicates that the device is turned on,
Active heating mode icon - informs that the water heater mode is active,
Active sleep mode icon - signalizes turned on sleep mode,
°C (temp.) symbol - indicates that the currently displayed value is temperature,
H (timer) symbol - indicates that the currently displayed value is time,
Humidity indicator - informs about the current humidity level / set humidity level,
%RH (humid) symbol - informs that the currently displayed value is room humidity,
Active timer icon - informs about the active automatic shutoff function,
Empty water reservoir icon - informs that the water reservoir needs refilling,
Active humidity adjustment icon - informs about turned on humidity adjusting mode.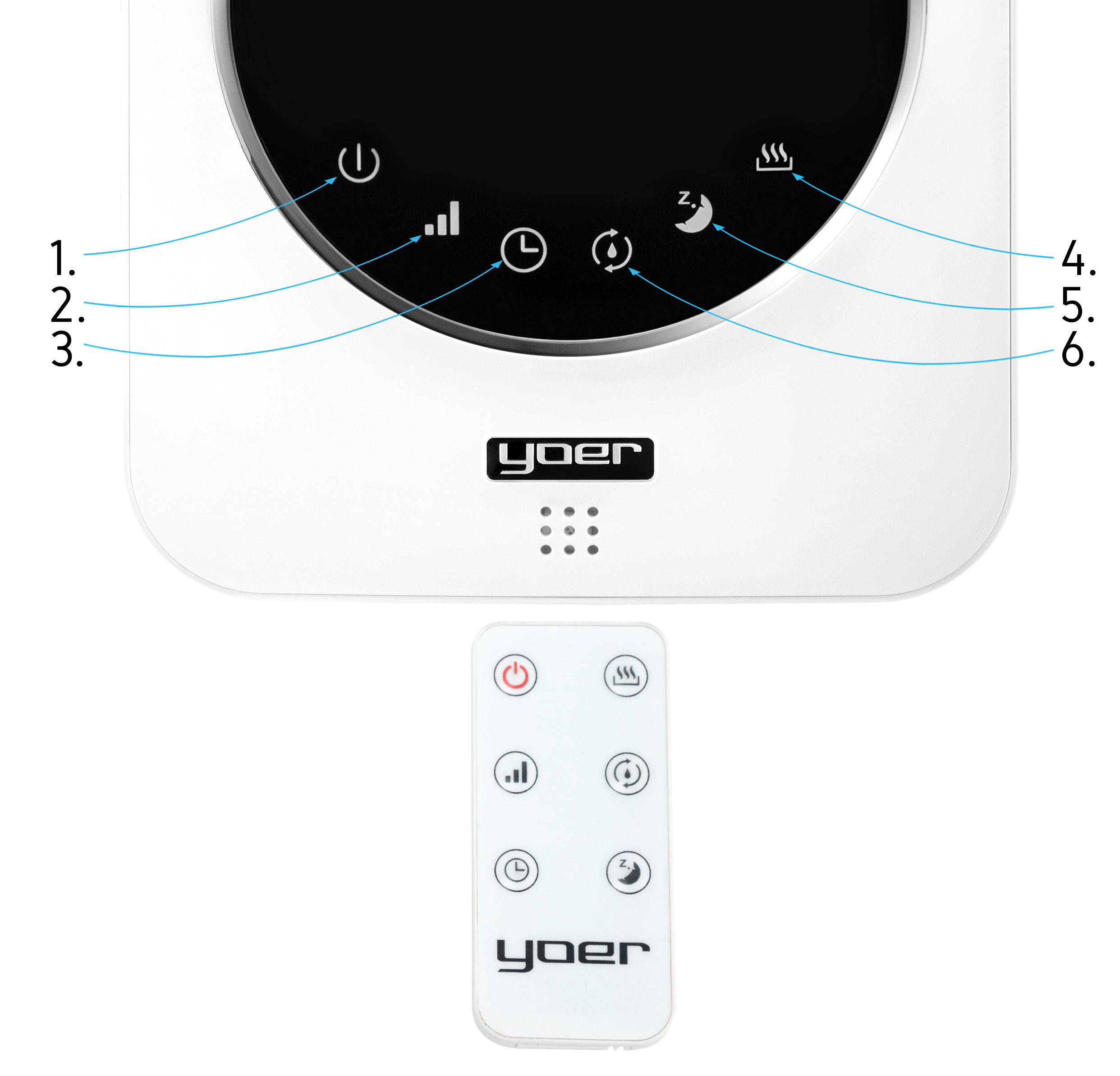 TOUCH CONTROL PANEL + REMOTE CONTROL
✅ Touch control panel with function buttons make easy access to all device functions:
ON/OFF button - turn the device or the ionizer on or off
Power mode selection - select one of three levels of mist generation (low, medium or high)
Timer/ display power-off - activate and configurate the timer or turn off the display
Water heating mode / water reservoir backlight power-off - set the heating mode or turn the water reservoir light on or off. Water heating mode makes generating mist easier in case of used about. 5°C cold water
Sleep mode - turn the sleep mode on or off
Humidity adjustment - set the humidity in the 40-80% RH range (in increments of 5 percentage points)
✅ Remote control allows for controlling the device from a distance, without the need to get up from the sofa.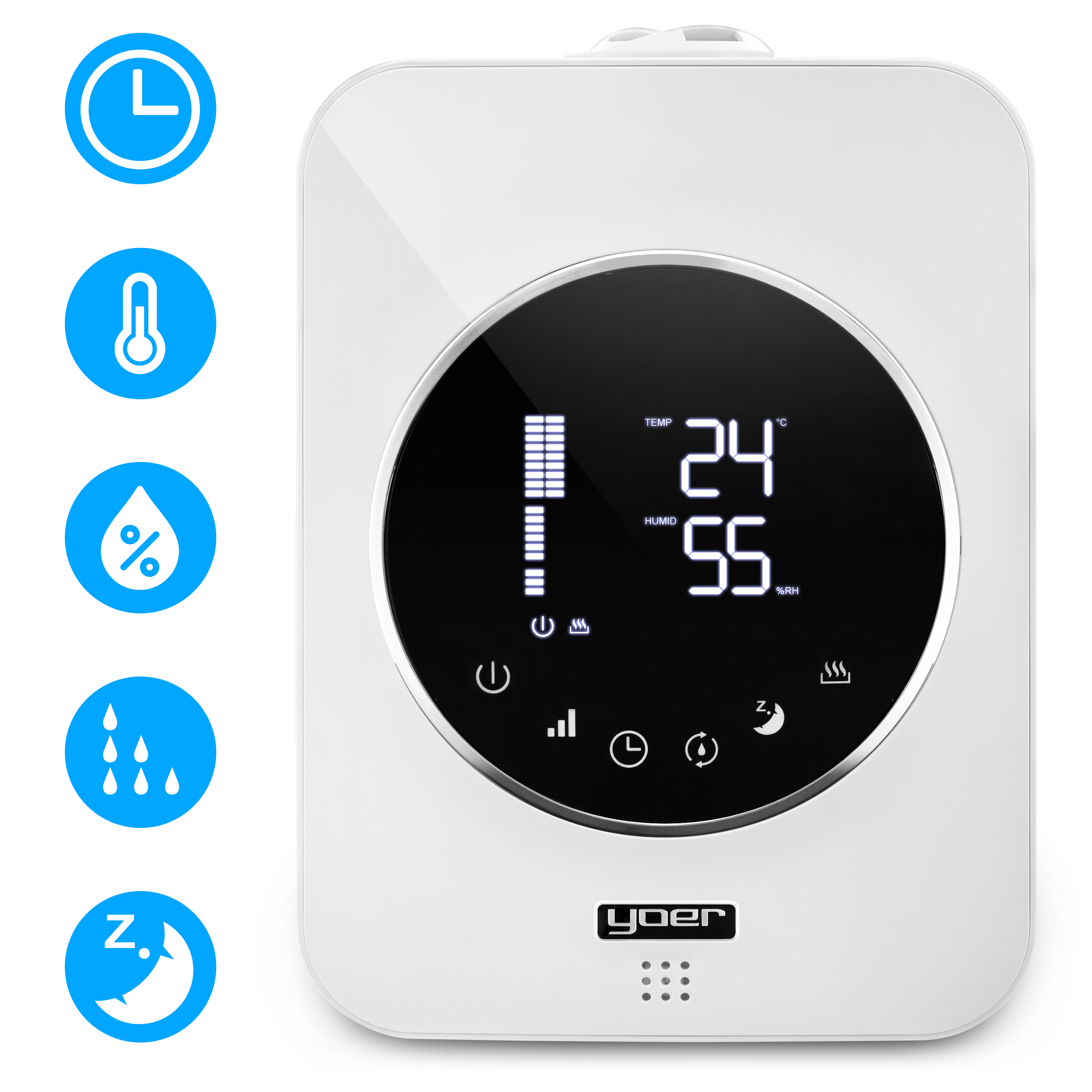 AUTOMATIC OPERATION
🕛12 - hour timer - allows for setting the time after which the device is to turn itself on or off.
🌡Built-in humidity and temperature sensors - measure the humidity level and room temperature, thus allowing constant monitoring of the condition of the surrounding air.
💦 Water level sensor - automatically turns off the device if the water reservoir is empty. It informs the user by emitting a sound signal and lighting up the appropriate indicator on the display.
🛌Sleep mode - assures uninterrupted sleep. In this mode, the device works nearly completely silently at the lowest power setting, generating a very gentle mist.The icons on the display are turned off (aside from the power-on and sleep mode ones), and the water reservoir backlight is disabled.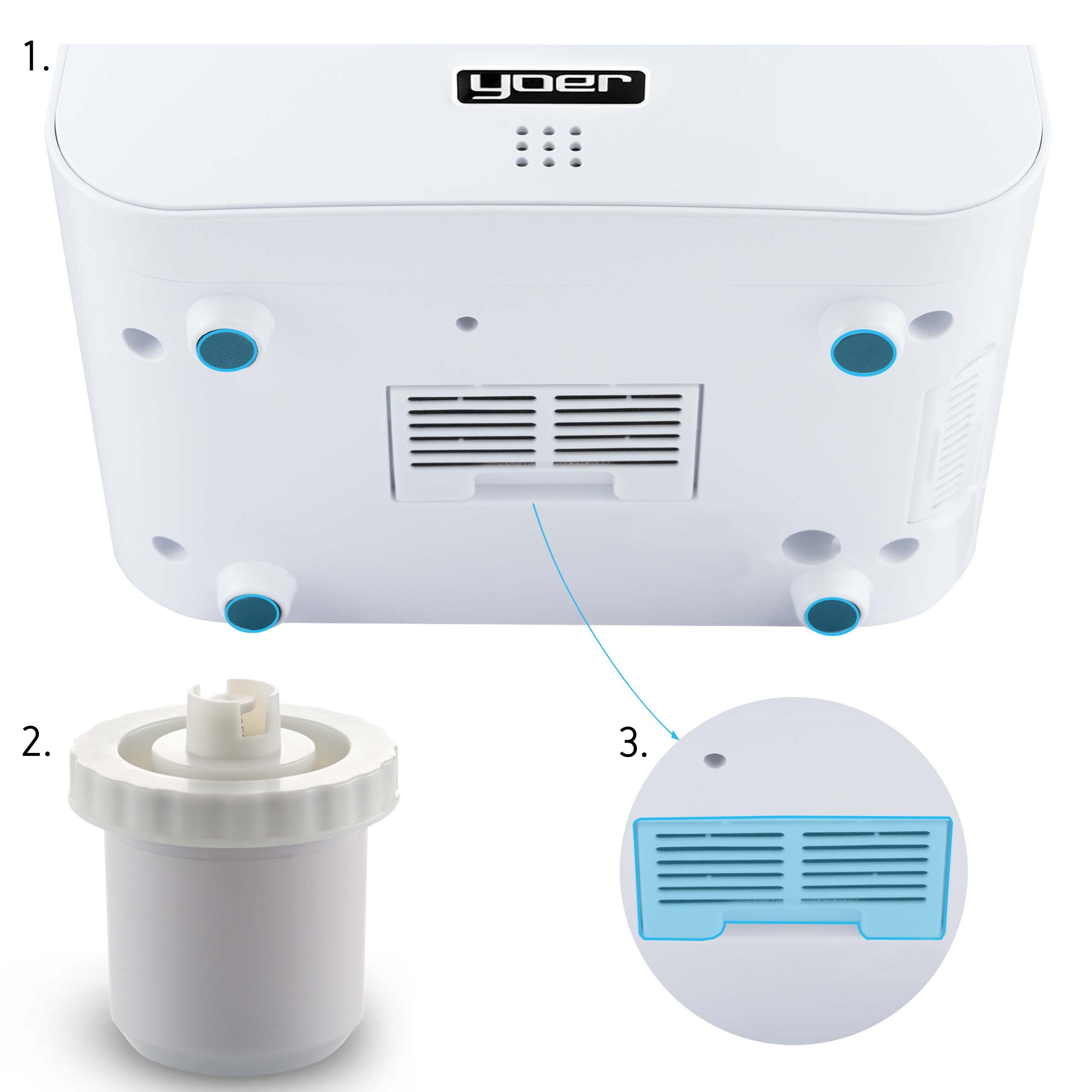 💨SYSTEM OF WATER AND AIR FILTERS 💦
1. Anti-slip feet:
prevent from moving the device during its operation,
do not worry about accidental overturning of your device and spilling of water.
2. Ceramic antibacterial filter:
does not need to be replaced - you can clean it easily,
you can descale it with home methods in an easy way,
prevents the multiplication of microorganisms in the water tank,
save your money and extend economic useful life of the device.
3. Air inlet filter (sponge filter)
prevents contamination from entering the device, such as: hair, fur and dust,
you can take it off and clean it easily.
4. Automatic shutoff in case of:
detecting too high humidity level which exceeds 80%RH, having your health in mind,
lack of water in the tank - the humidifier will inform you about it by making a characteristic sound signal.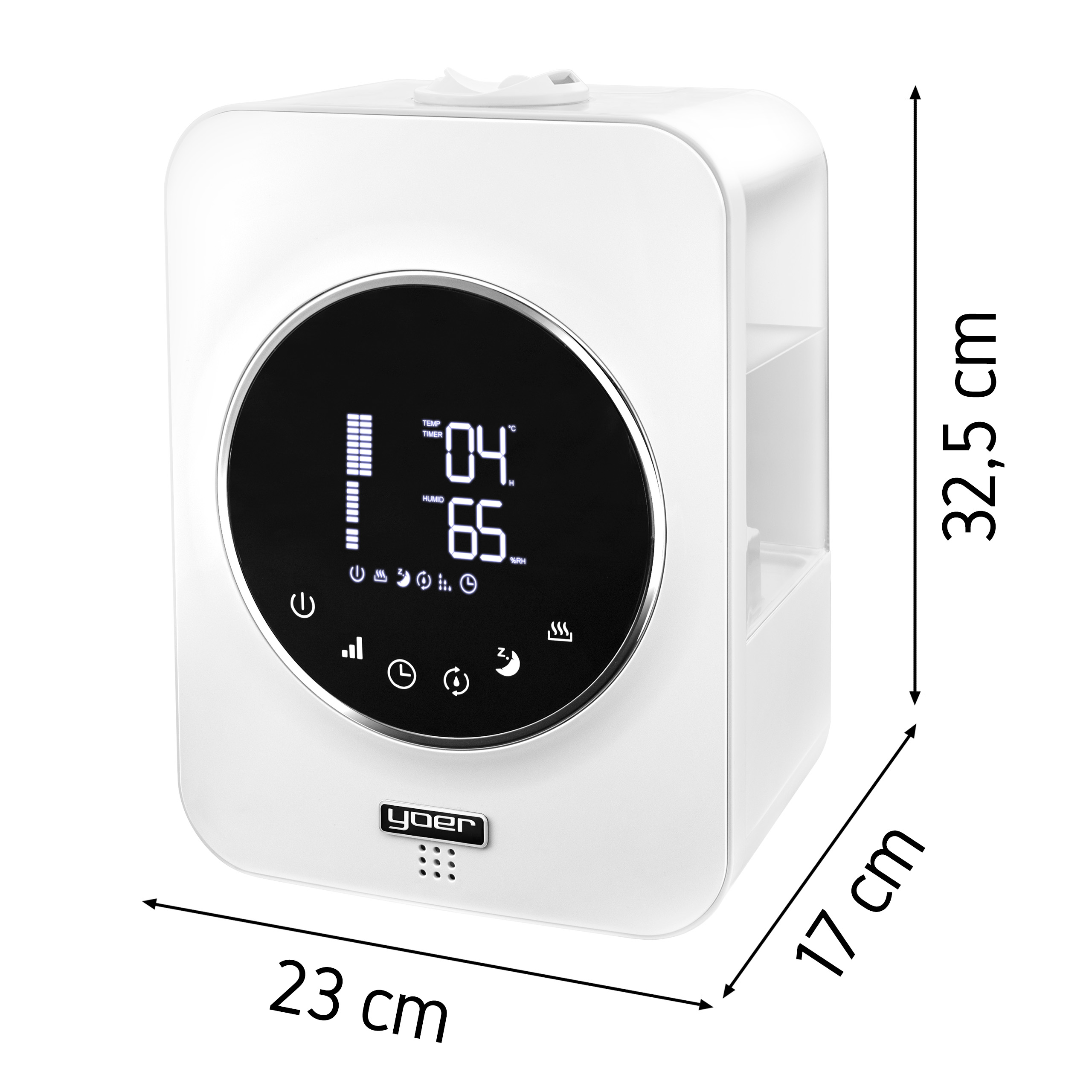 📑 TECHNICAL SPECIFICATION
Power: 40 W
Color: White with black accents
Power cord length: 1,6 m (5.2 ft)
Weight: 2 kg (4.4 lbs)
Dimensions: 23 x 17 x 32,5 cm (9 x 6.7 x 12.8'')
Effectiveness range: up to 25 m² (269 ft²) (assuming the ceiling is no higher than 2.6 m - 8.5 ft)
Water reservoir capacity: 4,5 l
WOutput at the highest setting: 350 ml/h
Output at the lowest setting: 140 ml/h
Min. noise level: 22 dB
Polish power plug 220-240V, 50/60 Hz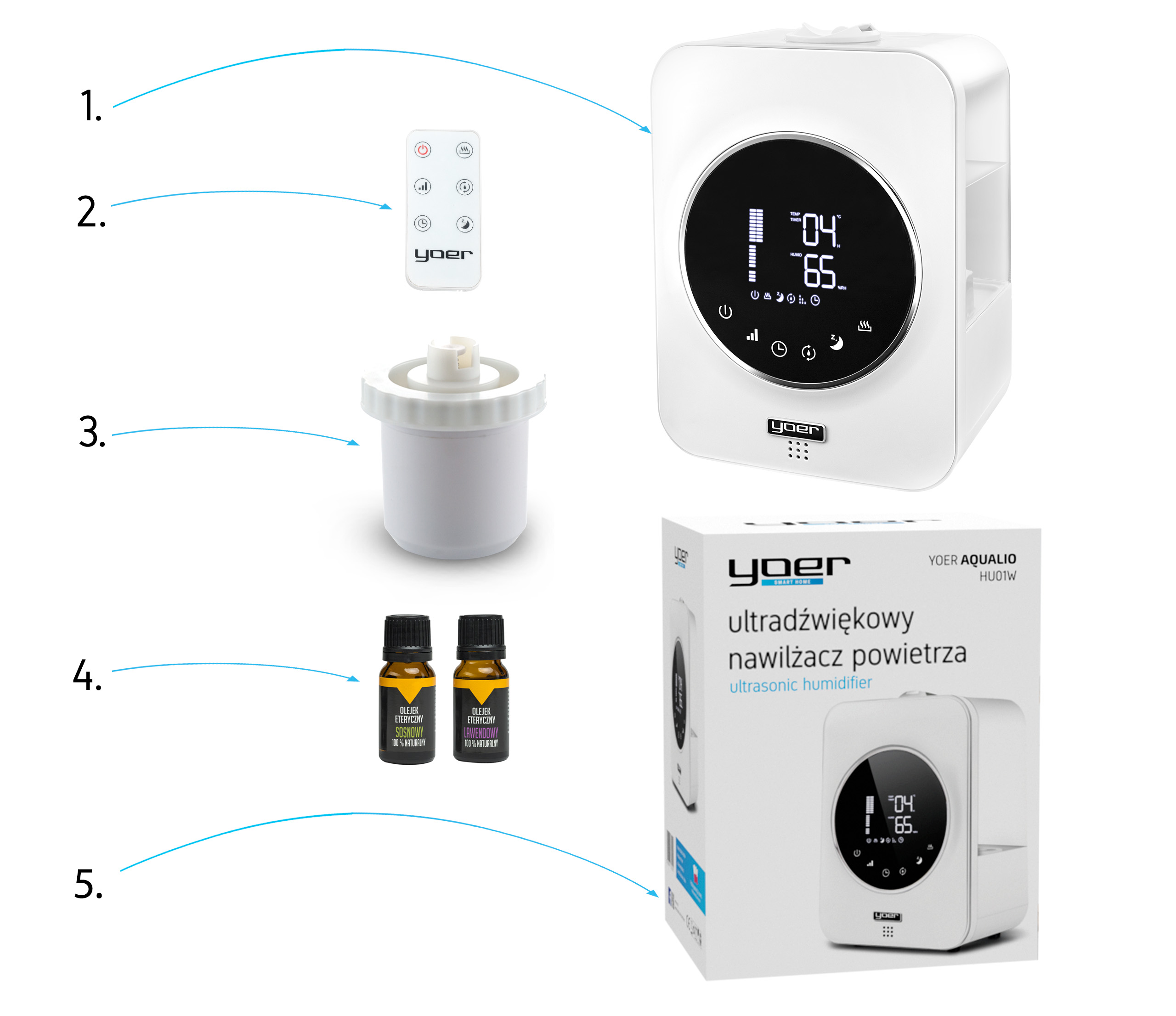 📦 EQUIPMENT
Humidifier
Remote control
Ceramic antibacterial filter
2 essential oils
Original packaging
🎁 YOU WILL RECEIVE:
✅ Humidifier - details above,
✅ YOER PLATINUM SECURITY card,
✅ Warranty card,
✅ PL/EN instruction manual.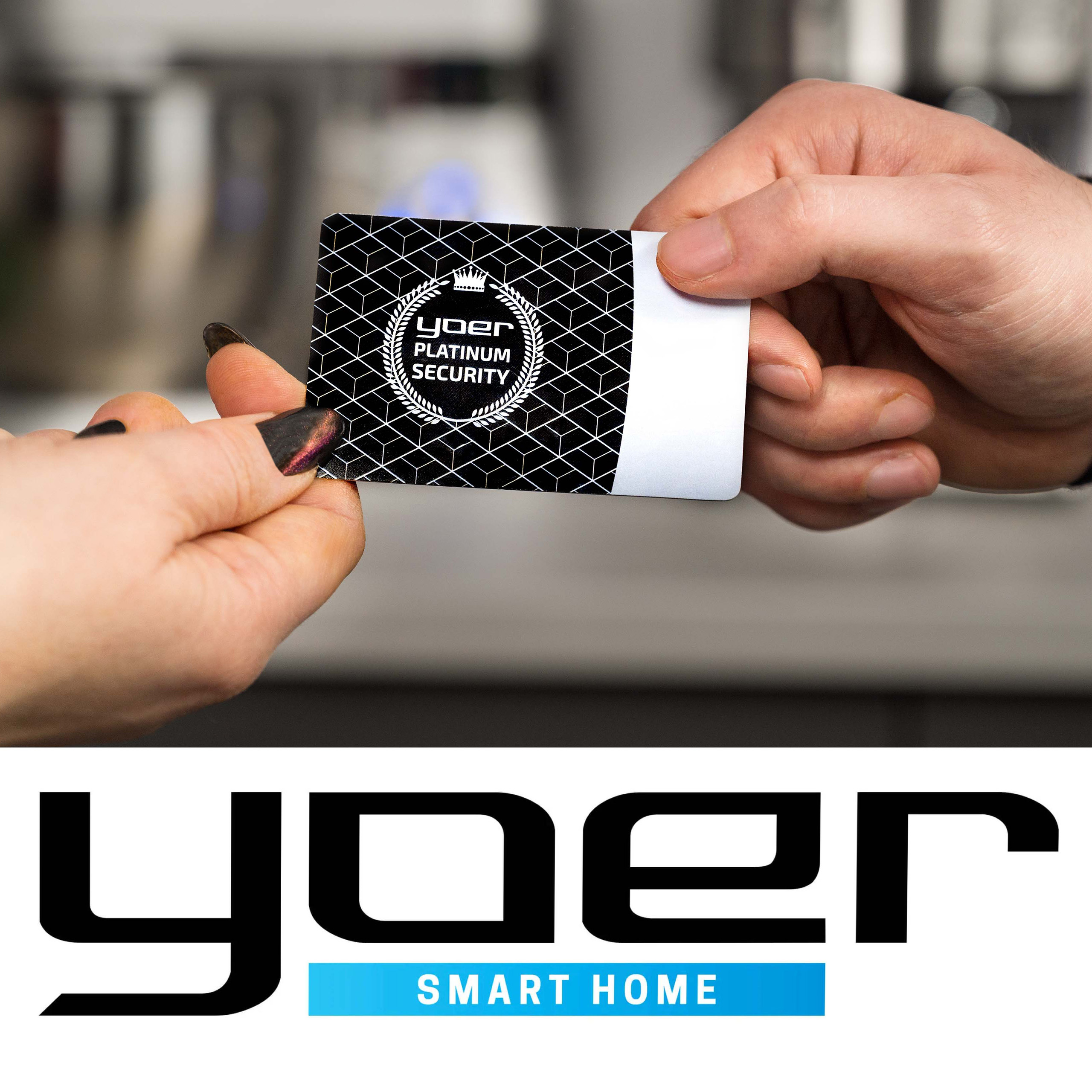 YOER PLATINUM SECURITY
When purchasing products from the official Yoer store you receive the YOER PLATINUM SECURITY package, which is an assurance of additional protection.
YOER - POLISH MANUFACTURER AND BRAND
YOER constitutes an excellent proof that high quality of products does not necesserily go in hand with high prices.

YOER HU01W Instruction manual - Click here