Language
Kitchen machine YOER Stiro KM02BK
Kitchen machine: max. power 2200 W, planetary movement, high quality polymer and brushed INOX stainless steel, fluent rotations regulation, mixer, beater, mixing paddle, hook, capacious bowl 6,8l, standy state, timer.
Out of stock
859.00
-43%
489.00
Lowest price in the last 30 days:

Shipping within

24 hours

Availability

Not available

0

pcs.
| | |
| --- | --- |
| Bar code | |
| EAN | 5900779771611 |
Description

Instruction manuals
KITCHEN MACHINE YOER Stiro KM02BK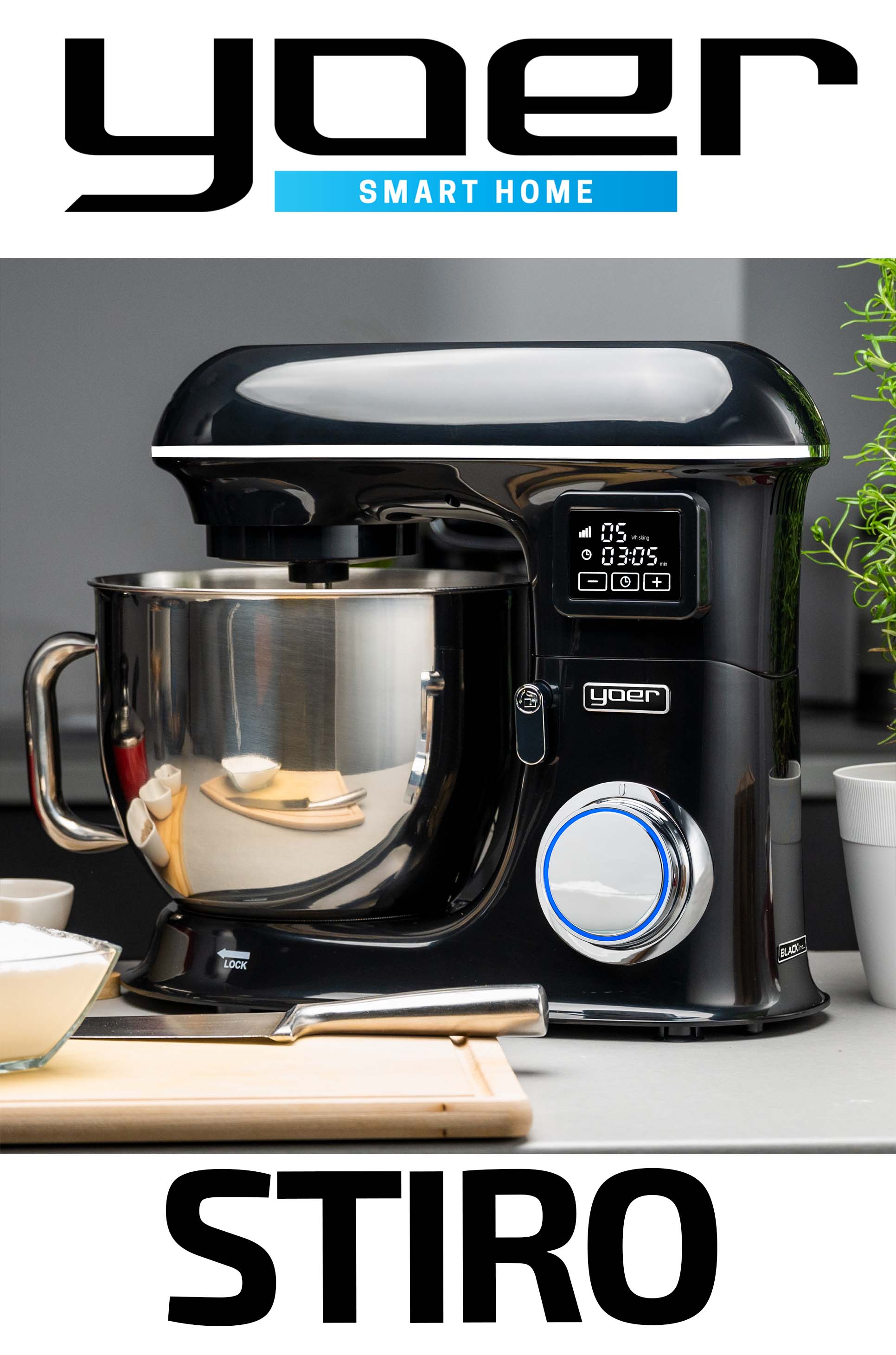 📝PRODUCT DETAILS
2200W - maximum power (blocking the motor): knead thick doughs
1500W - energy consumption: save money thanks to power optimalisation
6,8L bowl with comfortable handle: prepare large portion of food during one try
1,5 kg (3.3 lbs): you can mix huge mount of ingredients at once
3in1: whipp, mix and knead dough with the help of one device
3 removable accessories in the package: get a lot of functionalities buying one device
Fluent rotations regulation: backlit control knob will provide you full control over your kitchen machine while its operation
Readable digital display: program the device operation in an easy and convenient way
Standby state: will enable you to quickly turn on your kitchen machine once again
Timer: program the device time of work and safely leave it without supervision - get extra time for additional taxes
Bowl cover from splashes with special opening for ingredients: keep your device clean and provide safety during work
Kitchen machine head lock: provide safety and easy change of the accessories
Overheating protection: provide safety during work and durability of your device
BLACKline series: get all devices from BLACKline series and enjoy their high quality, functionality and exclusive design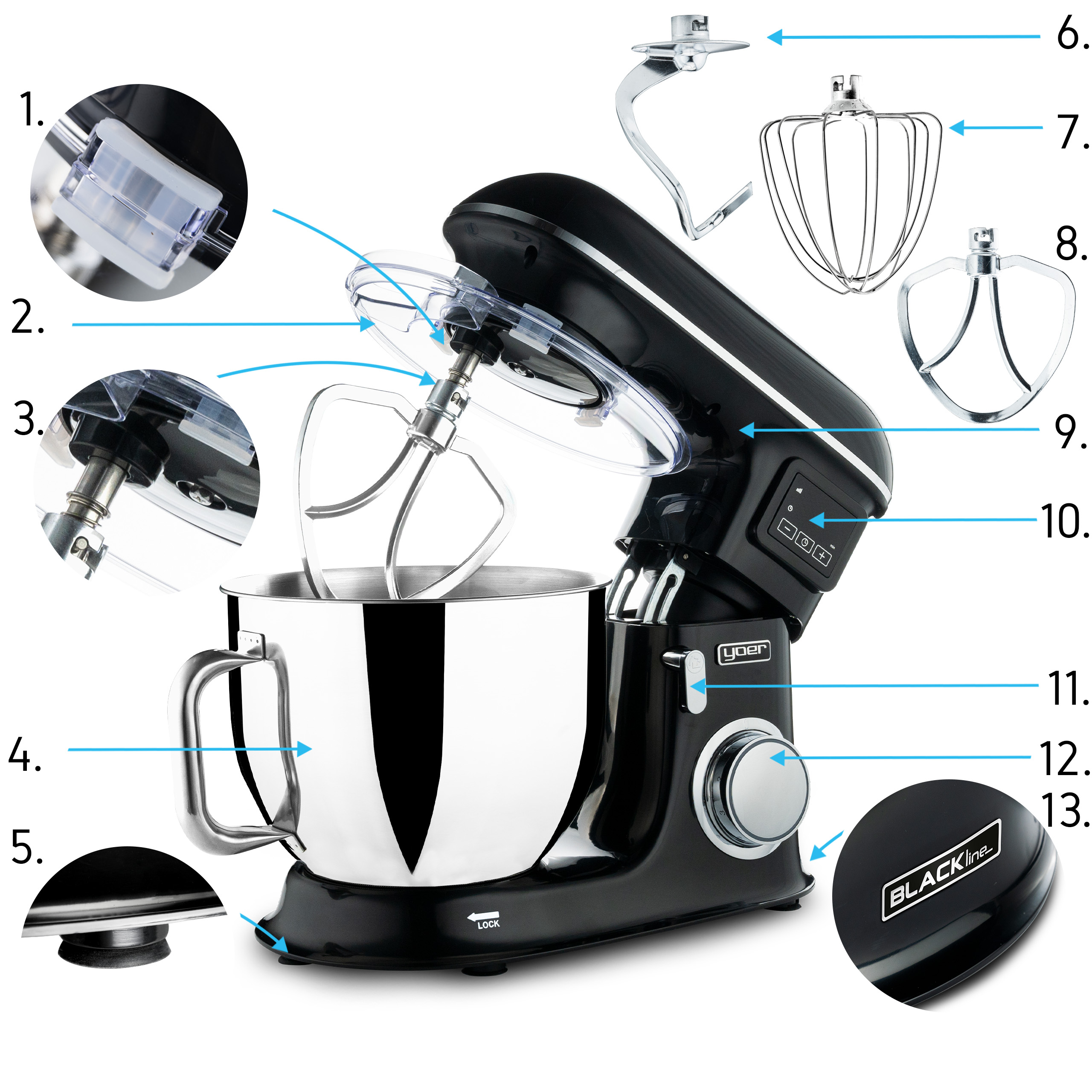 ⚙CONSTRUCTION - MAIN COMPONENTS
Rubber bowl cover seals
Bowl cover with special opening for ingredients
Mixing element axle
Capacious bowl with comfortable handle
Anti-slip feet
Hook
Beater
Mixing paddle
Kitchen machine body
LCD display with timer
Head lifting lever
Control knob
BLACKline series logotype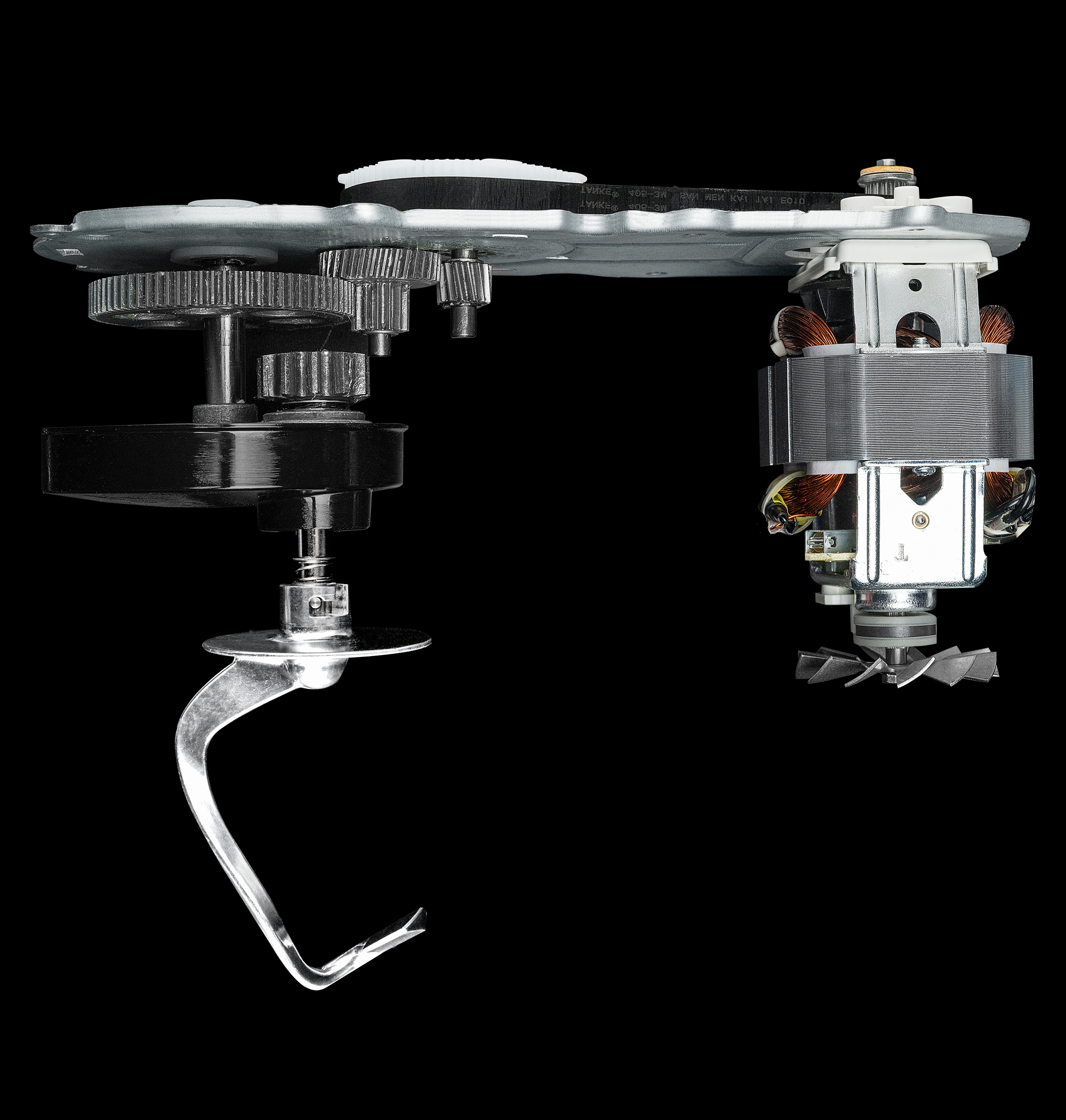 STEEL GEARS - COPPER MOTOR
Gears made of stainless steel
Mounting elements made of high quality metal
Copper motor
NEW GENERATION KITCHEN MACHINE
2200W of maximum power:

The appliance is equipped with a huge motor which is responsible for the kitchen machine's increased extraordinary efficiency,
guarantee of trouble-free kneading of even the thickest doughs,

Multidirectional planetary motion:

the accessories of the kitchen machine rotates around their axes and around the whole bowl like the planets in their orbits,
ensures faster, more accurate and evenly combined ingredients.
15 minutes of continuous operation
High efficiency and durability for years!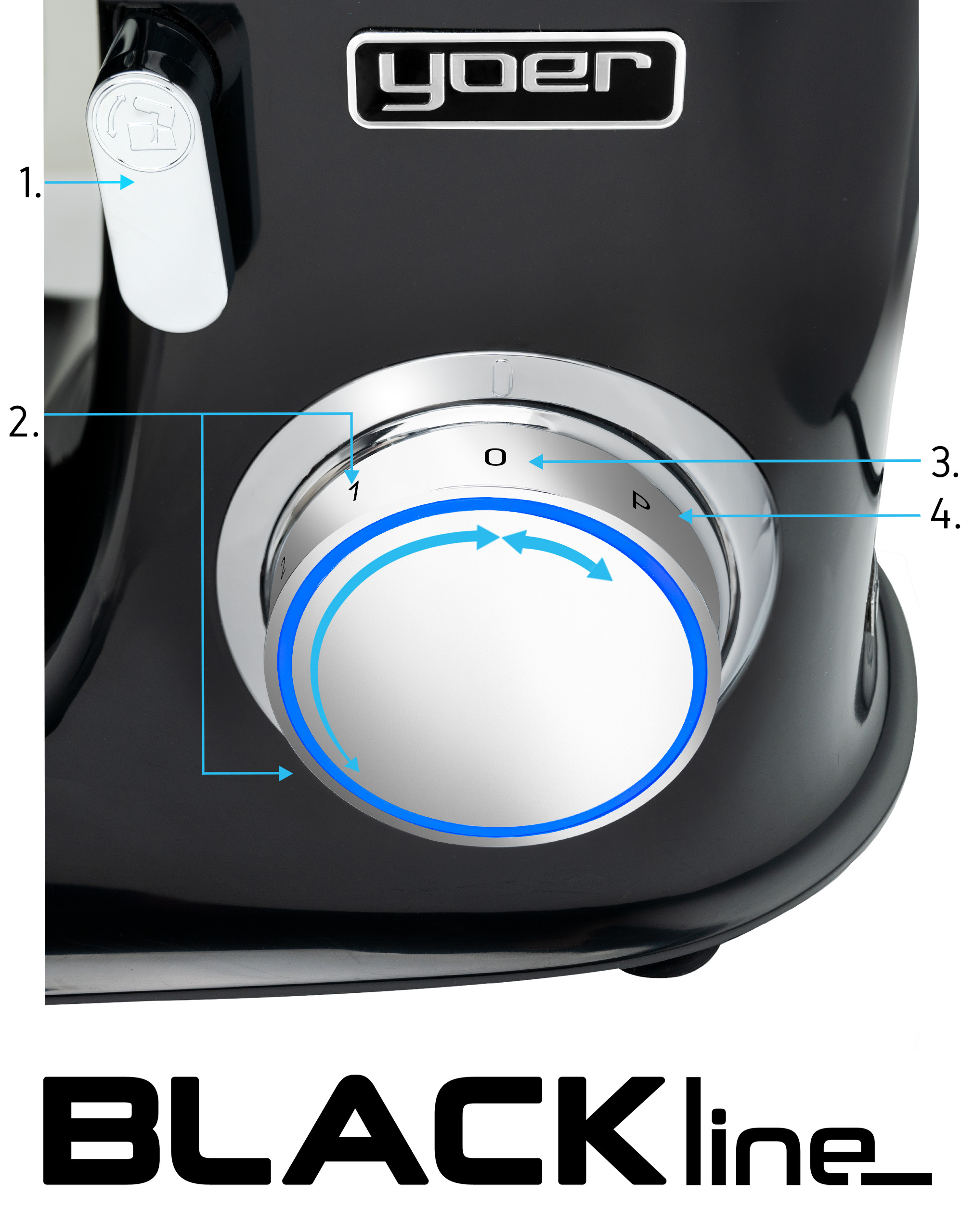 INTUITIVE CONTROL
Head lifting lever - you can easily lift and lower the kitchen machine head.
Power regulation range - will provide you fluent device work regulation in the range of 1-6 and easily turning on the pulse mode:
Speed level 1-2:
knead thick doughs,
accessory: hook,
time: 6 minutes.
Speed level 3-4:
mix low-viscosity batter and other soft ingredients,
accessory: mixing paddle,
time: 15 minutes.
Speed level 5-6:
whipp eggs or cream,
accessory: beater,
time: 15 minutes.
3. "0" position - turn on the device.
4. "P" position - turn on pulse mode by holding the control knob in the desired position
You can use any of the accessories during pulse mode.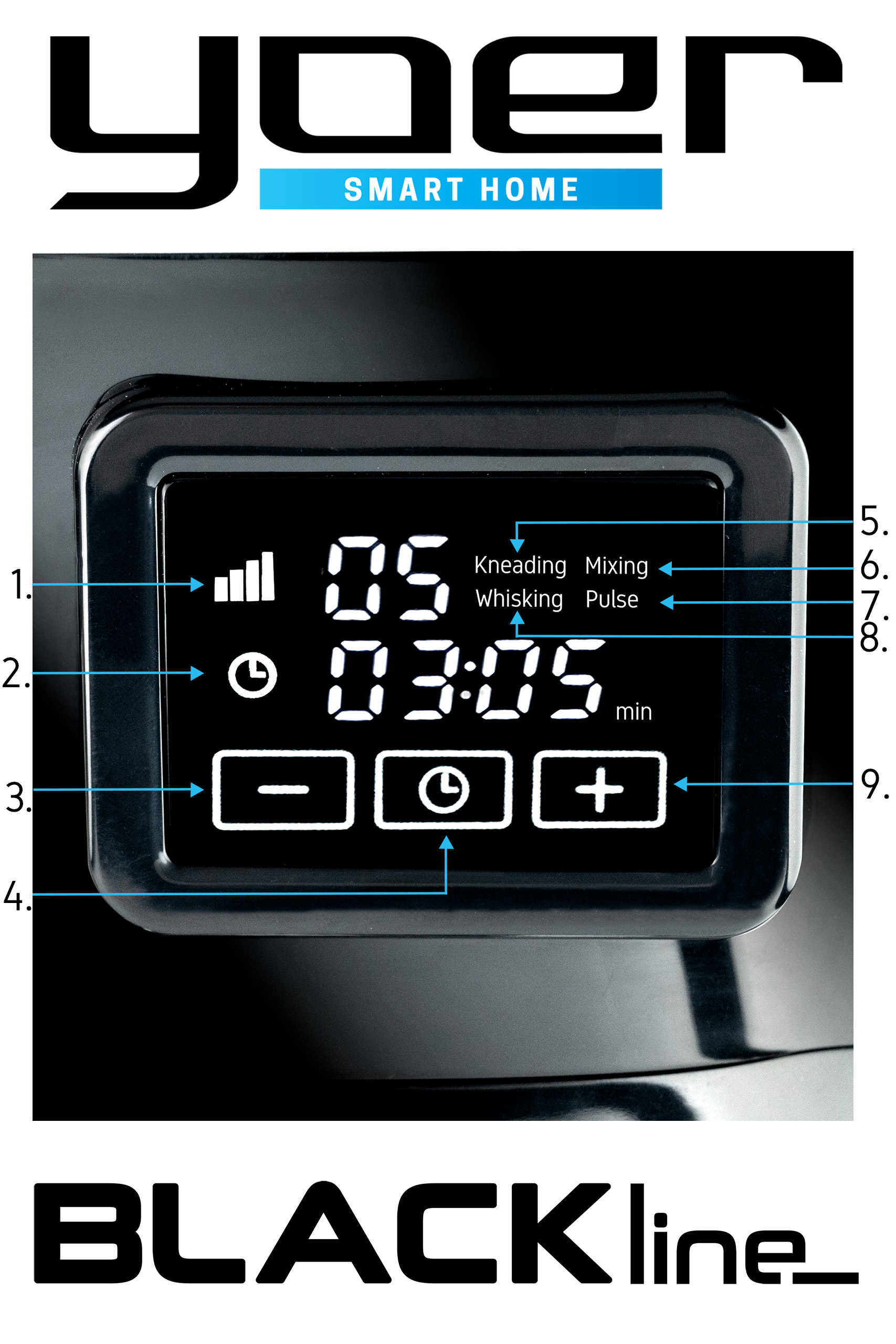 DIGITAL DISPLAY
Selected speed indicator - informs about set speed at the level from 1 to 6 and pulse mode.
Work time indicator - counts the device operation:

with active timer - counts time from the indicated value to zero - end of work,
without timer - counts time form zero and informs about the device operation time during desired mode.

Time decrement button - enables you to decrease time.

5 minutes - minimum device operation time,
5 seconds - possibility of changing the operation time by 5 seconds,
Quick value change - press the button to qucikly program the device operation time.

Timer activation button - turn on the timer with one touch.
Dough kneading indicator - informs about active dough kneading mode after setting the speed to level 1 or 2.
Mixing indicator - informs about active mixing mode after setting the time to level 3 or 4.
Pulse mode indicator - informs about active pulse mode.
Whisking indicator - informs about active whisking mode after setting the speed to level 5 or 6.
Time increment button - enables you to increase the time.
90 minutes - maximum device operation time,
5 seconds - possibility of changing the device operation time by 5 seconds,
Quick value change - press and hold the button to quickly program the device operation time.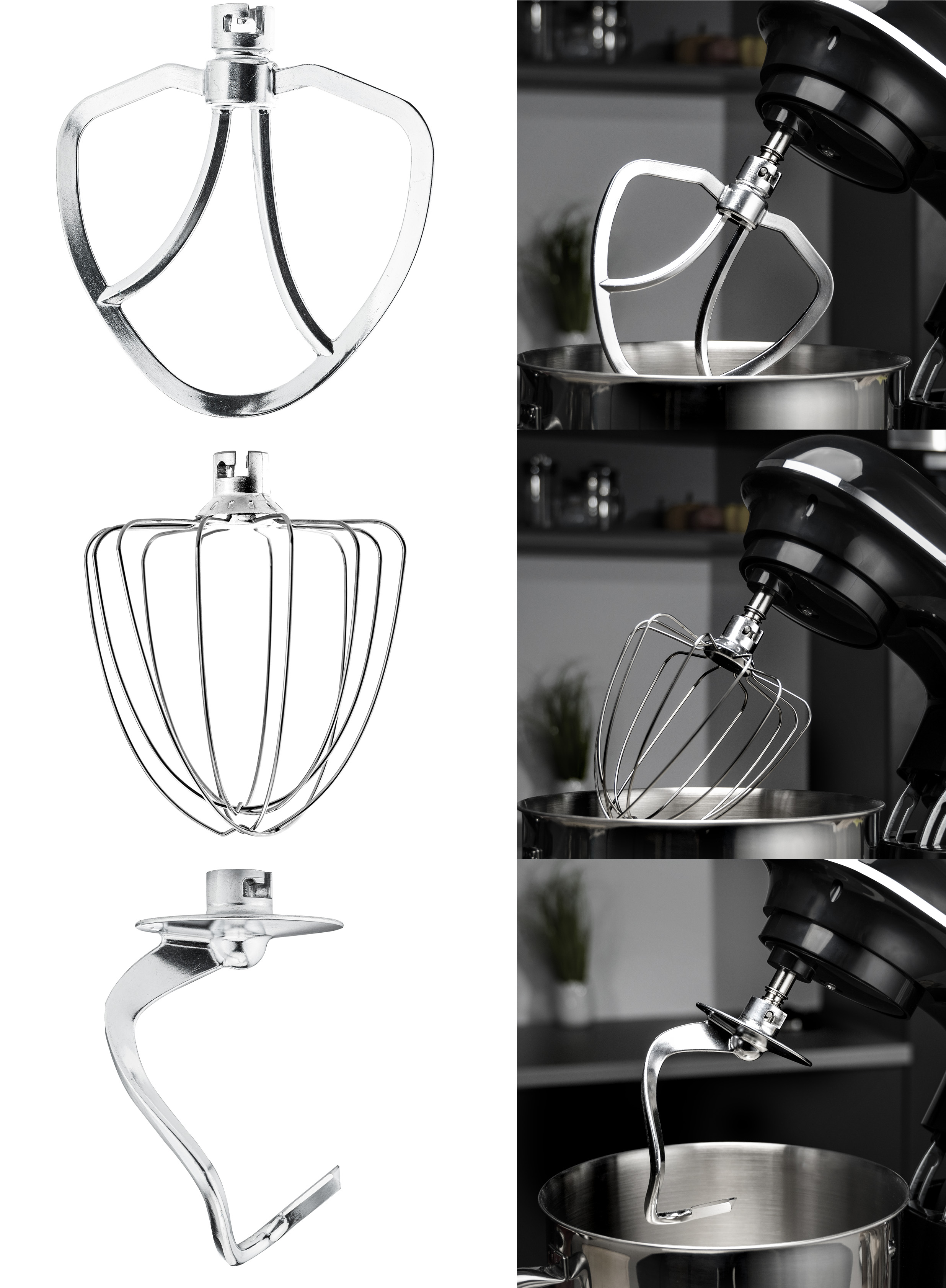 3in1 - MULTIFUNCTIONAL DEVICE
UNIVERSAL MIXING PADDLE

enables you to combine all of the ingredients into a homogenous, smooth mass,
helpful especially if it comes to preparing low-viscosity batter, such as pancake batter, sponge cake, waffles, cream and icing,
it is also suitable for preparing stuffing, pate and vegetable puree.

BEATER

perfect for whipping eggs and cream,
will help you prepare not only light cream, mousse, pudding and meringue, but delicious omlette, sauce and mayonnaise as well,
thanks to beater construction prepared mass will always be extremely light, fluffy and delicate.

HOOK

is suitable for kneading thick doughs such as yeast dough, shortcrust pastry, bread, rolls, donuts, pizza, dumplings, pasta and gingerbread dough
while using hook you have to remember to set the lowest possible speed not to damage the device.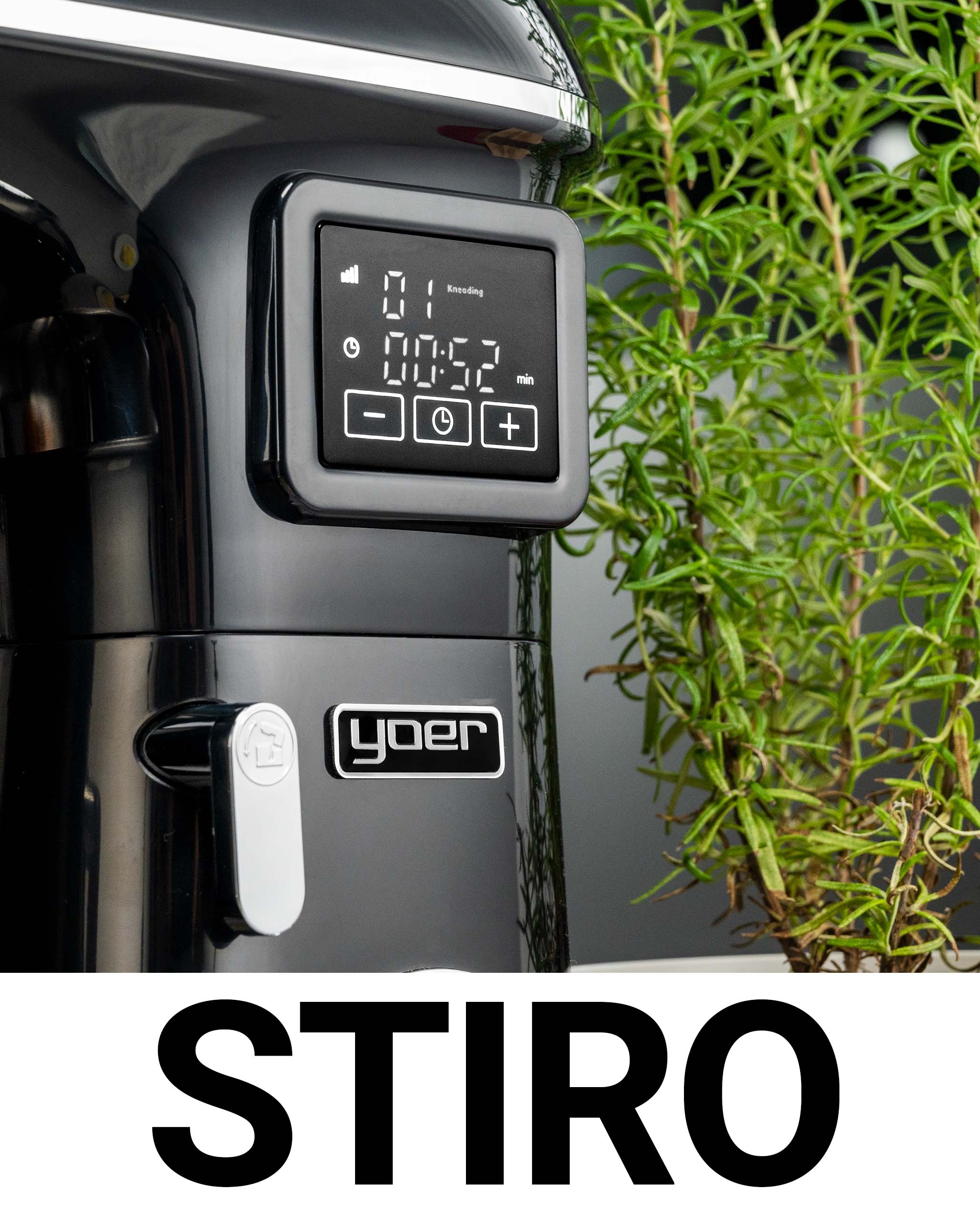 MODERN TECHNOLOGY - MANY INNOVATIVE AMENITIES
Modern technology will allow you to fully enjoy the kitchen machine advantages.
Standby state:

the device is equipped with working condition sensor, which after 3 minutes of inaction makes the device automatically switch into standby state,
the standby state is singalised with a characteristic sound.

Timer:

Press timer activator button.
Program device operation time with the help of timer decrement and increment buttons.
Confirm set time by pressing again the timer activation icon or waiting for 10 seconds for automatic approval.
DONE - after that time the kitchen machine will make 10 short sound signals, informing about the end of work.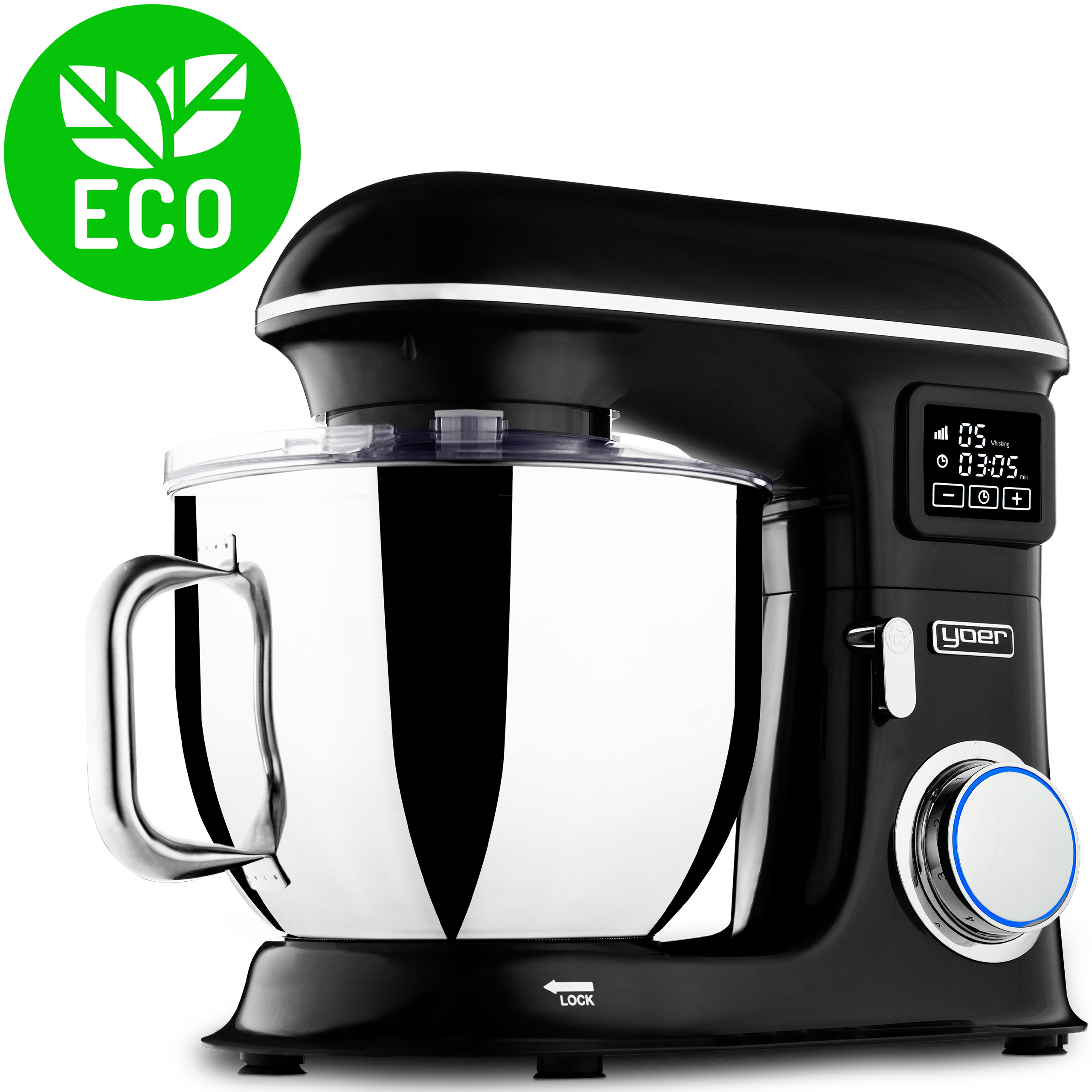 ENERGY-EFFICIENCY AND HIGH MOTOR POWER
High power, effective work and saving your money!
Energy-efficient energy consumption at the level of 2200W ensures effectiveness comparable to use of 1500W - convenient mixing and outstanding effects while using optimal device power.
6 speed levels + Pulse Mode - full control over mixing.
More than 30 % less energy consumption compared to traditional kitchen machines - high effectiveness and saving your money.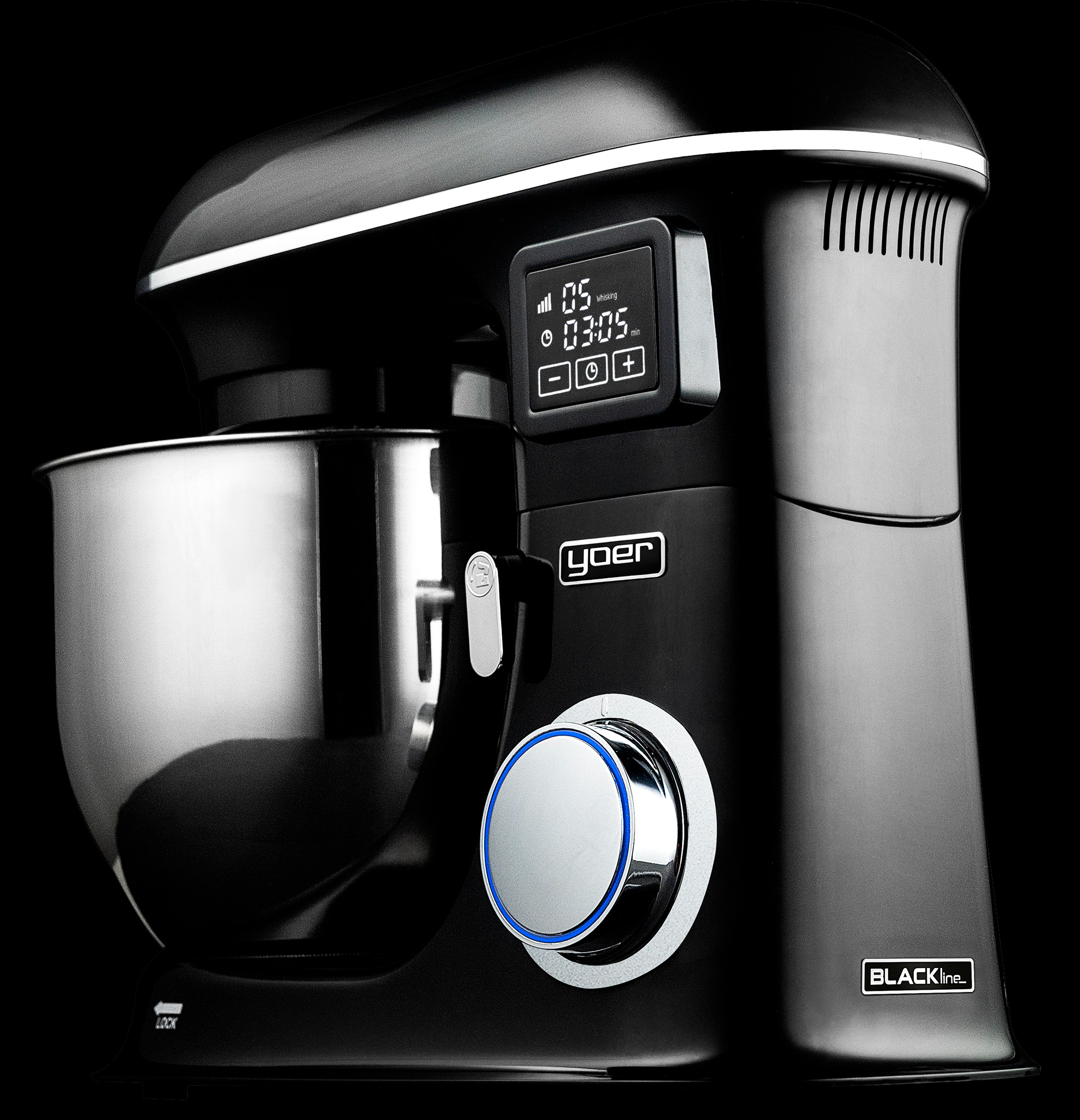 EXCLUSIVE DESIGN
Elegant look in retro style - suits perfectly every kitchen interior.
Casing made of high quality polymer:

the kitchen machine is made of the best materials, which quarantee not only device durability, but they also have high aesthetic qualities,
this kitchen machine was made with your Home in mind, not only if it comes to modern look, but also functionalities and innovation,
The device body is decoreted with YOER brand and BLACKline series logotypes

Shining silver bowl and finishing elements.
Control knob with delicate, blue backlight:

fully readable and convenient for your eyes.

High quality of the materials translates into high weigh of the device (5,5 kg - 12.1 lbs) - it ensures durability of the construction and stability during device work.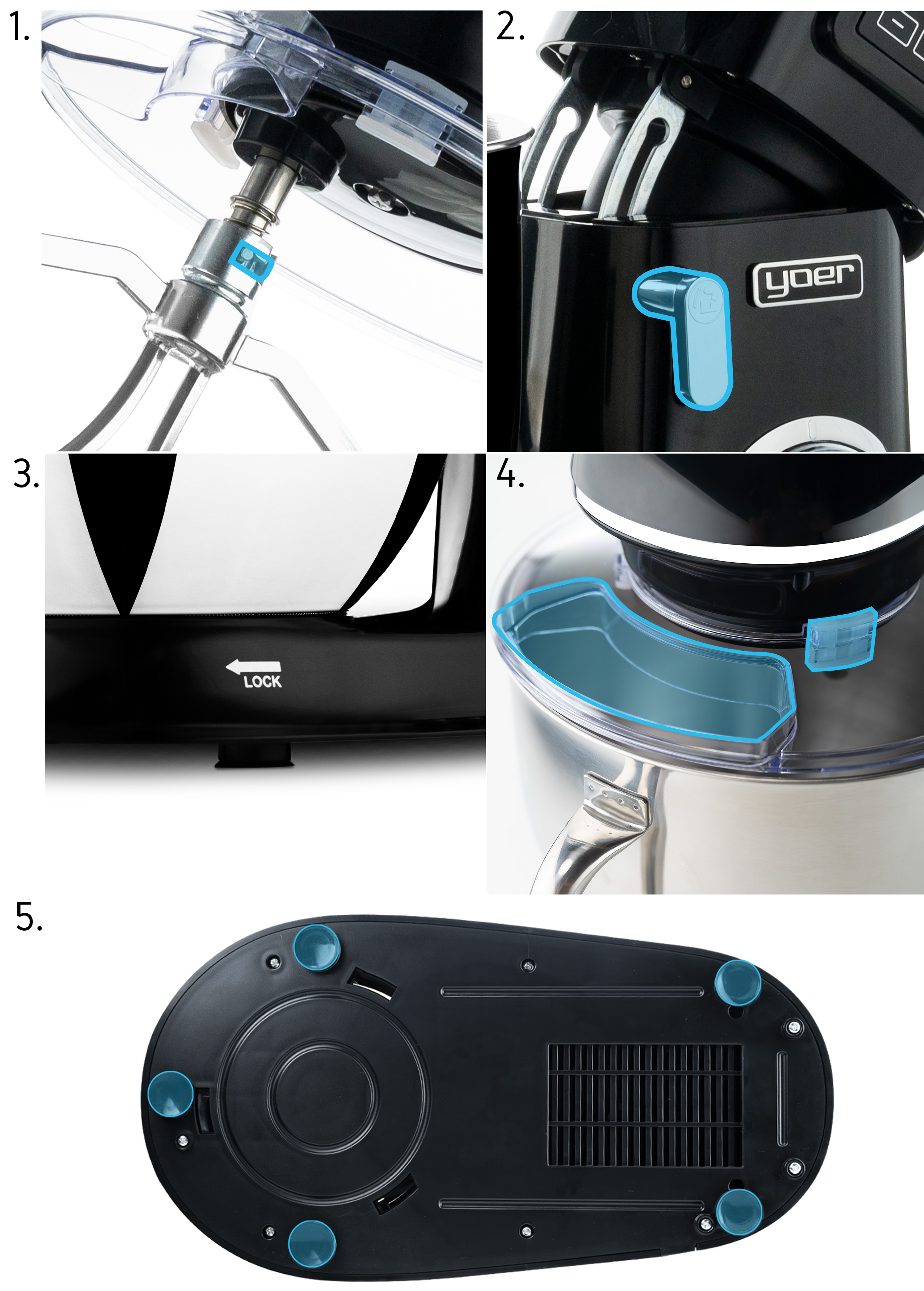 COMPLETELY SAFE
Mixing element axle and individual accessories lock - easy assembly and disassemly of the accessories and quick use of available functions with safety.
Head lock - protects agains accidental lifting of the device head during the kitchen machine operation, the lock is signalised with a characteristic click.

Pull and hold the lever on the device body to lift the device head and remove the accessory or pull out the bowl.

Bowl lock in the mounting socket - LOCK - put the bowl into the mounting socket and twist it clockwise untill you feel resistance.
Bowl cover - mix without splashing:

rubber bowl cover seals - safe assembly and tight fit to the rim of the kitchen machine head,
opening for the ingredients - add ingredients with safety.

Anti-slip feet:

will ensure perfect stability,
will perfectly protect from accidental moving the device during its work.

Overheating protection - the kitchen machine will automatically turn off after achieving maximum temperature.
Automatic stop while lifting the device head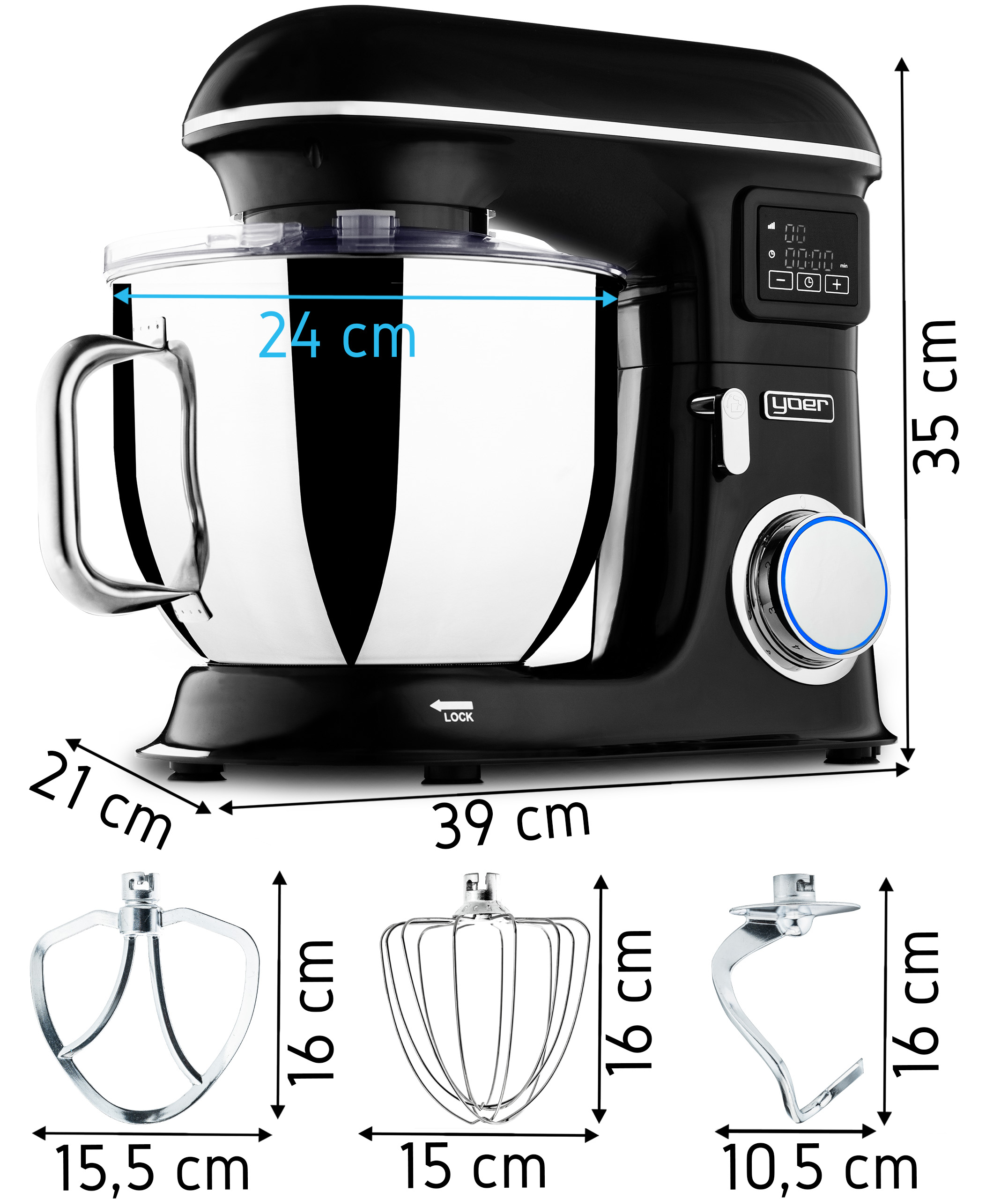 TECHNICAL SPECIFICATION
Maximum power (blocking the motor): 2200W
Nominal power: 1500W
Bowl capacity: 6,8l
Weight: 5,6 kg (12.3 lbs)
Kitchen machine dimensions: 35 x 21 x 39 cm (13.8 x 8.3 x 15.4 ")
Beater dimensions: 16 x 15 cm (6.3 x 6 ")
Hook dimensions: 16 x 10,5 cm (6.3 x 4.1 ")
Mixing paddle dimensions: 16 x 15,5 cm (6.3 x 6.1 ")
Bowl dimensions: 20,5 x 29 cm (8.1 x 11.4 ")
Bowl cover diameter: 24 cm (9.4 ")
Bowl cover opening dimensions: 4 x 13 cm (1.6 x 5.1 ")
Casing: High quality polymer
Color: Black with silver accents
Power cord length: 104 cm (3.4 ft)
Polish power plug: 220-240V 50-60Hz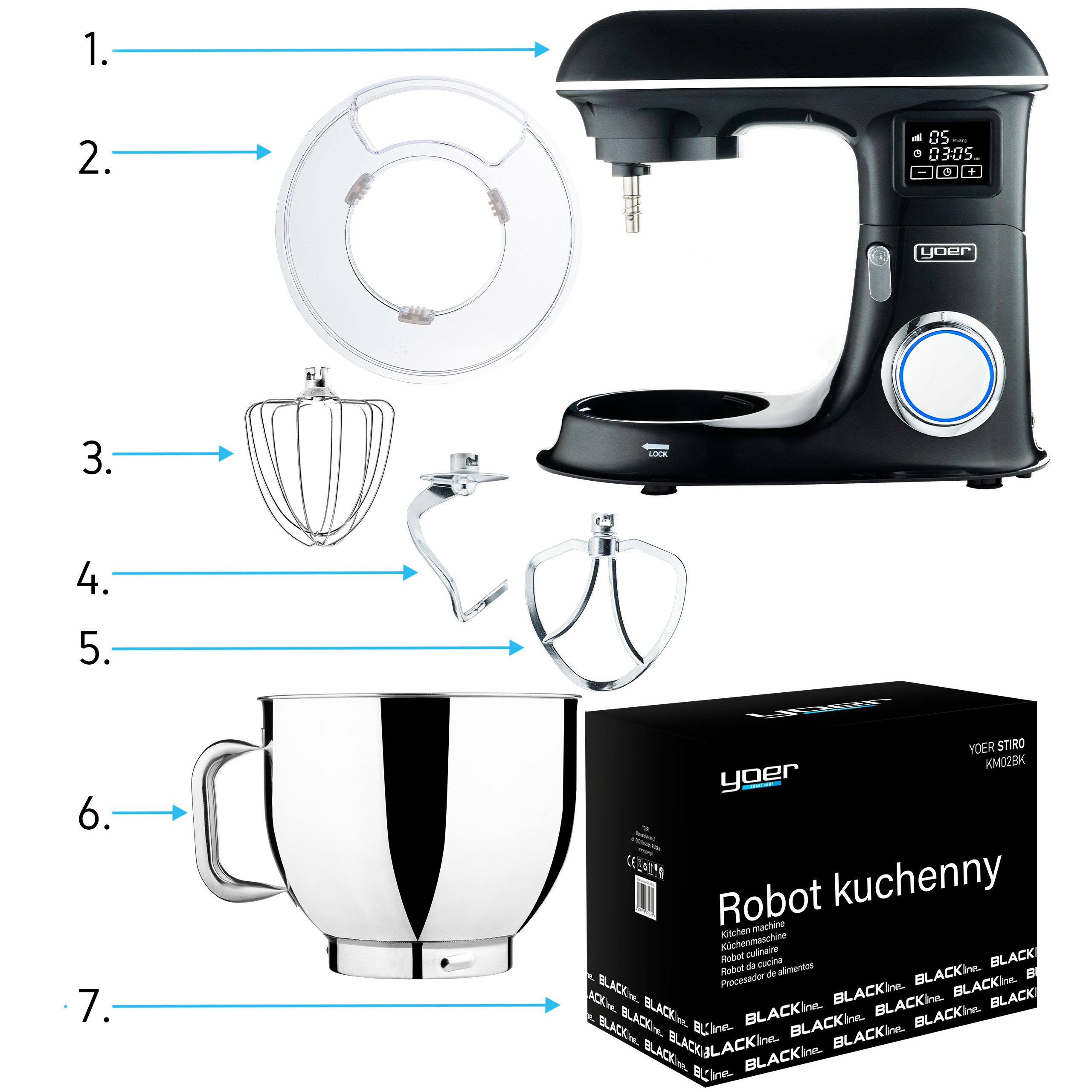 EQUIPMENT
Kitchen machine
Bowl cover
Beater
Hook
Mixing paddle
Bowl
Original packaging
YOU WILL RECEIVE:
Kitchen machine - details above,
YOER PLATINUM SECURITY card,
Warranty card.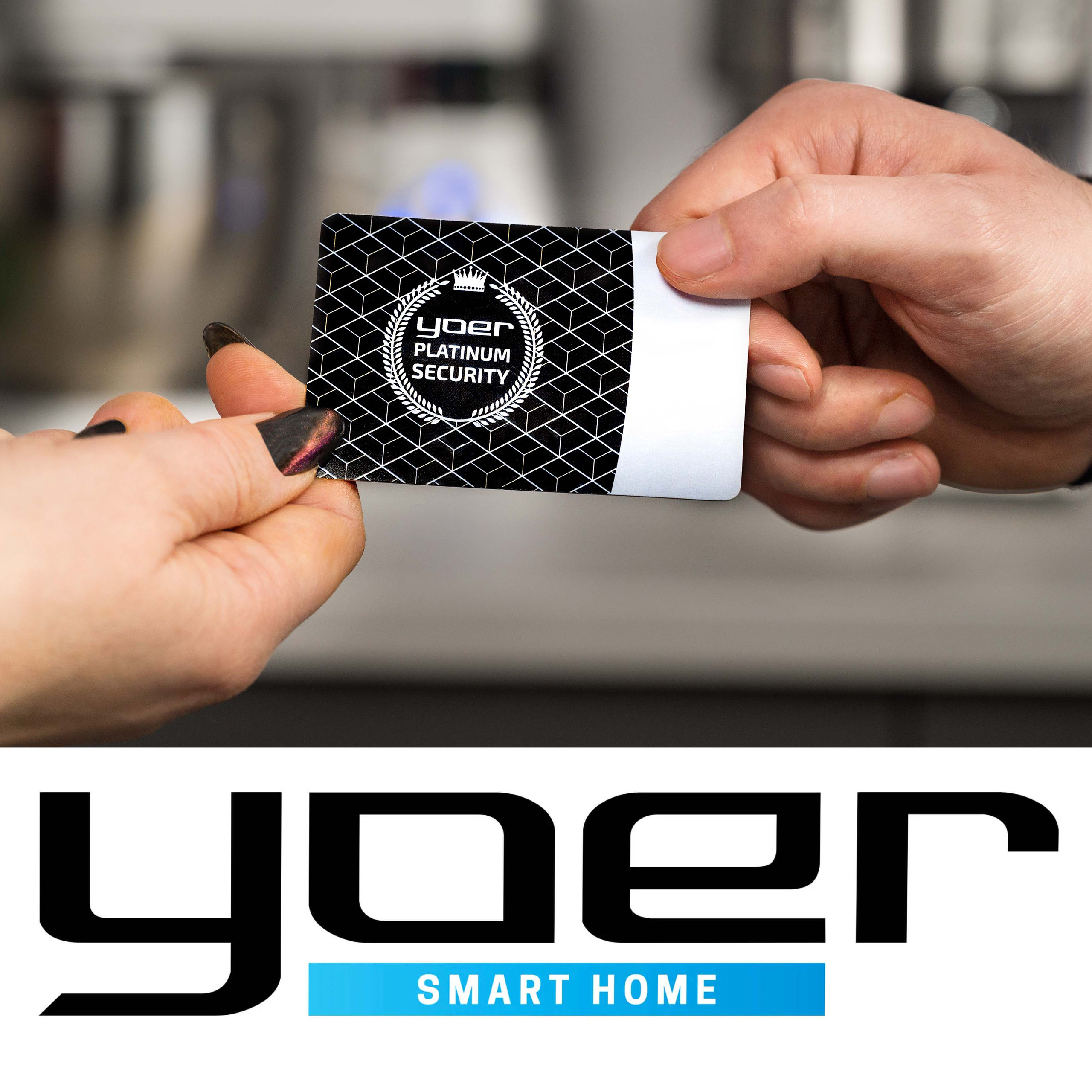 YOER PLATINUM SECURITY
When purchasing products from the official Yoer store you receive the YOER PLATINUM SECURITY package, which is an assurance of additional protection.
YOER - POLISH MANUFACTURER AND BRAND
YOER constitutes an excellent proof that high quality of products does not necesserily go in hand with high prices.

YOER KM02BK Instruction manual - Click here