Language
Portable Air Conditioner YOER Artico PAC01W
Portable air conditioner: power 4200W, heating, cooling, ventilating and dehumidifying, airflow direction adjustment, high quality polymer, 24-hour timer, sleep mode, eco, Wi-Fi + remote control
3198.00
-38%
1998.00
Lowest price in the last 30 days:

Shipping within

24 hours

Availability

Small

51

pcs.
| | |
| --- | --- |
| Bar code | |
| EAN | 5900779772106 |
Description

Instruction manuals
LOCAL PORTABLE AIR CONDITIONER YOER Arctico PAC01W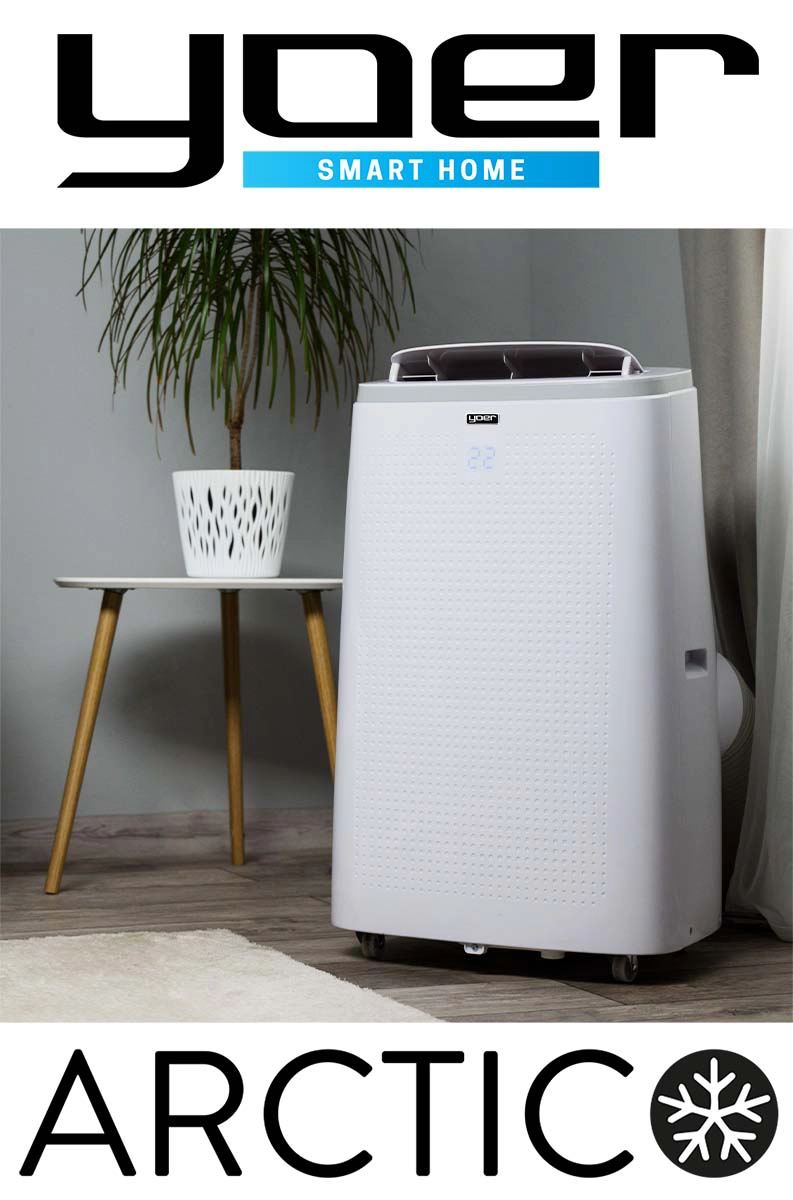 PRODUCT DETAILS
4200W - huge cooling capacity
500 m³/h (17657.3 ft³/h) - strong air flow ensures quick effects
2880W - huge heating capacity
60l/24h - get rid of moisture in a quick and effective way
59 dB - extremely quiet
4 work modes - cooling, dehumidifying, ventilating and heating - use all year round
3 power levels - low, medium and high
R290 - eco and safe - for environment refrigerant
24-hour timer - the device will be automatically turned off at the time selected by you
Remote control with display - control your device without moving from your couch
Sleep mode - the device slowly comes to the lowest speed and turns off all indicators
Grids with attached filters - protection of internal parts of the air conditioner and safety
Remote control via App - remote control via smartphone or tablet with Android and iOS system
Memory function - the device maintains its settings during a power failure
2 LED diplays - readable displays indicating current air temperature
Continuous drainage - possibility of inserting a drain hose
Comfortable handles and soft wheels - safe moving
16-31°C (60.8 - 87.8 °F) - huge range of temperatures allows for precise regulation of the temperature in a room
148 cm (4.9 ft) - max. length of the exhaust pipe
Electrically adjustable air outlet cover - takes care of constant air circulation in a room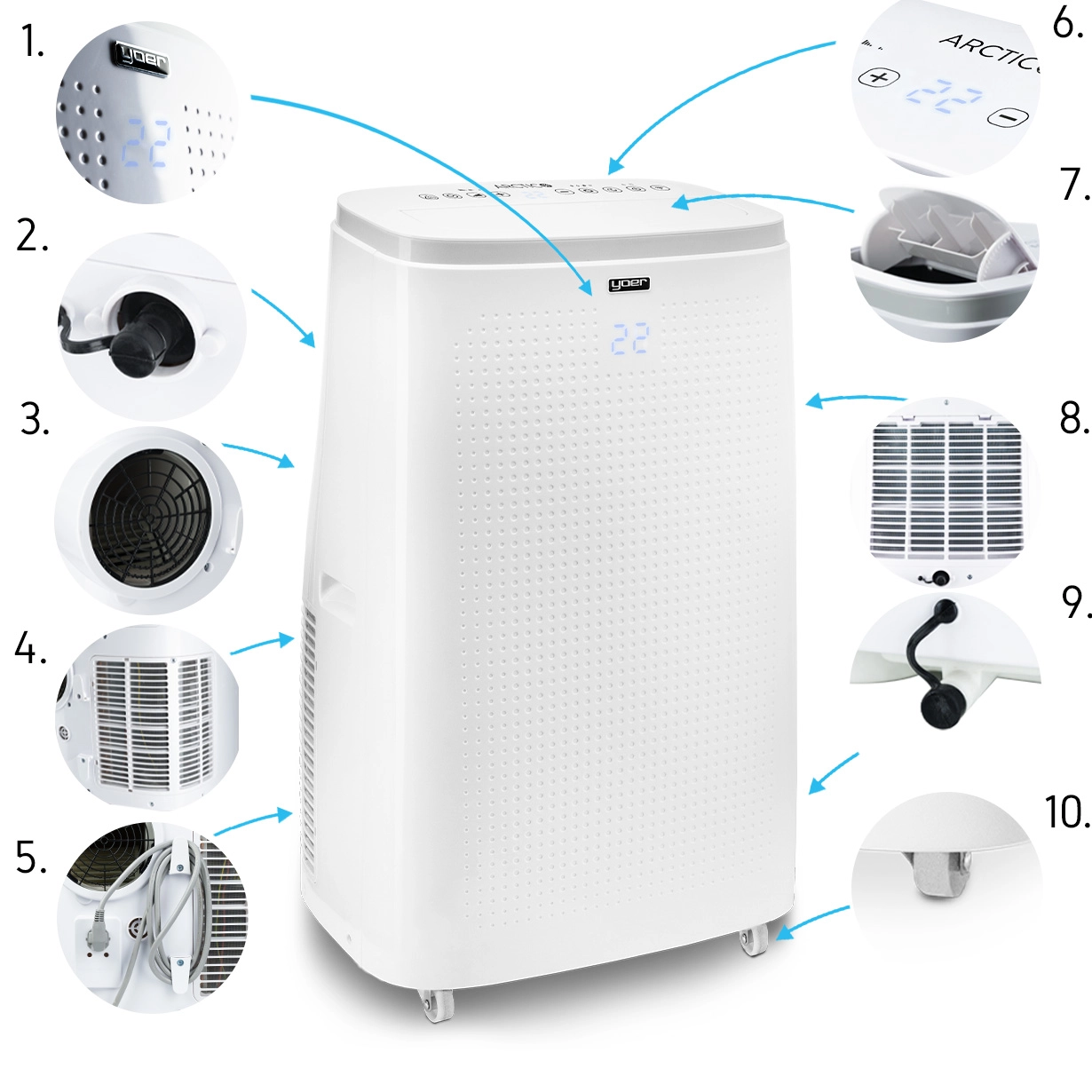 CONSTRUCTION - MAIN COMPONENTS
LED display with temperature indicators
Upper drain outlet with drain plug
Air outlet socket
Lower air filter
Cord winder with a plug protection socket
Control panel with temperature indicator
Automatic air outlet cover
Upper air filter
Lower drain outlet with drain plug
Wheels made of soft polymer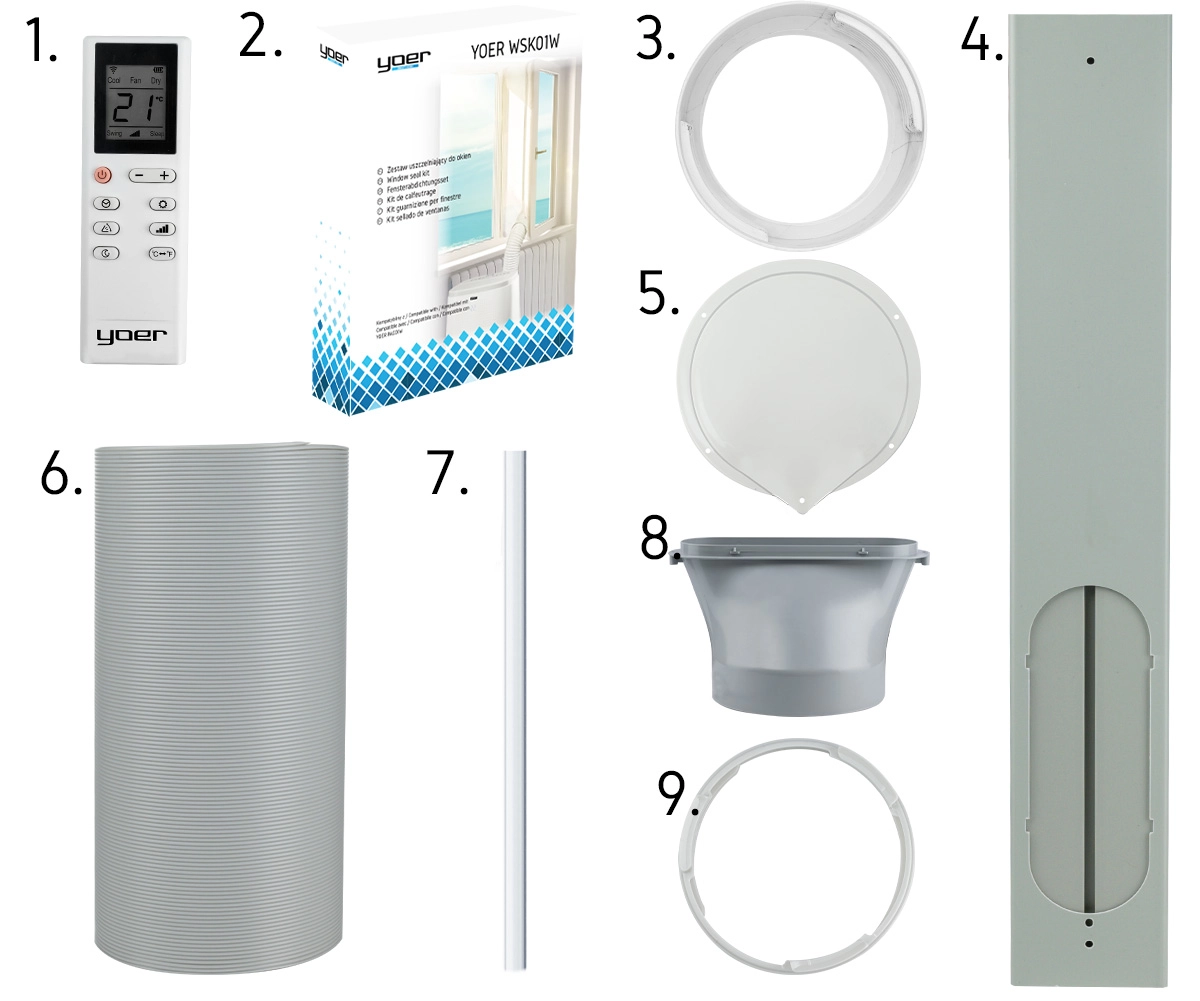 WIDE VARIETY OF ACCESSORIES
Remote control with display
Window seal kit
Adapter for wall accessory
Universal window slide plate
Wall accessory with blanking lid
Exhaust pipe
Drain hose
Adapter for window slide plate
Adapter for air conditioner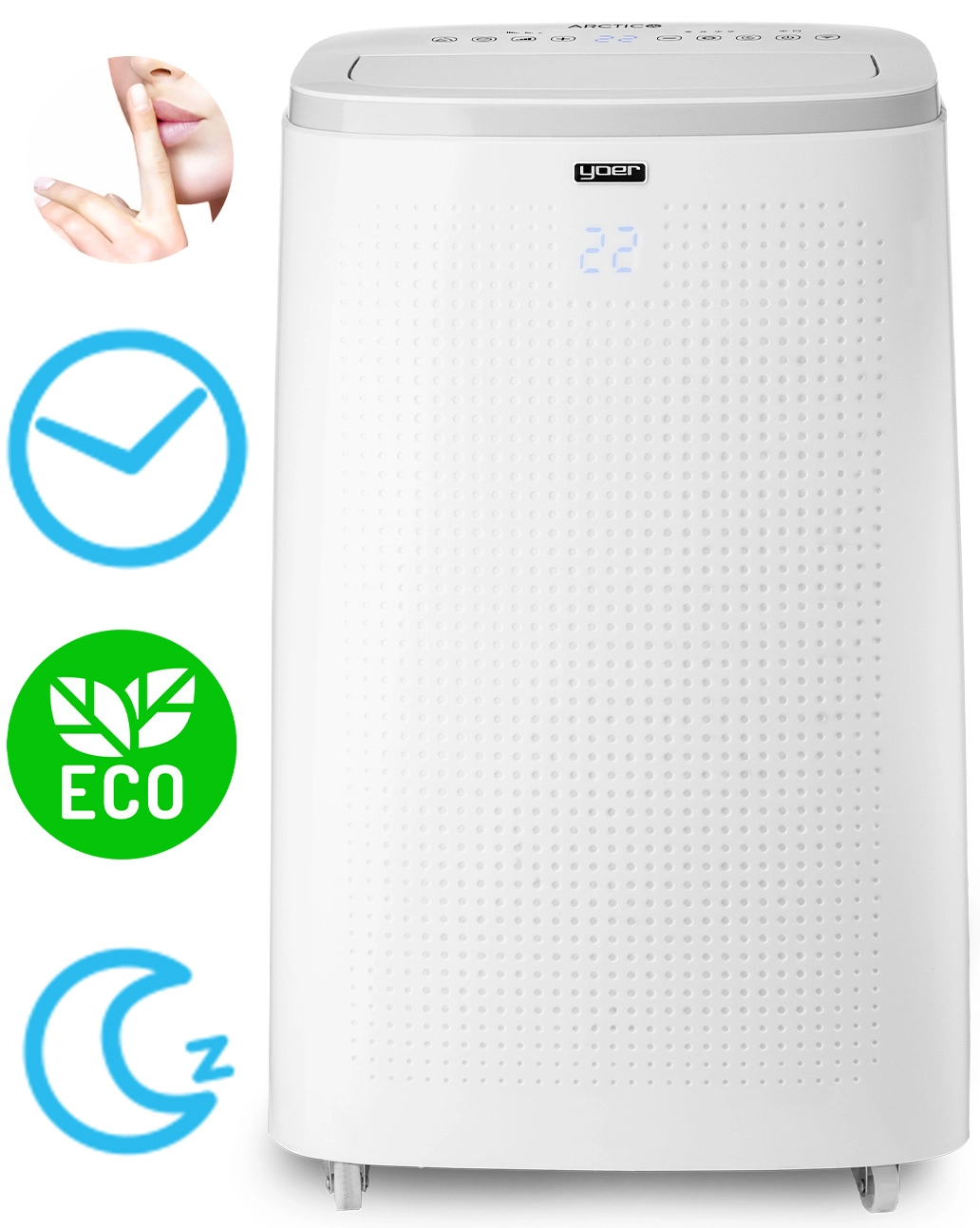 QUIET, TIMER, ECO, SLEEP MODE
QUIET - 59 dB one of the most quiet air contidioners on the market - pleasant in everyday use and also pet-friendly.
24-HOUR TIMER - will allow you to program the device to optimalize the energy consumption and adjust the device work to your personal needs.
ECOLOGICAL AND ENERGY EFFICIENT - ensures small energy consumption and saves money.

During cooling mode energy consumption on the level of 1610W ensures cooling capacity of 4200W, which is 14300 BTU.
During heating mode energy consumption on the level of 1150W ensures heating capacity of 2880W.
R290 - environmentally safe, ecological refrigerant. The used refrigerant, which is from natural sources in addition to its enormous efficiency is alsosafe and environmentally friendly. Thanks to which itallows to reduce greenhouse gas emissions.

SLEEP MODE - comfort around the clock thanks to quiet work and blank control panel.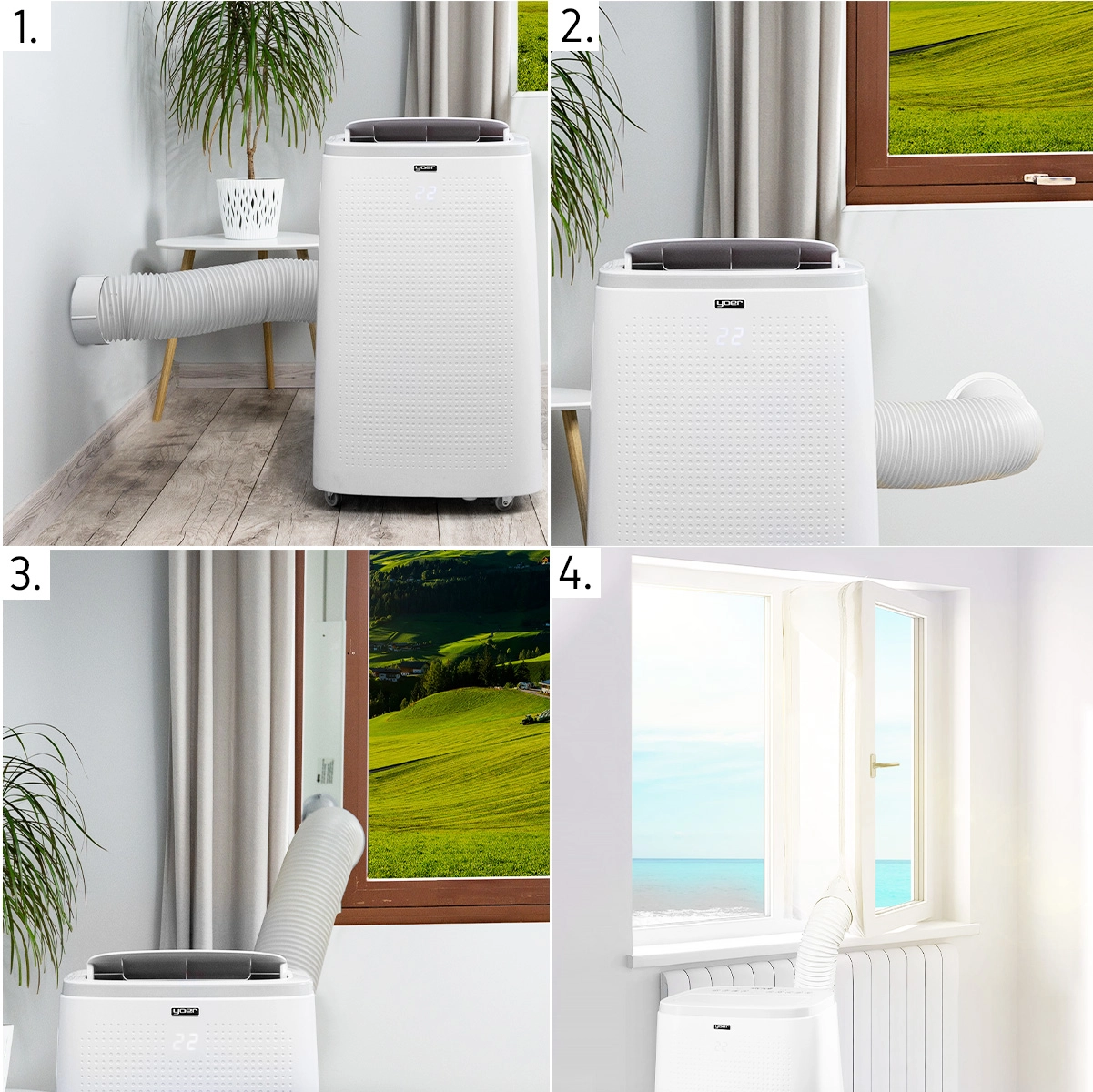 4in1 - COOLING HEATING VENTILATING AND DEHUMIDIFYING
4 work modes allow you to use the device throughout the year depending on your needs!
COOLING - cool your room on hot days and feel comfortable thanks to the tremendous performance.
HEATING - on cold days heat your room even to 31°C without having to buy another heating device.

2 ways of draining the condensate in heating mode.
Manual - place a container below the lower drain outlet, take the drain plug off from the lower drain outlet and let the water pour from the appliance into the container.
Continuous - take the drain plug off from the upper drain outlet and insert the drain hose, letting the water automatically pour from the appliance into the container during the device work.

VENTILATING - take care of constant circulation and air purification at home or in an office and enjoy pleasant wind blow.
DEHUMIDIFYING - get rid of burdensome moisture in the air thanks to tremendous defumidifier performance and prevent from unpleasant odours or black blooms in your home.

2 condensate drainage methods also in dehumidifying mode.
Manual
Continuous
Thanks to dehumidifying mode you will get rid of excessive moisture and speed up the drying process of the laundry in your home. Thanks to this your laundry will be dry and fragrant!
The air conditioner has memory function even in case of a power failure!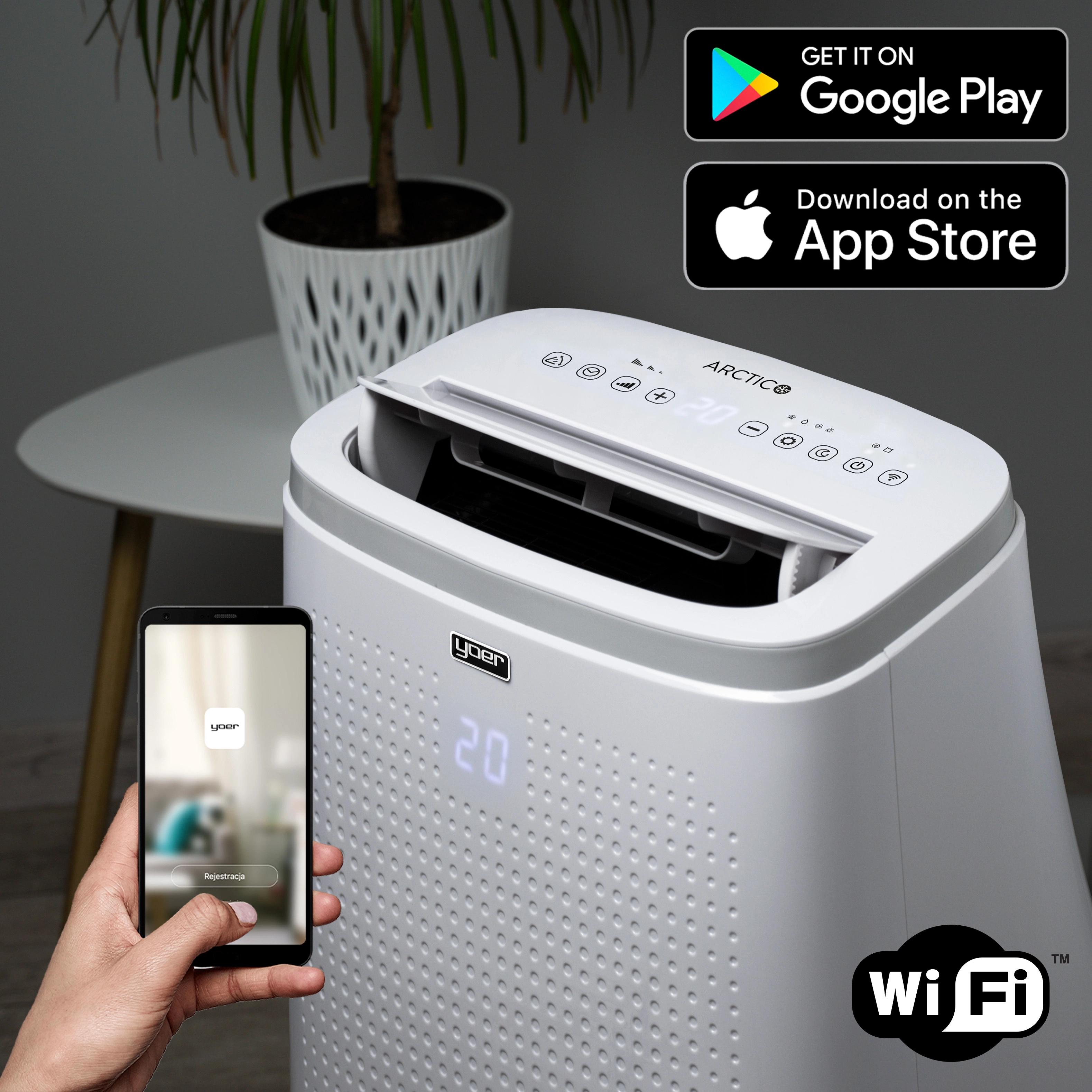 REMOTE CONTROL WITH WORK TIME SCHEDULE
The air conditioner is equipped with Wi-Fi function, thanks to which the device apart from standard ways of control via touch control panel or attached remote control, can be programmed via app on your phone with Wi-Fi connection.
Controlling via Wi-Fi with possibility of programming the air conditioner operation on your phone or tablet thanks to easy to use app.

The app is available in the Google Play Store and the AppStore.
The app works on Android and iOS.
Programming and controlling the device from anywhere with Internet access.

The app enables you to set the operation of the air conditioner in the range of:

Turning the operation on and off.
Changing room temperature.
Reading temperature in a room.
Selecting the work mode.
Setting the work time schedule for a whole week.
Programming the device shut off and turning it on.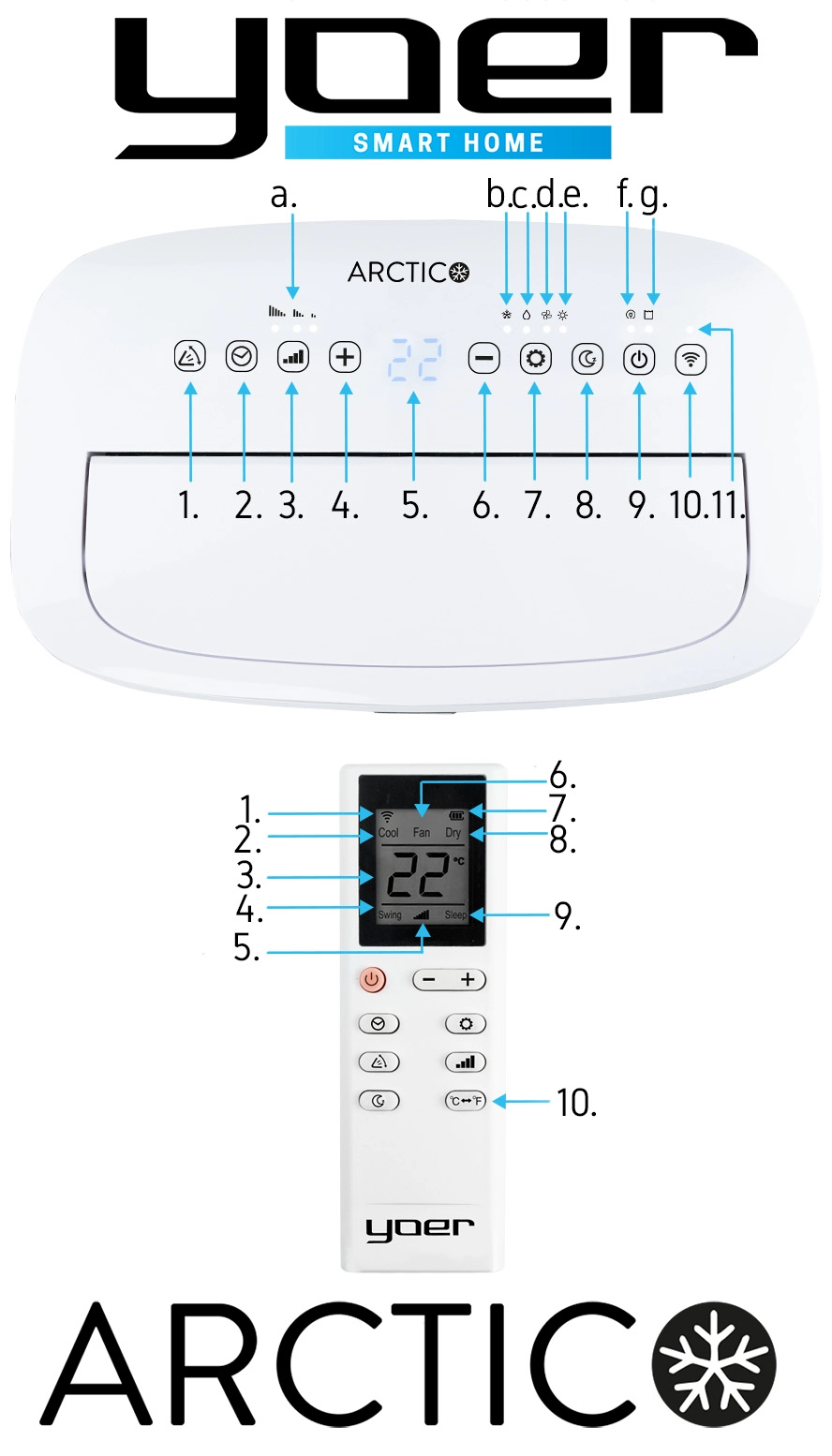 TOUCH CONTROL PANEL + REMOTE CONTROL
Comfortable control of the device in the chosen way among 3 available options.
Touch control panel - ease of controlling the the device with the help of touch buttons:

Airflow direction adjustment - press the button to make the air outlet cover move or stop in any position
24-hour timer - program your device according to your needs by pressing the button
3-step speed regulation - choose the speed that is right for you by pressing the button:

a. device speed indicator - choose the speed from three available levels: low, medium, high.

Temperature/time increment button - set preferable temperature up to 31°C or time up to 24 h
Temperature indicator - control temperature in your room in an easy way
Temperature/time decrement button - set preferable temperature from 16°C or time from 1 h
Mode selection - by pressing the button choose one of four available work modes according to your needs:

b. cooling
c. dehumidifying
d. ventilating
e. heating

Sleep mode - press te button and use the device comfortably even while sleeping
ON/OFF button - turn the appliance on or off
Wi-Fi functionality - press the button to turn on the Wi-Fi function and control your device via mobile app
Controlling the device via attached remote control - convenient control from a distance. Thanks to the display you will easily check the device work mode:

Wireless signal icon - control the remote control operation thanks to visible signal icon.
Cooling mode - icon informing about active cooling mode.
Temperature indicators - check the set temperature thanks to readable display.
Active airflow direction adjustment icon - set the airflow direction.
Speed mode indicator - set chosen speed.
Ventilating mode - active ventilating mode icon.
Battery level - have the battery level under control.
Dehumidifying mode - active defumidifying mode icon.
Sleep mode - active sleep mode icon.
Temperature unit switch - switch the temperature unit from Celsius to Fahrenheit degrees.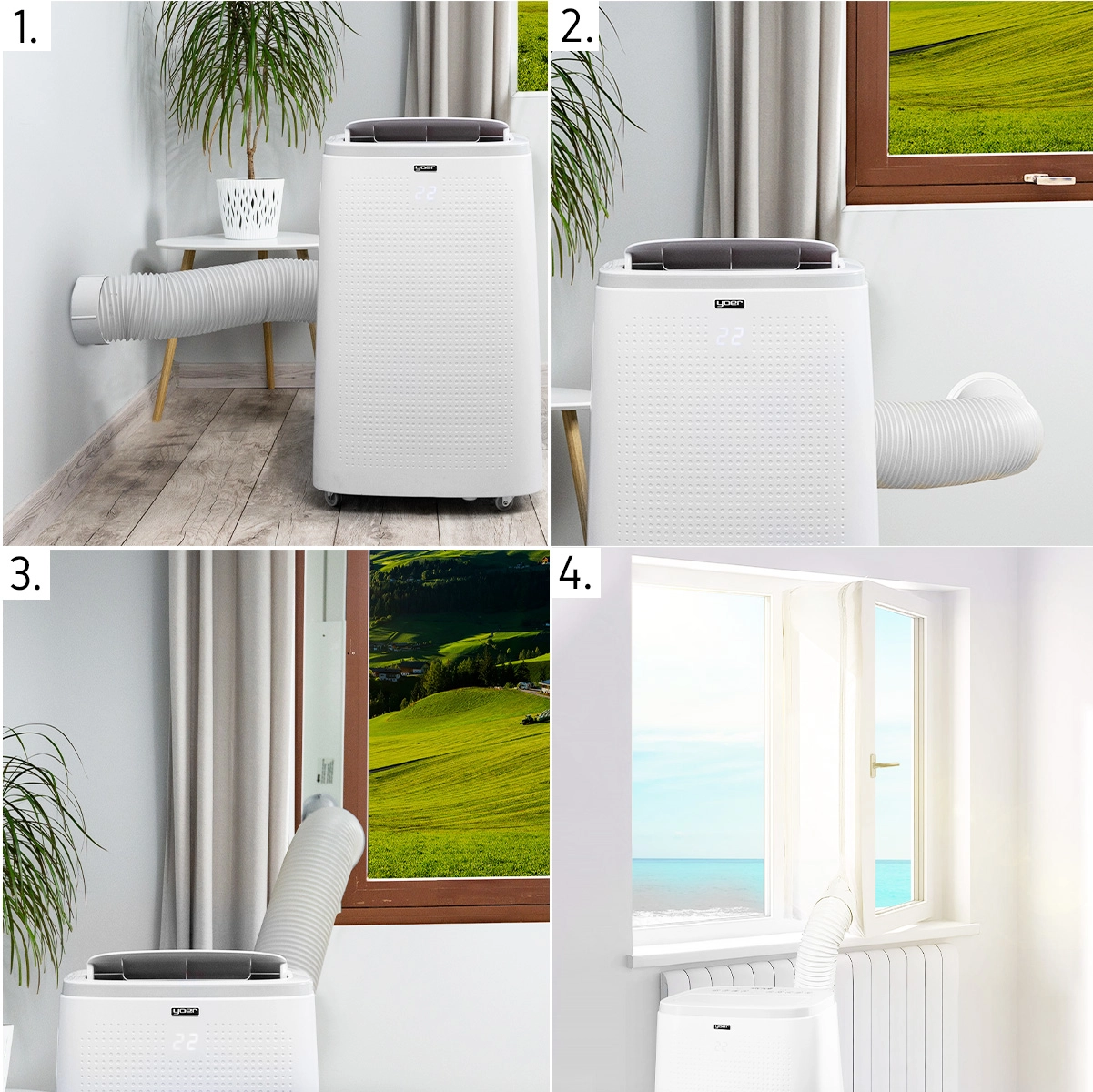 4 WAYS OF MOUNTING THE EXHAUST PIPE
The device allows 4 ways to mount the exhaust pipe, so thanks to this it can be used in every office and household:
TO VENTILATION SHAFT - insert the exhaust pipe into vent without the need to drill a hole in a wall.
TO WALL ACCESSORY - drill a hole in a wall, mount the wall accessory with blanking lid and mount the exhaust pipe to the wall accessory.

When the exhaust pipe is not mounted, the drilled hole can be closed with the blanking lid.

TO SLIDING WINDOWS - mount the exhaust pipe to any type of window.

Multifunctional window slide plate is included in the set.

TO CASEMENT WINDOW - the possibility of mounting the exhaust pipe to casement windows with the use of a gasket securing the inflow of warm air.

Window seal kit for casement widnow is included in the set.
MOVABLE AIR OUTLET COVER
Automatic air outlet cover, thanks to which you can set constant air flow or stop the cover in any position.
Active cover movement allows constant air circulation in a room, which will have a possitive impact not only on your well-being and comfort, but on general technical condition of the building, preventing the accumulation of moisture in the air as well.
Stopping the cover movement in any position will allow you to set constant air stream in the selected direction.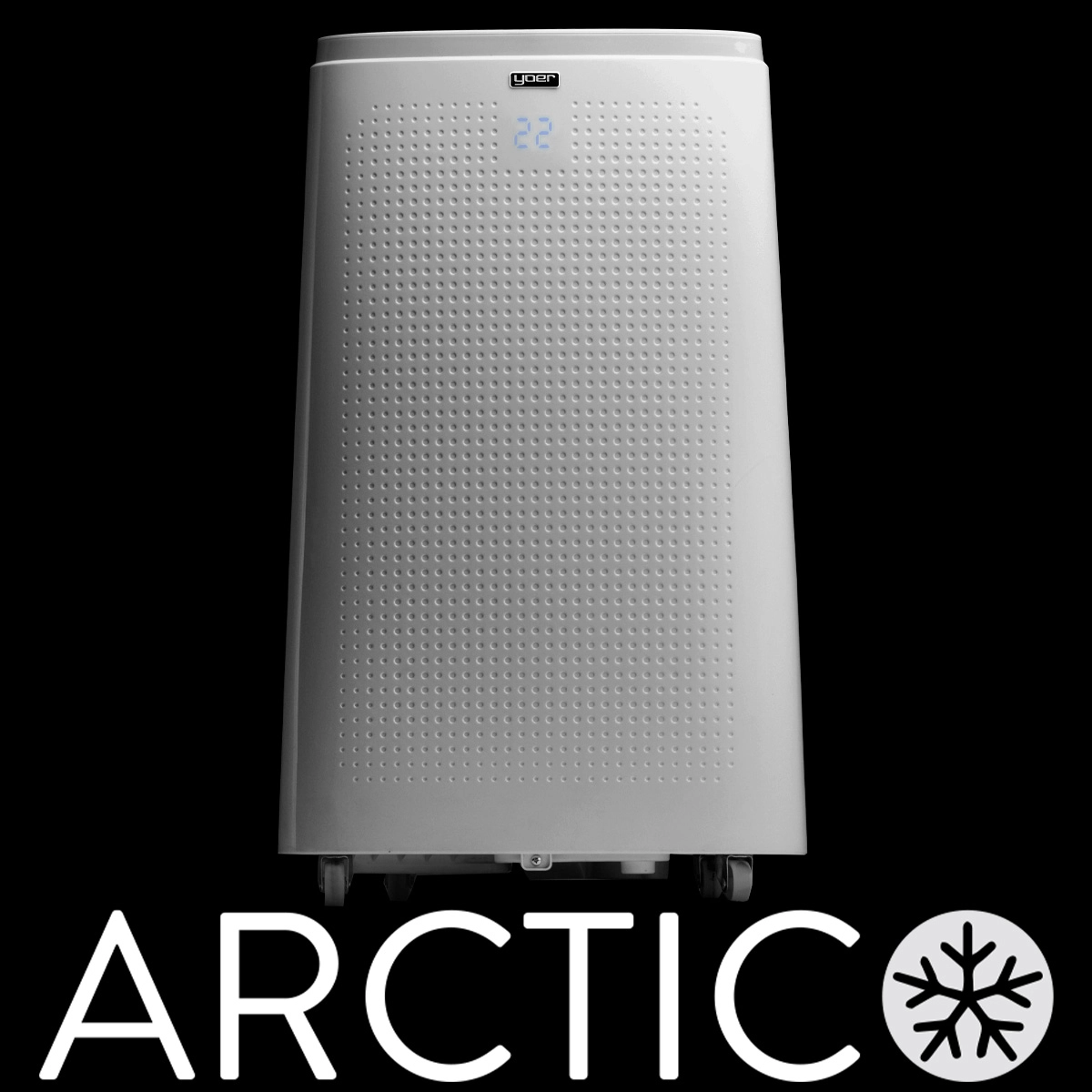 MODERN DESIGN
The air conditioner is distinguished not only by its functionality but its high quality and unique, elegant design as well - it will perfectly suit every interior without a doubt.
Modern design - fashionable pattern which adorns the front of the device.
Casing made of high quality polymer - timeless elegance and years of use.
High quality of materials - ease of keeping the casing elements clean.
Simple and elegant temperature indicator - discreet and readable as well.
Readable control panel
The device body is decorated with YOER producer logotype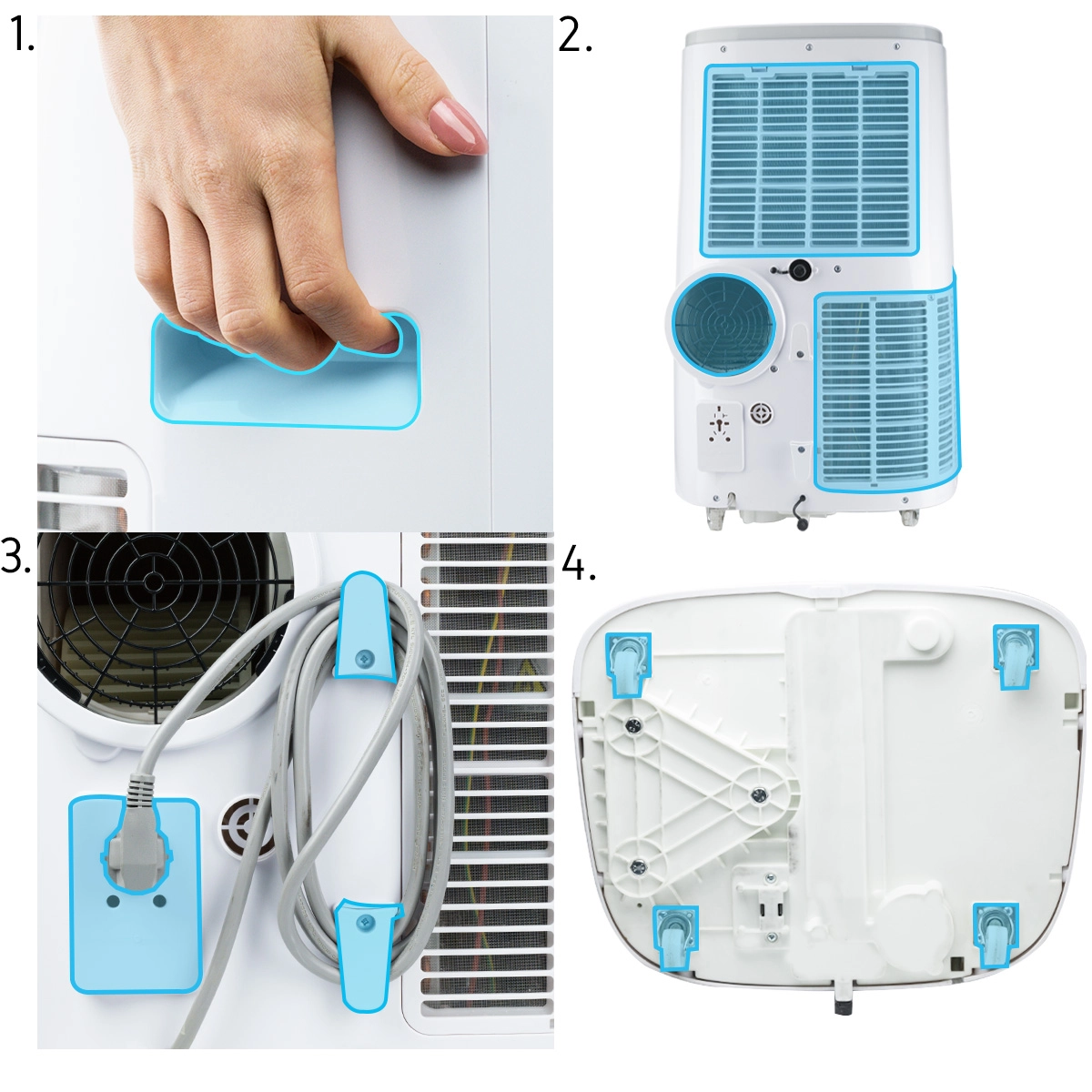 COMPLETELY SAFE
Convenient handle - makes moving the device easier and safier.
Protective grids - cover the air intlets and protect the interior of the device. They also prevent from direct contact with the moving parts of the device.
Cord winder with a plug protection socket - special handle allows you to conveniently wind up the cord. The plug socket will protect the elements against damage while storing or moving the air conditioner.
Wheels made of soft polymer - ensure mobility and convenient moving without having to carry the device.
3 security systems - will ensure high durability and lifetime of the device.

Protection from overflowing - the device will make a characteristic sound signal, when the water container needs emptying.

Compressor protection - 3 minute delay after the compressor is turned off will prevent from sudden shutdown.

Protection from frosting - this function is automatically turned on, when the temperature inside the exhaust hose is too low.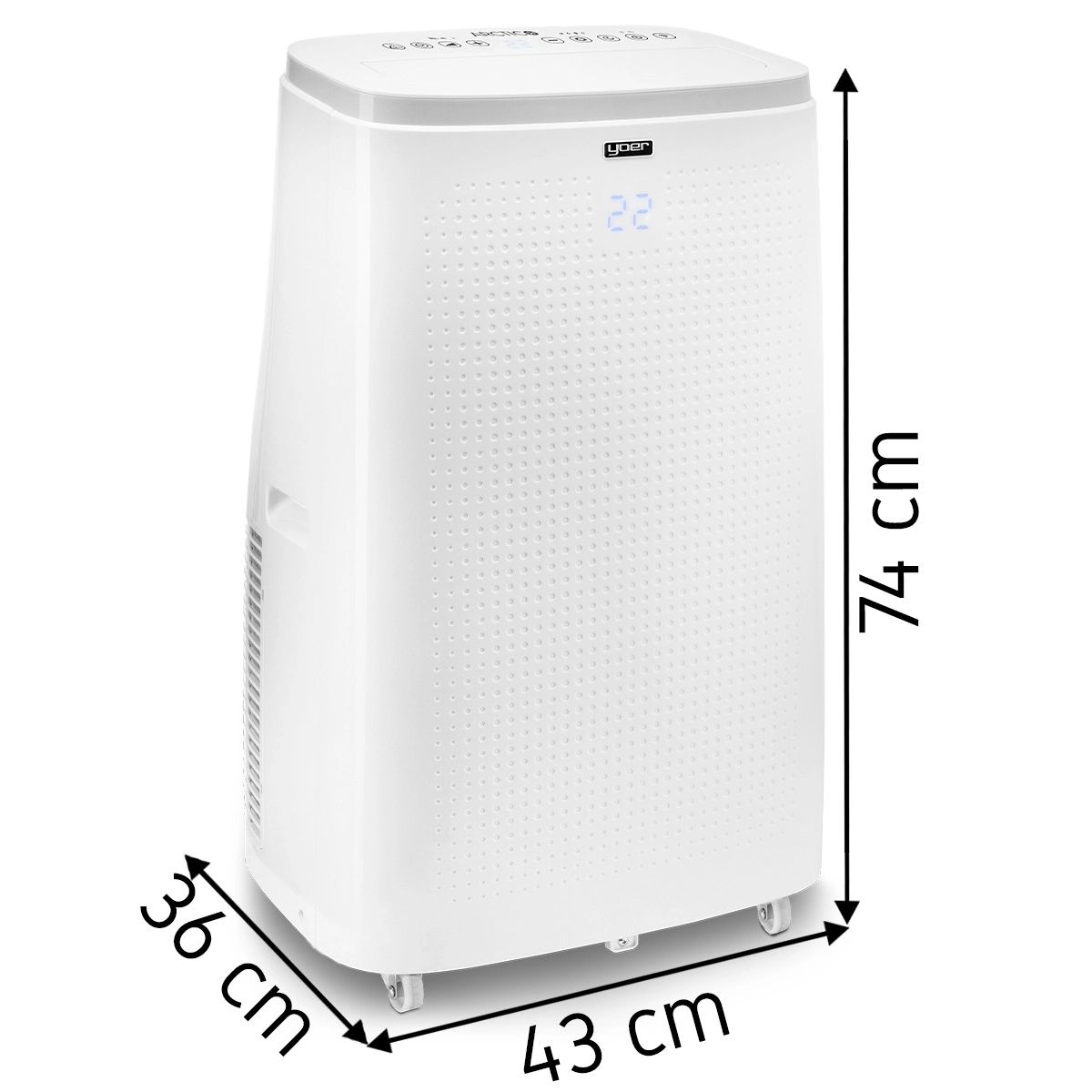 TECHNICAL SPECIFICATION
Max. power - 4200W
Air flow - 500 m³/h (17657.3 ft³/h)
Weight -31 kg (68.3 lb)
Temperature range- 16 - 31°C
Dimensions- 74 x 43 x 36 cm (29.1 x 16.9 x 14.2 ")
Drain hose length -66 cm (26 ")
Exhaust pipe max. length- 148 cm (4.9 ft)
Exhaust pipe diameter - 15 cm (5.9 ")
Window slide plate dimensions - 65 x 10 cm (25.6 x 3.9 ")
Adapter for air conditioner diameter - 15,5 cm (6.1 ")
Adapter for window slide plate diameter- 15,5 cm (6.1 ")
Adapter for window slide plate opening dimensions- 21,4 x 7 cm (8.4 x 2.8 ")
Upper air filter dimensions- 28,4 x 31 cm (11.2 x 12.2 ")
Low air filter dimensions- 27,5 x 29,5 cm (10.8 x 11.6 ")
Type -portable
Casing -high quality polymer
Color - white
Type of the display -LED
Control - touch control panel, remote control via Wi-Fi
Working surface - 60m² (645.8 ft²)
Type of the filters - reusable filters
Power cord length- 176 cm (5.8 ft)
Polish power plug -220-240V~50Hz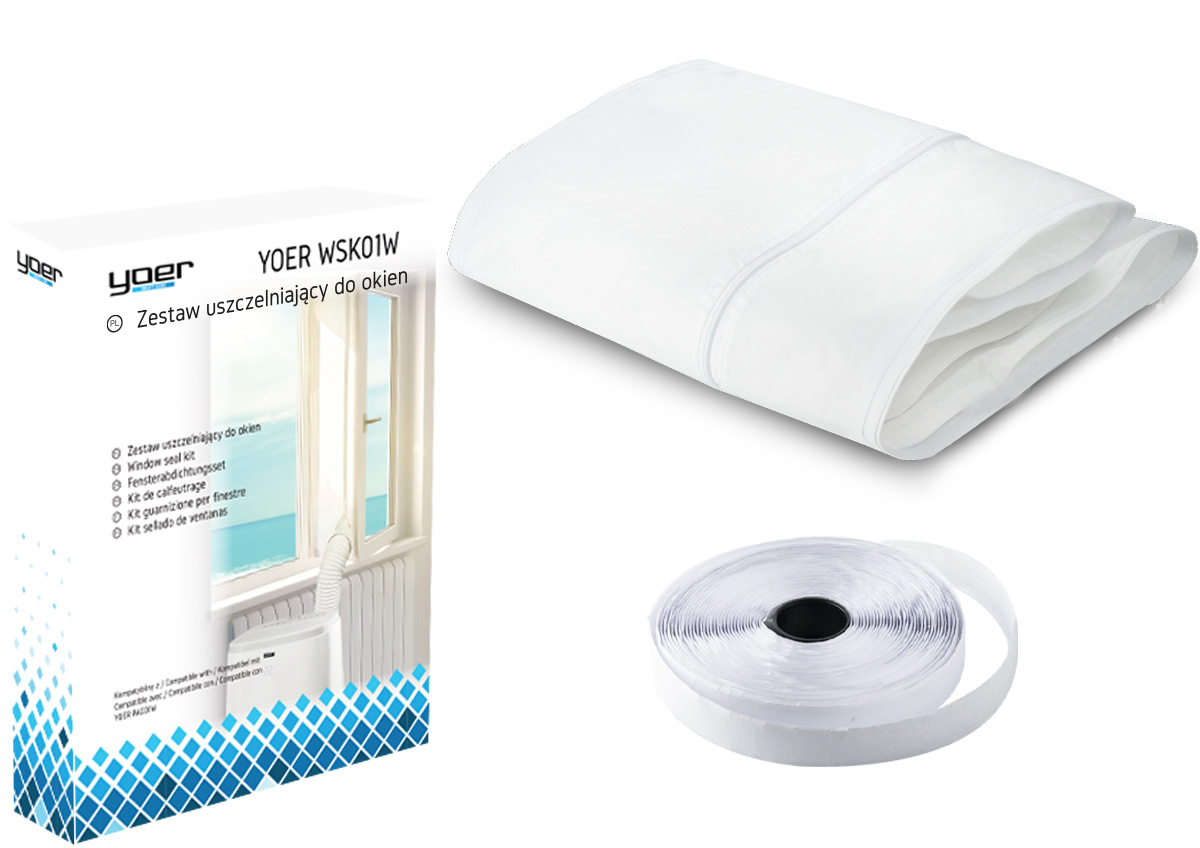 + WINDOW SEAL KIT FOR FREE
Universal window seal kit for windows with the length of 4 meters will prevent hot air flow and insects from entering your room. What is more, it will effectivelly stop the cold air inside.
It fits almost every type of casement window, even balcony ones.
Waterproof - it will effectivelly protect you from moisture.
2 independent zippers - will ensure adjustment for any exhaust pipe.
Our window seal kit is constantly for sale. You can find it on our auction.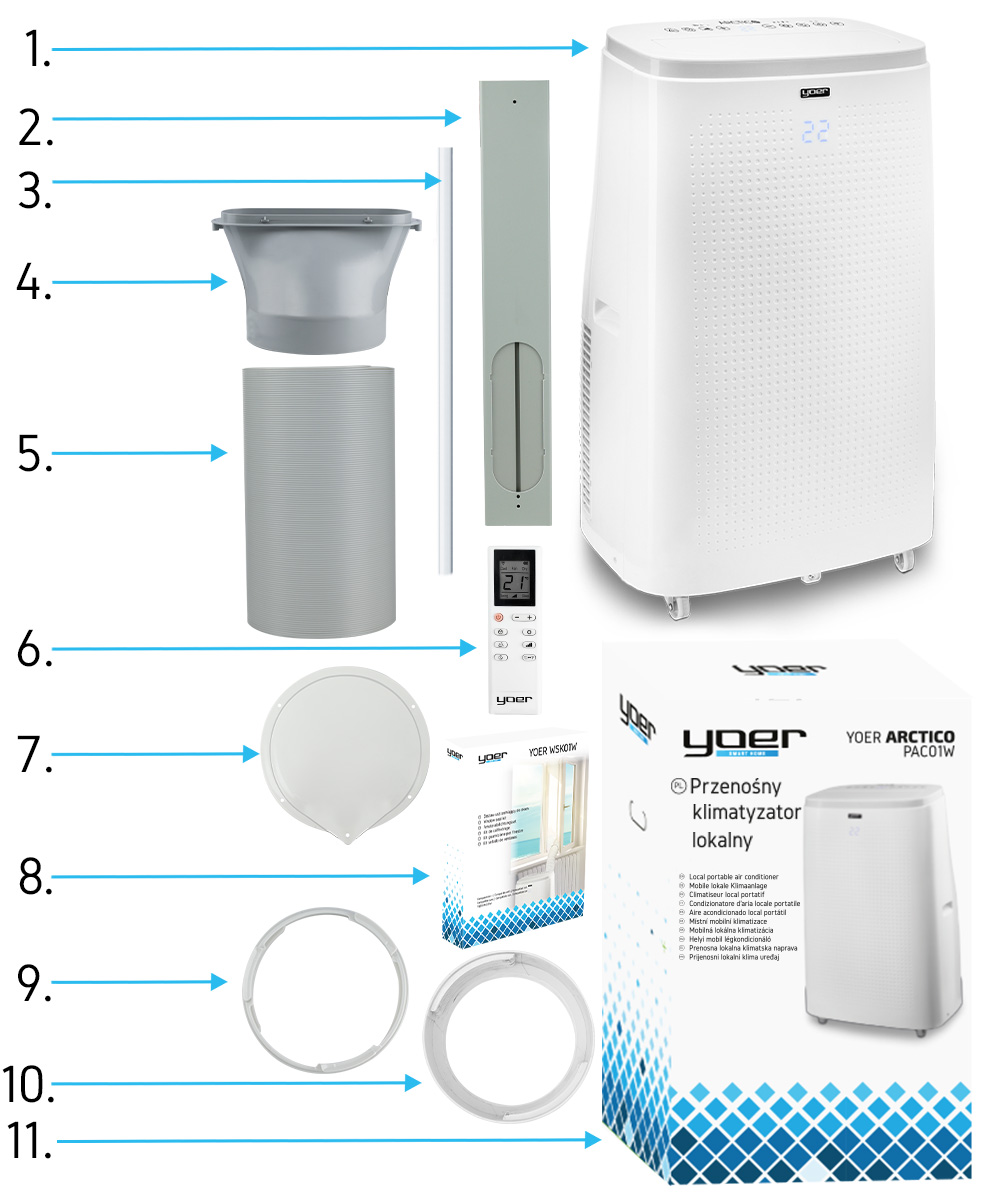 EQUIPMENT
Portable air conditioner
Universal window slide plate
Drain hose
Adapter for window slide plate
Exhaust pipe
Remote control with display
Wall acessory with blanking lid
Window seal kit
Adapter for air conditioner
Adapter for wall accessory
Original packaging
YOU WILL RECEIVE:
Portable air conditioner - details above,
YOER PLATINUM SECURITY card,
Warranty card,
PL / EN Instruction manual.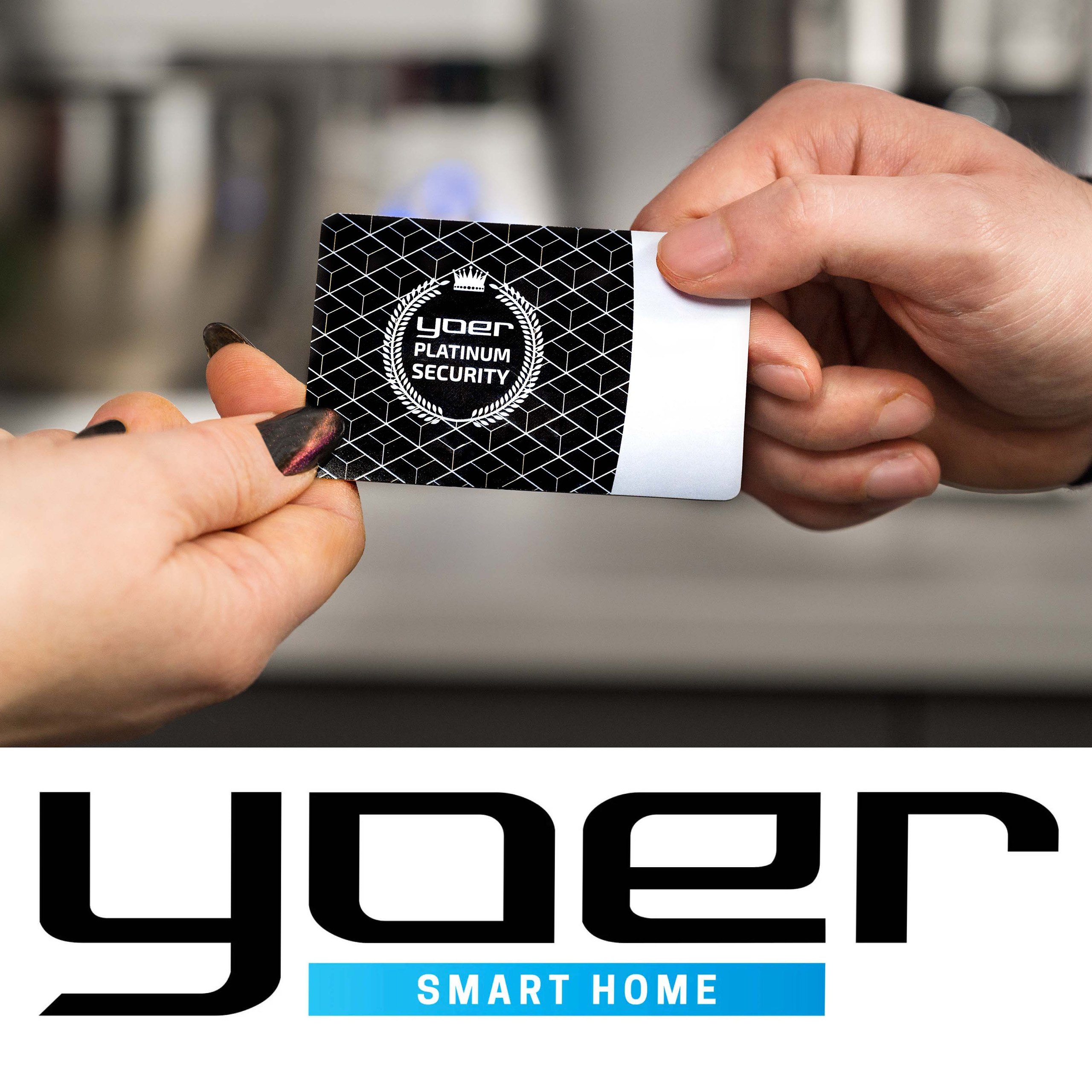 YOER PLATINUM SECURITY
When purchasing products from the official Yoer store you receive the YOER PLATINUM SECURITY package, which is an assurance of additional protection.
YOER - POLISH MANUFACTURER AND BRAND
YOER constitutes an excellent proof that high quality of products does not necesserily go in hand with high prices.

YOER PAC01W Instruction manual – Click here