Language
Portable ceramic fan heater YOER BLOWER FH02W
2000W Power, oscialltion mode, remote control, touch control panel, readable LED display, cold blow, ECO Mode, anti-dust filter
499.00
-48%
258.00
Lowest price in the last 30 days:
Order within
and we will send the package today

Shipping within

Shipment within 24 hours

Availability

Medium

143

pcs.
| | |
| --- | --- |
| Bar code | |
| EAN | 5900779770911 |
Description

Instruction manuals
PORTABLE CERAMIC FAN HEATER YOER BLOWER FH02W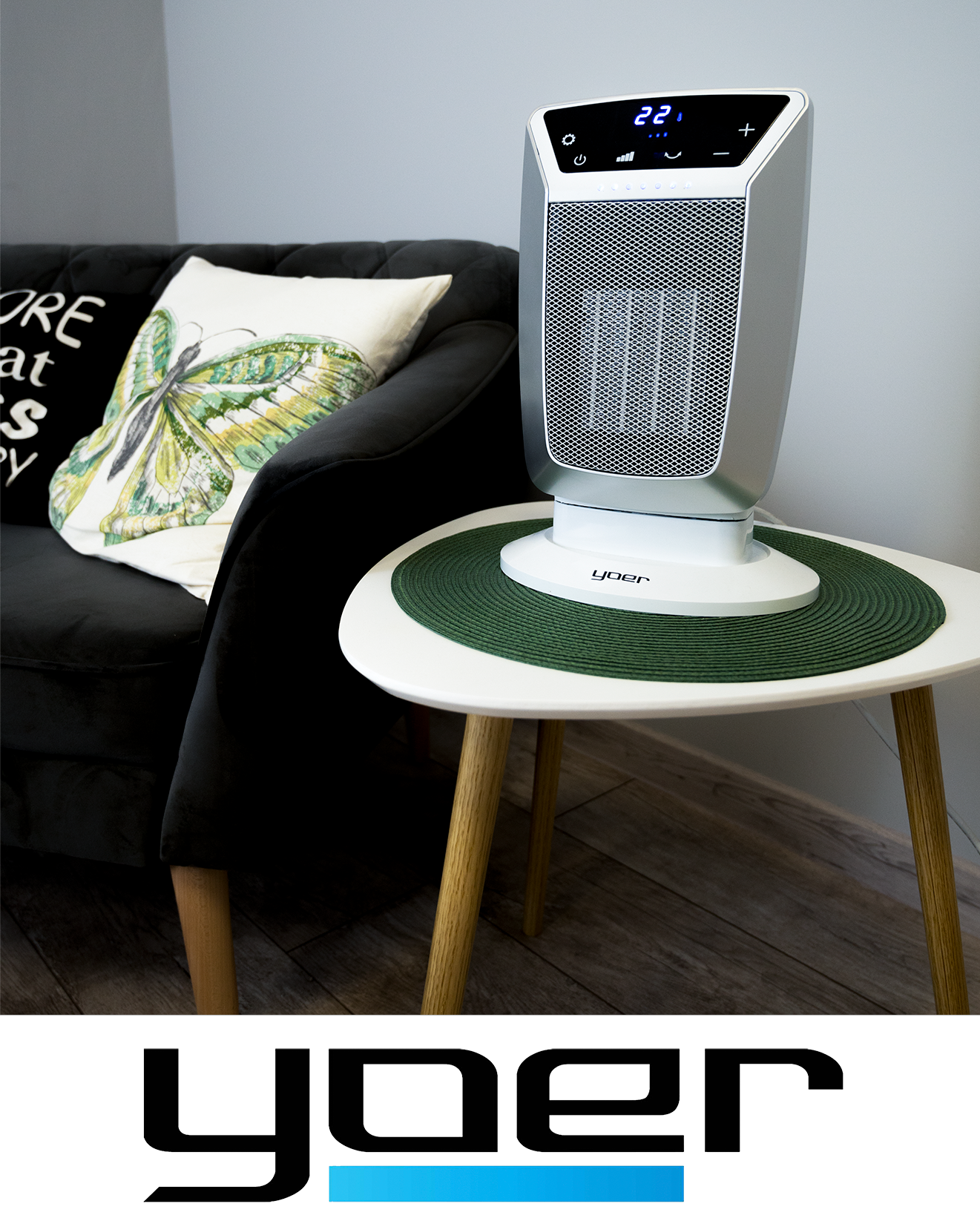 PRODUCT DETAILS
Smart ECO function: enjoy automatic power level adjustment while using less energy.
Saving energy:the fan heater will use up to 20-40% less energy which will result in low energy bills
24-hour timer: you do not have to worry about turning the device off
Delayed start function: set the time after which the device will start its operation
2 work modes: adjust the device operation to your needs
3 blow modes: you can choose between cold, warm and hot blow mode
Built-in thermostat: change the temperature in the rabge of16°-32°C
Oscillation function:decrease the heating room time thanks to even spreading of the heat
IP20B protection: prevents from touching the heated-up elements
Anti-freeze mode: enjoy automatic turning off the device when the temperature drops below 7°C
Overheating protection: you do not have to worry about damaging your device due to high temperature
Modern design: exquisite addition that will decorate your room
Compact size: store and move the device in an easy way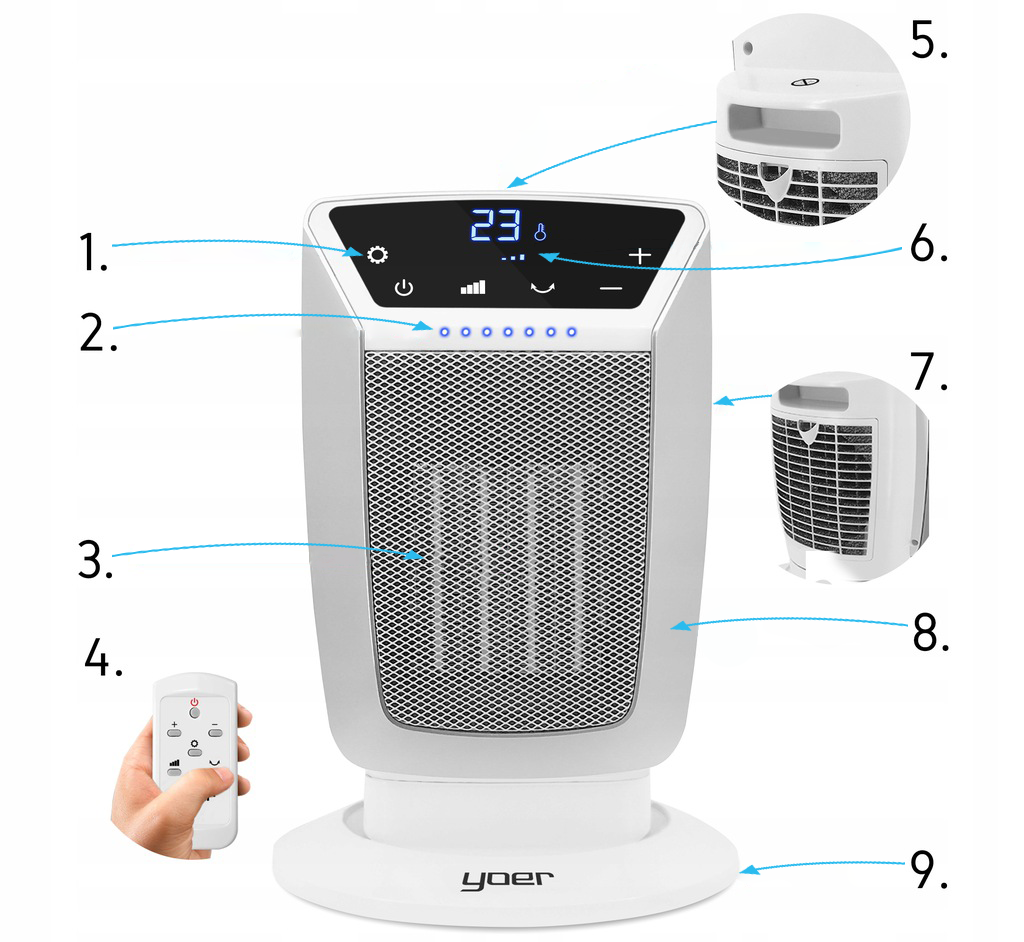 CONSTRUCTION - MAIN COMPONENTS
Touch control panel
Control lights
4 ceramic heating elements
Remote control
Easier transport handle
LED display
Dust filter
Heat-resistant casing
Anti-slip base

REMOTE CONTROL AND TOUCH CONTROL PANEL
Control panel located on the front side of the fan heater allows to customize device's settings to your needs in couple of simple clicks.
6 touch buttons:
Timer button - program automatic turning the device off or a delayed start
ON/OFF button - turn the device on or off
Change mode button - press the button to choose preferable ventilation mode
Increase temperature or time button - enables you to increase the temperature or time
Decrease temperature or time button - enables you to decrease temperature or time
Oscillation mode button - turn the oscillation function on or off
There is a remote control included in a set, thanks to which you will be able to change settings without having to get up.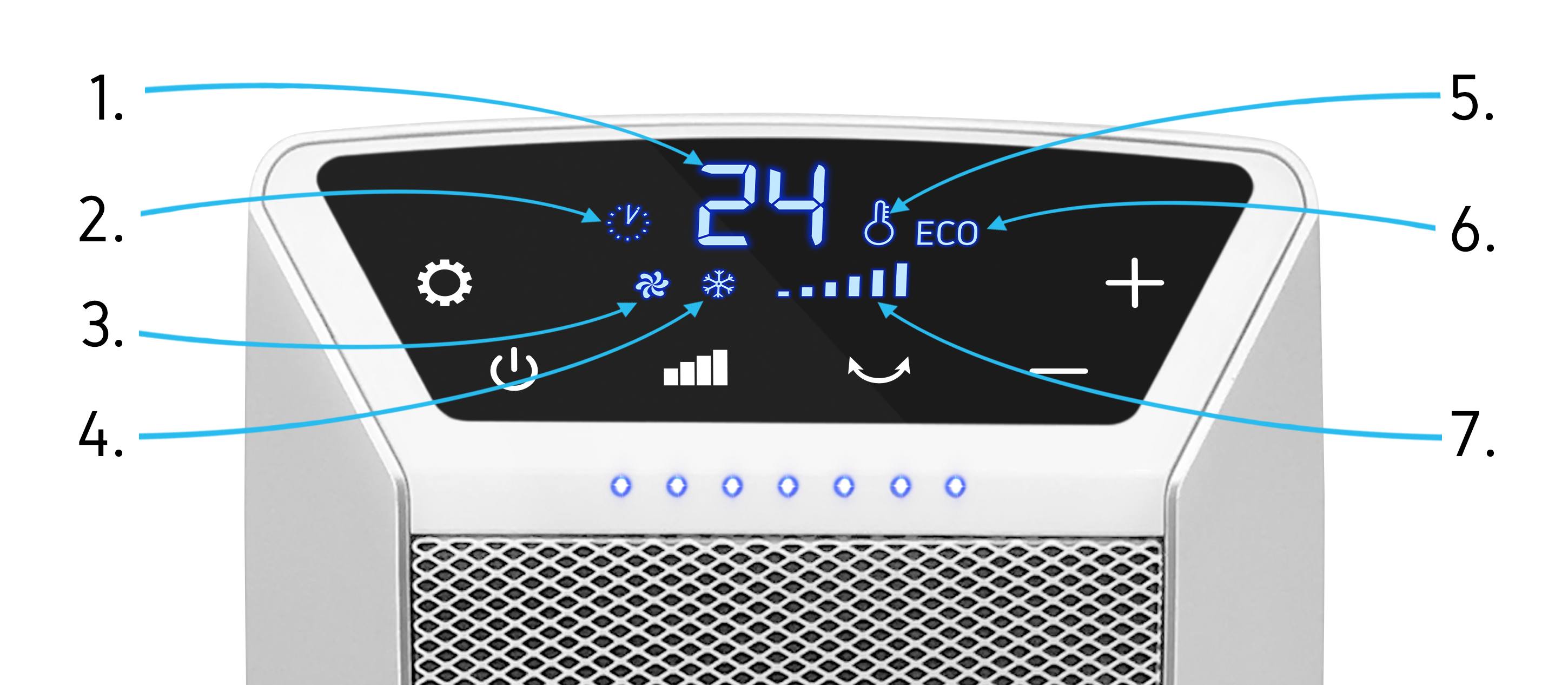 LARGE DIGITAL LED DISPLAY
The device is equipped with backlit LED display that shows information about active functions of the fan heater.
Display icons:
Digital display - indicates current temperature and device operation time or information about delayed start function
Timer and delayed start function icon- indicates active automatic turning the device on or off function
Cold mode icon - indicates turned on cool mode
Anti-freeze mode icon - informs about active function which protects from freezing
Thermostat icon - informs about active thermostat function
ECO function icon - indicates active ECO function
Power mode icon - informs about the power mode:
3 bars - low heating power
6 bars - hight heating power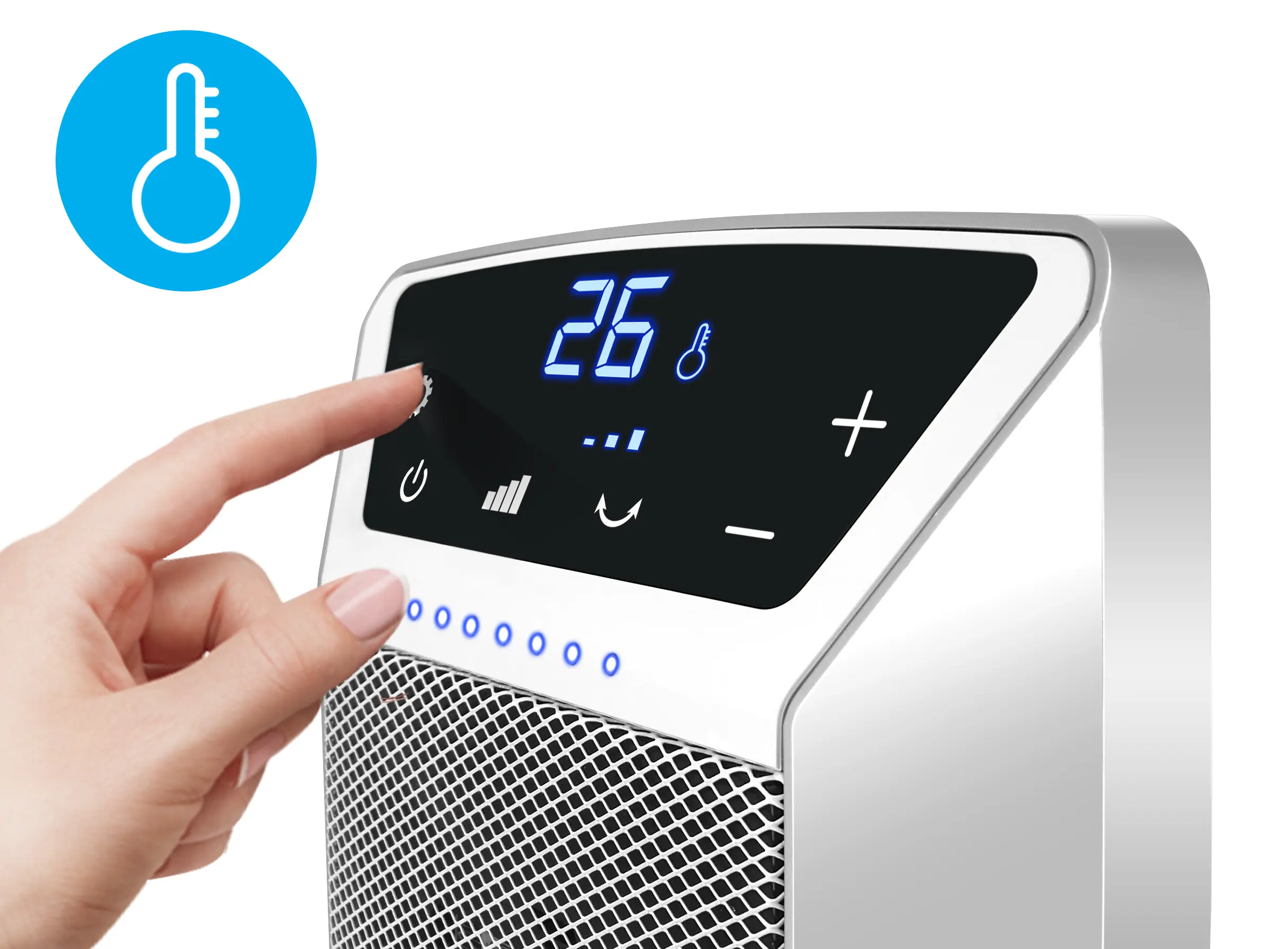 ELECTRONIC THERMOSTAT
Using the built-up electronic thermostat you can set the desired room temperature for the device to keep.
➕ and ➖ touch buttons - enable you to set a proper temperature.
16°C-32°C - available temperature range which enables you to set the temperature accorning to your preferences.
Standby mode - when the temperature in a room reaches the one which you set, the device will switch into standby mode.
When the temperature drops below the set one, the fan heater will resume it operation.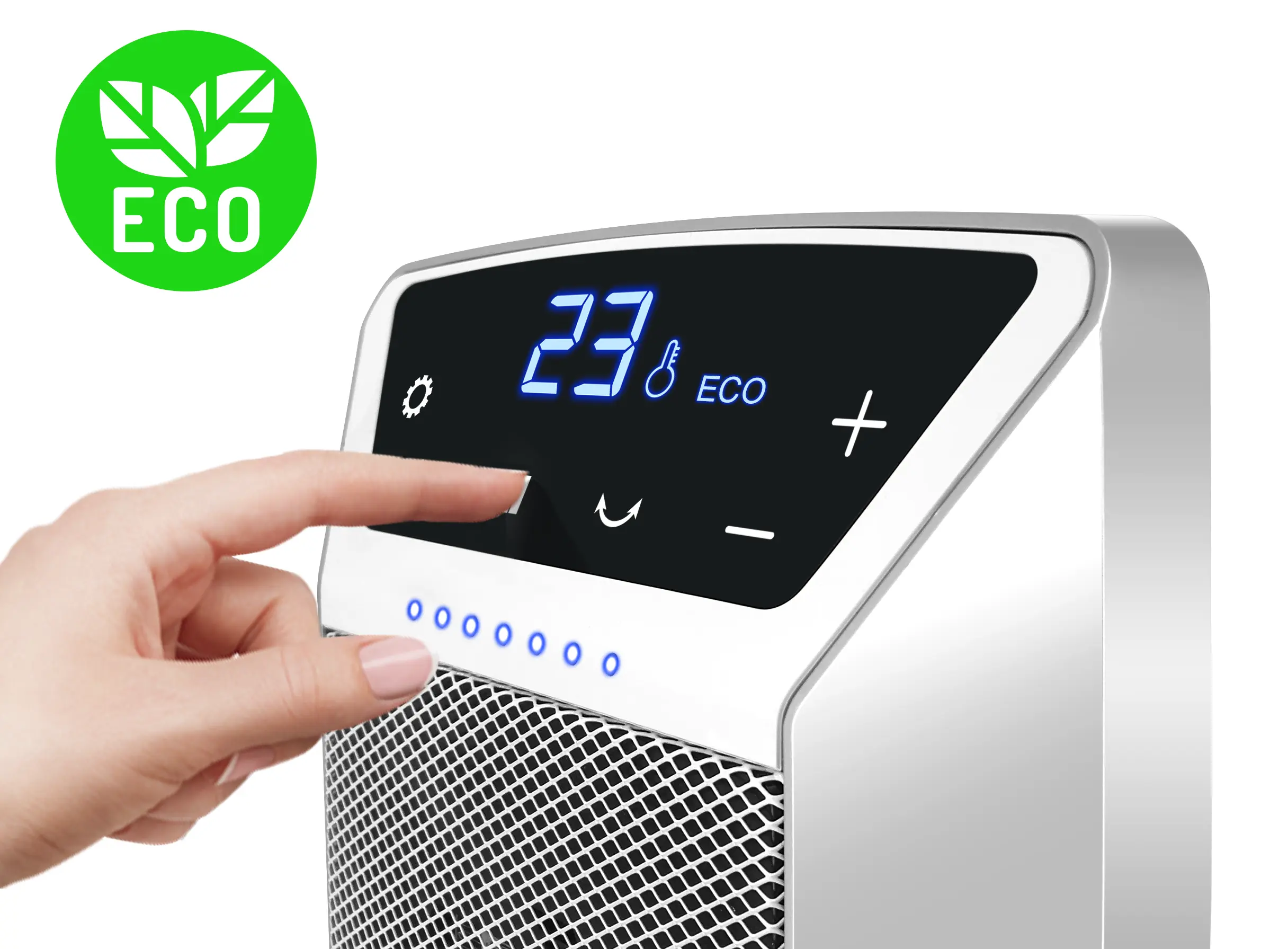 ECO function
Fan heater Blower PRO is a guarantee of saving the energy and your money.
ECO mode:
the device will adjust the power level automatically, ensuring the most comfortable conditions of use
minimalizes the energy consumption
during the ECO function the device will switch between the modes to keep chosen temperature in a room
The thermostat can be adjusted in the 16-26°C range while working in ECO mode.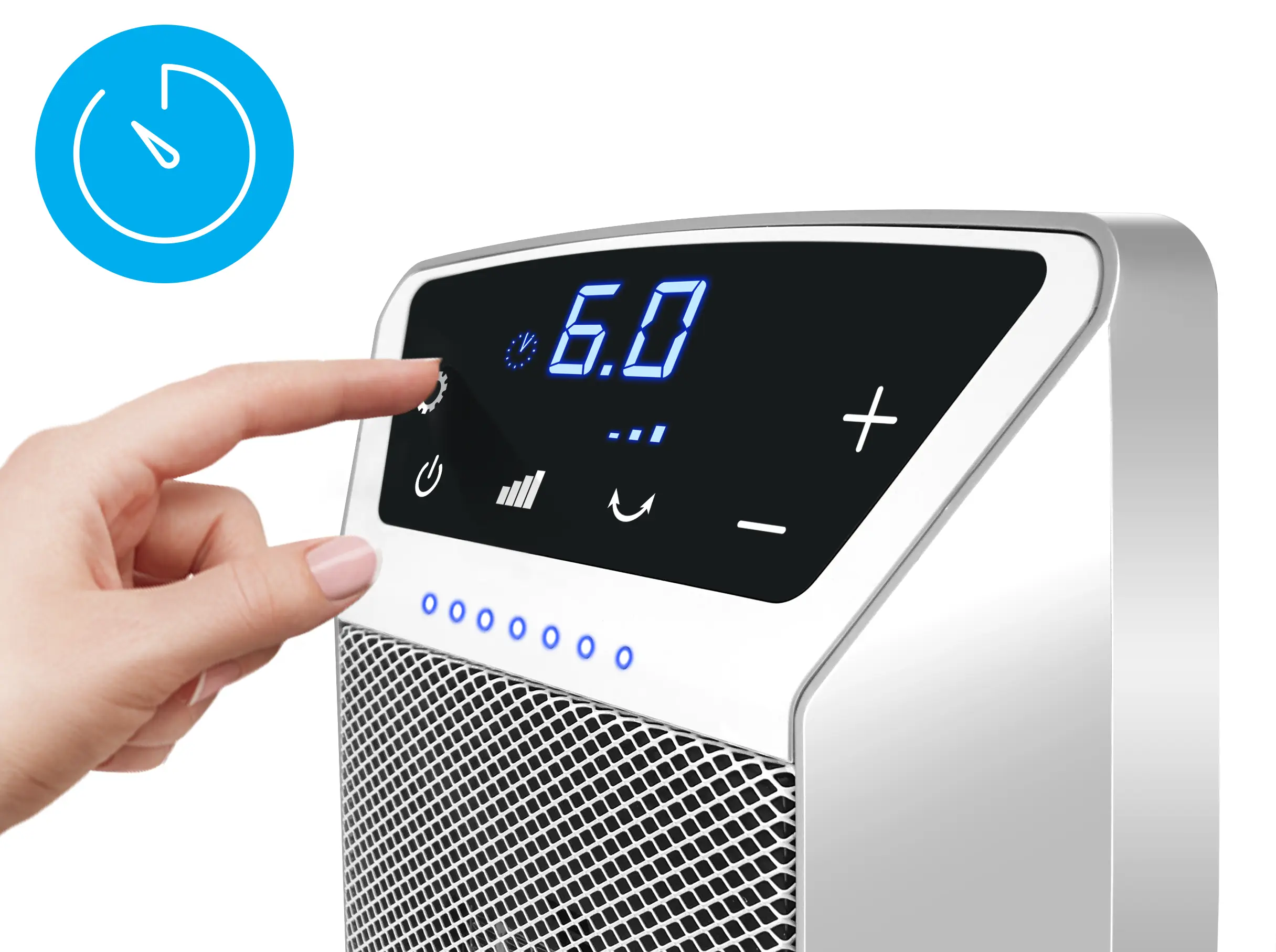 TIMER
24-hour timer:
you can set the device operation time to your personal needs
function button such as ➕ and ➖ will enable you to set the time after which the device will stop its operation.
using a special function and "+" and "-" buttons you can set the time after which the device will stop its operation.
Late start functionality:
the device will automatically start its operation after the set time
here will be shown left time until the device operation start on the display.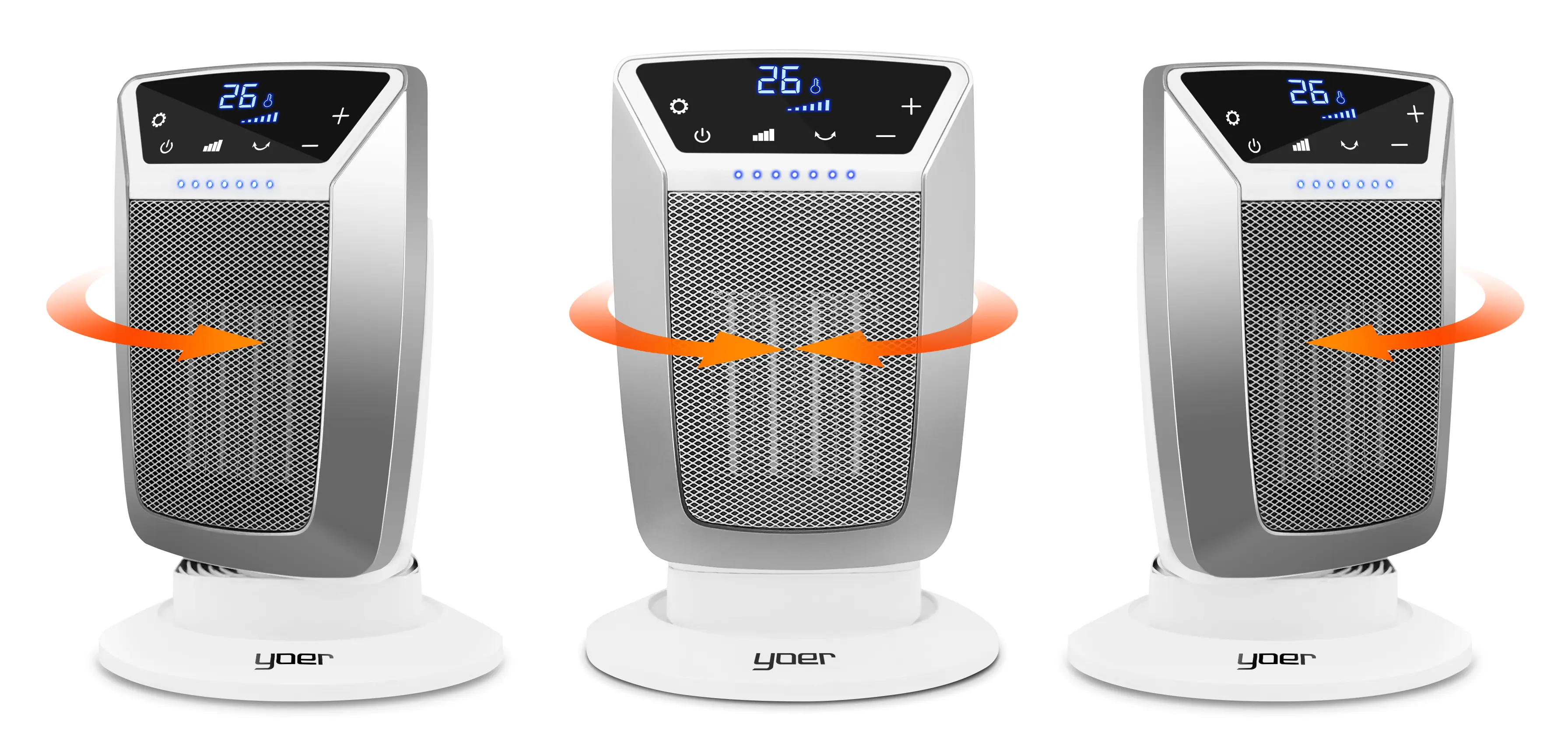 OSCILLATION FUNCTION
Even heat distribution:
this function will put the device in a swinging motion which will fill the room with warm air instantaneously,
the fan heater will evenly spread the heat to increase the temperature in considerably shorter time.
Thanks to this funciton it wll be easier to heat a room in which there are many people.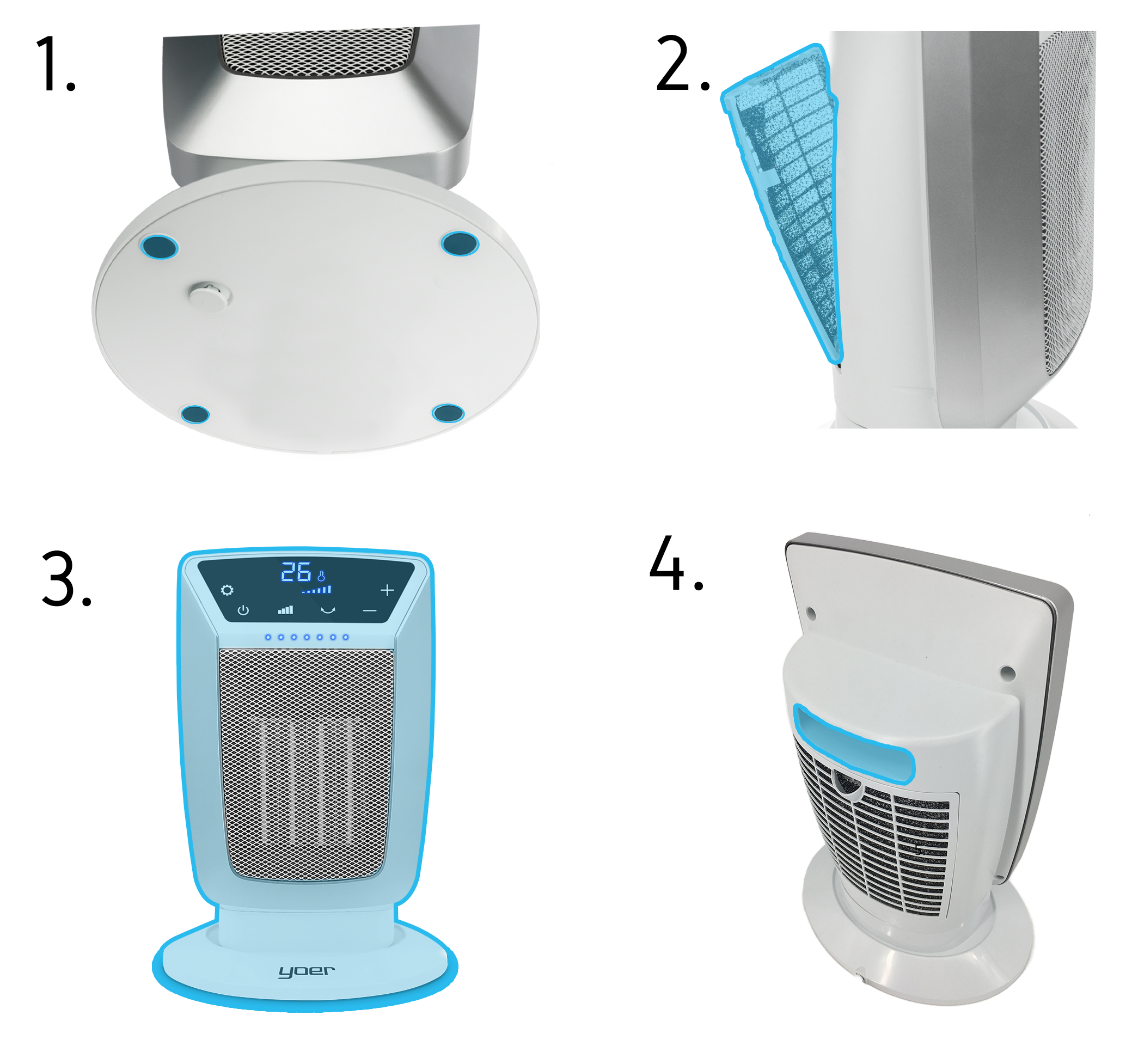 SAFETY FEATURES AND PROTECTION
Anti-slip base:

the fan heater is equipped with an anti-slip feet
they keep the dveice in a stable position.

Dust filter:

protects the device from dust and dirt present in sucked air,
reduces unpleasant smells,
washable and easy to replace.

Heat-resistant casing - the device was designed in a way that makes the casing cool to the touch even during operation.
Convenient handle:

makes carrying the device easier
you can move the device to a different place in a moment and enjoy it in any room in your house you want!

Safety mechanism:

cuts off the power if the device falls over,
in a situation where device is knocked over, this safety will turn the device off preventing damage it might otherwise cause.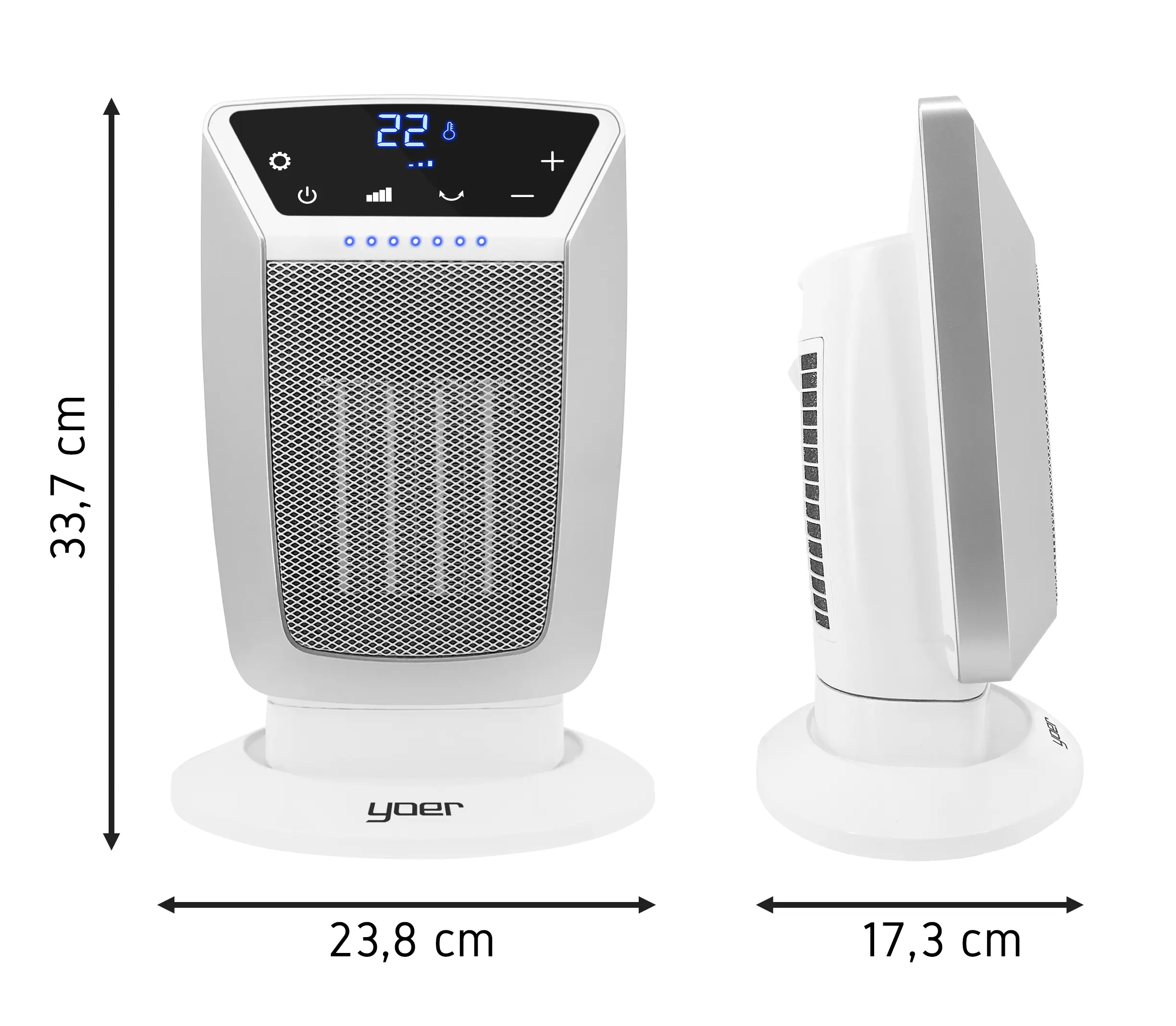 TECHNICAL SPECIFICATIONS
Power- 2000 W
Output - 1,9kW
Max. room size- 20-25m² (215.3-269 ft²)
Heating element type -ceramic
Max. noise level - 50 dB
Power cord length- 1,6m (63")
Weight - 1,75 kg (3.86 lb)
Dimensions - 33,7 cm x 23,8 cm x 17,3 cm (13.3 x 9.4 x 6.8")
Color - white
Polish power plug- 220-240V 50/60Hz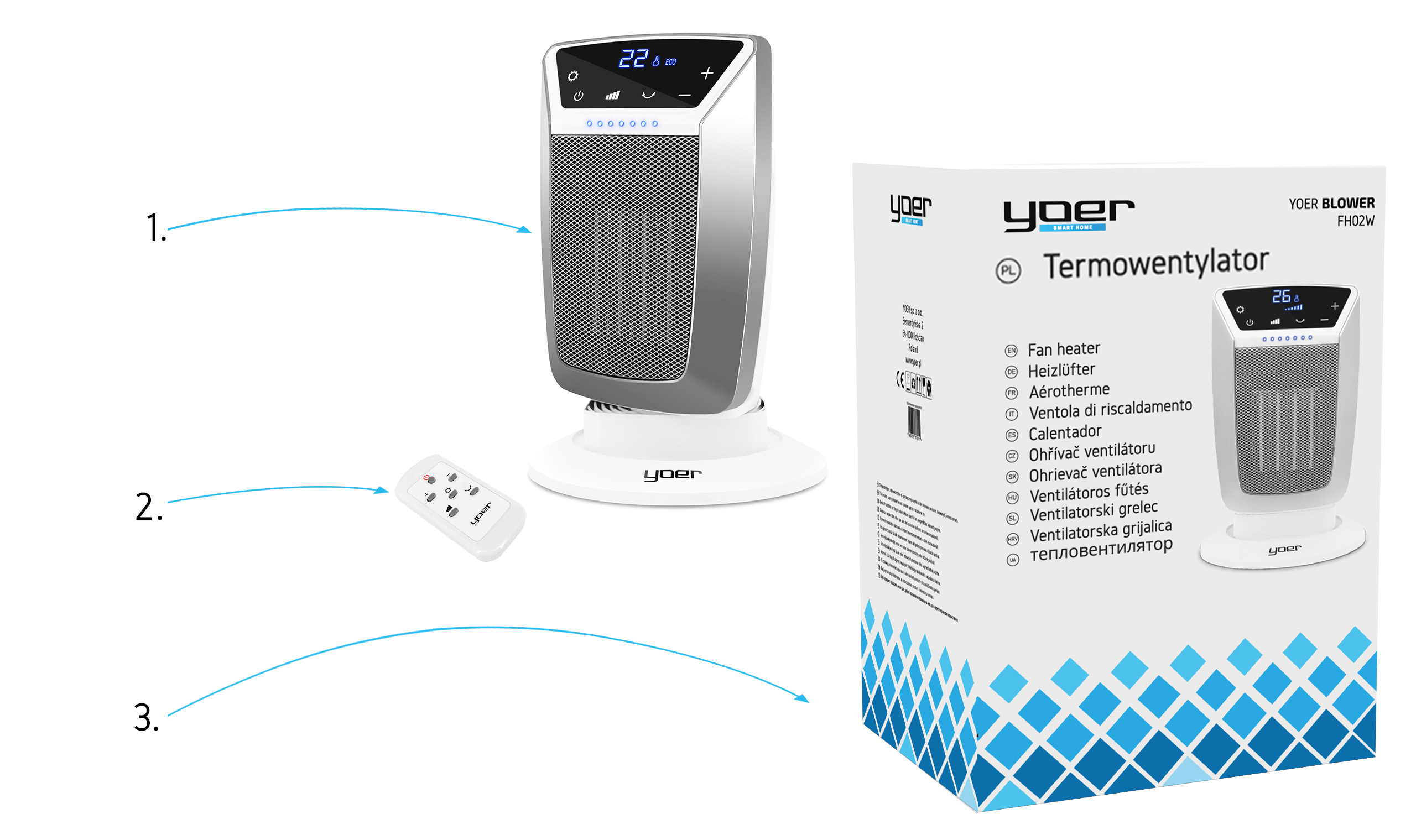 EQUIPMENT
Fan heater
Remote control
Original packaging
YOU WILL RECEIVE
Fan heater - details above,
YOER PLATINUM SECURITY card,
Warranty card,
PL / EN Instruction manual.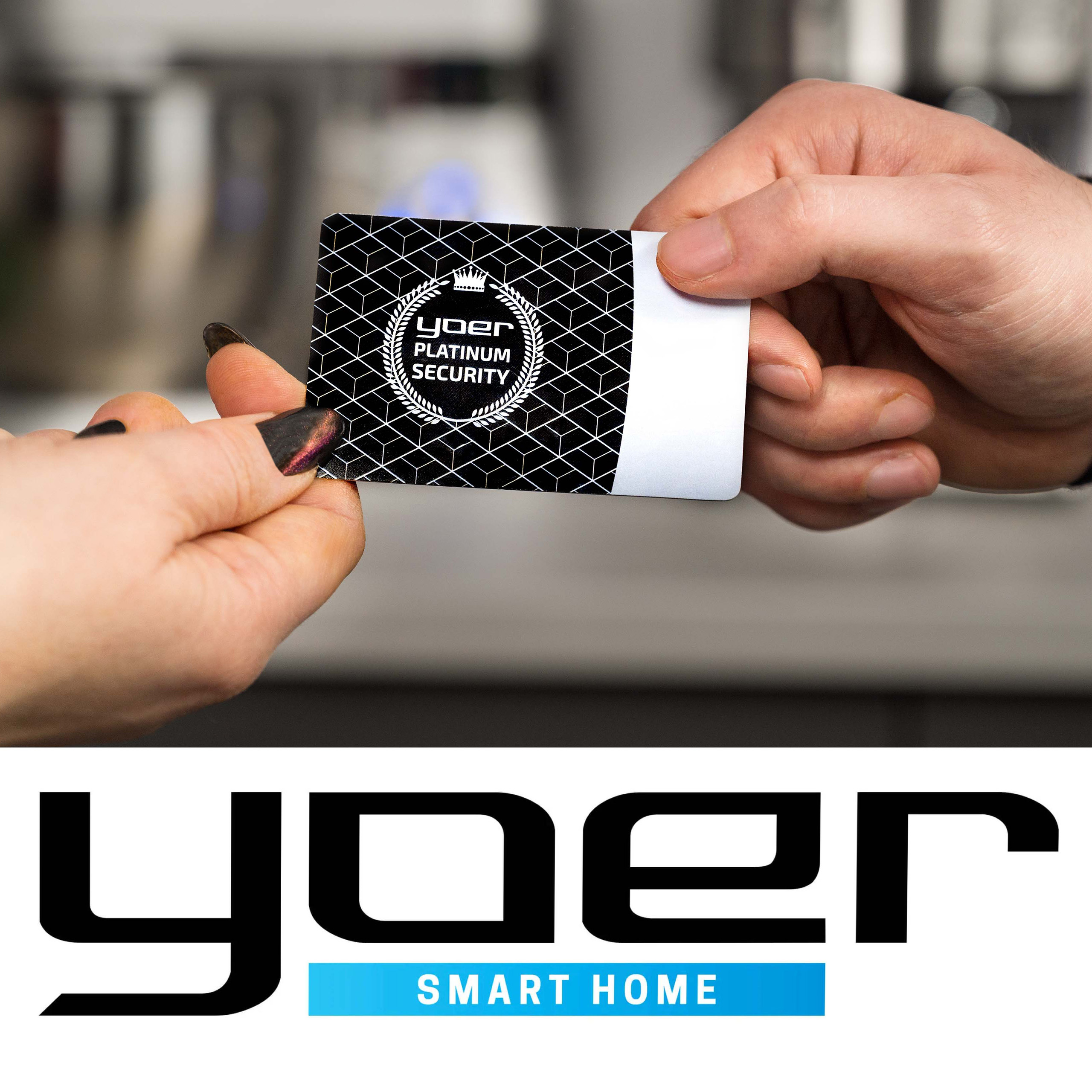 YOER PLATINUM SECURITY
When purchasing products from the official Yoer store you receive the YOER PLATINUM SECURITY package, which is an assurance of additional protection.
YOER - POLISH MANUFACTURER AND BRAND
YOER constitutes an excellent proof that high quality of products does not necesserily go in hand with high prices.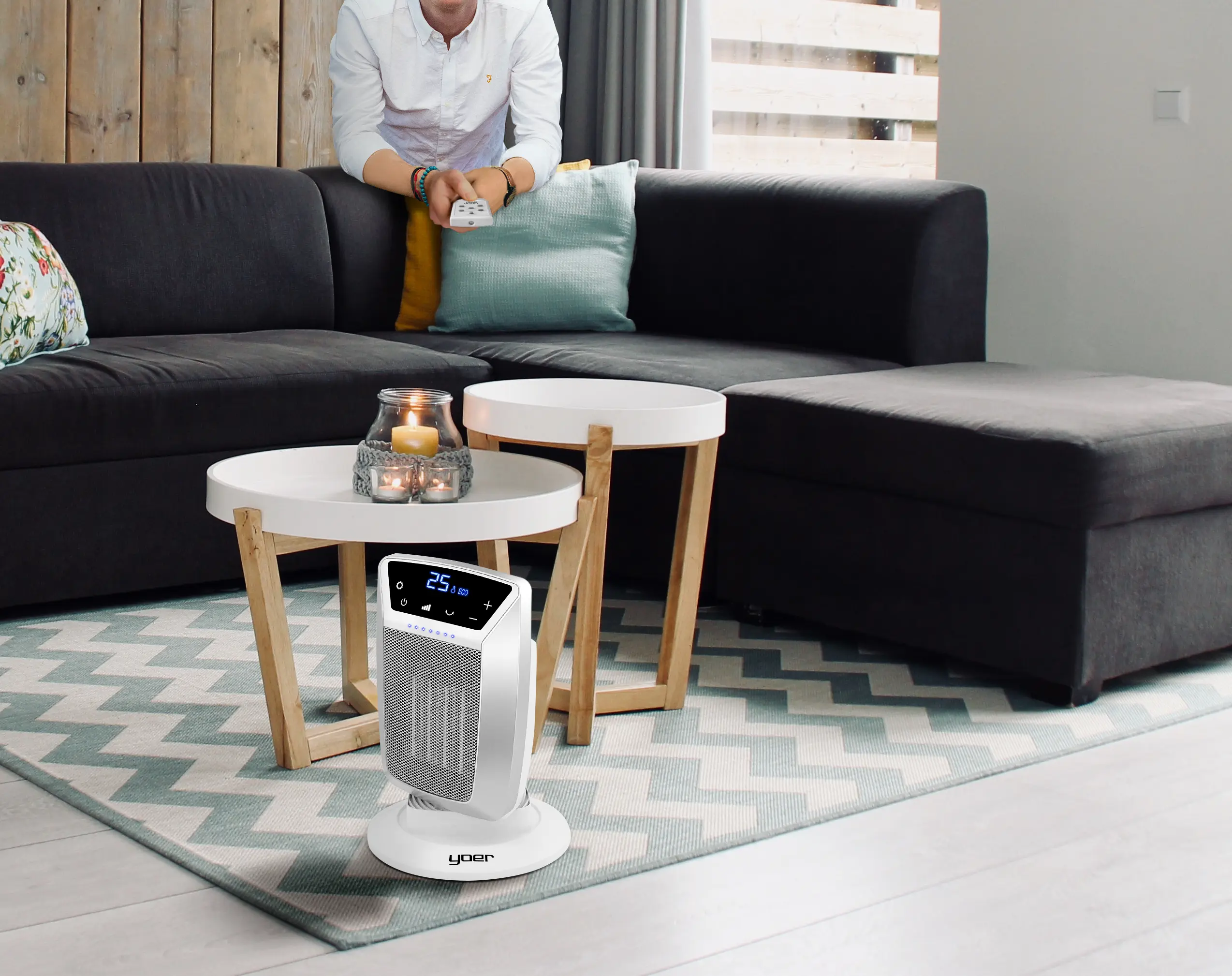 YOER FH02W Instruction manual - Click here