Language
Portable ceramic fan heater YOER BLOWER FH03W
2200W of power, oscialltion mode, remote control, touch control panel, readable LED display, cold blow, ECO Mode, anti-dust filter
479.00
-34%
318.00
Lowest price in the last 30 days:
Order within
and we will send the package today

Shipping within

Shipment within 24 hours

Availability

Small

84

pcs.
| | |
| --- | --- |
| Bar code | |
| EAN | 5900779770928 |
Description

Instruction manuals
portable ceramic fan heater YOER BLOWER FH03W Blower PRO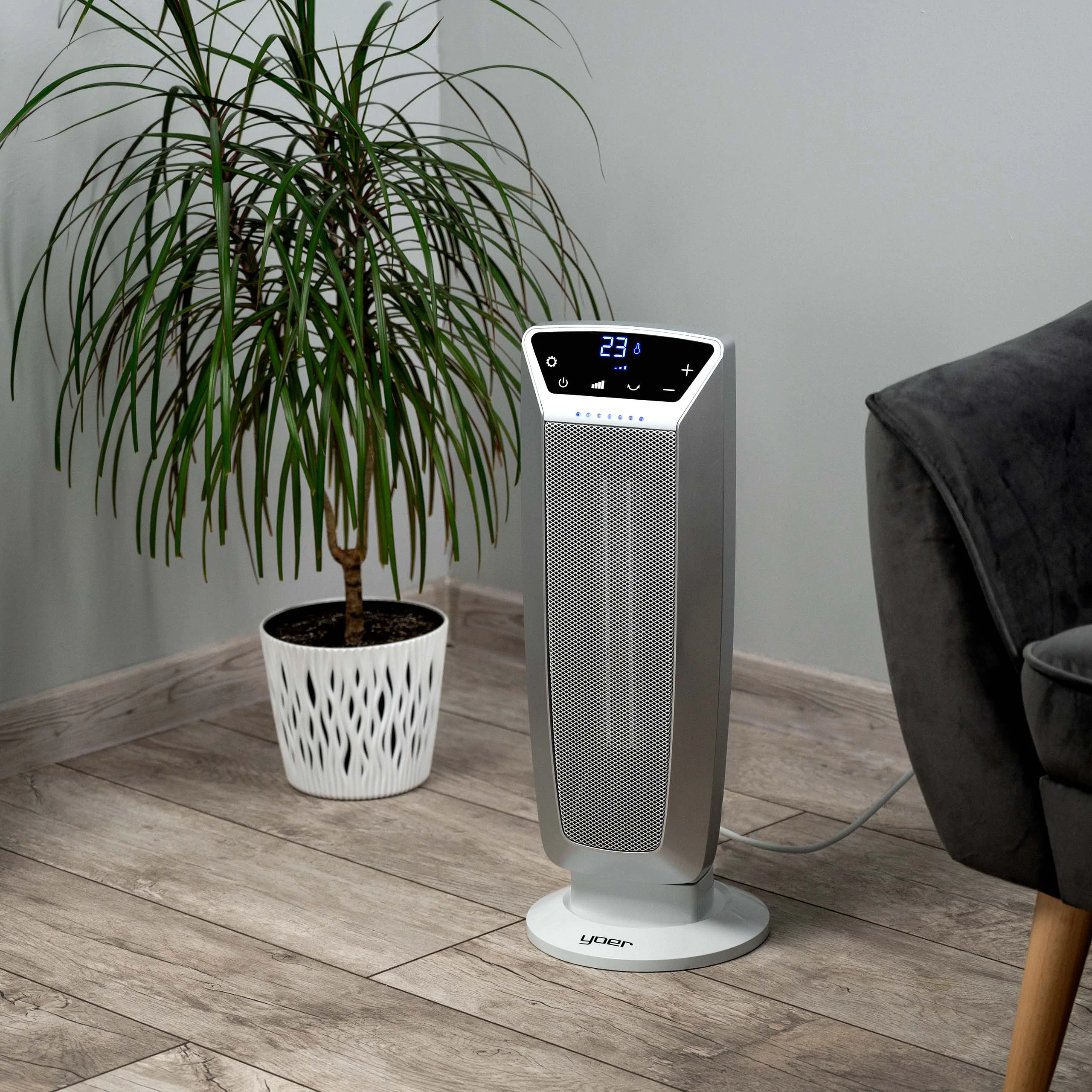 PRODUCT DETAILS
Smart ECO mode: enjoy automatic power level adjustment while reducing the energy consumption.
Energy saving: the fan heater will use up to 20%- 40% less energy so as a result you will have lower costs of energy bills.
24-hour timer: you do not have to remember to turn off the device.
Delayed start function: set the time after which the device will start its operation.
2 blow modes: adjust the device operation to your personal needs.
3 work modes: choose between cold, warm and hot work mode.
Built-in thermostat: change temperature in the range of 16°-32°C.
Oscillation function: decrease the heating time thanks to even spread of heat.
IP20B protection: prevents from touching heated-up elements.
Anti-freeze protecion: enjoy automatic turning on of the fan heater when the temperature drops below 7°C.
Overheating protection: you do not have to worry about damaging your device due to high temperature.
Modern design: exquisite addition that will decorate your room.
Compact size: store and move it in an easy way.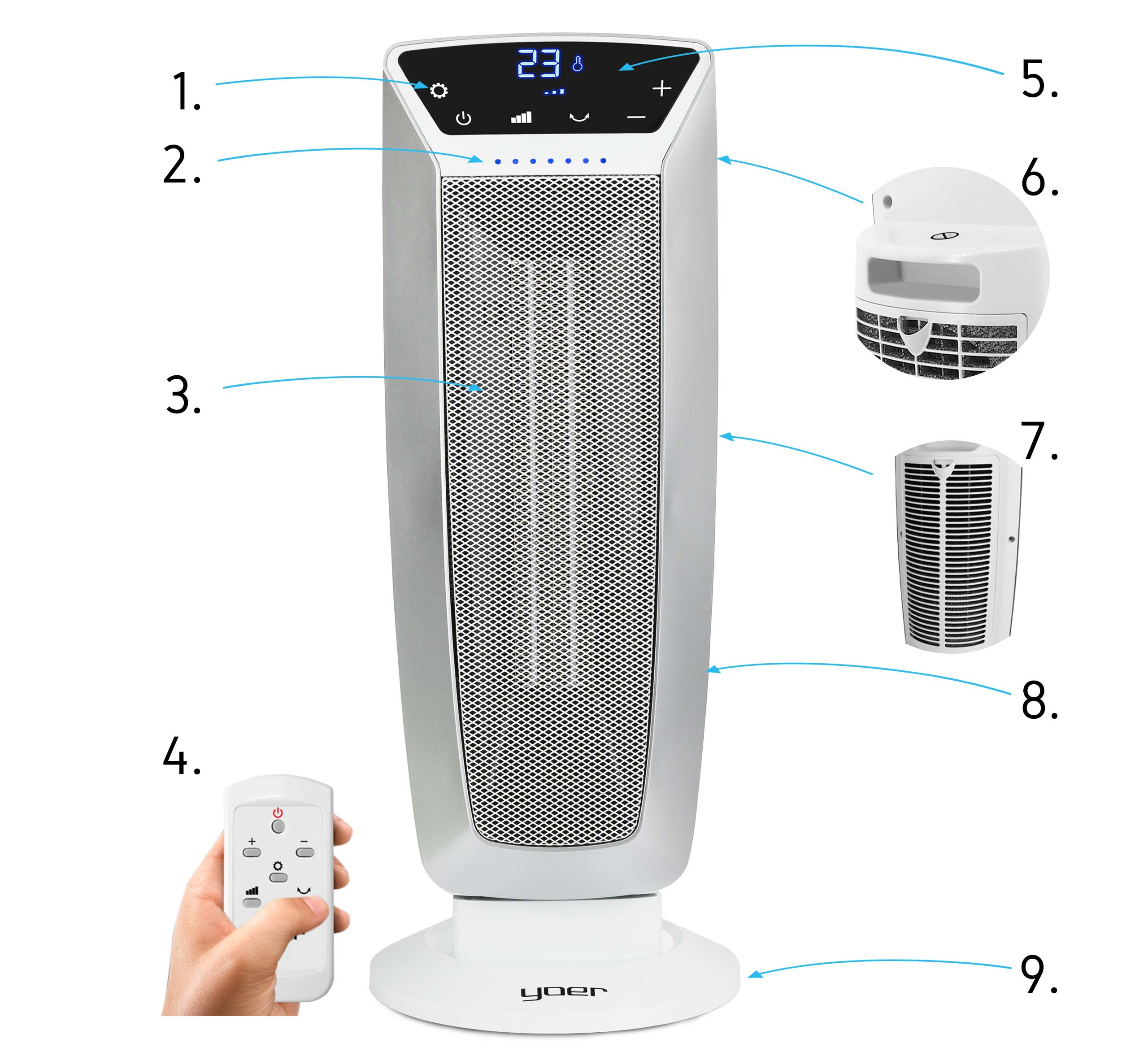 ⚙CONTRUCTION - MAIN COMPONENTS
Touch control panel
Indicator lights
4 ceramic heating elements
Remote control
Easier transport handle
LED display
Dust filter
Heat-resistant casing
Anti-slip base

TOUCH CONTROL PANEL AND REMOTE CONTROL
Control panel - located on the front side of the fan heater allows to customize device's settings to your personal needs.
6 touch buttons:
Timer button - program automatic turning off of the device or delayed start
ON/OFF button - turn the device on or off
Change mode button - press the button to choose proper ventilation mode
Increase temperature or time button - press the button to increase the temperature ot time
Decrease temperature or time button - press the button to decrease the temperature or time
Oscillation mode button - turn on or off the oscillation function
There is a remote control included in the set, thanks to which you can operate the device without having to get up.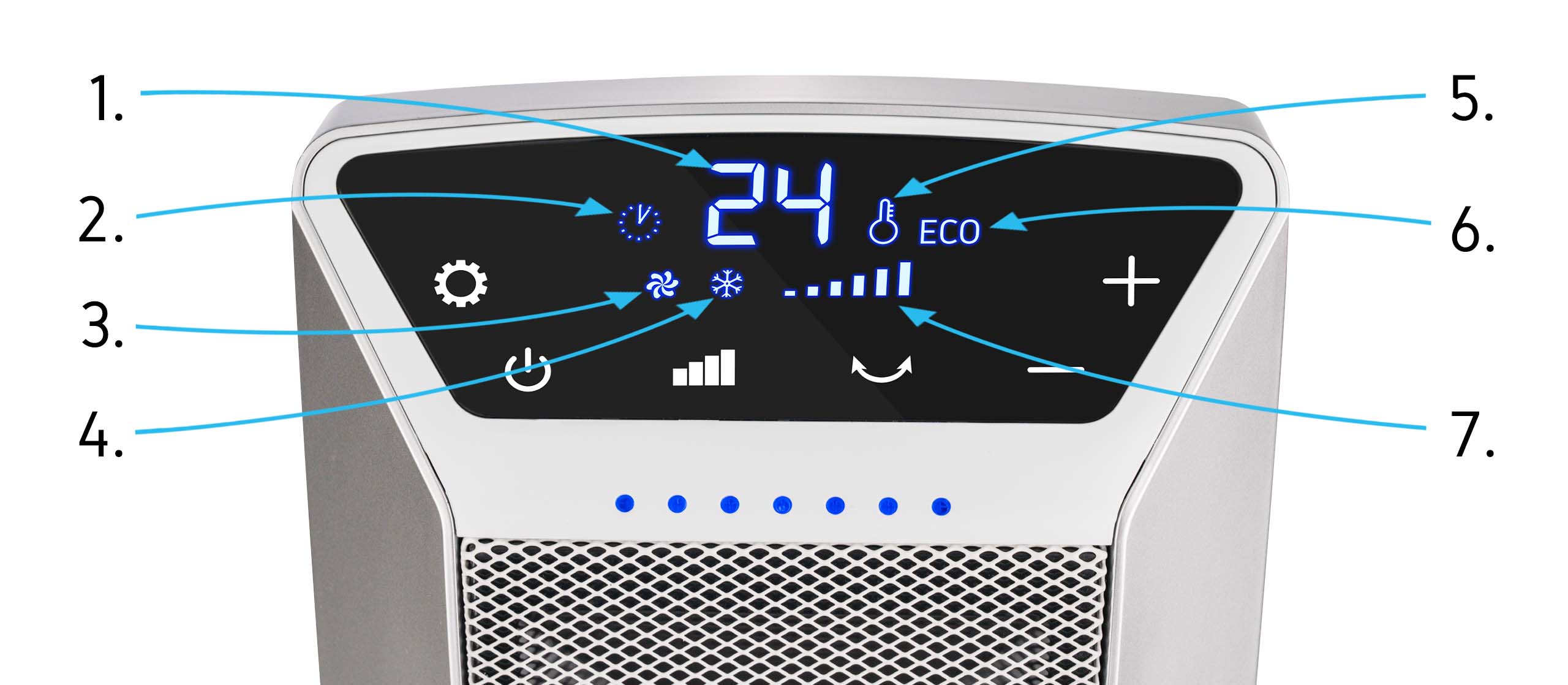 LARGE, DIGITAL LED DISPLAY
The device is equipped with a backlit LED display that shows information about active functions of the fan heater:
Digital display - indicates current temperature and device working time or information about delayed start function
Temperature / set timer hour icon - indicates active automatic turning on or off function
Cold mode active indicator - indicates acive cold mode function
Anti-freeze mode icon - informs about active function which prevents from freezing
Thermostat icon - informs about active thrmostat function
ECO function icon - indicates active ECO function
Power mode icon - informs about heating power:
3 bars - low heating power
6 bars - high heating power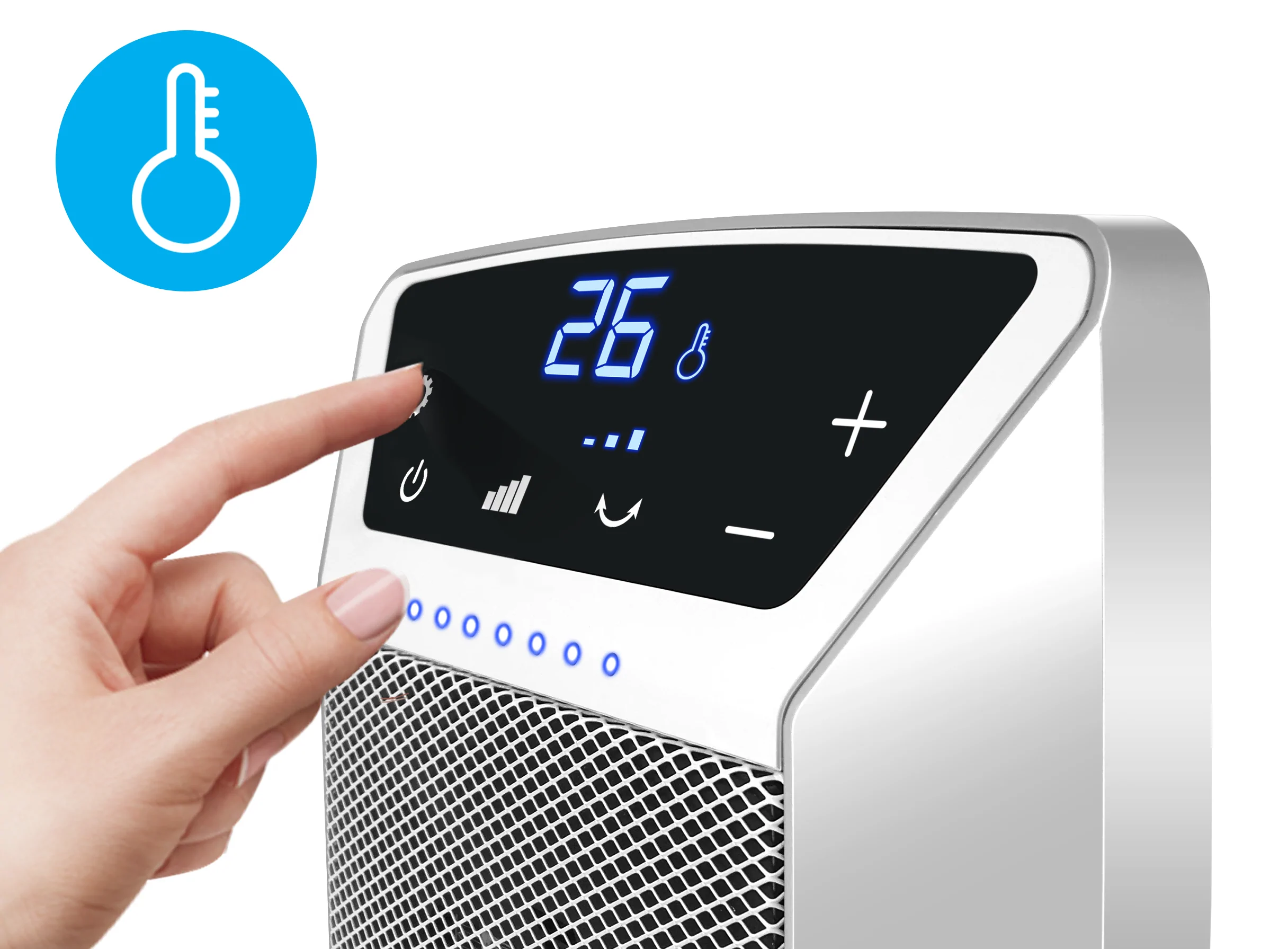 ELECTRONIC THERMOSTAT
✅ Using the built-in thermostat you can set the desired room temperature which the device will keep.
▶ ➕ and ➖ touch buttons - enable you to set apropriate temperature.
▶ 16°C-32°C - an available range, thanks to which you can set the temperature according to your preferences.
▶ Standby mode - when the temperature in a room reach the one you have set, the device will switch into standby mode.
✅ When the temperature drops below the one you have set the fan heater will resume its operation.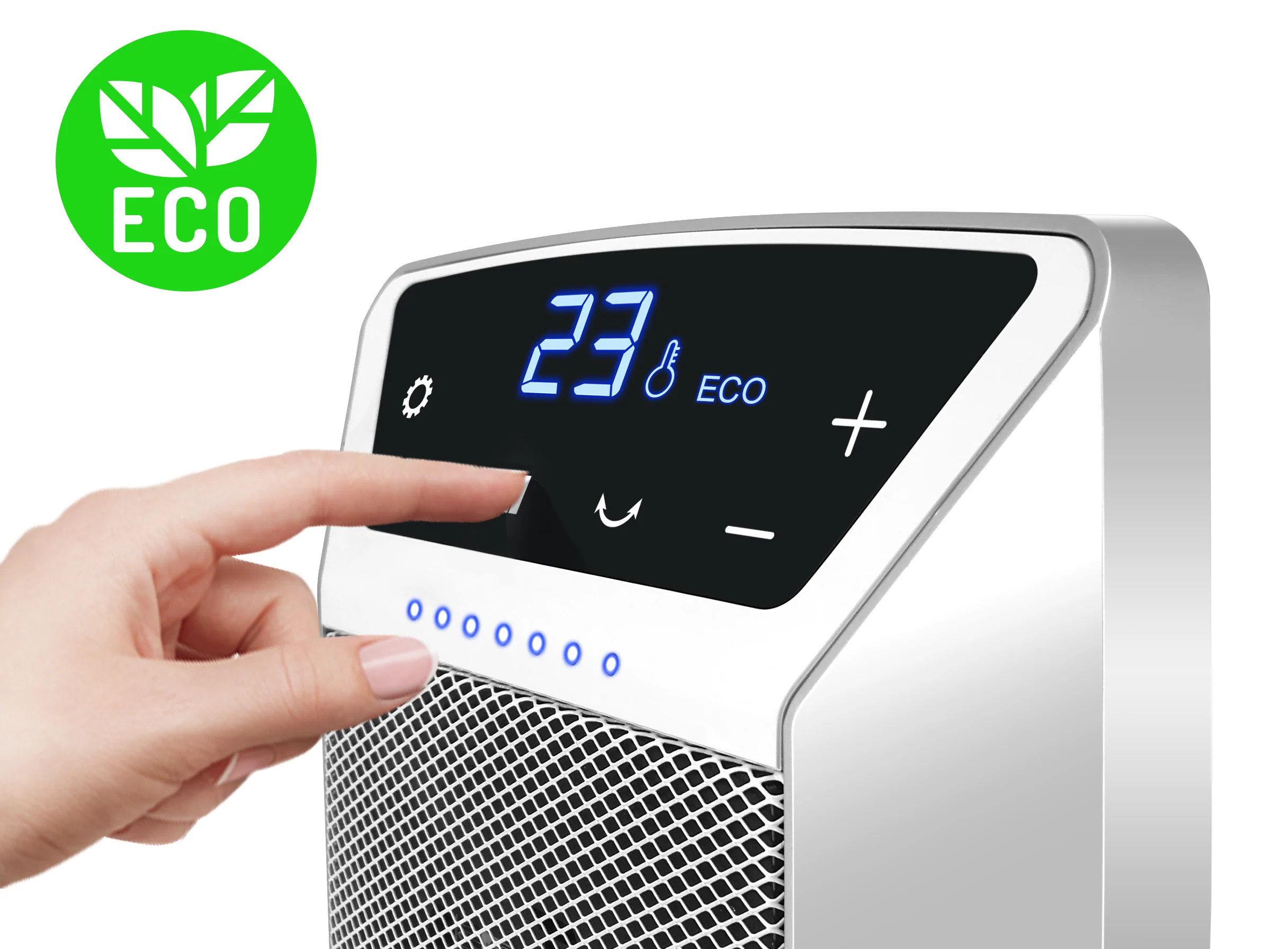 ECO MODE
✅ Fan heater Blower PRO is a quarantee of saving energy and money.
▶ ECO mode:
▪ the device will set proper heating power automatically, ensuring the most convenient conditions of use
▪ minimalizes the energy consumption
▪ during the ECO function the device will switch between heating modes to keep chosen temperature in a room
▪ thermostat during the ECO function can be adjusted in the 16-26°C range.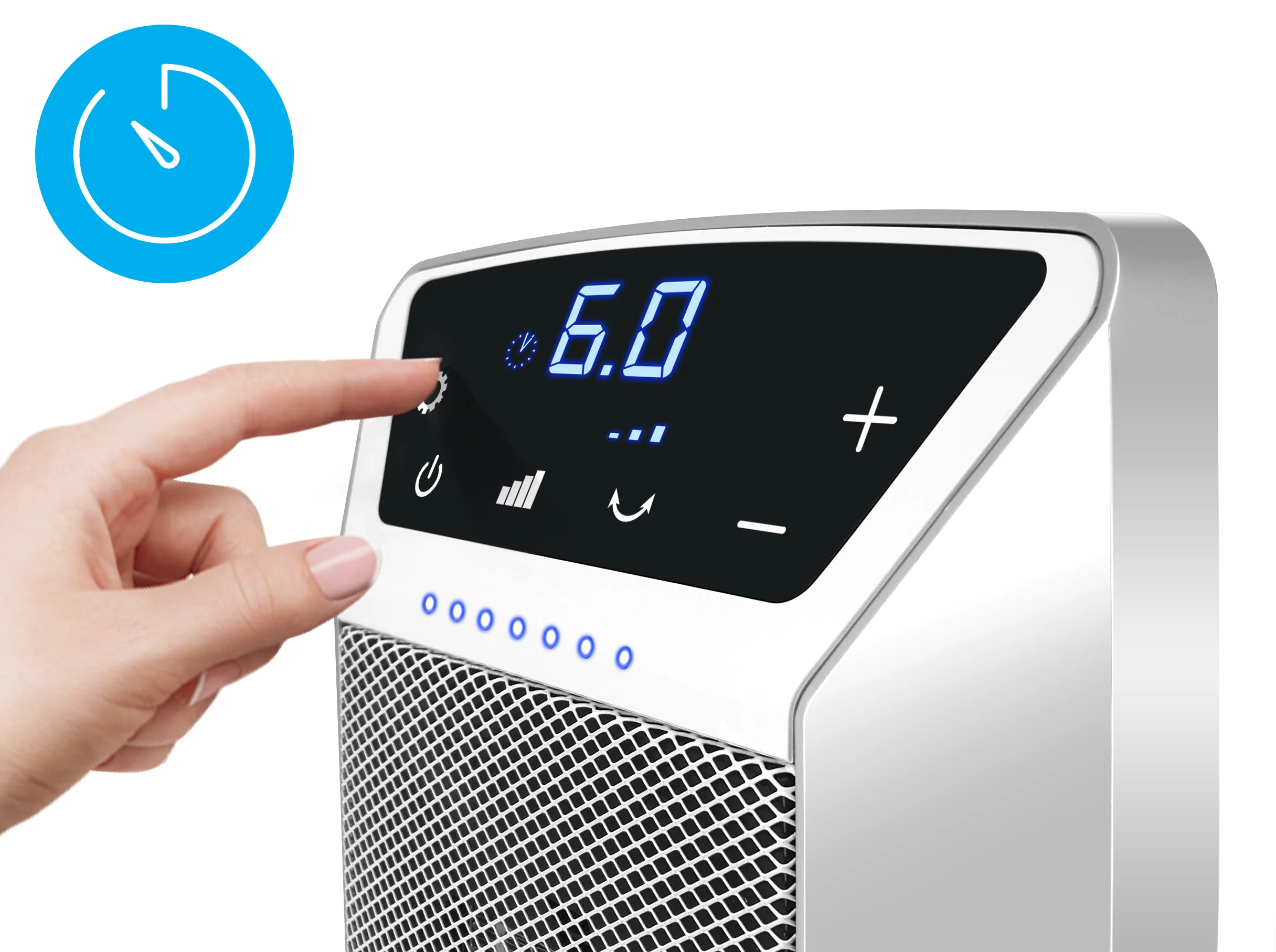 TIMER
⌚24-hour timer:
▪ set the time according to your preferences
▪ while using a special function and "+" and "-" buttons, you can set the time after which the dveice will automatically turn off.
▶ Delayed start function:
▪ the device will start working automatically at set time
▪ there will be shown the remaining time on display.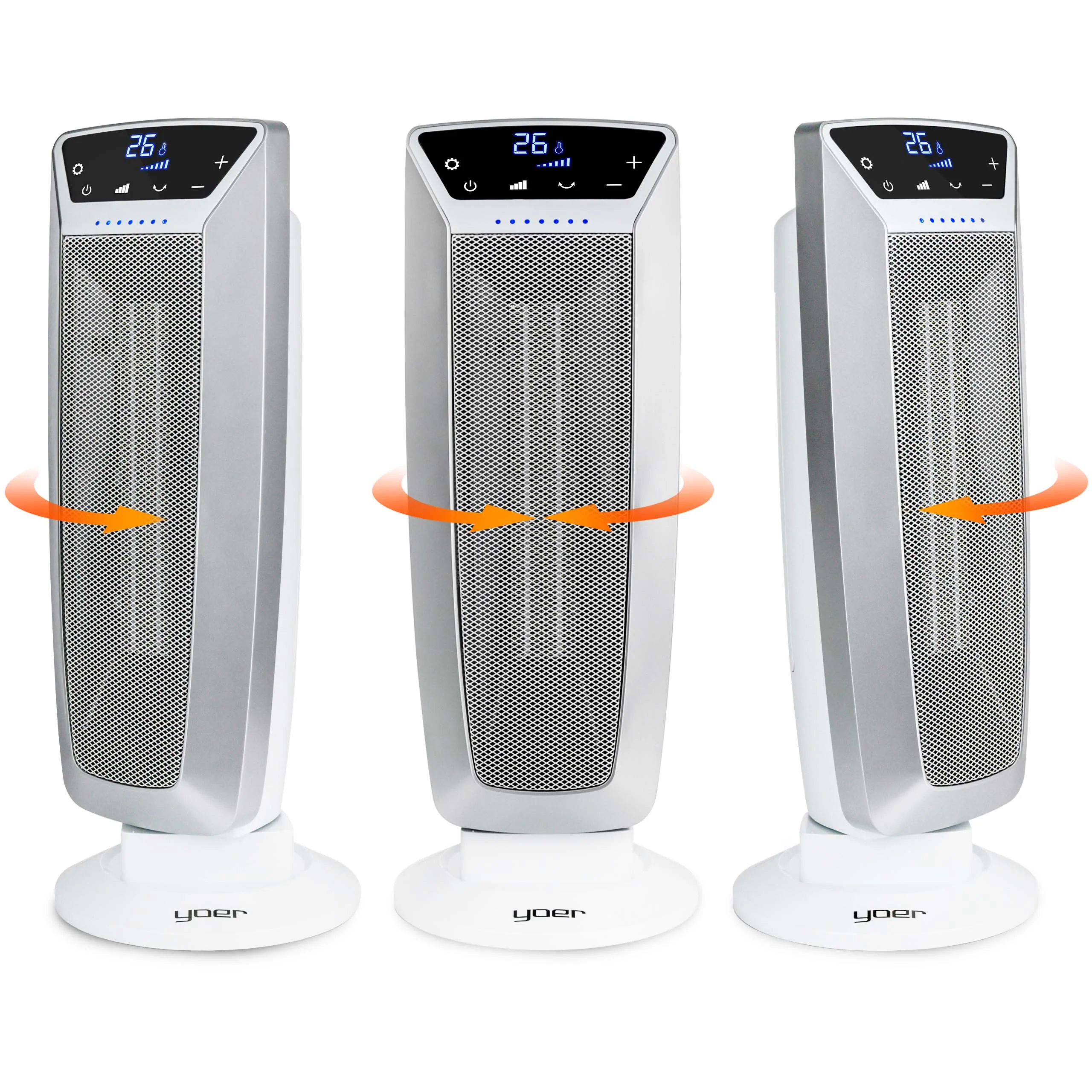 OSCILLATION FUNCTIONALITY
Even heat distribution:
during swinging motion the fan heater spreads the heat over a large surface,
the temperature in a room will increase in considerably shorter time, than in devices which do not have oscillation function.
Thanks to this mode it will be much more easier to heat a room in which there are many people.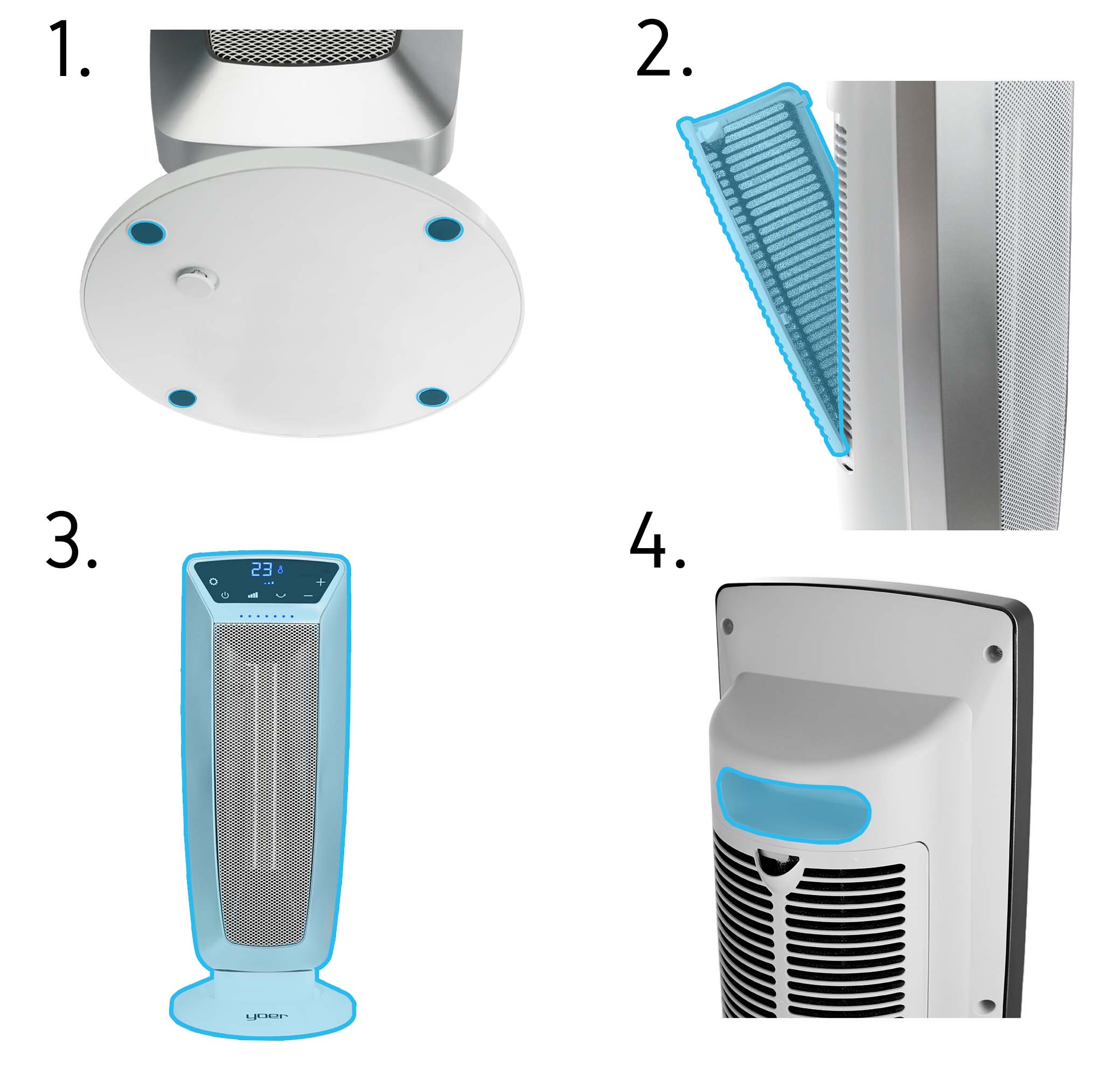 SAFETY FEATURES AND PROTECTION
Anti-slip base:

the fan heater is equipped with anti-slip feet
they keep the dveice in a stable position.

Dust filter:

protects the device from dust and dirt sucked in,
reduces umpleasant smells,
it is also washable and easy to assembly.

Heat-resistant casing - the device was designed in a way that makes the casing cool to the touch even during operation.
Convenient handle:

makes carrying the device easier
you can move the device to a different room in a moment and enjoy it in any room in your house!

Safety mechanism:

in a situation where device is knocked over, this safety will cut off the power,
the mechanism prevents from damaging the device.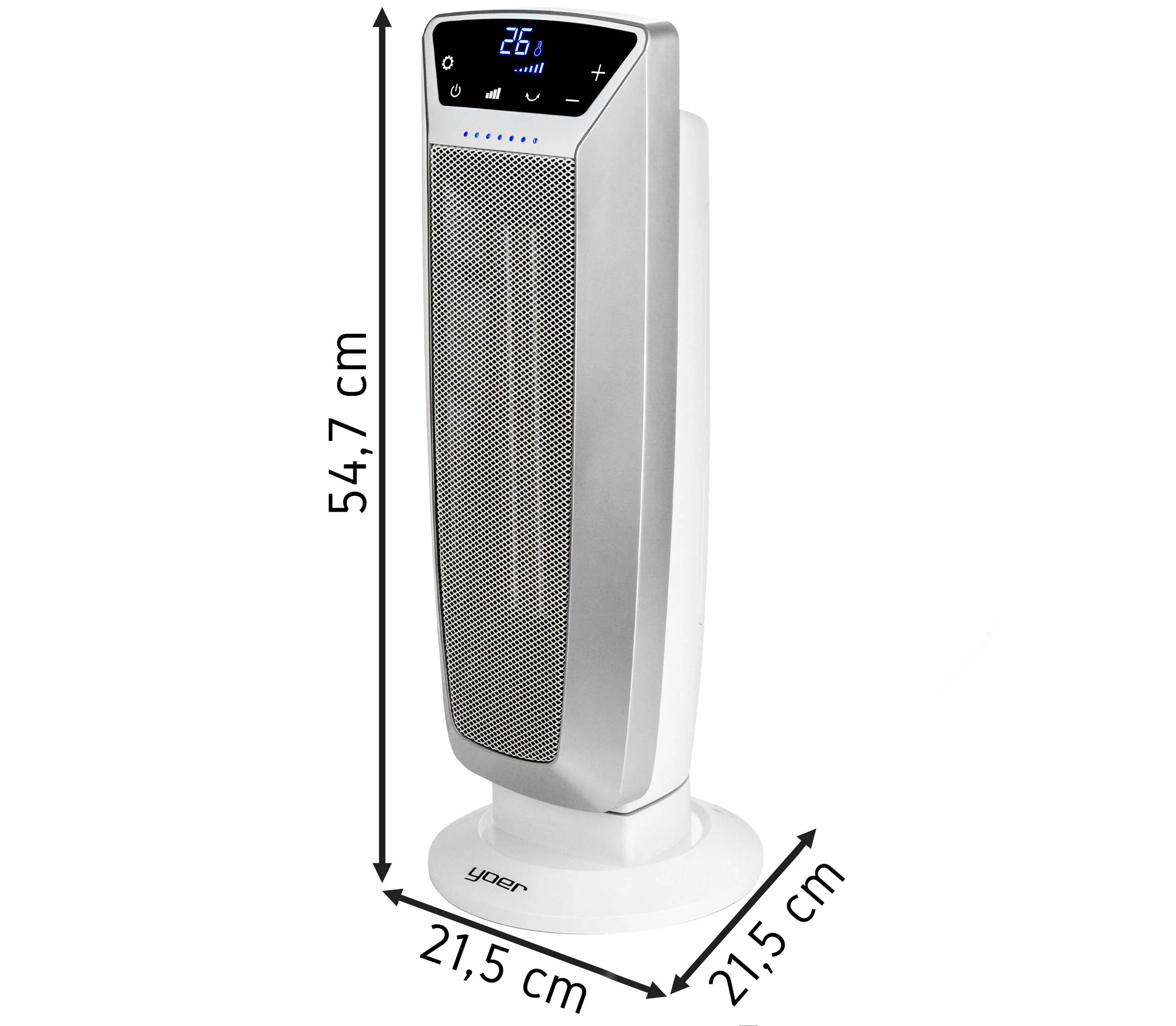 TECHNICAL SPECIFICATIONS
Power- 2200 W
Max. size of a room- 20-25 m² (215.3-269 ft²)
Type of heaing element- ceramic
Min. noise level- 15 dB
Max. noise level- 50 dB
Power cord length- 1,6 m (5.3 ft)
Weight- 2,67 kg (5,9 lb)
Dimensions- 54,7 cm x 21,5 cm x 21,5 cm
Color - white
Polish power plug - 220-240V 50/60Hz
This product is designed for occasional use or in well-insulated rooms.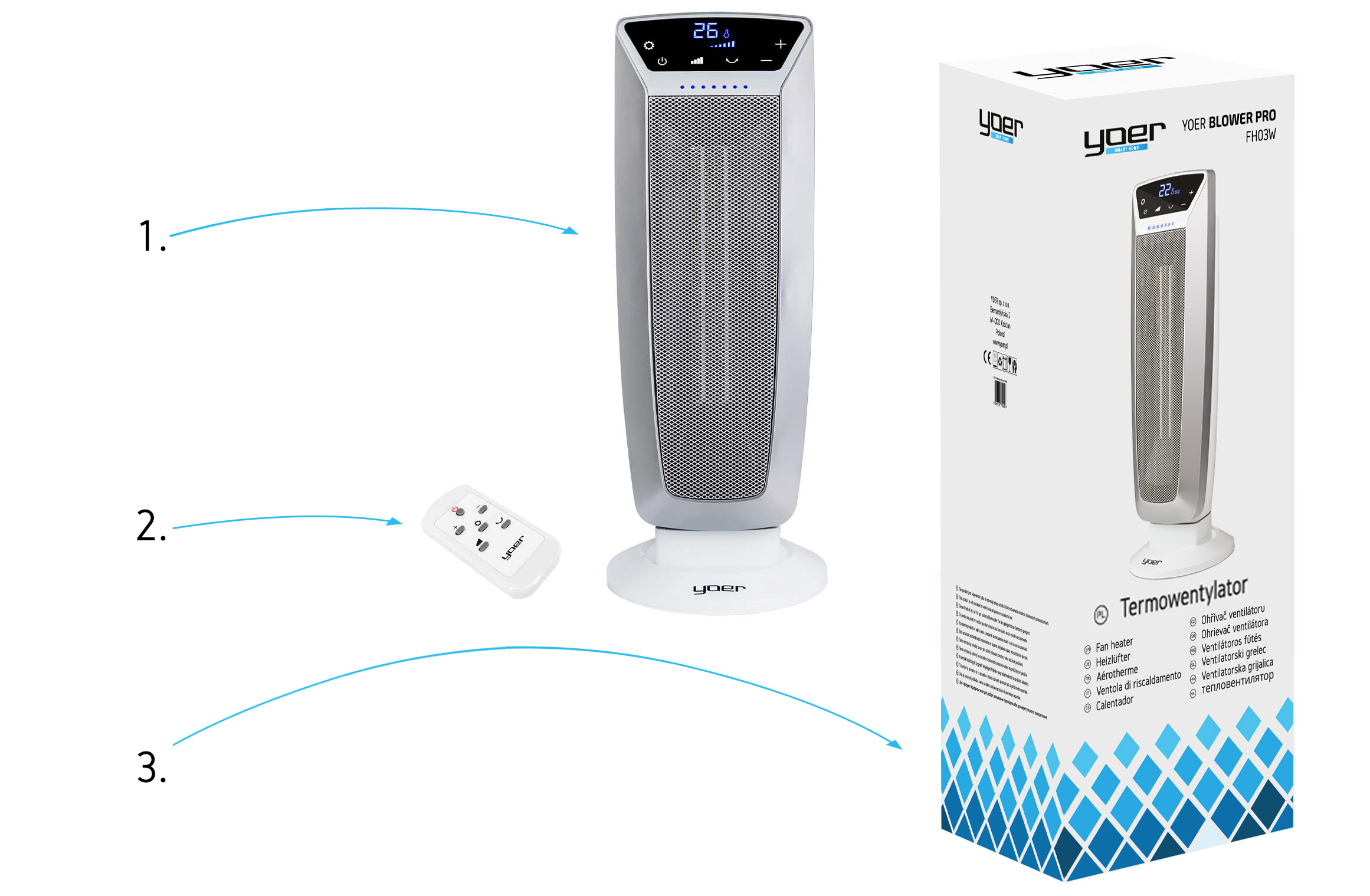 📦EQUIPMENT:
1️⃣ Fan heater
2️⃣ Pilot
3️⃣ Original packaging
◾◾◾
🎁YOU WILL RECEIVE:
✅ Fan heater - details above,
✅ YOER PLATINUM SECURITY card
✅ Warranty card
✅ PL / EN Instruction manual.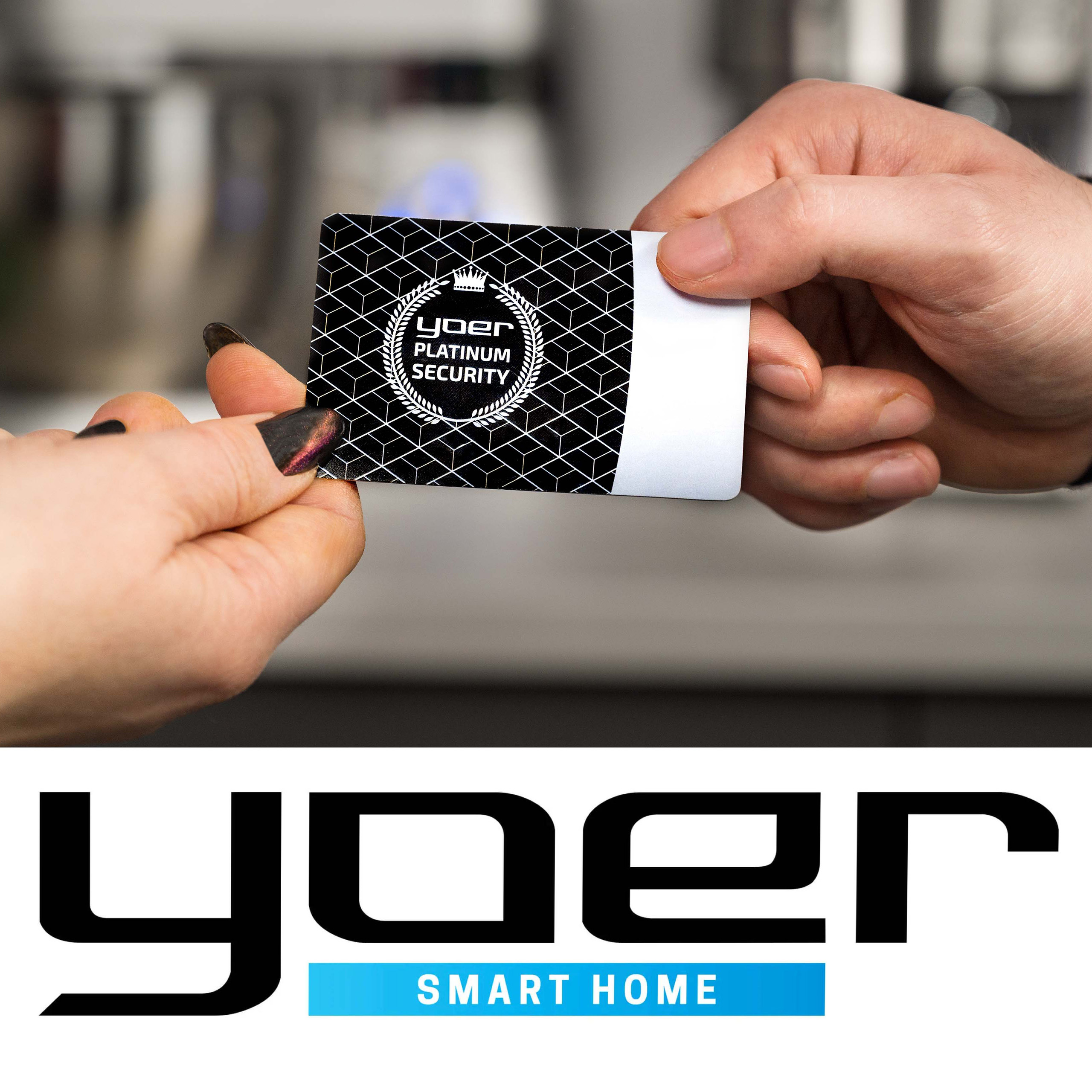 💳YOER PLATINUM SECURITY
When purchasing products from the official Yoer store you receive the YOER PLATINUM SECURITY package, which is an assurance of additional protection.
🤝YOER - POLISH MANUFACTURER AND BRAND
YOER constitutes an excellent proof that high quality of products does not necesserily go in hand with high price.

YOER FH02W Instruction manual - Click here