Language
Tourist chair with cooler YOER HAWAII
4in1 Folding tourist chair, beach lounger with cooler and backpack functionality. A popular choice at the beaches of Hawaii!
558.00
-47%
298.00
Lowest price in the last 30 days:

Shipping within

24 hours

Availability

Small

50

pcs.
| | |
| --- | --- |
| Bar code | |
| EAN | 5906874237908 |
Description

Instruction manuals
4in1 Tourist chair with cooler YOER Hawaii TCC01B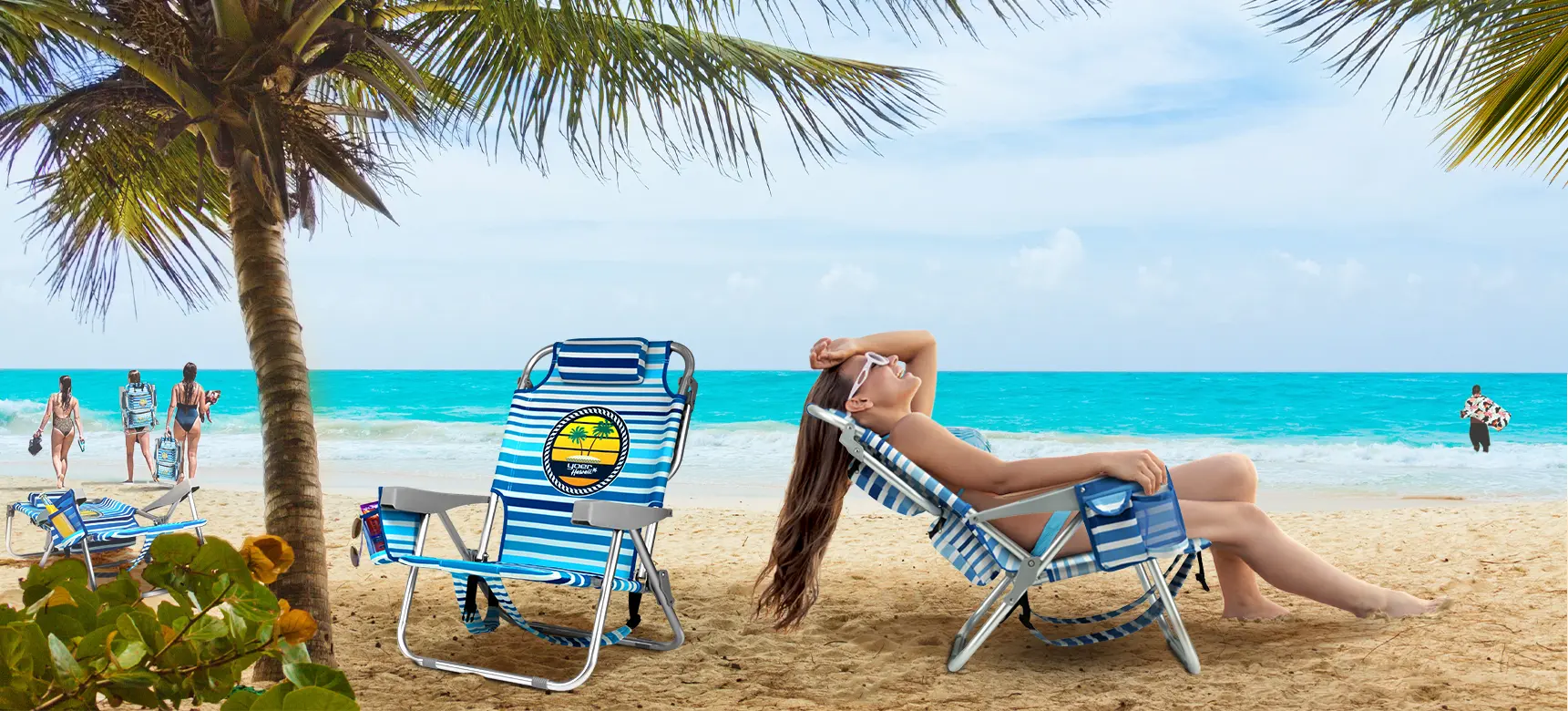 Hawaii - the most popular choice at Hawaiian beaches!
A honeymoon on Maui, where multi-functional chairs are massively popular, inspired the creation of the Hawaii chair. You too can revel in the vibe of Hawaiian beaches in your favorite spot at the seaside or lake. You will easily take it with you, and when it is extended, it will be either a chair or a lounger - depending on the way you like to rest. There is more: the thermo-isolated pocket will allow you to enjoy your favorite beverage at perfect temperature.
Thousands of tourists on American beaches already fell in love with the multi-functional chair!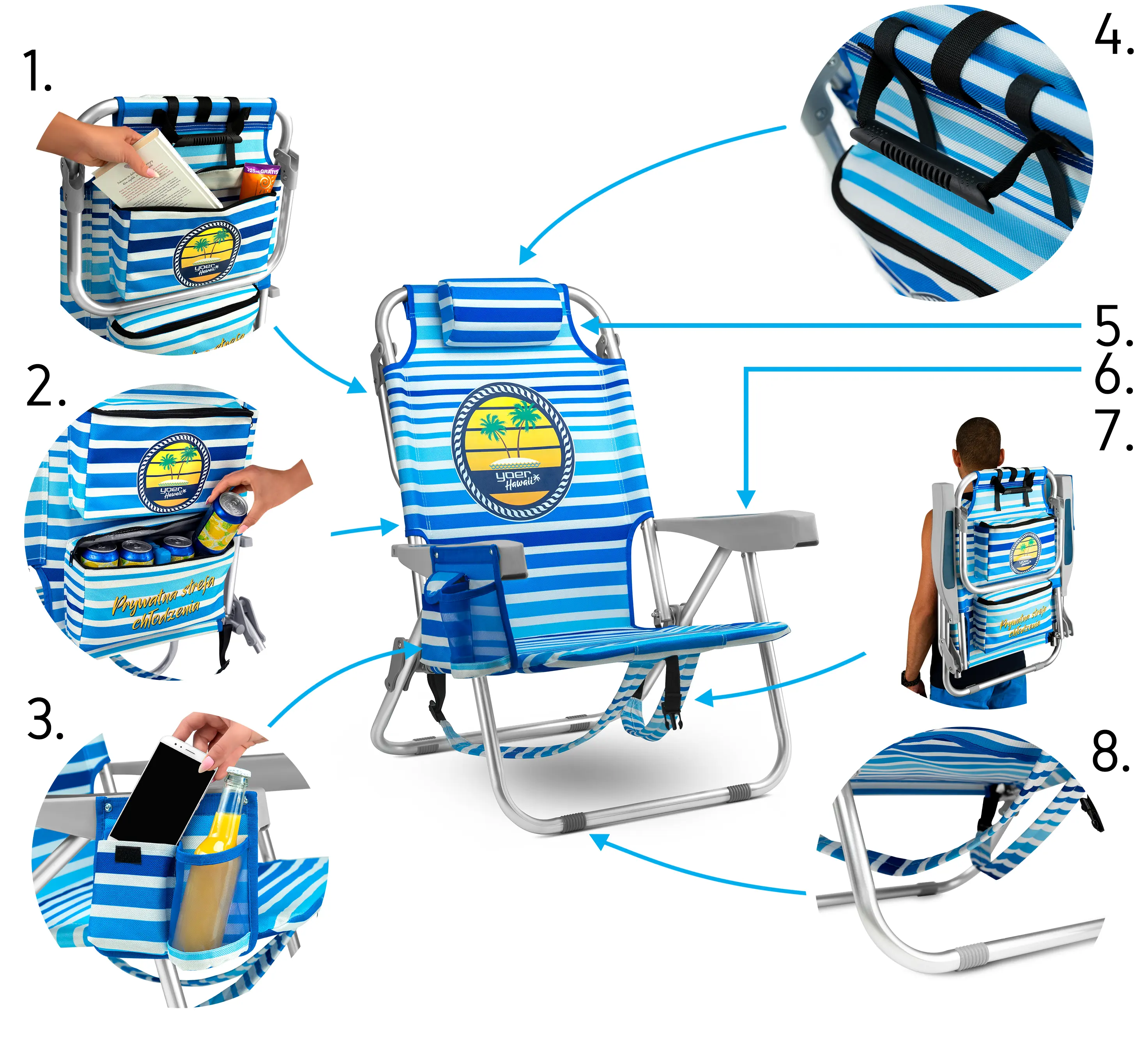 CONSTRUCTION - MAIN COMPONENTS
Commodious waterproof compartment
Thermo-isolated pocket
Phone compartment and drink pocket
Convenient handle
Soft, adjustable headrest
Convenient armrests
Harness for comfortable carrying
Anti-slip onlays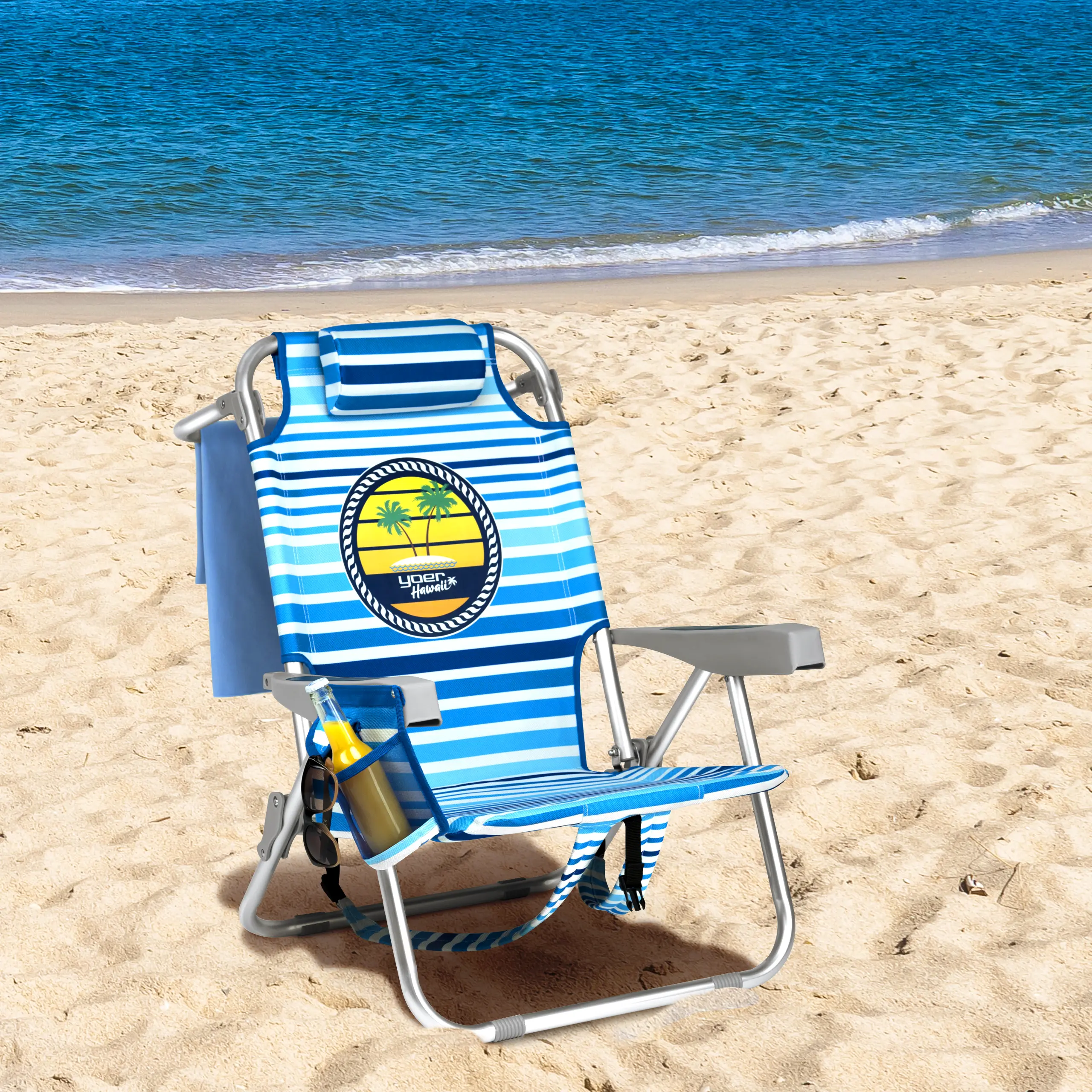 PRODUCT DETAILS
Color: Blue and white
Weight: 3,5 kg (7.7 lbs)
Fabric: Strong PVC-coated 900D polyester
Frame material: Aluminium
Max. load: 150 kg (330.6 lbs)
Inclination angle setting count: 5
Cooling thermo-isolated pocket: Yes
Inclination angle regulation: Yes
Lounger functionality: Yes
Backpack functionality: Yes
Regulated headrest: Yes
Commodious pockets: Yes
Bottle holder: Yes
Easy carrying handle: Yes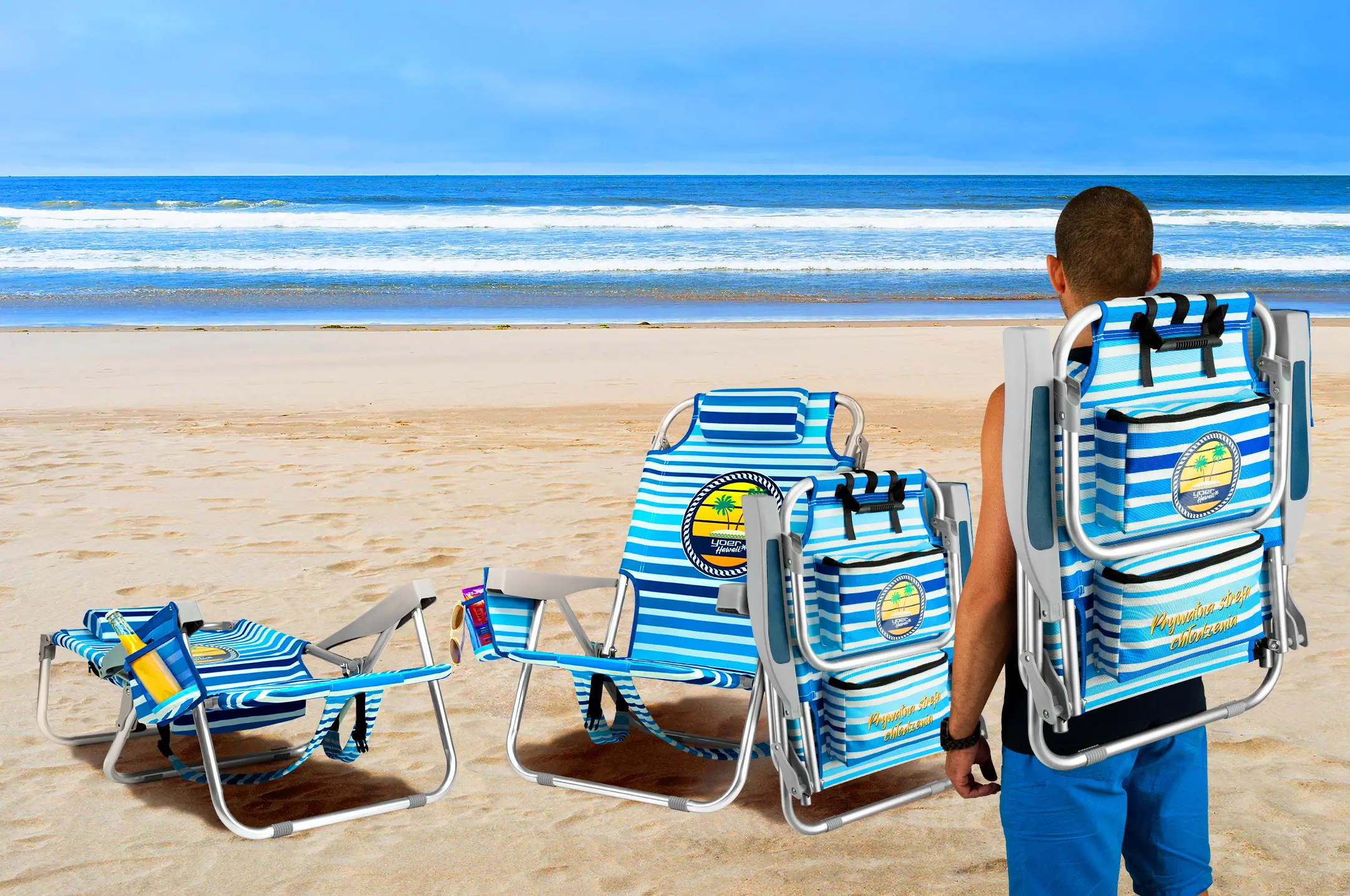 4in1: CHAIR / LOUNGER / BACKPACK / COOLER
A plethora of functionalities - the chair is a merge of multiple modern solutions to make summer leisure even nicer. This product is a chair as well as a lounger, and owing to its thermo-isolated pocket, it will also make a great portable cooler.
Easy to carry - the chair is equipped with an adjustable harness, not unlike those found on backpacks, so that it may be carried, while keeping your hands free. The practical handle allows for a comfortable grip.
Foldable construction - when collapsed, the chair takes up very little room. Because of that, it is easy to store at home, as well as fit in the boot of your car when you are going camping.
A MULTITUDE OF APPLICATIONS
Versatile utility - the chair can be taken to a place of your choice: to the beach, mountains, forest, or a campsite. It will also be tremendous to use it in the garden, near a pool, on a terrace or balcony. The chair will be greatly appreciated by everyone who enjoys the outdoors.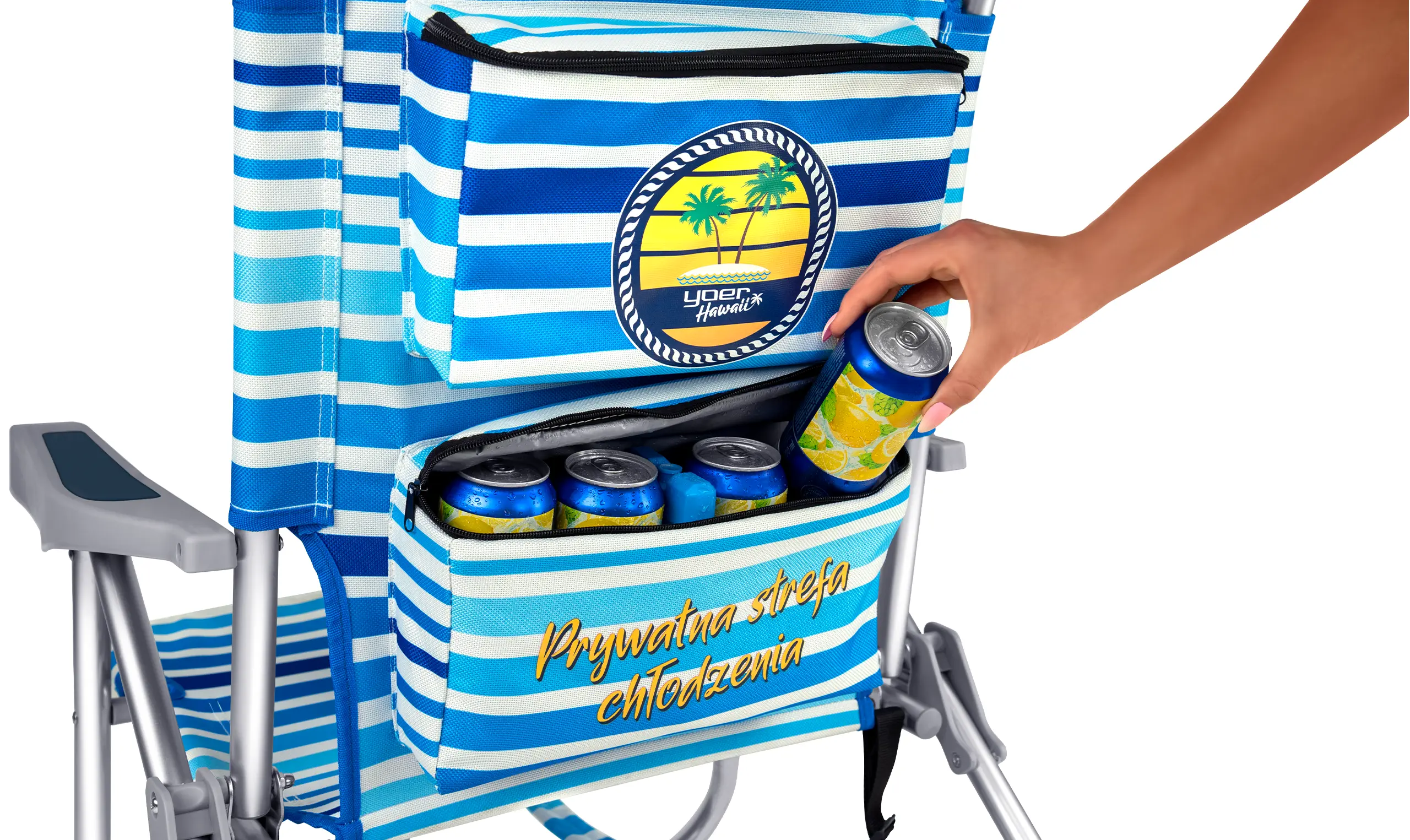 PORTABLE COOLER
Thermo-isolated cooler - at the back of the chair, a specialized thermo-isolated pocketis located, 19 x 33,5 x 7 cm (7.5 x 13.2 x 2.8 ") in size. It will keep your beverages cool to invigorate you when you are enjoying the sun. You can put snacks or sandwiches inside it to keep them fresh for longer. The capacity of the pocket allows for storing up to 4 cans of your favorite beverage.
Cooling cartridges - The thermo-isolated pocket will do its job even better if you insert a cooling cartridge, previously kept in the freezer for about 8 hours. A FREE cooling cartridge is included with every purchase of the Yoer Hawaii chair.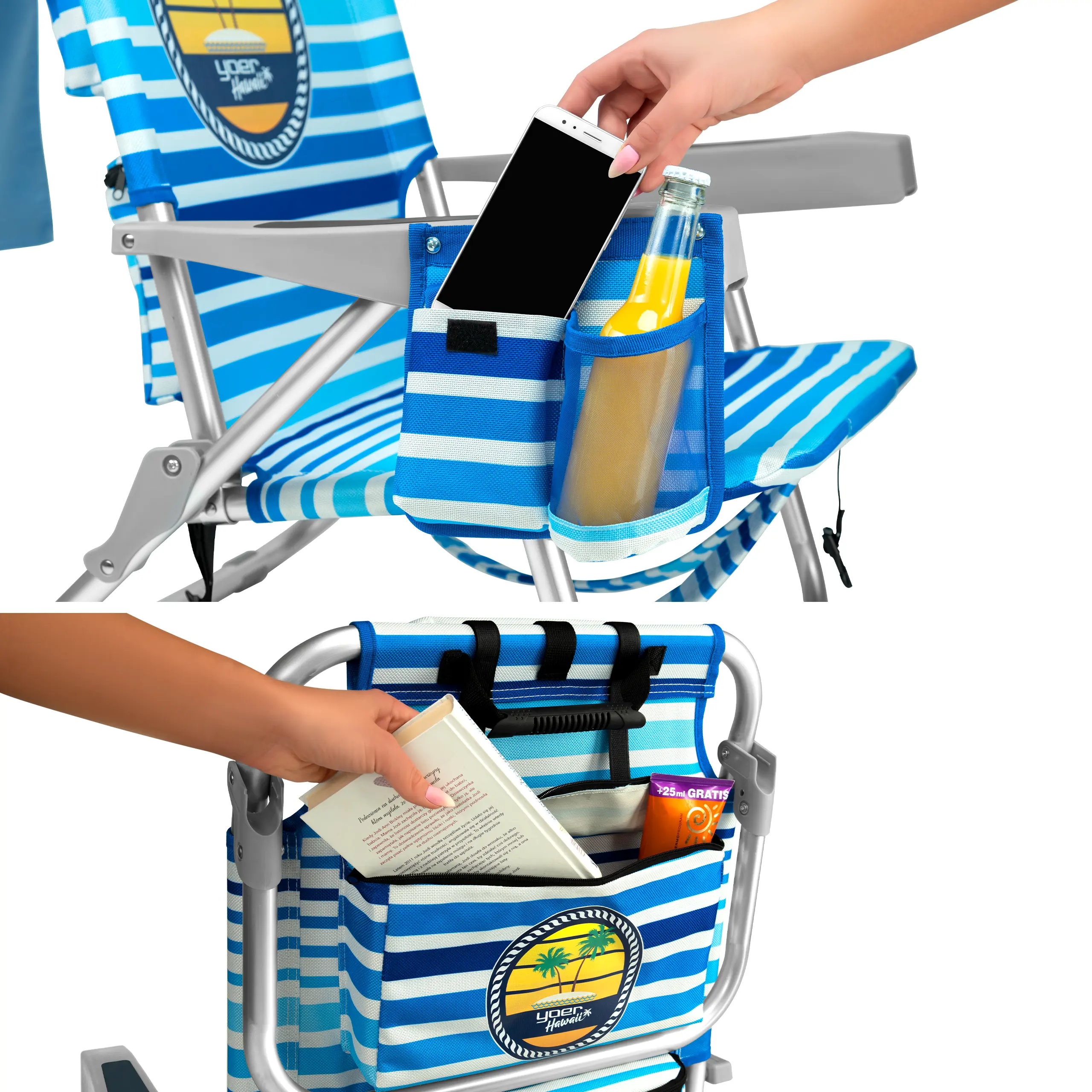 ADDITIONAL POCKETS
Functional and capacious - he right armrest is equipped with a pocket for your phone or wallet, right next to it, a holder for your bottles or cans is located. You do not need to worry about spilling on your phone, documents or money - the pocket is waterproof.
Everything on hand - at the back, in the upper part of the backrest, a bigger compartment is located, which will store a book, suntan lotion or your favorite snacks. There is no need to take a separate backpack - everything is within reach!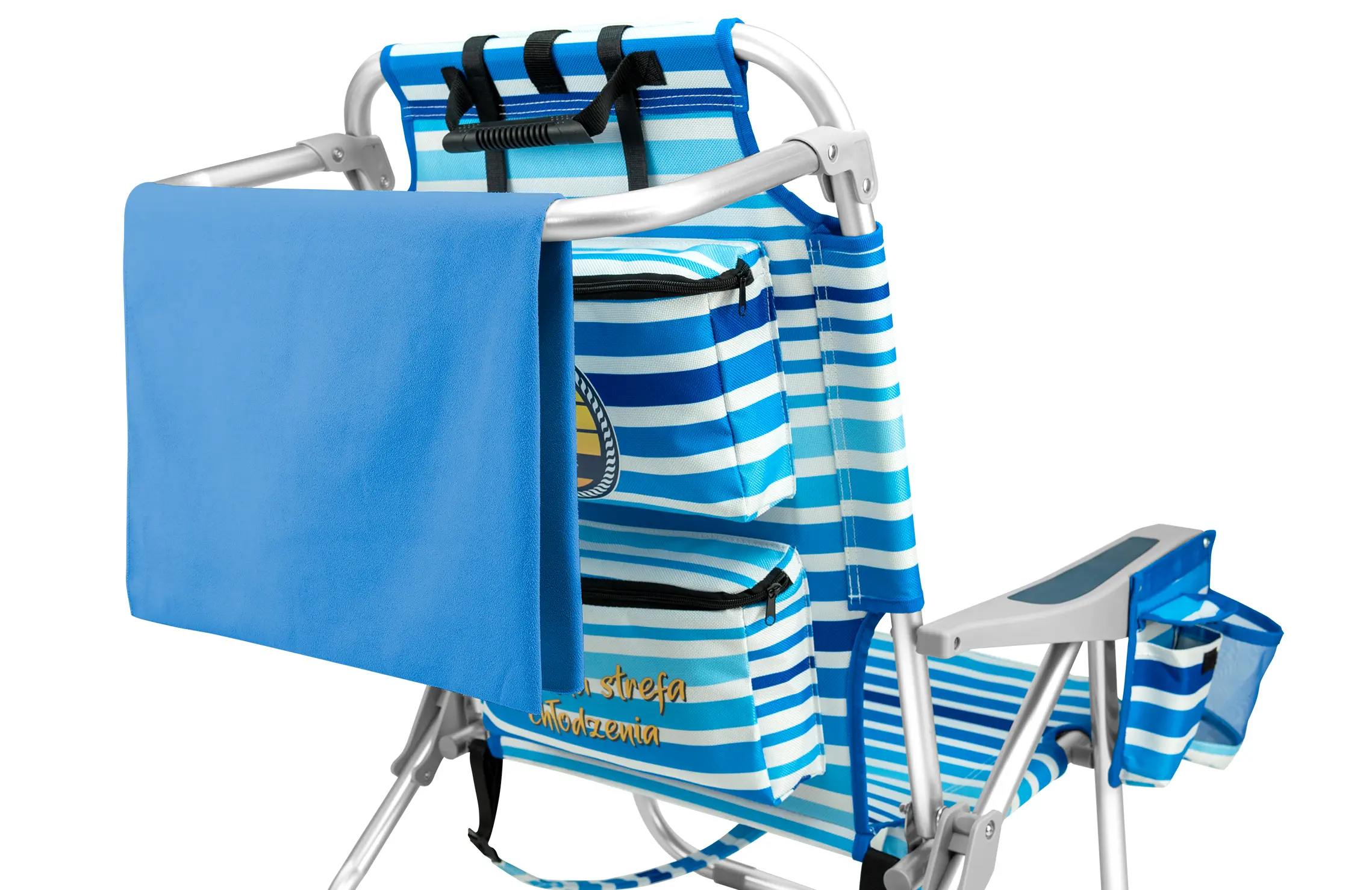 PRACTICAL HANGER
Hanger for your towel or clothes - the chair has a lounger position support at the back, which may also be handily used as a hanger for a towel or clothes. You will easily dry off your towel after bathing in the sea or lake, and prevent your clothes getting messy in the sand.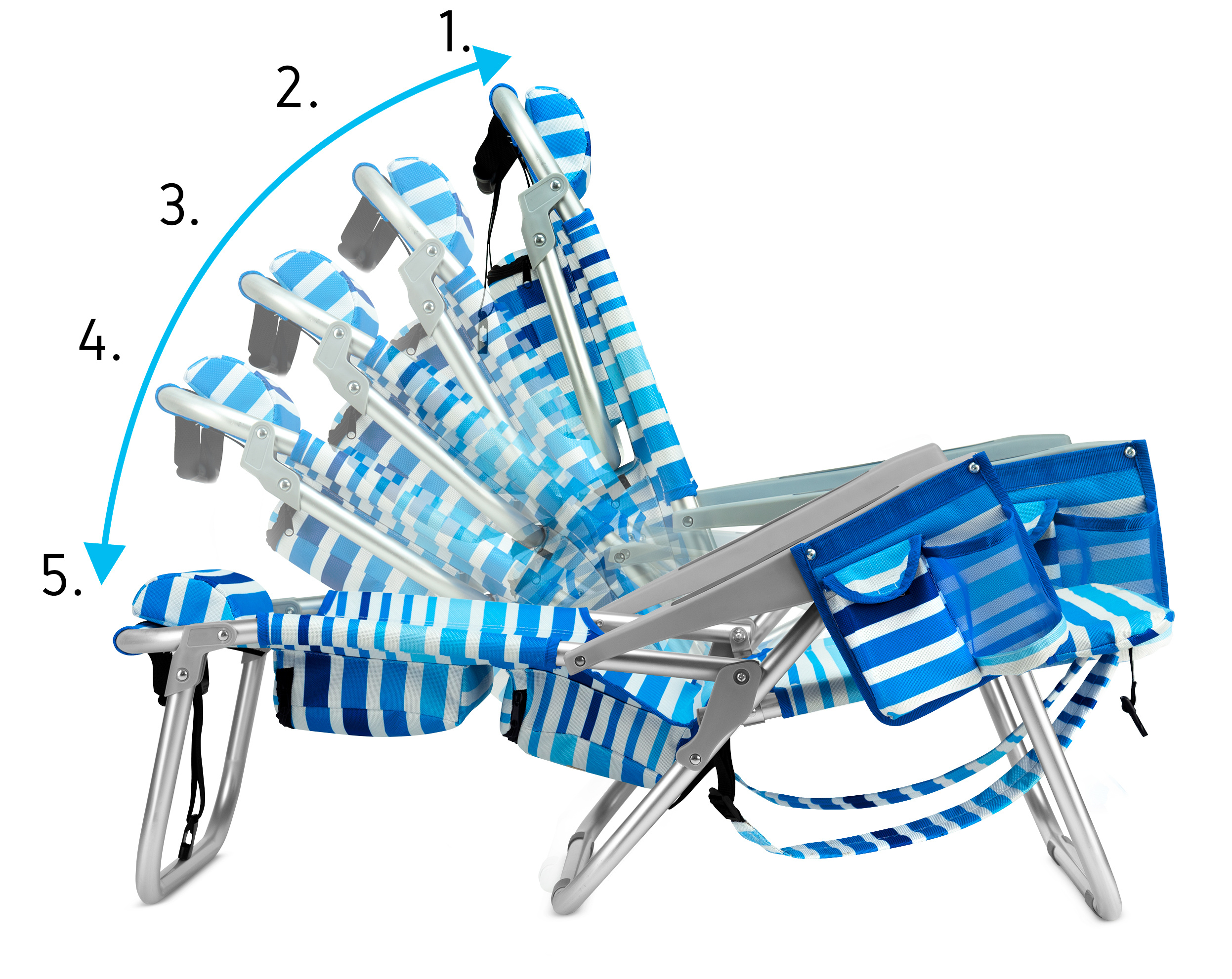 INCILATION ANGLE REGULATION
5-step inclination angle regulation - allows for adjusting the sitting position to individual needs at any time. The position can be changed from fully vertical to completely horizontal in just a few seconds to turn into a comfortable lounger.
Rest in a desired position - this solution allows you to read a book, sunbathe, eat some snacks, keep an eye on your children or quite simply lie down. It is your choice.
COMFORTABLE CONSTRUCTION
Large sitting area- with the dimensions of 45 x 50 cm (17.7 x 19.7 "), it allows for a comfortable and relaxing rest. Additionally, the chair has a soft, adjustable headrest, which keeps your head in the correct position allowing for your neck muscles to relax.
Armrests - made of durable polymer, they are specially profiled for the sitting position and ensure stable arm support, allowing for comfortable reading or using a tablet.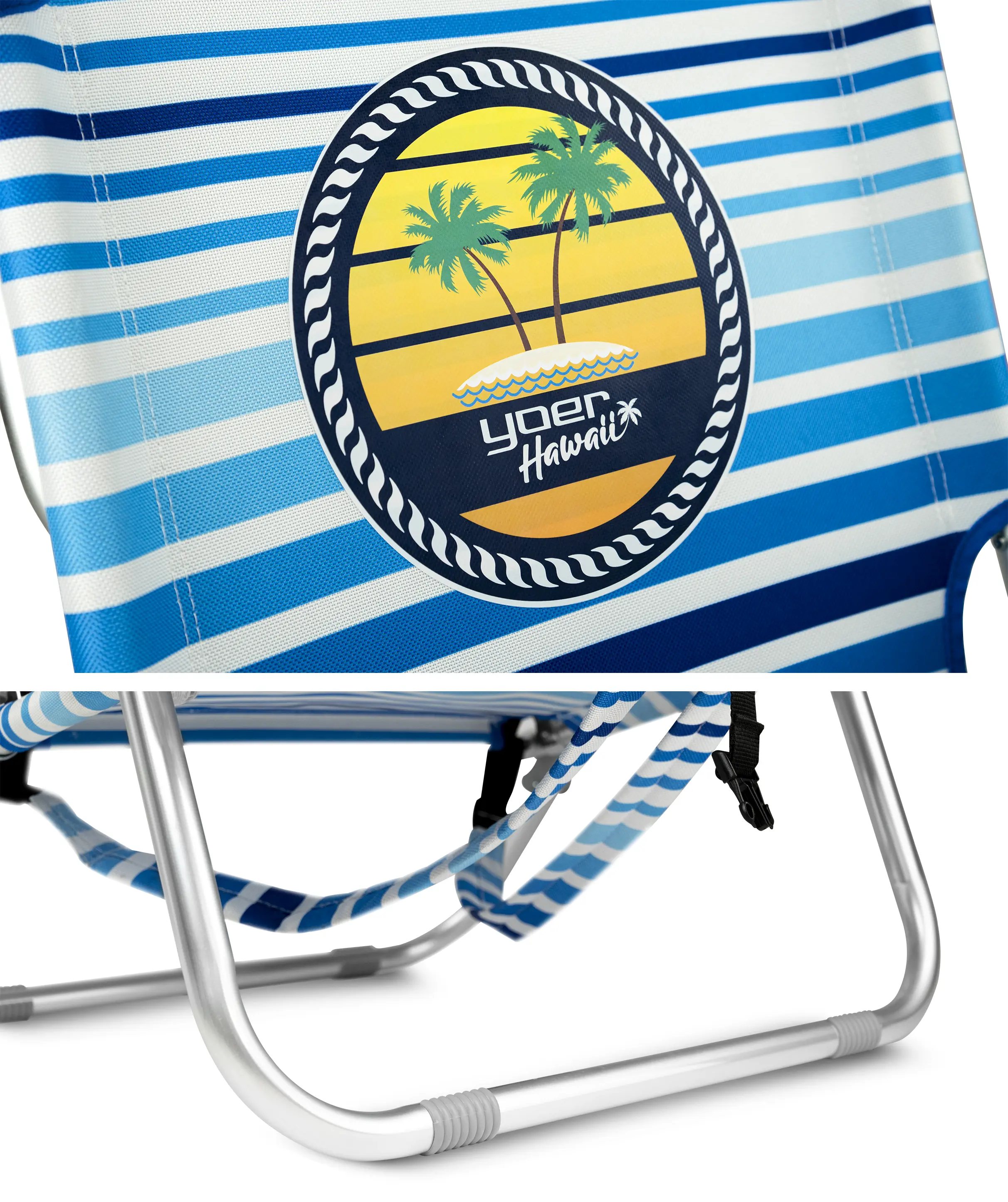 ROBUST BUILD
High quality materials - the padding was sawn from high-quality fabric. The backrest, headrest and the seat were made of reinforced PVC-coated 900D polyester. Owing to that, it doesn't soak up water, making it ideal for use at the beach.
Important information - the spacing of the stripes on the chair may differ slightly to those in the photos, due to the fabric being rolled and cut from bars (i.e. the print may, in some cases, start at a stripe of a different color).
LIGHTWEIGHT, STURDY FRAME
Aluminum frame - highly durable while remaining lightweight, as well as resilient to corrosion. Specialized anti-slip onlays are mounted on the supports of the chair to increase its stability and allow for problem-free use on floor tiles on your balcony or terrace.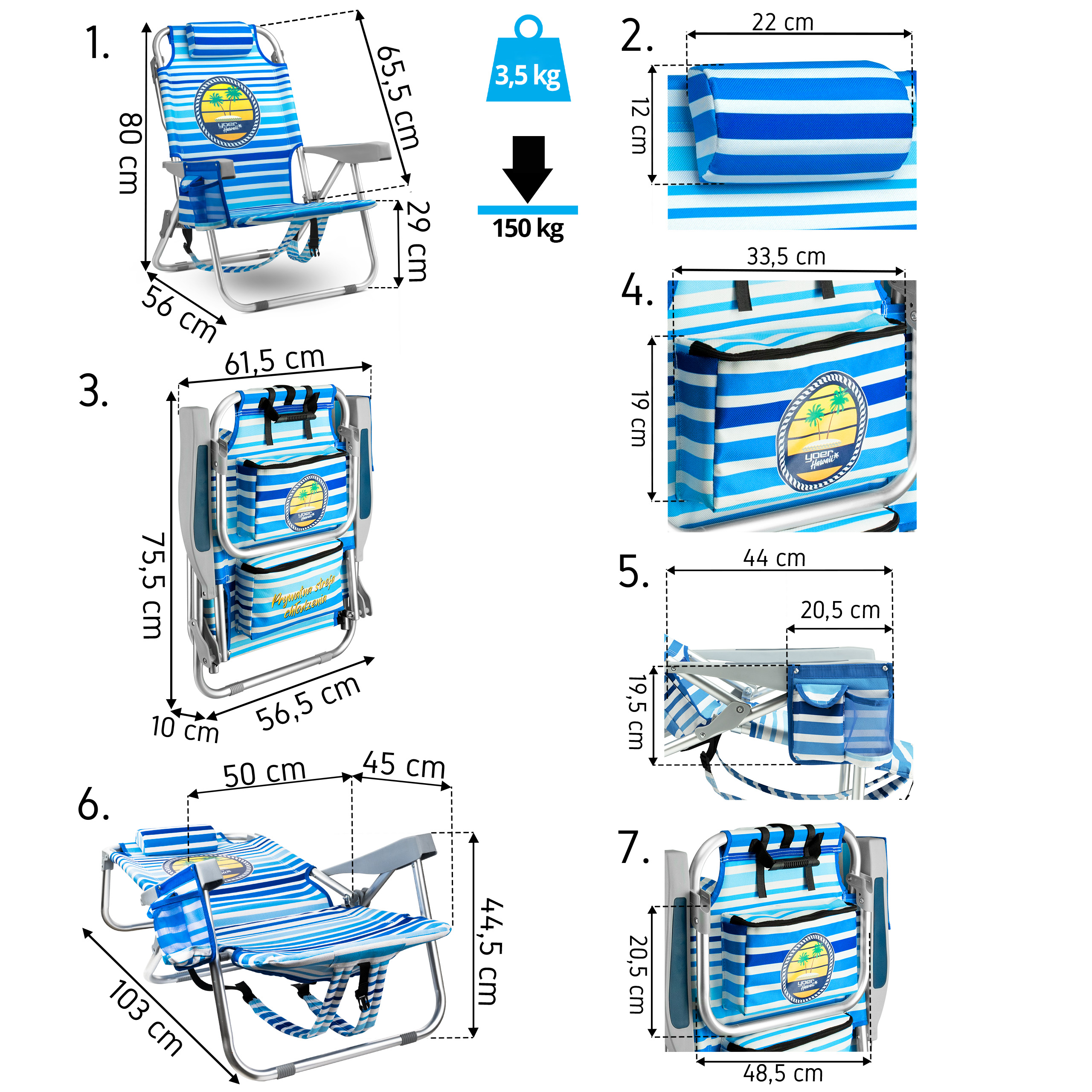 TECHNICAL SPECIFICATIONS
Dimensions in the sitting position: 61,5 x 56 x 80 cm (24.4 x 22 x 31.5 ")
Max. height: 80 cm (31.5 ")
Backrest height: 65,5 cm (25.8 ")
Headrest dimensions: 22 x 12 cm (8.7 x 7.7 ")
Dimensions when folded: 61,5 x 10 x 75,5 cm (24.2 x 3.9 x 29.7 ")
Thermo-isolated pocket and accessory pocket dimensions: 33,5 x 19 cm (13.2 x 7.5 ")
Armrest length: 44 cm (17.3 ")
Compartment dimensions: 20,5 x 19,5 cm (8.1 x 7.7 ")
Dimensions in the lounger position: 61,5 x 103 x 44,5 cm (24.2 x 40.6 x 17.5 ")
Seat width: 50 cm (19.7 ")
Seat depth: 45 cm (17.7 ")
Hanger dimensions: 48,5 x 20,5 cm (19.1 x 8.1 ")
Weight: 3,5 kg (7.7 lbs)
Inclination angle setting count: 5
Max. load: 150 kg (330.6 lbs)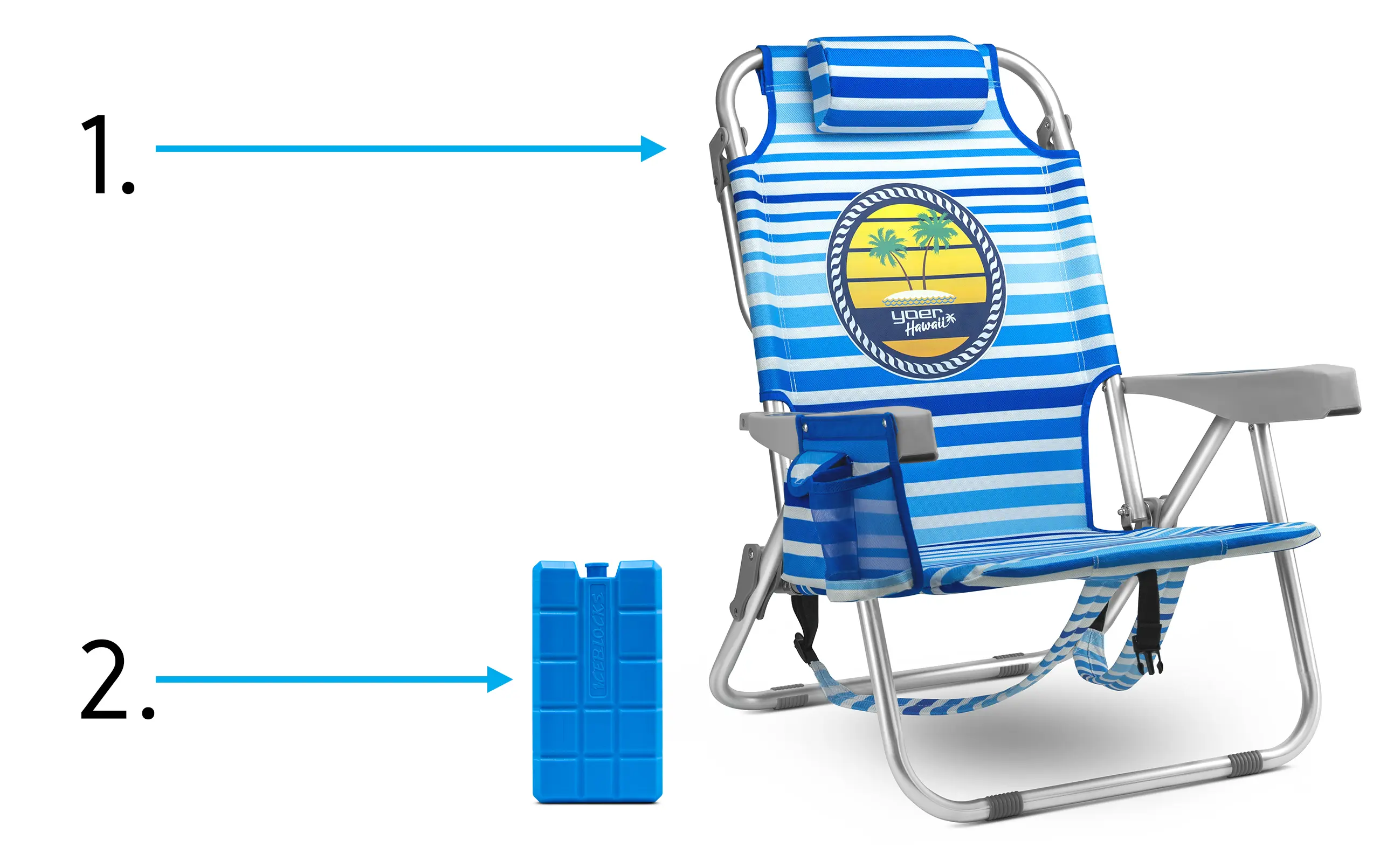 EQUIPMENT
Tourist chair
Cooling cartridge
YOU WILL RECEIVE:
Tourist chair - details above,
YOER PLATINUM SECURITY card,
Warranty card,
Polish instruction manual.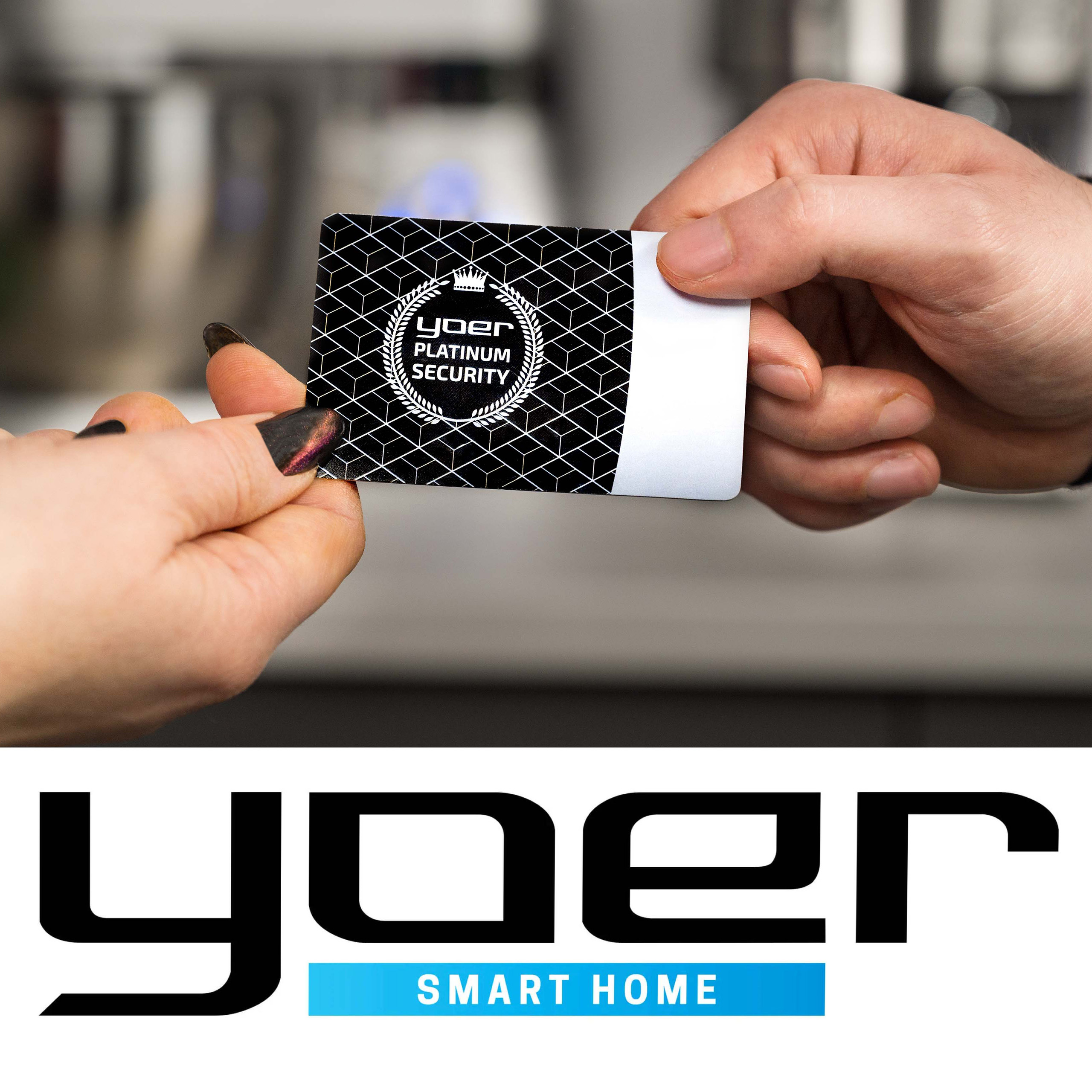 YOER PLATINUM SECURITY
When purchasing products from the official Yoer store you receive the YOER PLATINUM SECURITY package, which is an assurance of additional protection.
YOER - POLISH MANUFACTURER AND BRAND
YOER constitutes an excellent proof that high quality of products does not necesserily go in hand with high prices.

YOER TCC01B Instruction manual - Click here